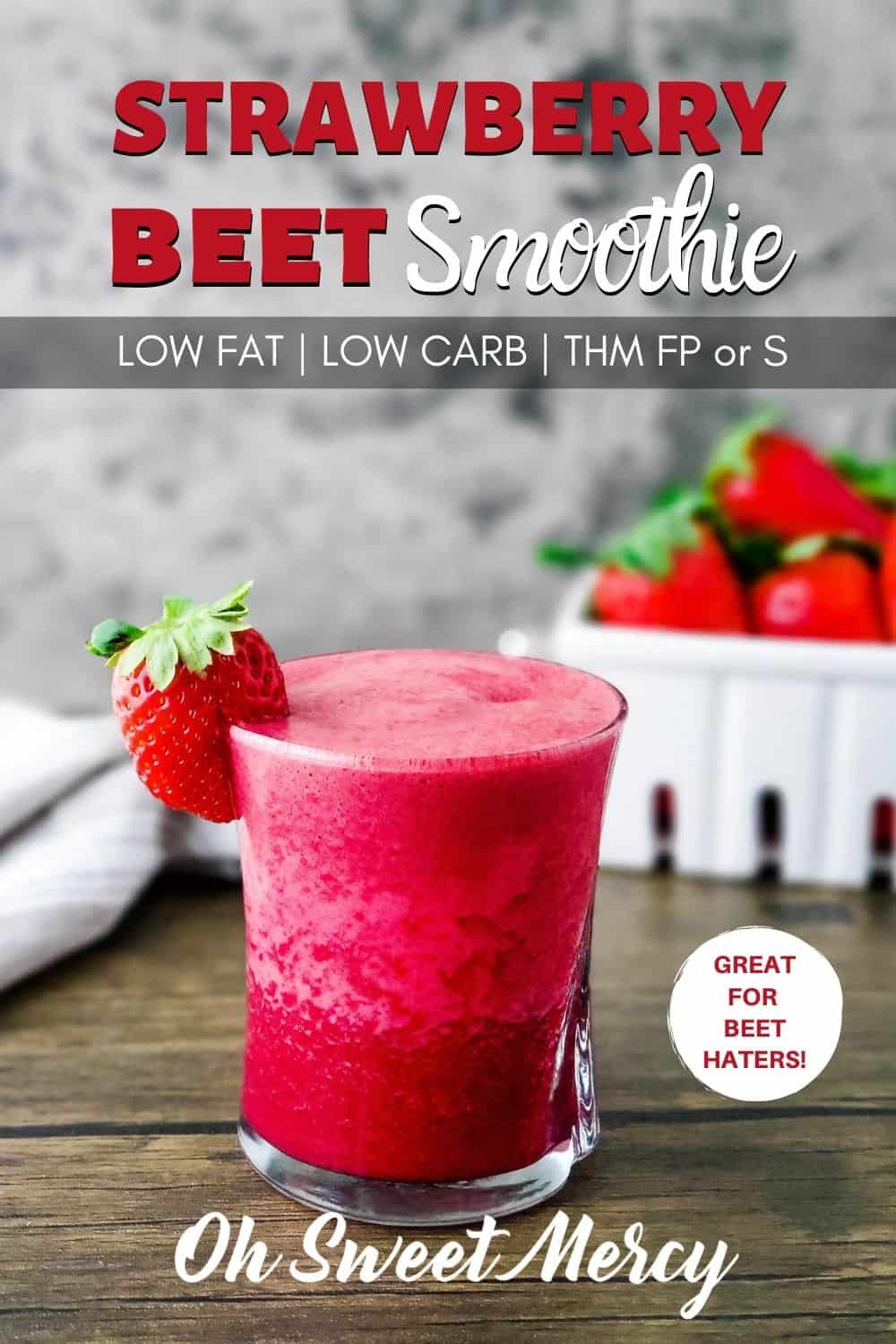 ---
Think you hate beets? Try adding beet powder to your smoothies! It's a great way to get beets into your diet, especially if you're not really crazy about them. This Strawberry Beet Smoothie is another versatile recipe that works for both THM FP or S with just a simple tweak. Easily make it dairy free, too!
---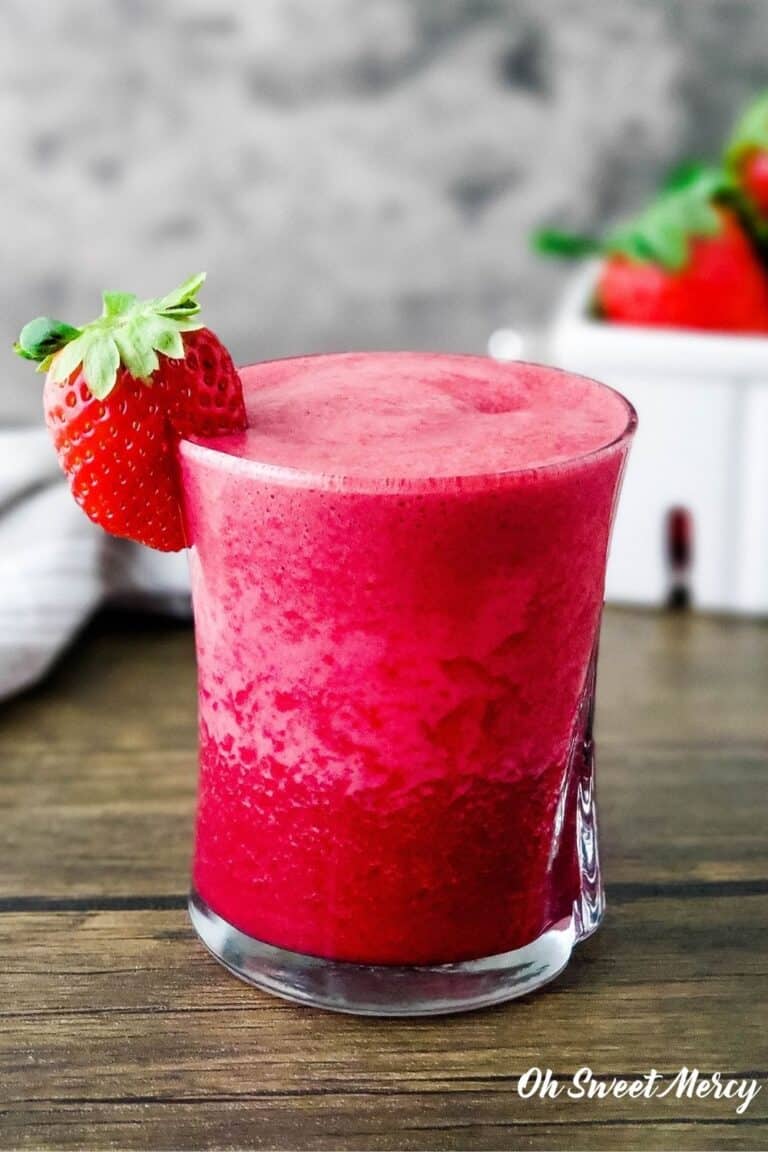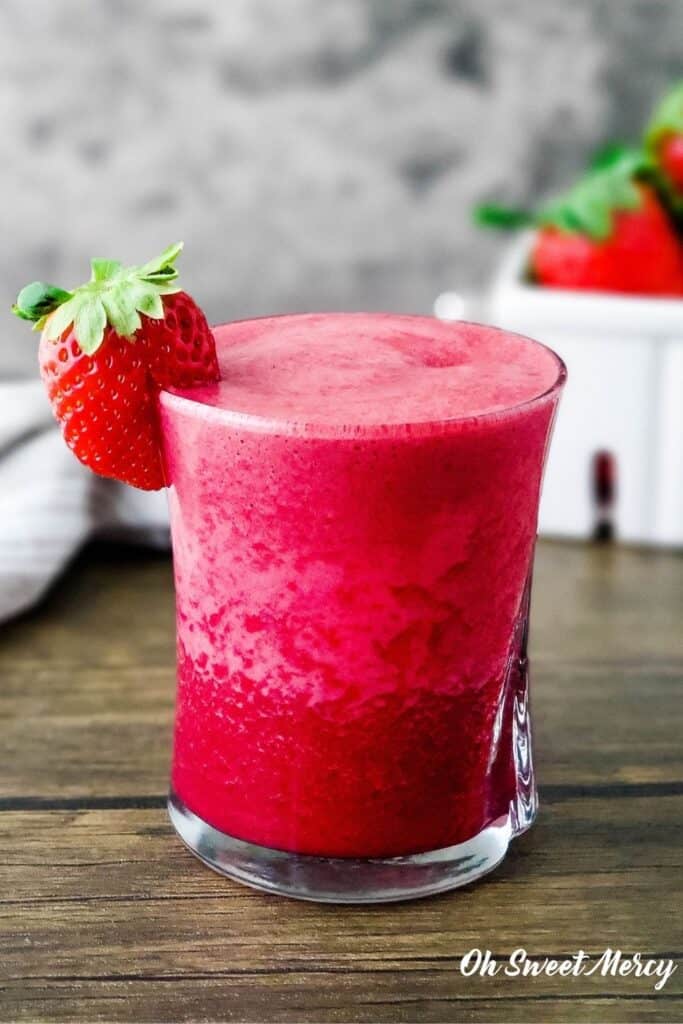 As long as I remember I've hated beets. They taste like dirt to me. Seriously, like I'm licking the cellar floor of my grandparents' farmhouse.
Blech.
And yet, I really, really want to like them.
They are absolutely gorgeous and so nutritious. It's just so hard to get past the DIRT. At least they're not gritty, I guess.
Pearl talked about these Love Beets in the Poddy (weekly THM podcast) last week – Episode 209 The Grunt Is The Glory. She also talked about how healthy beets are for you.
I happened to find a bag of beet powder at a local store and thought perhaps this might be a good compromise between my taste buds and the healthy goodness of these deep, red root veggies.
So, I tentatively added some to a regular old strawberry smoothie and WOW. I could barely taste any beet flavor! And my strawberry smoothie became a gorgeous deep red color – so beautiful!
So, now a simple strawberry smoothie transforms into a SUPER strawberry smoothie!
What Do I Need For This Recipe?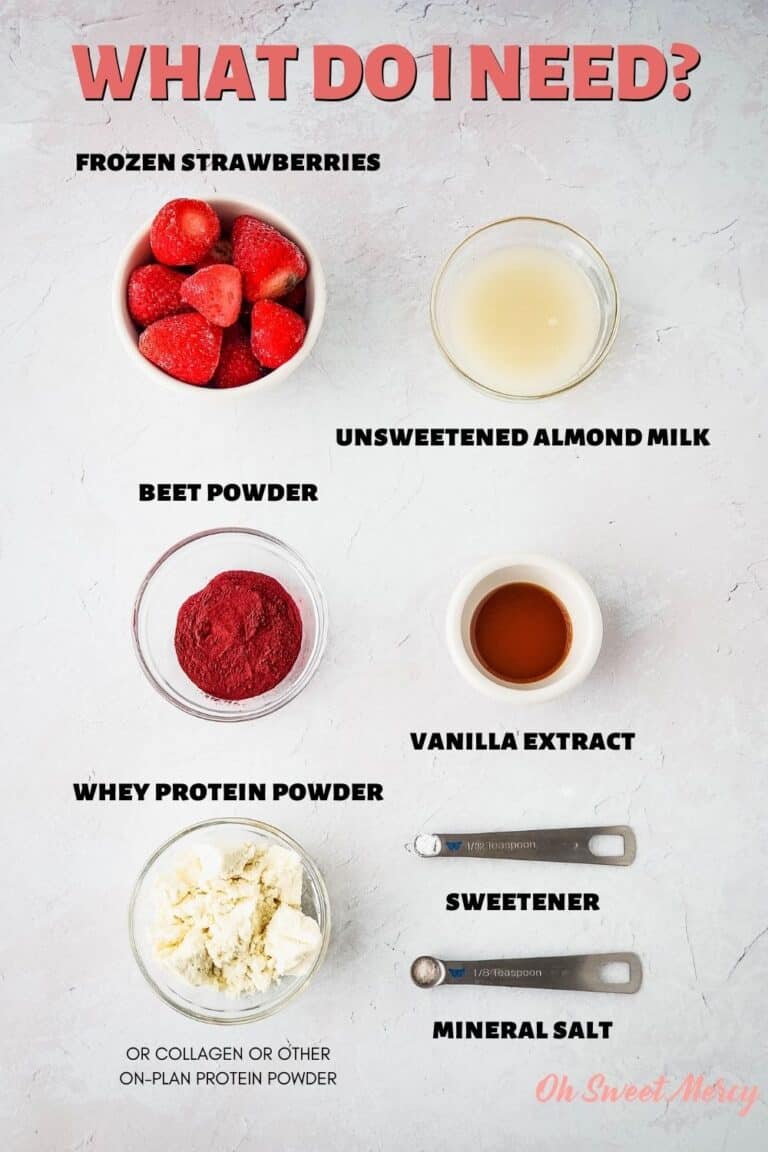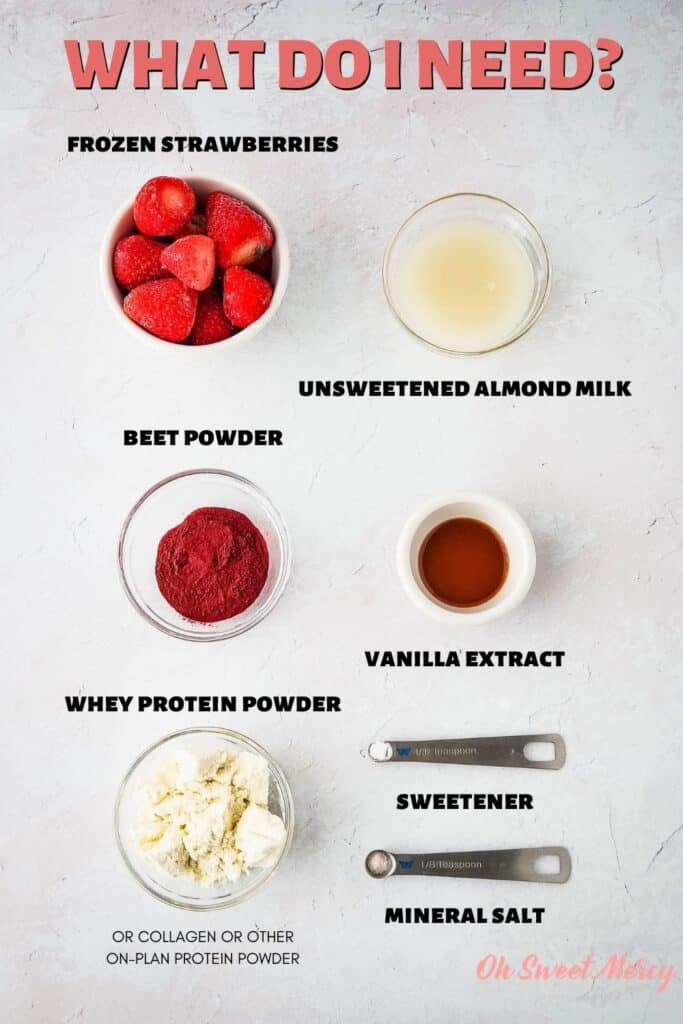 Just 7 simple ingredients are all you need to whip up this delicious strawberry beet smoothie.
The whey protein powder or collagen is optional but recommended if you're making this smoothie for a quick meal.
Unsweetened almond milk (or Foundation Milk from the first THM cookbook on page 439)
Frozen strawberries
Beetroot powder (try half the listed amount if you're afraid)
Vanilla extract
Sweetener (I prefer THM Pure Stevia Extract)
You could add other things if you like, such as baobab powder, but why not keep it simple?
BEET POWDER TIP: Beet powders can vary widely in carbohydrate amounts per serving. The brand I used for this smoothie, Hearty Naturals, has 4 grams carbs, 2 grams fiber (for 2 grams net carbs) and 3 grams sugar per tablespoon. Choosing the lowest carb amount you can find makes your beet powder more versatile with the THM fuel types.
What THM Fuel Type Are Beets?
Even though a starchy-ish root veggie, beets are considered a FP (Fuel Pull) on the THM plan – as long as you keep your serving amount to 1/2 cup for a THM S or FP meal.
You can have more in a THM E meal!
How do fresh beets compare to beet powder in carb counts? Half a cup of beets has 4.6 grams of net carbs. A tablespoon of beet powder can have anywhere from 2 to 6 grams net carbs so be sure to choose a beet powder with a lower amount of carbs per tablespoon for use in FP or S smoothies.
Why Are Beets So Healthy?
Beets contain a wealth of nutrients and are considered a superfood! They're a good source of the following:
Folate
Manganese
Copper
Potassium
Phosphorus
Magnesium
Vitamin C
Iron
Vitamin B6
Beets get their gorgeous color from betalains, which also give them their anti-inflammatory and antioxidant properties.
DID YOU KNOW? It's interesting to note that humans appear to vary greatly in their response to dietary betalains. In the United States, only 10-15% of adults are estimated to be "betalain responders." A betalain responder is a person who has the capacity to absorb and metabolize enough betalains from beet (and other foods) to gain full antioxidant, anti-inflammatory, and Phase 2 triggering benefits. (Phase 2 is the second step in our cellular detoxification process).

Source.
Beets also support our body's natural detox system, contain nitrates that convert to nitric acid in the body and help regulate blood pressure, and may help athletic and cognitive function.
Overall, they're a great food to include in your diet on a regular basis. And if you can't choke down actual beets, making my Strawberry Beet Smoothie instead just might help you get beets into your body.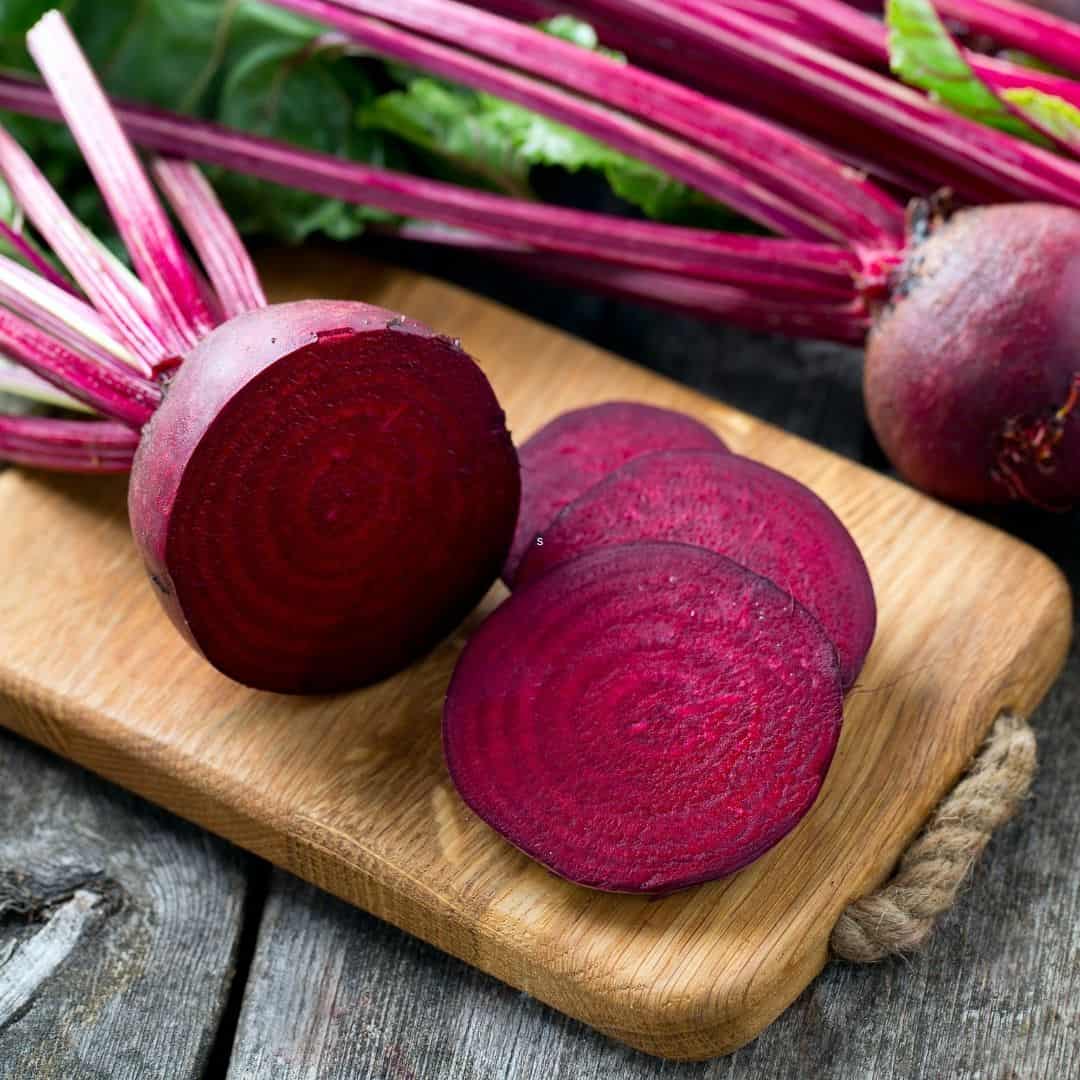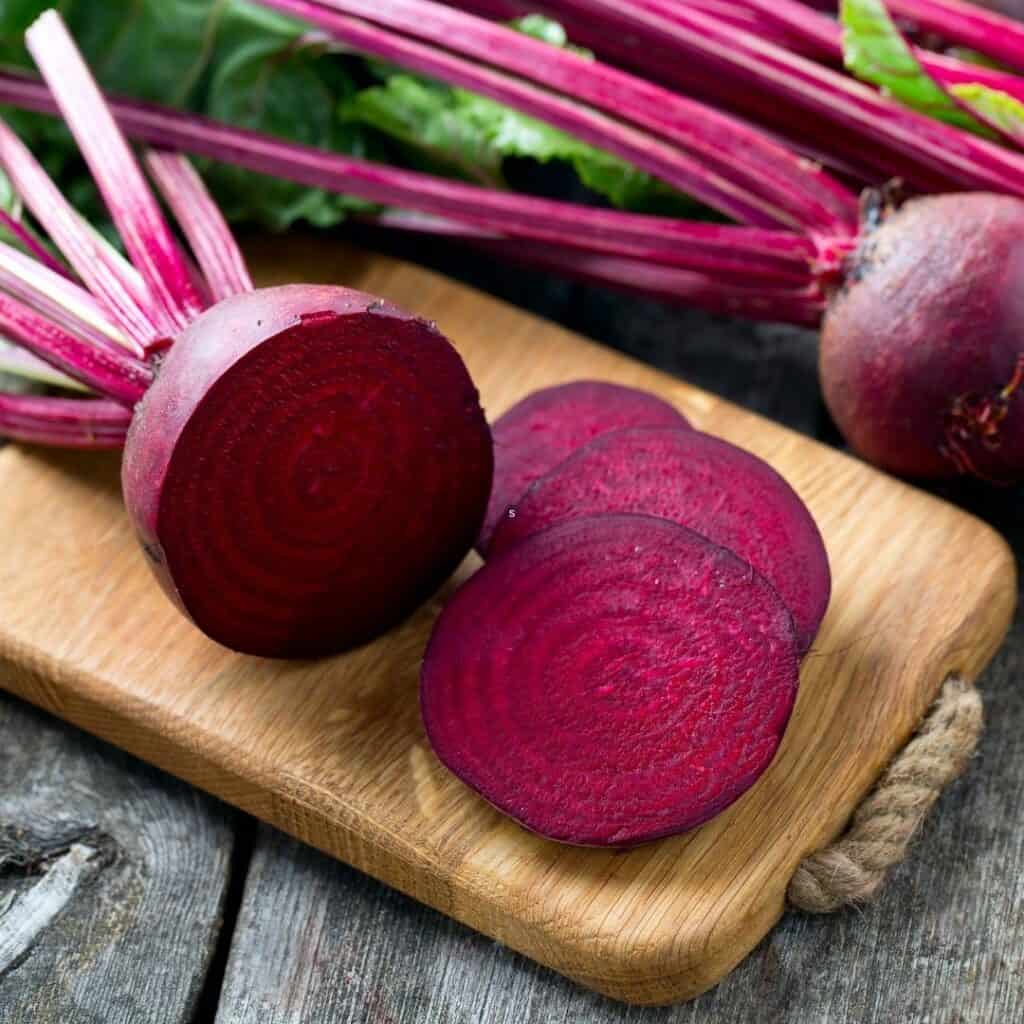 Something They Don't Tell You About Beets (Don't Freak Out)!
I had posted in the THM Facebook group about my lifetime hatred of beets and suddenly liking those mild vinegar beets and someone commented…
Just FYI, you might find yourself googling "can you bleed internally without experiencing pain?"
If you've never eaten a beet in your life and decide to give my strawberry beet smoothie a try, just know there's a possibility that your urine or stool may look red the next day.
This is not blood, so don't panic! It's an interesting phenomenon called beeturia. This occurs from undigested beet juice passing through your digestive system.
DID YOU KNOW? An estimated 10-15% of all U.S. adults experience beeturia (a reddening of the urine) after consumption of beets in everyday amounts. While this phenomenon is not considered harmful in and of itself, it may be a possible indicator of the need for healthcare guidance in one particular set of circumstances involving problems with iron metabolism. Individuals with iron deficiency, iron excess, or specific problems with iron metabolism are much more likely to experience beeturia than individuals with healthy iron metabolism. For this reason, if you experience beeturia and have any reason to suspect iron-related problems, we recommend a healthcare consult to follow up on possible issues related to iron status.

Source.
Can You Eat Too Many Beets?
Moderation is always a good thing, even with foods that are incredibly healthy.
While beets (and their greens) are nutritional powerhouses, they are also high in oxalates, which can contribute to the formation of kidney stones and interfere with the body's absorption of calcium.
For most people, moderate consumption of beets is not a problem. However, if you're prone to developing kidney stones it would be wise to talk to your doctor about how much beets are safe for you to eat.
How To Fit This Strawberry Beet Smoothie Into Your THM Meal Plan This Week.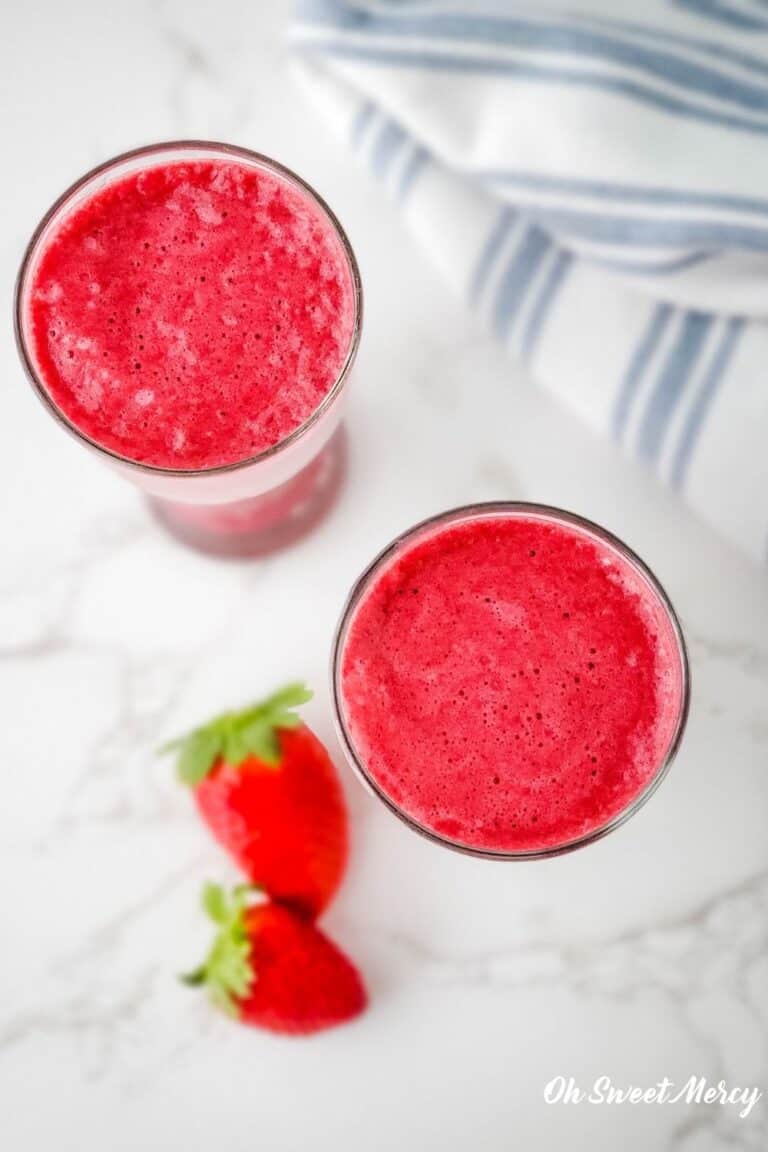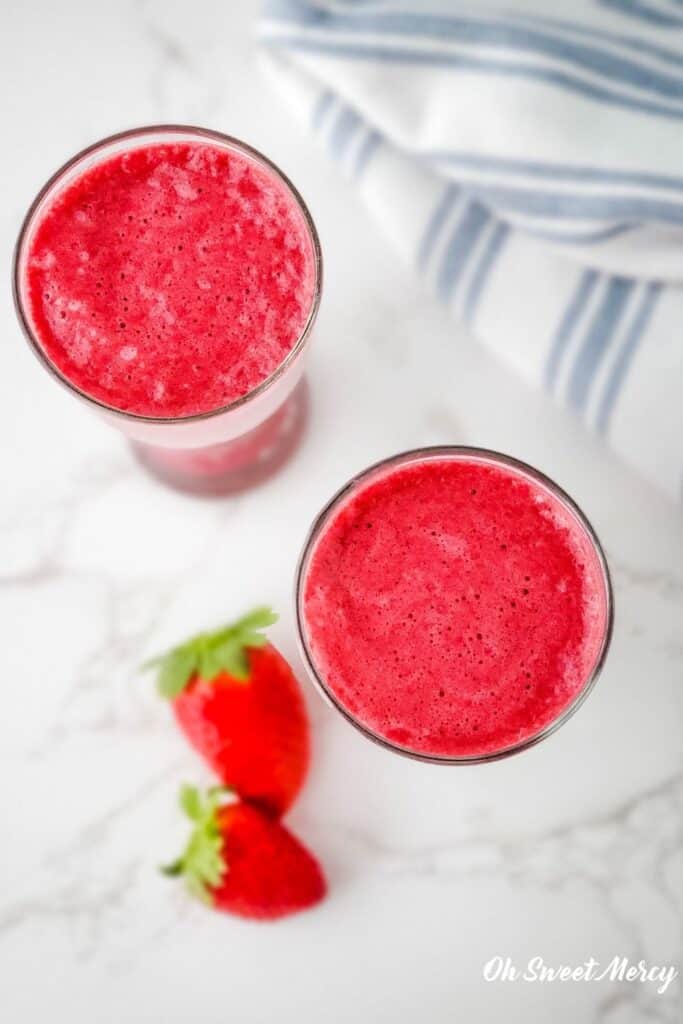 As written, this easy smoothie is a THM FP. This means it's low in both fats and carbs and generally works with any fuel type. It is not suitable for Deep S, as berries are not allowed in a Deep S setting.
Easily make this a THM S smoothie by adding some MCT or coconut oil.
For satisfying a sweet tooth after a meal, reduce or leave out the whey or collagen (unless your meal is light on protein). Or, just make half a recipe.
As a quick meal, add a full scoop of whey or collagen.
Keep your fat grams in mind when pairing with a THM E or FP meal.
When pairing with a THM S meal, this should be your carb source for the meal.
If you're a beet-hater, but want to like them for their incredible health benefits, I hope you'll consider giving my Strawberry Beet Smoothie a try.
I've really been enjoying this simple, gorgeous smoothie. It's a great quick and easy breakfast on busy days and a fill-in-the-cracks dessert with my THM E meals.
PIN IT!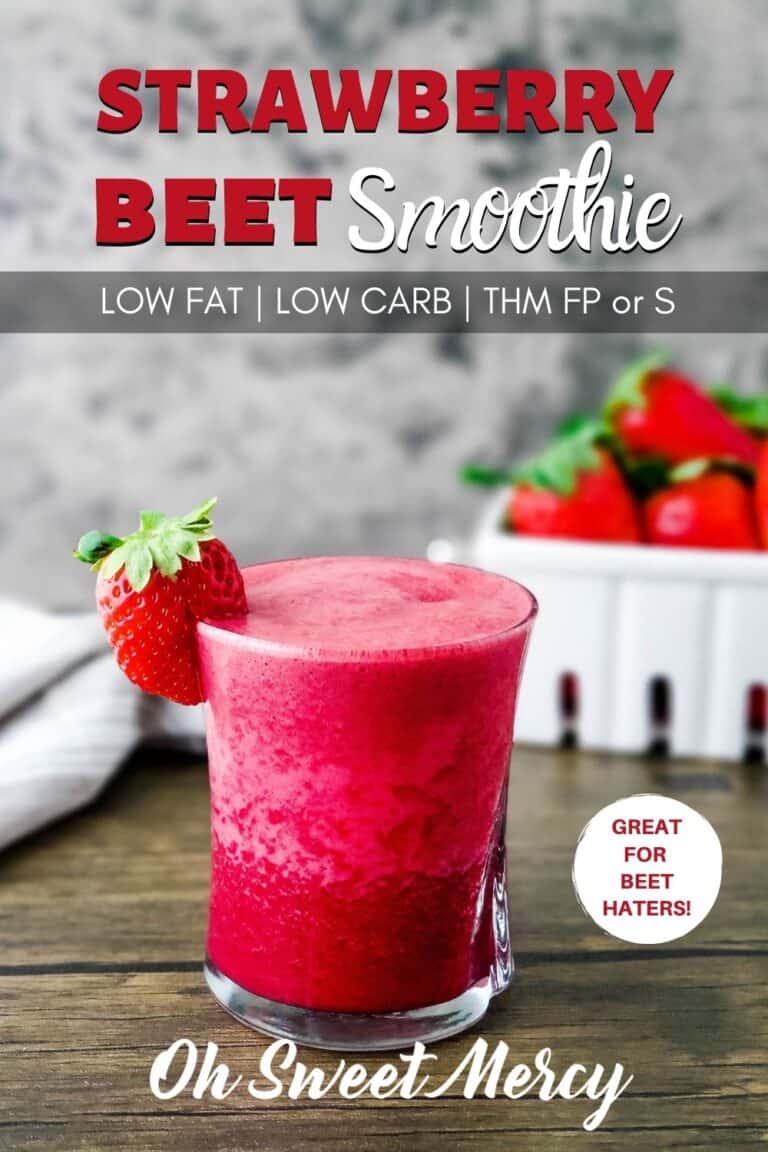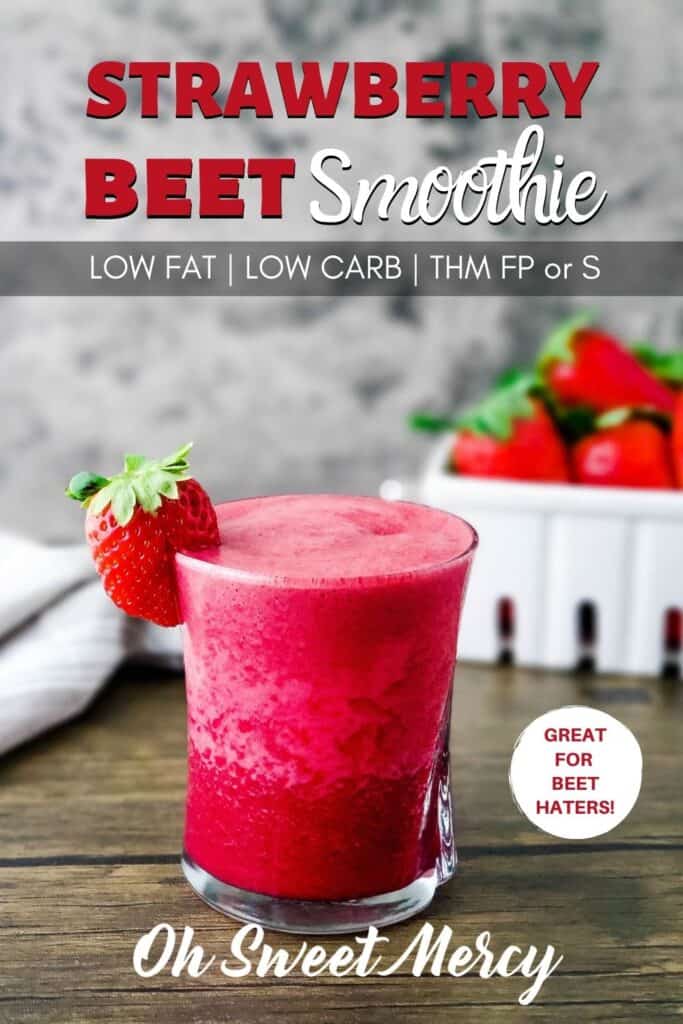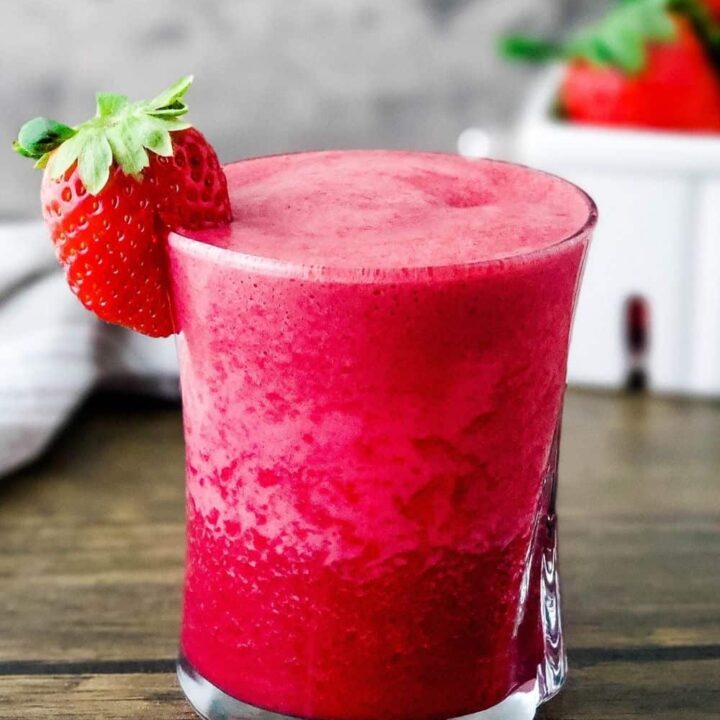 Strawberry Beet Smoothie | THM FP or S
Yield: 1 serving
Prep Time: 5 minutes
Total Time: 5 minutes
Beet powder is great for adding to a strawberry smoothie - it makes it even more nutritious! Perfect for people who hate beets but want the healthy benefits of those gorgeous, red, root veggies.
Ingredients
1 cup unsweetened almond milk
1 cup frozen strawberries
Instructions
Add all ingredients to a blender jar or bullet blender cup and blend until smooth.
Enjoy!
Notes
While I don't find the taste of the beet powder overly noticeable, if you're particularly sensitive or afraid of trying beets, try starting with 1 teaspoon and working up to 1 tablespoon over time.
Foundation Milk in the 1st THM cookbook is a fantastic substitute for nut milks!
Recommended Products
As an Amazon Associate and member of other affiliate programs, I earn from qualifying purchases.
Nutrition Information:
Yield: 1
Serving Size: 1 serving
Amount Per Serving:
Calories: 201.9
Total Fat: 3.2g
Saturated Fat: 0g
Trans Fat: 0g
Unsaturated Fat: 2.6g
Cholesterol: 05mg
Sodium: 245.9mg
Carbohydrates: 20.6g
Net Carbohydrates: 14.5g
Fiber: 6.1g
Sugar: 10.8g
Protein: 22.7g
Nutrition information is approximate and based on the best knowledge available at the time of recipe publication. Your results may vary due to differences in ingredients. You can make your own calculations if this recipe does not include nutrition info by using an online calculator such as https://recipes.sparkpeople.com/recipe-calculator.asp