If you're trying to avoid sweet, sugar-laden drinks, then this Sugar Free Citrus Mint Cooler is just what you need. It contains only water, fresh citrus juice, mint and stevia. Super refreshing on a hot summer day!
This easy Sugar Free Citrus Mint Cooler is a smart hydration choice on hot summer days. Using fresh lemon and lime juice is best – you'll get the benefit of the enzymes naturally present in fresh produce. Have lemon and lime trees in your back yard?
I'm totally jelly. For real.
If you don't have fresh lemons and limes, no worries. Bottled juices still work to make a refreshing, sugar free beverage. And even without those enzymes, it's still a far more healthy choice than sugar-laden soft drinks.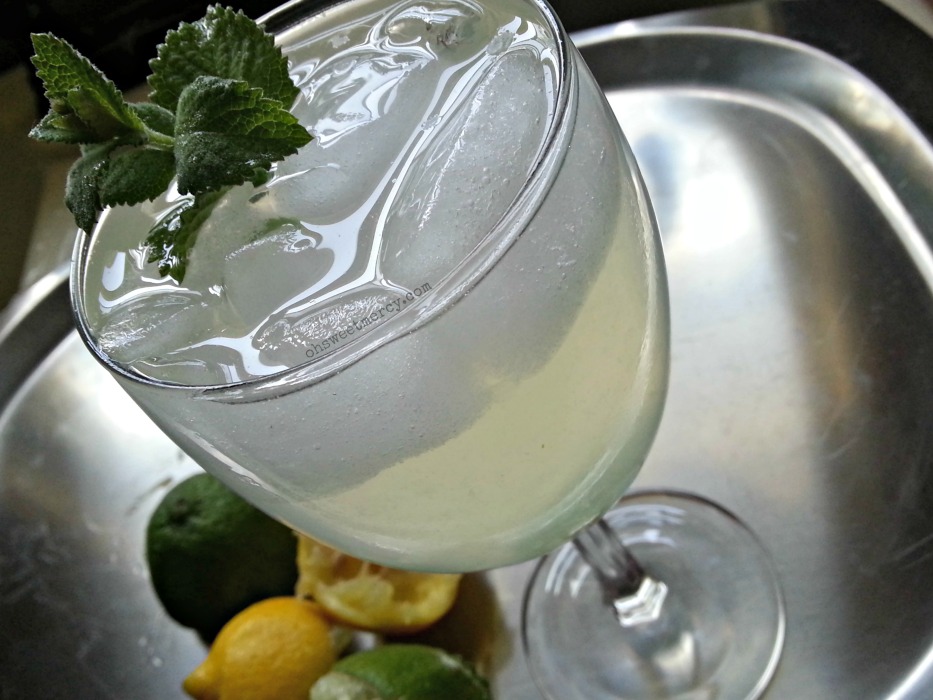 Just a few simple, fresh ingredients are all you need.
Simply mix together water, fresh lemon and lime juice, a few mint leaves (muddle/crush them a bit first), and stevia to taste.
Let it sit a few minutes so the mint can make its way around the juice, saying hi to everyone. Mint is a friendly guy, you know.
I prefer stevia to keep this Citrus Mint Cooler sugar free and "on plan" for Trim Healthy Mama. Feel free to substitute whatever sweet substance you prefer for your beverages.
Using stevia, or another on-plan sweetener, makes this a refreshing sipper that won't add carbs or fats to your meals.
Pour that cool, refreshing Citrus Mint Cooler over ice and enjoy!
Stick a sprig o'mint in that glass. Sip slowly on a big veran-dah, front porch or under a big ole' shade tree. Savor the moment. Feel refreshed.
Aaaahhh…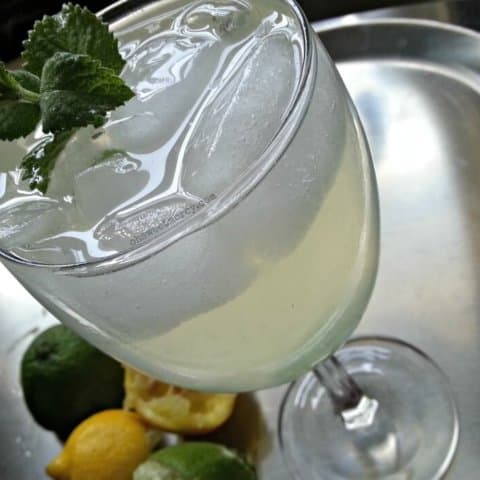 Sugar Free Citrus Mint Cooler | THM FP
Yield: 1 serving or 1 Gallon
A refreshing, sugar-free beverage free of artificial ingredients.
Ingredients
FOR ONE SERVING
2 Tbs fresh citrus juice, such as lemon and lime
1 c filtered water
2-4 fresh mint leaves, bruised or chiffonade
Ice
FOR ONE GALLON
2 c fresh juice
3 1/2 quarts filtered water
Handful of fresh mint leaves
Stevia to taste, or sweetener of choice
Ice
Instructions
In a cup or pitcher, combine juice and water
Bruise or chiffonade mint leaves and add to water/juice mixture
Let sit for a few minutes and stir once or twice
Add stevia or sweetener of choice until desired sweetness is reached
Serve over ice
Recommended Products
As an Amazon Associate and member of other affiliate programs, I earn from qualifying purchases.
Be sure to Pin this refreshing Citrus Mint Cooler recipe to your favorite Pinterest boards!