Zucchini season is just around the corner, are you prepared? This easy, low carb and grain free zucchini fritters recipe is a great way to use that prolific garden veggie! They're great for breakfast alongside a fried egg, for lunch with fresh sliced tomatoes, or even for supper with a big garden salad.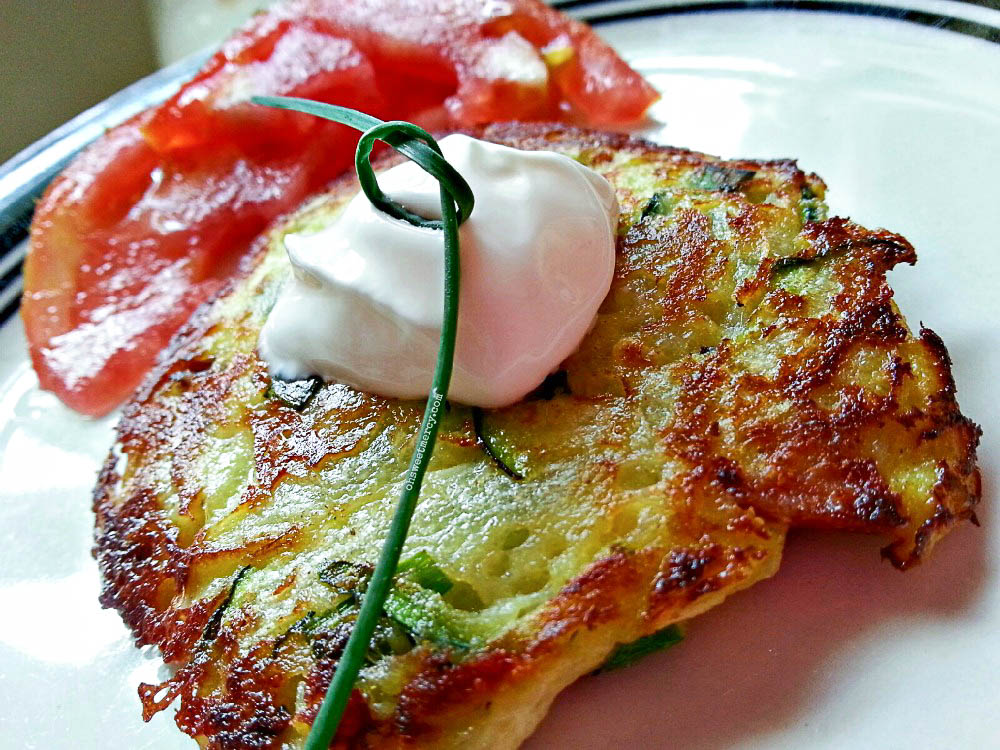 My dear mother in law blessed me with two GINORMOUS zucchinis from her garden.
That's not sarcasm there, either! Since I don't have a garden this year, I'm very happy to take orphaned and unwanted veggies.
If you don't have time to use your zucchini right away, shred them and put them in the freezer. This makes it so easy to pull out and use later one, like for the Trimtastic Chocolate Zucchini Cake from the cookbook, or these easy zucchini fritters.
One thing I love about summer is fresh veggies and herbs!
These zucchini fritters have zucchini, fresh onion, chives, and garlic. Simply seasoned with salt and pepper, they don't overpower other toppings. Very similar to potato latkes, zucchini fritters make a great low carb substitute with the traditional topping of sour cream.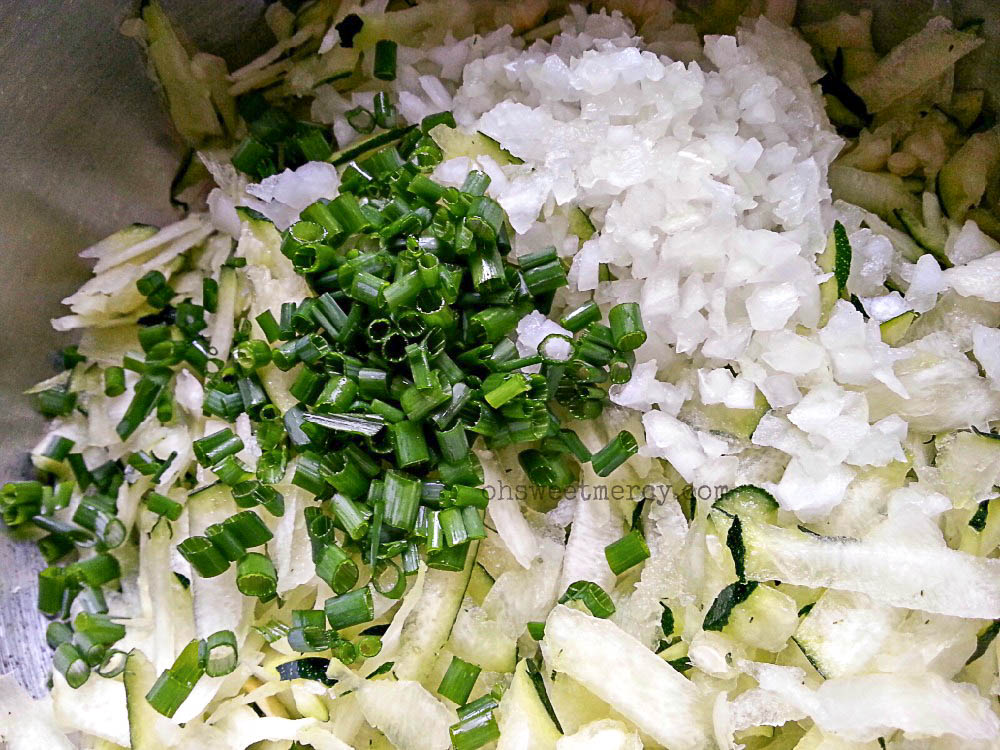 Making the zucchini fritters.
They are really easy to make, just keep a couple things in mind!
First, make sure you drain your thawed zucchini very well. It wouldn't hurt to let your freshly shredded zucchini "weep" a bit either but it's not necessary.
Second, if the batter seems too runny, you can add more almond flour (or other grain free flour if you're not following the Trim Healthy Mama plan) to thicken it up a bit. Trim Healthy Mamas can also try adding Baking Blend instead of the almond flour.
Scoop about 1/4 cup of the mixture out into your heated, oiled skillet. Using a spoon or spatula, push any runny edges back up to the main part of the fritter, creating round patty-shaped zucchini fritters.
Fry over medium-high heat in a greased cast iron skillet until golden brown on one side, about four minutes, then flip and fry another four minutes or so until golden brown and cooked through. Remove from skillet and keep warm until serving.
How these easy zucchini fritters fit into your healthy meal plan.
Trim Healthy Mamas, this is a delicious S recipe! You'll want to pair it with plenty of non starchy veggies like a fresh salad, my easy Garden Fresh Pepper Salad, or some right-from-the-garden ripe tomato slices.
Since I didn't heavily season these zucchini fritters, they are perfect for trying different toppings:
A cool and fresh beverage like my Sugar Free Citrus Mint Cooler, Zingy Raspberry Good Girl Moonshine, or Hibiscus Frozen Lemonade is also a great addition to this fresh, summer meal.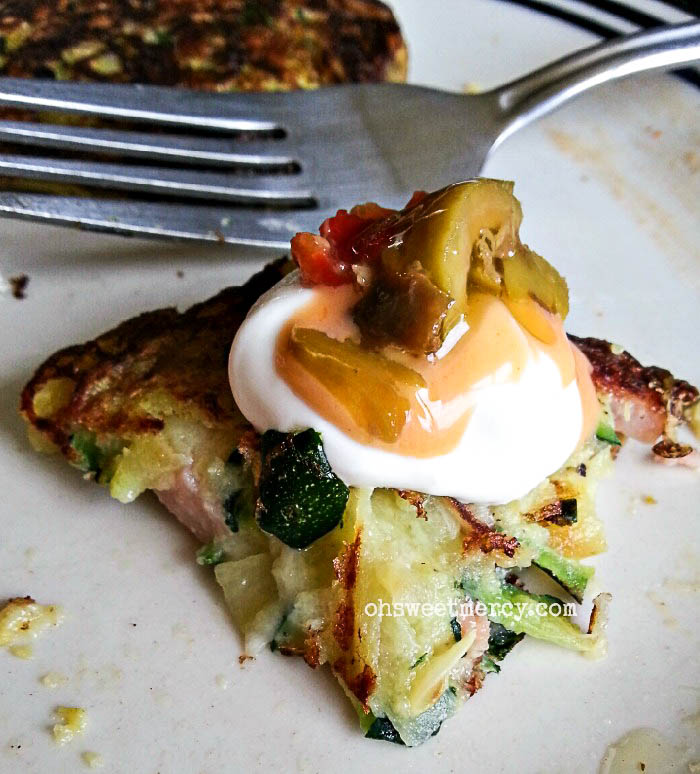 Zucchini Fritters are a great, low carb alternative to potato fritters!
Since zucchini is so mild in flavor, you can really get creative and flavor these easy zucchini fritters however you like! And since zucchini are so prolific in the garden, you'll want to pin this recipe to your growing Zucchini Recipes board on Pinterest 😉 You do have one of those, don't you?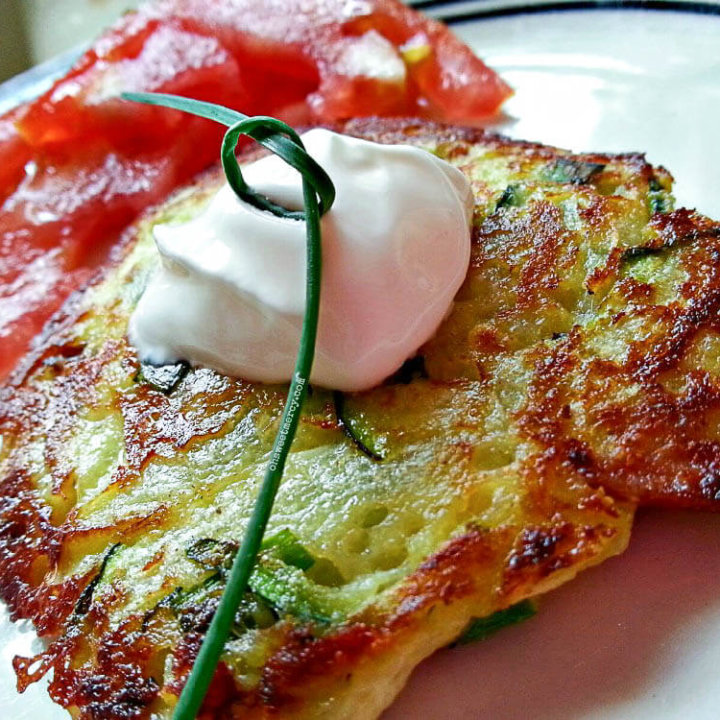 Zucchini Fritters | THM S, Low Carb, Keto
Yield: 10 to 12 Fritters
Prep Time: 10 minutes
Cook Time: 20 minutes
Total Time: 30 minutes
This easy, low carb and grain free zucchini fritters recipe is a great way to use that prolific garden veggie! They're great for breakfast alongside a fried egg, for lunch with fresh sliced tomatoes, or even for supper with a big garden salad.
Ingredients
4 c shredded zucchini, drained well
1/4 c minced, fresh onion
2 Tbs snipped, fresh chives
1 clove fresh minced or pressed garlic (or 1/2 tsp dried minced garlic)
1 tsp kosher salt
1/2 tsp ground black pepper
2 eggs, lightly beaten
1/4 c almond meal, THM Baking Blend, or ground flax. Could also use 1 Tbs coconut flour or so
1 Tbs nutritional yeast (optional)
1/2 c diced turkey ham (optional)
1/2 c shredded cheese (mozzarella, cheddar, colby or other favorite cheese)
1-2 Tbs oil for frying (butter, expeller pressed coconut oil, etc.)
Instructions
Combine drained zucchini, onions, chives, garlic, salt, pepper and almond meal (or alternatives)
Add cheese and meat, if desired
Add beaten eggs and mix well
If it seems too runny, add more almond meal (or alternatives) a tablespoon at a time until it is more like a crepe batter consistency
Heat skillet over medium-high heat and melt butter or coconut oil until a few drops of water sizzle in the pan when added
Scoop 1/4 cup of mixture out and carefully add to skillet
Use spatula or spoon as necessary to form an even, round patty
Fry until golden brown, about 4 minutes or so, then flip
Fry other side until golden brown, another 4 minutes or so
Remove from pan and keep warm until serving
Makes approximately 10-12 fritters
Notes
If not adding cheese or meat, decrease egg to 1 or increase flour by a couple tablespoons

Nutrition information is for one fritter.
Recommended Products
As an Amazon Associate and member of other affiliate programs, I earn from qualifying purchases.
Nutrition Information:
Yield: 10
Serving Size: 1
Amount Per Serving:
Calories: 88
Total Fat: 6g
Saturated Fat: 2.7g
Trans Fat: 0g
Unsaturated Fat: 1.3g
Cholesterol: 49.4mg
Sodium: 290.4mg
Carbohydrates: 3.5g
Net Carbohydrates: 2.2g
Fiber: 1.3g
Sugar: 1g
Protein: 4.6g
Nutrition information is approximate and based on the best knowledge available at the time of recipe publication. Your results may vary due to differences in ingredients. You can make your own calculations if this recipe does not include nutrition info by using an online calculator such as https://recipes.sparkpeople.com/recipe-calculator.asp