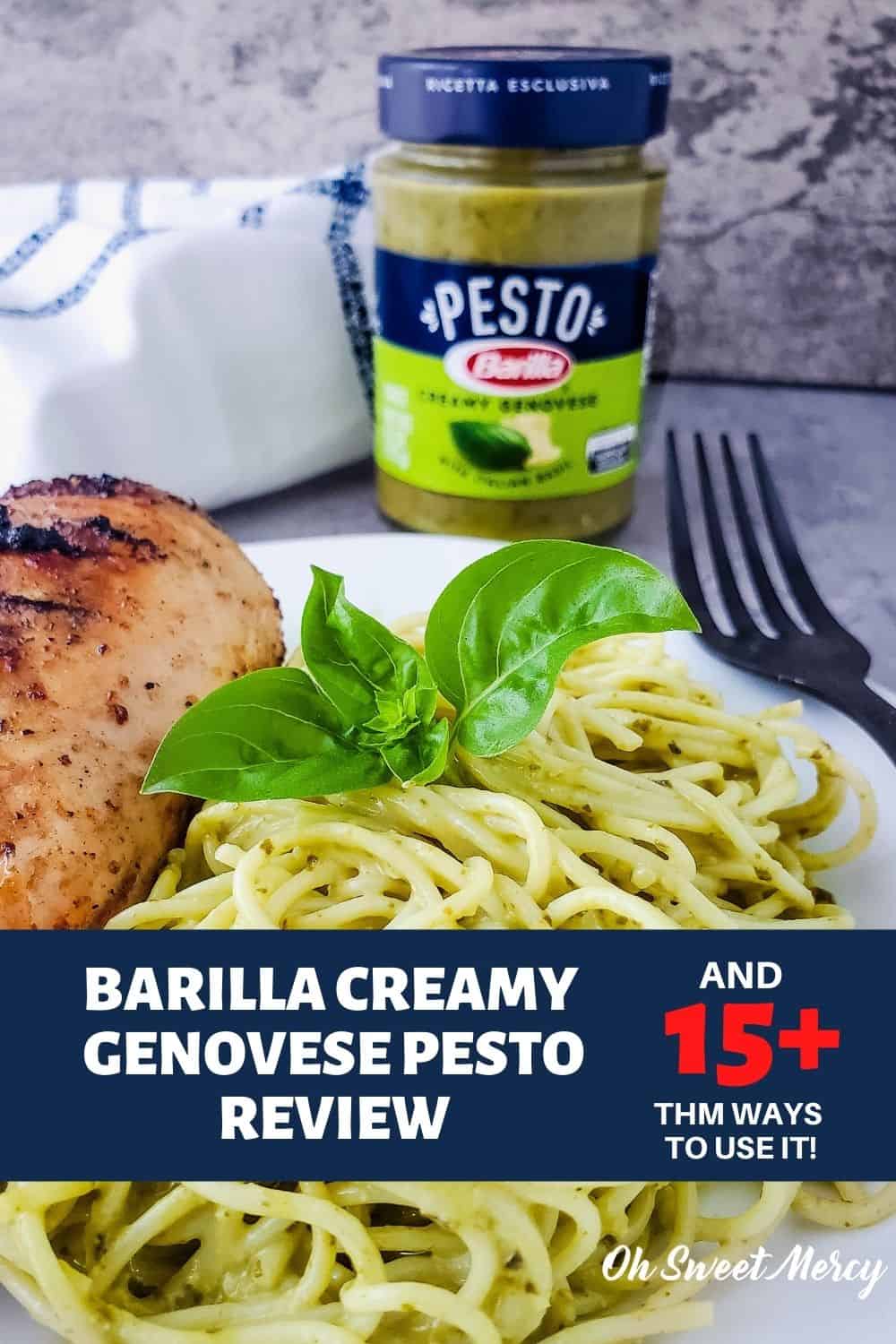 ---
Have you tried Barilla's Creamy Genovese Pesto? It's such an easy and delicious way to add a gorgeous burst of Italian flavor to your meals. With so many ways to use it – from warm side dishes to cold salads and snacks – it's a must-have pantry staple.
---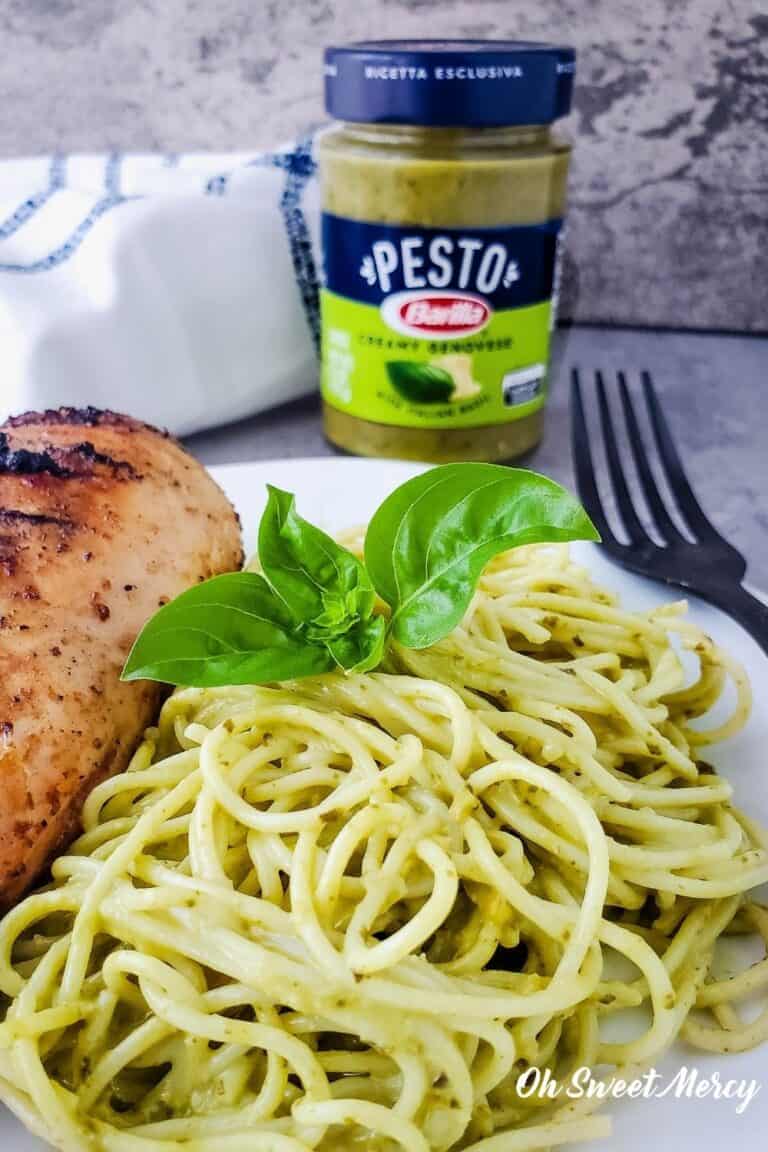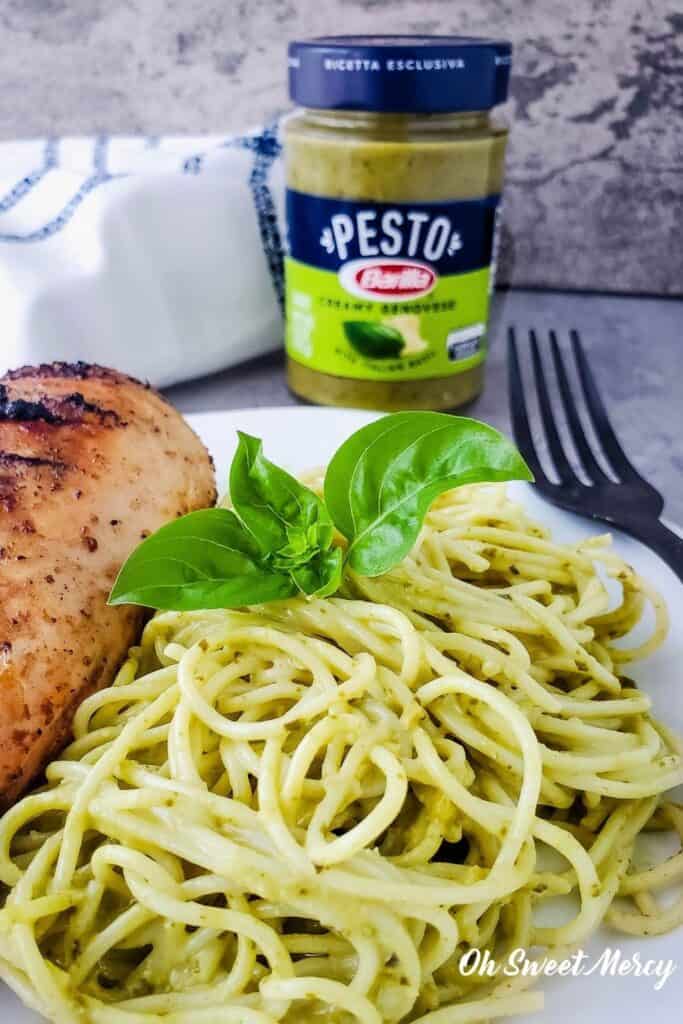 I'm excited to partner with Moms Meet (momsmeet.com) who sent me this product for free to use and post my honest opinions. Compensation for this post was provided but does not influence my opinions.
Pesto is an amazing food. Besides being absolutely delicious it's incredibly versatile and I love anything versatile! It makes making meals and snacks so much easier.
And, basil.
I absolutely adore basil! It's one of my favorite parts of summer. Not only is its fresh, bright flavor delicious with so many foods (even ice cream!) it's also super healthy for you. Did you know it has anti-inflammatory, antibacterial, and antimicrobial properties?
Barilla Creamy Genovese Pesto is made with that most wonderful, flavorful herb. Plus, it's imported from Parma, Italy and made with fragrant Italian basil and freshly grated Italian cheese.
It's an Italian flavor combo you know and love!
We Tried Barilla Creamy Genovese Pesto And Here's What We Thought:
So, with my current sitch of working around food sensitivities, I couldn't try this pesto like I wanted to – smothering a grilled chicken breast, spread on a Thin Stackers cracker and topped with a slice of fresh garden tomato and a chiffonade of purple basil, or stirred into some cauliflower rice.
I did take a tiny taste (I'm supposed to avoid cow's milk right now and it contains Parmigiano Reggiano cheese so no indulging for me, sadly). Even though I couldn't enjoy it in its full glory, I imagined it gloriously (see above paragraph 😉 ).
It's absolutely divine!
BUT, my family eats whatever they want and of course tried more than just a tiny taste.
Mister had some on scrambled eggs. He often adds basil, oregano, or Italian seasoning to his scrambled eggs so this was a lovely twist to his old stand-by.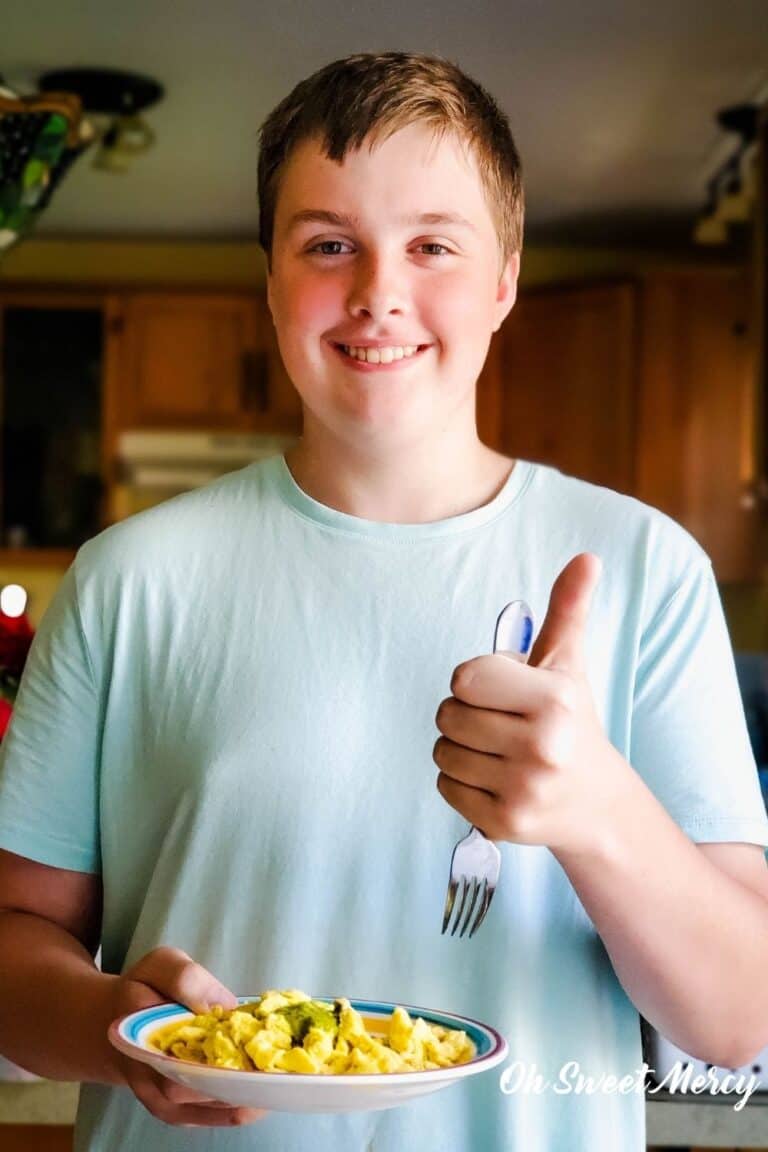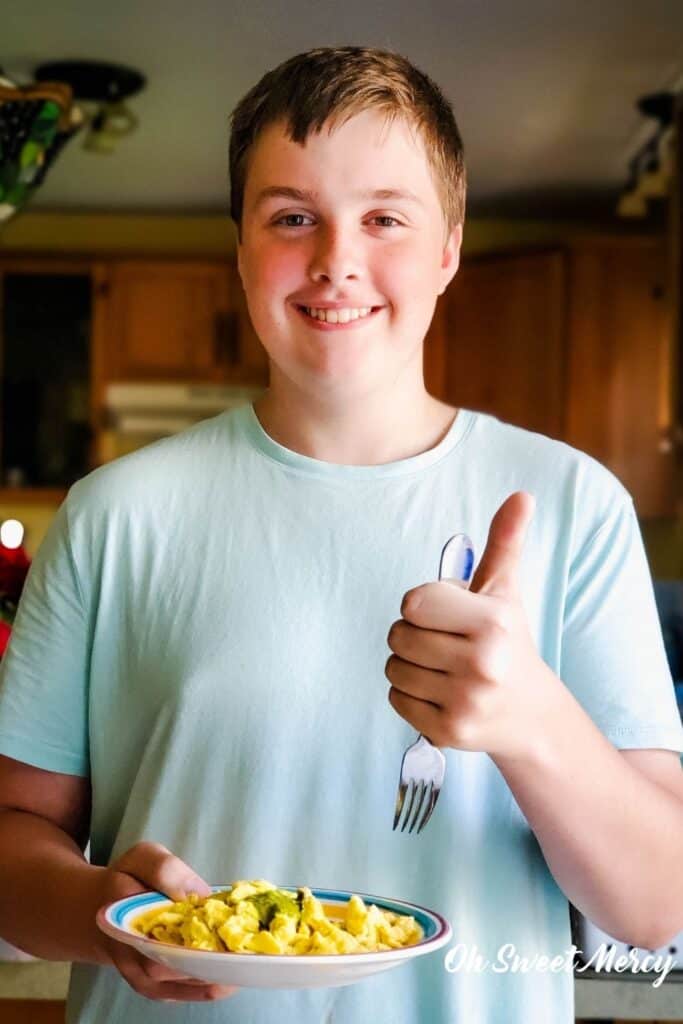 Got a big thumbs up from Mister on this! And, the kitchen smelled divine…sigh.
I had a feeling it would make a terrific and flavorful way to dress up a cracker or rice cake and Sister tried out my imaginary creation: a Thin Stackers rice cake spread with pesto, topped with a slice of juicy, ripe tomato freshly picked from our garden and a chiffonade of purple basil sprinkled on top.
While she wasn't crazy about the rice cake texture she loves the creaminess and flavor combo of the pesto, tomato, and our garden basil.
TIP: If you're not a Trim Healthy Mama plan follower replace the rice cake with a slice of a nice crusty baguette or crostini.
If you are a Trim Healthy Mama plan follower any on-plan bread option would work terrifically. I give some plan-specific tips below so keep reading!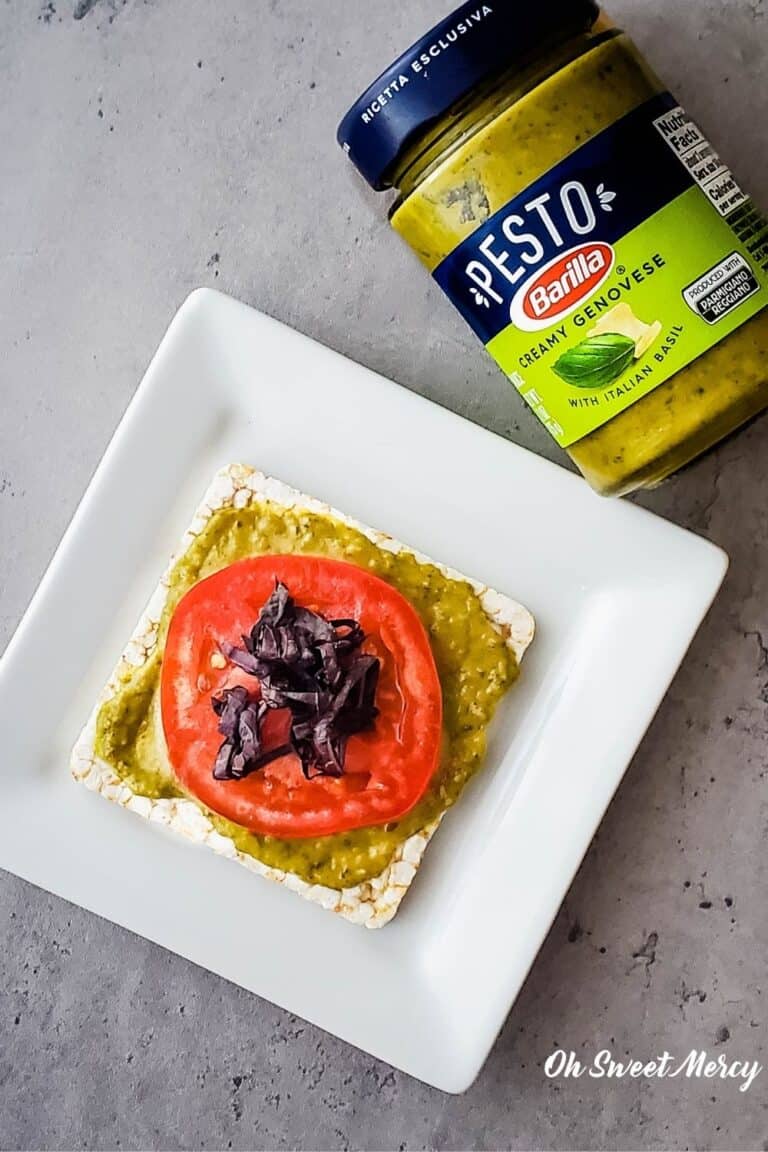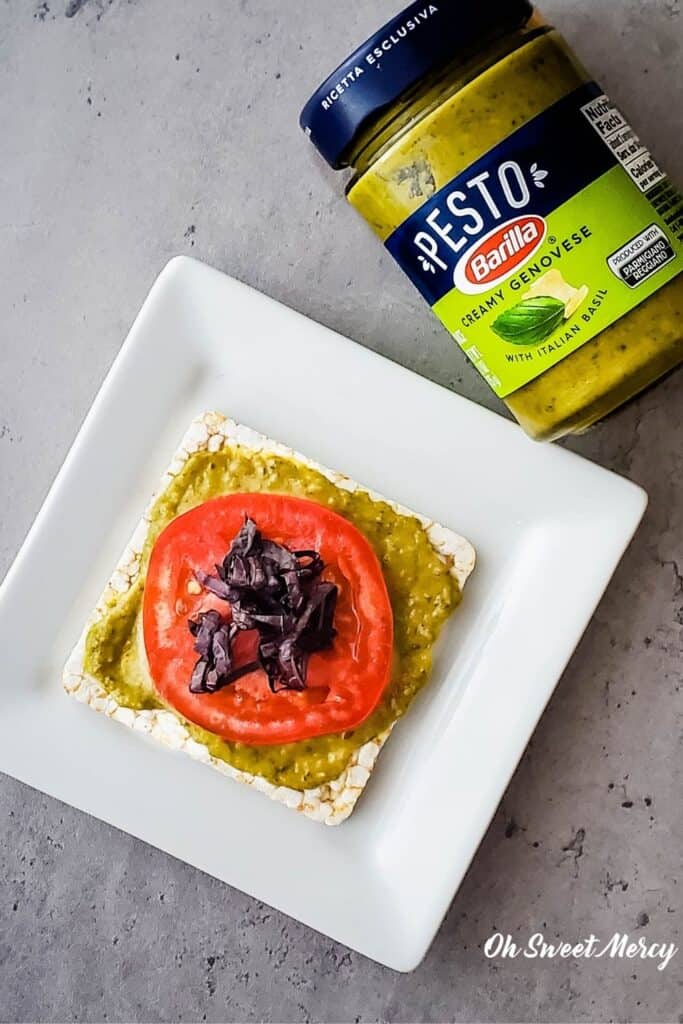 While I didn't get a photo of my hubby trying it, he gave it a "not bad." He's kind of like the food critic in Ratatouille – not easily impressed by much of anything. So really, "not bad" is pretty good!
Overall Verdict:
It's a winner! Thumbs up (in this order) for:
Convenience
Taste (a tie with #1 spot)
Versatility (really a tie for the #2 spot)
Texture
Ingredients (keep reading for more on that)
What's In Barilla Creamy Genovese Pesto (And Is It THM Friendly)?
Quite a few years ago I began making the switch to less processed foods. If I could make it, I did.
However, since I haven't completely thrown out prepackaged foods I always look for foods with minimal ingredients, ingredients I recognize, and ingredients I can pronounce.
What you'll find in a jar of this pesto is:
Sunflower oil
Basil
Cashews
Whey
Parmigiano Reggiano cheese
Soluable corn fiber
Salt
Extra virgin olive oil
Garlic
Basil extract
Overall, not a bad list of ingredients. The only questionable one, as far as Trim Healthy Mama goes, is the soluable corn fiber.
While it's not considered an "on plan" ingredient, it is a small amount in this product. A serving size is 1/4 cup (with 3 servings in the jar). For me, personally, I'd be fine with a couple teaspoons or tablespoon in my meal.
Added to a casserole or other multiple-serving dish, the amount would be negligible in my opinion. So, I'd classify this pesto as a "personal choice" item for the Trim Healthy Mama plan.
Where To Buy Barilla Creamy Genovese Pesto.
You can find this product at Target (SuperTarget), Publix, Stop & Shop (Super Stop & Shop), Meijer, ShopRite, Hyvee, Albertsons, Safeway, Vons, and more.
How much does this tasty pesto cost? On average, a 6.2 ounce jar of pesto retails for $3.29.
Use this Store Locator to find it in your area.
To preserve the natural color of basil and the fresh aroma of Italian Cheese, Barilla minimizes the handling of ingredients and rapidly prepares their recipe in as little as 3 hours from the start of ingredient preparation to the tightening of the lid.
Ways To Use This Pesto In Your THM Meals And Snacks (Not Just For Trim Healthy Mamas!)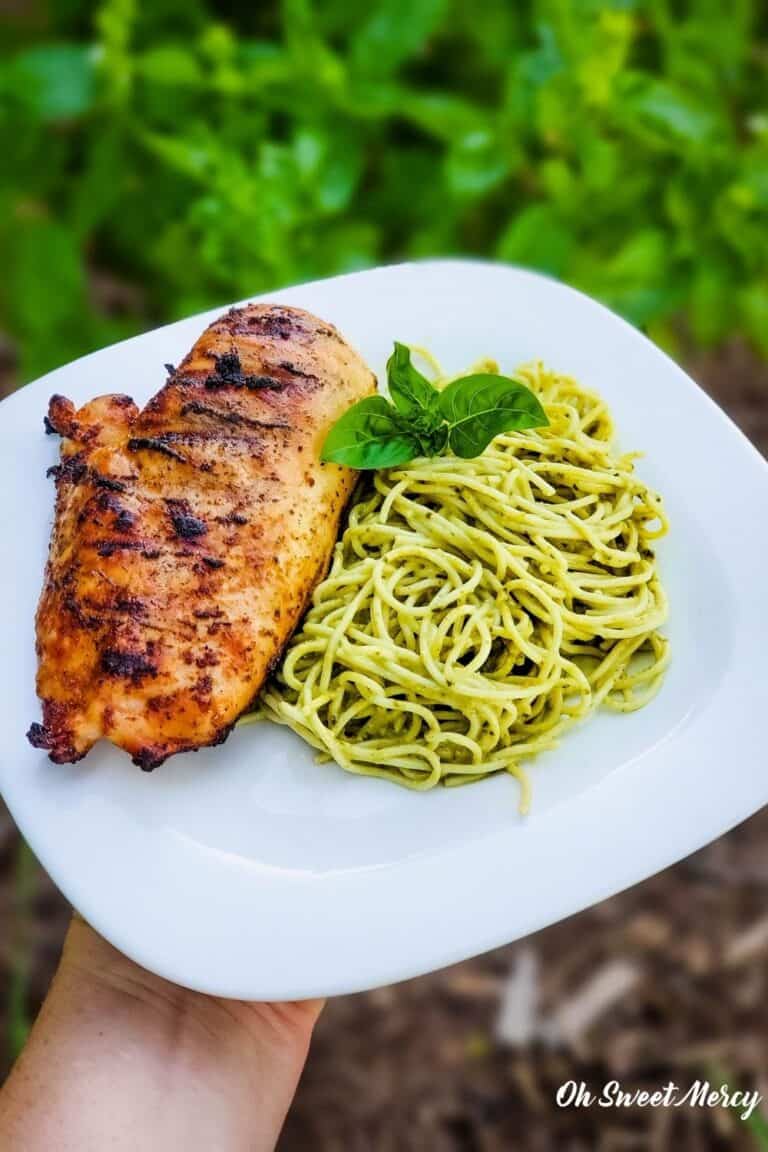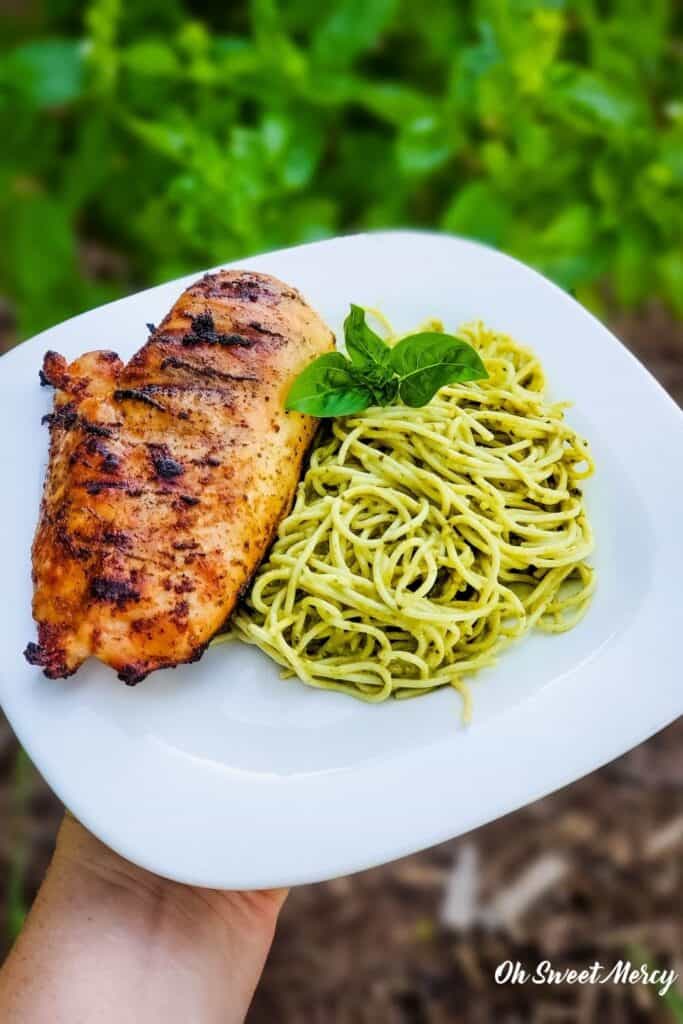 I shared a few quick and easy ideas above, but in case you missed it I'll list them below. Plus, feel free to explore the Trim Healthy Mama friendly recipes using pesto below. They're a terrific place to use Barilla Creamy Genovese Pesto!
Wait, What's This Trim Healthy Mama (THM) Thing?
What's Trim Healthy Mama? It's a healthy diet and lifestyle plan, the one I've followed for 7 years now. It takes a balanced approach to nutrition – no food groups are cut out! It's versatile and adaptable for any stage of life. AND it's not just for women (or moms). ANYONE can benefit from this sane approach to eating.
We encourage real, whole, minimally processed foods. But there are convenience-type foods that are plan-approved.
Want some fats? Enjoy the healthy ones, just keep your carbs low. Most keto recipes are THM friendly! Craving carbs? We've got you covered – just make sure they're not refined/processed versions and keep your healthy fats low.
Basically, we generally keep our fats and carbs well separated and don't get stuck in ruts – like only eating low carb or only eating low fat. We mix things up and enjoy all the abundantly delicious and healthy foods God created for us!
For all the Plan details, the best source is the Trim Healthy Mama Plan Book!
In the suggestions below, you can generally substitute "regular" foods (like regular bread instead of sprouted wheat bread – on THM flours need to be sprouted or soaked/soured) for on-plan THM foods/ingredients if you're not a plan follower.
I'm a Certified THM Lifestyle Coach so if you want more information, or need coaching, feel free to let me know and I'm happy to help.
Now, let's get to those delicious ways to use Barilla Creamy Genovese Pesto!
You want to pin this post for later so do that now 😉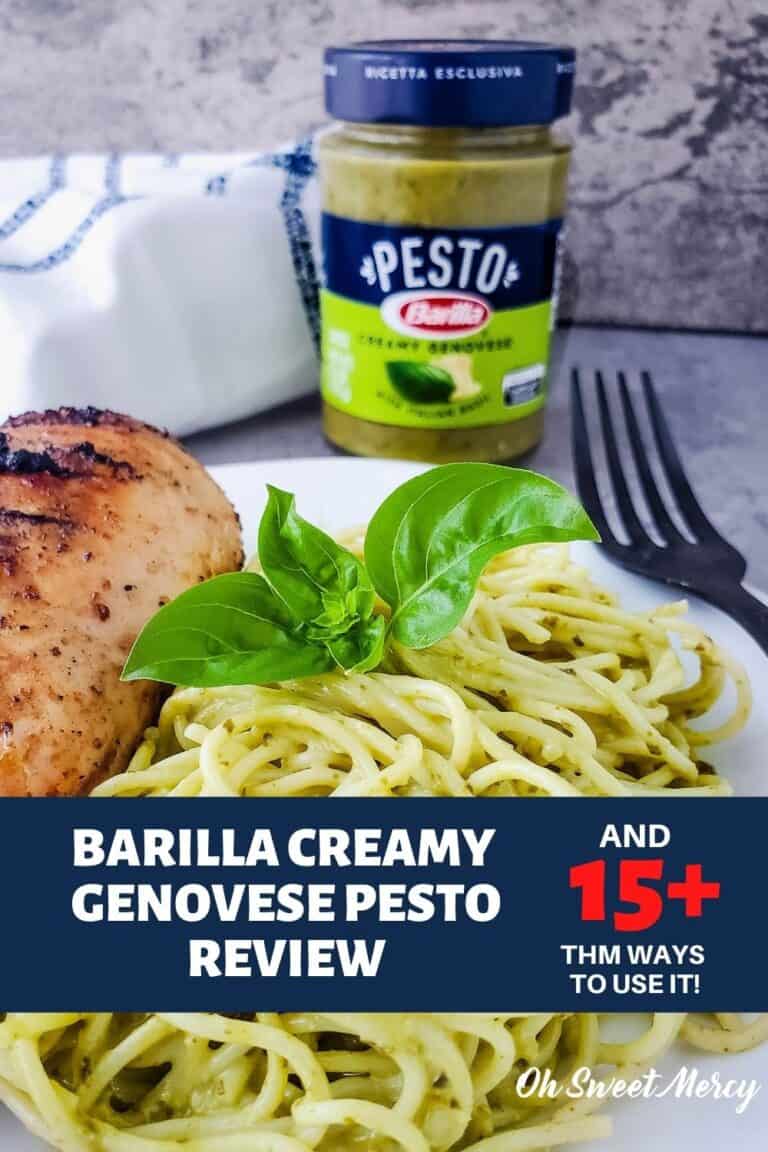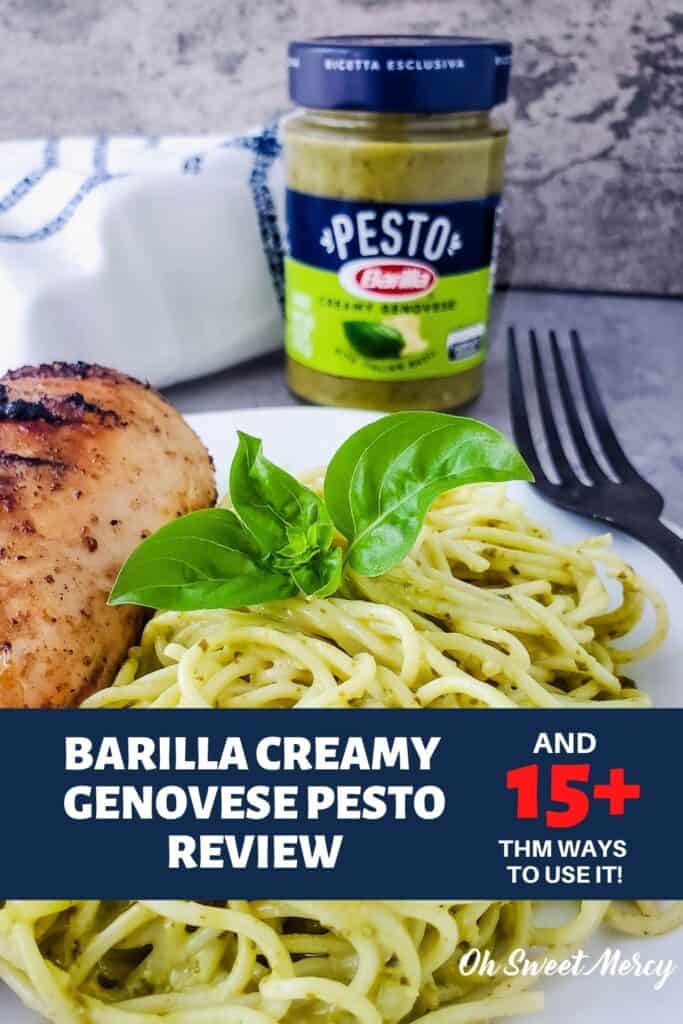 This tasty spread can be used in so many ways, just keep in mind your fats and carbs if you're following the THM plan. While a full serving of this product is an S because of the oil and cheese, one teaspoon has just 2.2 grams of fat. Using 1 or 2 teaspoons as your added fat in an E or FP meal works too!
Best of all, it's so flavorful a little bit does a lot!
Spread pesto over a piece of grilled meat or fish – a bright, fresh way to enjoy summer!
Use as a spread on plan-approved crackers or breads.
Use in place of tomato sauce for pizza.
Mix into mayo for a sandwich or wrap spread.
Mix with veggies or pasta
Stir into grains such as rice or quinoa
Make a warm or cold veggie and pasta side dish/salad
Perfect with baked or air fried potatoes (sweet or yellow potato for THM)
Mix into cauliflower rice or zucchini noodles
Marinate meats, fish, or even veggies
Pesto Tip: a little goes a long way! One 6.2 ounce jar mixes nicely with 16 ounces of pasta.
Want some recipes? I've got you covered! Some of these have pesto recipes included, just skip that step and use the Barilla pesto – super easy!
Trim Healthy Mamas, all the recipes below are THM friendly (you may need to swap out an ingredient or two in some so just check the recipe carefully).
Tasty THM-Friendly Recipes Using Pesto!
Pesto is an easy, tasty, and healthy way to add a little Italian flavor to your day. The recipes below are all THM (Trim Healthy Mama) friendly!
Photo Credit: joyfilledeats.com
This delicious keto salmon recipe with pesto will be sure to get your taste buds ready for some more bold flavors.
Photo Credit: joyfilledeats.com
There are just 3-ingredients standing between you and this delicious Pesto Cauliflower. It makes an easy side to go with all your favorite meals. Plus, this healthy dish also happens to be keto-friendly, low carb, gluten-free, and grain-free too. 
Photo Credit: www.acedarspoon.com
Spring Vegetable Minestrone is a vegan, healthy soup packed with vegetables, diced tomatoes, pesto and fresh herbs. This is a nice vegetarian meal that you can easily add chickpeas or white beans to and bulk it up.
Photo Credit: ohsnapletseat.com
Not only is this dish delicious, but it's actually also quite diet friendly! What I mean by this is that it's made with real food ingredients that make it naturally Paleo friendly, and also the perfect Low Carb and Keto summer option also!
Photo Credit: cookingwithmammac.com
You'll love these Pesto Deviled Eggs with lemon zest! Make these appetizers for holidays, brunch or even low-carb meal prep!
Photo Credit: www.theroastedroot.net
An easy, flavorful low-carb breakfast recipe that tastes like absolute heaven.
Photo Credit: glutenfreehomestead.com
Mediterranean salsa is a great way to amp up the flavor of all kinds of dishes. Made with just four ingredients, plus salt and pepper, it couldn't be easier to whip up.
Photo Credit: whereismyspoon.co
Aromatic sauteed zucchini with pesto, an easy to make, healthy zucchini side dish or light meal.
Photo Credit: divaliciousrecipes.com
Low carb and gluten free doughballs made with coconut flour and flavoured with Parmesan cheese and pesto.
Photo Credit: explorermomma.com
Full of summer flavors, keto pesto pinwheels are the perfect appetizer or game time snack! Basil, garlic, and sundried tomato in a gluten-free swirl.
Photo Credit: stephaniesain.com
Feta cheese and pesto combined in a creamy, flavorful dip perfect for any occasion.
Photo Credit: www.asaucykitchen.com
Fresh & Easy Pesto Cauliflower Rice Bowls | Make in 30 minutes or less | Low Carb + Whole30 Compliant + Paleo + Gluten Free
Photo Credit: pinchandswirl.com
Make creamy, garlicky, pesto aioli in 5 minutes with an immersion blender and a whisk!
Photo Credit: cookathomemom.com
This Low Carb Pesto Chicken and Spaghetti Squash Casserole is topped with mozzarella and tomatoes and SO unbelievably delicious! A one-dish Gluten Free, Keto Friend, and Kid-Friendly easy weeknight dinner!
Photo Credit: recipesfromapantry.com
[Drive Thru Sues, this one's for you!] This flavorful, versatile sauce is ready in just 5 minutes!
Have You Tried Barilla Creamy Genovese Pesto? Let Me Know What You Think & How You Use It!
I'd love to hear what you think about this product so be sure to let me know in the comments below! Also, I love hearing the creative ways you use it so share that, too.
Thanks for reading this review post and I hope it's helped you decide to give this product a try!