---
A year from now, what will you wish you had started? What will you regret starting and not following through? A year sounds so long, especially when you have a huge task in front of you. And yet, it goes by in the blink of an eye. If you're a mom, you definitely know what I'm talking about. Here's what happened for me after a year of Trim Healthy Mama living.
---
August 18, 2014 was a huge turning point in my life.
It was also one year ago today. It was the day I started my Trim Healthy Mama journey. This is where I started: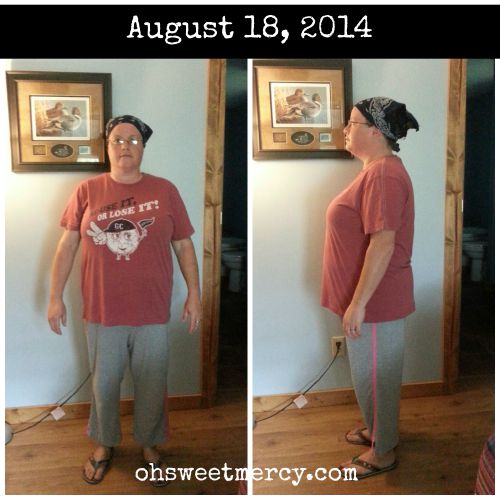 Read my Trim Healthy Mama book review here
Also check out my 90 Trim Healthy Mama Update here
I weighed 186 pounds, had high blood pressure and generally felt like poo. Tired, lethargic, grouchy far too often. This, in spite of mostly eating a "real food" and gluten free diet for several years. Something that I was sure would kickstart weight loss for me.
It didn't. I lost and gained the same ten pounds each summer, plus a couple more over the winter, but I never was able to lose any significant amounts of weight. It was frustrating and disappointing, especially since I had believed that making the switch to real foods and eliminating gluten was the key for improving my health.
Goals Help Motivate!
Last summer, I decided to go on a trip to Israel. Of course, this wasn't your typical "tourist" trip to the Holy Land. It was a strenuous 17 day hiking and study tour of Israel and Jordan, led by a guy from our Sabbath fellowship I now affectionately call "Wyndiana Jones." We're not entirely sure he is human, because he just never seems to tire or slow down, so I knew it would be challenging to keep up on this trip, and I knew in the condition I was in then, I would surely perish in the Holy Land.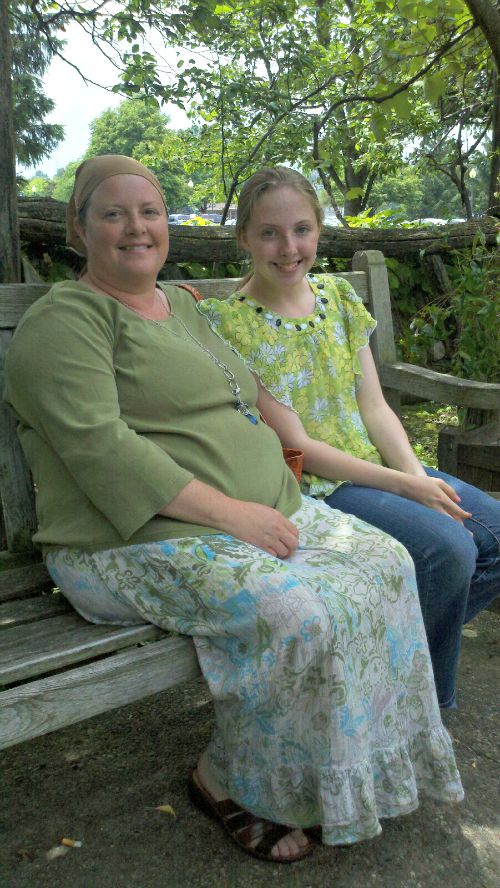 This photo was taken in June, 2014, around the time I was contemplating taking the trip to Israel. I weighed about 196 pounds here. I lost ten pounds (after starting to take Diatomaceous Earth) right before starting Trim Healthy Mama.
I needed a miracle. So I prayed.
I've been overweight all my adult life. I started believing I was fat around the time I was in the third grade. I might have been a little fluffy then, but I was not fat like I thought. Years of telling myself and speaking that out to others combined with poor food and lifestyle choices resulted in just that. I went from needing to lose maybe 15 pounds to desperately needing to lose at least 65.
High blood pressure runs in my family, and I'd been on medication for that for around ten years. Even with the medications I was taking, it never really got much below high normal. I had also been told I was diabetic. For years I would not even say that word. I refused to accept it, but took the medication and grudgingly checked my blood sugar every now and then. I don't know why it upset me so much, other than it now meant I Can't Eat Whatever I Want. Hmpf.
Pretty much felt like a sulky kindergardener inside.
Trim Healthy Mama was my answer to prayer.
After making the decision to go to Israel, I offered up a desperate plea to YHWH for help. I knew that I could not lose weight without some kind of divine intervention. Trim Healthy Mama was that answer!
When I first got the Trim Healthy Mama book, I'll admit to thinking "Oh lord, what have I gotten myself into…" But I did the only thing I could do and that was open the book and start reading. When I felt like I had a good enough grasp on it, I dove right in and started doing the Trim Healthy Mama thing.
I made mistakes along the way, of course. Every newbie does. I didn't read labels correctly. Or I had to do math in the morning and well, yeah. Math in the morning, what can I say? Sometimes, temptation was too much and I caved and ate things I shouldn't have.
Dark Chocolate Coconut Cake in a Mug – for when you crave chocolate!
But, three hours later I could get right back on plan and keep going. I couldn't use that as an excuse all the time, of course, but I love the gentle, forgiving and sensible approach to healthy eating that the Trim Healthy Mama Sisters encourage us to have. We beat ourselves up far too often, ladies. It's not necessary, and it only hurts us in the long run.
What I learned in a year of THM living:
You learn a lot about yourself when you embark on a journey to change a lifetime of bad habits and "stinkin' thinkin'." To be open to changing these unhealthy habits means being willing to see things for what they really are. Sometimes that means realizing things about yourself that are unpleasant.
Here's a few things I learned in the last year…
MY TONGUE IS AN EVIL LITTLE TODDLER I realized, after a while, that all these years I thought I was helpless when it came to resisting temptations or making better food choices that those choices were actually made by my evil little childish tongue. Somehow, I got kicked off the Committee and now this bratty little member was calling all the shots. When I decided that I AM THE BOSS of what goes into my mouth and I can choose to eat what is healthy and nourishing for my body OR I can let the Toddler choose what tastes good in the moment but will be harmful in the long run, it became much easier to make better choices. I now choose to eat what will make me feel good, not just what tastes good. Thankfully, there are so many tasty Trim Healthy Mama recipes out there you can always find something that tastes good and leave the Toddler sulking in the corner.
I'M REALLY NOT 20-SOMETHING ANYMORE You'd think, at 43, I'd have been aware of this fact by now. But even though I'm in my 40s, a mom and a grandma, I don't feel like I'm in my 40s. I may feel 20-something on the inside, but I have a 40-something's metabolism. For me, I'm not going to lose 65 pounds in four months. It took years to pack it on and many years of maintaining it, it's going to take some time to get it off.
TRIM HEALTHY MAMA CAN BE AS EXPENSIVE AND DIFFICULT AS YOU WANT TO MAKE IT We are a one income family on a tight budget. We do this so I can be home with my kiddos and I wouldn't have it any other way. I shop at Aldi a lot, plan meals and grocery lists every week. I work with what I have and have to make adjustments all the time, I just roll with it. I keep a list of "specialty items" that I'd love to have in my meal planner/grocery notebook and if I can get them, great, if not, I make do. I have time to cook from scratch (and already did due to Mister's food sensitivities and a general desire to avoid processed foods), so for me that was not a big adjustment at all. It may be harder for a working mom, or a mom with a large family, but really this plan is only as hard and expensive as you want to make it. There is a learning curve, but once you get the hang of it it's not hard at all. It may take a while for it to "click" – give yourself some grace, you may be changing a lifetime of eating habits and that takes time!
EXERCISE REALLY IS IMPORTANT I have ALWAYS hated to exercise. Always avoided it any chance I could. I hate being hot and I hate to sweat. Yuck. But guess what, YHWH didn't create us to sit around and collect dust all day. He created us to move and be active, and part of being healthy means moving this body. Suck it up, Buttercup. Better yet, try T-Tapp! I do the Basic Workout Plus, because I can handle a 15 minute workout.
I AM NOT ACTUALLY A CARBOHOLIC For years, I proudly claimed the title "carboholic." Funny thing happened though – once I couldn't have my carbs deep fried and smothered in butter or cheese, they really weren't very appealing anymore. And guess what, I finally started losing weight!
A FUEL CYCLE ISN'T AS HARD AS IT SOUNDS When I first read about the Fuel Cycle, I thought "Dear YHWH please don't let me ever need to do one of those!" It sounded awful. THREE whole days IN A ROW of E meals? Ack. But, after finding myself stuck for a few months, I decided I had to try it. I was one of those brave ones and did a three week fuel cycle. I didn't lose one ounce, although my husband said I looked smaller and my clothes seemed a little more loose. It was disappointing, as I faithfully stuck to the Fuel Cycle for three weeks, aside from one meal that I didn't plan well. BUT, I learned that E meals (my least favorite because I love me some fats) can be tasty and satisfying and so can Fuel Pulls! Even though the Fuel Cycle didn't result in lower numbers on the scale, it wasn't a waste of time. I knew I needed to mix up those fuels more, as I tend to default to S meals. I also think I may have some thyroid or other hormonal issues going on (surprise surprise, 40s Lady…) that is making this last bit of weight hard to lose.
A NUMBER ON A SCALE IS JUST A NUMBER Yes, it's encouraging and motivating to see that number get smaller. But it's just a number. It's arbitrary because your body shape and makeup is different than someone else's. Your bones may be more dense. You may be gaining muscle and losing fat, which sometimes means that number goes UP…but your clothes are getting loose. That is a more accurate picture of your "weight" loss than what that scale says. Don't let it enslave you. Use it as a helpful tool, but don't let it get you down unnecessarily.
50 Terrific Fuel Pull Recipes!
Where I am today…
…is not quite where I'd hoped to be. It is also where I never thought I could be just a few years ago. I tried on a pair of size 12 jeans back in the spring, just on a whim, and they fit. I sat in the fitting room and cried, for real because when I started Trim Healthy Mama I was wearing a size 20 or 22. I can't remember the last time I wore a size 12. I can wear large, and even sometimes medium shirts now, instead of 22W. I'll always be larger on top, that's just my body style. But to be able to buy clothes NOT in the plus sized section…I could hardly fathom such a thing just over a year ago.
I bought hiking pants ONLINE, without trying them on. Just last week I bought a pair of jeans at a yard sale without trying them on. NEVER would have happened five years ago. Or even a year ago, for that matter.
What about my blood pressure? Guess what, it's NORMAL for the first time in over ten years. Without medication! I wish I could tell you what my blood sugar is, but I'm not able to check it right now. I can tell, however, by how I feel after eating a higher carb E meal that my blood sugar is better controlled. In the beginning months of Trim Healthy Mama, E meals would make me feel a spike in my blood sugar. I keep to the lower end of the recommended carb range but even if I have close to the upper limit, I don't feel that spike anymore.
This is what I look like today: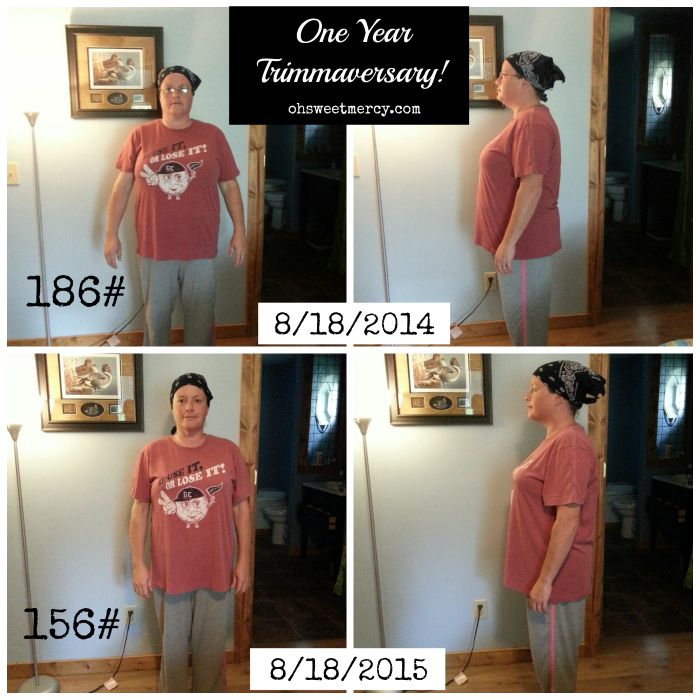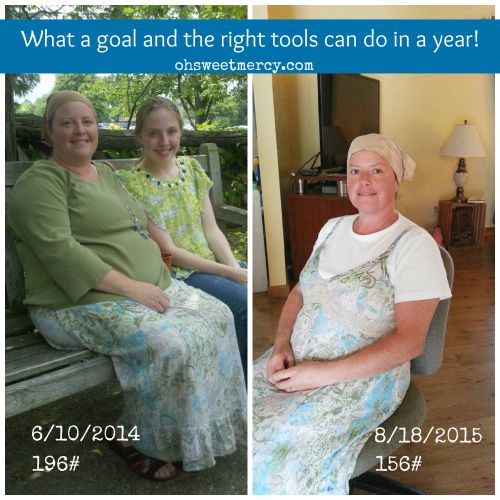 I could never have worn a shirt under this dress a year ago, it was waaaay too tight! It's loose and comfy now, plenty of room for a shirt underneath!
At 156 pounds, I'm just 20 pounds or so from my goal weight. It's coming off slowly. I may not get there. And you know what, I'm OK with that. Yes, I want to lose more but more important than a number on a scale is how I feel. I'm healthier than I've ever been and that is what is important to me. Am I going to give up? No way! I love this way of eating and living and I'm never going back to what made me fat, sick and unhealthy ever again.
Did I perish in the Holy Land?
Obviously not or I wouldn't be writing this, right? I'm not going to lie, it was really hard some days. But I did it. I climbed up mountains and hills, through tunnels and unexcavated caverns. I scaled down practically vertical cliffs. I hiked many, many miles in hilly, mountainous Middle Eastern desert terrain. It was the most amazing adventure I've ever had, and I know without a doubt that YHWH sent me Trim Healthy Mama so I could get in shape to go and experience His land. I am eternally grateful to Him and to these two sweet sisters who have put so much hard work into this plan.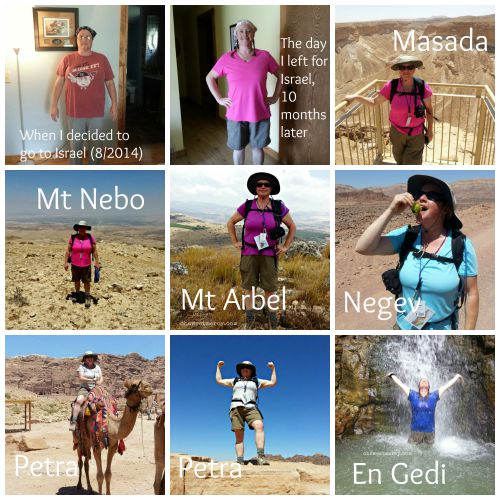 If you've never been to Israel or Jordan, let me just tell you that the Holy Land is entirely uphill. I could not believe how many steps…carved out of stone…were in the desert! This wasn't just leisurely strolling along paved paths. There were a couple of those, but mostly it was hills, mountains, rocks and thorns. And goat poop, can't forget that 😉
I never would have been able to physically do all these amazing things in all the amazing places that I went had it not been for YHWHs answer to my prayers in Trim Healthy Mama. Now, when I read Scriptures, it is more than just words on a page – I know what it looks like, I can remember being in those places, like Mt Nebo, where Moses stood and looked out over the Promised Land.
Where do YOU want to be a year from now?
If you want to lose weight and improve your health by this time next year, then today you need to start doing something differently than what you've been doing. A year is a long time. Maybe you have a lot of weight to lose. Break it down into smaller chunks, focus on one meal at a time and keep making good choices. Be the boss of what goes in your mouth! Get off the couch and move as much as you're able and keep at it. Don't give up. You may not be where you want to be in a year, but if you don't start trying today, you'll never know how far you can go in just one year.
If you've been encouraged by my Trim Healthy Mama Trimmaversary testimony and want to know more about this Trim Healthy Mama thing, you can read other testimonials and order the book at the Trim Healthy Mama store through my affiliate link. If you purchase the book, or any of the terrific Trim Healthy Mama products available, I'll receive a small commission and will be blessed by it so thank you! I don't sign up for affiliate programs just to make a buck, I do it because I trust the product or company. In the case of Trim Healthy Mama, I heartily endorse this plan and their products 100% because it has changed my life! Click below to start changing yours:
I Want to Be a Trim Healthy Mama, too!
Pin This Trim Healthy Mama Trimmaversary Testimonial to your Favorite Pinterest Boards!