What is a WonderMix?
The WonderMix is a deluxe kitchen tool brought to you by the makers of the amazing WonderMill. I got a chance to participate in the WonderMill Grain Mill Challenge a few years ago and it's been one of my favorite kitchen tools! So when I got a chance to review the new WonderMix, I jumped on it.
The WonderMix combines two of the most-used appliances in my kitchen – the blender and stand mixer. Plus you can also purchase attachments like a slicer/shredder, meat grinder, grain flaker and grain mill.
Here's what came in the box: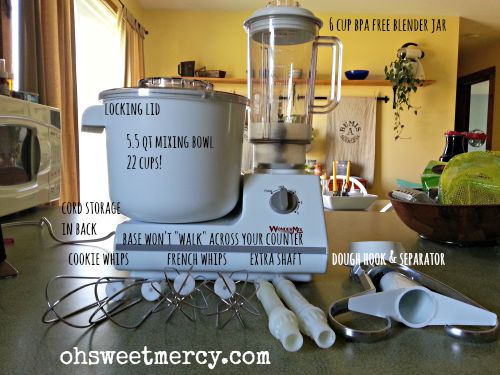 Is it powerful?
We like to joke about men and their quest for more power. And their power tools. But ladies, let's be honest…we like power too, right? Especially if we're busy women in the kitchen. We don't have time to fool with appliances that just don't have the power to get the job done. Just check out the features of the WonderMix:
900 Watt Motor
Direct Drive High Torque Transmission
3 Speeds + Pulse
Large 22 Cup Mixing Bowl (5.5 qt.)
Heavy Duty Tru-Mix Dough Hook
Convenient bowl handle
BPA Free
Cord Storage Compartment
No Walking Base
Overload Protection
Quiet Operation
Dishwasher Safe Bowl
Safety Bowl Locking System
Double Beating Whisks
That 900 watt motor means you can power your way through mixing big batches of bread and cookie dough! Or whip up smoothies in a hurry! Now, I will say that this is NOT a Vitamix or Blendtec, but it is much more powerful than your typical blender. It's definitely powerful enough to make a delicious, healthy "ice cream" with frozen fruit and coconut milk. My kiddos love banana "ice cream" made with just frozen bananas and almond milk. It whips up in a jiffy, too.
Since I had killed my blender some time ago, the first thing we made was smoothies! Happy, happy kiddos, let me tell you: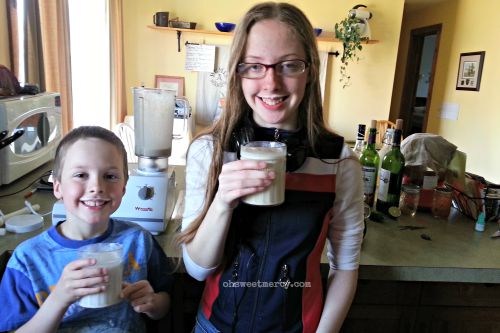 You can also see my poor stand mixer, which I also killed, in the background. It has made a lovely planter, at least!
Watch this video to see the WonderMix in action!
What Trim Healthy Mama recipes can I make with a WonderMix?
**Please note, I have the August 2014 Edition of the Trim Healthy Mama book so all recipes mentioned with page numbers are from that book. You can pre-order the upcoming release of the new, simplified Trim Healthy Mama plan AND their new cookbook (which includes one of my own recipes!) through my affiliate partner HERE**
With the blender attachment you can make:
Sunrise Surprise Smoothie (FP) from Wonderfully Made and Dearly Loved
Low Carb Peanut Butter Cup Milkshake (S) from Working from Homeschool
Salted Caramel Frappe (FP) from The Fabuless Wife
Tiramisu Smoothie (S) from Nana's Little Kitchen
Sugar Free Lemonade Frosty (FP) from Nana's Little Kitchen
With the mixing bowl and whips you can make:
Anything you'd make in a stand mixer!
BIG batches of cookie dough
Whips and meringues
Quick breads such as Marcy's Cheesy Rolls (S) on page 271
Speedy Thin Crust (S) for pizza on page 278
Make a big batch of my Flourless Chocolate Cake with Coconut Almond Topping (S) for a potluck!
Get prepared and make a big batch of these Spicy Quinoa Fritters (E) (or make them not spicy if you like) to freeze or eat through out the week for easy breakfasts and lunches
Here's some more recipes my THM Blogging Buddies so kindly shared with me for you:
Pumpkin Muffins (S) from Darcie's Dishes
Cowboy Cookies (S) from Mrs Criddle's Kitchen
Double Chocolate Mint Cookies (S) from Mrs Criddle's Kitchen
Low Carb Cookie Dough Dip (S) from Gwen's Nest
What about bread dough?
I also fairly regularly make challah for our Shabbat meals. It's not on plan at all, but this recipe I found, called Famous Challah, is my absolute favorite. One of these days I'll figure out a delicious on-plan version, but for now I enjoy this small indulgence on my favorite day of the week.
The Famous Challah recipe above makes two very large challahs and the amount of time I save not having to knead the dough (because the WonderMix does it for me) makes me very happy on Preparation Day!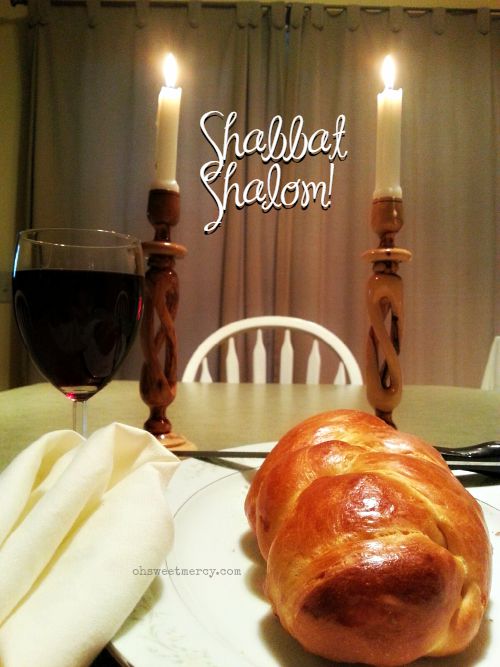 Making bread dough in the WonderMix is slightly different than making it the old-fashioned way. You don't need to proof the yeast first, which also saves time! But you do need to add the ingredients just a little differently:
…With the WonderMix, just add the same amount of the flour, sweetener, salt, shortening/oil and dry yeast equal to the amount of liquid that the recipe calls for. This will give you the right temperature to grow the yeast in the mixing bowl, rather than add later. For example, if the dough recipe calls for a total of 2 cups of water, the amount of the flour, sweetener, shortening/oil and dry yeast mixture would be 2 cups as well. Any remaining ingredient amounts should be added later; just follow the recipe. –from the WonderMix Owners Manual
Once I got the hang of it, making bread has been a snap. I did need to consult the manual a few times to remember how to do it correctly.
If you are the only one in your family following Trim Healthy Mama and have hungry bread-loving family members to feed, you'll appreciate the large capacity of the WonderMix bowl. You can easily mix up enough dough to make five or six loaves of bread! I love the locking lid that keeps flour from flying all over the kitchen, too.
Wondering what all this Trim Healthy Mama stuff is about? Read my reviews here:
90 Days of Trim Healthy Mama – A Progress Update
My Trim Healthy Mama "Trimmaversary" – One Year Later
What are WonderBalls?
One of our favorite things to eat around here are meatballs! While I love to eat them, I can't say I'm so excited about making them because to really make good meatballs, you've got to get your hands dirty. Mixing with a spoon just doesn't work. I decided to try my WonderMix to mix up the meatball mixture and was very pleased with how much easier it now is to make meatballs.
I called them WonderBalls because they are made in the WonderMix. And they are WONDERFUL. Low carb and gluten free, too! If I have psyllium husk on hand, I use that to increase the fiber content but it's not necessary. You can also use a small amount of oat flour or plan-approved bread crumbs like the Sisters mention in their meatloaf recipe in the book on page 316. I also use leftover cooked quinoa sometimes.
The WonderMix has made this Trim Healthy Mama very happy!
This powerful kitchen tool makes whipping up THM meals, shakes and snacks a cinch. I love that the components are all dishwasher safe (top rack). It is easy to use and since I use it several times a week I love that it stores nicely right on my counter. Its really been a wonderful addition to all my Trim Healthy Mama tools to help me improve my health and lose weight.
I'll be posting more recipes to show what you can do with the WonderMix soon so be sure to come back and check them out!
Be Sure to Pin this WonderBalls Recipe to Your Favorite Pinterest Boards!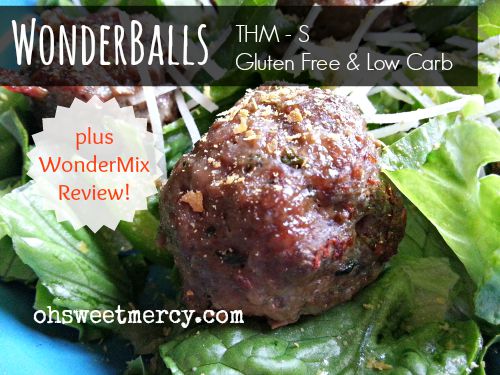 [amd-yrecipe-recipe:5]