I was in one of those I'm Hungry But Nothing Sounds Good And I Don't Feel Like Cooking moods.
It's a familiar mood, unfortunately.
Last night when I went to bed, I was determined to get up in the morning and spend time with YHWH and His Word first thing. BEFORE checking email and Facebook and YouFood. Before writing blog posts (another area in which I was feeling uninspired). I did what I was determined to do, then it came time to eat some breakfast and I didn't know what to make.
Then suddenly, inspiration struck and I whipped up this delightful little treat.
It felt like divine inspiration, let me tell you! I felt like because I put YHWH first this morning, and asked Him to order my steps today, it was the answer to my prayer. I needed something to eat AND I needed something new to post on the blog!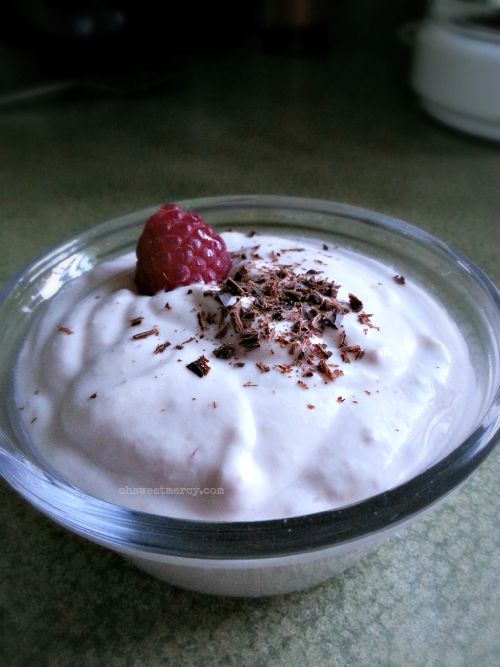 It tasted divinely too. I love it when a plan comes together!
This Coconut Berry Cloud is super easy to whip up with a stick blender, food processor or the new WonderMix (see my review here). It's not really quite enough protein for a meal, although it did satisfy me enough that I didn't feel like eating anything else. I'll probably find myself having a snack before three hours is up though.
Fresh raspberries were what I had on hand, but any berry will work.
Next time I will use blueberries, because I like them better and because raspberry seeds tend to stick in my teeth. I don't like that really. But, any berry will work fine in this recipe – fresh, frozen or foraged!
I garnished with a sprinkle of 100% dark chocolate – yes, you read that right…100% dark chocolate. That stuff is for serious dark chocolate lovers! Or super thrifty mamas shopping at a local Amish discount grocery store…
One note!
Be sure to use the canned coconut milk, not the "silk" brand in the dairy case at the store. You want coconut milk that is full fat and thick and creamy. Be sure to shake the can well before opening or if it's opened already give it a good stir.
Be Sure to Pin This Coconut Berry Cloud Recipe to Your Favorite Pinterest Boards!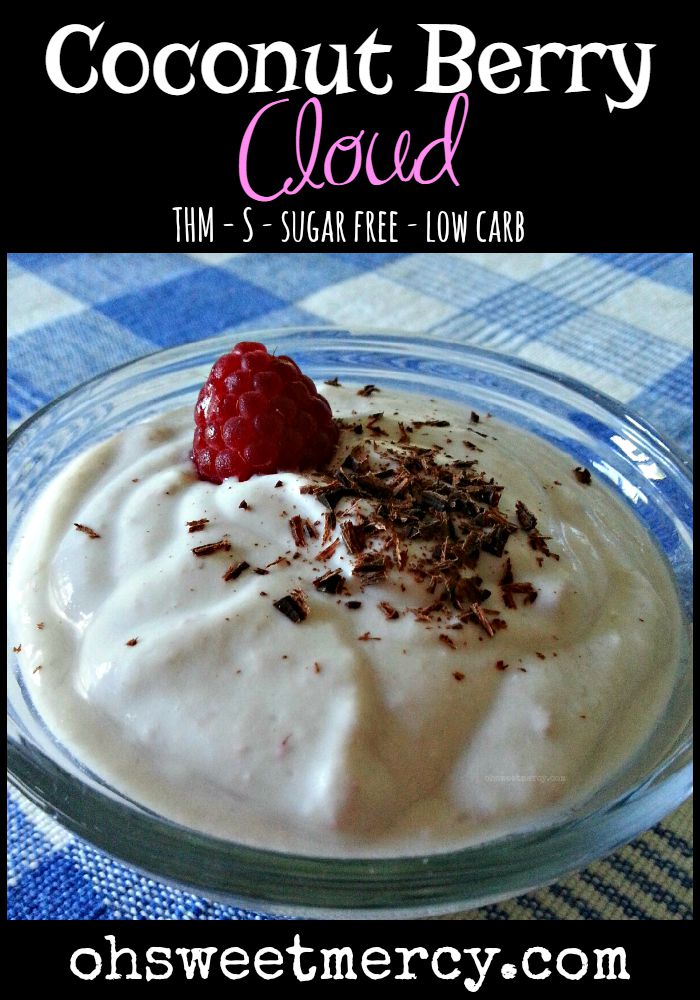 [amd-yrecipe-recipe:6]