Like Cottage Berry Whip? You'll love this spin on that protein-rich snack! Thick and creamy coconut milk plus healthy, naturally low-in-sugar berries combined with cottage cheese makes a perfect snack. This easy and tasty cottage cheese whip whips up in a flash.
Ever Find Yourself in One of Those "I'm Hungry But Nothing Sounds Good" Moods?
And, you don't feel like cooking, either?
It's a familiar mood, unfortunately.
Last night when I went to bed, I was determined to get up in the morning and spend time with YHWH and His Word first thing. BEFORE checking email and Facebook and YouFood. Before writing blog posts (another area in which I was feeling uninspired). I did what I was determined to do, then it came time to eat some breakfast and I didn't know what to make.
Suddenly, Divine Inspiration Struck!
It sure felt like divine inspiration, let me tell you! Maybe because I put YHWH first this morning, and asked Him to order my steps today He imparted a divinely delicious answer to prayer! I needed something to eat AND I needed something new to post on the blog!
Cottage cheese comes to the rescue again. That humble protein source is so versatile! If you need more ideas for using it, check out this 50+ Surprising Ways to Eat Cottage Cheese post.
Adding the nourishing goodness of full-fat coconut milk and berries to this simple cottage cheese whip resulted in a divinely delicious treat!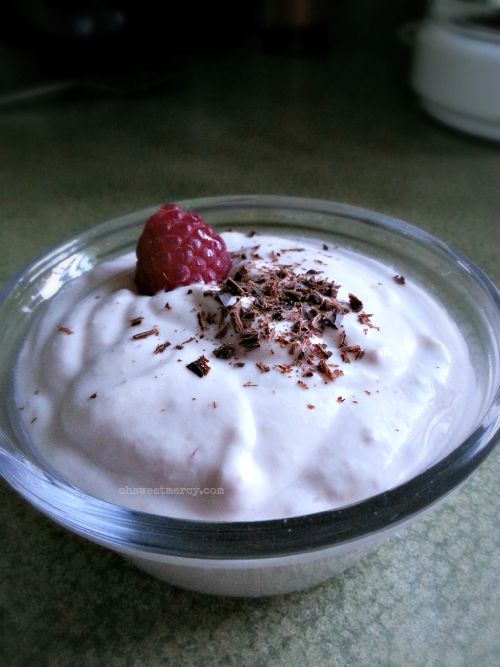 This Coconut Berry Cloud is super easy to whip up with a stick blender, food processor or the new WonderMix (see my review here).
It's not really quite enough protein for a meal, although it did satisfy me enough that I didn't feel like eating anything else. For a meal centered around enough protein, try pairing with my Balsamic Berry Coconut Muffin in a Mug or a scrambled or fried egg.
Fresh or Frozen, You Choose the Berry for This Cottage Cheese Whip.
Raspberries are lovely, but any berry will work in this recipe – fresh, frozen or foraged!! Raspberries are lovely, but the seeds-sticking-in-my-teeth thing isn't so lovely. Blueberries would be great!
Try garnishing with a sprinkle of dark chocolate, such as 85% dark which is plan-approved.
If you're really hardcore with the chocolate go for 100% dark! Yes, you read that right…100% dark chocolate. That stuff is for serious dark chocolate lovers! Or super thrifty mamas shopping at a local Amish discount grocery store…
Can You Use Any Kind of Coconut Milk?
Be sure to use the canned coconut milk, not the "silk" brand in the dairy case at the store. You want coconut milk that is full fat, thick and creamy. Be sure to shake the can well before opening or if it's opened already give it a good stir.
Using the full-fat canned coconut milk will add the nourishing goodness of the healthy fats in coconut to this recipe. Be sure to look for one that doesn't have a bunch of additives, such as this brand from my affiliate partner.
Trim Healthy Mama, Here's The Scoop on this Heavenly Cottage Whip:
Because of the addition of full-fat coconut milk, this Coconut Berry Cloud is an S style recipe. Keep your carbs low with the rest of your meal. There's 1/4 serving of berries (1/2 if you use blueberries) so that would leave 3/4 of a serving (or 1/2) of additional carbs if you like.
Are You Ready to Make this Coconut Berry Cloud?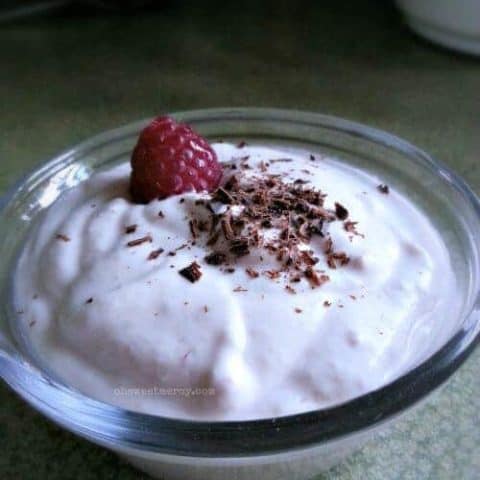 Coconut Berry Cloud | THM S, Sugar Free
Yield: 1 serving
Active Time: 8 minutes
Total Time: 8 minutes
This easy and tasty treat whips up in a flash. It is higher in protein and contains plenty of healthy fats. Perfect for a THM "S" snack!
Ingredients
1/3 c full fat coconut milk - the kind in a can not the carton! You want the full fat kind that is thick and creamy.
1/2 c cottage cheese (I used 2% but any kind will work)
1/4 c fresh or frozen berries
1/2 tsp xylitol (optional)
3 packets stevia (I used Aldi brand, you may need to adjust amount according to the sweetener type you have. My favorite is THM Pure Stevia)
Splash of vanilla
Instructions
Add all ingredients to a mixing bowl or food processor and blend or process until smooth and creamy (use a stick blender if you have one).
Garnish if desired with a berry and sprinkle of shaved dark chocolate, cocoa powder, cinnamon or other spice that complements the flavors of coconut and berry.
Notes
We don't count calories on THM, we count proteins, fats and carbs. This S snack contains 15.25g protein, 16.5g healthy fat and 8.25g net carbs.
Recommended Products
As an Amazon Associate and member of other affiliate programs, I earn from qualifying purchases.
Nutrition Information:
Yield: 1
Amount Per Serving:
Calories: 0
Cholesterol: 0mg
Sodium: 0mg
Carbohydrates: 0g
Fiber: 0g
Sugar: 0g
Protein: 0g
Don't Forget to Pin This Recipe to Your Favorite Boards!