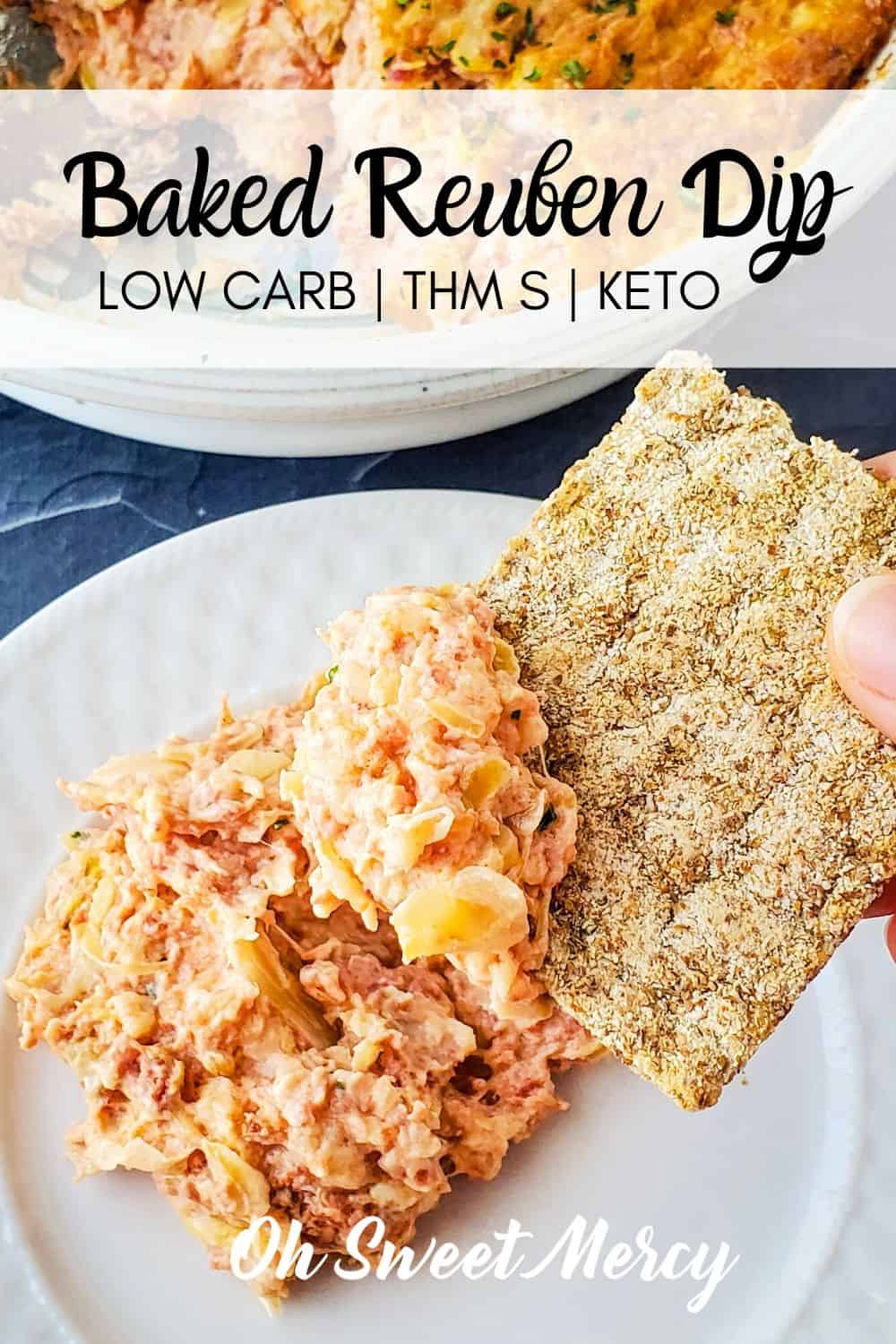 Jumping to the recipe? Please come back and read when you have the time, I include helpful info in my posts like how to fit my recipes into your THM meal plan! Get notified of new posts by signing up for my newsletter at the end of the page. Thanks for stopping by!
---
All the flavors of the classic Reuben sandwich in a low carb dip! Enjoy this dip with veggie dippers, light rye Wasa or low carb crackers, or even better, my easy Mock Rye Cocktail Bread. Trim Healthy Mamas, this is a delicious S dip, perfect for parties, potlucks, and other get togethers.
---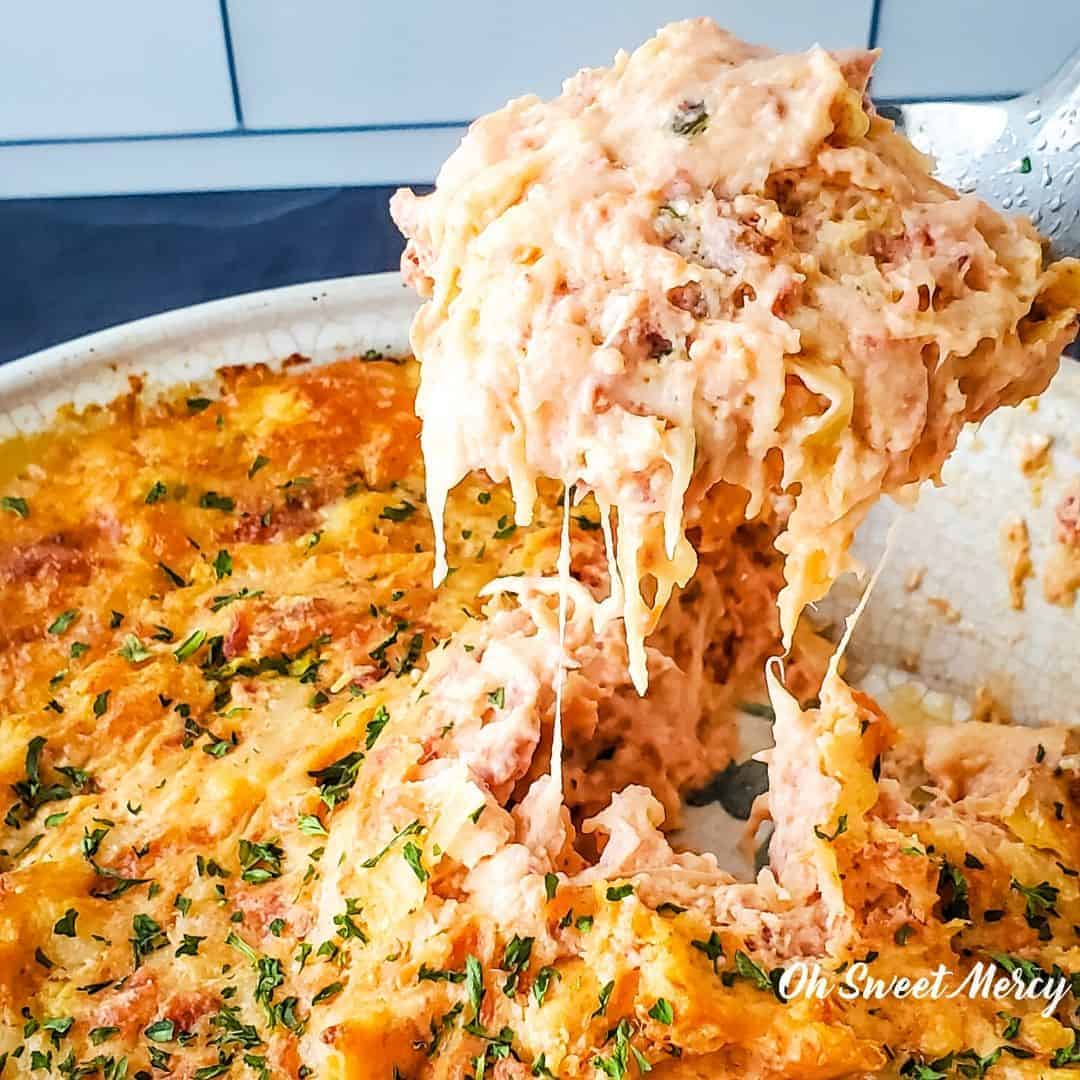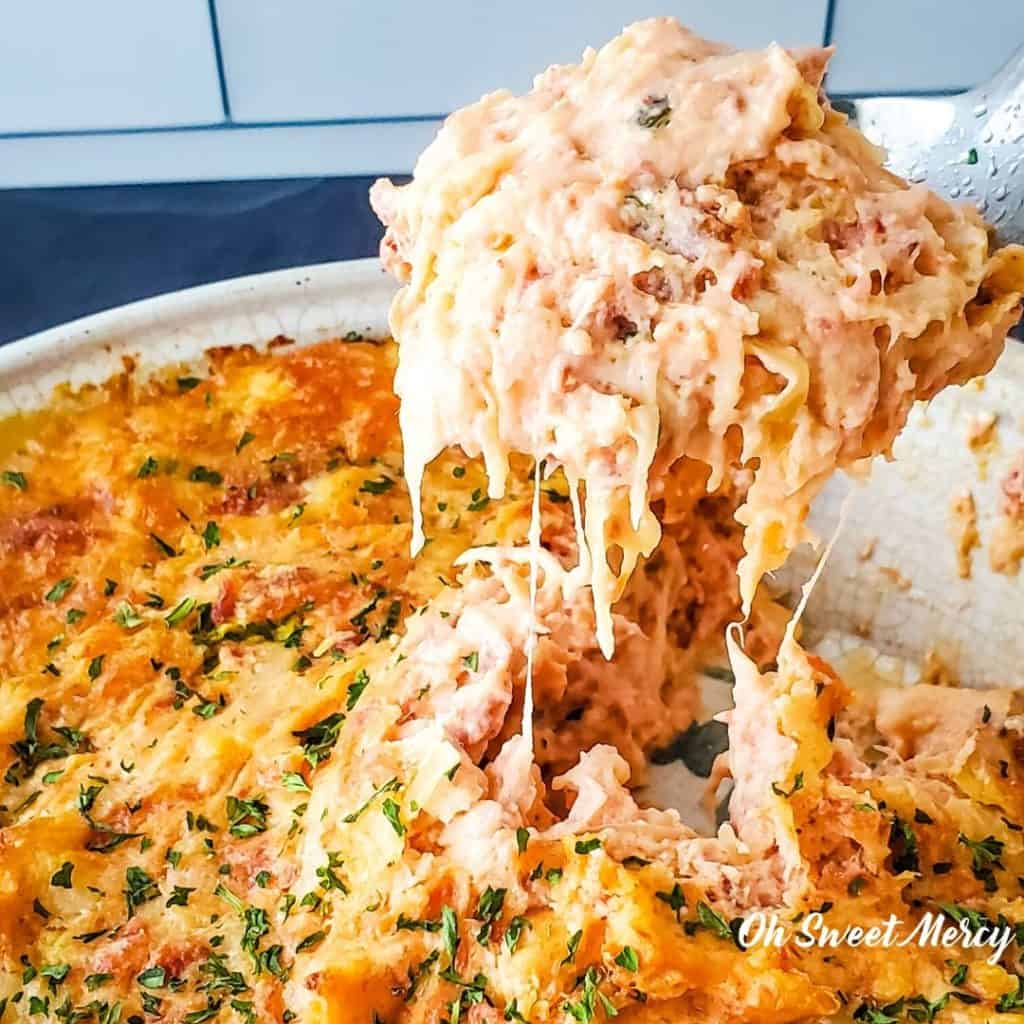 My husband doesn't like sauerkraut, but he'll eat Reuben sandwiches. Just keep the sauerkraut on the lighter side and he loves them. I can eat sauerkraut any way, any time, any day.
The thing with Reuben sandwiches, though, is the bread. On the Trim Healthy Mama plan, we have very specific guidelines for bread. Regular rye bread plus all the yummy fixin's for Reubens, well that's not really on plan.
So, let's take those classic flavors and make them into a THM friendly hot dip! It's really easy.
What's In This Low Carb Baked Reuben Dip?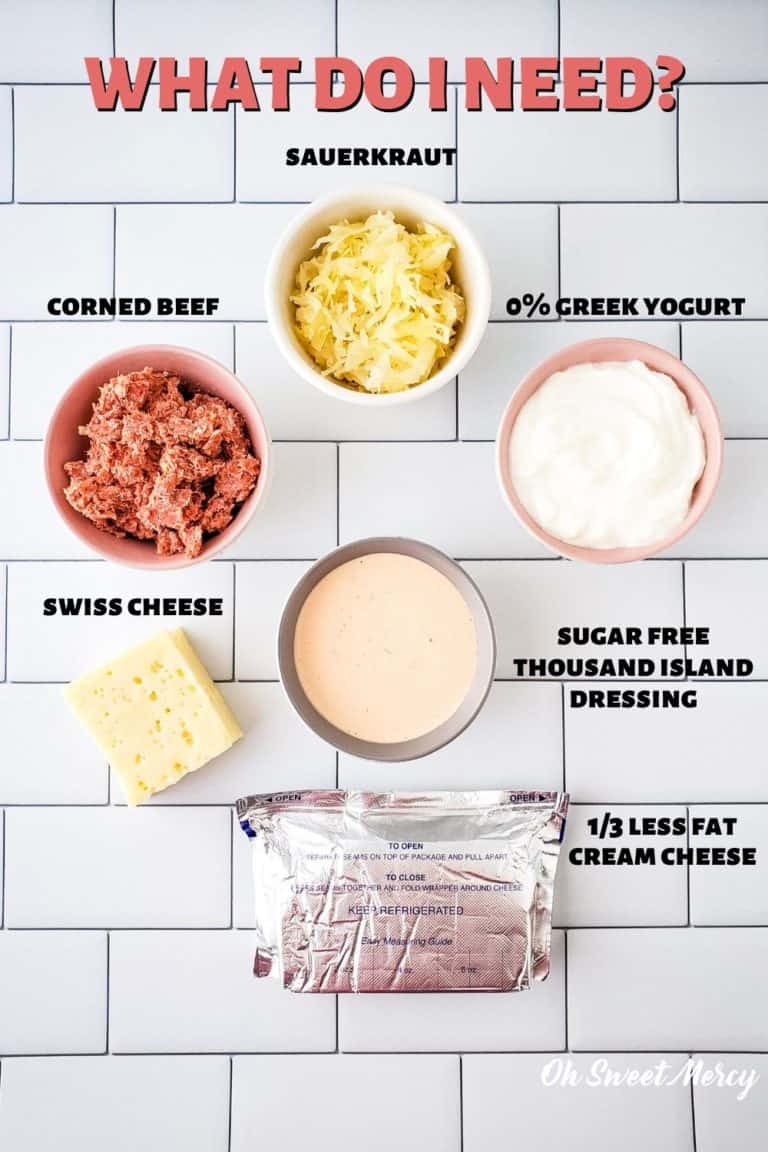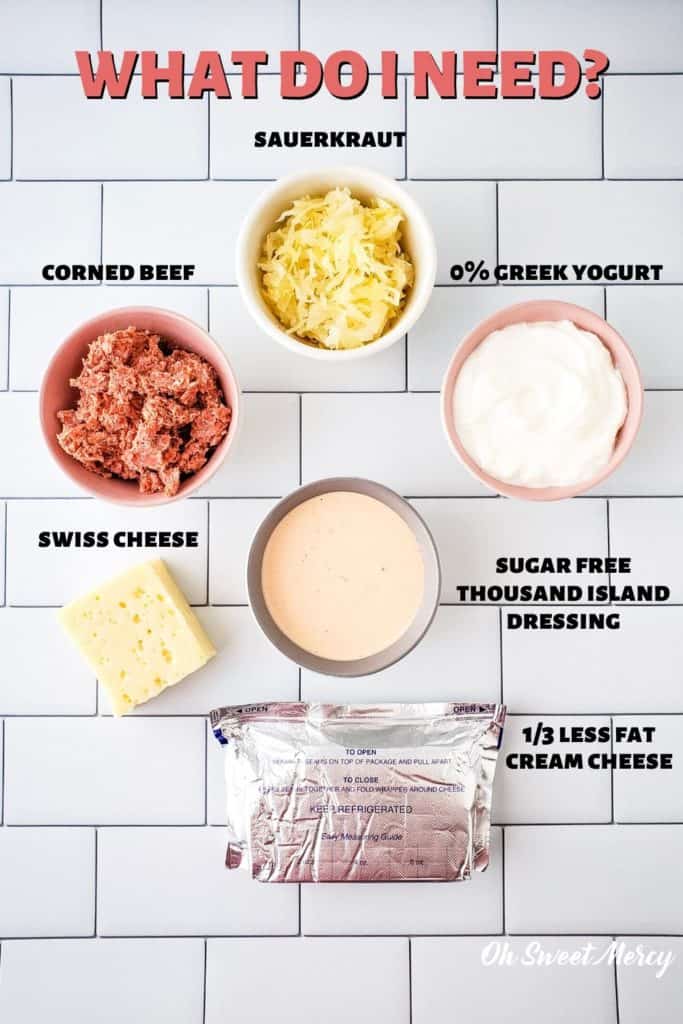 You just need a few simple ingredients for this hot, cheesy baked Reuben dip. It's best with leftover corned beef, but canned works too. One 12 ounce can of corned beef equals about 2 cups.
The cheesy component of this baked Reuben dip comes from cream cheese and Swiss cheese. Don't like Swiss? Provolone is a great substitute. Or, even mozzarella if that's what you have.
Finally, you'll need sauerkraut, of course, and Thousand Island dressing. I mixed up a quick and easy, sugar-free version below. Or, use the Thousand Island recipe in the first THM cookbook on page 472.
What To Serve With This Low Carb Reuben Dip?
If you're not following the THM plan, feel free to use any of your favorite dippers.
But, for Trim Healthy Mamas, we want to enjoy this creamy, cheesy, dip with low carb options:
Non-starchy veggies such as celery sticks
One serving of Light Rye Wasa crackers
Crispy, crunchy Air Fryer Chicken Crisps
A spoon 😉
Mock Rye Cocktail Bread!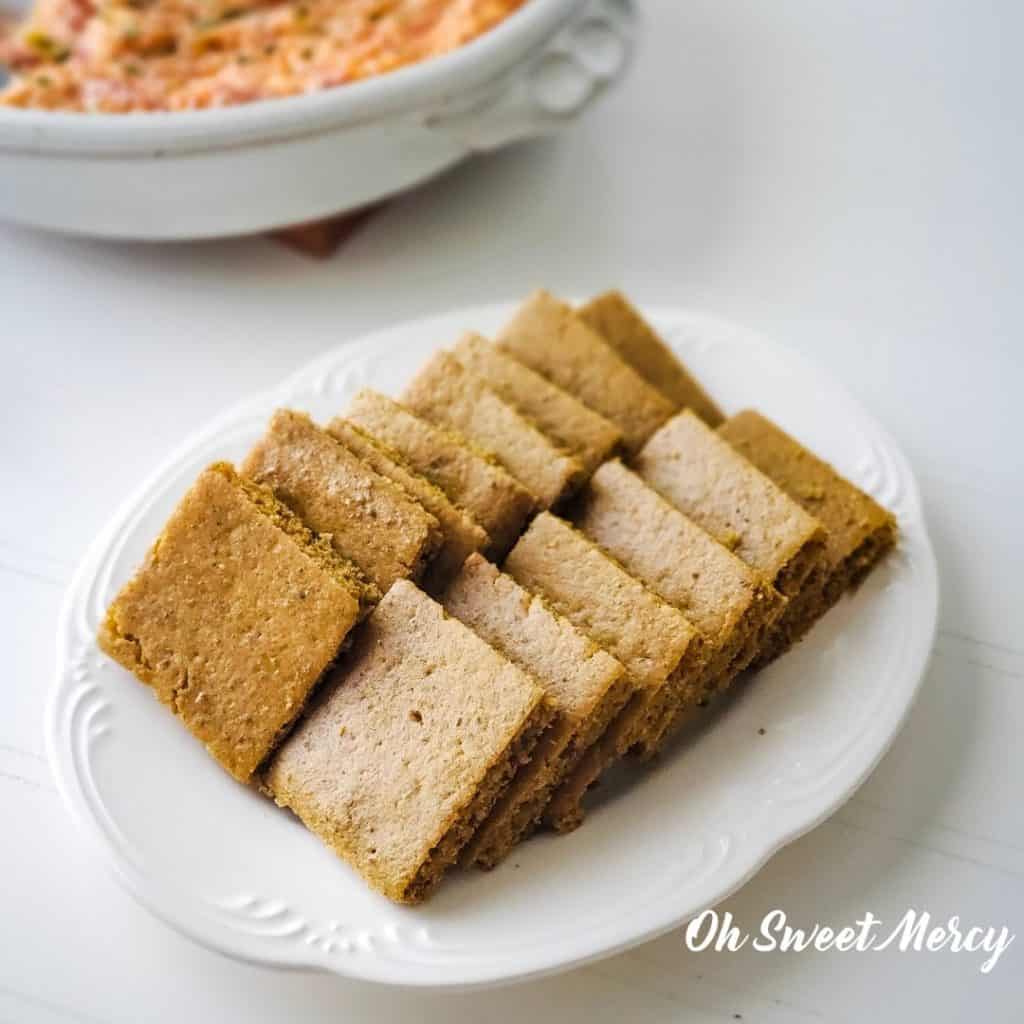 My Mock Rye Bread is great for making low carb Reuben sandwiches. You can also make it into cocktail bread very easily. Here's how (or click here for the recipe post where you can print):
Make a quadruple batch of the Mock Rye Bread recipe.
Spread onto a parchment paper lined baking sheet.
Bake for 10 minutes, or until cooked through.
Allow to cool completely, then cut into cocktail bread sized pieces.
You should get around 40 slices.
Perfect for parties! Or, freeze extra portions for snacking on later.
Can You Make It In A Slow Cooker Or On The Stove?
Sure! For a slow cooker, mix all the ingredients as directed then place into a greased slow cooker. Cook on low for 2 hours or so, until bubbly and melty.
Or, cook on high for 45 minutes to 1 hour.
To cook on the stove, just combine all the ingredients into a sauce pan and gently heat until the cheese is melted and bubbly.
How To Fit This Low Carb Baked Reuben Dip Into Your THM Meal Plan.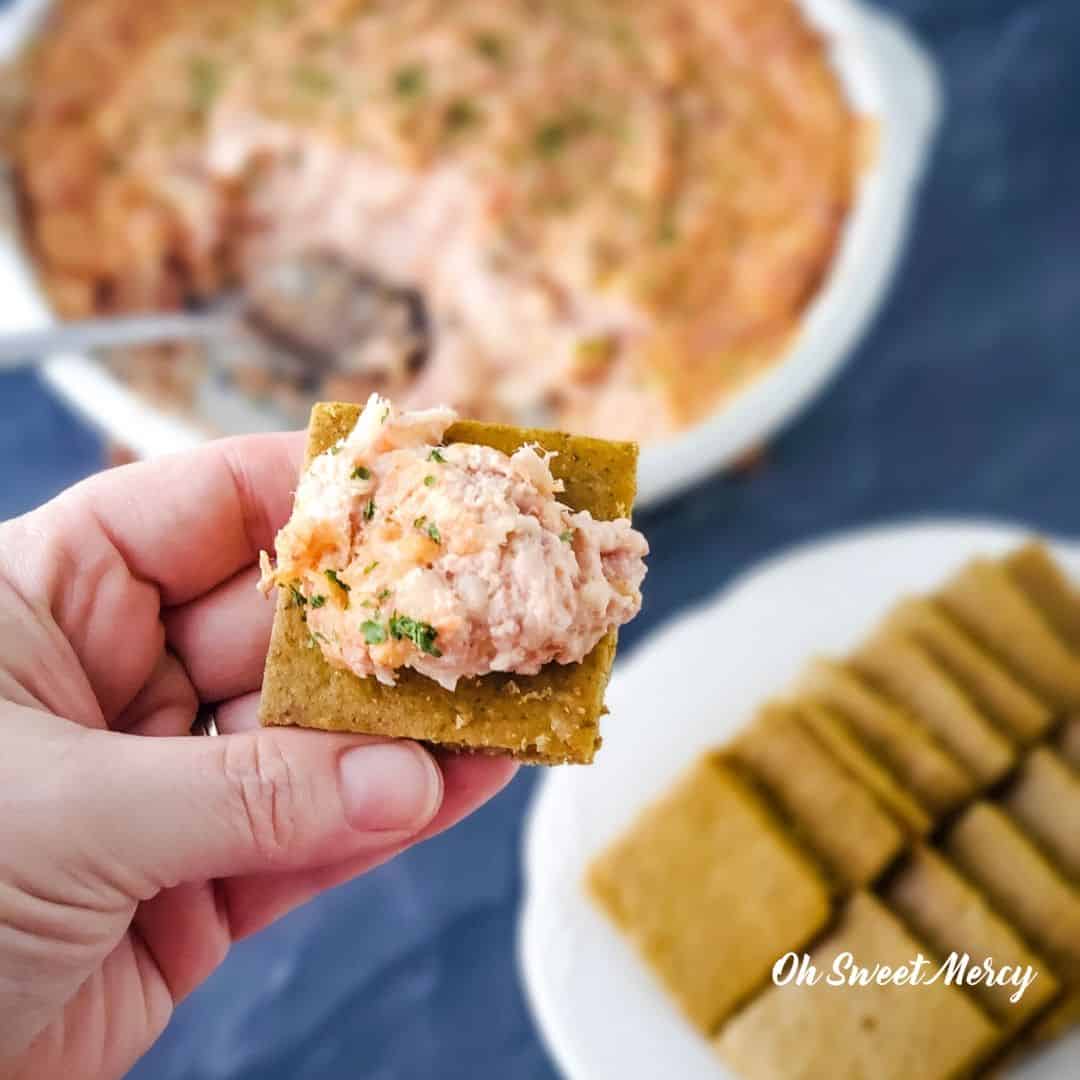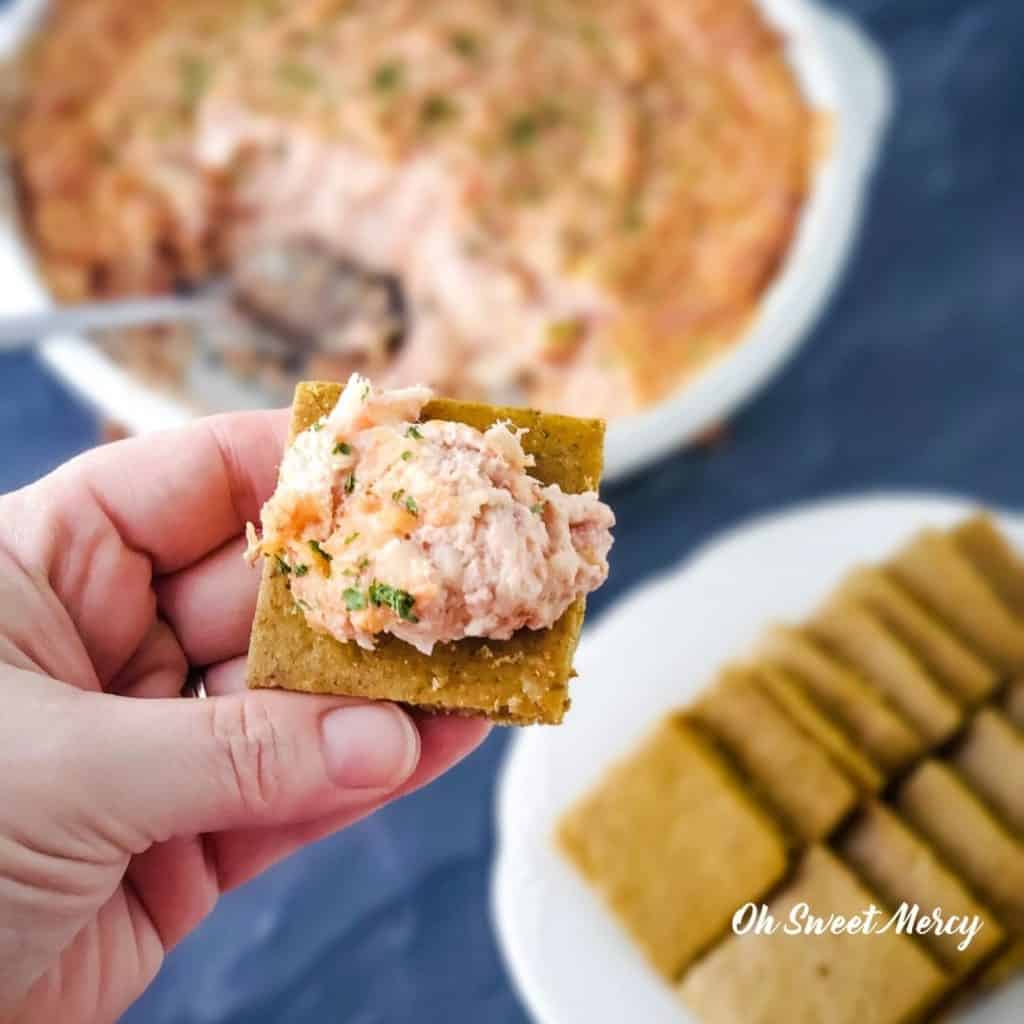 I've lightened this dip up just a bit by using fat free Greek yogurt instead of more cream cheese or sour cream. Because of the cheese and cream cheese in this recipe, it still falls into the Heavy S category, though.
TIP: enjoy Heavy S recipes in moderation. Too much cheese can, for some, slow or stall weight loss. Making Heavy S recipes like this one for parties, potlucks, and family gatherings is a great! Most people will love them and you won't have a bunch of leftovers to tempt you later.
Since this is an S recipe, make sure to enjoy with low carb options. Keep 3 hours between this and an E fuel (or at least 2.5 hours).
Make my Sugar Free Thousand Island Dressing for your salads, too!
PIN IT!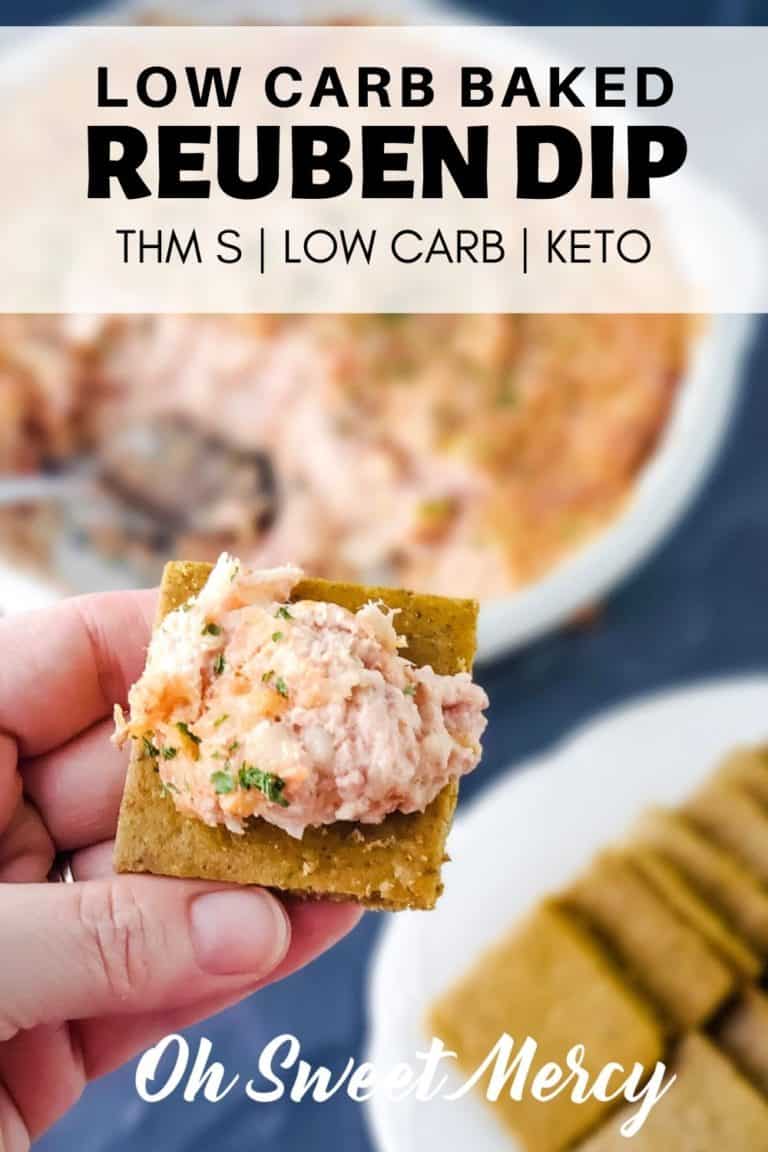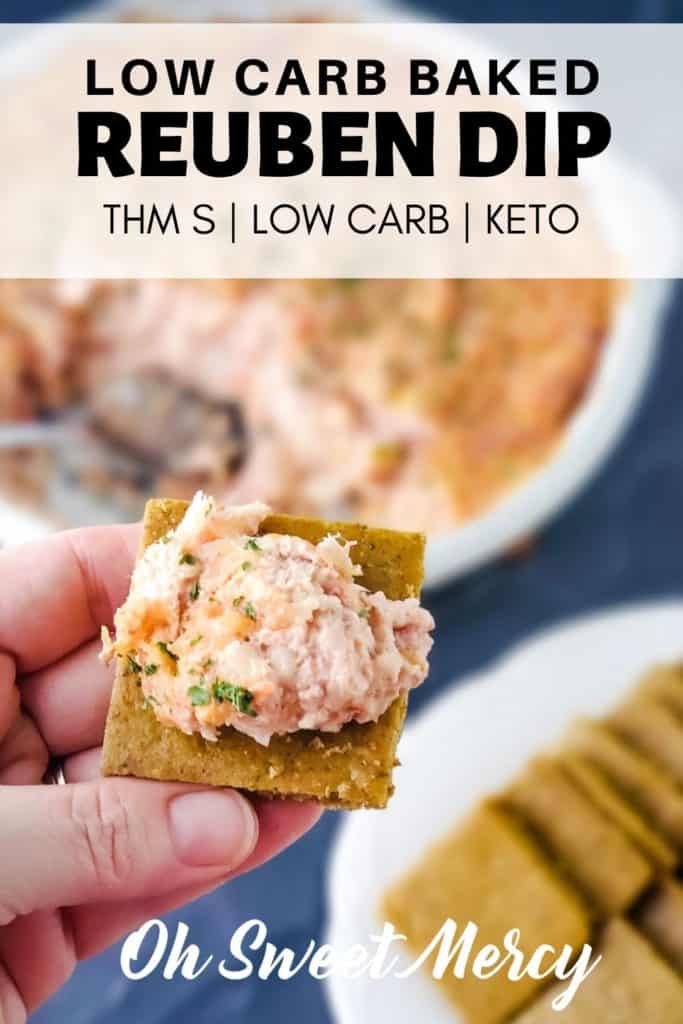 Do you like Reubens? Have you ever tried Reuben dip?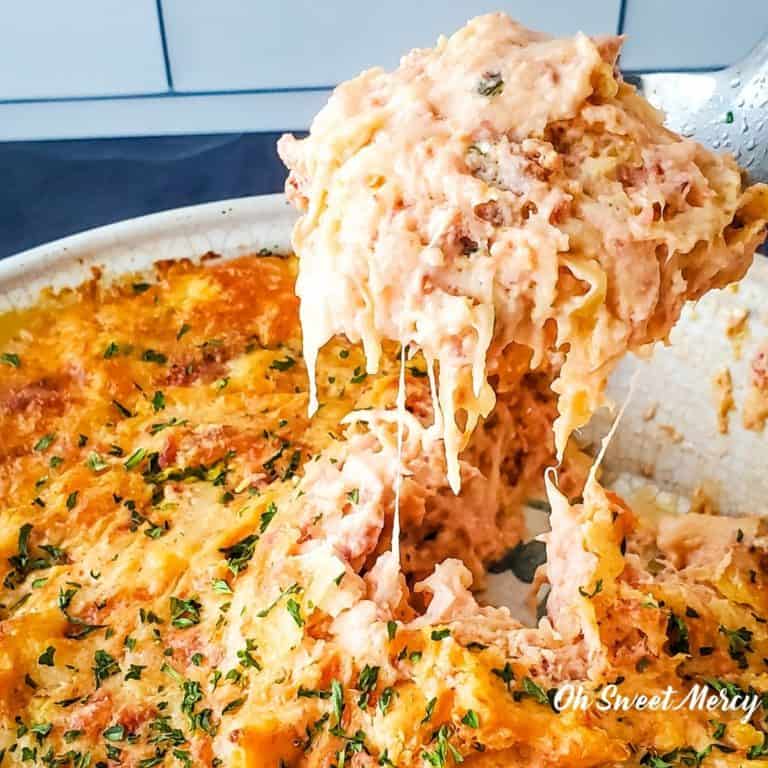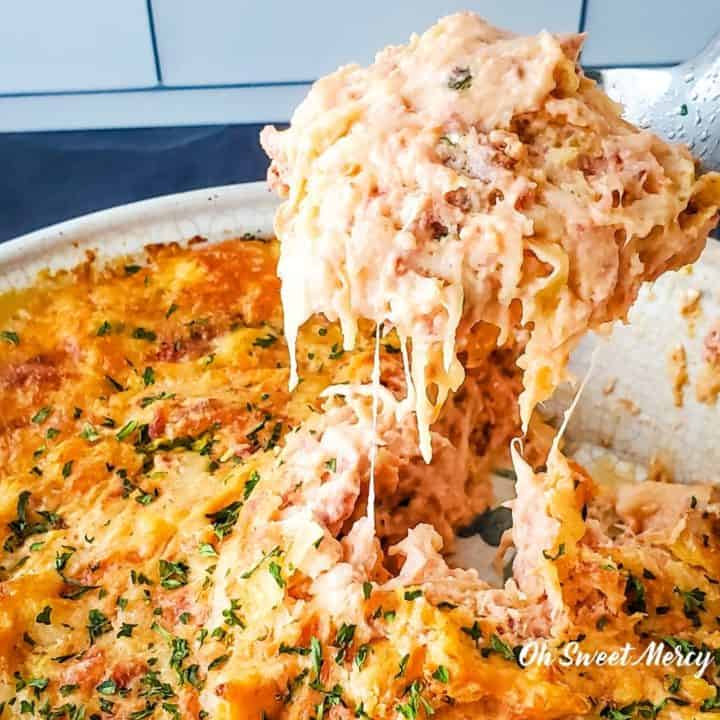 Baked Reuben Dip | Low Carb, THM S
Yield: About 7 cups
Prep Time: 15 minutes
Cook Time: 45 minutes
Total Time: 1 hour
All the delcious flavors of a classic Reuben sandwich but without the carbs. Melty, cheesy goodness that's perfect with my Mock Rye Bread or your favorite low carb dippers.
Ingredients
8 ounces 1/3 less fat cream cheese (or regular)
1/2 cup fat free plain Greek yogurt
2 cups corned beef, chopped (or a 12 ounce can)
2 cups shredded Swiss cheese (8 ounces)
1 cup drained and squeezed sauerkraut
1 recipe Sugar Free Thousand Island Dressing (below) OR 1/2 cup of your preferred sugar free Thousand Island Dressing
Easy Sugar Free Thousand Island Dressing
1/2 cup mayonnaise
3 tablespoons tomato sauce
4 teaspoons dill relish
1/2 teaspoon ACV
1/2 teaspoon onion powder
2 doonks THM Pure Stevia Extract (or preferred sweetener to taste)
Instructions
Preheat oven to 350 degrees.
Make the Thousand Island dressing, if using my recipe.
In a mixing bowl, beat together the cream cheese, yogurt, and Thousand Island dressing until well combined.
Stir in corned beef, sauerkraut, and cheese until well combined.
Spread into a baking dish and bake for 45 minutes to 1 hour, or until bubbly and lightly browned on top.
Allow to cool 10 minutes before serving.
Notes
SLOW COOKER INSTRUCTIONS:
Mix all ingredients as instructed, then add to a greased slow cooker. Cook on low for 2 to 2.5 hours or high for 45 minutes to an hour, or until bubbly and cooked through.
STOVE TOP INSTRUCTIONS:
Mix ingredients as directed and heat in a sauce pan over medium high heat until bubbly and cooked through.
Recommended Products
As an Amazon Associate and member of other affiliate programs, I earn from qualifying purchases.
Nutrition Information:
Yield: 28
Serving Size: 2 tablespoons
Amount Per Serving:
Calories: 71.6
Total Fat: 4.6g
Saturated Fat: 2.8g
Trans Fat: 0g
Unsaturated Fat: 1g
Cholesterol: 18.5mg
Sodium: 222.5mg
Carbohydrates: 0.8g
Fiber: 0.2g
Sugar: 0.3g
Protein: 6g
Nutrition information is approximate and based on the best knowledge available at the time of recipe publication. Your results may vary due to differences in ingredients. You can make your own calculations if this recipe does not include nutrition info by using an online calculator such as https://recipes.sparkpeople.com/recipe-calculator.asp