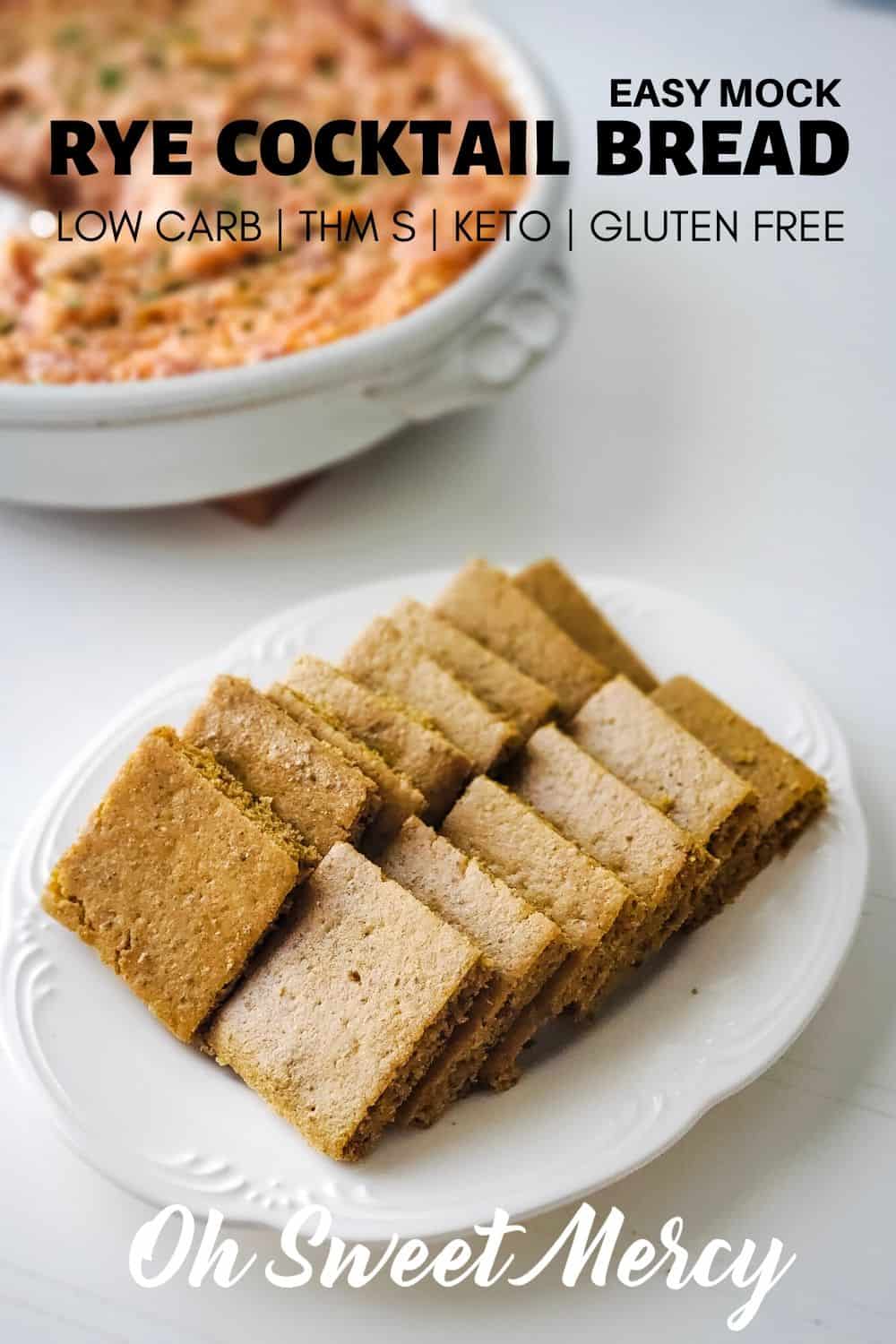 ---
This super easy low carb rye cocktail bread recipe is perfect for serving with my Baked Reuben Dip. Make beautiful party canapes or finger sandwiches. Or they're perfect for a snack plate or box. Trim Healthy Mamas, these little cocktail breads are your low carb answer to your rye bread craving.
---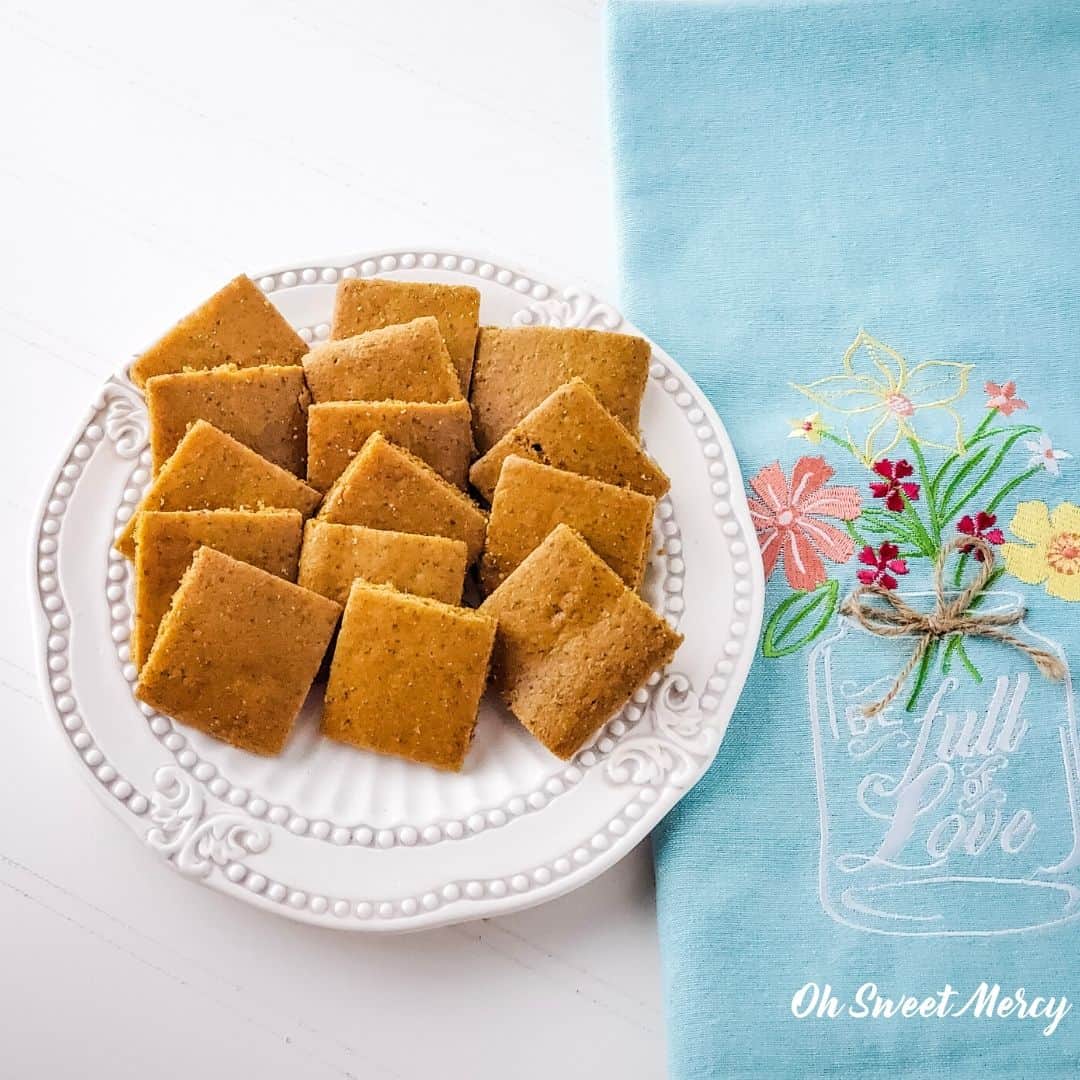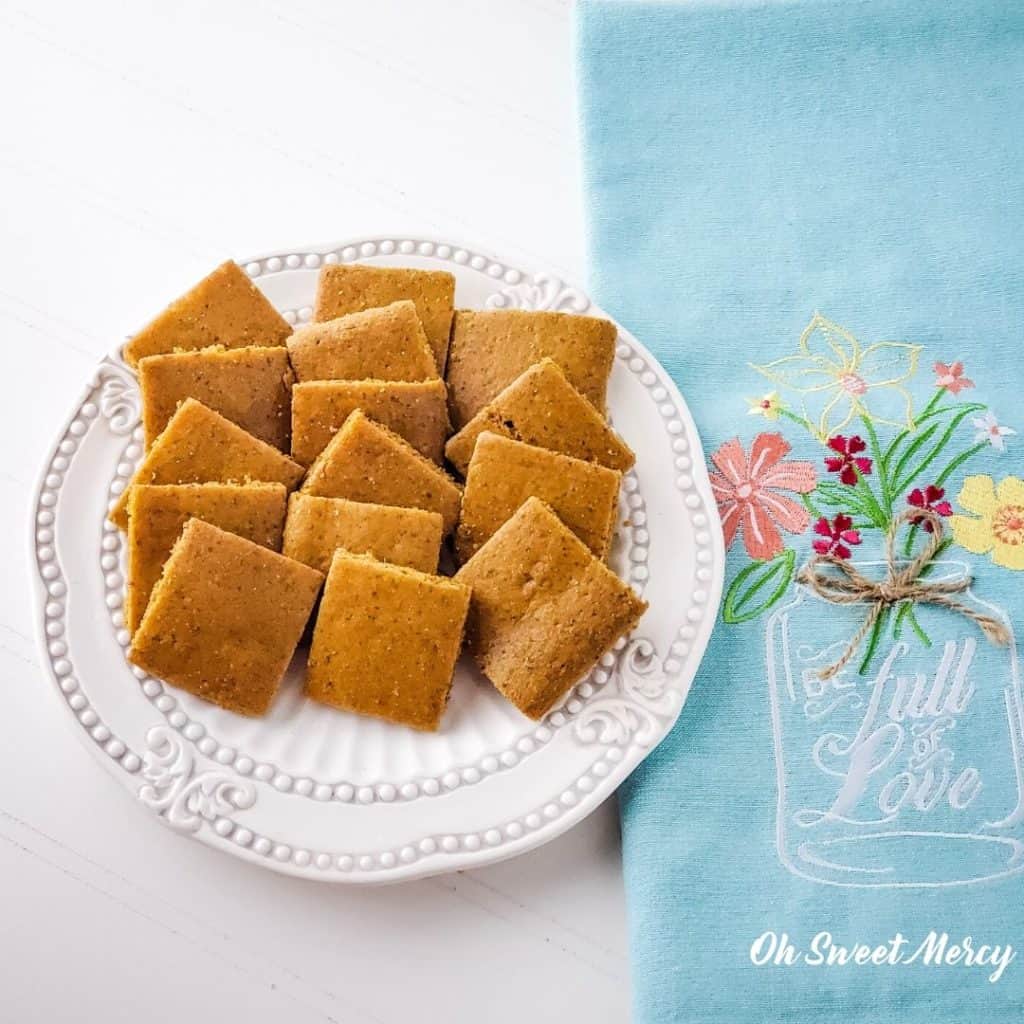 If you've ever wondered, "is rye bread low carb?" I sadly have to say no, it's not. At least not unless you're making my low carb mock rye bread anyway.
Exactly 3 years ago today I published the recipe for Mock Rye Bread. It's a super easy, single serving low carb rye bread that's perfect for Reubens or your favorite deli meats and cheeses.
I didn't realize that I was creating yet another mock rye recipe on the exact same day when I set out to make low carb rye cocktail bread today!
Since I don't have a little loaf pan with a lid for making little square-shaped loaves of bread I had to think of another way to make them.
Inspiration struck as I was testing my Low Carb Baked Reuben Dip. Make a big batch of low carb rye bread batter and spread it out on a cookie sheet.
Turns out, this was a stroke of brilliance! Not only do you end up with lovely little low carb rye cocktail bread, it also takes less than half an hour to mix and bake!
You do need to let the bread cool completely before cutting and removing from the baking sheet.
However, the bread is thin and cools quickly. So definitely well under an hour and you have low carb, gluten free rye cocktail bread just perfect for entertaining (or snacking).
What's in Mock Rye Cocktail Bread?
I used THM Baking Blend for this recipe but you can use a DIY baking blend instead. Just be sure to read the author's notes about how it compares to the original and make adjustments as needed in measurements.
While I haven't tried this, the Frugal Flour Mix mentioned in Trim Healthy Table is a substitute for Baking Blend. You'll find that on page 40.
You'll also need eggs, butter (or a dairy free alternative if needed), caraway seeds, nutritional yeast, and baking powder.
TIP: Use a coffee or spice grinder to grind the caraway seeds into a fine powder. If you like seeded rye bread, feel free to add some whole seeds to the mixture.
How To Enjoy This Low Carb Rye Cocktail Bread In Your THM Meal Plan.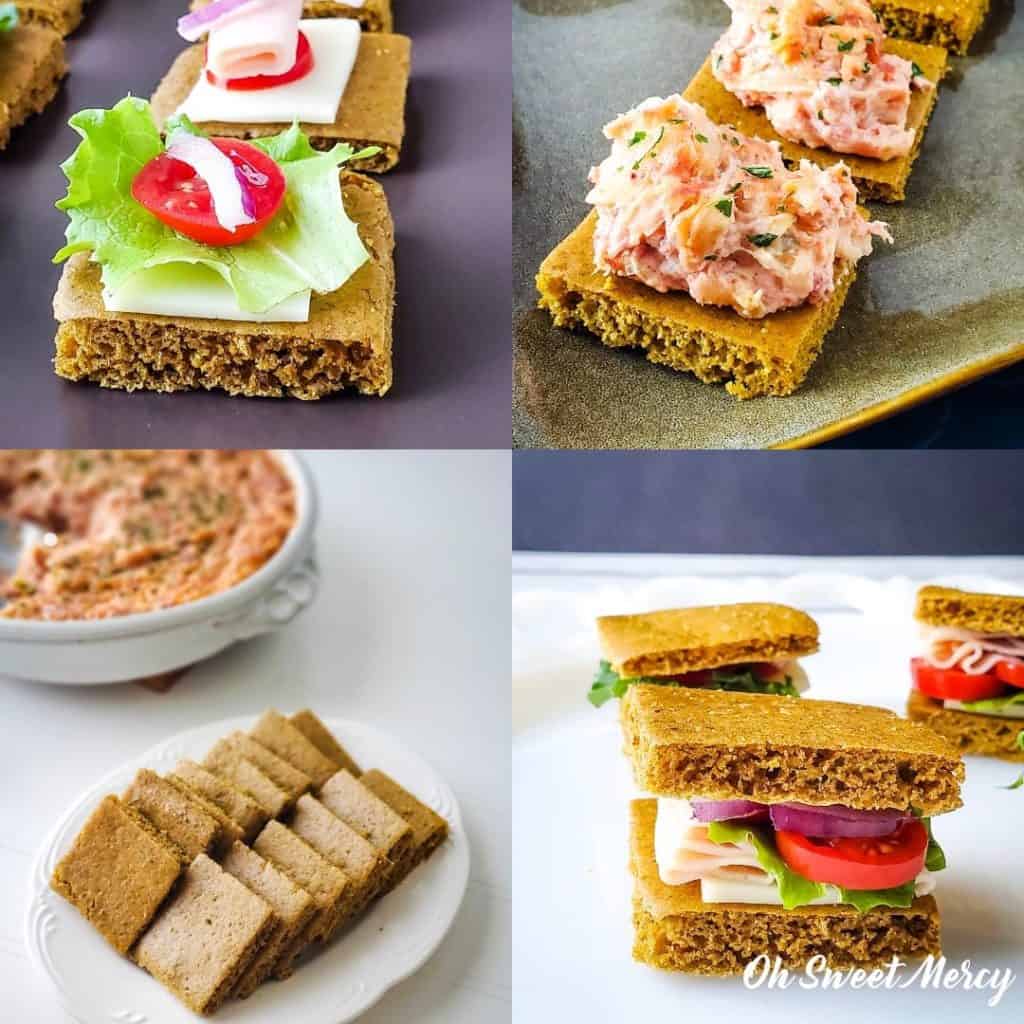 These cute little breads actually fall into the Fuel Pull range, numbers-wise, for one slice (for 40 total slices in the batch). But if you want to have several, they'll be an S.
These little low carb rye breads are great for parties and celebrations!
There are so many ways to enjoy these little low carb rye breads. And being so simple, quick, and easy to make you'll be enjoying rye bread any time you like.
PIN IT!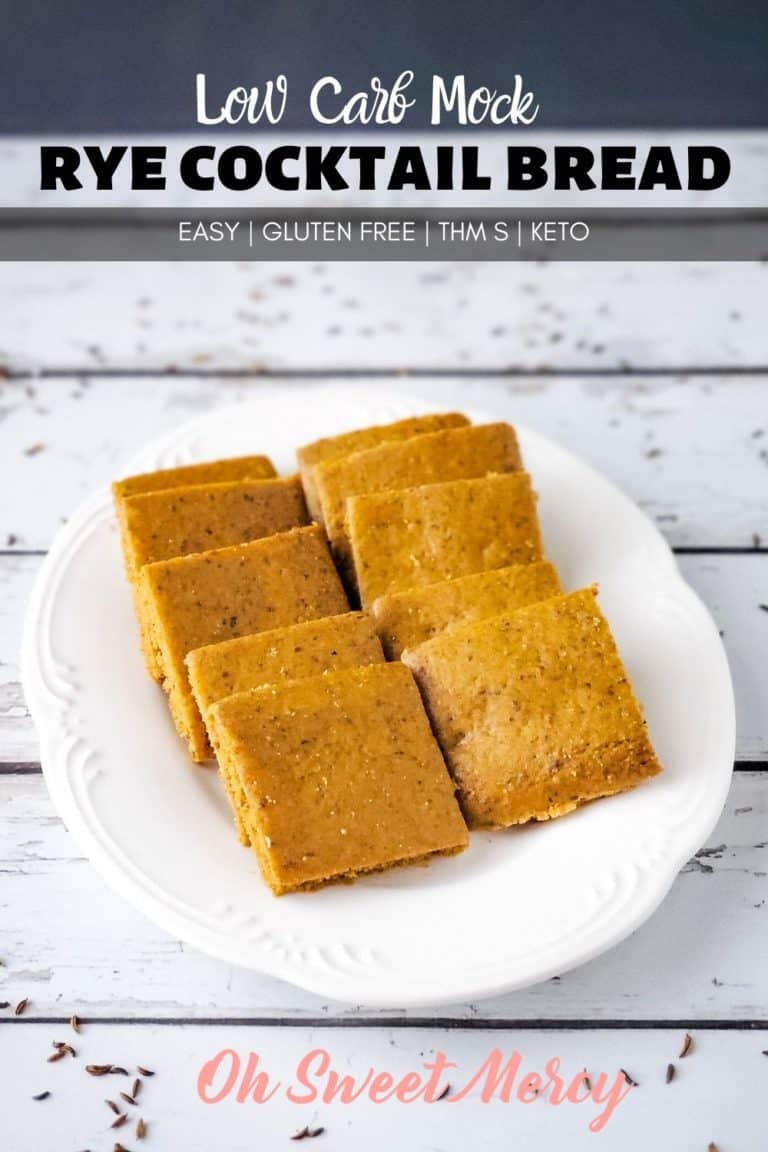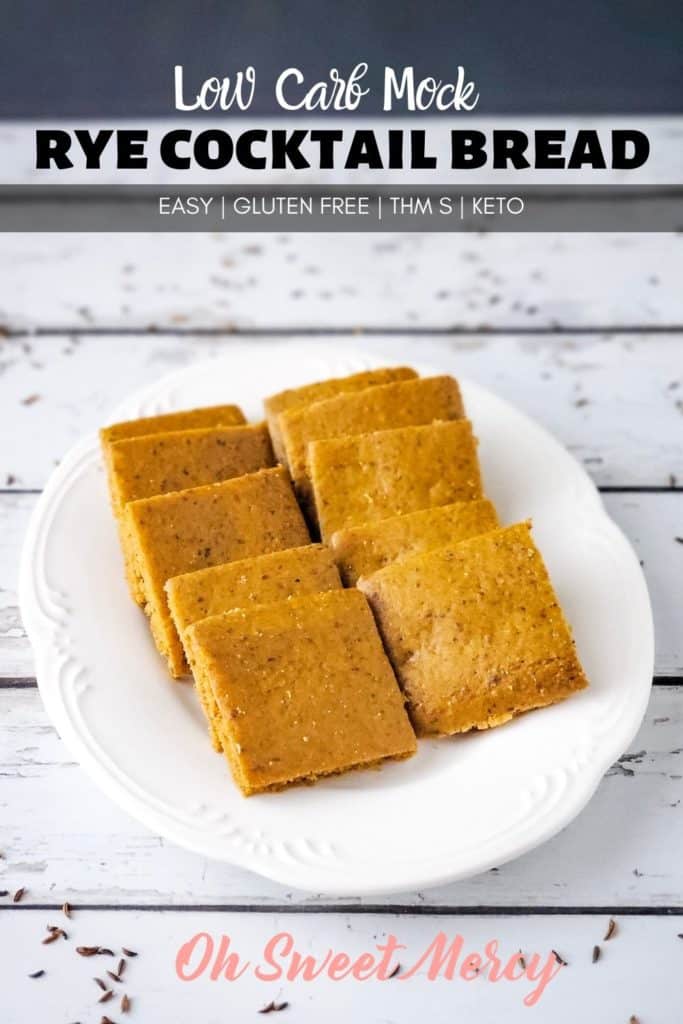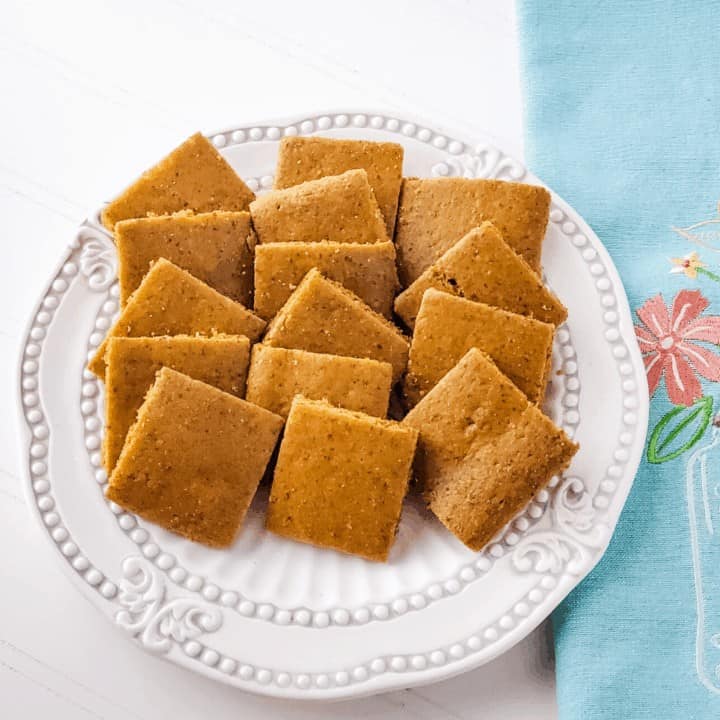 Mock Rye Cocktail Bread | THM S, Low Carb
Yield: 40 slices
Prep Time: 8 minutes
Bake Time: 10 minutes
Cooling Time: 15 minutes
Total Time: 33 minutes
Quick and easy, these little low carb mock rye cocktail breads are perfect for entertaining or snacking. Mix, bake, and eat in under an hour!
Ingredients
4 eggs, whisked
4 tablespoons ground caraway seeds
4 teaspoons butter, softened
2 teaspoons baking powder
4 pinches of granulated stevia, such as Gentle Sweet
4 to 8 tablespoons water, as needed for consistency
Instructions
Preheat oven to 350 degrees
Line a baking sheet with parchment paper and set aside.
In a mixing bowl, combine eggs, baking blend, nutritional yeast, caraway seeds, butter, baking powder, and stevia and mix well.
Add water, one tablespoon at a time, until you get a muffin batter consistency.
Spread batter onto prepared baking sheet.
Bake for 10 minutes, or until cooked through.
Let cool completely, then cut into 40 slices.
Enjoy!
Notes
If desired, add some whole caraway seeds to the batter.
Recommended Products
As an Amazon Associate and member of other affiliate programs, I earn from qualifying purchases.
Nutrition Information:
Yield: 40
Serving Size: 1 slice
Amount Per Serving:
Calories: 17.9
Total Fat: 1.1g
Saturated Fat: 0.4g
Unsaturated Fat: 0.4g
Cholesterol: 19.6mg
Sodium: 35.4mg
Carbohydrates: 1.2g
Net Carbohydrates: 0.3g
Fiber: 0.9g
Sugar: 0.1g
Protein: 1.4g