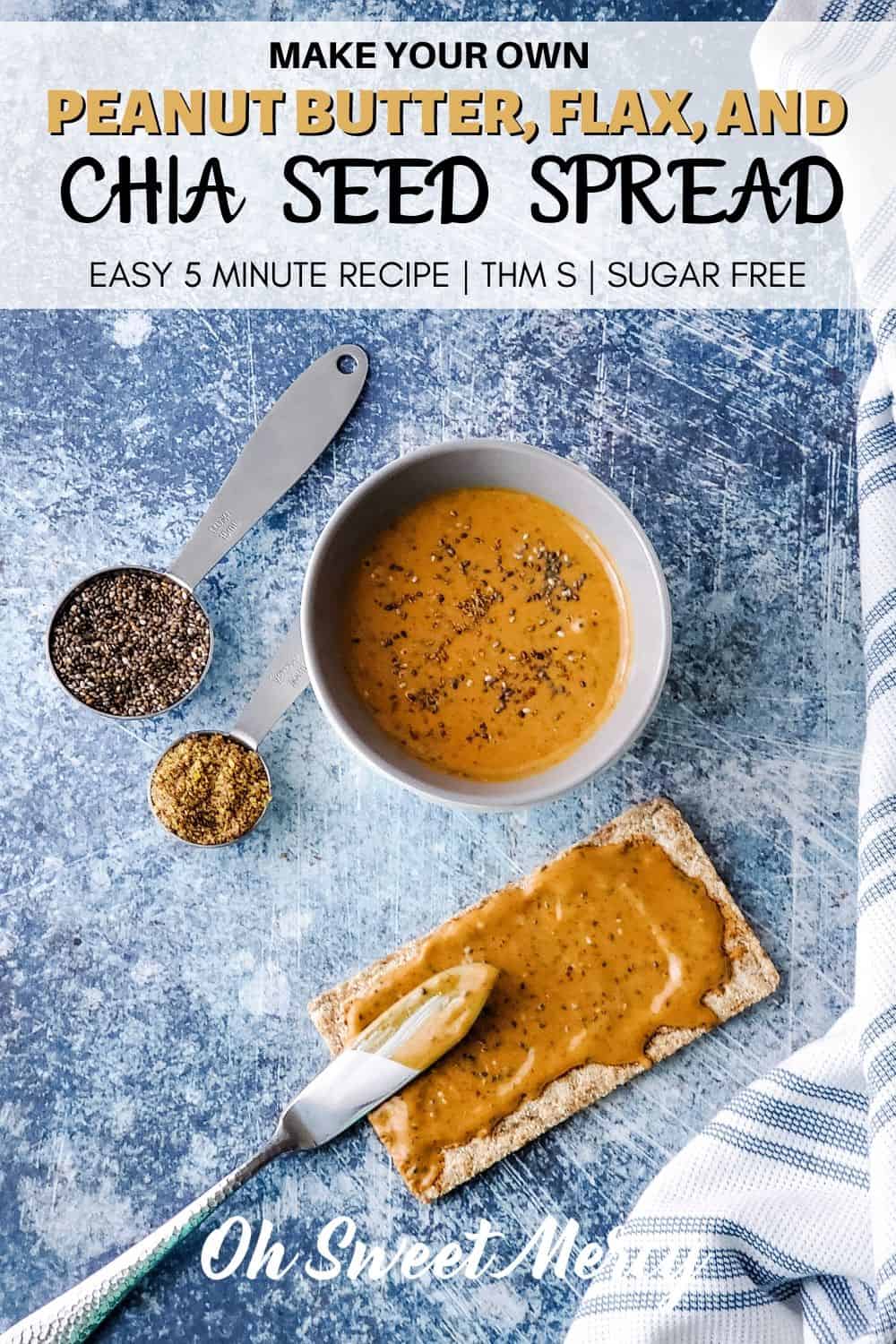 ---
If you've seen THMs enjoying a certain peanut butter with flax and chia seeds but can't find it in any stores near you, I've got good news. Actually, I've got a simple, 5-minute, DIY recipe. Enjoy the benefits of flax and chia seeds every time you use this tasty and healthy spread.
---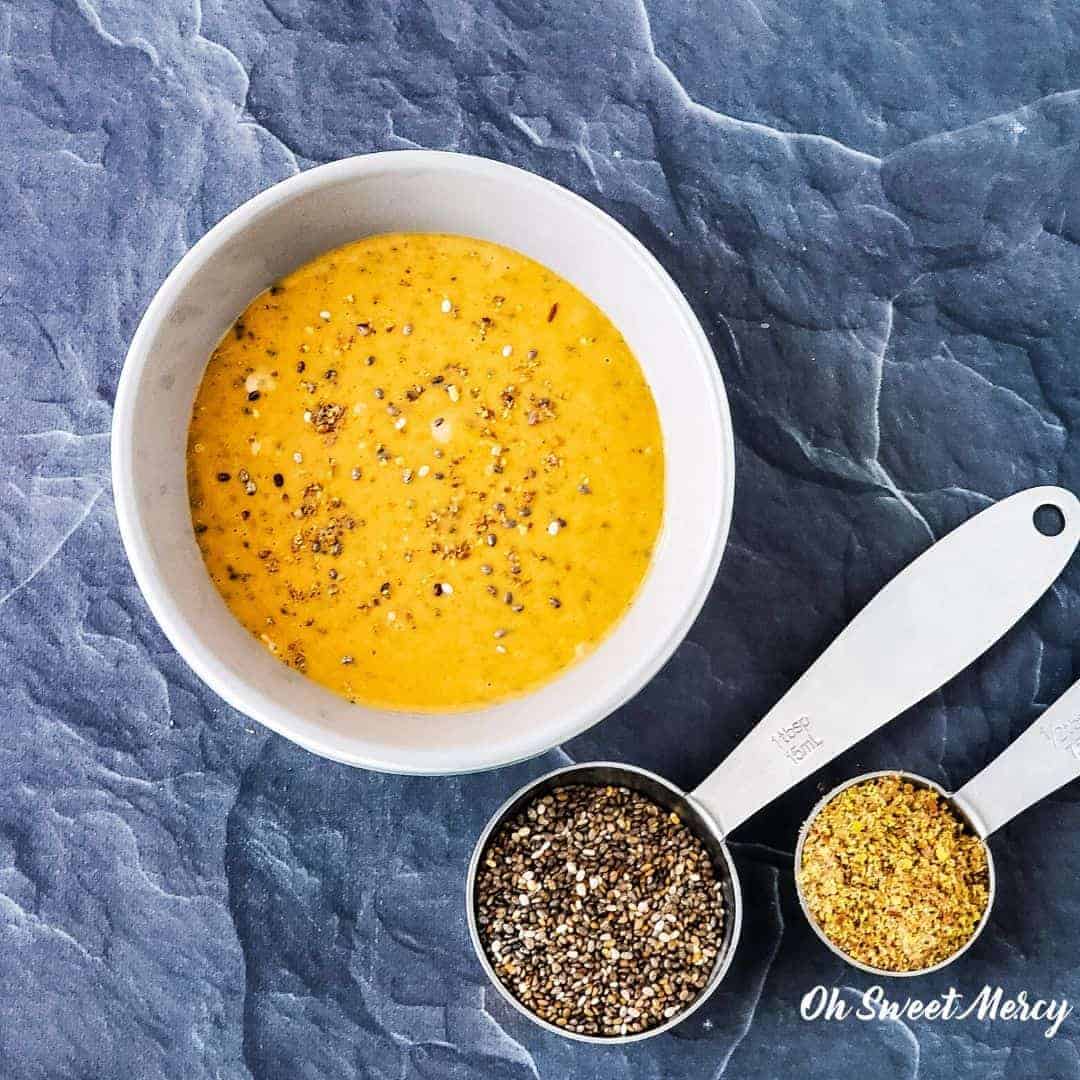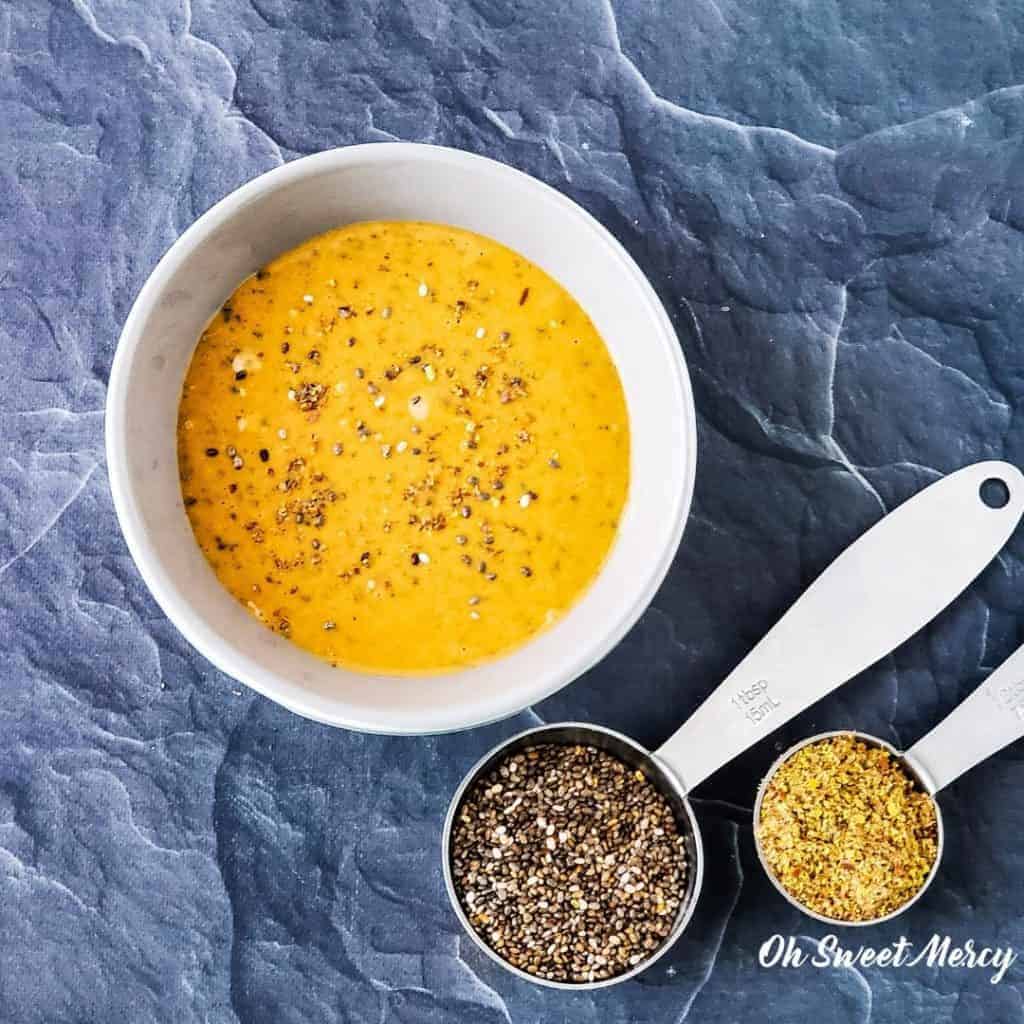 Covet that peanut butter, chia, and flaxseed spread no more, Mamas! If you can't find it then make your own!
Apparently, it's something you can find at Trader Joe's. We don't have a Trader Joe's anywhere near us. Maybe you can find it at Whole Foods, but the closest one is an hour away so I don't go there often.
Like, I've been there maybe 3 times in my life. I also do not have a WF kind of grocery budget, know what I mean?
Aldi carries it and we do have several Aldi stores nearby that I shop at weekly. But, they don't always carry that tasty and on-plan spread. So I figured out how to make my own.
I shared in one of the THM Facebook groups recently a quick and easy snack featuring this tasty spread. A variation of my Ants on a Log for Grown Ups – using peanut butter with flax and chia seeds and fresh blueberries.
So yummy! The fresh blueberries brought sweet and tart pops of flavor to the party. And the chia and flax seeds? Lots of healthy goodness!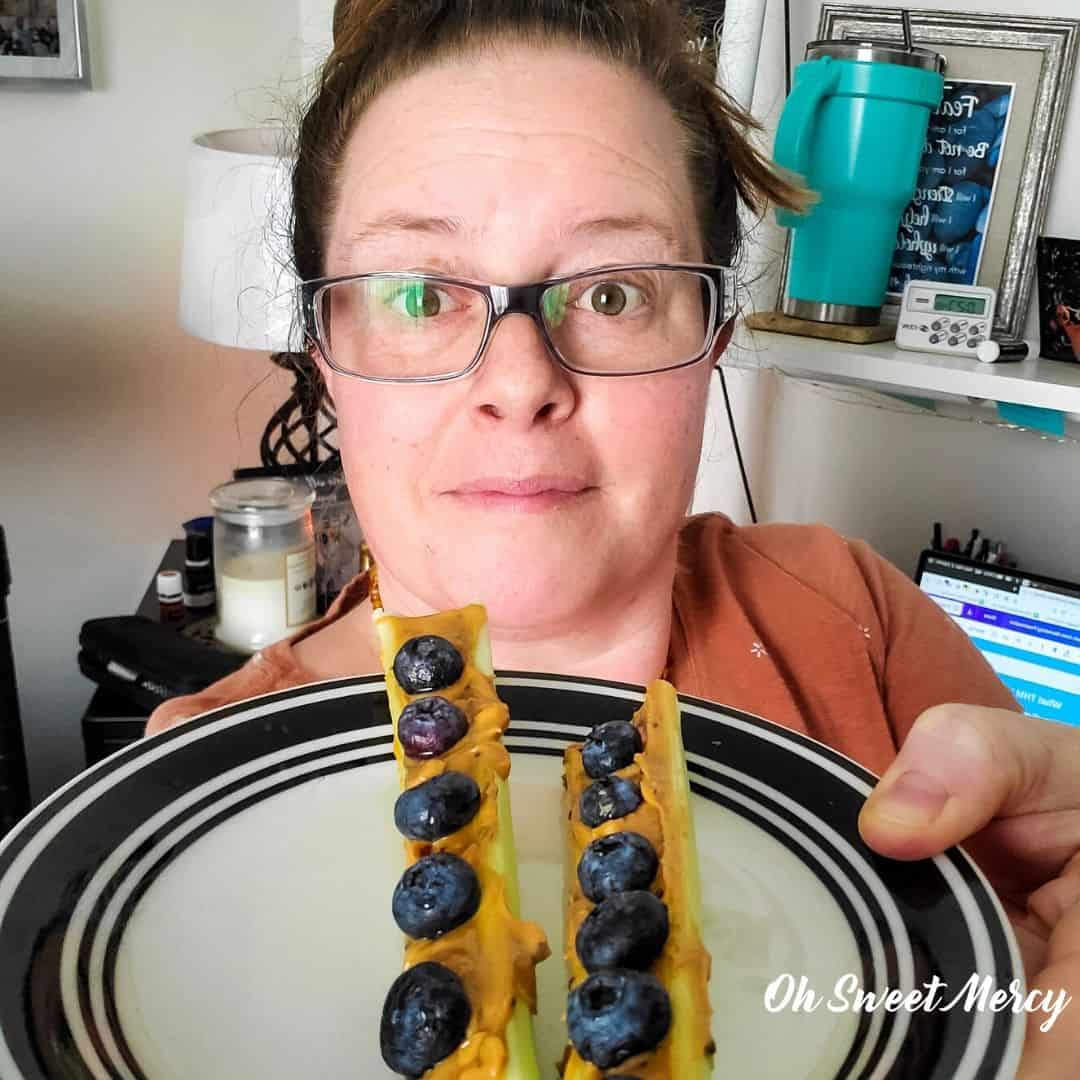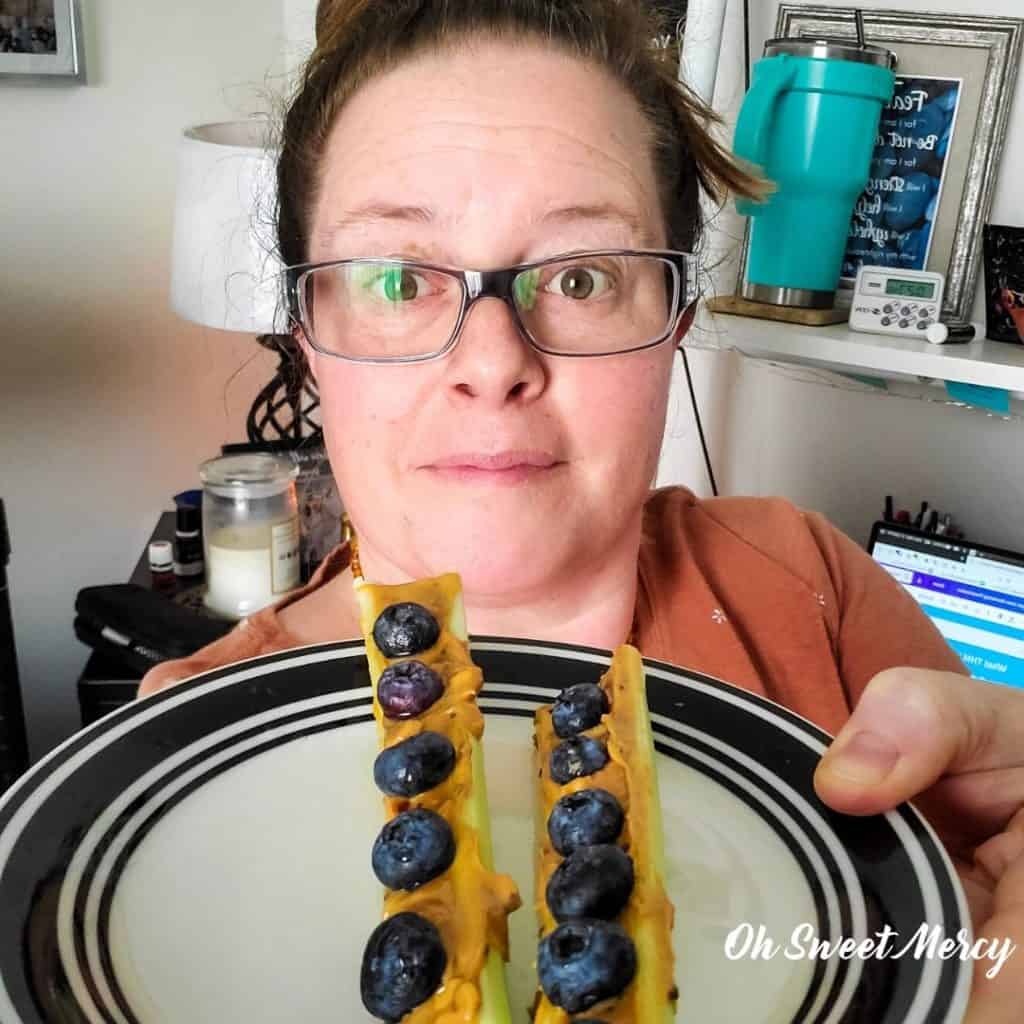 Why Are Chia and Flax Seeds Healthy?
Chia seeds are packed with antioxidants, fiber, and even a good amount of protein. These tiny seeds also contain impressive amounts of vitamins and minerals, such as vitamin A, calcium, and phosphorus.
They can help digestion, balance blood sugar, and keep your heart healthy. And, the ALA (alpha-linolenic acid) contained within these tiny seeds is a super healthy omega-3 fatty acid. It's been shown to limit the growth of cancer cells in breast and cervical tissue.
Flax seeds also are rich in ALA as well as antioxidants and fiber. These seeds can help regulate blood sugar and protect against insulin resistance. They're also known to decrease menopause symptoms as well as hormonal imbalance in women by balancing estrogen levels.
Both of these little seeds are great to add to your daily foods. The Superfood Salad Sprinkles in the first THM Cookbook (page 493) contain ground flax seeds and are super delicious sprinkled on salads, veggies, and more.
They're also in many low carb bread recipes and some homemade baking blend mixes. The Frugal Flour Mix on page 40 of Trim Healthy Table is a great option if you don't want to use THM Baking Blend or want a simple mix.
Making Your Own is Safer.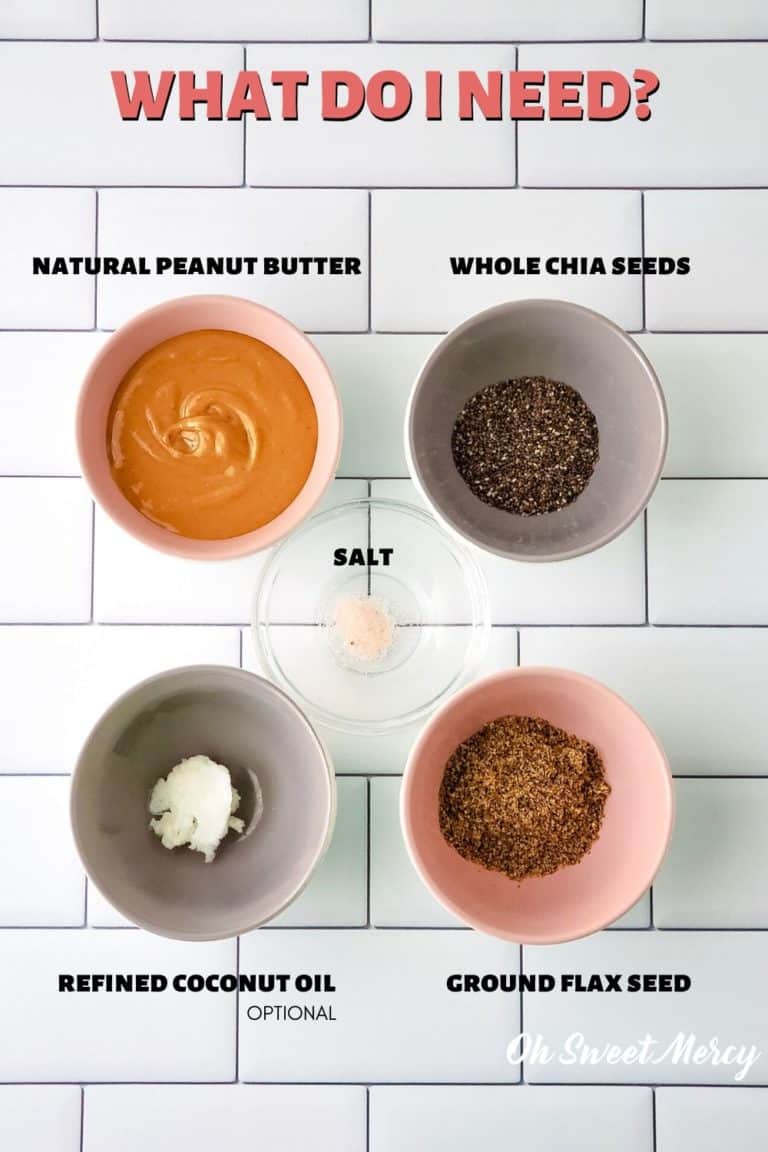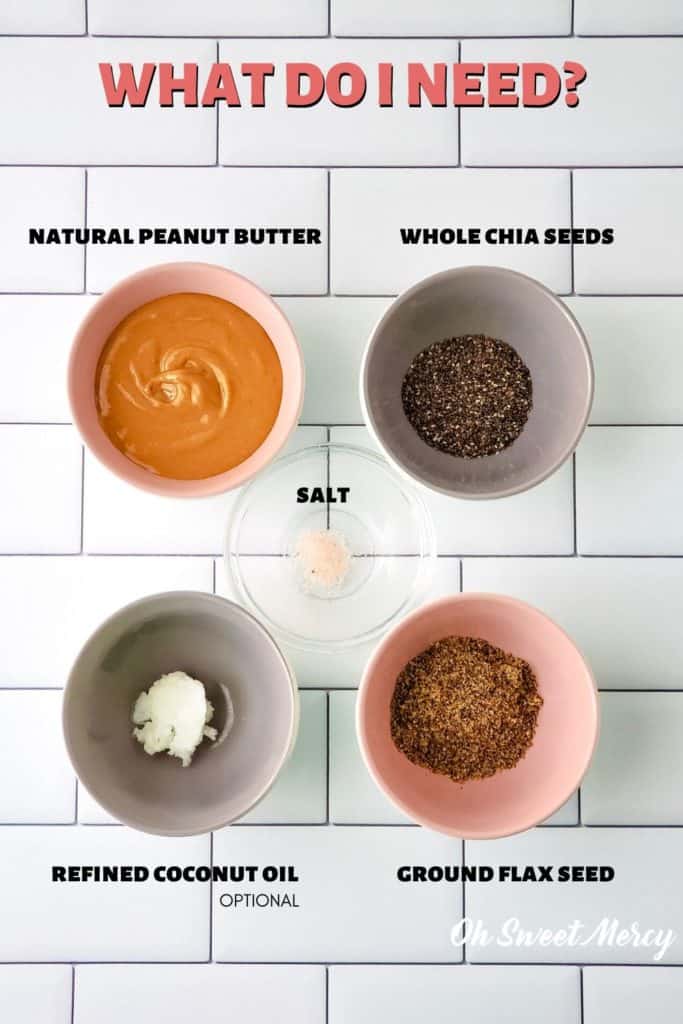 Many peanut butter products contain added sugars. Some also have xylitol, which is very toxic to dogs. So, it's very important to carefully read labels before purchasing any food product.
In addition, when you make your own you are in full control of the ingredients. No worries about cross contamination if allergies are an issue!
It takes maybe 5 minutes to mix up a small batch of this delicious peanut butter with chia and flax seeds, too. If your family goes through a lot, just use a hand mixer to mix it up by the jar (see recipe notes).
Also, feel free to add more (or less) chia or flax seeds if you like. I was afraid the flax would make the spread a weird texture, thinking they must blend the crap out of it when they make this spread commercially.
However, I was pleasantly surprised to find that it didn't! Still, I didn't add a ton of flax to my recipe. Feel free to experiment when you make it.
How To Make DIY Peanut Butter, Chia, and Flaxseed Spread.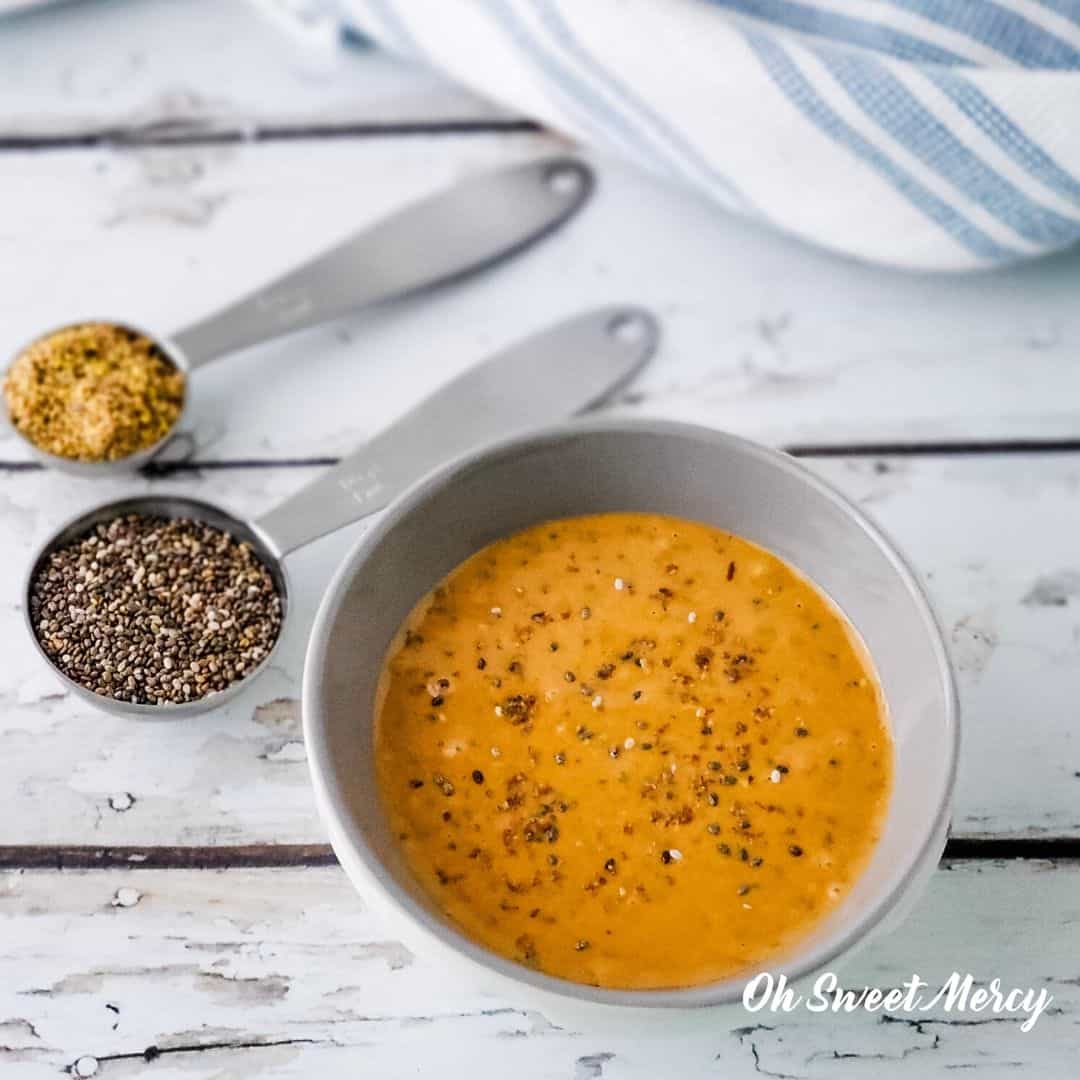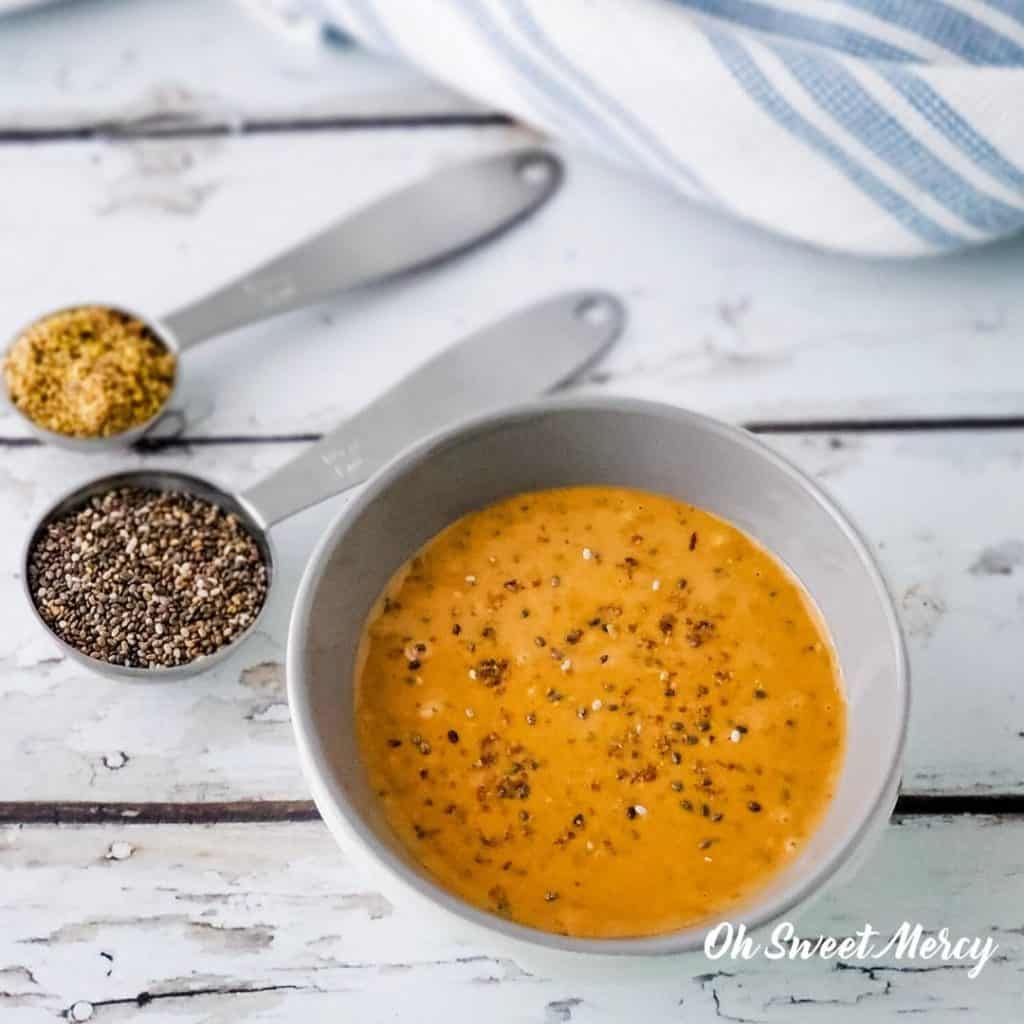 It's literally measure and mix! You'll want ground flax seeds, too, not whole. It doesn't matter whether you use golden flax or brown flax seeds.
Make sure to get natural peanut butter with no added sugars or sweeteners. Smooth or chunky works, whatever your preference.
The oil may separate, that's fine. You can pour some off or just mix it in with the rest of the ingredients (if making a whole jar's worth of peanut butter).
If you really want to go totally DIY on this, make your own peanut butter too. You'll need a high-powered blender or good quality food processor to do this, especially if you want a smooth, creamy result.
Do You Have To Add Coconut Oil?
Initially, I did not intend to add any kind of fat to this spread. The store-bought version contains palm oil but I figured peanut butter is fatty enough you don't really need more, right?
If you want to leave out the coconut oil, you can. However, I found that it was better adding that extra fat. You could also use palm oil if you have it or even butter. Not adding the extra fat made it seem rather dry when swallowing.
How To Add This Peanut Butter with Flax and Chia Seeds to Your THM Meal Plan.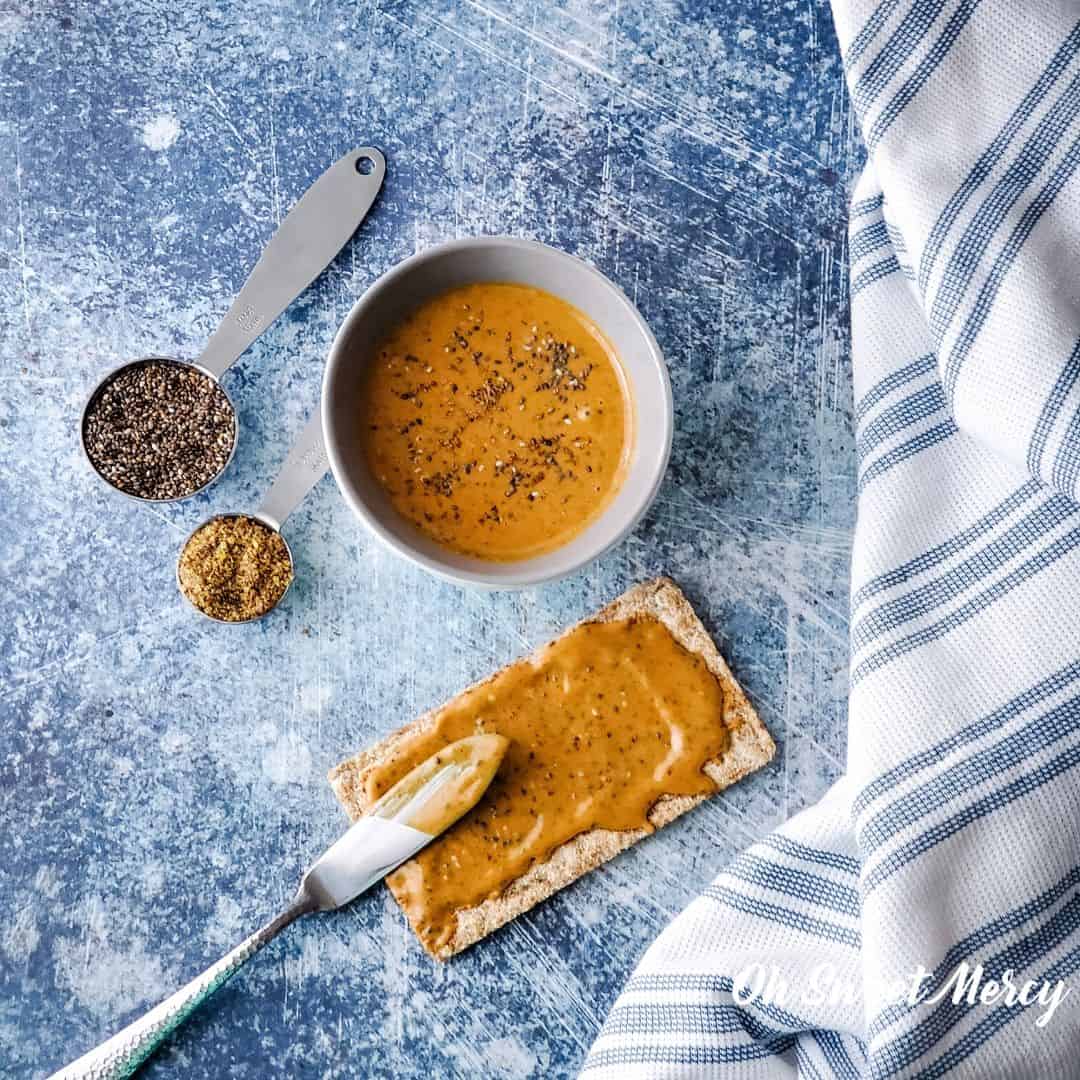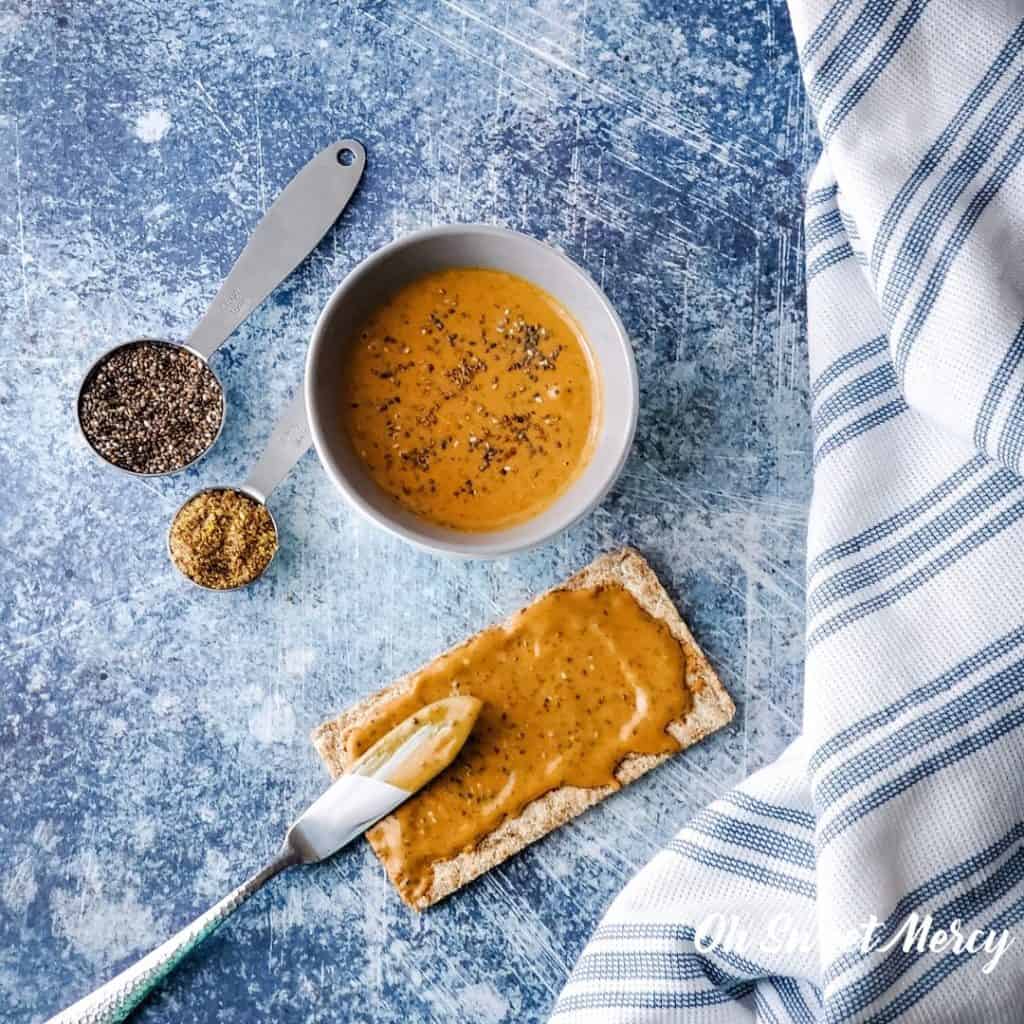 Since this is made with nuts and seeds, this recipe is an S on the THM plan. You'll want to enjoy in a low carb setting most often for best weight loss results.
Here's a few ways to enjoy it:
If you need a Crossover, have a couple teaspoons with an apple, make a peanut butter and Slim Belly Jelly (page 478 in the first THM Cookbook) sandwich with sprouted bread, or stir into your morning oatmeal and top with berries.
Always consult the Trim Healthy Mama Plan Book for complete information on how to put together your meals.
Pin It!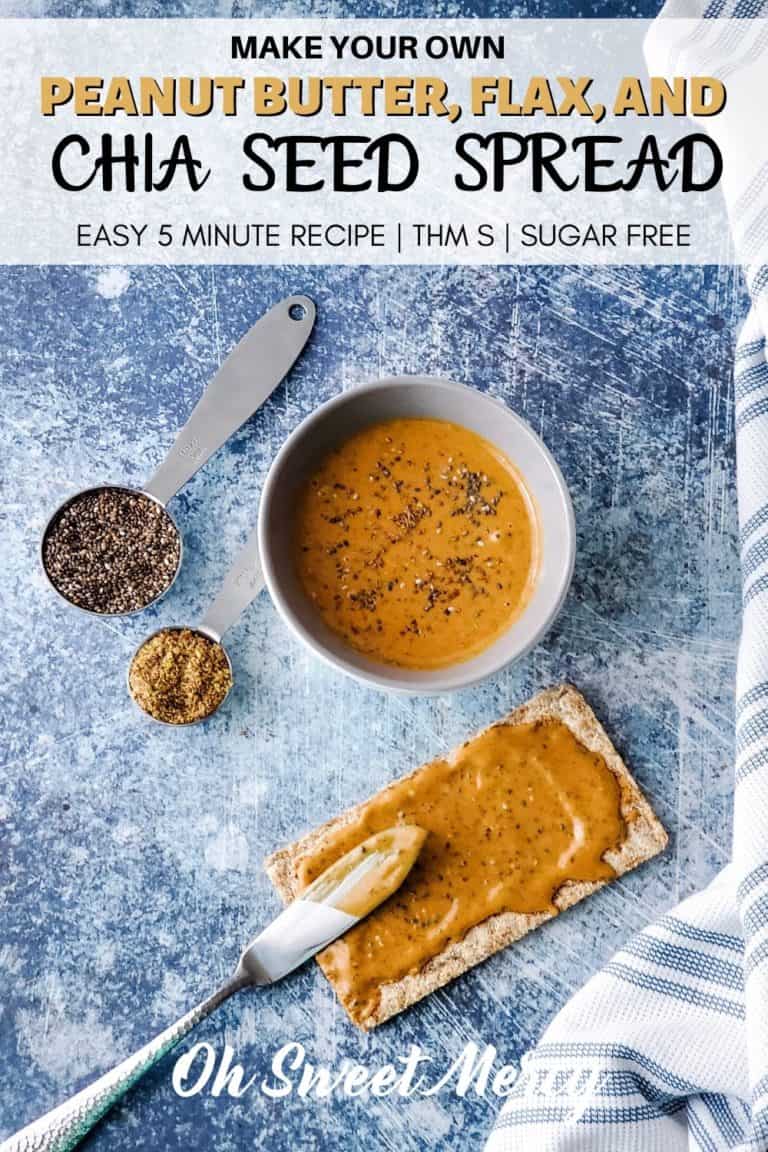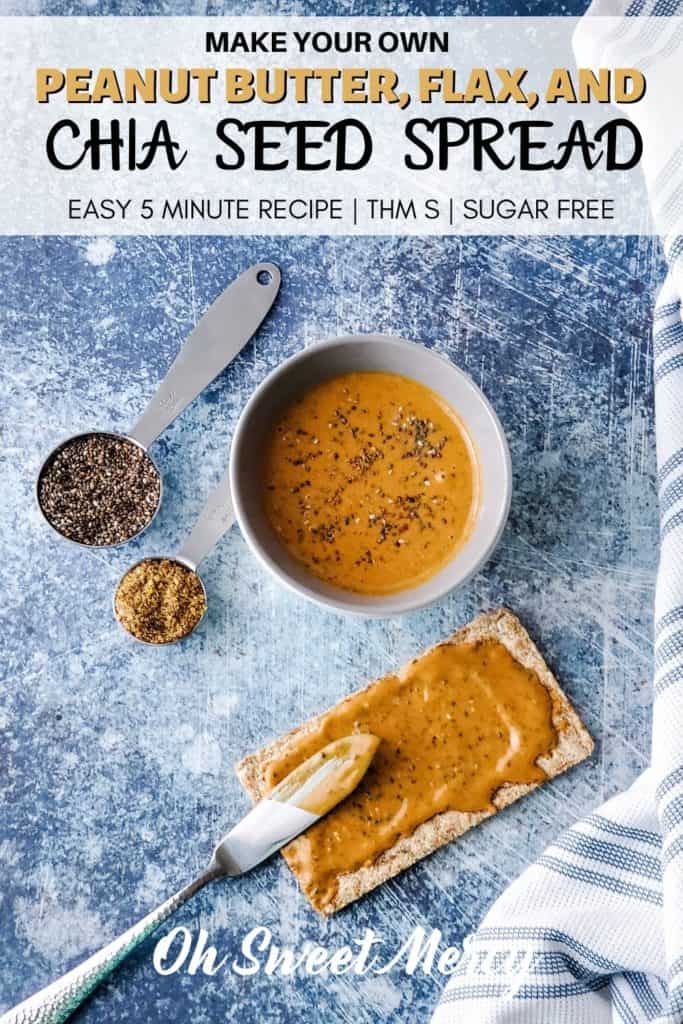 Have You Been Waiting For A Recipe Like This? How Will You Use It?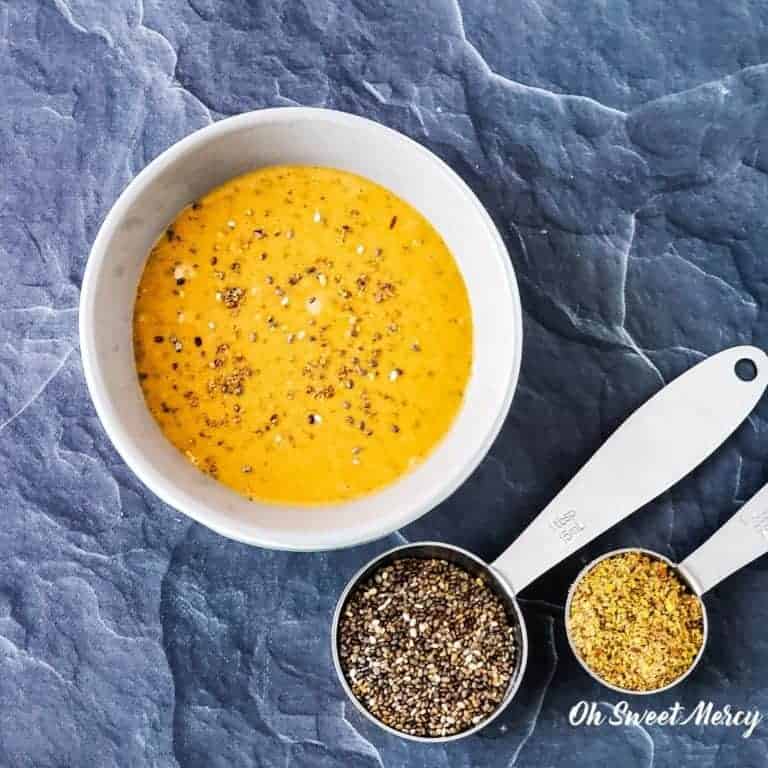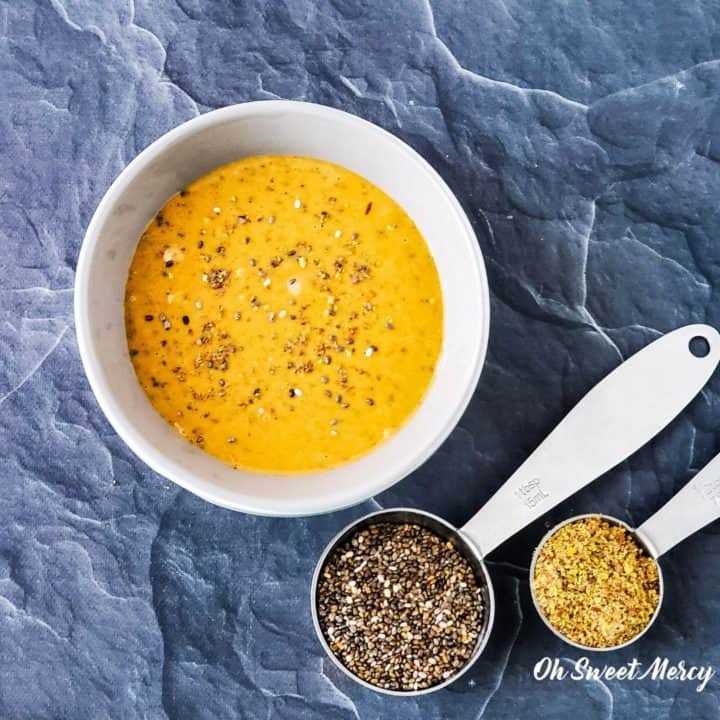 Peanut Butter With Flax And Chia Seeds | THM S, Sugar Free
Yield: 1/2 cup
Prep Time: 5 minutes
Total Time: 5 minutes
Make your own peanut butter, flax, and chia spread with this easy 5-minute recipe! Use it on celery, sandwiches, or in yogurt or smoothies and more. THMs, this is an S recipe so keep it in a low carb setting most often.
Ingredients
Small Batch
1 1/2 teaspoons whole chia seeds (any type), more or less as desired
1 1/2 teaspoons ground flax seeds (any type), more or less as desired
1 teaspoon refined coconut oil, butter, or red palm oil (optional)
2-3 "doonks" (generous pinches) high mineral salt, or to taste
Whole Jar
16 oz jar of natural peanut butter, smooth or chunky (no sugar, molasses, etc.)
3 teaspoons refined coconut oil, butter, or red palm oil (optional)
Heaping 1/8 to 1/4 teaspoon high mineral salt, or to taste
Instructions
SMALL BATCH
In a small bowl, mix all ingredients together until well combined.
If your coconut oil is very hard, give it a good stir before measuring to soften it. Or, melt if desired. If soft, though, it mixes in very easily.
Store in an airtight container in the refrigerator. It should keep for several weeks.
WHOLE JAR
In a mixing bowl, add all ingredients and either stir by hand or use a hand mixer.
If your coconut oil is very hard, give it a good stir before measuring to soften it. Or, melt if desired. If soft, though, it mixes in very easily.
Store in an airtight container in the refrigerator. It should keep for several weeks.
Recommended Products
As an Amazon Associate and member of other affiliate programs, I earn from qualifying purchases.
Nutrition Information:
Yield: 4
Serving Size: 1
Amount Per Serving:
Calories: 117
Total Fat: 10g
Saturated Fat: 2.1g
Trans Fat: 0g
Unsaturated Fat: 6.7g
Cholesterol: 0mg
Sodium: 6.5mg
Carbohydrates: 4.4g
Net Carbohydrates: 2g
Fiber: 2.4g
Sugar: 1g
Protein: 5.1g
Nutrition information is approximate and based on the best knowledge available at the time of recipe publication. Your results may vary due to differences in ingredients. You can make your own calculations if this recipe does not include nutrition info by using an online calculator such as https://recipes.sparkpeople.com/recipe-calculator.asp