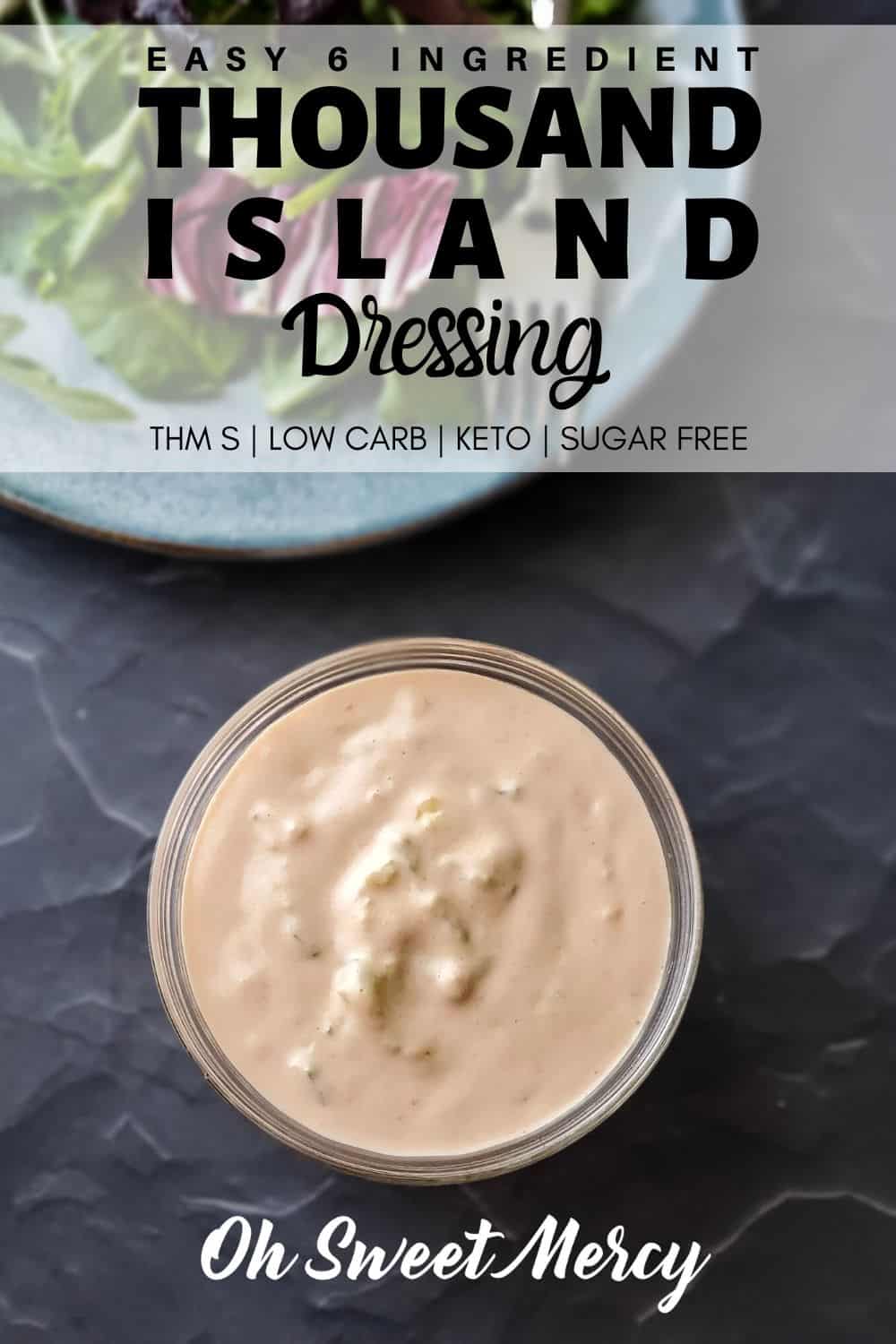 ---
If you have 6 simple ingredients on hand and about 5 minutes, you can make an easy, delicious, low carb Thousand Island dressing! This classic salad dressing is perfect for Reubens, my Baked Reuben Dip, and salads but don't limit yourself to just that. Trim Healthy Mamas this is perfect for THM S meals!
---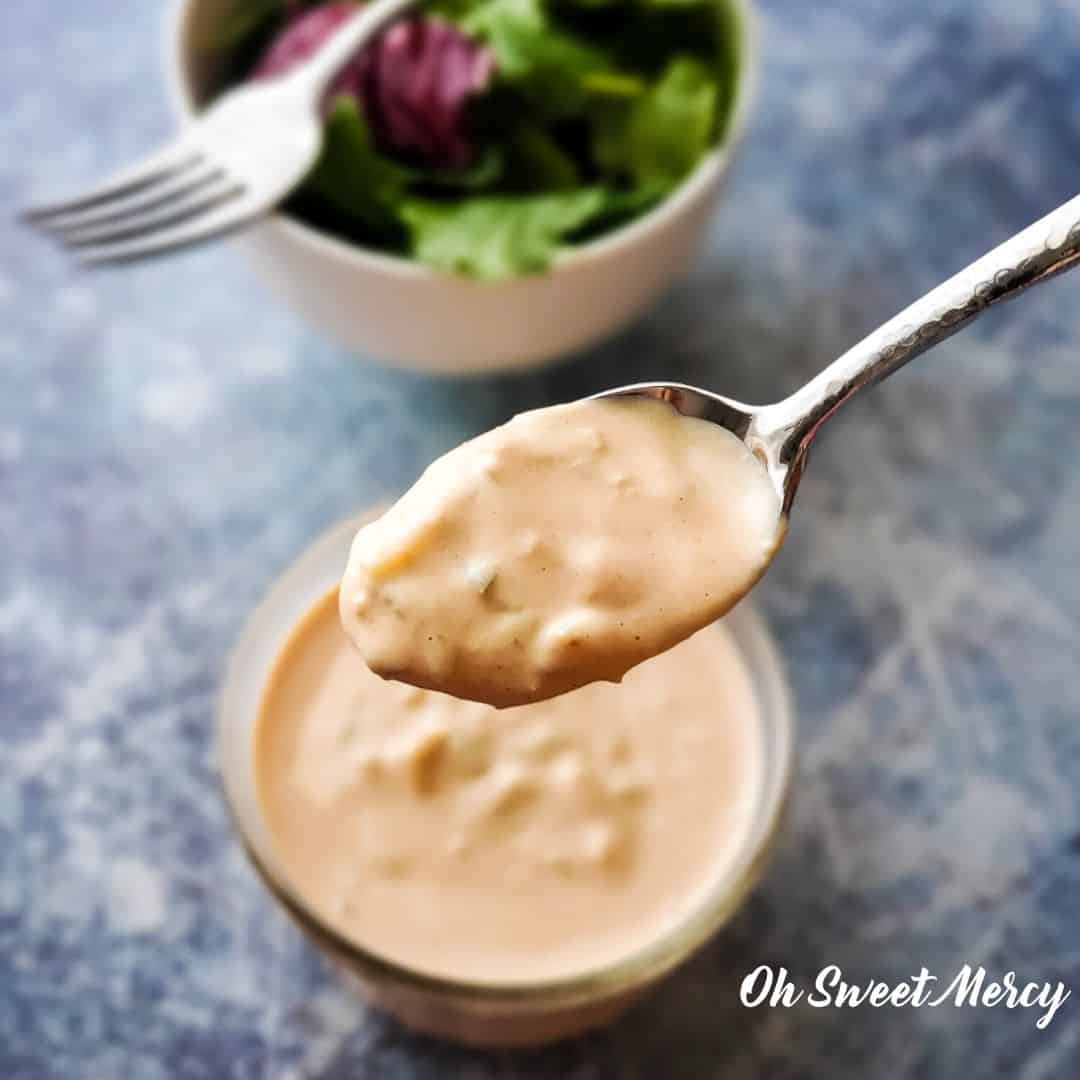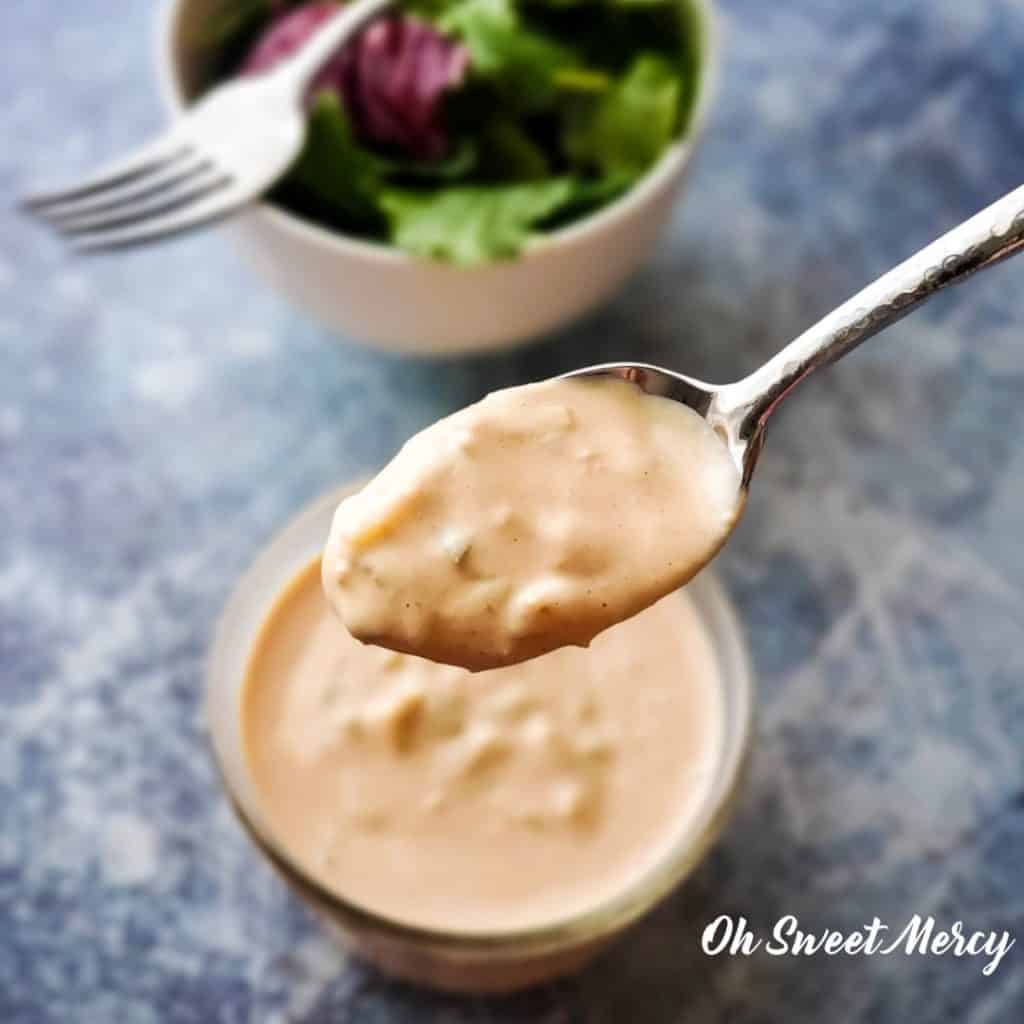 I love an easy salad dressing, don't you? This easy low carb Thousand Island dressing recipe takes just 6 simple ingredients. You probably have them in your fridge and pantry right now, even.
My version is a super easy keto Thousand Island dressing, too. It's great to use for…
Low carb Reuben sandwiches (check out my Mock Rye Bread recipe!)
Salads (of course)
As a spread for sandwiches or wraps
Meat or egg salads – in addition to or replace mayo
Sometimes we have to get creative with the ingredients we have on hand. This easy homemade Thousand Island dressing recipe can also be used to jazz up casseroles, soups, and sauces too.
TIP: Sometimes when a dish seems to be "missing something" a dash of something acidic or pinch of sweet brings the whole thing together. This salad dressing is sweet and a bit tangy/acidic so a dollop in that dish might do the trick.
Best Ways To Make This Low Carb Thousand Island Dressing Recipe.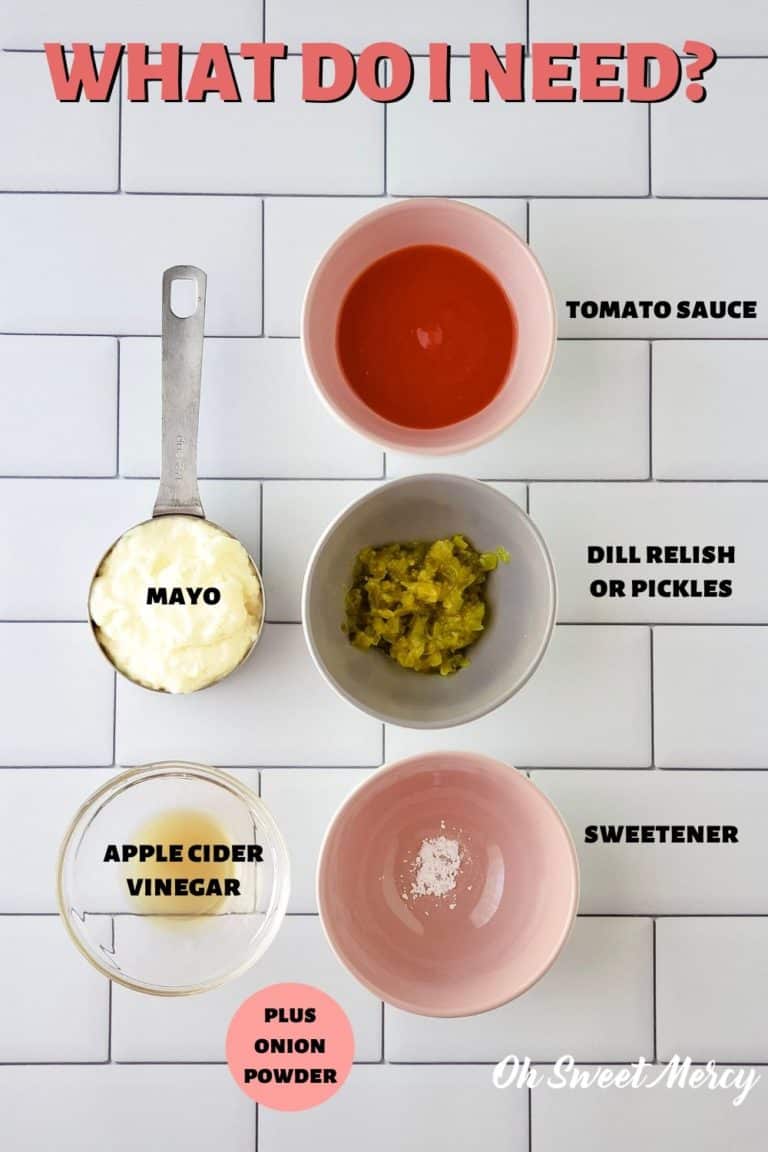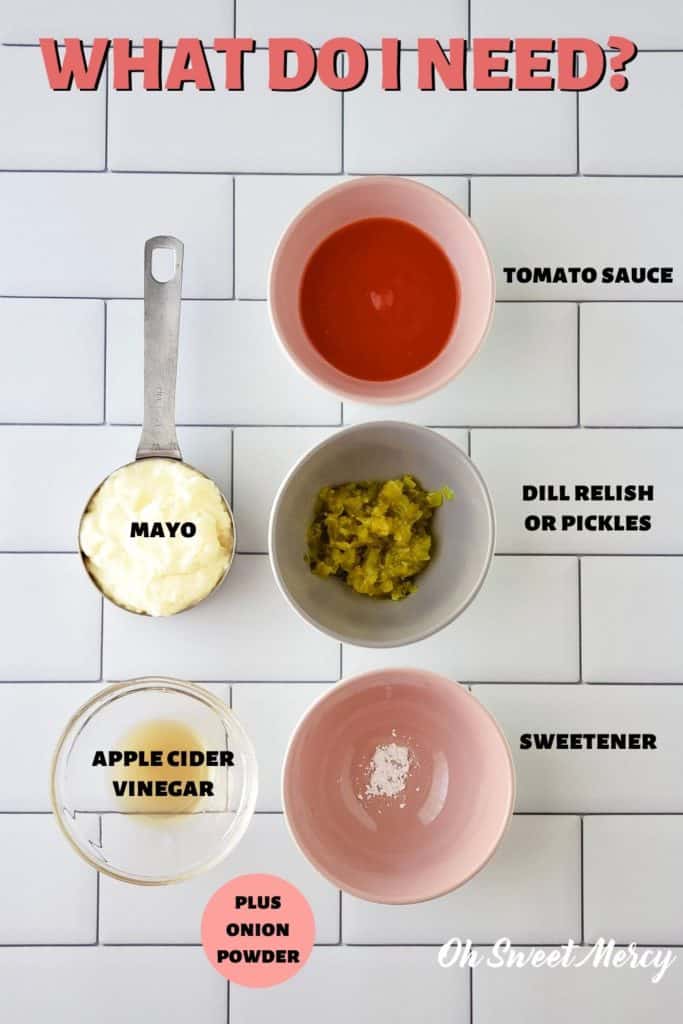 Since, at the time of this post, most of us have been ordered to stay inside for a period of time I'll tell you the best, better, and make-do ways of making this salad dressing.
Best: Totally THM Friendly Thousand Island Dressing.
Make this dressing as written below. You'll need:
On-plan mayo (very best: the Body Burn Mayo from the first THM cookbook, page 470)
Tomato sauce (plain, no sugar added)
Dill relish
Apple cider vinegar (or regular white vinegar)
onion powder
On-plan sweetener
You could substitute the tomato sauce for homemade sugar-free ketchup, such as Trim Healthy Ketchup on page 482 of the first THM cookbook.
The very best ingredients would be organic, without inflammatory oils, etc. But any store-bought ingredients that meet the THM guidelines work.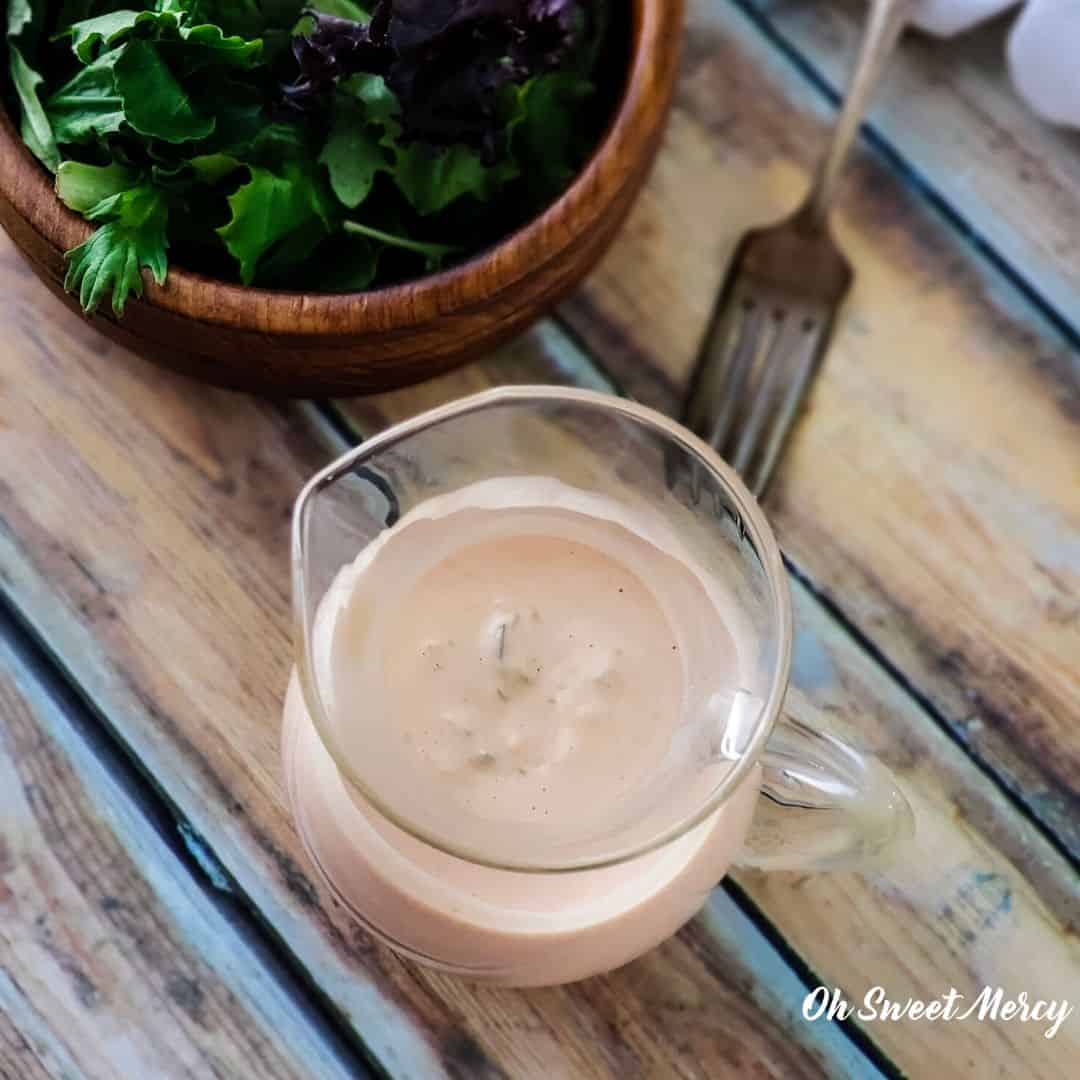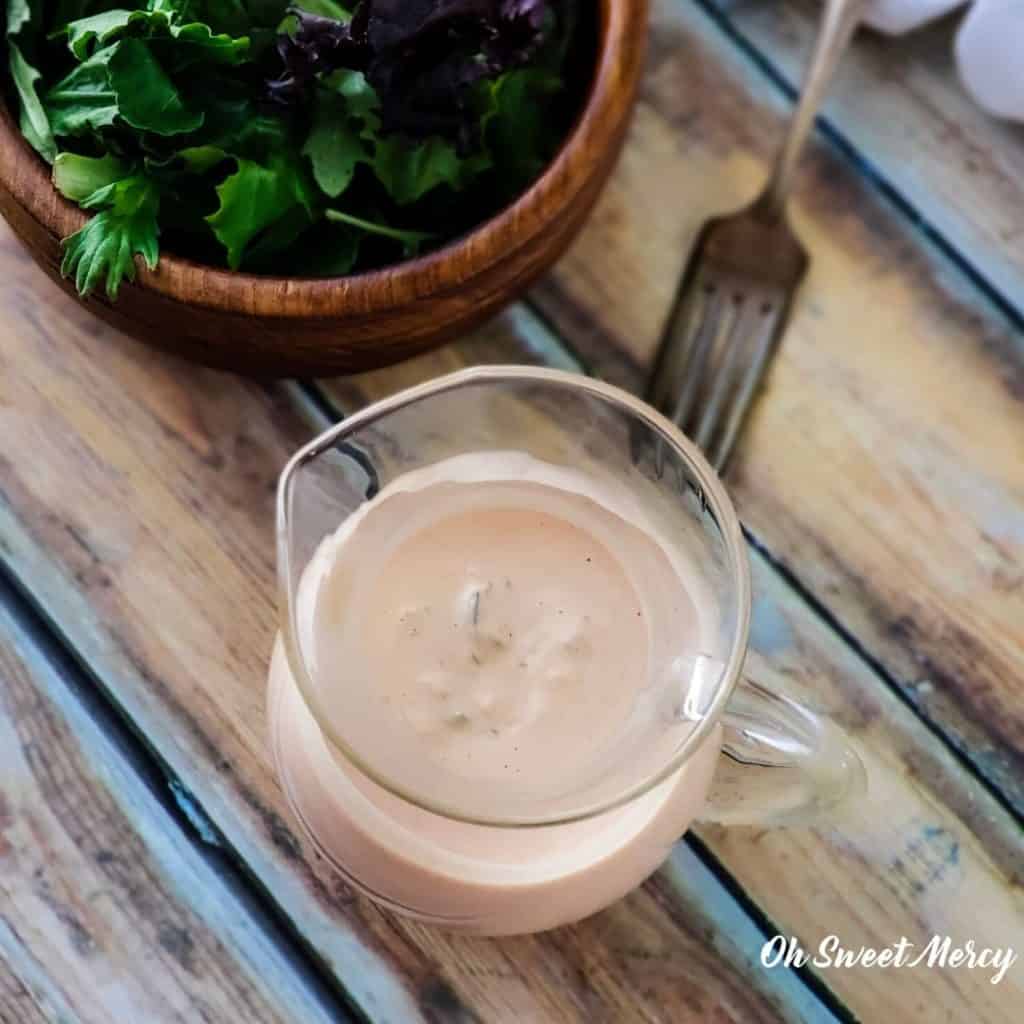 Better: Mostly THM Friendly Version
Sometimes, you're out of an ingredient or two. Making the best choices available keeps you mostly on-plan, which is better than totally off the rails.
These ingredients aren't as ideal but still better than totally off-plan Thousand Island dressing:
Store-bought sugar-free ketchup instead of tomato sauce
Sweet pickle relish
The ketchup is likely made with off-plan sweeteners. The relish will add more sugar to your dressing. So, best to limit how much you use as well as how often.
Make Do: Use What You Have Because You Can't Leave The House (Grace Edition).
Finally, if all you have is…
Store-bought ketchup instead of tomato sauce (one without high fructose corn syrup is best)
Store bought sweet relish, instead of dill relish (if you make your own sugar-free sweet relish that would be fine)
Sugar
Make it, enjoy it, and give yourself grace. With the above ingredients it's no longer a low carb Thousand Island dressing. It's definitely off-plan, too.
But, if you can't leave the house or have others in your family that don't need a keto Thousand Island dressing this will do.
Grace means we make the best choices available and don't beat ourselves up about it. We get right back on plan in 3 hours if we can and keep on going!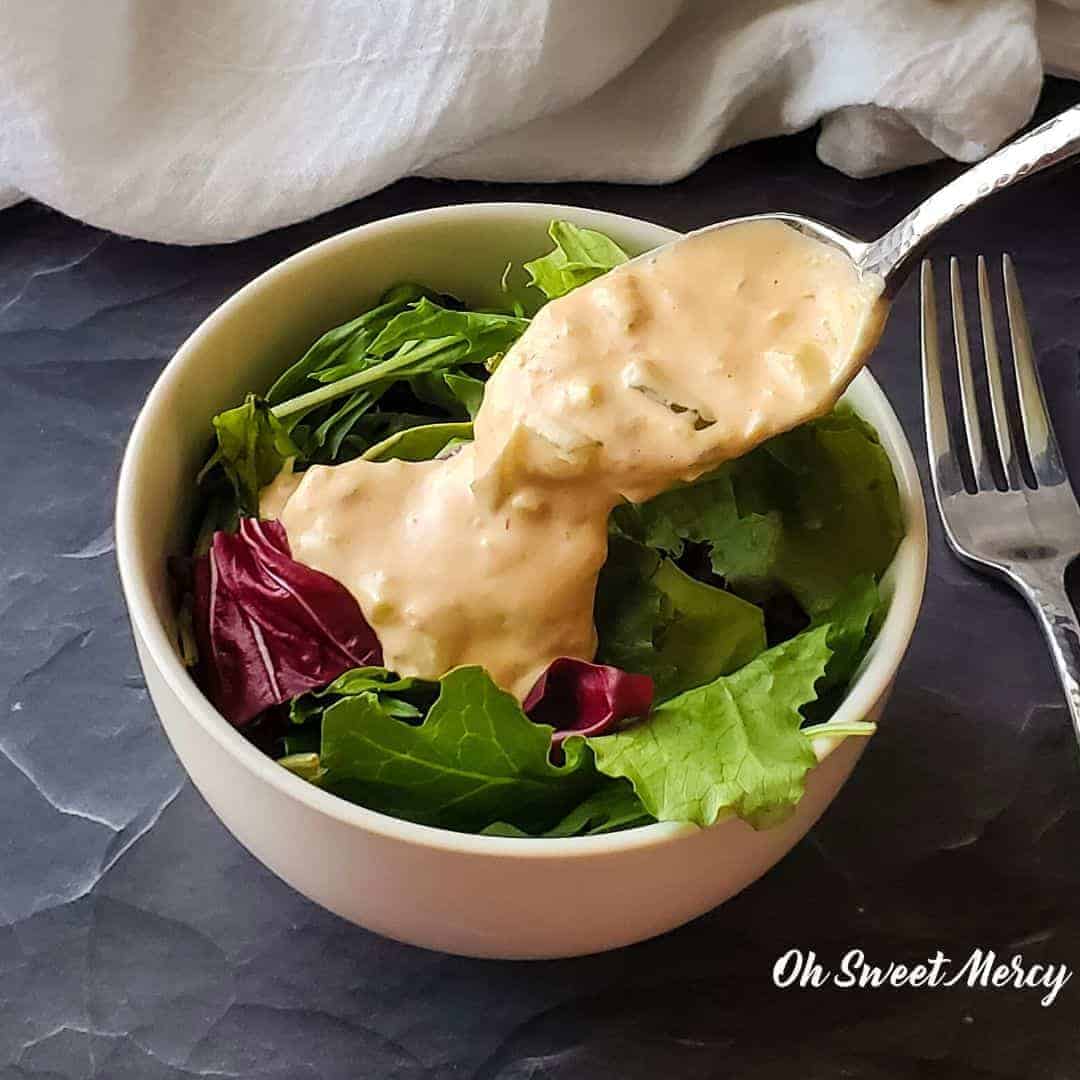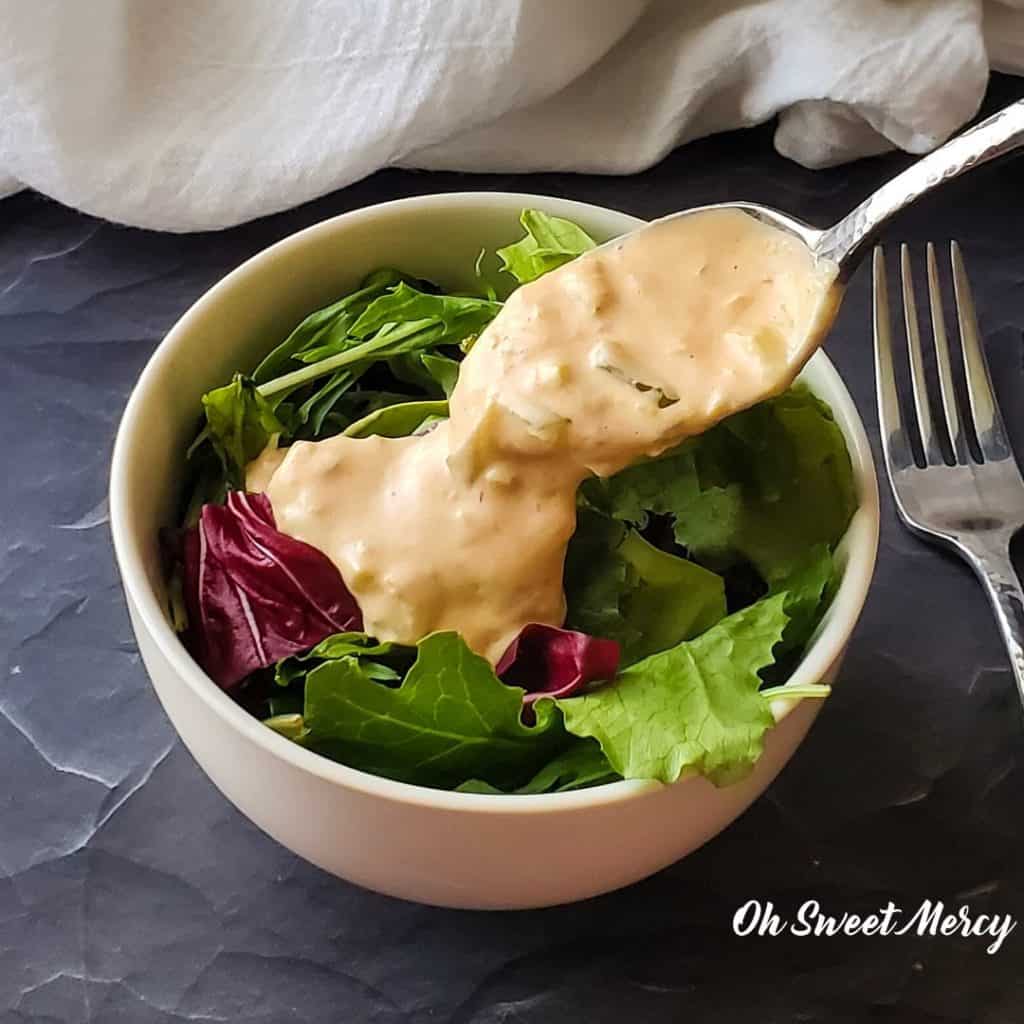 How To Fit My Simple Sugar Free Thousand Island Dressing Into Your THM Meal Plan.
Since this is a low carb and keto salad dressing recipe, use this for your THM S meals. These are our satisfying low carb meals.
Make sure you eat plenty of non-starchy veggies (hello, big old salad) and keep your carbs within the guidelines for a THM S meal.
And as always, each meal should be centered around a good amount of healthy protein!
Ideally, you'll make this recipe using the Best options I listed above. But do your best under difficult circumstances. Every small good choice is better than none at all.
However you're able to make this simple low carb Thousand Island dressing, make sure you enjoy it!
PIN IT!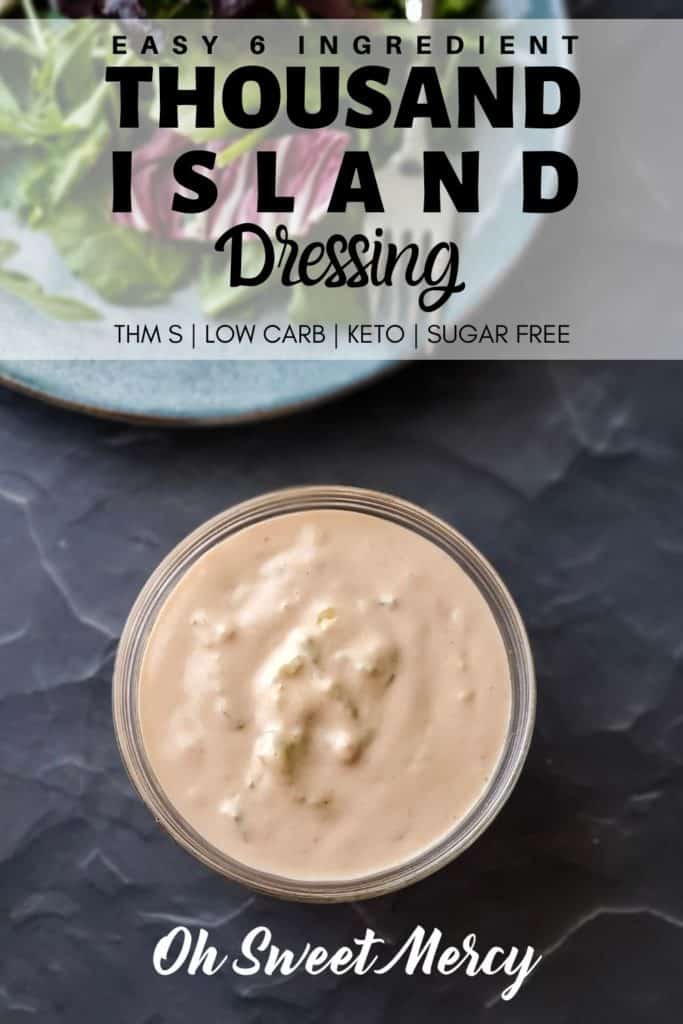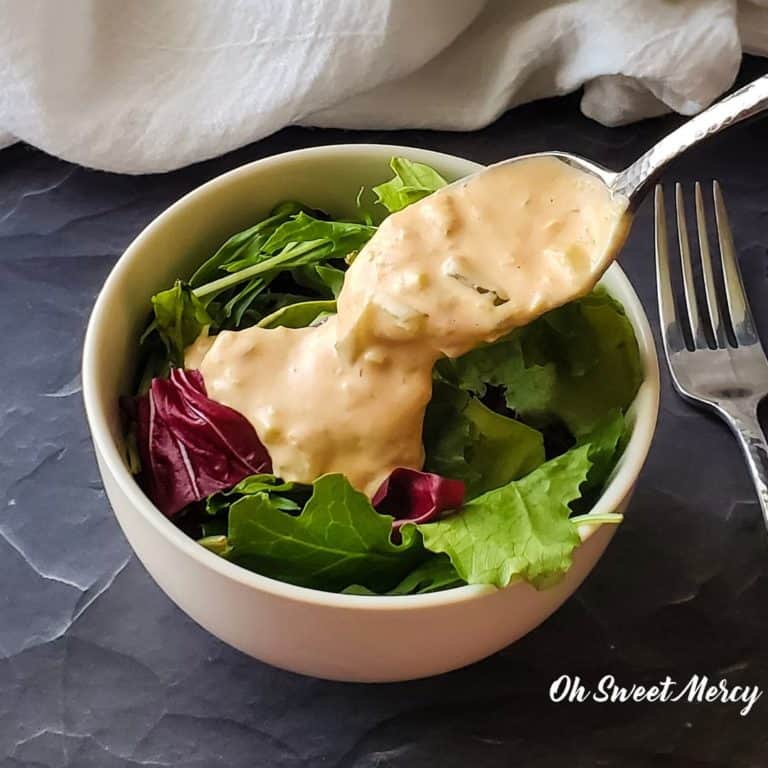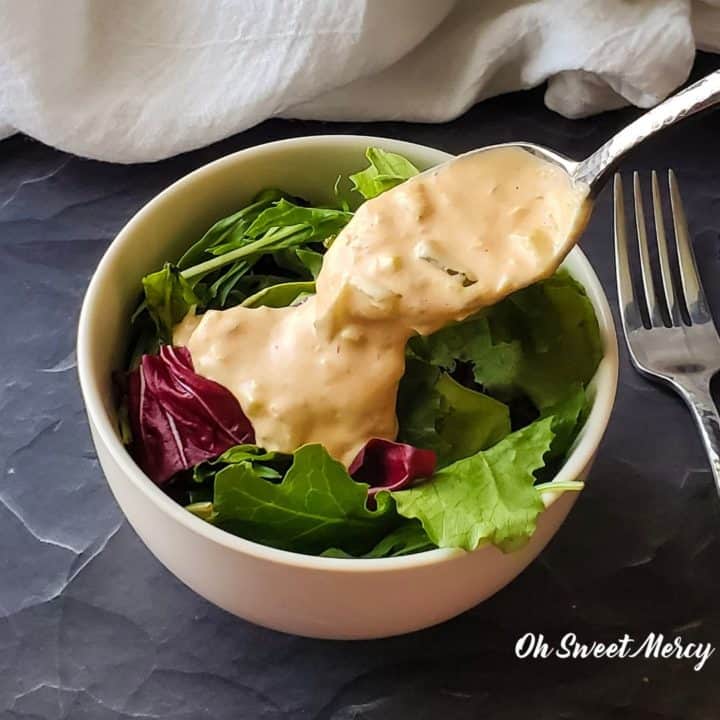 Low Carb Thousand Island Dressing | THM S, Sugar Free
Yield: Around 1/2 cup
Prep Time: 5 minutes
Chill Time: 30 minutes
Total Time: 35 minutes
My super simple, 6-ingredient low carb Thousand Island dressing is easy to make. You probably already have these ingredients on hand, too. Use it on salads, Reubens, my Baked Reuben Dip, as a spread for sandwiches and wraps, and more.
Ingredients
1/2 cup mayonnaise
3 tablespoons tomato sauce
1 to 2 tablespoons dill relish (or finely chopped dill pickles)
1/2 teaspoon ACV (apple cider vinegar, or use regular white vinegar)
1/2 teaspoon onion powder
Instructions
Mix all ingredients in a bowl or mason jar.
Taste and adjust sweetness to your tastes.
For best flavor, chill in the fridge for 30 minutes or longer (but, can be used immediately).
Store in an air-tight container in the fridge.
Should keep well for at least 2 weeks.
Recommended Products
As an Amazon Associate and member of other affiliate programs, I earn from qualifying purchases.
Nutrition Information:
Yield: 8
Serving Size: 1 tablespoon
Amount Per Serving:
Calories: 93.7
Total Fat: 10.1g
Saturated Fat: 1.5g
Trans Fat: 0g
Unsaturated Fat: 0.1g
Cholesterol: 3.8mg
Sodium: 154.2mg
Carbohydrates: 0.6g
Fiber: 0.1g
Sugar: 1.8g
Protein: 0.2g
Nutrition information is approximate and based on the best knowledge available at the time of recipe publication. Your results may vary due to differences in ingredients. You can make your own calculations if this recipe does not include nutrition info by using an online calculator such as https://recipes.sparkpeople.com/recipe-calculator.asp