These little Baked Sweet Potato Kale Tots contain no added fat but tons of flavor! Cut back a bit on the chili powder if you want a milder tot. They make a great side dish for a Trim Healthy Mama E meal!
Ever find yourself eating something you swore you'd never like?
One interesting "side effect" of the Trim Healthy Mama plan is that your tastes tend to change. You find yourself eating strange things like "gluccie" (glucomannan powder), riced cauliflower, and chocolate made from coconut oil.
Don't forget the double-fermented kefir in something called a Yuk Yum Bitty. And then deciding it really should be called a YUM YUM Bitty.
There's subtler changes too, like not liking your sweets as sweet and not even missing the bun when you eat a cheeseburger salad for lunch.
Or, eating a sweet potato.
Maybe you like sweet potatoes, but I have always hated them.

Something about that gorgeous, deep orange root veggie.
I've always contended that potatoes should NOT be sweet. They were meant to be deep fried and dipped in ketchup. Or smothered in cheese sauce. Part of why I need the Trim Healthy Mama Plan, with that fuel collision going on!
Because I wanted to eat healthier foods, I decided to give them a try.
You guys.
A sweet potato isn't all that bad.
Put a little sour cream, some mineral salt, a sprinkle of fresh, snipped chives, and maybe some black pepper on a baked sweet potato. That is actually good!
Yes, you CAN have full fat sour cream in an E meal – 1 tablespoon only has 2.5 grams of fat. If you'd rather have 0% Greek yogurt, that's a great option too and frees up a few fat grams for the rest of your meal.
Sweet potatoes get their gorgeous orange color from beta-carotene. It's a vitally important antioxidant that converts to Vitamin A in the body. Vitamin A is also fat soluble nutrient, which means you need some fat to absorb it. Having a little bit of fat as the E guidelines state will help make sure your body absorbs the nutrients it needs from your food.
Here's my other favorite way to eat sweet potatoes: Loaded Sweet Potato Fries (with Creamy Cajun Ranch). It's a great E-friendly recipe too!
An E-a-Day Challenge Helped Me Get Creative!
I designed the An E-a-Day One Week Challenge to help me, and those who join along, get out of fuel ruts and conquer our carb fears.
We are starting 2018 off right by learning about E meals, snacks, and foods. We're practicing planning (and having) an E meal or snack every day. And we're trying new things!
Learn more about the An E-a-Day One Week Challenge here!
It's really helped me, and I've been doing THM since 2014. I found I'd kind of been in a fuel rut…not just the same fuels all the time (mostly S) but also the same type of foods. Boring!
Doing this challenge every day has helped me, and others, think outside the box and get creative. And because of Day 3's Meal Task – have a grain-free E lunch – this tasty, and adorable, recipe was born.
Aren't they just the cutest things? I really love my little mini muffin pan! This one comes with silicone liners too.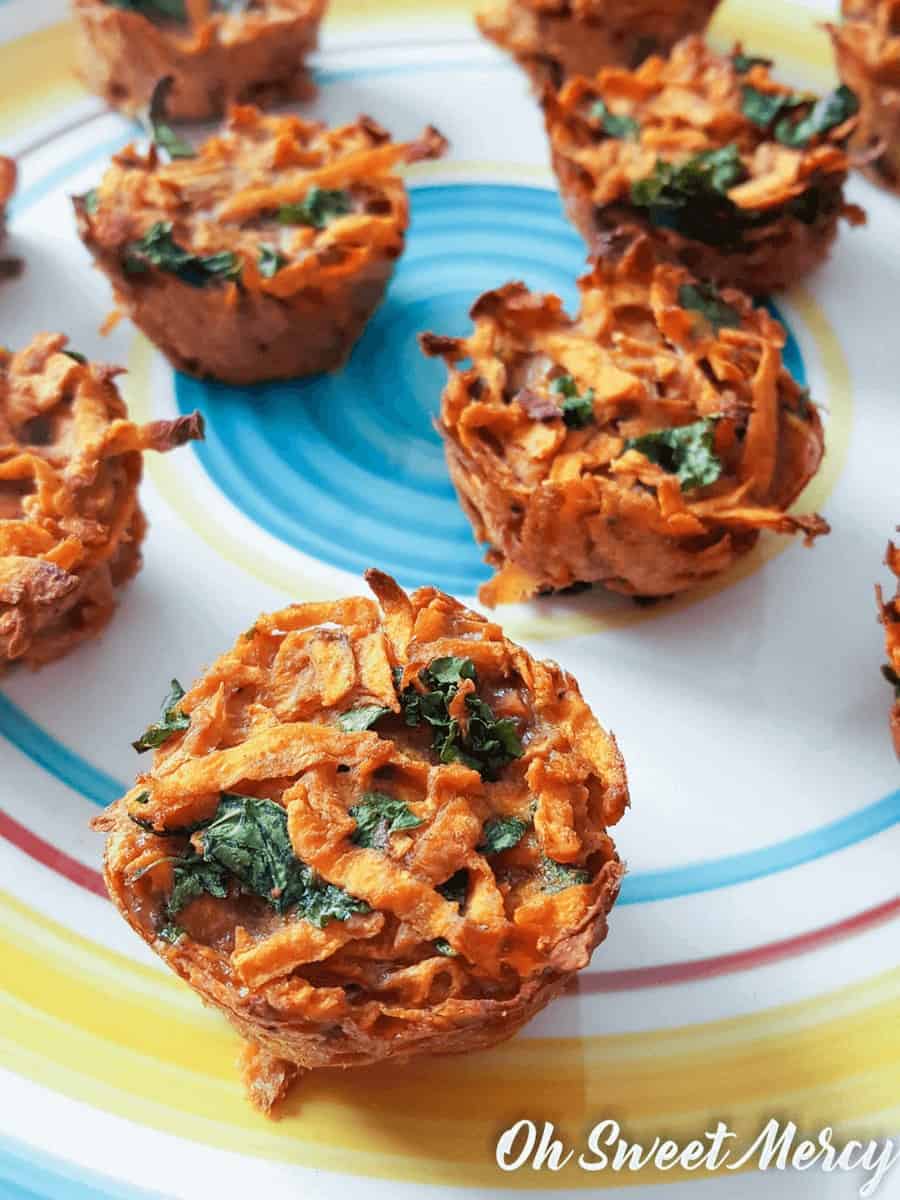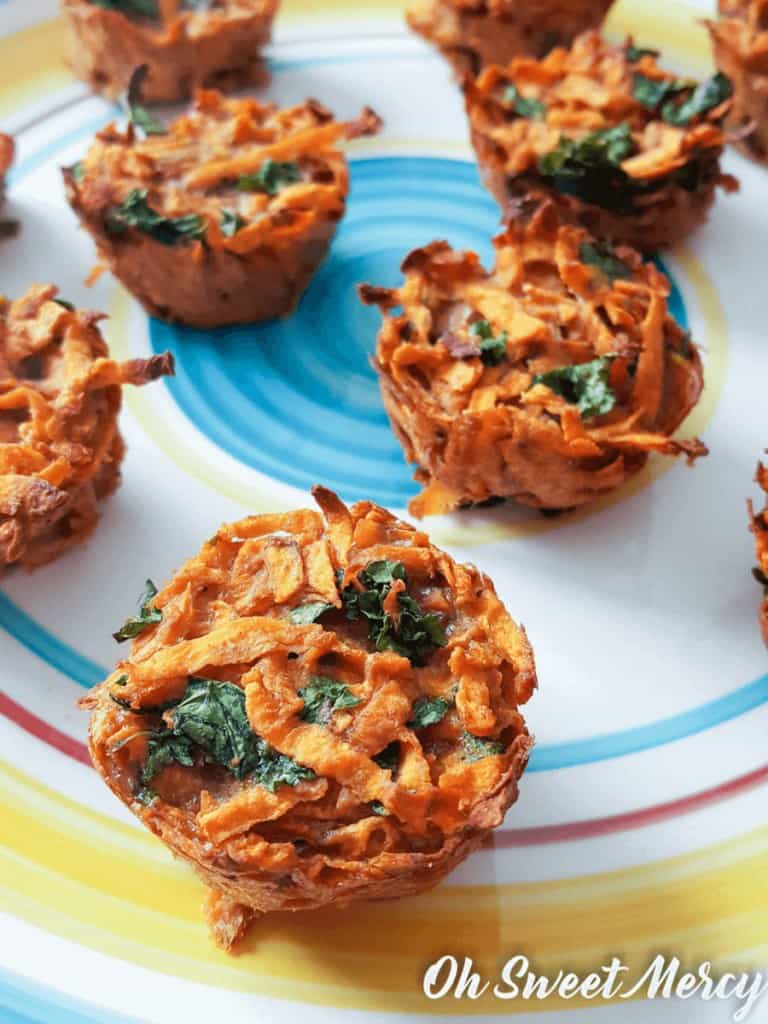 2 Secrets for Satisfying E Meals.
E's have never been my favorite. A look around the blog will show you lots of S recipes, and even Fuel Pulls, but not so many E's. I plan to change that in 2018!
It took me a little while to figure out how to make E meals actually satisfying. Want to know the 2 secrets I discovered? Sure you do! Your E meals need to be:
FLAVORFUL – you will likely find that you don't even miss the fat when you have lots of flavor dancing on your tongue! Using lots of spices, or just the right combination of spices, will make your meal so much more enjoyable. When you enjoy what you're eating you don't miss what isn't there (the fat 😉 )
NOURISHING – when your body is desperate for nourishment, it seems like it sends out signals to EAT ALL THE THINGS in the hopes that something will come down the pipes that has the nutrients it needs. Give your body nutrient-dense foods and it will thank you by not crying out in desperation, causing you to eat junk and whatever is not nailed down.
Sweet + Heat + Tang = Flavorful Nutrition!
The natural sweetness of sweet potato gets a kick of flavor and heat with my Healthy Homemade Chili Powder (feel free to use your own in whatever amount you prefer). And the creamy, tangy dipping sauce balances out that wonderful combination of sweet and heat just perfectly.
As written, there is no added fat to these Sweet Potato Kale Tots so that means you can save your fat grams for something else in your meal. There's a tiny bit of fat in the dipping sauce but 1 tablespoon is perfect for one serving of tots so you can still have a bit of added fat somewhere in the rest of your meal.
What about nutrition? You get the essential antioxidant in beta-carotene plus the antioxidant goodness of dark, leafy greens like kale.
Serve with a baked chicken breast or lean fish like wild caught salmon, or with a serving of my Chili Lime Black Beans (3/4 cup would be good since the sweet potatoes are carby too) – my Grain Free E Lunch meal for this day according to the Challenge schedule. I also included a double-fermented kefir drink with half a scoop of THM Pristine Whey Protein Powder, just to make sure I had enough protein.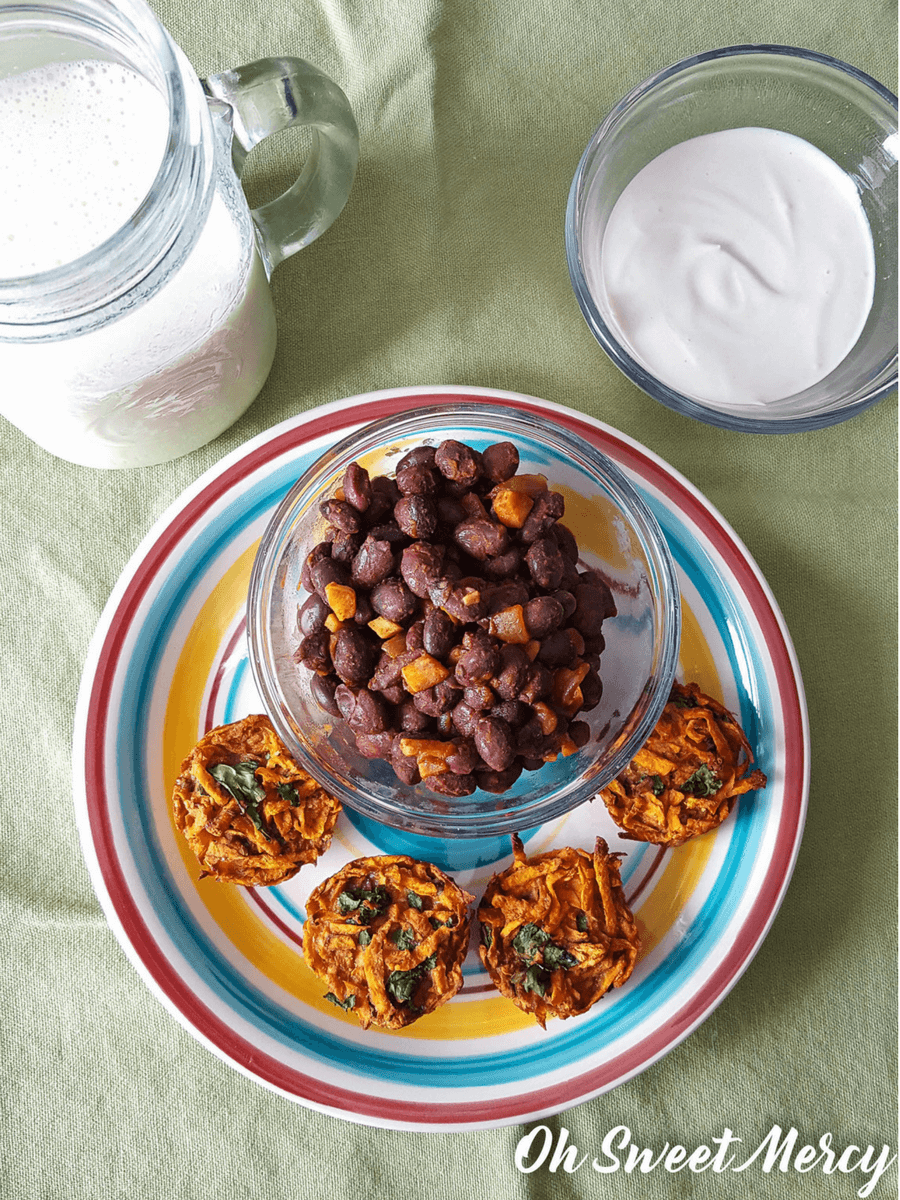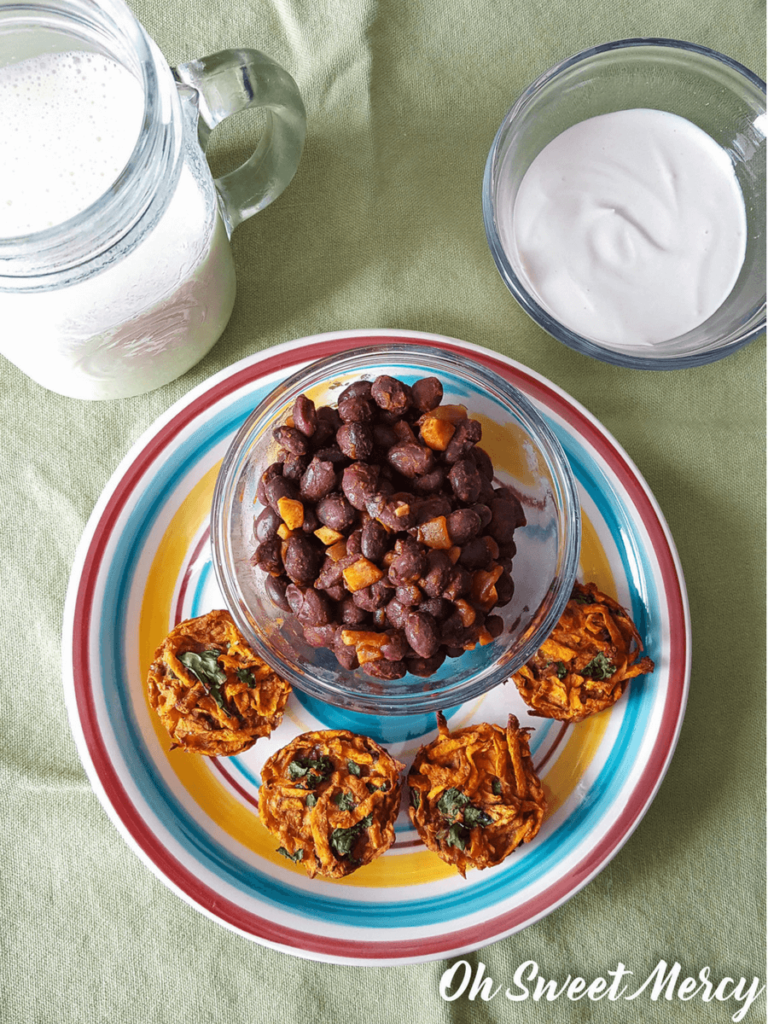 Oh sweet mercy was lunch so tasty and satisfying! It's been exactly 3 hours since I ate as I type this post and I am just now feeling a little snackish.
Finding flavorful and nutritious E choices can mean they are more satisfying and can sustain you longer.
Are You Ready To Try This Flavorful And Nourishing E-Friendly Side Dish?
Honestly, you could eat half the recipe and have a great E carb source with room for a bit more. That equates to half a large-ish sweet potato. So go ahead and do that if you like. Just be sure to include plenty of lean protein and some non-starchies to complete your healthy, E-Friendly meal!
Or have one serving as part of an E snack along with a bit of protein and maybe some fresh fruit.
However you eat these adorable low-fat Baked Sweet Potato Kale Tots they will add a flavorful and nutritious punch to your meal.
Will You Try These Baked Sweet Potato Tots? Don't Forget to Pin It!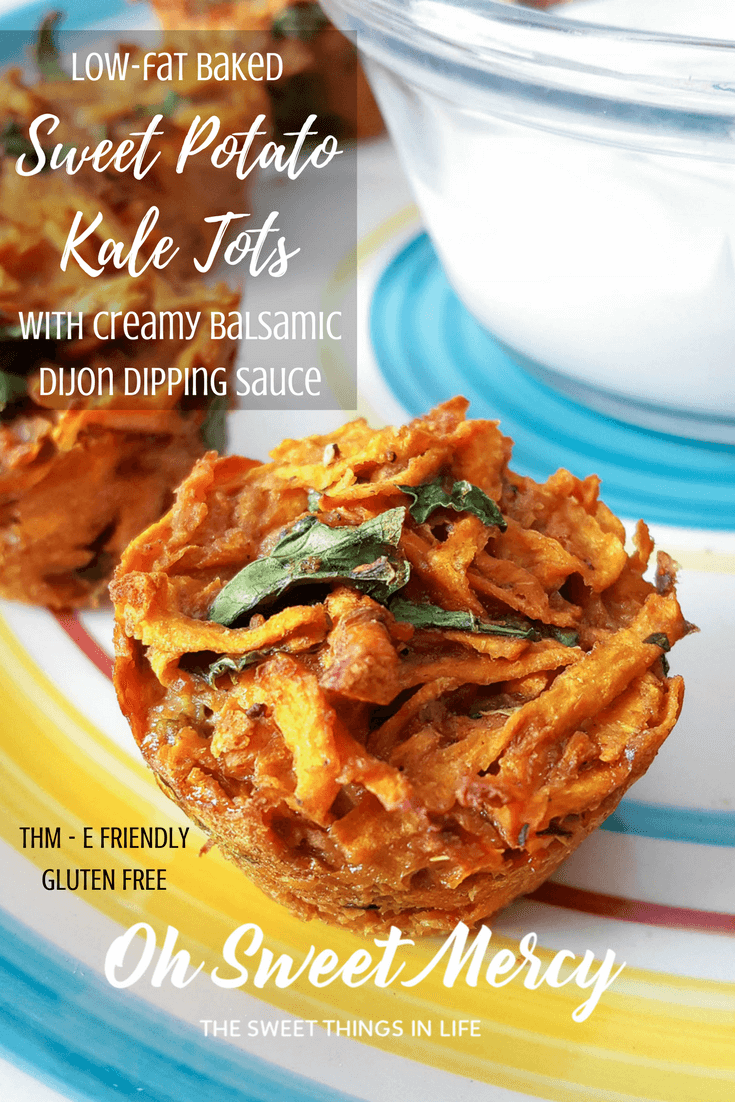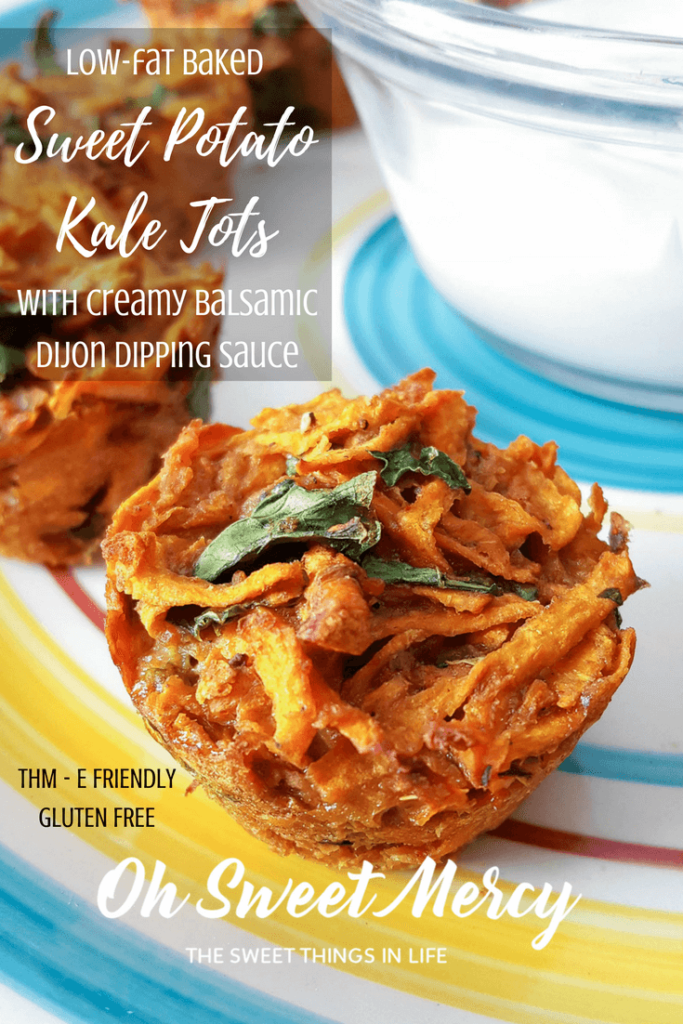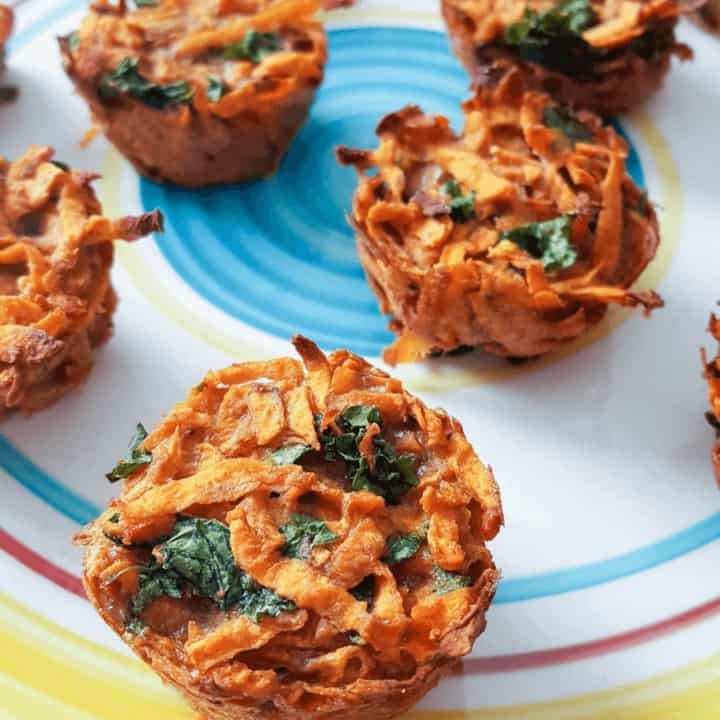 Baked Sweet Potato Kale Tots
Yield: 12 tots
Prep Time: 10 minutes
Cook Time: 30 minutes
Total Time: 40 minutes
These little Baked Sweet Potato Kale Tots contain no added fat but tons of flavor! Cut back a bit on the chili powder if you want a milder tot. They make a great side dish for a Trim Healthy Mama E meal!
Ingredients
For the Tots
1 large sweet potato, peeled and shredded (about 2 1/2 cups)
1 cup kale, torn into small pieces
2 tablespoons egg whites
A few grinds of fresh, black pepper
1 teaspoon garlic powder
1 teaspoon onion powder
1/4 teaspoon coconut oil (or less, to grease muffin pan, or use non-stick spray)
For the Dipping Sauce
2 tablespoons fat-free Greek yogurt
2 tablespoons sour cream (or use all Greek yogurt if desired)
1 teaspoon dijon mustard
1/2 teaspoon balsamic vinegar
Instructions
MAKE THE TOTS:
Preheat oven to 375.
In a mixing bowl, combine sweet potatoes, kale, egg whites, nutritional yeast, salt, pepper, garlic powder, onion powder, and chili powder until well incorporated.
Lightly grease a 12-hole mini muffin pan with a small amount of coconut oil (you'll probably need less than 1/4 teaspoon).
Evenly distribute the mixture into the 12 holes.
Bake for 30 minute.
Remove from oven and allow to cool several minutes before carefully removing. You may need to loosen them gently first.
MAKE THE DIPPING SAUCE:
While your tots are baking, mix up this quick and easy sauce.
Combine the Greek yogurt, sour cream, dijon mustard, and balsamic vinegar and mix well.
Notes
Trim Healthy Mamas:
There is no added fat to this recipe so you can enjoy your additional fat grams elsewhere in your meal
Be sure to include plenty of protein and non-starchies for a complete and nutritious THM - E meal.
One serving is 4 tots and 1 tablespoon (or less if desired) dipping sauce.
Recommended Products
As an Amazon Associate and member of other affiliate programs, I earn from qualifying purchases.
Nutrition Information:
Yield: 3
Serving Size: 4
Amount Per Serving:
Calories: 36
Total Fat: 1g
Saturated Fat: 0g
Cholesterol: 1mg
Sodium: 108mg
Fiber: 1g
Sugar: 1g
Protein: 2g