---
There's something almost magical about the flavorful combination in my Loaded Sweet Potato Fries — sweet, roasty, almost carmelize-y fries, the cool and creamy heat of the Cajun ranch, and all the savory spices that make that dressing pop — all come together for a big old healthy party in your mouth. You won't believe this is low-fat. Trim Healthy Mamas rejoice, flavorful fries that won't expand your waistline!
---
Fries are awesome, right?
And if you like sweet potatoes, loaded sweet potato fries are even more so. If you're a THM, though, you don't want to deep fry those beta-carotene filled fries, pile on the meat and cheese, then douse everything with fat-filled ranch dressing.
Well, you might want to, but that is not the THM way. Too much fat + too many carbs = unstable blood sugar. At best, that means you're probably not losing any excess weight. Even worse, you're piling it on.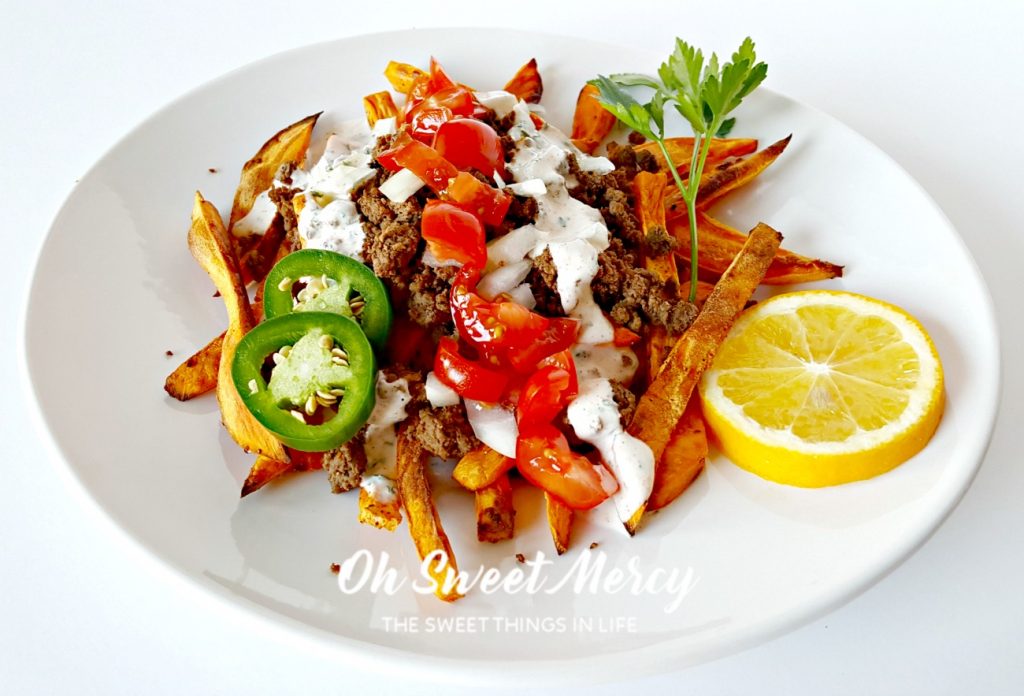 Can low-fat loaded sweet potato fries even taste good?
Let me tell you something — for most of my life, I hated sweet potatoes. After starting THM in 2014 I would make myself eat one now and then just because I knew they were good for me. They're also better on my blood sugar than grains like brown rice, even soaked brown rice!
But still…potatoes just should not be sweet, can I get a witness? They should be white, deep fried to a golden brown, and smothered in ketchup or cheese sauce.
Way not on plan. But one of my most favorite foods ever.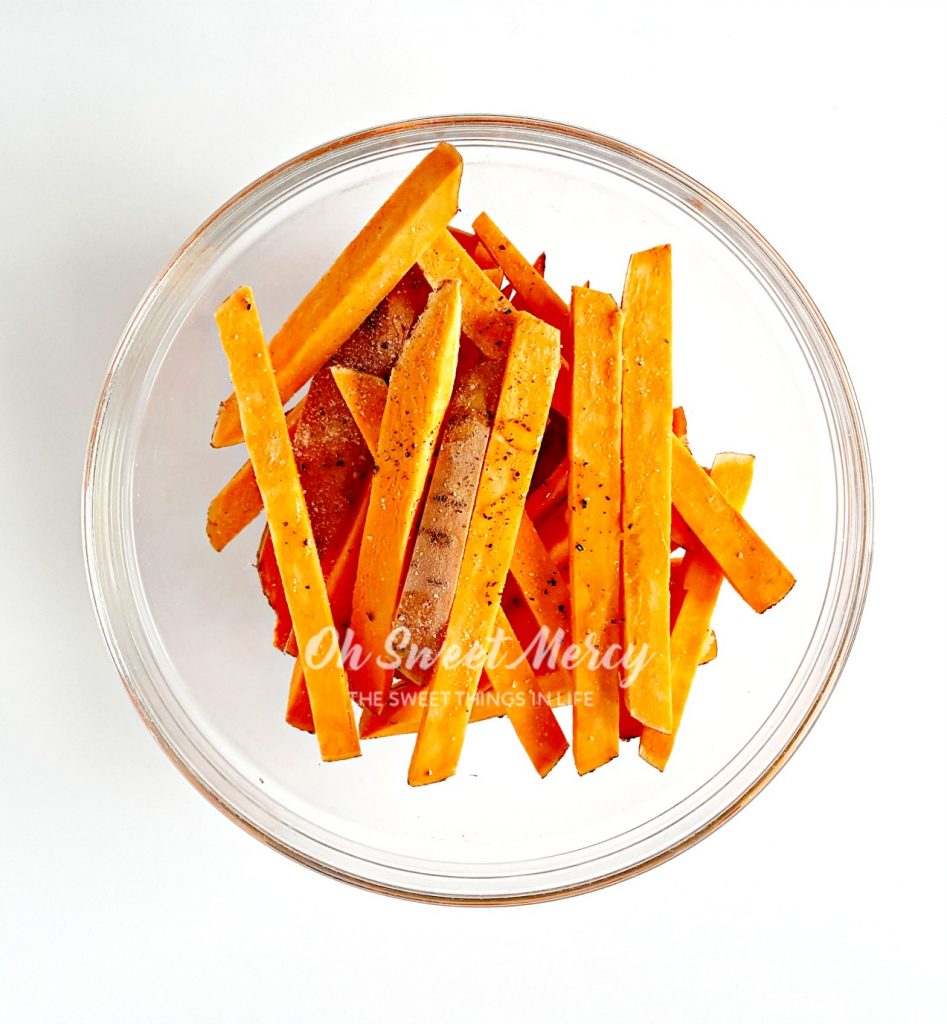 How to turn a veggie you don't like into one you love.
How in the world do you turn a veggie you hate into one that you love (and on plan)?
You use lots of flavorful spices and good, high-quality ingredients. Making your own Taco Seasoning is a great way to do that! Give my Homeade Taco Seasoning a try, or use your own favorite.
Even though I just threw it together on a whim, these loaded baked sweet potato fries were so flavorful, I didn't miss any of the fat I thought I should be having with a loaded fries dish!
There's something almost magical about this flavorful combination — sweet, roasty, almost carmelize-y fries, the cool and creamy heat of the Cajun ranch, and all the savory spices that make that dressing pop — all come together for a big old healthy party in your mouth.
I've since gone on to create other sweet potato recipes that I love, too:
What did I smother this Loaded Sweet Potato Fries with, you ask?
This easy, low or no fat Creamy Cajun Ranch Dressing. It's even got probiotics for good gut health! This dressing has a ton of flavor and no added sugar or unwanted ingredients like you'll find in most fat free bottled dressings.
THM E meals are often hard, especially for those like myself who LOVE them some Satisfying S meals. Those are the ones higher in healthy fats and low in healthy carbs. E meals are just the opposite.
The key to E meals is finding something with a lot of flavor and nutrition. When you please your taste buds and nourish your body, it won't beg for junk.
You won't miss the fat in this very satisfying Creamy Cajun Ranch Dressing. It's a perfect partner with any fuel style!

If you don't like spicy ranch, try my Easy Ranch Dressing instead.

Need a meatless option?
A vegan follower of mine, plant_powered_life on Instagram, loves to eat sweet potatoes with my Chili Lime Black Beans. I haven't tried it yet but I think they sound like a great meatless option for these Loaded Sweet Potato Fries. Since the sweet potato is your carb source and beans are also carby, I'd do a smaller portion of the sweet potato fries and no more than half a cup of beans, then load it up with fresh veggies!
So go ahead, make some sweet potato fries and load 'em up – the Trim Healthy Mama way!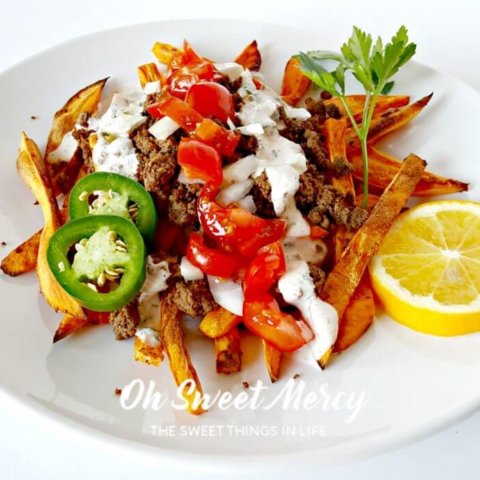 Loaded Sweet Potato Fries + Creamy Cajun Ranch | THM E, Low Fat
This THM friendly Loaded Sweet Potato Fries recipe is so flavorful and satisfying, you'll never even miss the fat you think you should have with fries. The savory spices are a perfect contrast to the sweetness of the sweet potato.
Ingredients
FOR THE SWEET POTATO FRIES:
2 pounds sweet potatoes (about 2 large), scrubbed clean and cut into fries
Salt and pepper to taste
FOR THE MEATY TOPPING:
1 pound very lean (96% or higher) ground meat. I used venison for this
Salt and pepper to taste
1/4 cup of water
Load it up
Toppings such as chopped onions, sliced jalapenos, chopped tomatoes, chopped bell peppers, chopped lettuce
Instructions
For the Sweet Potato Fries
Preheat oven to 425
Place sweet potato fries in a large bowl and drizzle with oil
Toss to coat, you may need to use your hands to make sure each fry has at least some oil on it
Sprinkle with salt, pepper
Divide fries between two baking sheets, making sure not to crowd them together, and bake for 20 to 30 minutes or until cooked through, flipping after 10 or 15 minutes.
For the Meaty Topping
Meanwhile, brown ground meat, seasoning with salt and pepper
After meat is browned, add taco seasoning and water, stirring well to combine
Continue cooking until water is cooked out
To serve:
Divide the fries between 4 plates
To each plate add 1/2 c seasoned ground meat (or more if desired)
Add desired toppings (I used onion, tomato and jalapeno slices)
Top with 2 tablespoons of Creamy Cajun Ranch
Notes
Trim Healthy Mamas
Using very lean ground meat and my fat free, Fuel Pull Creamy Cajun Ranch Dressing makes this a delicious E meal.
If you use regular ground meat (unless rinsed in hot water and drained) and a ranch dressing that is not FP you'll have a Crossover (XO). Still on plan though!