Do you struggle with E meals on the Trim Healthy Mama plan? I feel your pain! So let's join forces and learn to conquer our carb fears in 2018! Join me, and other THMs, in the E-a-Day One Week Challenge starting January 1!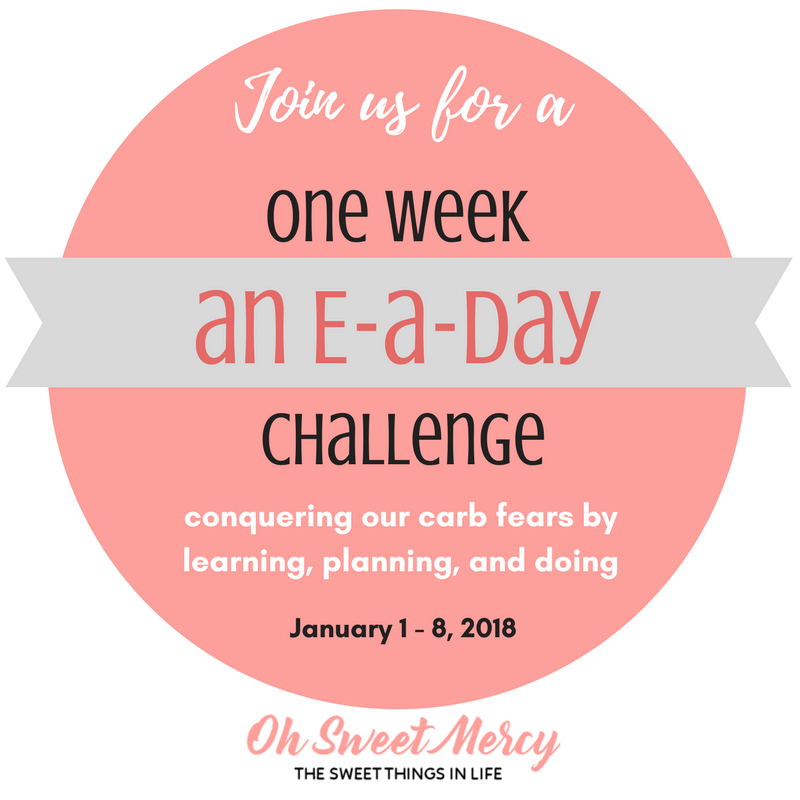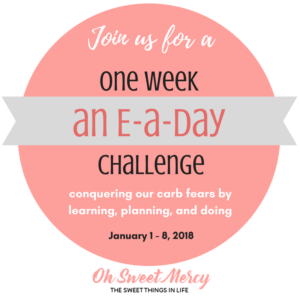 Do You Wrestle With This Internal Dialogue?
"Carbs are evil. Carbs make you fat."
I'm a low carb diet "refugee." I followed the Atkins diet over 10 years ago and still struggle with that voice inside that keeps me afraid of the carbs.
After over TEN years, people.
Plus, I love me some buttah. And cheese. For real.
Nothing wrong with buttah and cheese, but when you're following the Trim Healthy Mama plan you need to be sensible about HOW you eat them. That means with low carb options.
And when you're eating the carbs, you keep the fat low. Sometimes it's a tough concept to grasp, I get that. But it's not impossible and carbs are nothing to fear.
Carbs Are Healthy (Just Make Sure You Eat Healthy Carbs – Properly)!
The Trim Healthy Mama plan book explains how carbs are actually nourishing to our thyroid and adrenals. Those two guys shoulder a lot of the blame for slow or no weight loss.
So we need to get over that fear, Mamas.
We need to learn the whys and hows of eating them. We need to practice planning for them too!
That's just what we'll be doing starting January 1, 2018 (with a little prep on December 31 😉 ).
Download Your Free Copy of the An E-A-Day Challenge!
This printable PDF packet contains pages to help you stick to and be successful on this challenge. You'll find:
An encouraging welcome letter (plus some "legalities").
Challenge Overview page – know what's expected each day so you can plan ahead.
Menu Planner page – we're going to practice planning our E meals!
Shopping List – with categories to help you plan any needed purchases.
Measurements tracking page – not required, but for those who want to track weight and inches it's a handy place to record them.
Notes – a lined sheet you can print as many copies of as you need for taking notes, writing down recipes you want to try, or other inspirations.
A Printable Certificate – I just know you're going to rock this challenge so there's a printable certificate for when you're done, just for fun 😉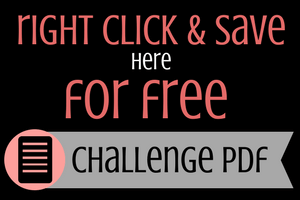 **You'll probably want to have your print quality set to "best" – I'm not sure why it doesn't print as clear otherwise. It may just be my printer but just in case, I'd hate to have you waste ink!
What Do You Need For This E-a-Day One Week Challenge?
You'll just need a few things to be successful during this challenge:
A copy of the THM Plan book. I'll be referencing from the new plan book BUT if all you have is the original book, I have that as well and can help you navigate the information there.
A printed copy of my An E-a-Day One Week Challenge packet (right click on the link and select "save"). Look through the pages and print what is relevant to you.
Highlighters, post-its, page flags, etc. – anything that you find helpful for marking important information for future reference.
A positive attitude and willingness to change what hasn't been working anyway.
A willingness to try new things!
How About Some Tasty E Recipes To Consider?
I must confess, most of my recipes are S friendly because no fat fears here let me tell you! But I do have a few E friendly recipes you can check out:
I also have some yummy Instant Pot recipes that can be made to suit E (and FP) meals:
Join Me on Facebook Live for Daily Check-ins!
Live video makes me a little nervous, but I'm going to step outside my comfort zone just for you (see number 5 above…). I'll be posting FB Live videos daily to show you what I'm eating and share some tips and recipes. Join in the fun and share photos of your own E meals and snacks, ask questions, and encourage others!
Yikes, this means I need to keep my kitchen clean…
So to see what I'm eating (and whether or not my kitchen stays clean) head on over to the Oh Sweet Mercy Facebook page. Be sure to click on the "following" tab and make sure you're following and have notifications set to "on" if you'd like to receive updates.
I haven't decided if I'm going to do the updates at the same time each day or when it's time to have that day's E meal or snack. What do you think I should do? Leave a comment below and let me know your thoughts.
Are You Ready To Rock Those E Meals?
I have been working on this for the past few weeks. Let me tell you, if I can eat an E meal or snack every day for a week, anyone can! I'll also share my one secret for satisfying E meals plus my favorite. It was a total surprise when I figured out what works for me.
So, here's your to do list:
Get a copy of the THM Plan Book if you don't already have one. Your local library may even have it or you can also get the Kindle edition very reasonably priced. The page numbers referenced in the PDF may not match the electronic version, though.
Gather your note-taking and making supplies.
Print out the An E-a-Day One Week Challenge PDF (or just the pages you want to print).
Check your pantry and be sure you have E-friendly options available and ready.
Make room for E Meal "head space"! If you think you hate E meals or they are too hard, stop right there Mama and make some room for the E Meal. Tell yourself "I'm going to rock this E Meal Challenge!"
Adjust your attitude, if necessary. Take those negative and self-sabotaging thoughts captive. Be the boss of YOU 😉
Make sure you're getting notifications from the Oh Sweet Mercy Facebook Page. I'm not sending out emails yet (still need to figure that out, I must confess…).
That's all you need to do! I hope you'll be joining me January 1, 2018 as we conquer our carb fears once and for all. This will set us up for a successful, on-plan 2018!
Share With A THM Friend! Pin to Your Favorite Pinterest Boards!