---
Soaking dried beans is best nutritionally, but when you need flavorful black beans in a hurry the Instant Pot is your answer. Trim Healthy Mamas, these low fat (or fat free) Chili Lime Black Beans are a great E option.
---
Did you forget to soak your dry black beans again?
I'm sure that never happens to you, but just in case I'm going to share my secret for making homemade Chili Lime Black Beans in about an hour – using dry beans. That's right…from dry to delicious in about an hour with no soaking.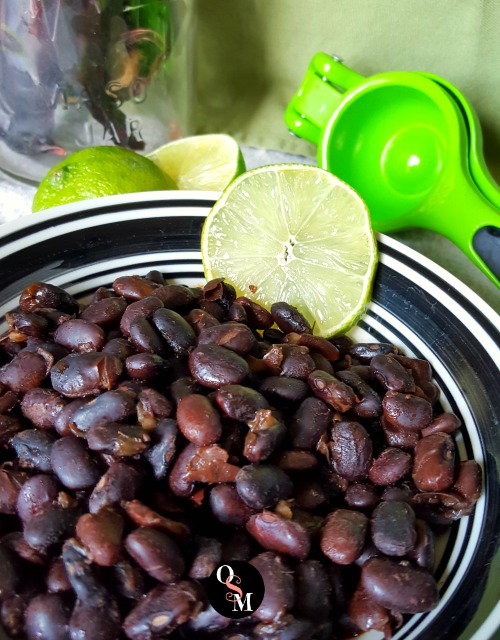 Yes, soaking your dry beans and legumes is healthier. And I do soak them – most of the time. But sometimes, I forget. Shocking, I know.
This weekend I needed to take something for our weekly Fellowship potluck and our hosts were serving nachos. Beans and nachos are perfect (well, at least for the non-THM crowd!), and as it turned out it was a good thing for me to bring. One of the ladies there is doing a 10 day cleanse of some sort and isn't eating meat. She loved these Chili Lime Black Beans so much I sent what remained home with her.
Wondering what a THM is and why beans and nachos might not be a good fit? Read more about that here.
The Instant Pot is a one-pot wonder machine.
My last recipe was also for the Instant Pot – Smoked Paprika Chicken and Mushrooms. Making a meal in one pot means less clean up later. Not only does it save time in preparation, it makes clean up easier too. If you spend any amount of time in the kitchen, you will appreciate that for sure.
If you're a Trim Healthy Mama, especially of the Purist variety, you appreciate time-saving devices and techniques!
One helpful tip I picked up to help your Instant Pot pressurize more quickly is to use the saute function. This Chili Lime Black Beans recipe includes fresh diced onion and garlic and sauteing them also helps bring out the flavor as well as heat up your Instant Pot, which reduces the time it takes to pressurize.
Trim Healthy Mamas, here's the scoop on this recipe.
You have two options for fat here. Use cooking spray for fat-free Chili Lime Black Beans, or use one or two teaspoons of fat for a low fat dish. Want to save your fat grams for something else in your meal? Opt for the cooking spray.
Because I like to know what's in my food, I use my Homemade Chili Powder and let me tell you another secret: if you have whole cumin seeds, toast them in a dry cast iron skillet for a few minutes until they get very fragrant. Then grind them. It truly brings a new dimension of flavor to any recipe! I like to use the mortar and pestle that my dear Mother in Law got me one year. You get a little workout, too.
I didn't want my beans to be too "soupy" so I use less water. If you like more liquid in your beans, add another cup of water.
This made 5 cups of cooked beans. Depending on what you chose to do with the fat, the numbers are:
2 teaspoons of fat: each cup has 1.87 grams of fat (might as well call that 2 grams, right?)
1 teaspoon of fat: each cup has 0.93 grams of fat (so essentially ONE gram)
If you used non-stick spray, you've got yourself some fat-free Chili Lime Black Beans.
Let's get the party started, shall we?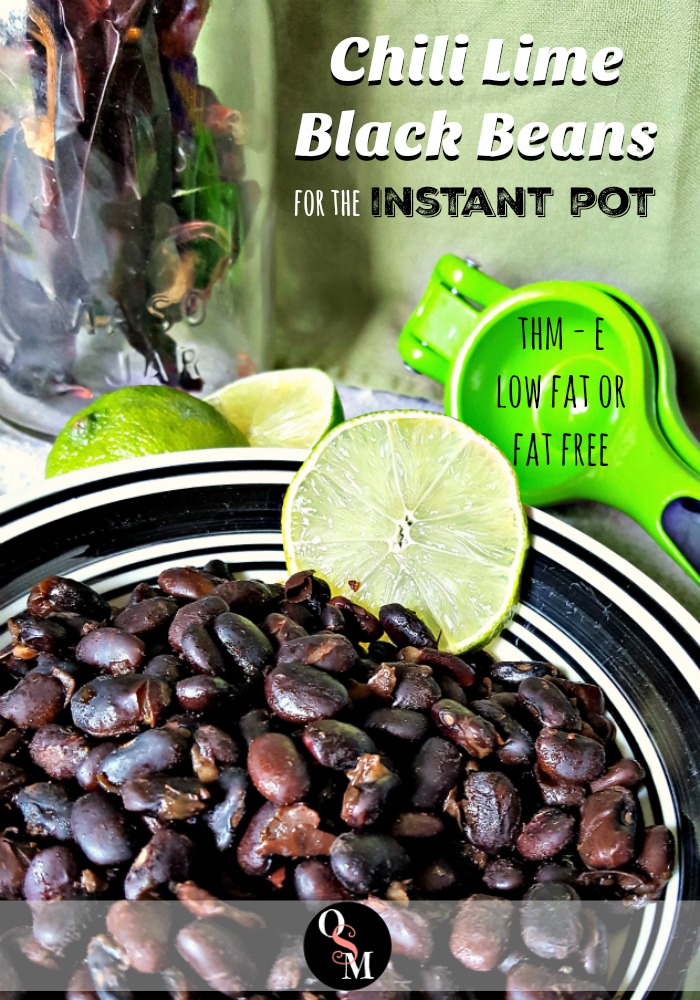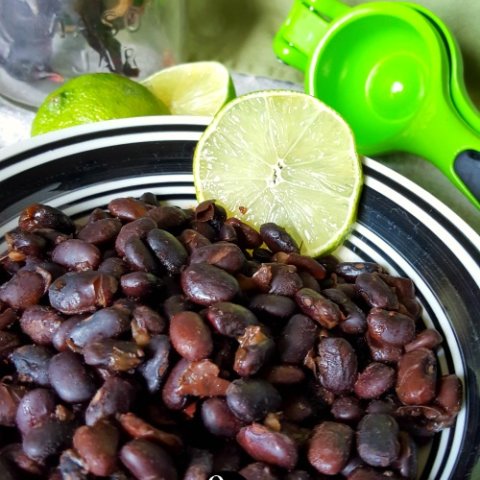 Chili Lime Black Beans | THM E, Low Fat
Yield: approximately 5 to 6 cups
Prep Time: 8 minutes
Pressure Cooking Time: 50 minutes
Pressure Release Time: 15 minutes
Total Time: 1 hour 13 minutes
This easy and flavorful THM friendly recipe goes from dry beans to fiesta-in-your-mouth delicious in about an hour, with no soaking required. Make them low-fat or fat-free to suit your THM menu!
Instructions
Set Instant Pot to saute and add fat
When fat is melted, add onions and garlic and saute for a couple minutes
Add beans, water, chili powder, smoked paprika and salt
Secure the lid, turn vent knob to "sealing"
Set to Manual for 40 to 50 minutes
Use NPR (Natural Pressure Release) to allow pressure to release
After lid is safe to remove, add juice of one lime and stir well. Taste and adjust seasonings if desired
Notes
One cup beans with 2 teaspoons fat will have approximately 2 grams of fat.
One cup beans with 1 teaspoon fat will have approximately 1 gram of fat.
Beans made using non-stick spray will be fat free.
Recommended Products
As an Amazon Associate and member of other affiliate programs, I earn from qualifying purchases.
Nutrition Information:
Yield: 6
Serving Size: 1 cup
Amount Per Serving:
Calories: 252
Total Fat: 2g
Saturated Fat: 2g
Trans Fat: 0g
Unsaturated Fat: 1g
Cholesterol: 0mg
Sodium: 2377mg
Carbohydrates: 44g
Fiber: 11g
Sugar: 2g
Protein: 15g
Nutrition information is approximate and based on the best knowledge available at the time of recipe publication. Your results may vary due to differences in ingredients.

Like this post? Please share! Pin this Chili Lime Black Beans for the Instant Pot recipe to your favorite Pinterest boards!