Jumping to the recipe? Please come back and read when you have the time, I include helpful info in my posts like how to fit my recipes into your THM meal plan! Get notified of new posts by signing up for my newsletter at the end of the page. Thanks for stopping by!
Have you ever had freshly-made corn tortillas?
Or have the corn tortillas in your life been purchased at the grocery store? I'll admit to falling into the latter category – up until the other day. I'd never liked corn tortillas, so I had no motivation to make homemade corn tortillas. Why would I make something myself that I didn't like anyway?
Because I just didn't know any better. I have since seen the error of my ways and have been reformed.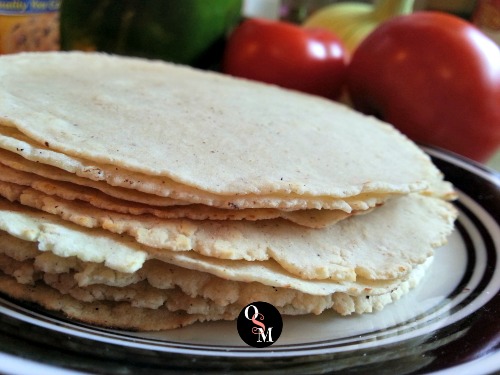 Hallelujah, I've been reformed!
The reason I didn't like corn tortillas was because I had always had the store-bought variety.
Blech. They taste funny. Have a funny, gritty texture. They feel like those rubber pavers you can buy at the home improvement stores. I only ever used them in enchiladas, which we hardly ever had because I didn't like corn tortillas…you see how that circle is perpetuating? A maddening, corny merry-go-round.
So I did what any sane lover of homemade foods would do. I jumped off the merry-go-round and decided (out of the need to better manage the grocery money, mind you) to make them myself. How hard could it be anyway? How about easier-than-flour-tortillas, even if you don't have a tortilla press?
Yep. That easy.
Let me show you how to make amazingly delicious homemade corn tortillas, my friend:
Start by mixing together corn masa, water and butter. Be sure not to confuse masa (corn FLOUR) with cornMEAL. Not the same at all! Finding non-GMO corn products is not easy, but you can find Bob's Red Mill corn masa here. Bob's Red Mill states the following on their website regarding GMOs: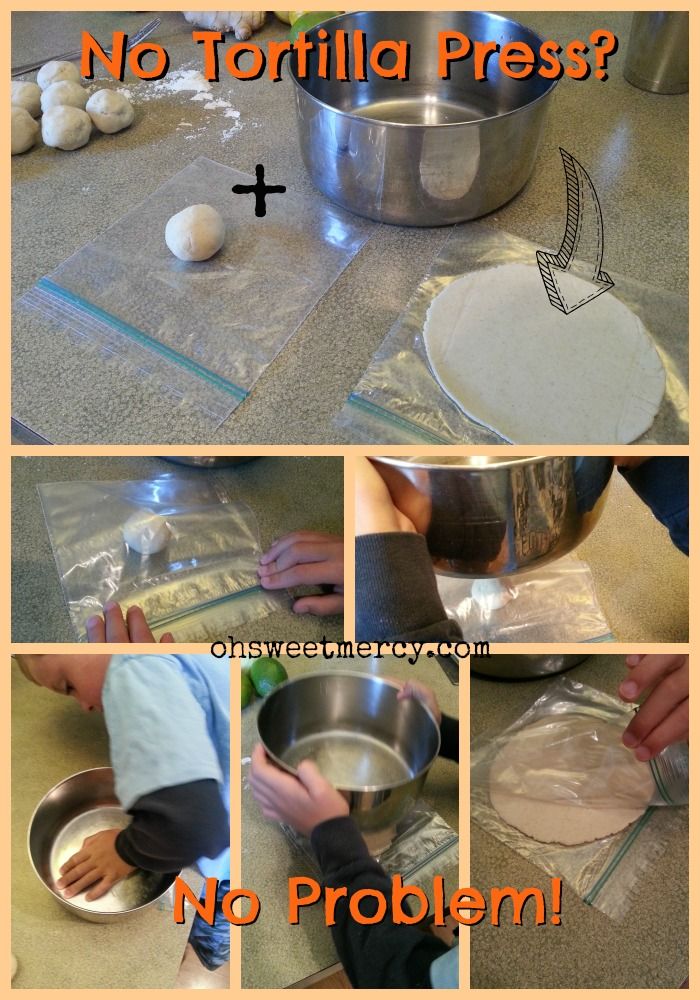 Make some dough balls and cover them with a danp towel while pressing out the homemade corn tortillas.
After you make cute little balls of dough, simply place one dough ball between two sheets of parchment paper (or two zipper sandwich bags work very well). Press the dough ball with whatever dish or pan you found, by pushing down hard on it and kind of wiggling it around, until the tortilla is pressed out thin. Voila! A nice, round corn tortilla ready for cooking.
Heat a cast iron skillet or griddle over medium high heat.
Cook each homemade corn tortilla for 20-30 seconds per side, or until they're done. You may need to flip them more than once to get them cooked through. Keep them warm by covering them with a damp towel.
Then make some quesadillas with your homemade corn tortillas.
Chicken and cheese? Veggies and cheese? Cheese and cheese? Whatever floats your boat, right? Go ahead and pour some Bang Bang Sauce all over those bad boys while you're at it. Trust me on that one. It's amazing!
[amd-yrecipe-recipe:29]
Like this recipe? Why not share with your friends and pin to your favorite Pinterest board?