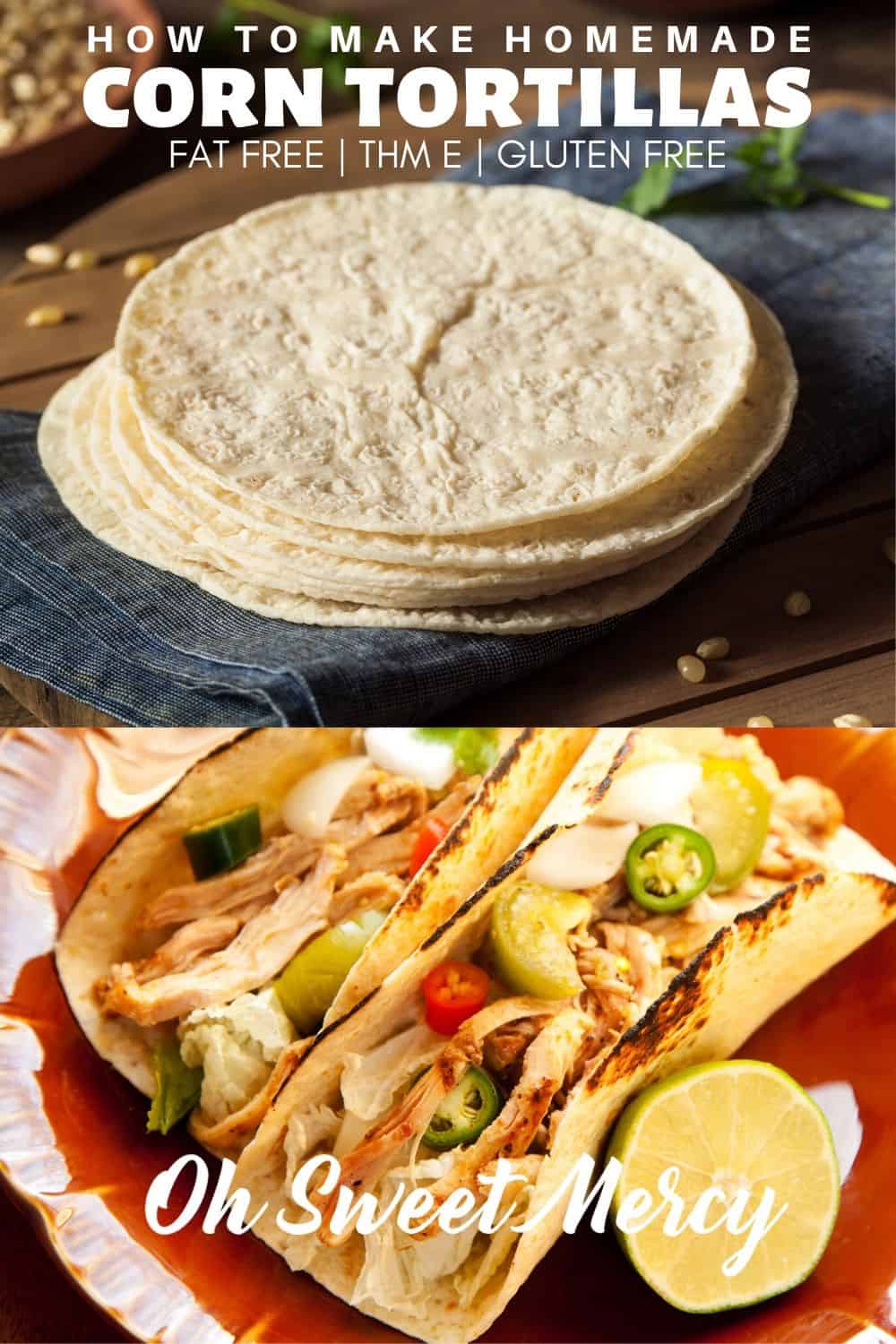 ---
Homemade corn tortillas beat store-bought in every way (except convenience). They taste better and there's just 4 simple ingredients. Today I show you how to make your own delicious homemade corn tortillas. These are low in fat too, so great for a THM E meal on occasion.
---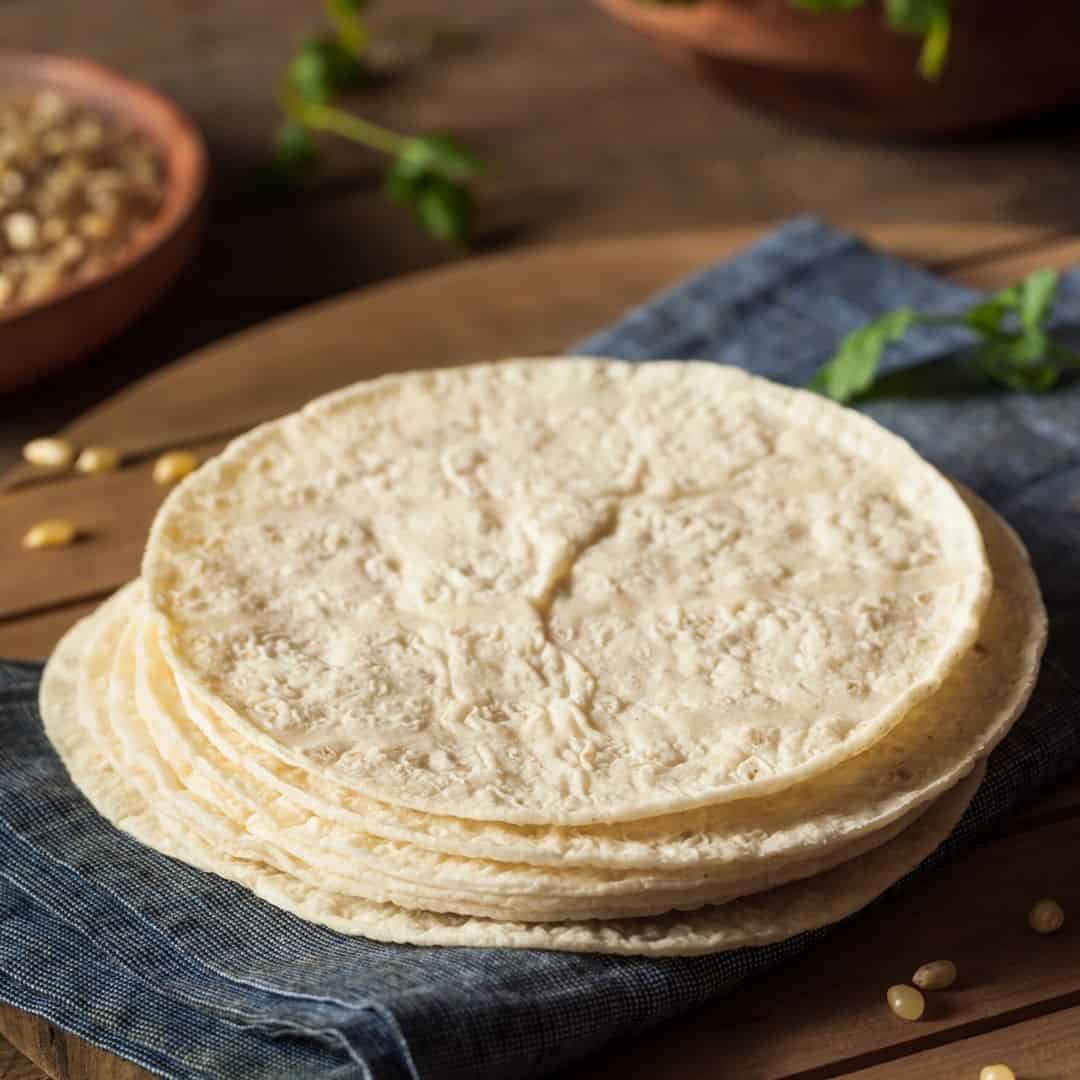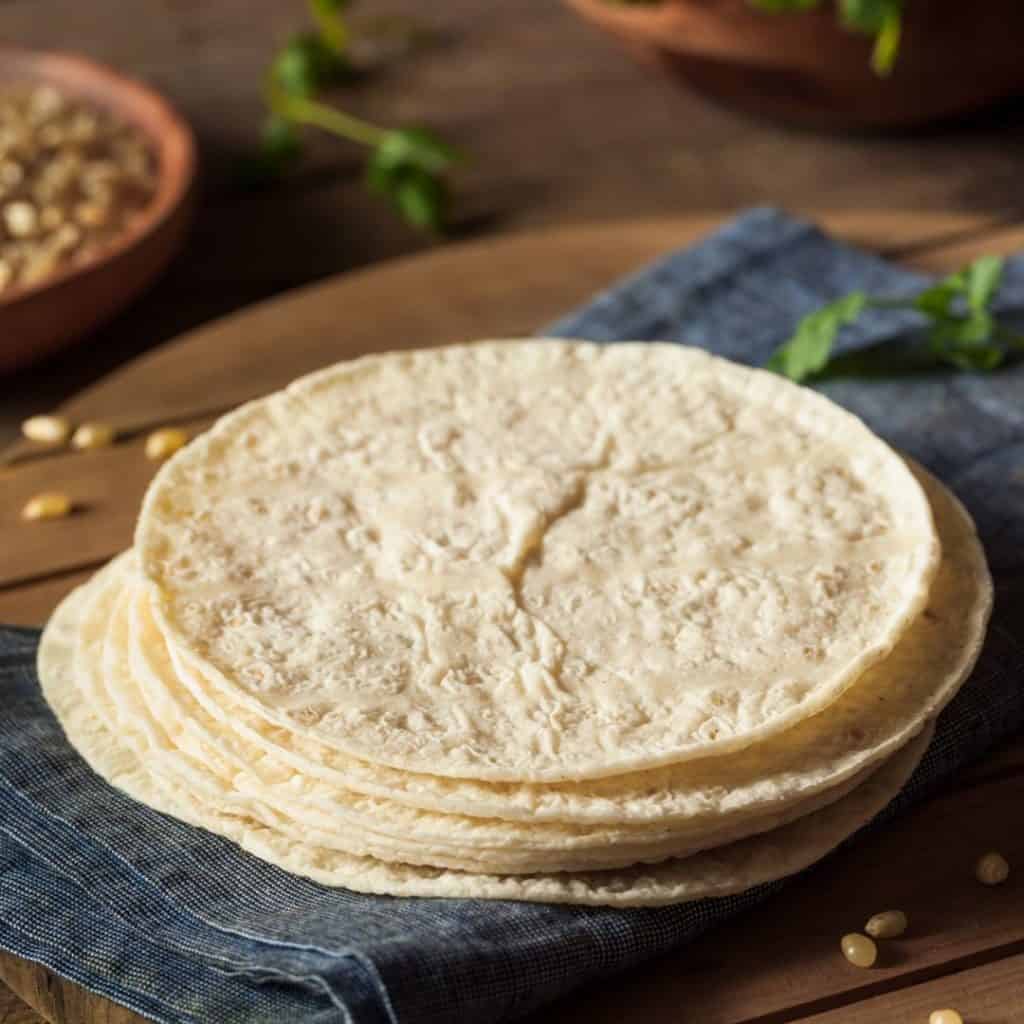 I've never really liked store-bought corn tortillas. They're weird and rubbery and don't taste that great, in my opinion.
I have a sweet Mexican friend who buys prepackaged tortillas from a local Hispanic grocery store and THOSE are amazing. Nothing like what you find at most groceries.
But what if you can't get to the store to buy actually good corn tortillas? Just make them yourself!
What Do You Need To Make Homemade Corn Tortillas?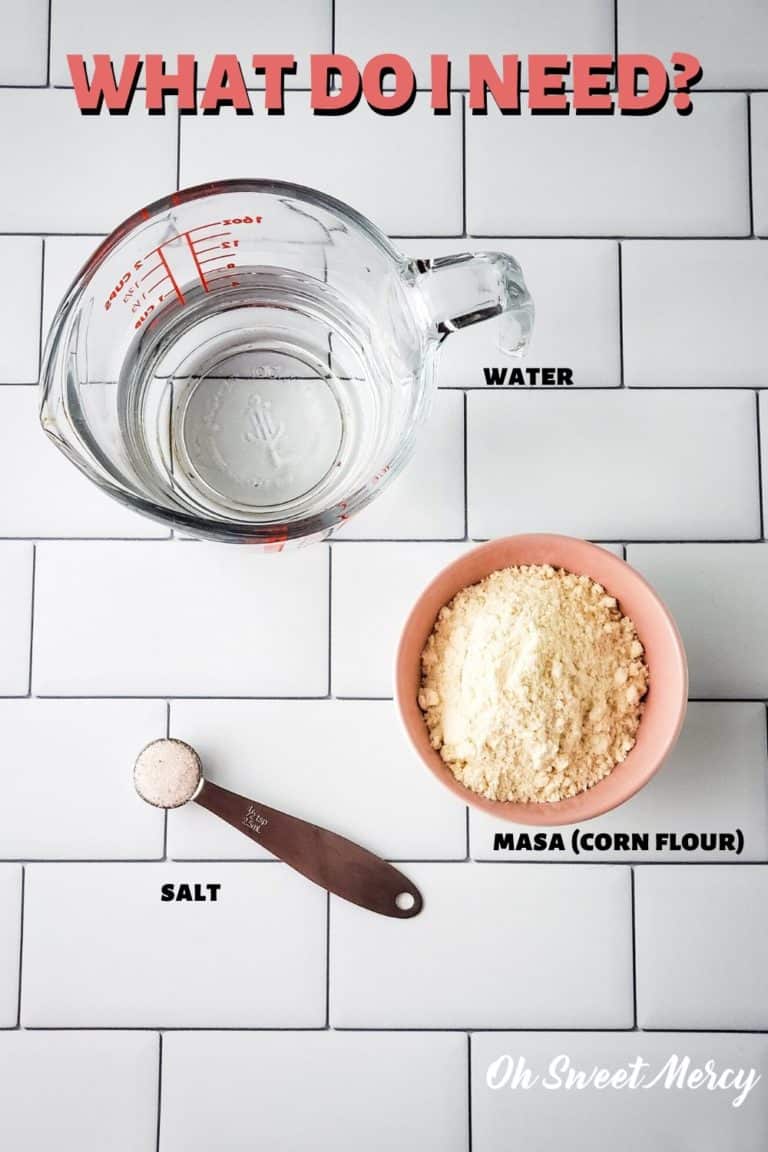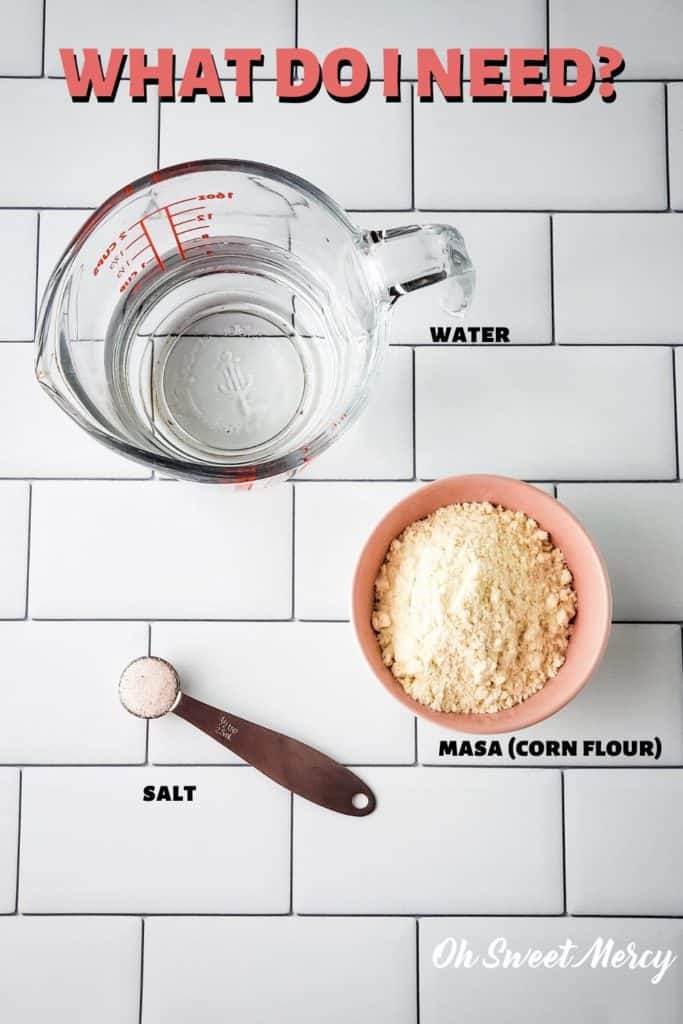 Making corn tortillas at home is really simple. You only need a few things, too.
Ingredients For Corn Tortillas.
Corn masa or masa harina (NOT cornmeal)
Salt
Hot water
Where To Find Corn Masa Or Masa Harina.
Your local grocery store, Walmart, or other large chain store probably carries it. Aldi even carries it.
If you prefer organic grains, Amazon has this one available. As corn is a crop that is heavily sprayed with chemicals, I definitely encourage you to use organic if at all possible!
If you're a Trim Healthy Mama there's one thing you need to keep in mind when it comes to corn masa (or corn flour).
Look For Corn Masa Containing Lime.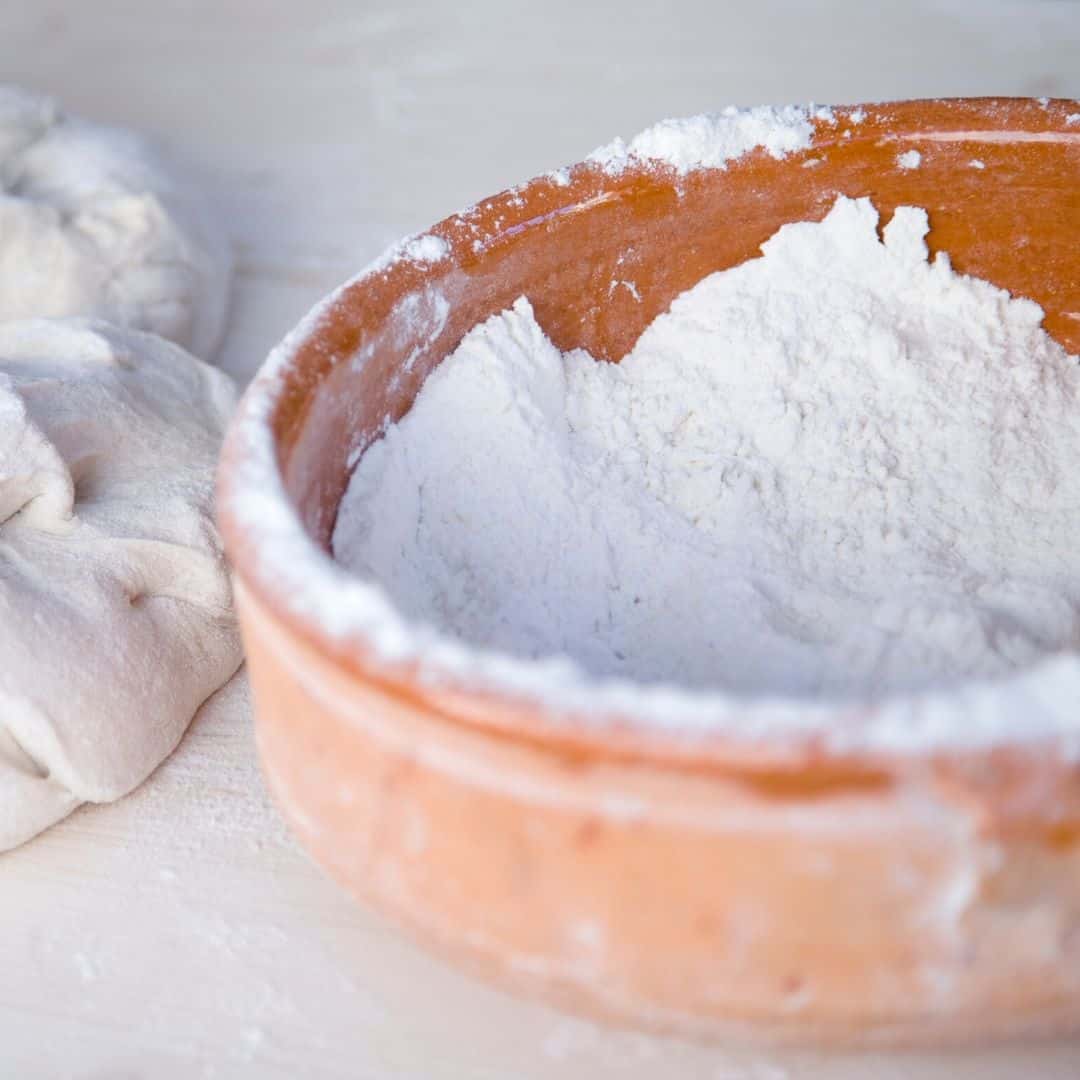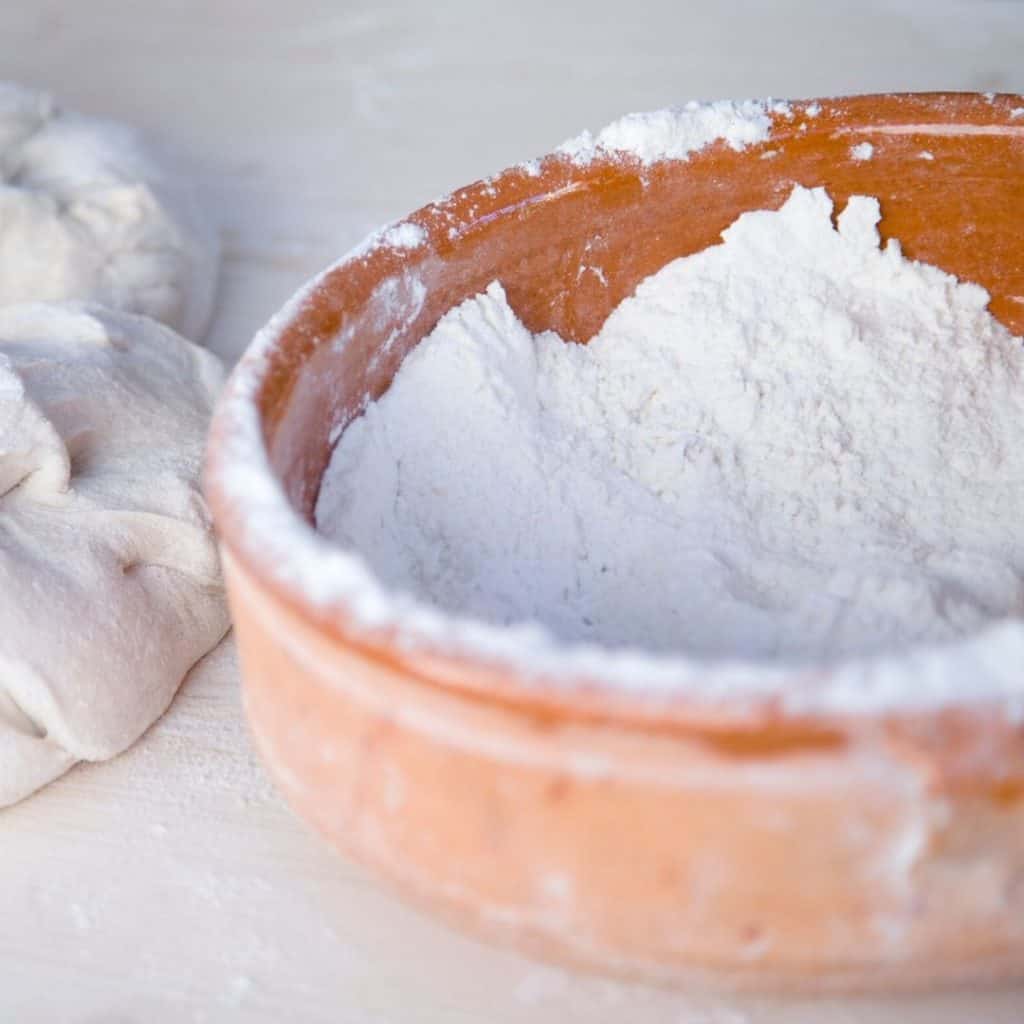 You want corn masa that has been prepared the traditional way by soaking in lime water. This is not lime juice, though!
Note that lime water is NOT the juice of limes (fruit), but rather a liquid made by dissolving limed calcium (limestone or dolomite) in water. This is the same lime that you use in the garden to reduce the acidity of the soil; however, be sure to use food-grade dolomite for liming corn (not the lime you buy at a hardware store, as it may contain lead or other toxic heavy metals). Wood ash is an alternative to lime. Dolomite powder is used in the method detailed here, to produce lime water.

https://www.catsfork.com/CatsKitchen/lime-water/
You may also see references to slaked lime or cal.
This process of preparation is called nixtamalization. It has some important nutritional benefits:
Helps release B3 (niacin)
Reduces toxins and phytic acid
Improves the quality of protein and calcium
Corn was introduced to Europe by Columbus, but because the nixtamalization process wasn't also introduced, a disease called pellagra began to appear in the 18th century. Pellagra is caused by a niacin deficiency and can be fatal.
Thankfully, with our abundant variety of foods as well as vitamin supplements, pellagra isn't something we need to worry about.
But, it shows how important it is to prepare grains properly! Read more about the history of nixtamalization and the nutritional benefits, if you're curious!
If you're a fan of Alton Brown, he has an episode on Good Eats that talks about nixtamalization (Season 10, episode 2 – (Tort)illa Reform).
Equipment for Making Homemade Corn Tortillas.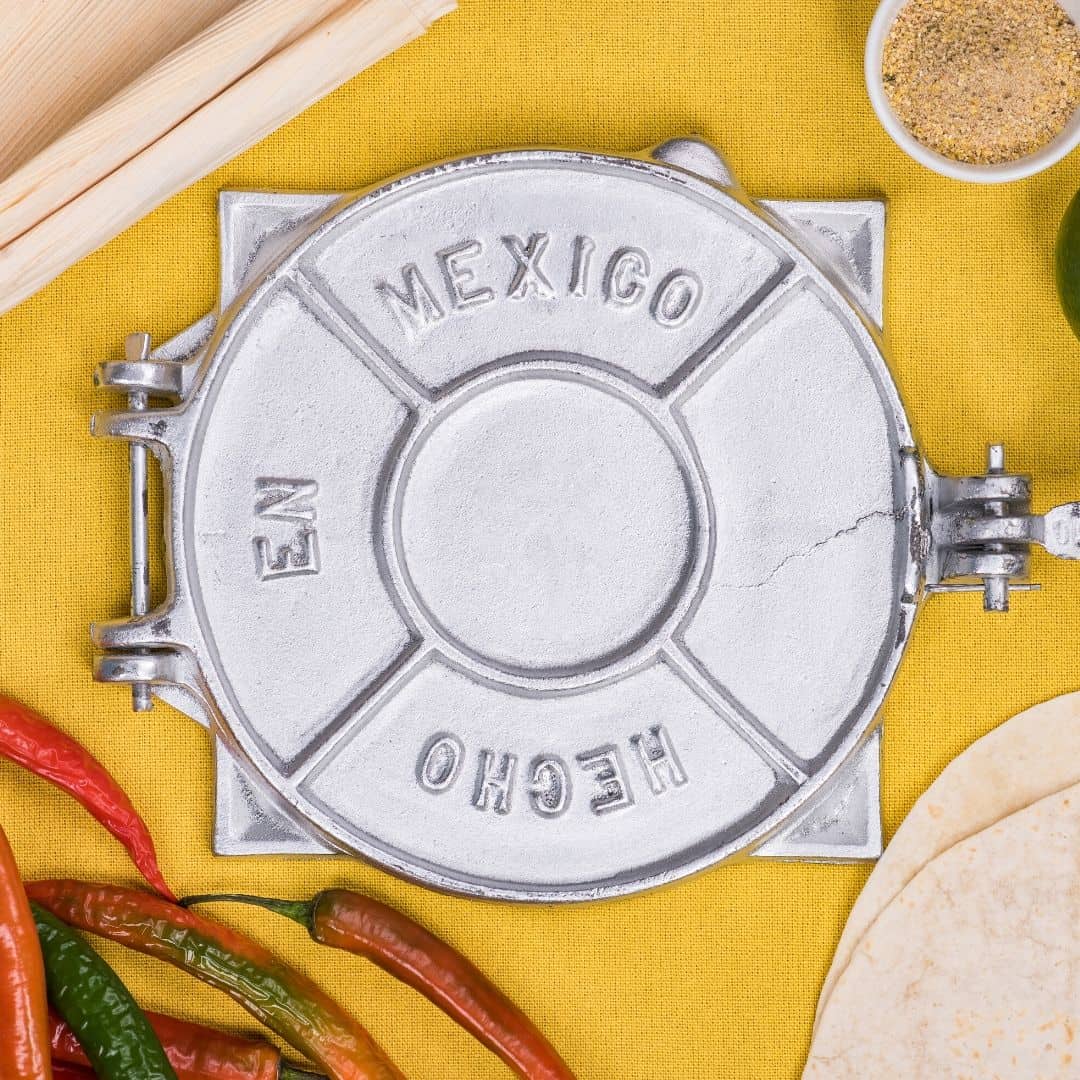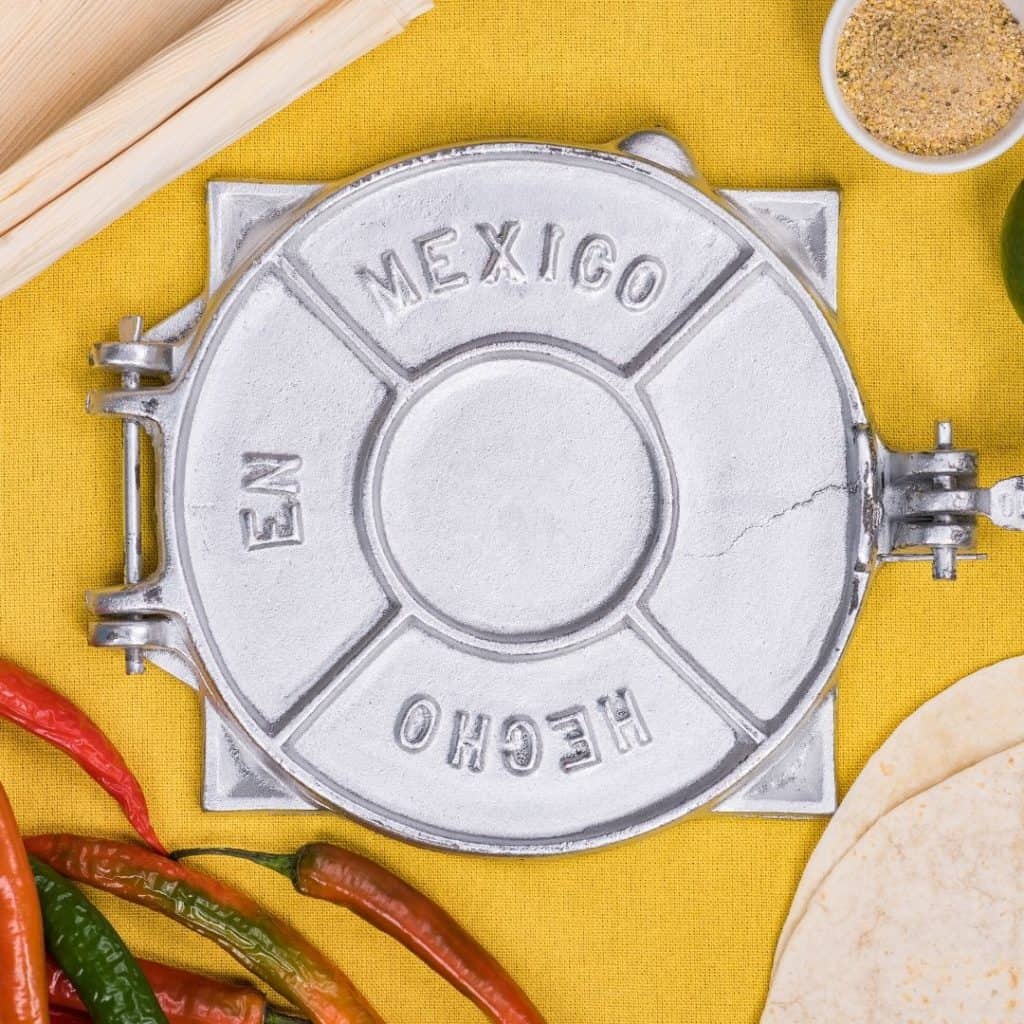 If you have a tortilla press, that's perfect! They make quick work of forming the tortillas as well as getting consistent results.
But, you don't have to use a tortilla press to make tortillas. I've never owned one myself and still manage to make tortillas. It takes a little more work but it's totally workable.
One way to make tortillas without a tortilla press is to use a rolling pin. This one has markings and removable discs to help you get the right diameter and thickness. So clever!
What I use to make homemade corn tortillas is a little unconventional, but it works. That's just how I roll 😉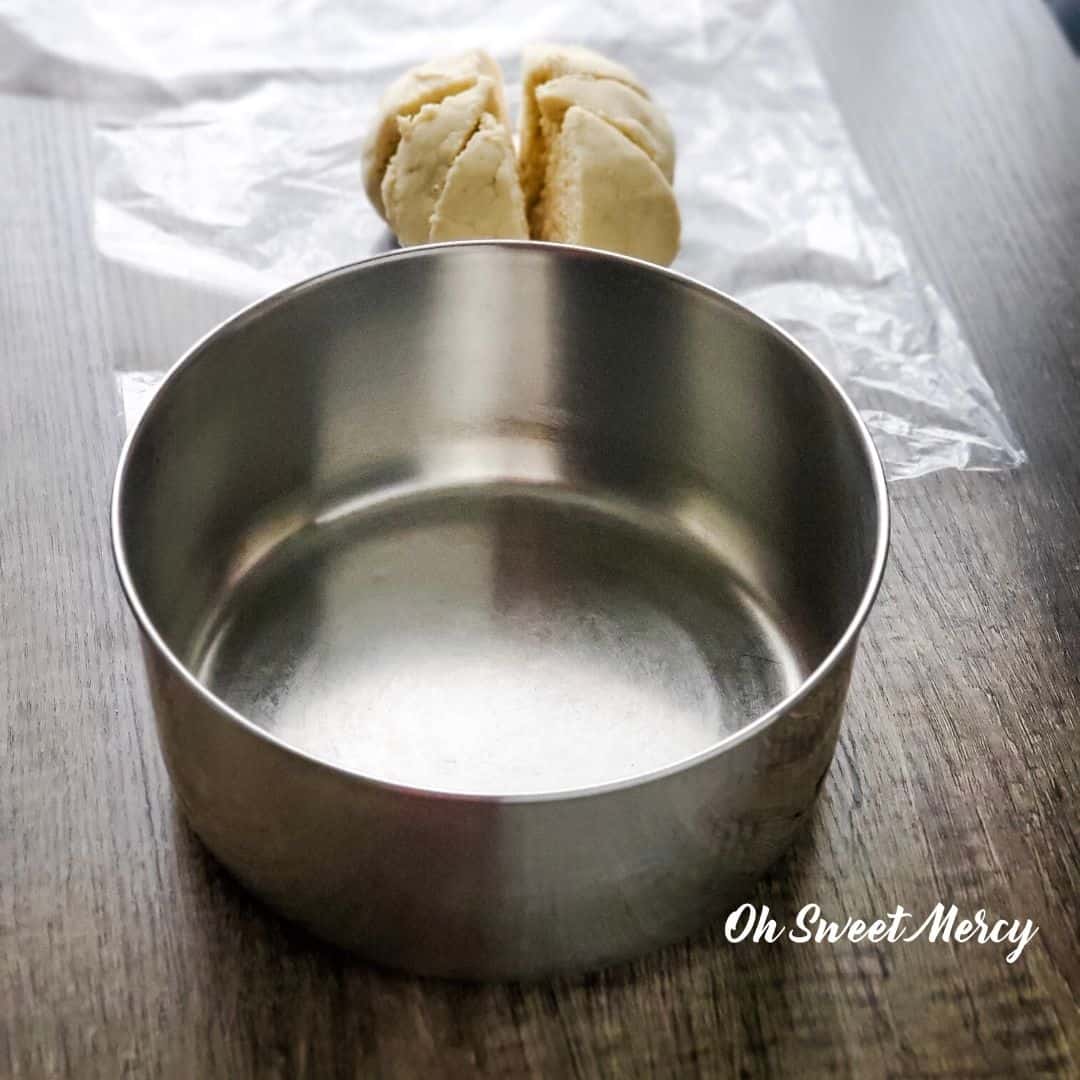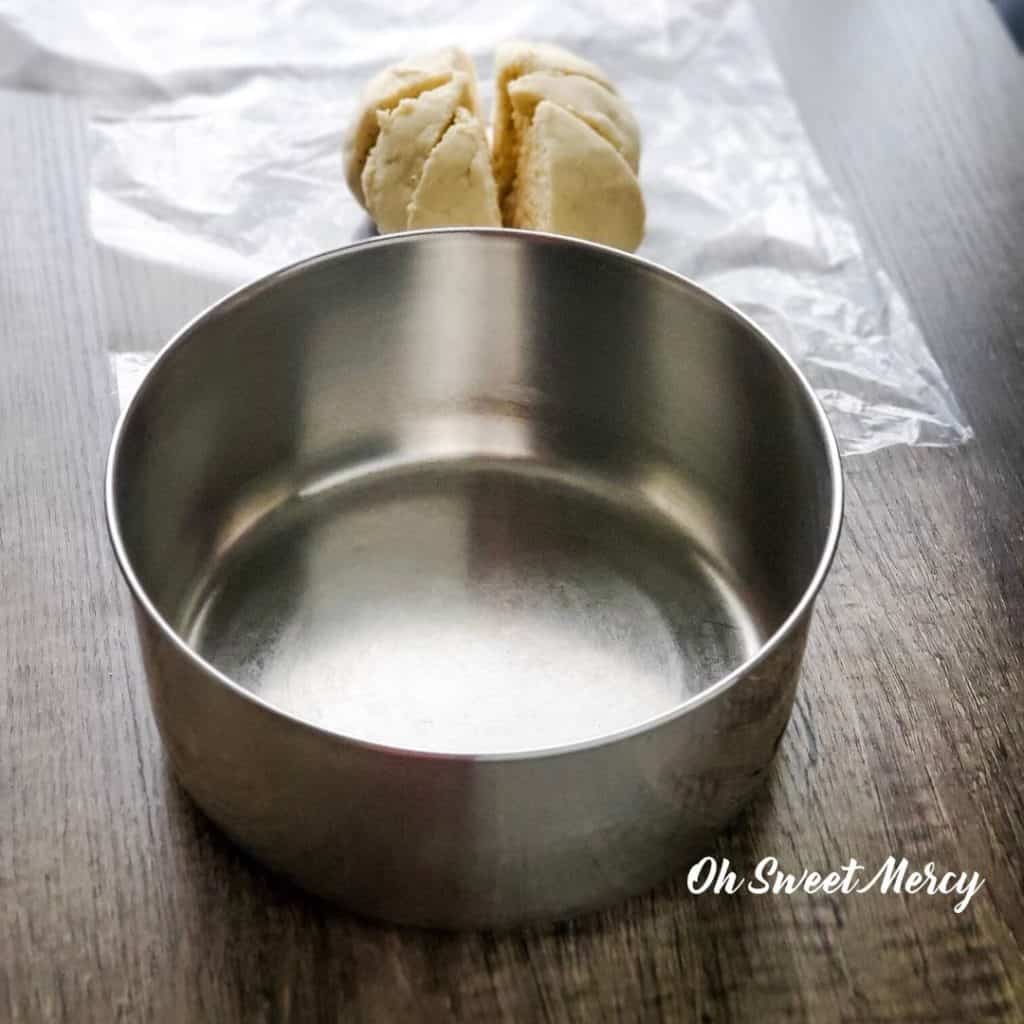 I have a stainless steel pan with a nice, flat bottom. The handle fell off of it years ago so I use it for a mixing bowl, a dredging bowl for breading stuff, making French toast, to cook things in my pressure cooker like oats, and as a "tortilla press."
You simply put your dough ball between some wax paper then use the pan to push down on it and flatten it into a circle. Easy!
How To Make Homemade Corn Tortillas.
Making corn tortillas at home is very easy! Once you make these you'll never want to buy corn tortillas again.
Mix The Dough.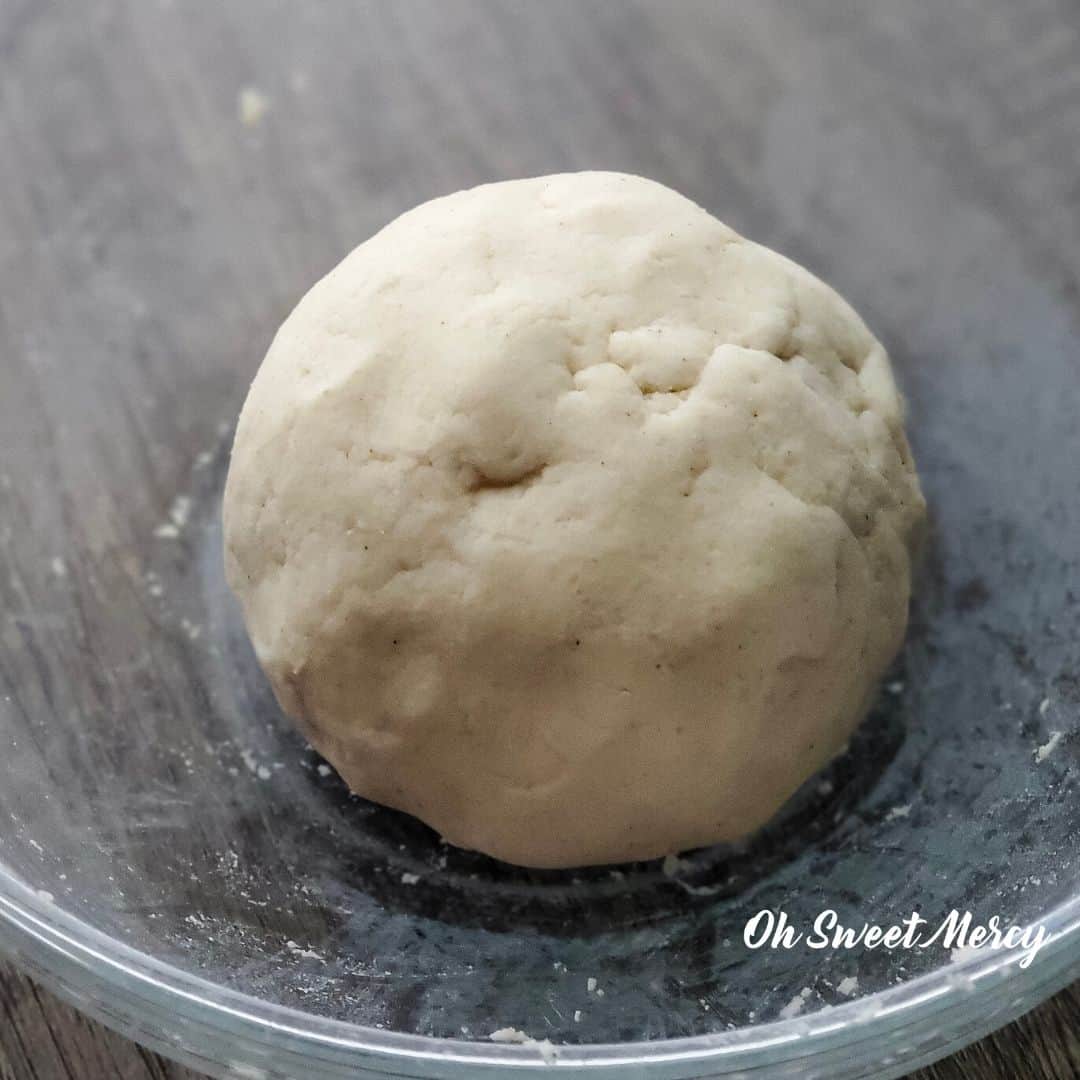 First, mix your masa and salt together. Then melt the butter in hot water.
Pour the hot water into the masa mixture and mix until it forms a soft dough.
If the dough is too crumbly, add more hot water – a tablespoon at a time – until you get a nice, soft dough that sticks together.
If your dough is too sticky, add small amounts of masa and mix until it's no longer sticky.
Make The Tortillas.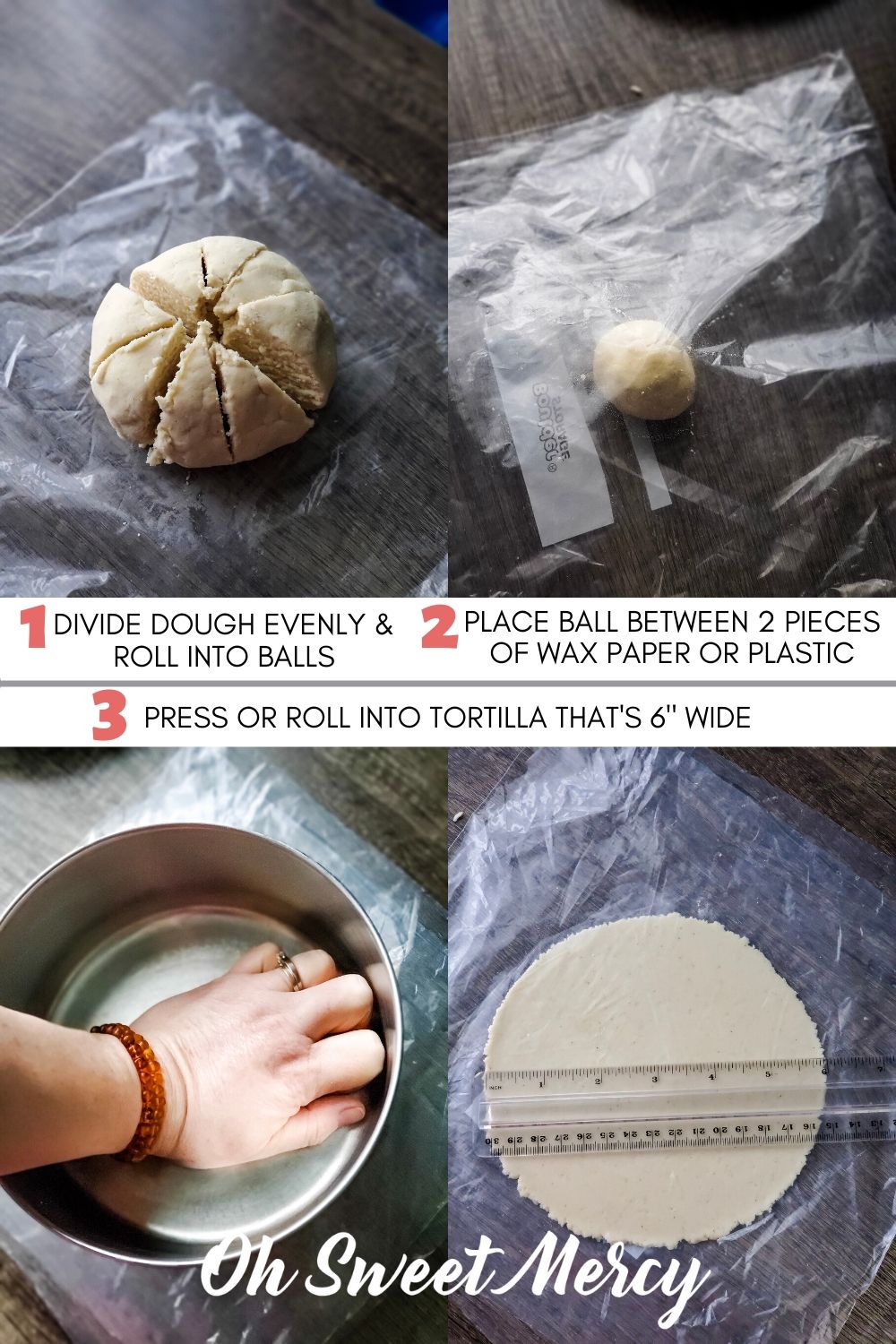 Divide the dough into 16 golf ball sized balls. Cover with a towel so they don't dry out as you work.
Next, take one of the dough balls and form it into a tortilla.
No matter what method you use to form your tortillas, you'll want to put your tortilla dough between wax paper, parchment paper, or even 2 large plastic storage bags. Just something to keep it from sticking.
I've read that home cooks in Mexico even cut squares from plastic grocery bags to use in their tortilla presses!
Press it, roll it out, or squash it with a pan – whatever method you use make sure to get the tortillas fairly thin. They should be about 6″ in diameter.
Then, carefully peel off the wax paper (or whatever you used to keep it from sticking).
Finally, cook each tortilla — as you form it — in a hot skillet or on a hot griddle. Cook for about 20 to 45 seconds on one side, then flip and continue cooking until it's cooked through and gets little brown spots on the surface.
You may need to flip the tortilla 2 or 3 times.
Put the tortilla in a tortilla warmer, tortilla warmer pouch, or a towel-lined basket to keep them soft until ready to eat.
Can I Reheat Cooked Corn Tortillas?
Absolutely. Just heat up a skillet and warm them for about 15 seconds on each side.
Or, if you use a microwave, cover in a damp paper towel and heat on high for 30 to 45 seconds (for 4 to 6 tortillas).
Can I Store The Tortilla Dough If I Don't Want To Make That Many Right Now?
Yes, you can! Corn tortilla dough keeps well for up to 3 days.
Make all your dough balls then keep them in a zipper storage bag or other air tight container. Then, just take out what you want to make when you want to make them.
Best Ways To Use Homemade Corn Tortillas On The Trim Healthy Mama Plan.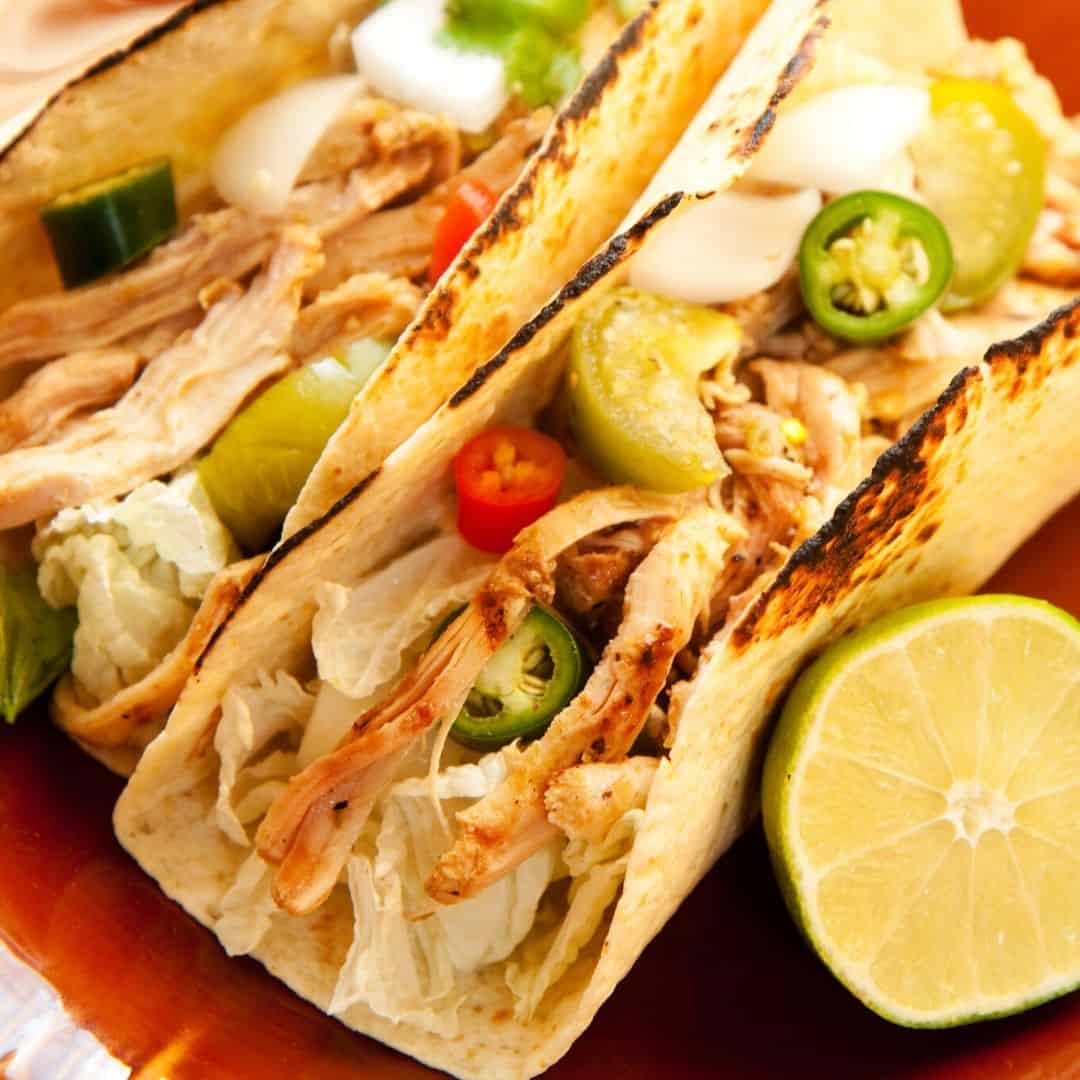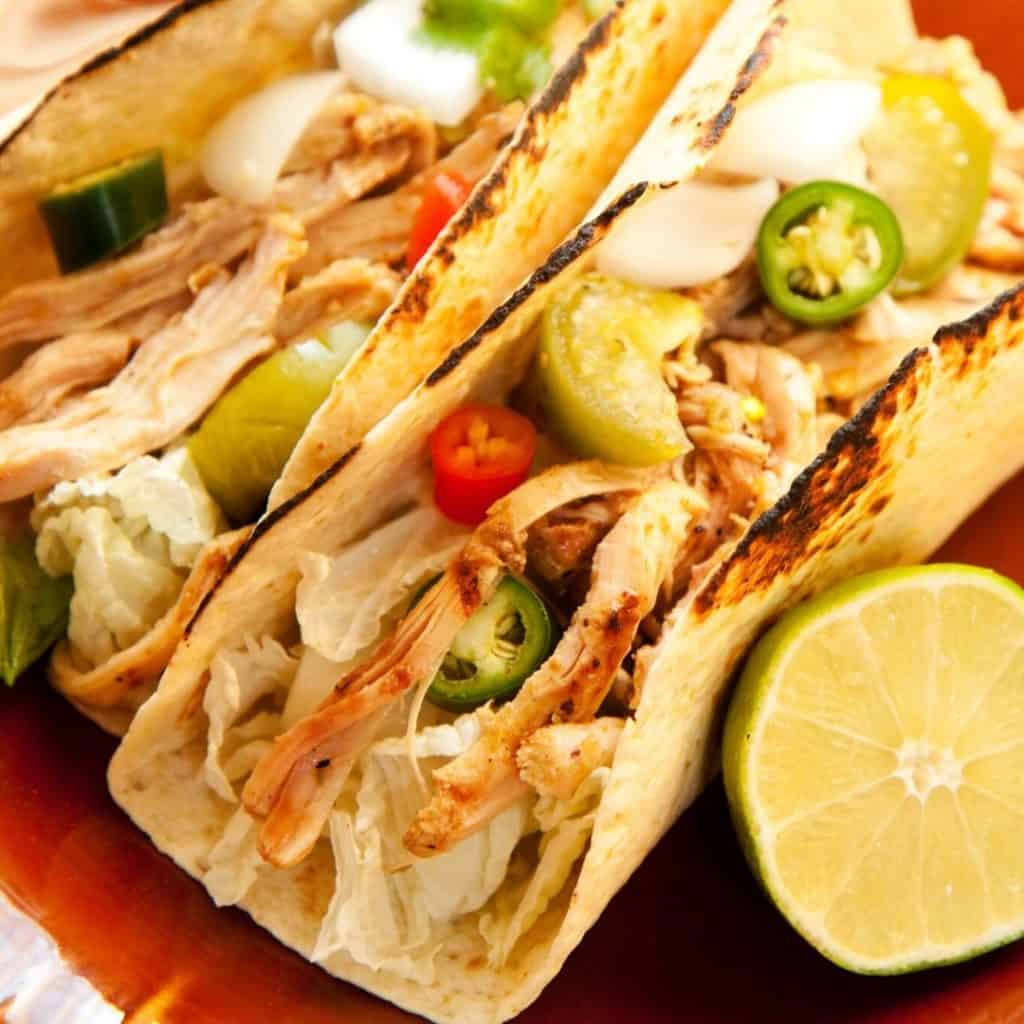 On the Trim Healthy Mama Plan, corn is not forbidden. However, it's also not recommended that we eat tons of it all the time.
I know, corn tortilla lovers, that's a hard pill to swallow! BUT I have great news for you! Teresia from Nana's Little Kitchen has a great LOW CARB masa wrap recipe that includes a bit of masa. That way you get the delicious flavor of corn tortillas without all the corn and carbs.
But, we don't want to forget our healthy, nourishing THM E meals! Our thyroids and adrenals need the nourishment from healthy carbs.
While corn isn't necessarily the most gentle on our blood sugar, enjoying fresh, homemade corn tortillas — on occasion — in a trim and healthy way gives our thyroid and adrenals a boost.
How do we eat carbs in a trim and healthy way? We start with ultra-lean protein, keep our added fat low, and include lots of non-starchy veggies.
So, your meal with my fresh, homemade corn tortillas may look like this:
Ultra-lean ground meat, taco seasoned (chicken breast, turkey breast, venison without added fat) 96% or higher Protein
Lettuce, tomatoes, green peppers, onions, fresh or canned/jarred/pickled jalapenos Non-starchies
Salsa Non-starchy
Fat free Greek yogurt instead of sour cream Protein
A sprinkle of cheese (garnish amount!) Added fat
2 or 3 6″ corn tortillas, or 2 with added cooked beans (black, pinto, etc.) THM E Carb Source
Side Salad with FP salad dressing or just fresh lemon or lime juice as dressing Non-starchy
TIP: For Trim Healthy Mamas…as long as you're not eating a bunch of corn tortillas every week, you should be fine. If any stall in weigh loss occurs, consider eliminating them for a while and see if the weight loss continues. We each have a unique metabolic make up that may respond to certain foods differently. You can always use the low carb masa wraps I referenced above, instead.
So, make some fresh corn tortillas and stuff them full of healthy goodness! Enjoy and savor each bite, then make them again in a few weeks.
Balance is a good thing no matter what diet plan you follow.
PIN IT!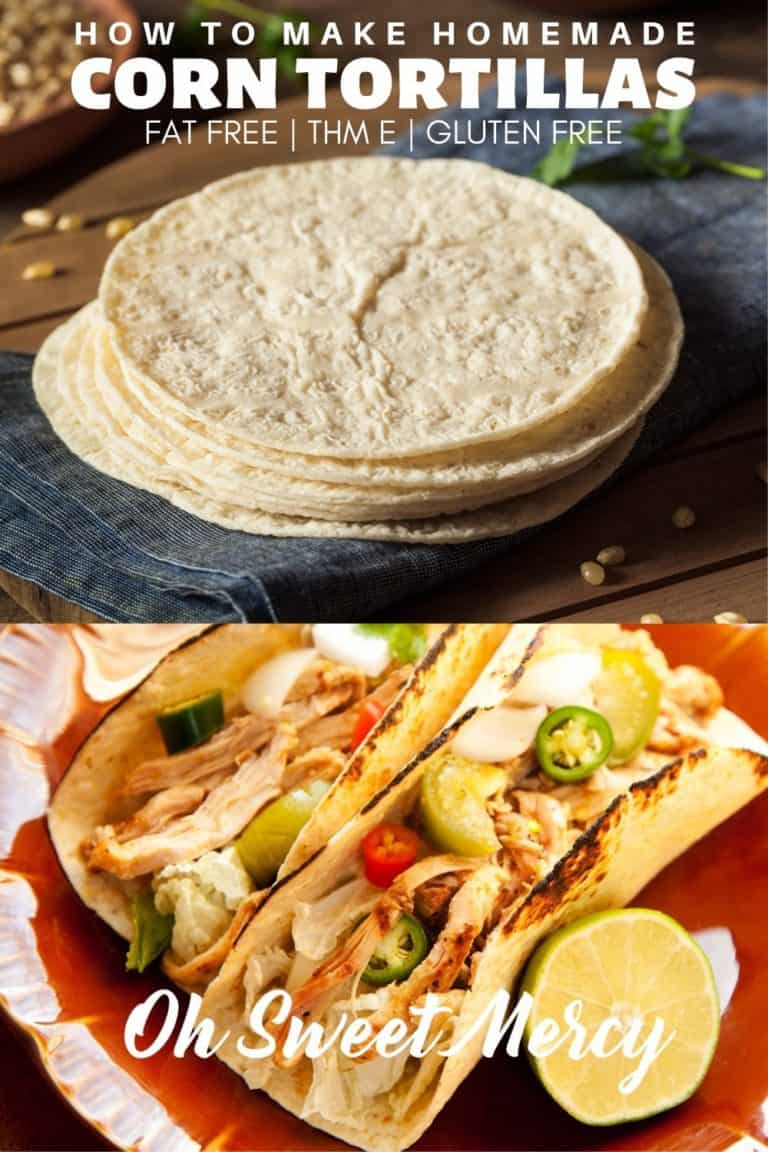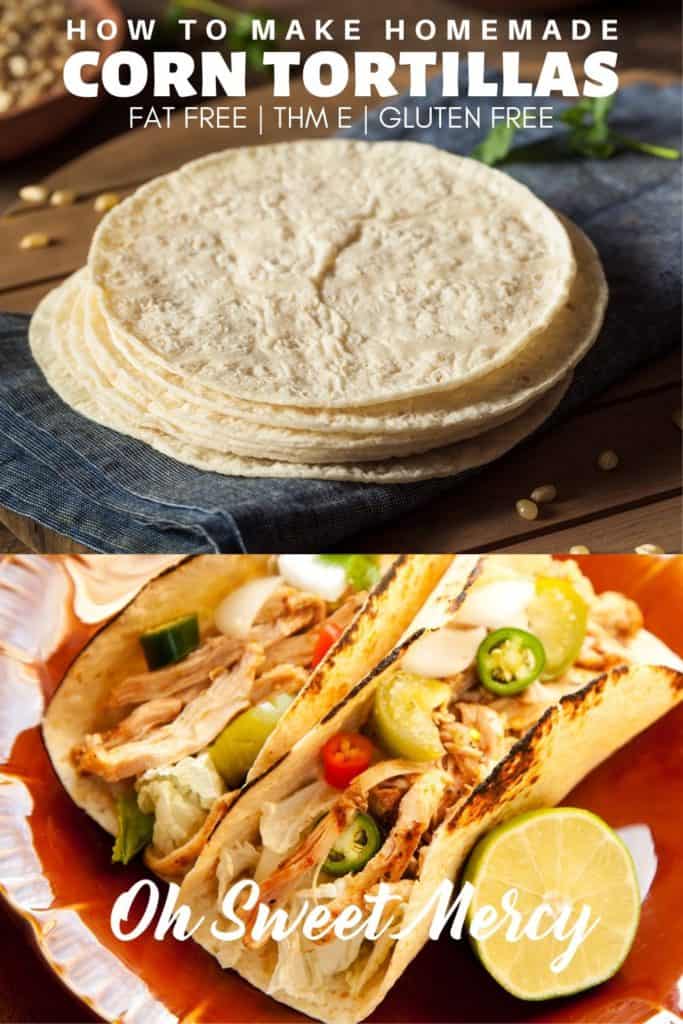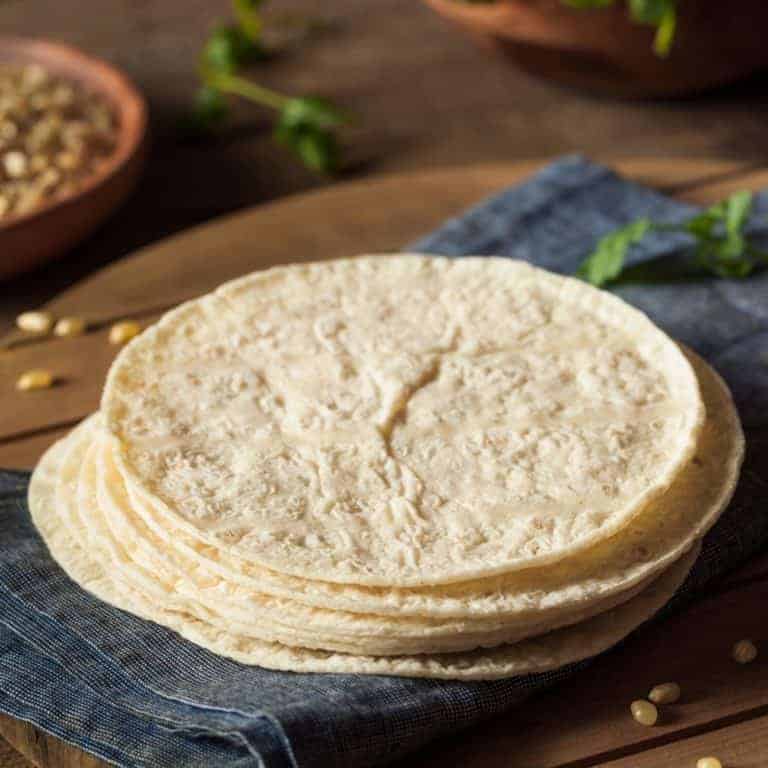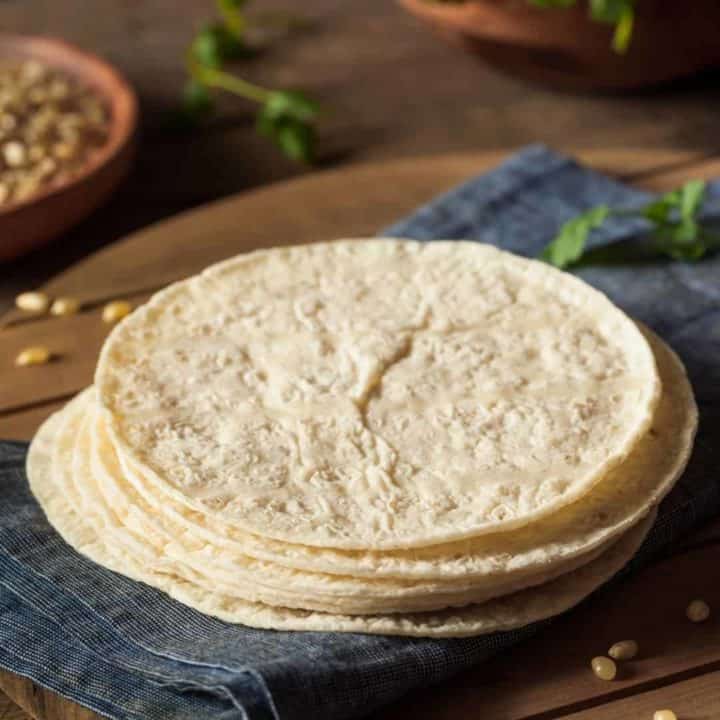 Homemade Corn Tortillas | THM E, Low Fat
Yield: 16 tortillas
Prep Time: 5 minutes
Dough Rest Time: 15 minutes
Cook Time: 20 minutes
Total Time: 40 minutes
These fresh, homemade corn tortillas are way better than store-bought! Very low in fat, they're great for getting your corn tortilla fix (occasionally) on the Trim Healthy Mama plan.
Ingredients
2 cups corn masa (not cornmeal)
1/2 to 1 teaspoon high mineral or kosher salt
1 1/4 cups hot water, plus more as needed
Instructions
In a medium bowl, whisk together masa and salt.
Pour hot water into masa and salt mixture and mix well until a soft dough begins to form.
If dough seems dry, add water a tablespoon at a time until it's soft but not sticky.
If dough seems too sticky, add masa a tablespoon at a time until soft but not sticky.
Cover and let dough rest 15 to 20 minutes.
Form dough into approximately 16 small balls about the size of a golf ball (for a 6" tortilla)
When ready to make tortillas, start preheating your cast iron skillet or griddle on medium high to high heat.
To form the tortillas, place a dough ball between 2 sheets of waxed or parchment paper, or between 2 zip top bags.
Use a tortilla press or flat-bottomed pan to press the dough into a tortilla shape. Or use a rolling pin to roll out the dough.
Carefully peel away the wax paper or plastic and gently lay the tortilla into the pan.
Cook for 30 seconds, or until the edges start to look a little dry then flip and cook another 30 seconds.
Cook and flip 2 to 3 more times until the tortilla is cooked through and beginning to brown in spots.
Remove from pan into a tortilla warmer, towel lined basket, or ziplock bag with paper towels to keep warm while you're cooking the rest of the tortillas.
Press and cook each tortilla one at a time.
If desired, cook some of the dough and save the rest for another day, up to 3 days in the refrigerator.


Notes
TRIM HEALTHY MAMAS:
Remember to keep corn consumption to an occasional treat for best weight loss results.
Include ultra-lean protein, plenty of non-starchies, and keep added fat to 5g or less for a THM E meal.
TO STORE DOUGH OR COOKED TORTILLAS:
Store uncooked dough in the fridge in a zipper bag or sealed container for up to 3 days.
Store cooked tortillas in a ziplock bag with a damp paper towel in the fridge. Use within 2 days for best results.
TO REHEAT COOKED TORTILLAS:
Warm in a hot skillet for about 15 seconds per side.
In a microwave, wrap in a damp paper towel and microwave for 30 to 45 seconds for 4-6 tortillas, less for fewer tortillas.
Recommended Products
As an Amazon Associate and member of other affiliate programs, I earn from qualifying purchases.
Nutrition Information:
Yield: 16
Serving Size: 1 tortilla
Amount Per Serving:
Calories: 46
Total Fat: 1g
Saturated Fat: .3g
Trans Fat: 0g
Unsaturated Fat: .1g
Cholesterol: 1.3mg
Sodium: 135mg
Carbohydrates: 10.9g
Net Carbohydrates: 9.5g
Fiber: 1.4g
Sugar: 1g
Protein: 1.3g
Nutrition information is approximate and based on the best knowledge available at the time of recipe publication. Your results may vary due to differences in ingredients. You can make your own calculations if this recipe does not include nutrition info by using an online calculator such as https://recipes.sparkpeople.com/recipe-calculator.asp