---
Nothing says fall like sweet, spiced pumpkin treats. My low-carb Pumpkin Scones are topped with a sugar-free pecan brown butter glaze. They're delicious on their own or topped with my heavenly homemade British-style clotted cream. A perfect THM S treat with your favorite mug of warm comfort on a cool, fall day.
---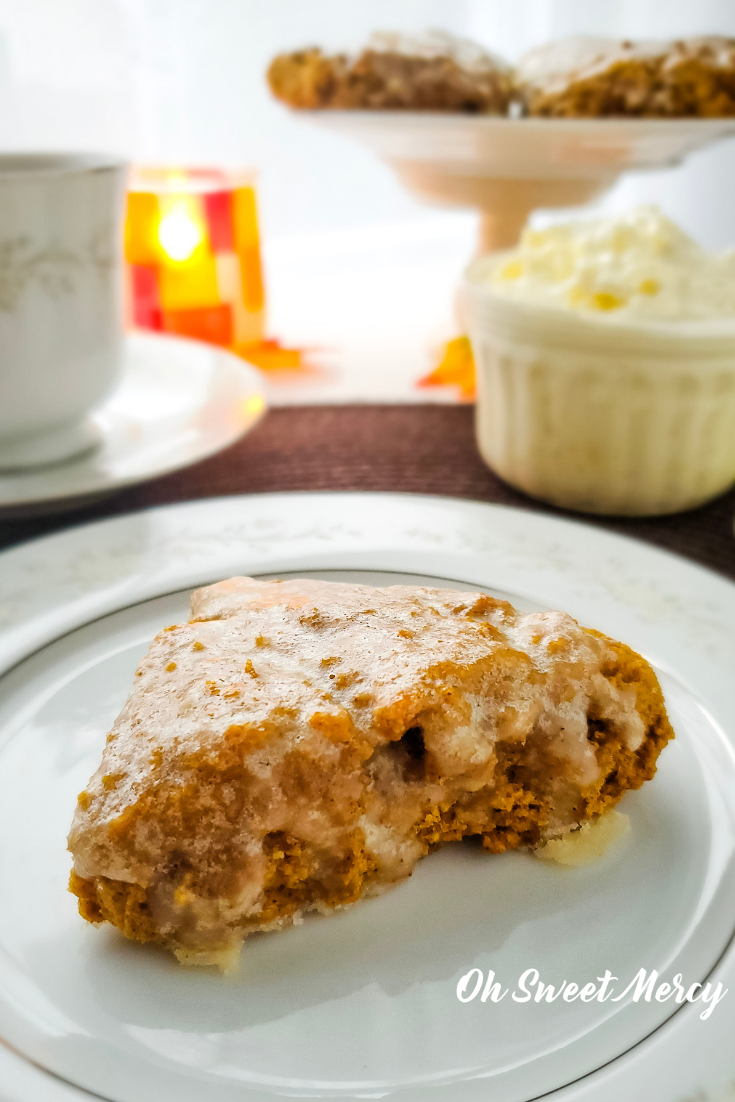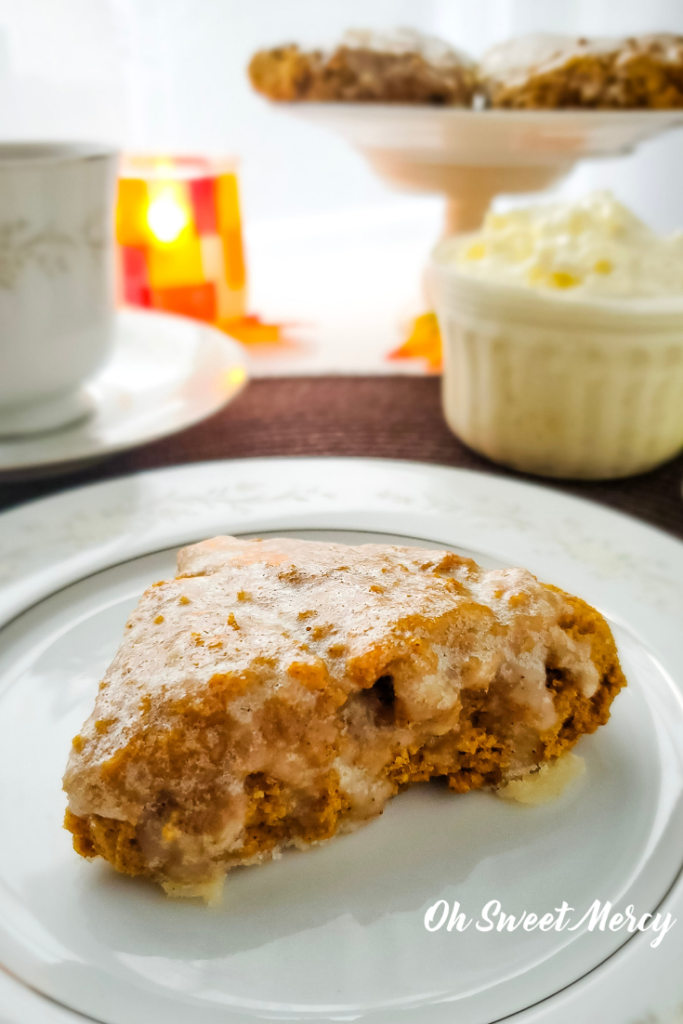 When you make clotted cream in September you need something to put it on top of, right? And since we're officially underway in Pumpkin Spice Season, of course that means pumpkin scones.
The first test batch needed tweaking. The dough was too wet – they baked OK but not quite right. Sister said they need a glaze and inspiration struck.
Pecan and brown butter! I'd just gotten some THM Natural Burst Pecan Extract so of course that's going in there. If you don't have pecan extract, no worries. A vanilla brown butter glaze is also scrumptious on a scone.
The next test batch was perfect! The sweet glaze dries to a perfect, delectable crunch when you bite into these yummy pumpkin scones.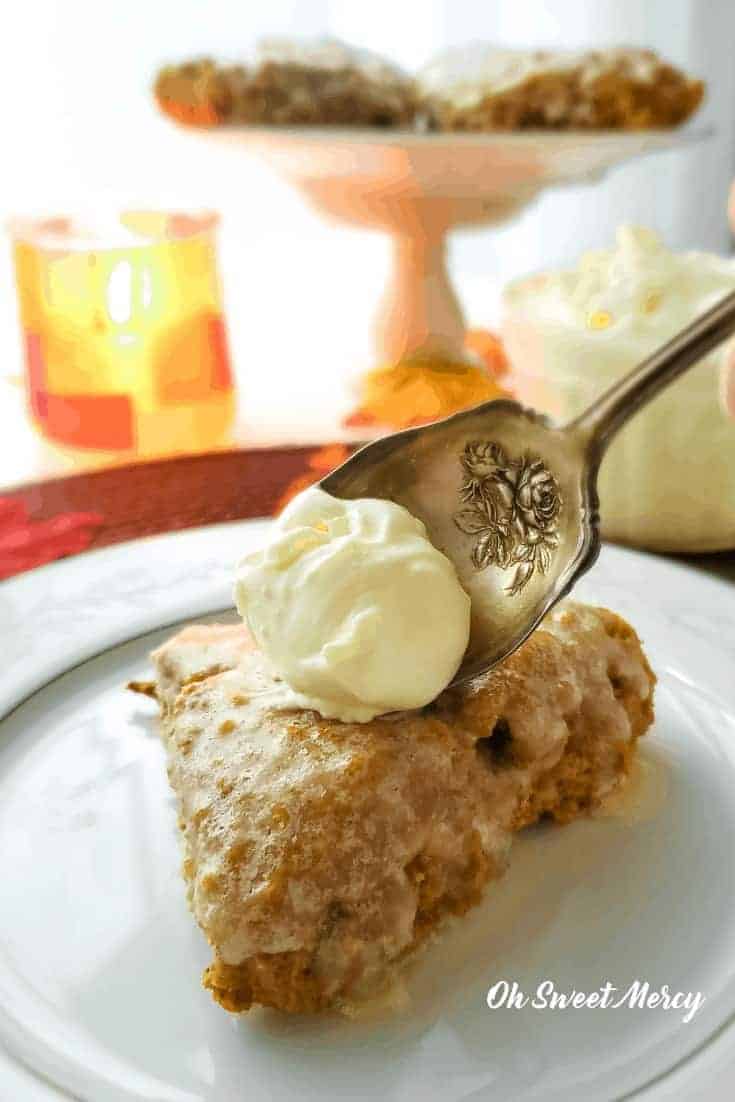 But seriously, you just haven't lived until you've tried British-style clotted cream. Its name is not pleasant but the taste — oh sweet mercy. It's heavenly.
I show you how to make it in this post, too! Give it a try, you'll be so glad you did.
Typically, scones with clotted cream are enjoyed with a sweet jam. Since we don't have a sweet jam with these the sugar-free brown butter glaze gives that bit of sweetness to each bite.
If you don't have a food processor, here's how to make pumpkin scones by hand.
A food processor makes this recipe so easy to mix up! But If you don't have one, no worries! Mixing by hand is easy.
Mix all dry ingredients together with a whisk until well combined. Cut cold butter into small pieces and use a pastry blender or fork to cut into dry ingredients until mixture is crumbly.
Add egg, pumpkin, and extract and stir to form a dough that sticks together and pulls away from the bowl.
Proceed as directed in the rest of the recipe to form and bake the scones.
How To Glaze Fresh From The Oven Scones.
Start making the glaze in the last 5 minutes or so of baking. Pull the scones out of the oven and use a silicone basting brush to coat the scones with the glaze.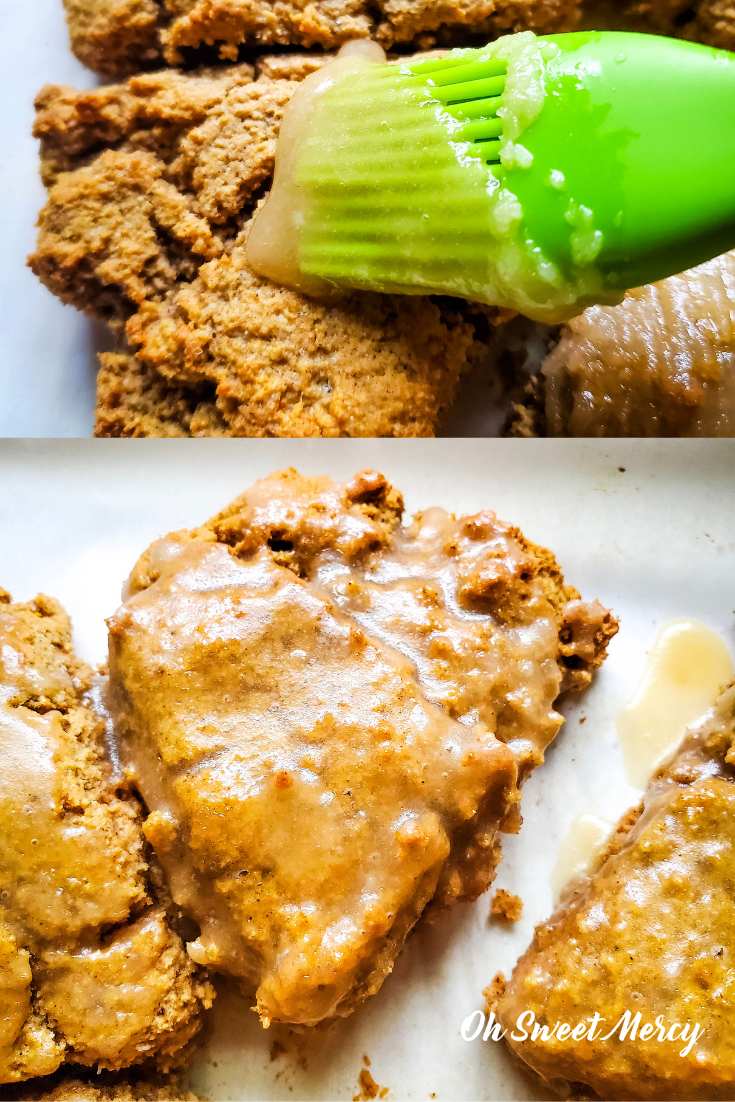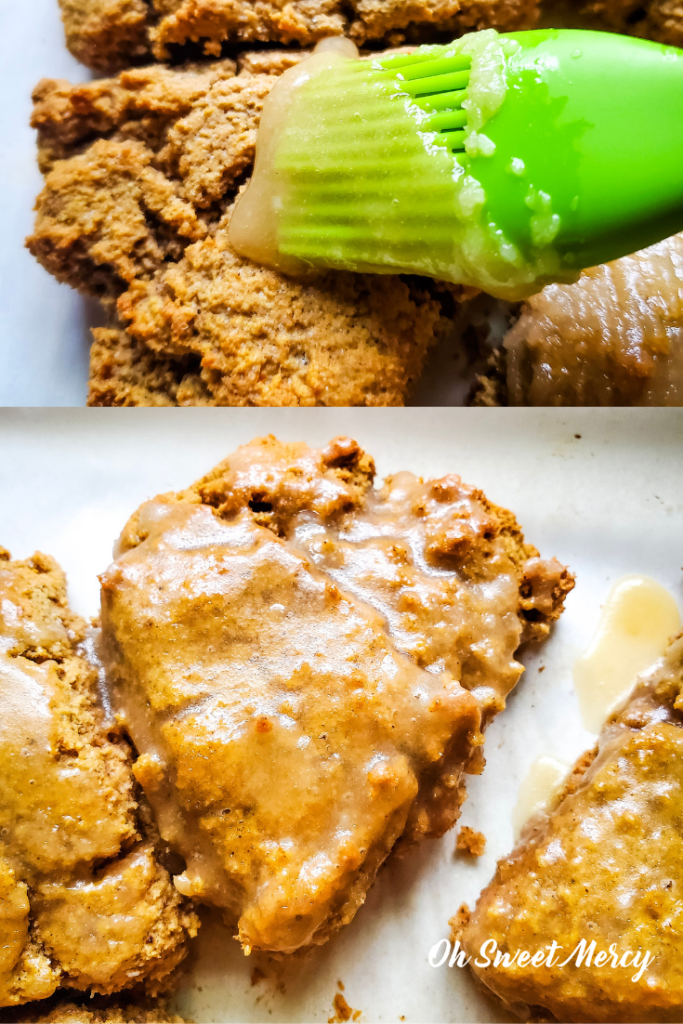 If you make the glaze too soon, no worries! If it gets too thick, just warm it up on the stove top a bit until it's liquidy again.
A Note On Making The Glaze.
For best results, use powdered erythritol. Simply run your erythritol through your blender until powdered. You can also purchase powdered erythritol if you don't want to mess with making it yourself.
You can also try other granulated, non-glycemic sweeteners if you prefer – just make sure you powder it first! You'll need to use less, or more, depending on the sweetener. Always start on the less side and add more in small amounts until it's as sweet as you like.
How To Fit My Low Carb Pumpkin Scones Into Your THM Meal Plan.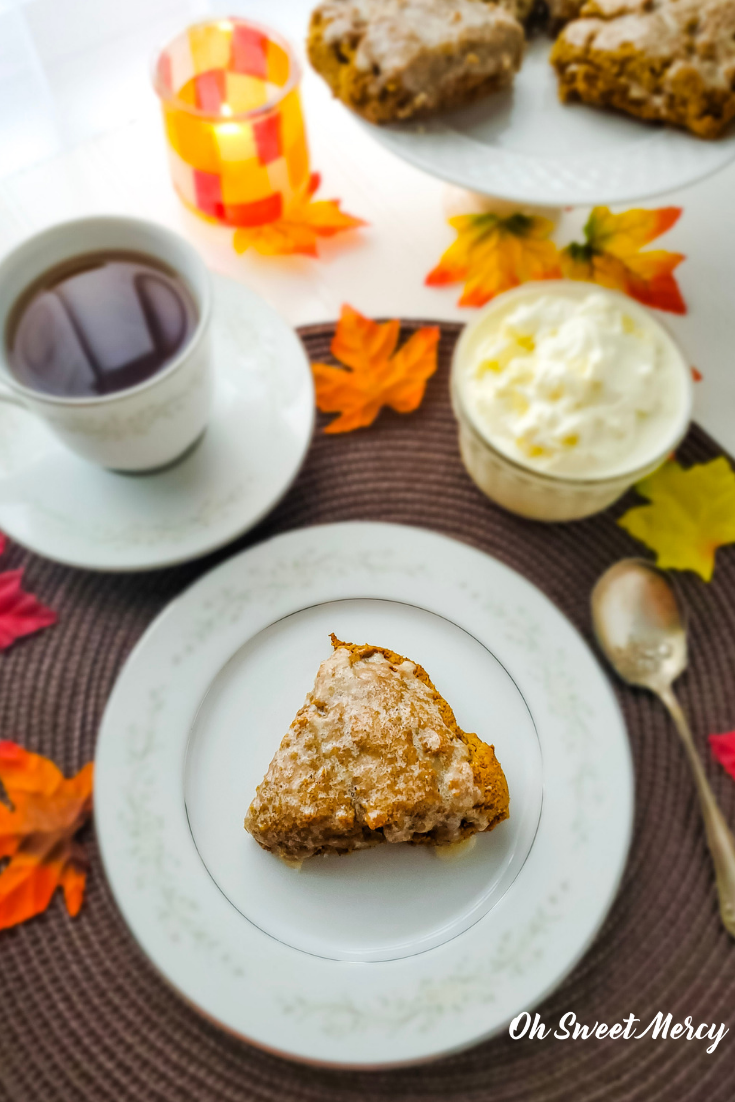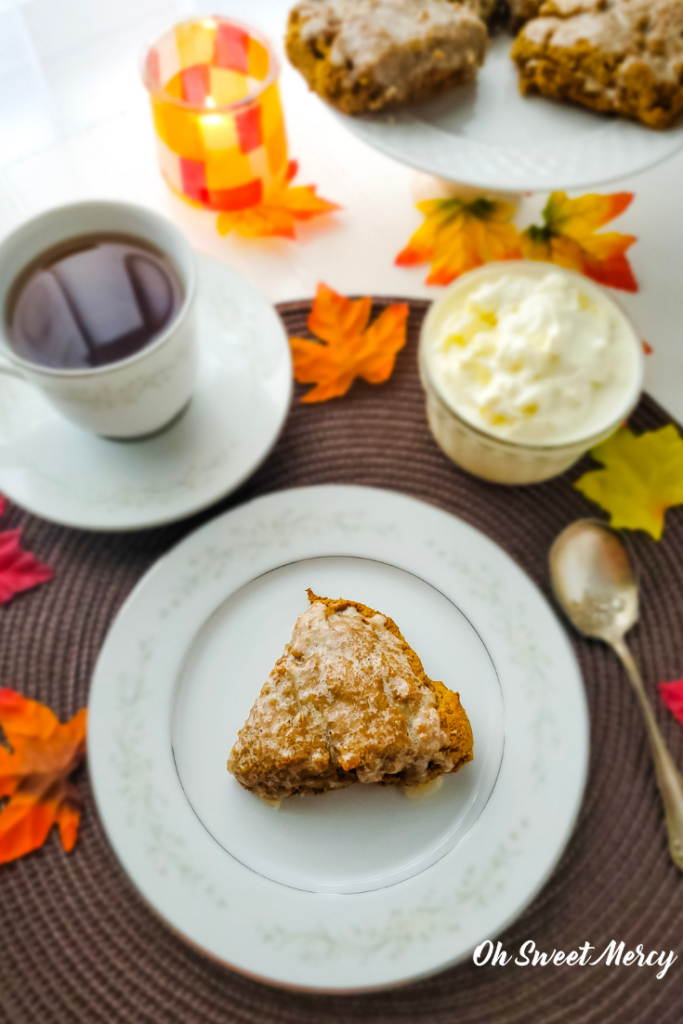 These yummy, seasonal scones are a THM S. Enjoy as a snack with a mug of tea, coffee, or Dandy Blend with collagen or a Trimmy Light.
As a dessert, it's perfect after a Light S or FP meal. However you choose to eat it, keep those carbs low since we're enjoying our Satisfying fats.
I highly recommend enjoying…on occasion…with a nice dollop of British-style clotted cream.
Or, simply enjoy them on their own. Grab a comfy sweater or hoodie, light a candle, pour a mug of your favorite hot beverage, and savor the moment.
Pumpkin spice season doesn't last long. Unless you're like me and don't care about seasons.
Pin The Image Below: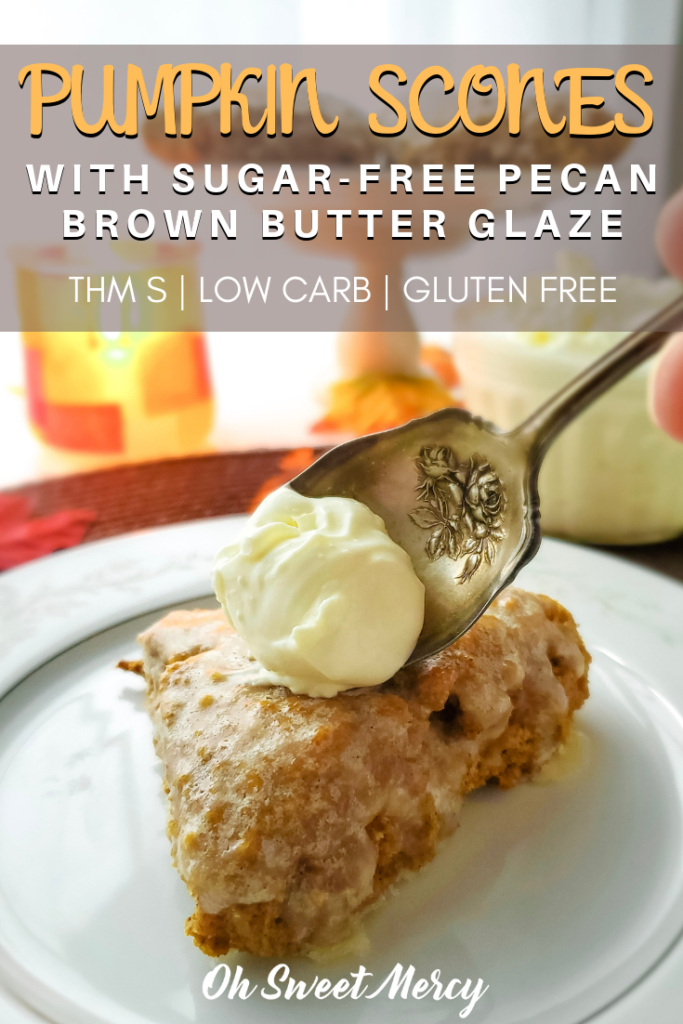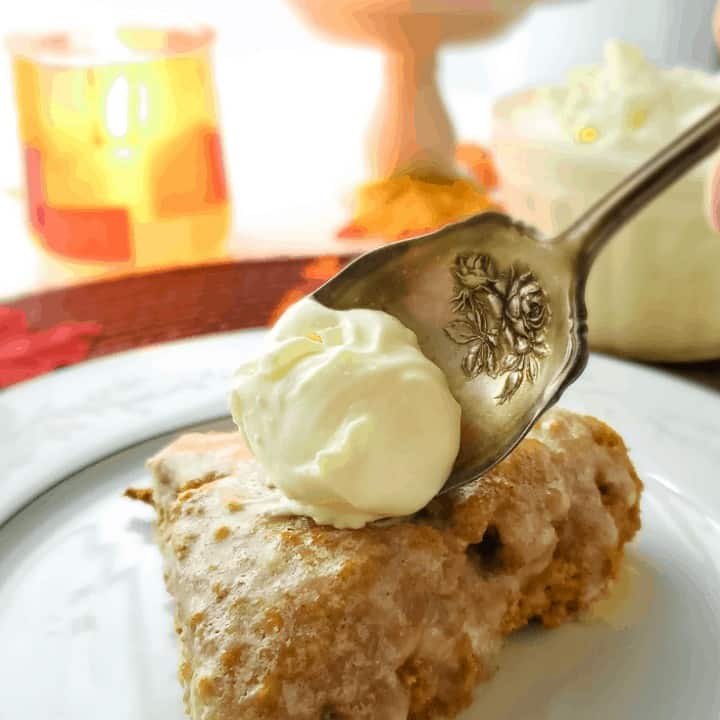 Pumpkin Scones with Pecan Brown Butter Glaze | THM S, Low Carb
Yield: 8 scones
Prep Time: 10 minutes
Bake Time: 20 minutes
Total Time: 30 minutes
Slightly sweet and spiced with the flavors of fall, these low carb pumpkin scones are then topped with a simple pecan brown butter glaze. Delicious on their own or topped with homemade clotted cream.
Ingredients
For the Pumpkin Scones
1 cup almond flour
2 teaspoons baking powder
1 teaspoon baking soda
3 tablespoons cold butter
1 egg
2 tablespoons pumpkin puree
1 teaspoon pure vanilla extract
For the Pecan Brown Butter Glaze
Instructions
Make the Pumpkin Scones
Preheat oven to 350.
Line a baking sheet with parchment paper and set aside.
In a food processor, add the almond flour, oat fiber, protein powder, Super Sweet, baking soda, baking powder, and pumpkin pie spice. Pulse to mix well.
Add in the butter and pulse until mixture is crumbly
Add egg, pumpkin, and vanilla extract and pulse until mixture comes together as a dough.
Scrape dough onto center of parchment paper lined baking sheet and pat into a circle. The dough may be a little sticky, if so you can coat your hands in oil or butter first.
Cut the dough circle into 8 triangles. Gently pick each triangle up and pat the sides a bit to make nicely formed scones.
Keep the scones in a circle, like when you cut them, but separated a bit.
Bake in preheated oven for 20 minutes.
Make the Pecan Brown Butter Glaze
In a small sauce pan melt the butter over medium heat, stirring constantly for about 5 minutes or until butter begins to brown.
Remove pan from heat and stir in powdered erythritol. Use a whisk if needed to make the glaze smooth.
Stir or whisk in the Pecan extract and 1 to 2 teaspoons of almond milk as needed for a glaze consistency.
Rewarm on the stove as needed to pour on warm scones.
Notes
For powdered erythritol simply blend granulated erythritol in a blender until it is finely powdered. Or you can use Swerve Confectioner's.
If you prefer to use Super Sweet or Gentle Sweet, make sure to powder them in the blender first or you'll have a crunchy glaze. You'll need to use less however. For Super Sweet, try 2 to 2 1/2 teaspoons and go from there. For Gentle Sweet, start with 2 tablespoons and adjust as needed.
If it's too sweet, simply add more butter and almond milk until it's the right sweetness and consistency. Store any unused glaze in the refrigerator and rewarm before using.
Recommended Products
As an Amazon Associate and member of other affiliate programs, I earn from qualifying purchases.