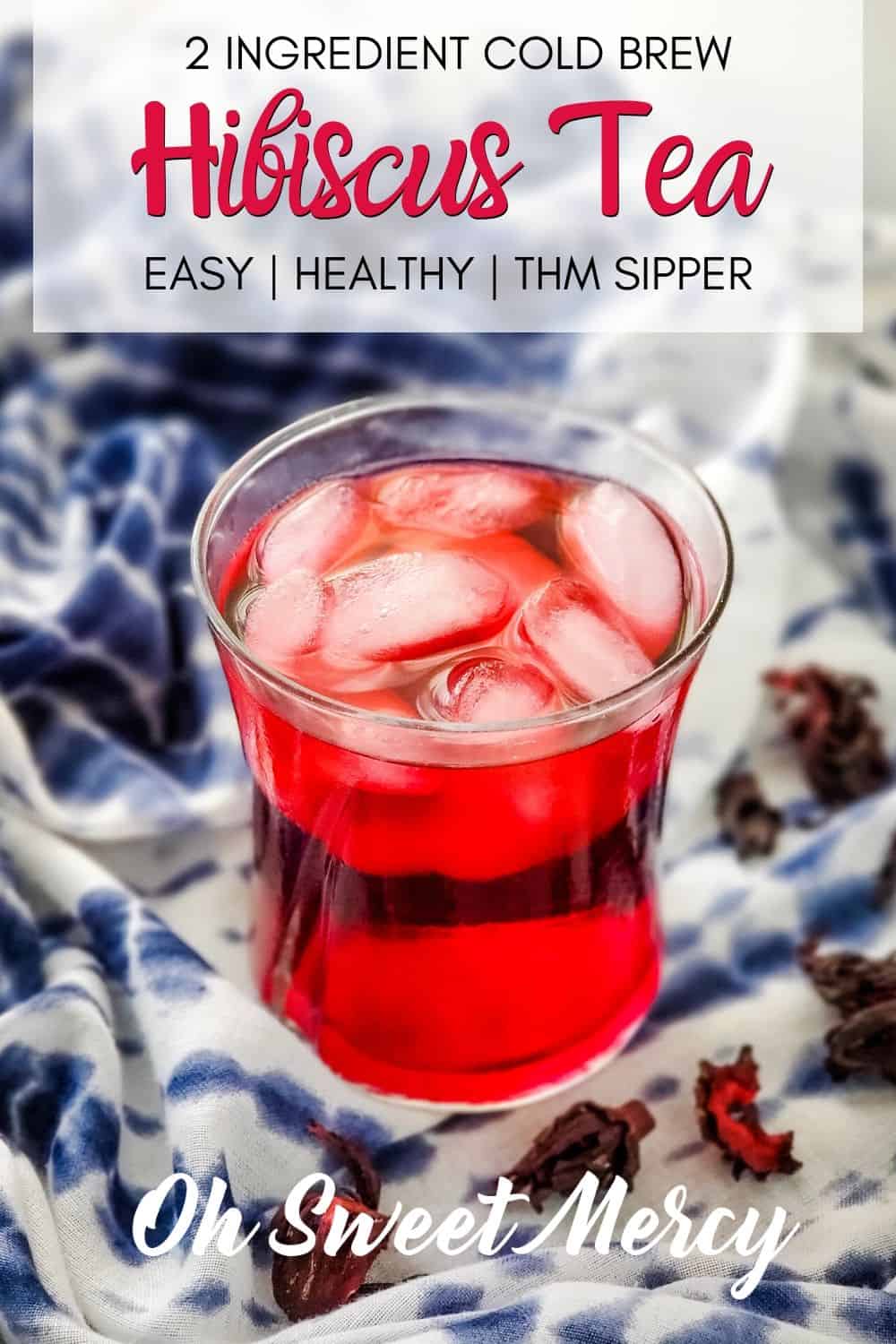 ---
Deep, rich ruby-red, a bit tangy, slightly fruity, and loaded with antioxidants, this smooth cold brew hibiscus tea is the perfect summer refreshment. It's caffeine free so enjoy it any time of day. Sweeten to taste and sip the beautiful taste of summer. Trim Healthy Mamas, you'll love this simple "all day sipper!" {Be sure to read the post for important information}
---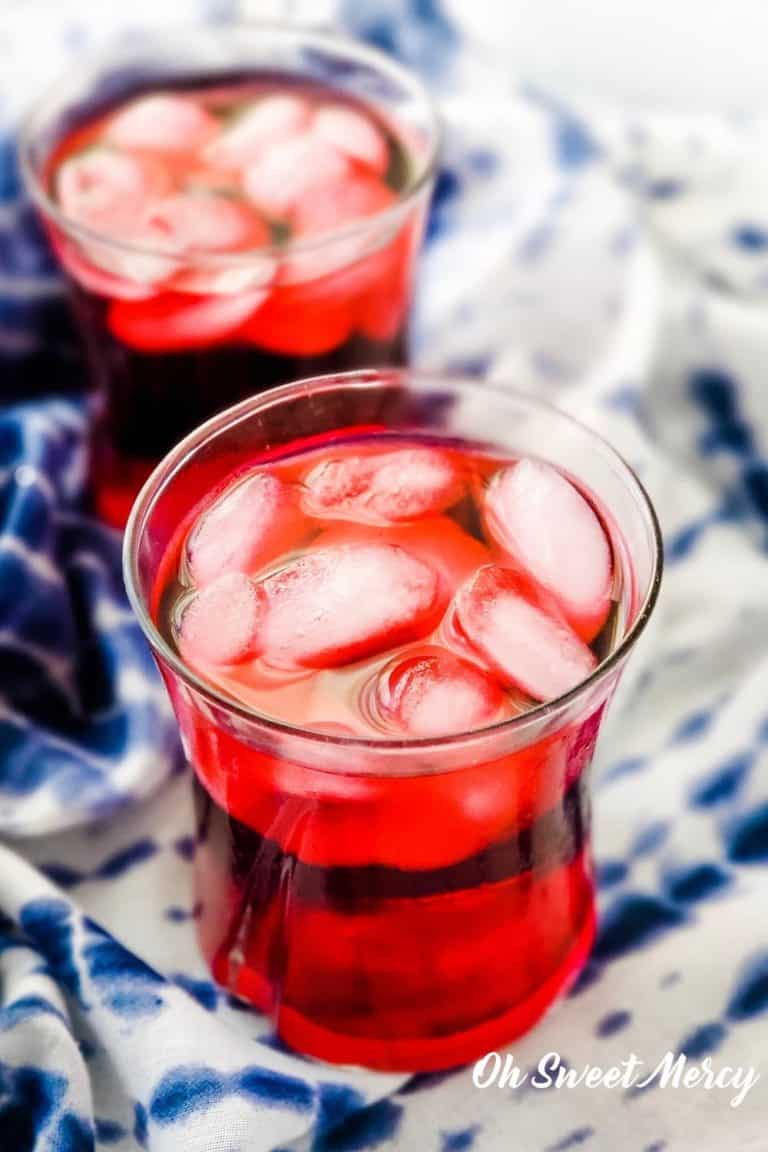 We love the old Studio C sketches, and one of our favorites is Hibiscus Bisque. It's just good, clean humor. A refreshing change in these days!
You know what else is refreshing? Cold brew hibiscus tea. It's a delightful change from regular old iced tea (though nothing is wrong with that).
Plus, that deep, rich, red color is packed with antioxidants. Not only does it refresh, it also nourishes.
It won't keep you up at night, either – it's 100% caffeine free.
And, it's a beautiful color without the use of artificial dyes.
5 Reasons Cold Brew Hibiscus Tea Is Good For You.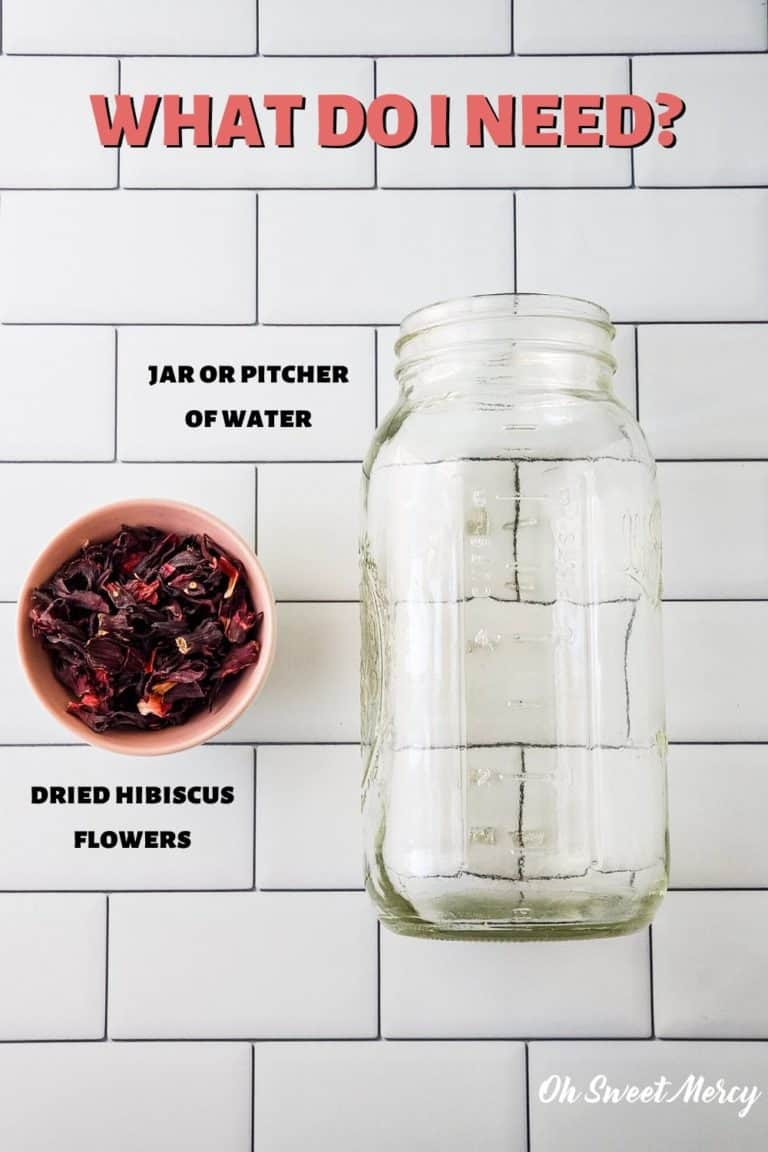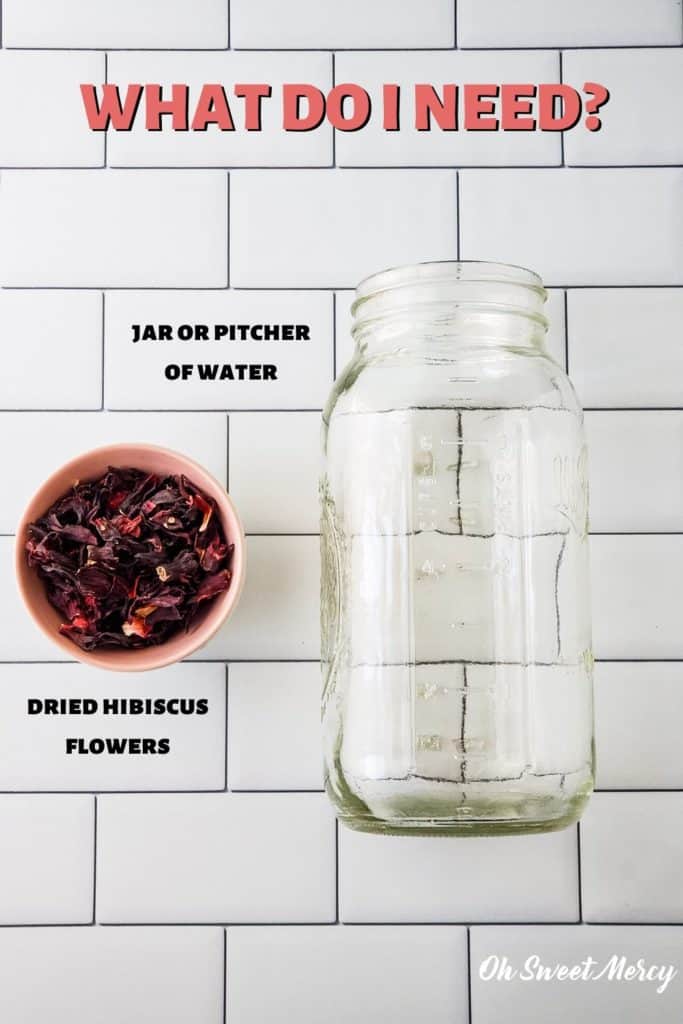 There are more healthy benefits of hibiscus tea, but here are 5 that are of particular importance to the Trim Healthy Mama.
IMPORTANT NOTE: Please remember this is not medical advice or claims to cure any disease or condition. If you have questions be sure to discuss them with your physician.
May Help Fight Insulin Resistance And Keep Blood Sugar Stable.
The Trim Healthy Mama plan works, in part, by keeping blood sugar stable. So, it only makes sense to consume foods and beverages that support balanced blood sugar.
This study, of patients with Metabolic Syndrome, discusses the favorable impact the polyphenols in hibiscus have on insulin resistance, diabetes, and hypertension. Those are hallmark characteristics of Metabolic Syndrome.
Metabolic Syndrome can make it difficult to lose weight. However, there have been many people who have found success with the THM plan.
Consuming healthy, nourishing foods and beverages that keep your blood sugar balanced has a positive effect on your metabolism!
Cold Brew Hibiscus Tea Can Help Lower Blood Pressure.
There have been numerous studies worldwide showing the positive effect of hibiscus tea on high blood pressure (hypertension).
In fact, a study in Nigeria showed that it was more effective than a common pharmaceutical used to treat high blood pressure without causing electrolyte imbalance.
Another study showed that drinking 3 glasses daily for several weeks lowered overall blood pressure in hypertensive adults.
That's great news! High blood pressure is unfortunately too common these days. Having a delicious and tasty way to help keep it under control is terrific.
Since it can help lower blood pressure, if you have low blood pressure be sure to talk to your doctor about whether or not you should drink hibiscus tea as certain medications may be affected by it.
Hibiscus Tea is Anti-Inflammatory.
The gorgeous ruby-red color of hibiscus tea comes from being packed with antioxidant-rich polyphenols. These beneficial plant substances help fight inflammation in the body and may help reduce cortisol levels.
High cortisol levels are often responsible for packing on the belly fat. Stress ramps up cortisol production, so if you've been stressed in 2020 you might have noticed a little "fluff" accumulating around your midsection.
Consuming foods that help counteract the effects of cortisol, in addition to lifestyle changes that help lower it, can help you shed that unwanted fluff.
It's A Natural Diuretic.
Diuretics help remove water from the body. On one hand, you need water to stay hydrated!
But, on the other, retaining too much water makes us feel puffy and our jeans not button.
Drinking hibiscus tea may increase trips to the restroom, but that's not always a bad thing! Getting rid of excess water weight and keeping our kidneys flushed is good for our overall health.
Hibiscus Tea Is High In Vitamin C (And Iron).
Immune health is at the forefront of our minds this year, and for good reason. Most of us know that vitamin C is essential for a strong immune system.
Vitamin C also helps combat the effects of stress on the body. Drinking hibiscus tea is a great way to get more vitamin C into your day without a bunch of sugar and calories (sorry OJ, you're just not THM friendly).
Iron is also essential to keeping our blood healthy. Not only that, it needs vitamin C to be best absorbed by the body. Hibiscus has both! Isn't Creation an amazing and wonderful thing?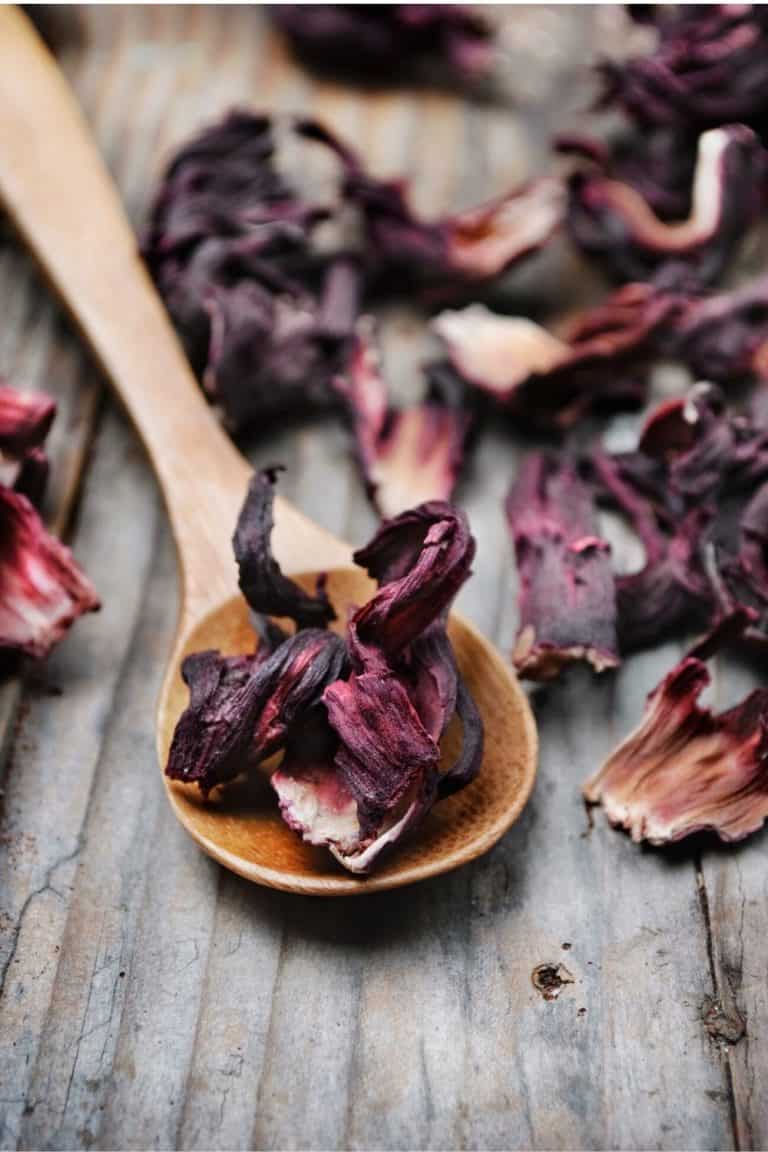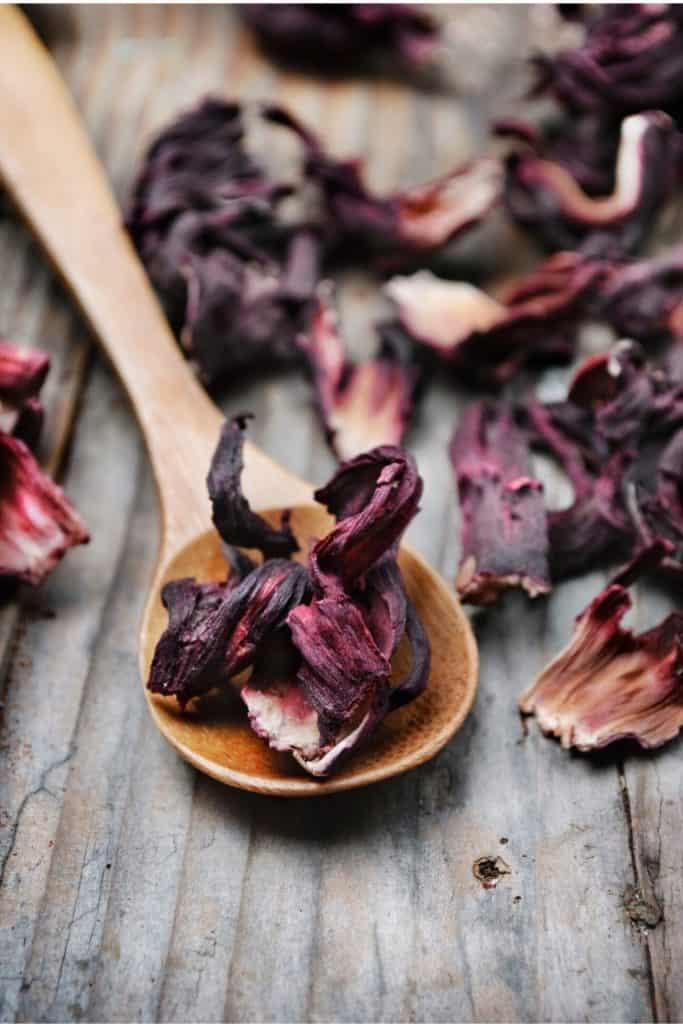 Are There Any Risks With Hibiscus Tea?
This beautiful beverage is sounding like a magical healing elixir, right?
Keep in mind that some studies are done with extracts, which are highly concentrated. But, drinking brewed hibiscus tea still has many healthy benefits.
It may also present a few risks, as I outline below. Be sure to consult your physician about these risks if you have any health conditions before consuming hibiscus tea regularly.
Hibiscus tea should not be consumed by pregnant women as it may stimulate menstruation.
If you are taking hormone therapy or birth control pills talk to your doctor first as it contains phytoestrogen, which is a plant-based substance similar to human estrogen.
Since it lowers blood pressure, if you are prone to having low blood pressure it could possibly cause a dangerous drop.
Hibiscus tea may interfere with some medications used to treat high blood pressure and diabetes.
While enjoying a cup of hibiscus tea occasionally likely poses no problem for the average, healthy person if you have any health conditions it's wise to discuss with your health care practitioner before regularly consuming herbals.
How To Make Cold Brew Hibiscus Tea (And Why You Should).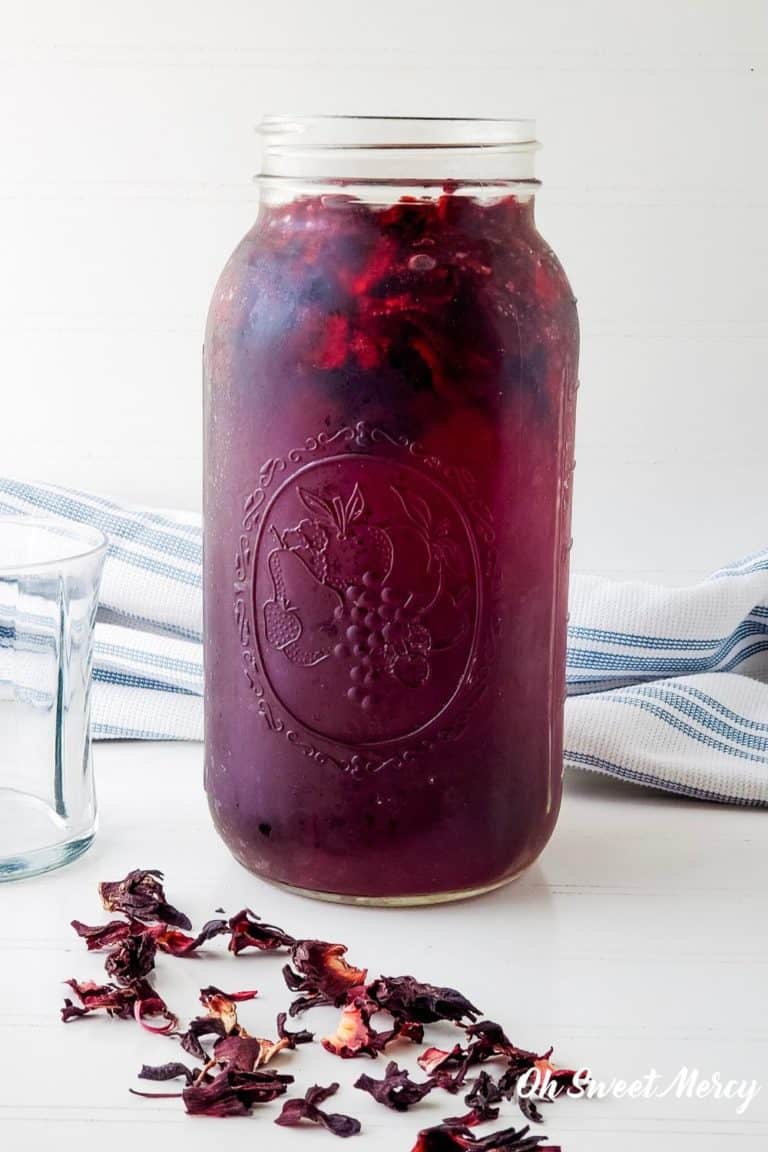 Making cold brew hibiscus tea is super simple. It takes all of 5 minutes to prepare. The hard part is waiting.
Simply place your dried hibiscus flowers in a jar and add cold water. Cover and place in your refrigerator for several hours or overnight.
I let the batch in the photo above steep for about 48 hours, simply because I didn't get to it before then. Taste yours periodically until it is the strength you prefer.
TIP: If you like a bolder cold brewed hibiscus tea, simply use more dried hibiscus flowers.
Then, strain out the hibiscus flowers and sweeten as desired. OR use my DIY Iced Tea Bags method to make your own large "tea bags" for loose leaf herbal teas and skip the straining.
Reasons Why Cold Brewing Tea Is Sometimes Better Than Hot Brewing.
I love a good, hot cup of tea so I'm not suggesting cold brewing is the best way. But, it does have some advantages to consider. The only disadvantage is that it takes longer!
You don't have to boil water, which conserves energy and doesn't put heat and steam into your kitchen on a hot summer day.
The tea is chilled when it's done steeping so when you add ice it doesn't melt immediately and water down your tea.
The flavor of cold brewed tea is often less tannic (harsh or acidic) and bitter tasting. Check out this post for great advice on how long to cold brew various types of teas.
I definitely notice a big difference between hot brewed hibiscus tea and cold brewed. While the flavor is not as bold, it's also way less harsh and tangy and I much prefer it.
Hot brewing herbal teas with hibiscus and other herbs is more pleasant, but for brewing straight hibiscus flowers the hot method results in a less pleasant tea, in my opinion.
Where Do I Buy Hibiscus Flowers For Tea?
Locally, there is an organic food co-op that I love that sells herbs and spices in bulk. Hibiscus is one they have available.
If you don't have a store that sells bulk herbs, Amazon has a nice selection of organic dried hibiscus flowers for tea.
You also need dried hibiscus flowers to make the THM Spuice Juice. Spuice stands for Super Spice Juice and it's packed with superfood goodness!
The recipe for Spuice Juice is available on the Trim Healthy Membership Site. Use my discount code to save $10 on a new membership (not valid with renewals): DY5900
Trim Healthy Mamas, My Cold Brew Hibiscus Tea Is An All Day Sipper!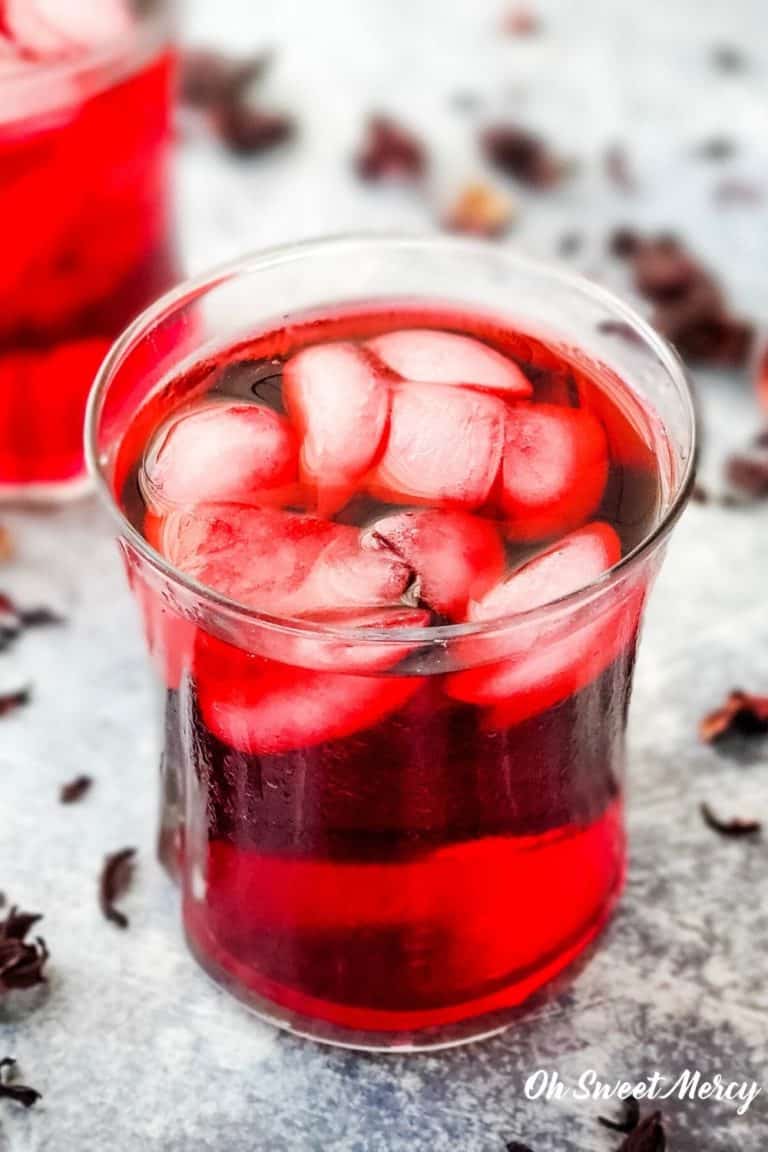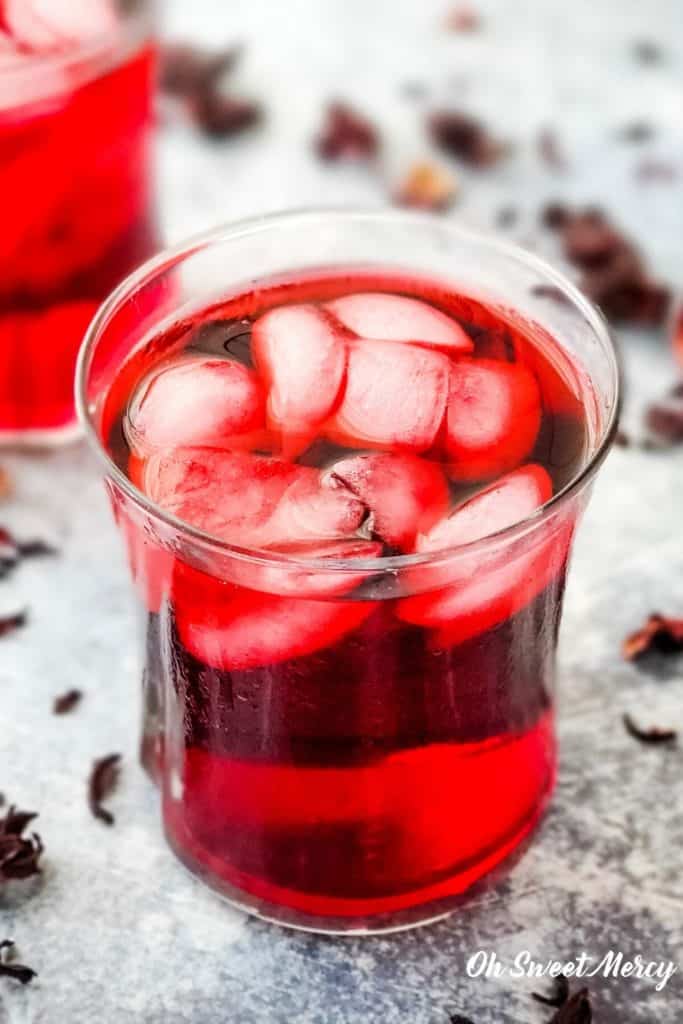 This simple, nourishing, and refreshing herbal tea qualifies as an all-day sipper. It has no significant source of fuel…in fact, it has zero fuel!
No fat, no carbs! You can enjoy this any time, with any meal type, and between meals.
Just be aware of the potential risks if you have underlying health conditions. And, it won't hurt to be near a bathroom 😉
Have you tried hibiscus tea? Have you made it using the cold brew method?
PIN IT!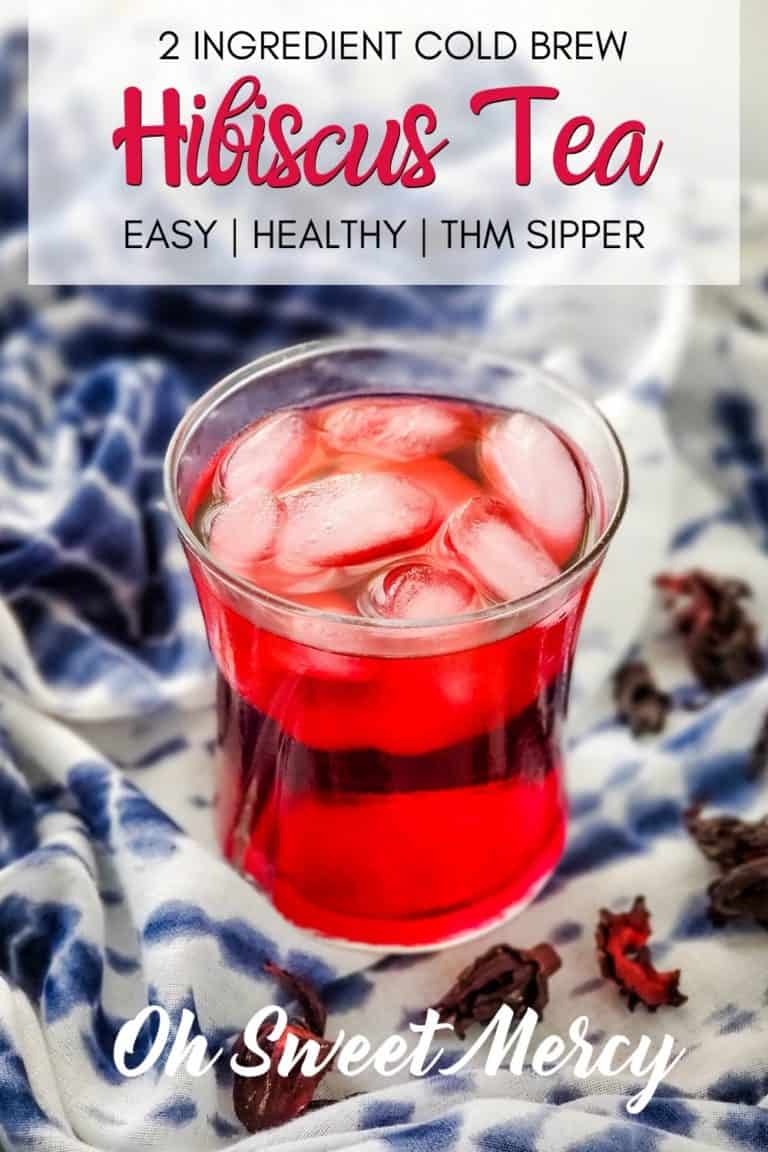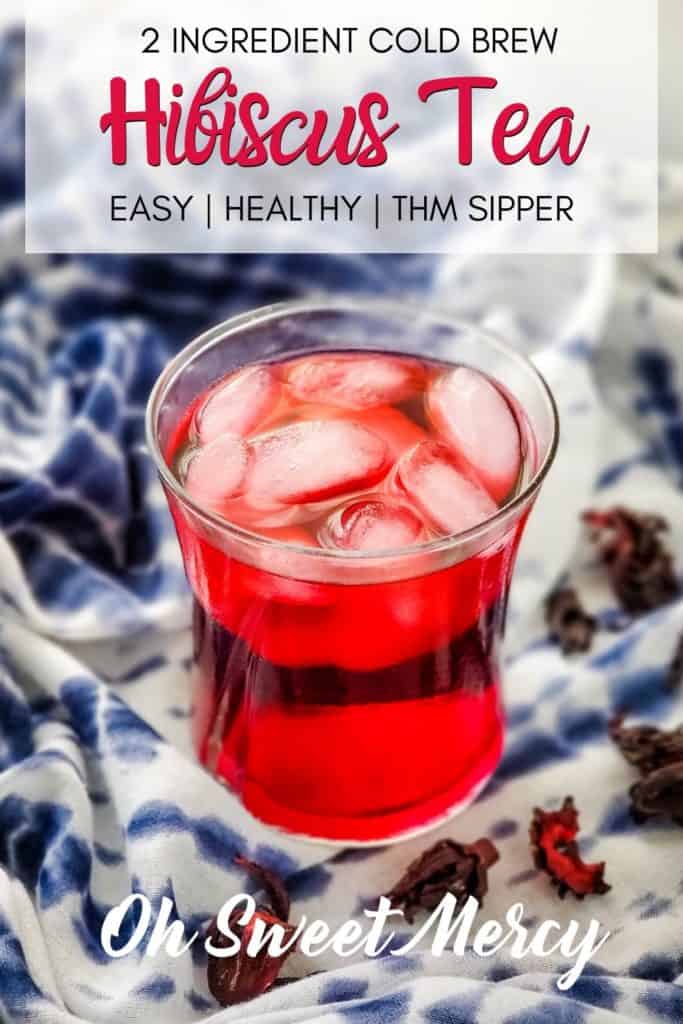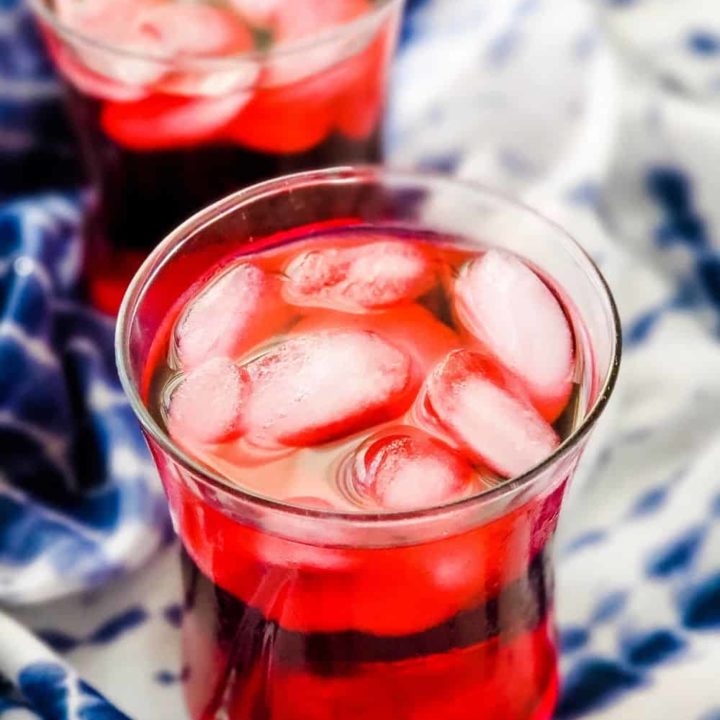 Cold Brew Hibiscus Tea | THM Sipper
Yield: Approximately 2 quarts
Prep Time: 5 minutes
Brew Time: 12 hours
Total Time: 12 hours 5 minutes
Bright, refreshing, and a little tangy, this beautiful ruby-red cold brew hibiscus tea is also nourishing and healthy! Plan ahead to give this tea time to brew in the fridge - at least a few hours or even better, overnight. Then, sweeten as desired.
Ingredients
2 quarts water, or less
Sweetener, as desired
Instructions
In a 2 quart jar add the dried hibiscus flowers.
Fill jar nearly to the top with pure water.
Cover and refrigerate at least a few hours, even better overnight.
Test periodically for your preferred brew strength.
Strain to remove the hibiscus flowers and put the strained tea back into your jar.
Sweeten if desired with an on-plan sweetener.
Serve over ice.
Notes
For a bolder cold brewed hibiscus tea, use more dried hibiscus flowers.
Be sure to discuss using hibiscus tea with your health care practitioner if you have any underlying health conditions or are pregnant before drinking this tea regularly.
Recommended Products
As an Amazon Associate and member of other affiliate programs, I earn from qualifying purchases.
Nutrition Information:
Yield: 7 cups
Serving Size: 1 cup
Amount Per Serving:
Calories: 0
Total Fat: 0g
Saturated Fat: 0g
Trans Fat: 0g
Unsaturated Fat: 0g
Cholesterol: 0mg
Sodium: 0mg
Carbohydrates: 0g
Fiber: 0g
Sugar: 0g
Protein: 0g
Nutrition information is approximate and based on the best knowledge available at the time of recipe publication. Your results may vary due to differences in ingredients. You can make your own calculations if this recipe does not include nutrition info by using an online calculator such as https://recipes.sparkpeople.com/recipe-calculator.asp