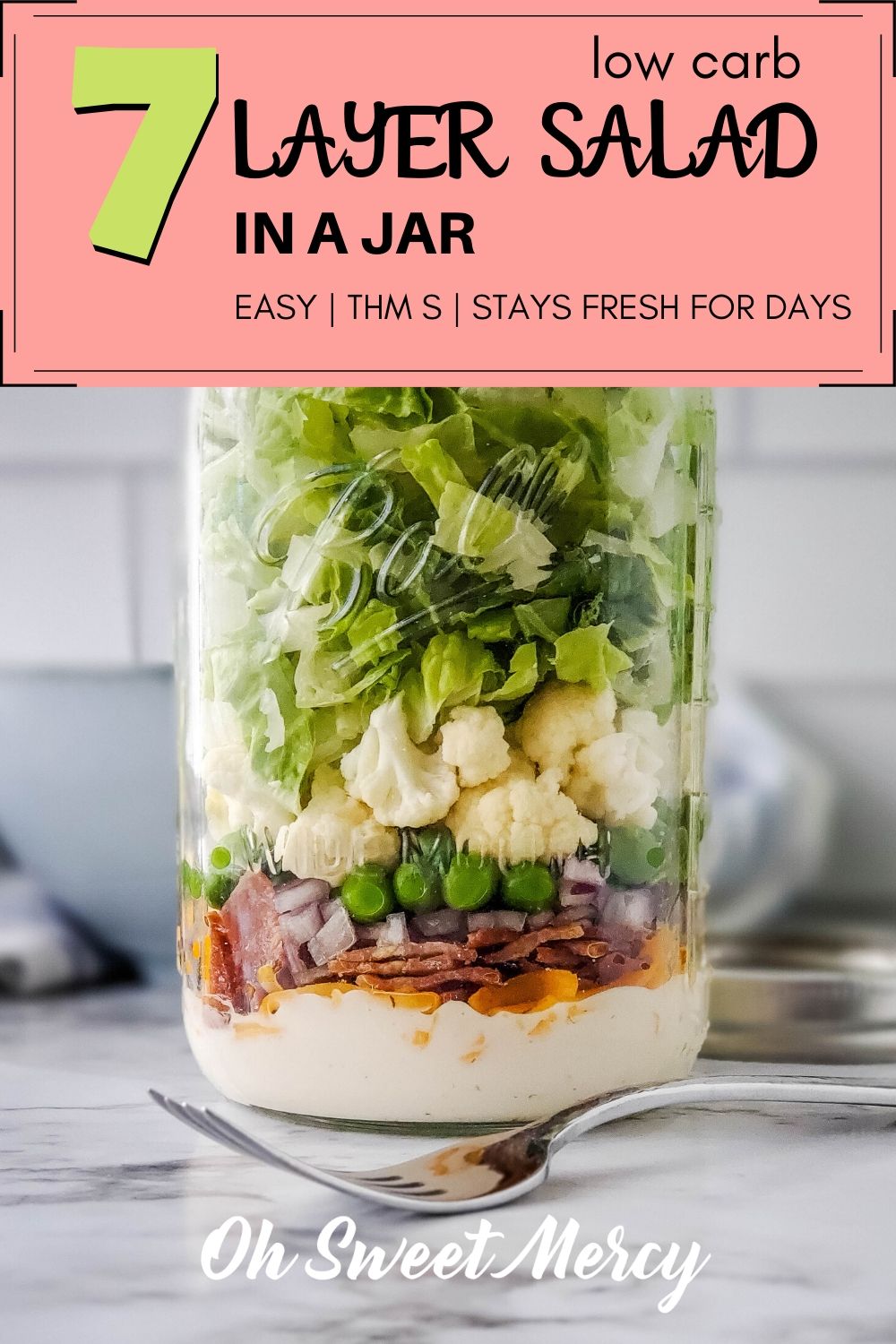 ---
Mason jar salads make it easy to keep fresh, healthy salads on hand. 7 Layer Salad In A Jar means grab and go 7 layer salad goodness ready when you are! Low carb, sugar free, and packed with veggies, it's a busy THMs best friend this summer.
---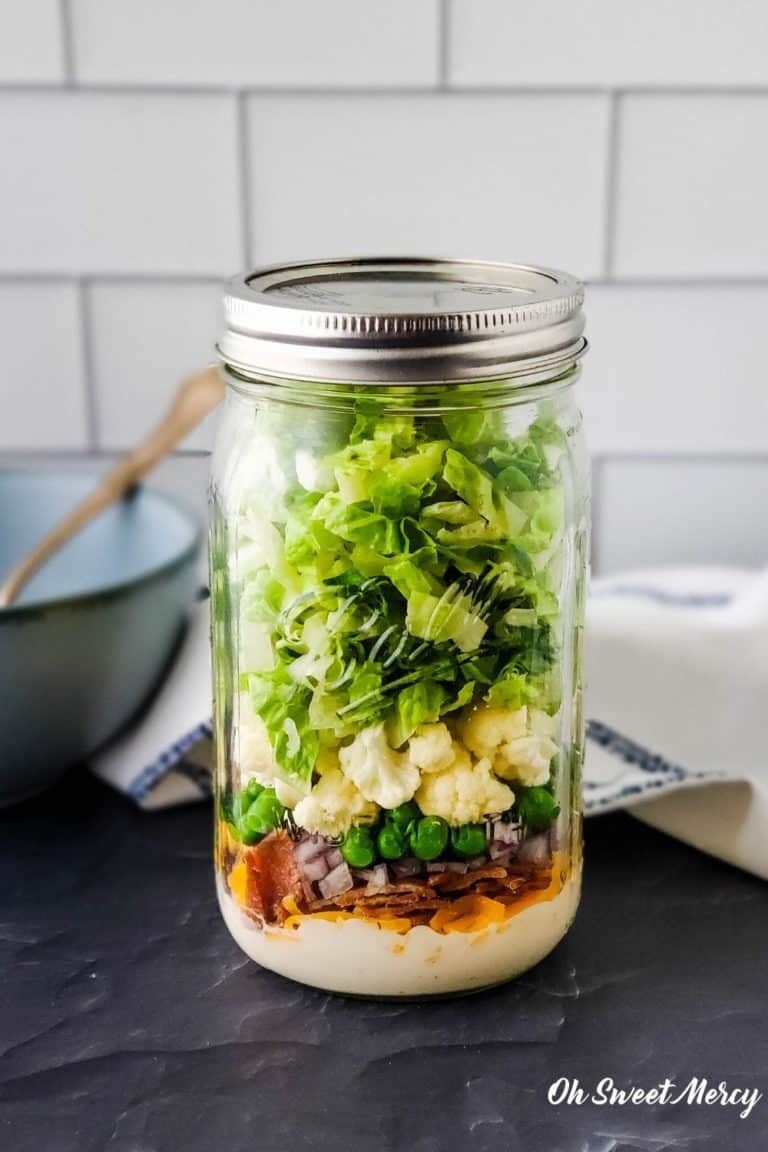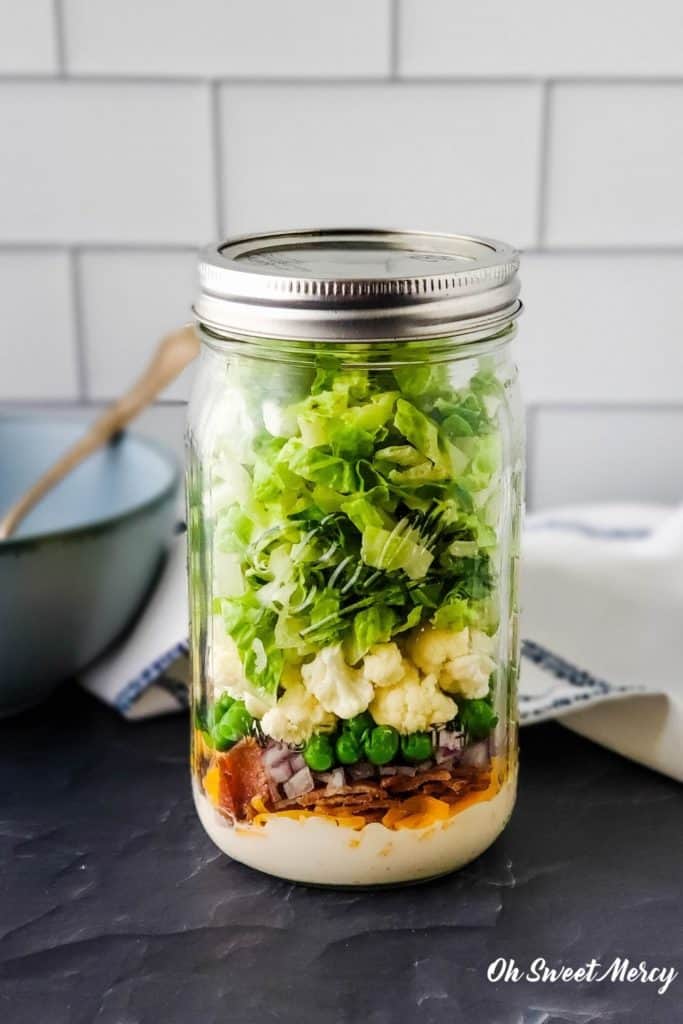 If you checked out my Low Carb 7 Layer Salad and thought "woah, that's way too much salad to make at one time" then I've got the perfect solution for you!
That salad recipe is great for large families, parties, potlucks, and other gatherings with many mouths to feed.
It also stays remarkably fresh for several days. Making a big old bowl of it and keeping it in the fridge is what we do here. Both my children love it and we love having a fresh, delicious salad ready with hardly any work.
But, for smaller families and homes where maybe you're the only salad-eater, scaling down is a good idea.
Say hello to the 7 Layer Salad In A Jar! Or, maybe you like Mason Jar 7 Layer Salad better? Either way, this simple and delicious salad is great for busy summer days.
The recipe below is for 2 quart-size mason jar salads. Halve or increase to suit your needs! You can also make smaller salads in pint jars. You'll get 4 pint size salads.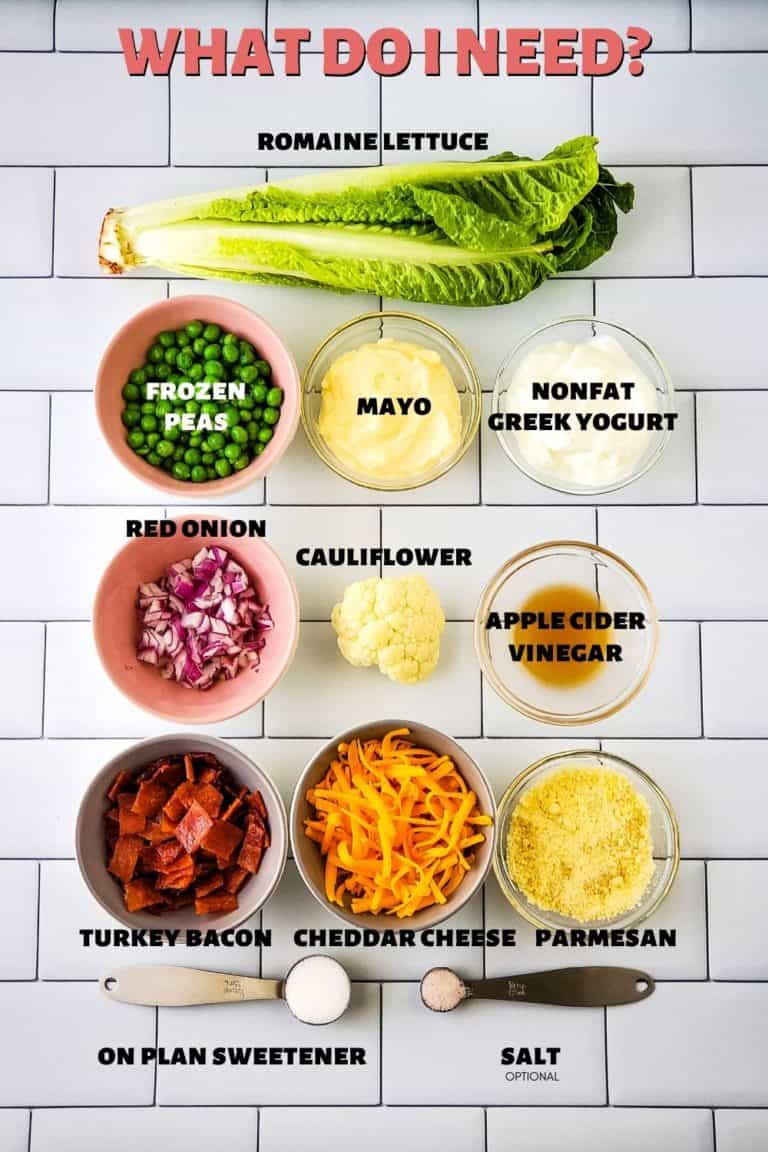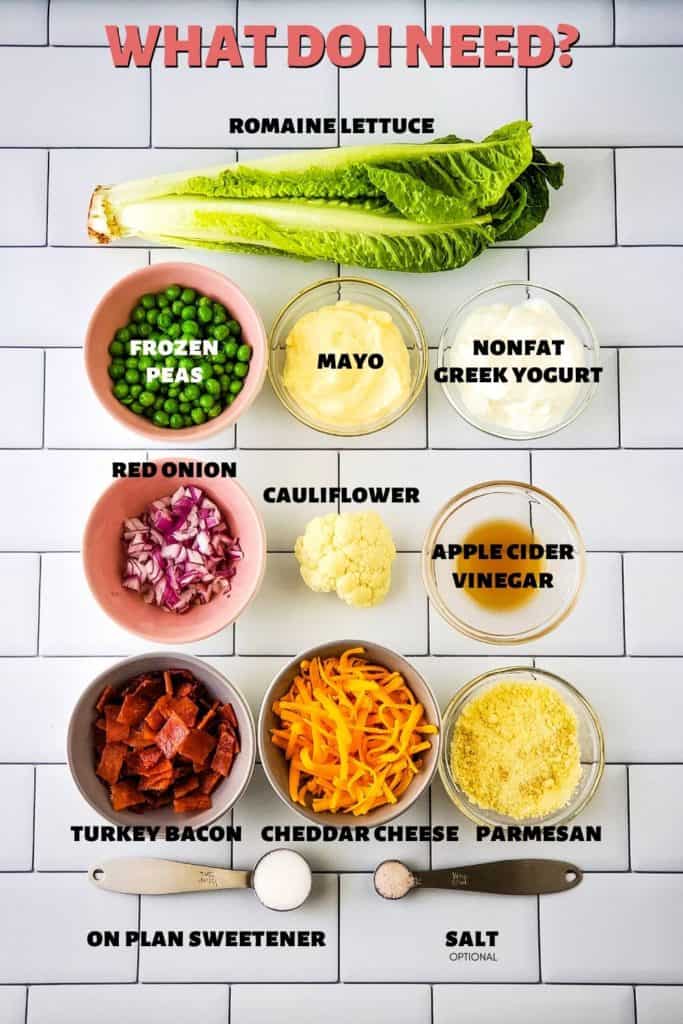 How To Make 7 Layer Salad In A Jar.
First, you need jars! I use wide-mouth canning jars. Check out these gorgeous amber colored jars (helps block light and keep things fresh)!
Also, if you don't like fiddling with lids and rings, these stainless steel jar lids are just the thing. Taking it on the go? I LOVE and use this reusable bamboo utensil set!
Next, the key to keeping salad in a jar fresh is keeping the dressing as far away from the lettuce as possible.
That's why my big-recipe 7 layer salad stays nice and fresh for so long – the dressing is on TOP and there's several layers between it and the lettuce.
I also use romaine lettuce, which is sturdier than butter lettuce, for example.
For the mason jar 7 layer salad though I put the dressing on the bottom of the jar. I've seen some people put it on top, if that's your preference go for it!
Simply layer the ingredients for your low carb mason jar salad in this order:
Dressing
Cheese
Bacon
Onions
Peas (or broccoli for lower carbs)
Cauliflower
Lettuce
Finally, tightly close a lid on your jar and pop it in the fridge.
It's always best after several hours (think overnight) in the fridge but it's ready to eat whenever you are.
How To Eat Mason Jar 7 Layer Salad On The Trim Healthy Mama Plan.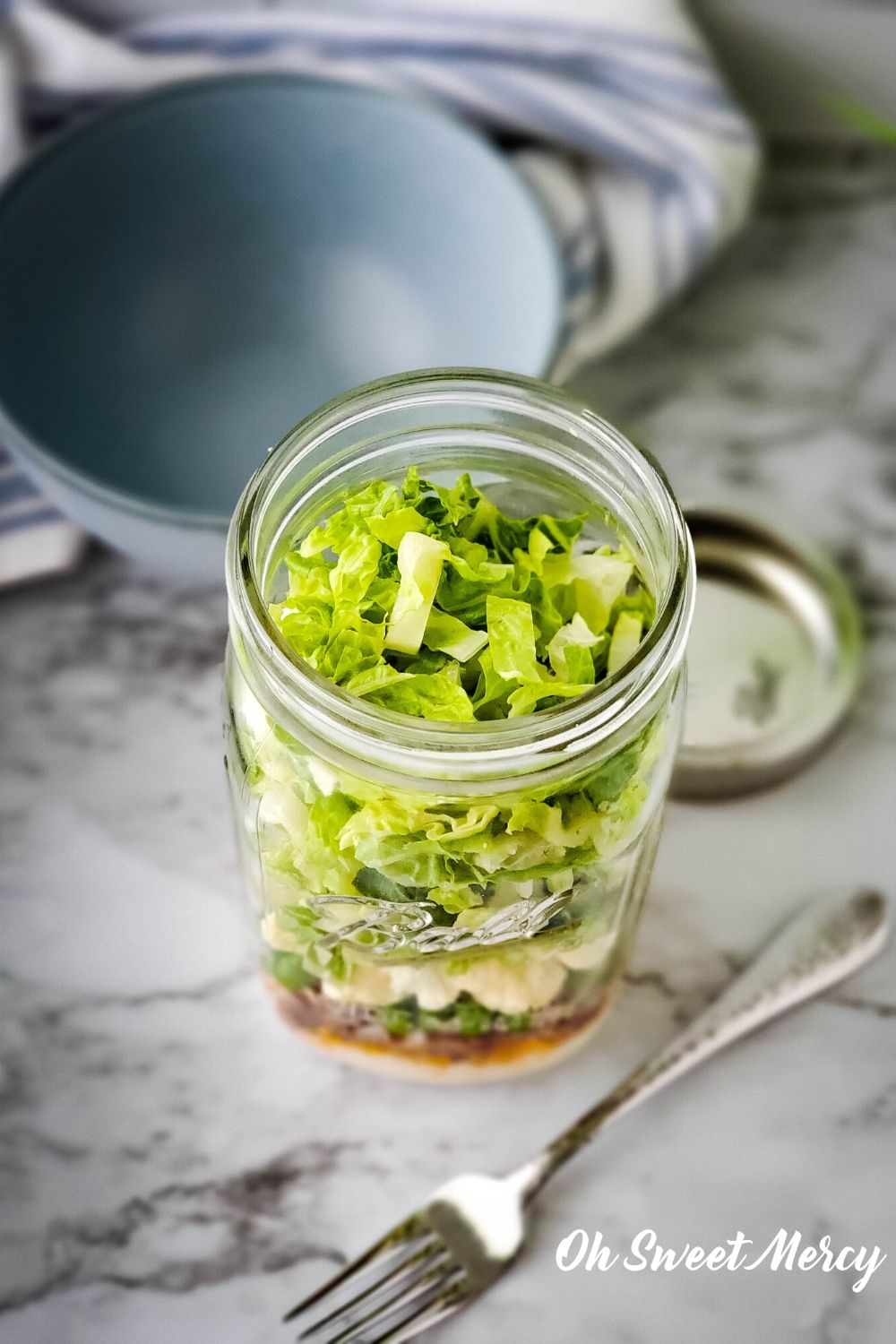 First of all, let's tackle this question: how to eat a mason jar salad?
IF you don't pack it full to the top, and you have a fairly runny dressing, you can just shake the jar until the salad is well mixed. Then, just open and eat.
However, for this 7 layer salad in a jar it's best to pour the salad out into a bowl before eating.
Low Carb 7 Layer Salad In A Jar Is A THM S.
Since we've got cheese and mayo-based dressing in our salad it qualifies as a THM S meal.
Since each serving has about 10 grams of protein, make sure and have additional protein with your salad as often as possible.
Some easy ideas:
Half a cup of Greek yogurt, sweetened with stevia and topped with fresh berries or my delicious Strawberry Rhubarb Sauce.
Add half a scoop of collagen to coffee or tea.
Make a shake for dessert! My Easy Superfood Chocolate Shake and has instructions for a "baby sized" shake perfect for dessert.
Add some cooked chicken to the salad.
Have a serving of cottage cheese.
Making 7 layer salad in a jar is a great way to be prepared and stay on-plan this week! Especially when the weather is hot and you don't feel like cooking.
With less than an hour of work you easily have a week's worth of fresh, healthy, low carb salads ready and waiting in the fridge for you!
If you like mason jar salads, check out this delicious Greek Mason Jar Salad from Wholesome Yum!
Make your own seasonings, salad dressings, and condiments! It's easy! I have several recipes for you in my Seasonings and Condiments category.
PIN IT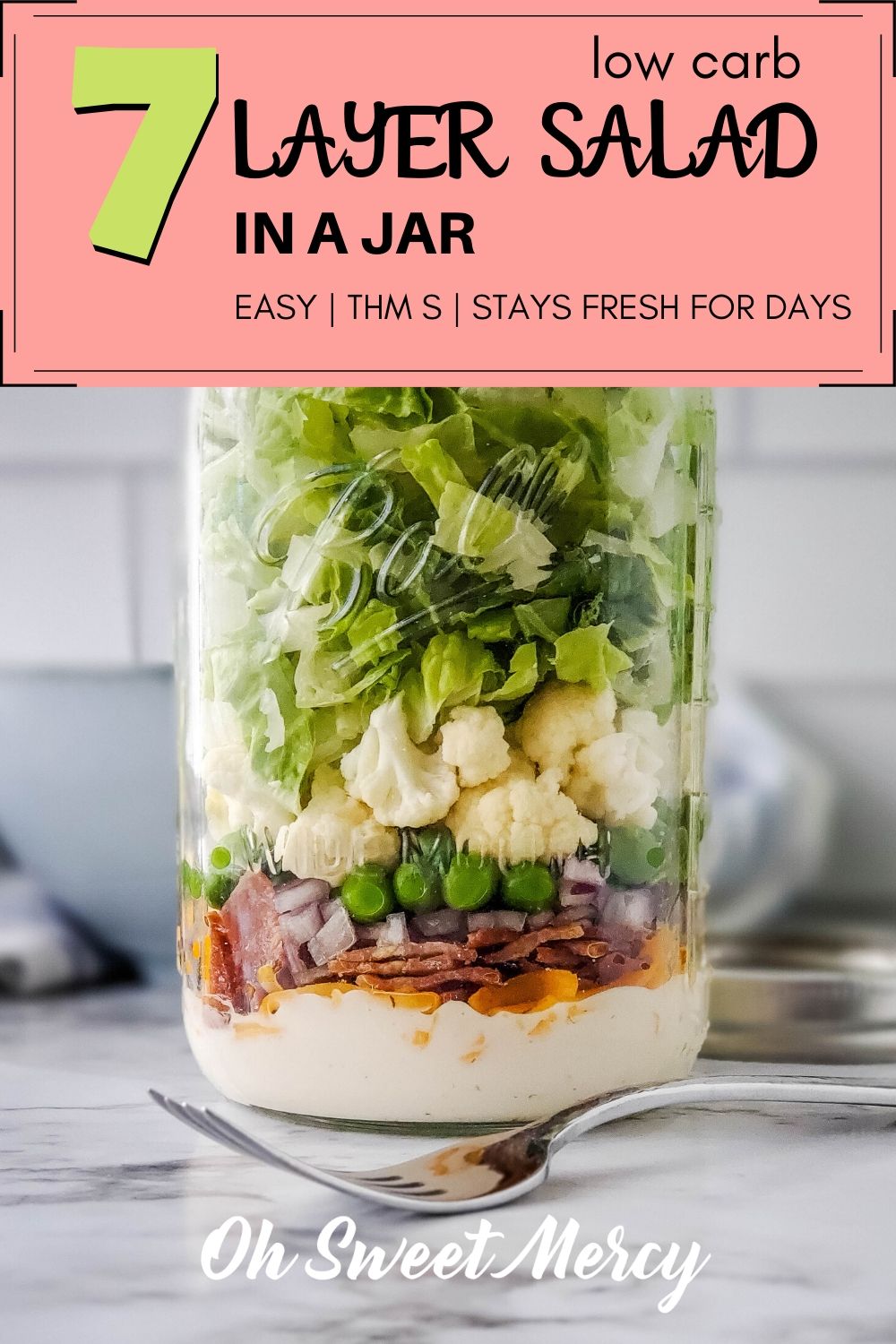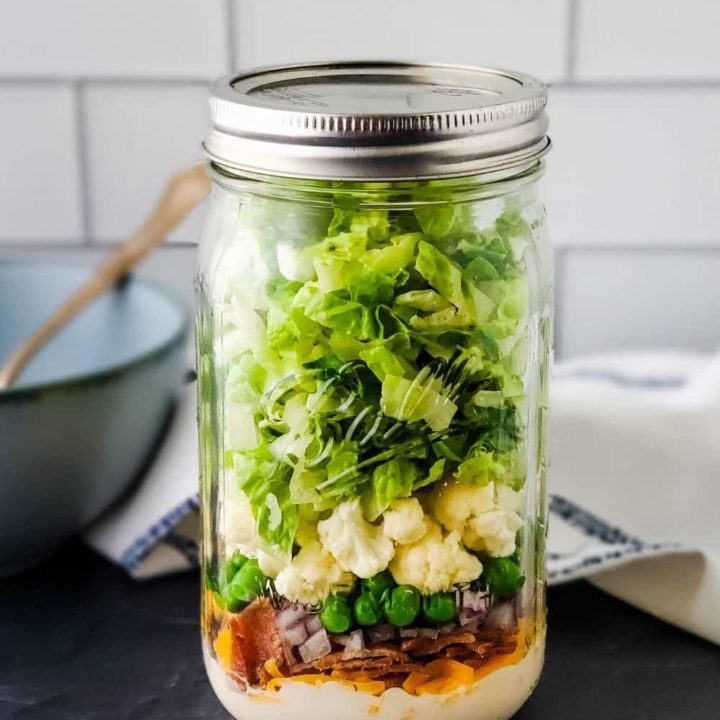 7 Layer Salad In A Jar | Low Carb, THM S
Yield: 2 Jar Salads
Prep Time: 15 minutes
Total Time: 15 minutes
Keep some Low Carb 7 Layer Salad In A Jar on hand in your fridge for quick and easy meals on hot, summer days. Cool, crisp veggies stay away from the sweet, tangy, low carb dressing until you mix them. THM S, sugar free, and delicious!
Ingredients
Dressing
2 tablespoons mayo
1 tablespoon plain non-fat Greek yogurt
1 teaspoon Parmesan cheese, grated
1/2 teaspoon Apple Cider Vinegar
Salad Ingredients
1/4 cup shredded cheddar cheese
3 slices turkey bacon, cooked and chopped
2 tablespoons diced onions
1/4 cup frozen peas, thawed (or fresh broccoli florets)
1/2 cup fresh cauliflower florets
2 cups chopped romaine lettuce
Instructions
Whisk together the dressing ingredients and divide between 2 mason jars.
Layer the rest of the salad ingredients dividing the amounts between the 2 jars:
Cheese
Turkey bacon
Onions
Peas (or broccoli)
Cauliflower
Lettuce
Put a lid on each jar and store in the fridge until ready to eat.
Should keep up to a week.
Notes
My homemade sweetener blend, Mercy Sweet, is comparable in sweetness to Pyure Organic Stevia. It's about twice as sweet as regular sugar.
If you'd rather not use peas, broccoli is a great substitute.
To make 4 pint sized mason jar salads simply divide the ingredients evenly between 4 pint mason jars.
Recommended Products
As an Amazon Associate and member of other affiliate programs, I earn from qualifying purchases.
Nutrition Information:
Yield: 2
Serving Size: 1
Amount Per Serving:
Calories: 242
Total Fat: 19g
Saturated Fat: 6.2g
Trans Fat: 0g
Unsaturated Fat: 2.8g
Cholesterol: 40mg
Sodium: 454mg
Carbohydrates: 7.1g
Net Carbohydrates: 5.2g
Fiber: 1.9g
Sugar: 3.6g
Protein: 10g
Nutrition information is approximate and based on the best knowledge available at the time of recipe publication. Your results may vary due to differences in ingredients. You can make your own calculations if this recipe does not include nutrition info by using an online calculator such as https://recipes.sparkpeople.com/recipe-calculator.asp