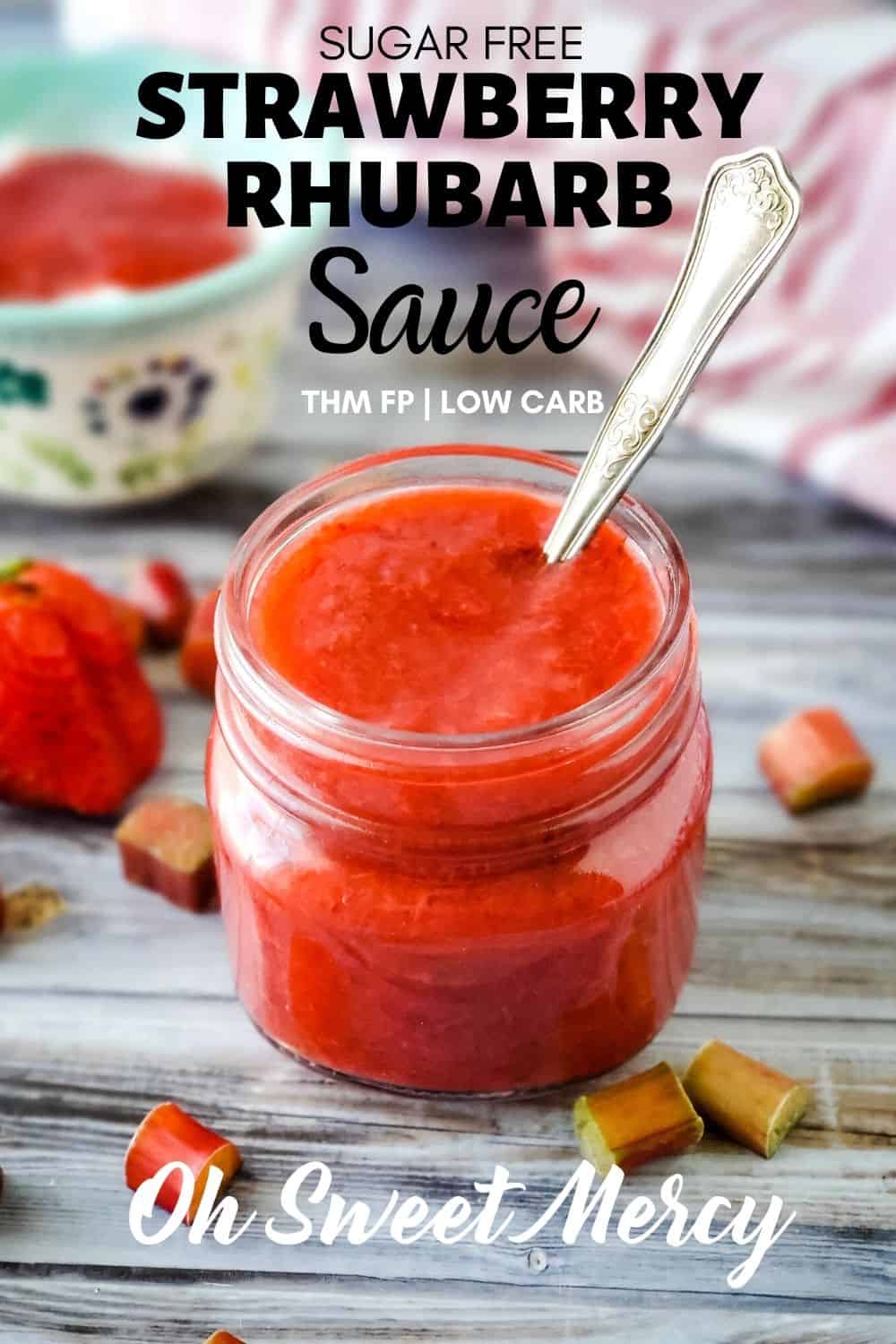 ---
Sweet, juicy, summer strawberries are the perfect complement to tart and tangy rhubarb. My sugar free strawberry rhubarb sauce is a delicious topping for ice cream, swirling into yogurt, or make it thick like a jam to spread on toast and bread. Trim Healthy Mamas, it's super easy and a delicious summer Fuel Pull treat.
---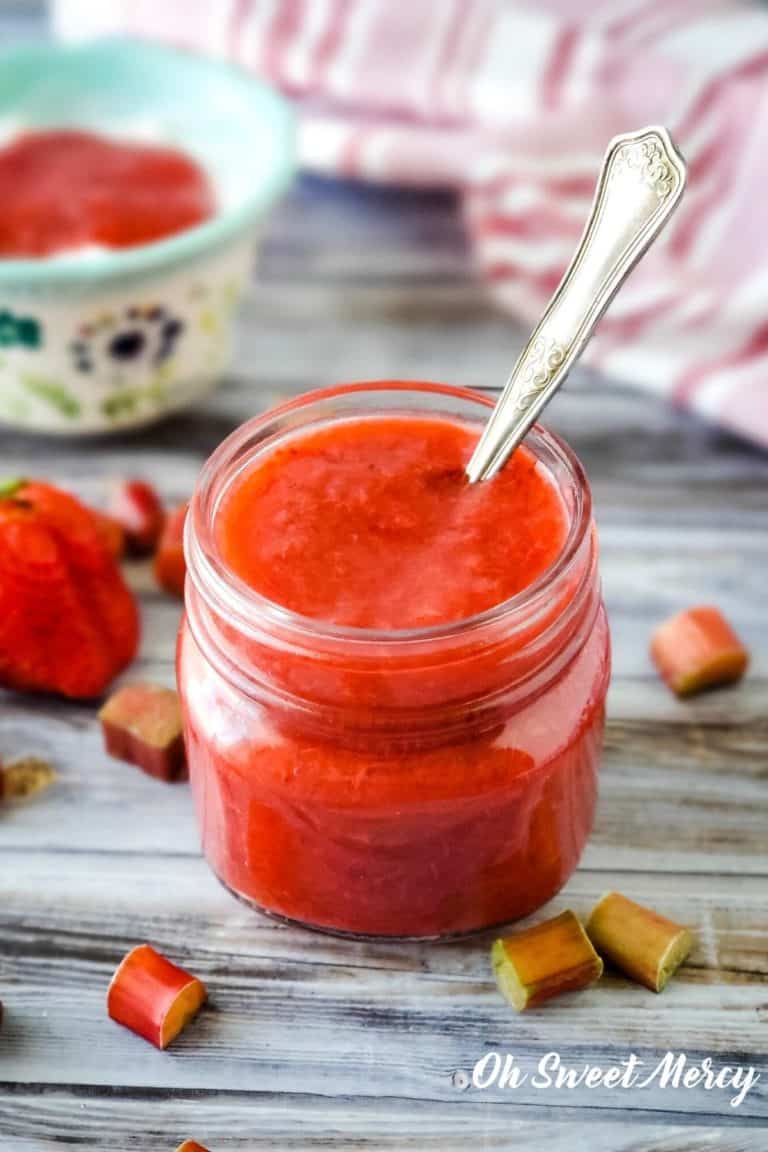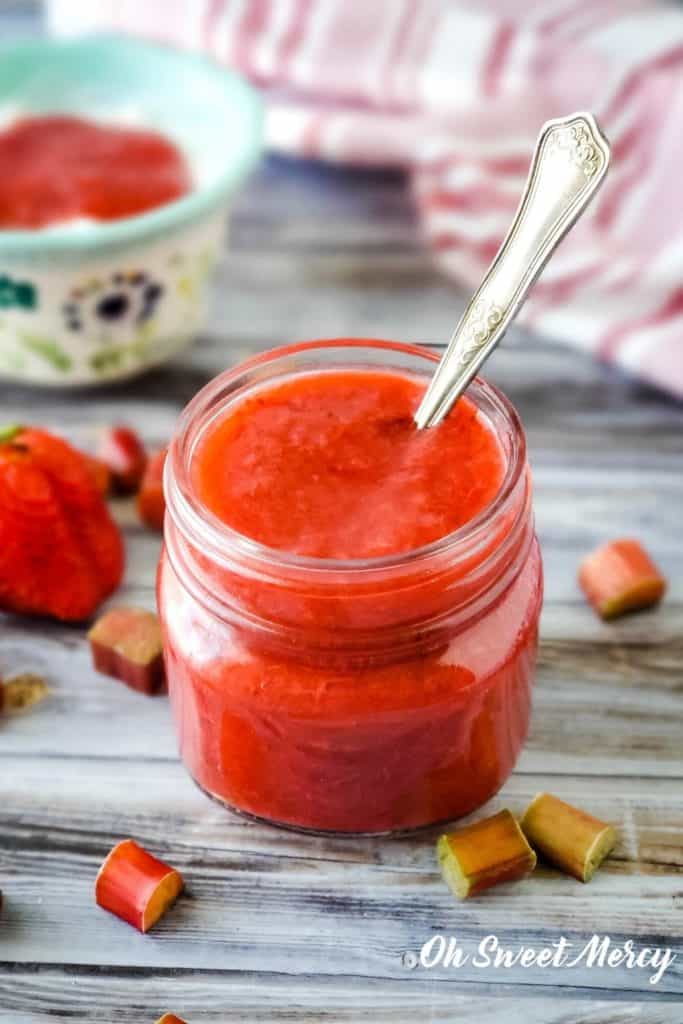 If you've been following the blog lately, you know I'm rhubarbing all the things right now.
I had some surprise rhubarb sprout up in my yard. Not enough to do a whole lot with, so I've also been supporting local farm stands to get my rhubarb fix.
Rhubarb is super tart and needs a lot of sweetness, but this strawberry rhubarb sauce is sweetened with a stevia and erythritol blend (or your favorite sweetener) and won't impact your blood sugar.
Since it's both low in carbs and fat free, it's a THM FP (Fuel Pull) sauce. Make it a bit thicker and you've got yourself sugar free strawberry rhubarb jam.
How To Make Sugar Free Strawberry Rhubarb Sauce (Or Jam).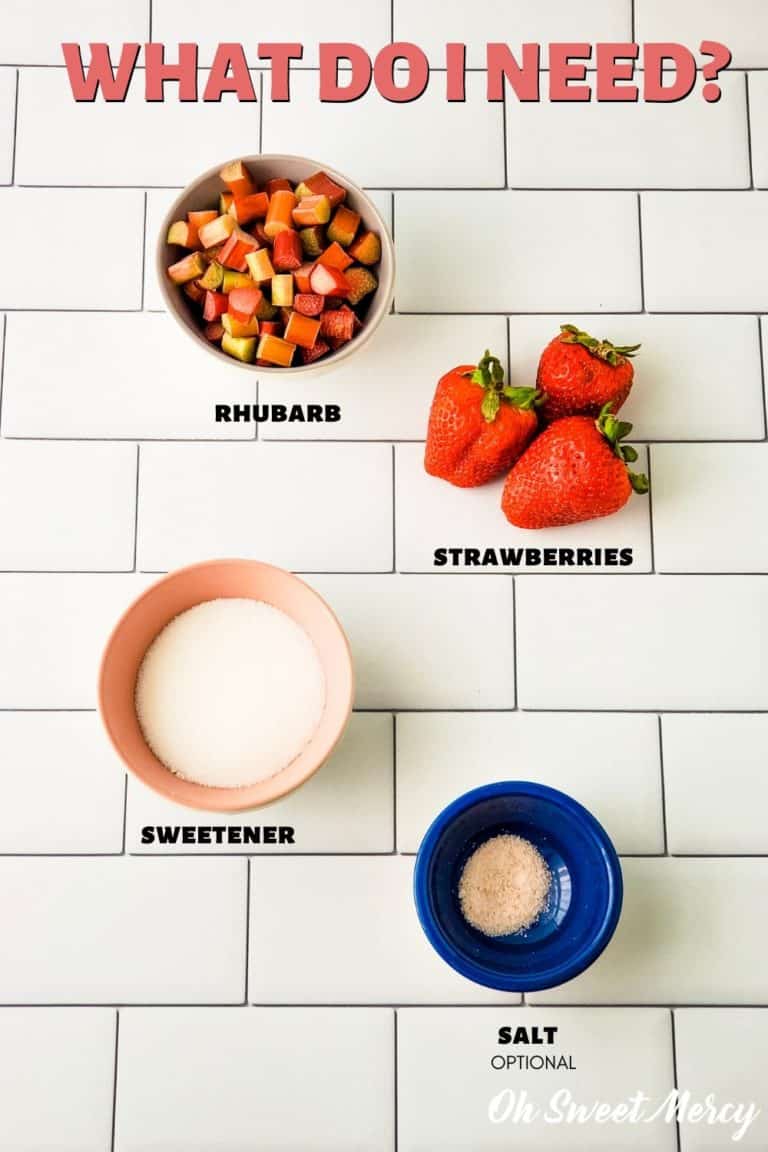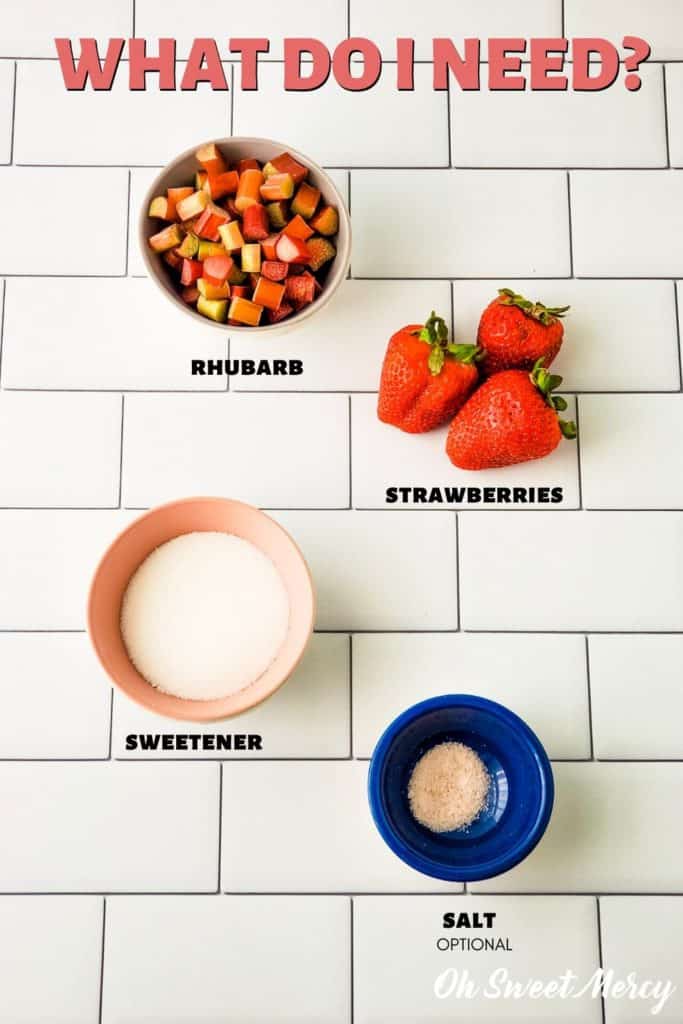 The most difficult part of making this sweet, tangy, fruity sauce is waiting for it to cool.
It's delicious warm or cold, though!
Simply wash and chop your rhubarb into 1/2″ chunks and slice your strawberries.
Add them to a pot with water, bring to a boil, then simmer. How much water and how long you simmer depends on how thick you want your sauce.
For a pourable sauce consistency, add 1/2 cup. For a jam consistency add 1/4 or 1/8 cup.
Keeping in mind that the sauce thickens slightly when cool, simmer until the rhubarb and strawberries become very soft and mashable.
Using a potato masher, mash the mixture until it is as chunky or smooth as you like.
Alternatively, use an immersion blender. Just be careful, the sauce is very hot and may splash while blending!
Remove from the heat and sweeten to taste. I use my Mercy Sweet sweetener blend but if you don't care for sugar alcohols like erythritol, pure stevia extract is perfectly fine.
Delicious Ways To Eat Sugar Free Strawberry Rhubarb Sauce.
Here's the fun part! Eating this deep, red, tartly-sweet goodness.
My first choice is with ice cream. Hey, it's summer! Ice cream is where it's at. And my Strawberry Rhubarb Swirl Ice Cream is definitely where it's at.
Since my strawberry rhubarb sauce is a THM FP, it's low in fat and carbs and fits with THM S, E, and FP style meals.
NOTE: Since berries are not allowed in THM Deep S meals, this sauce is not OK for a Deep S.
But, we need balance of course so here's some THM Fuel Pull and THM E ways to enjoy this delicious sauce or jam.
THM Fuel Pull Ideas.
Swirl into non-fat Greek yogurt. In addition to antioxidants and vitamin C, this slimming treat also nourishes your gut with healthy probiotics.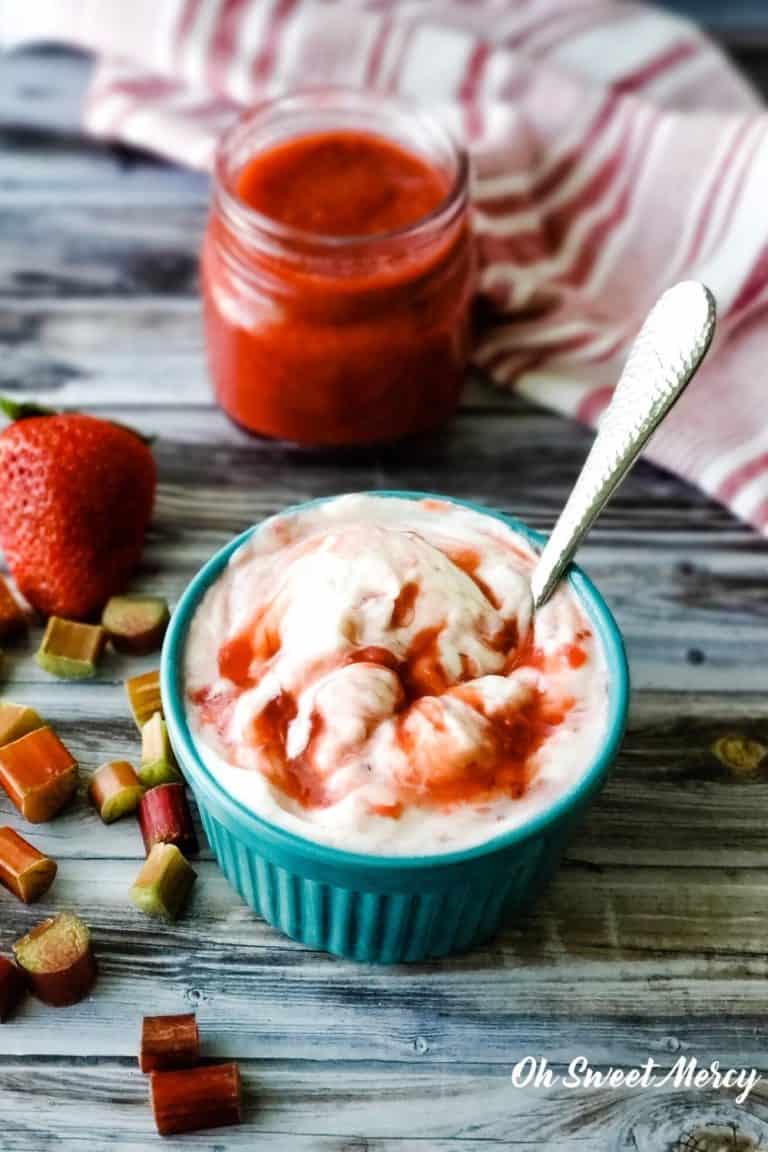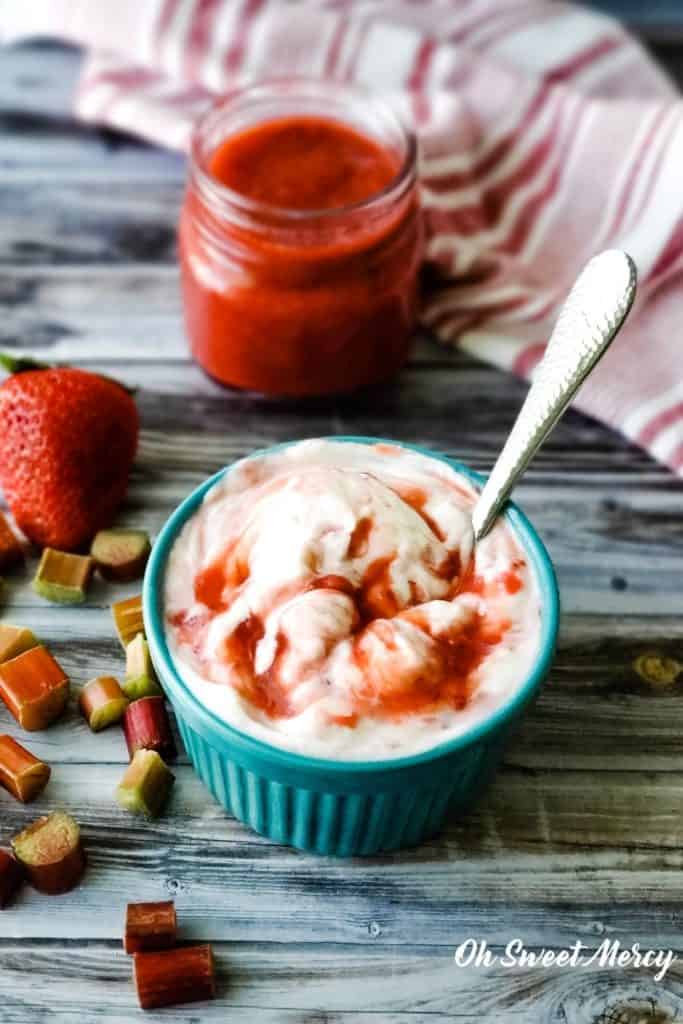 Top your low-fat cottage cheese with strawberry rhubarb sauce. It's a tangy change from the usual berries!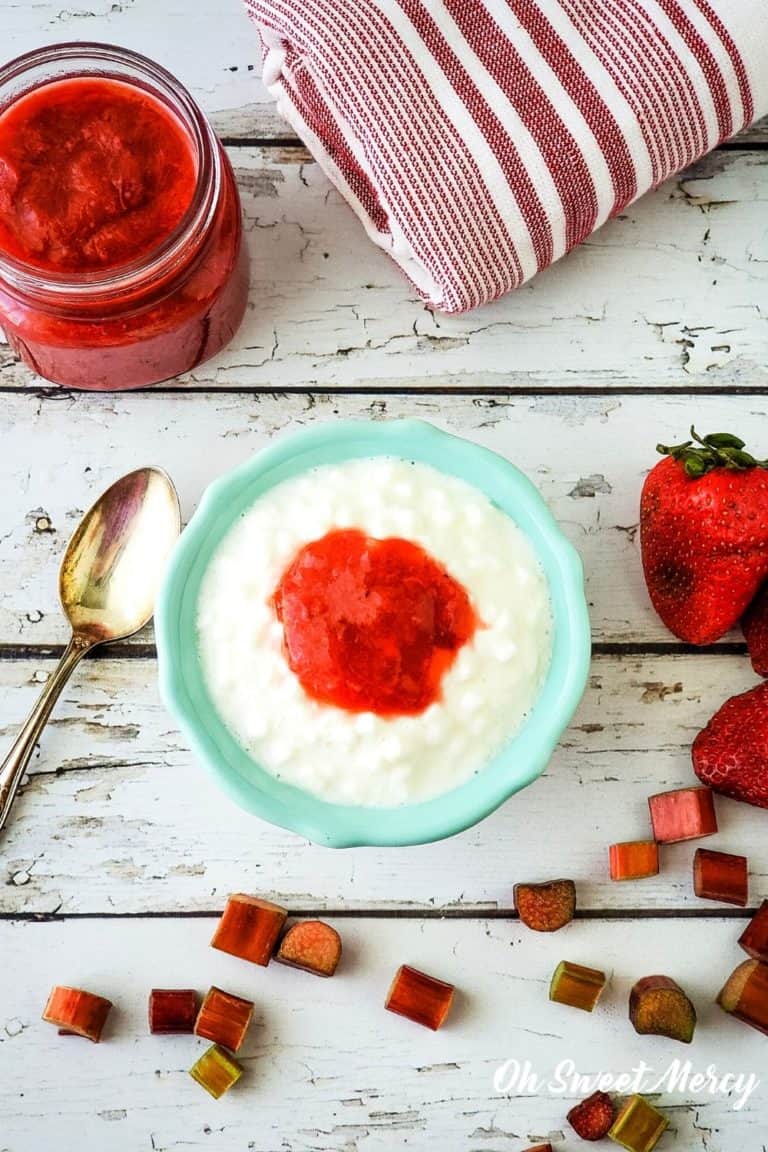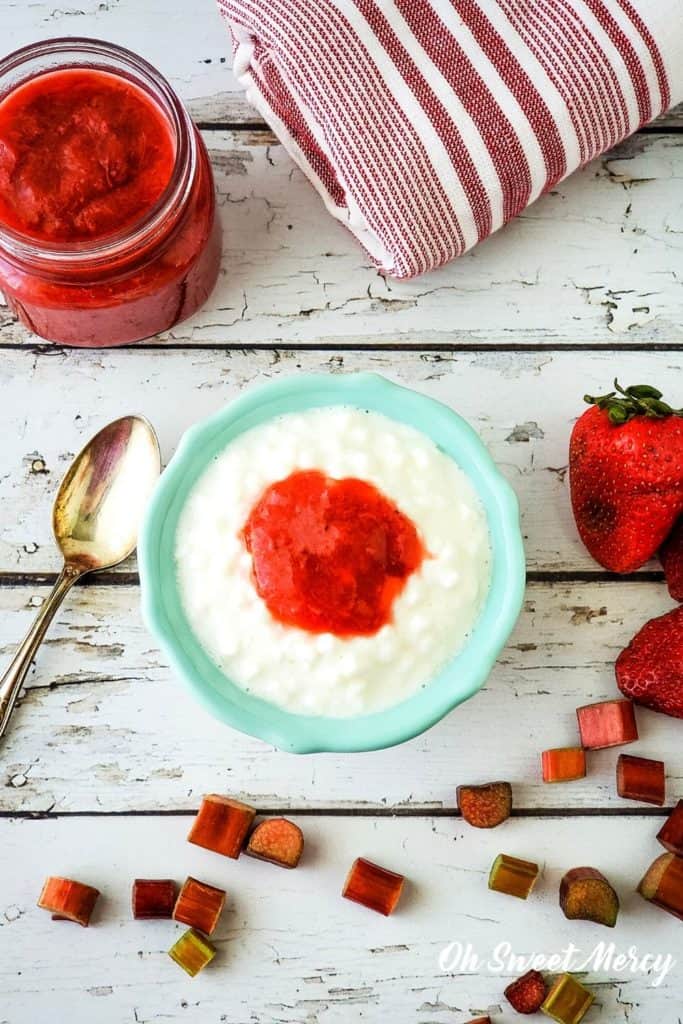 Add to smoothies, top muffins, or honestly…just eat by the spoonful. It's just yummy no matter how you eat it.
THM E Ways To Eat Strawberry Rhubarb Sauce.
One of the best ways for enjoying low fat, higher (healthy) carb THM E meals is by adding lots of flavor. This tangy sauce does the trick!
Spread it onto toasted, sprouted bread. Or, use your favorite THM E friendly bread option. Even as a sauce, it's delicious on toast.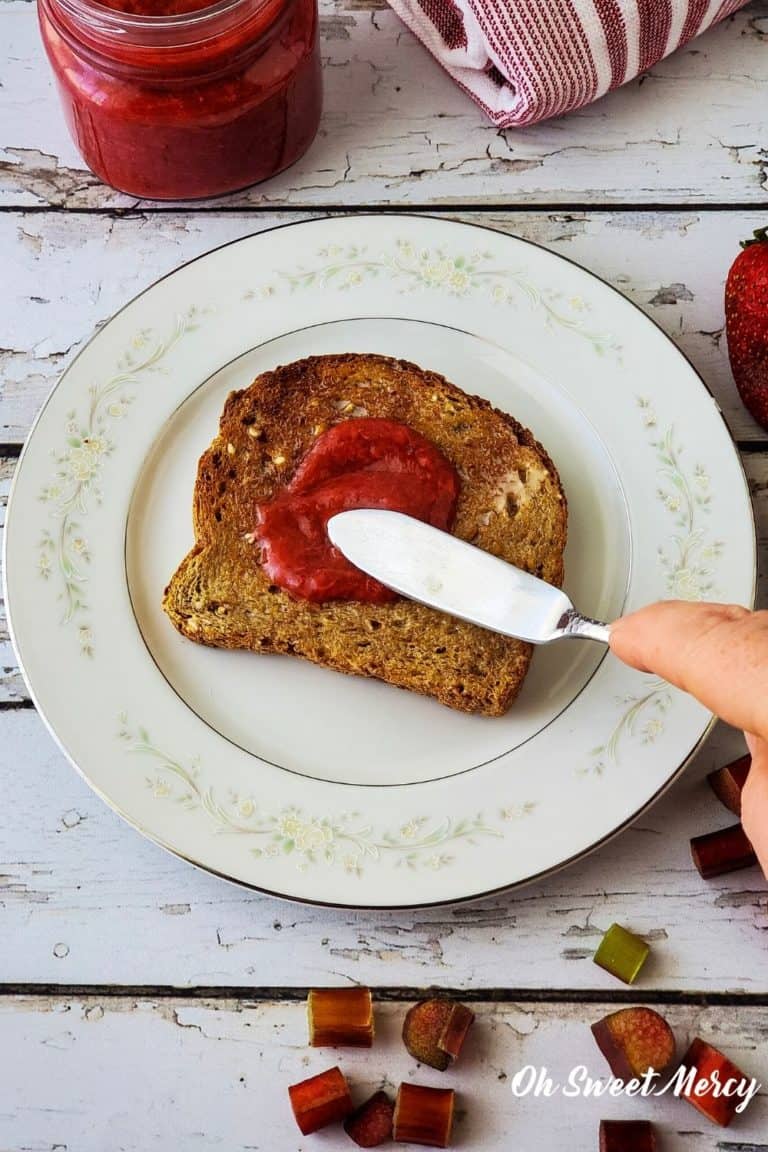 Make Strawberry Rhubarb Cottage Toast. Cottage Style Toast is a recipe found in the original THM plan book and is actually more of a savory recipe.
But, you can top your toast with low fat cottage cheese instead of butter and then top the cottage cheese with anything you want – savory or sweet.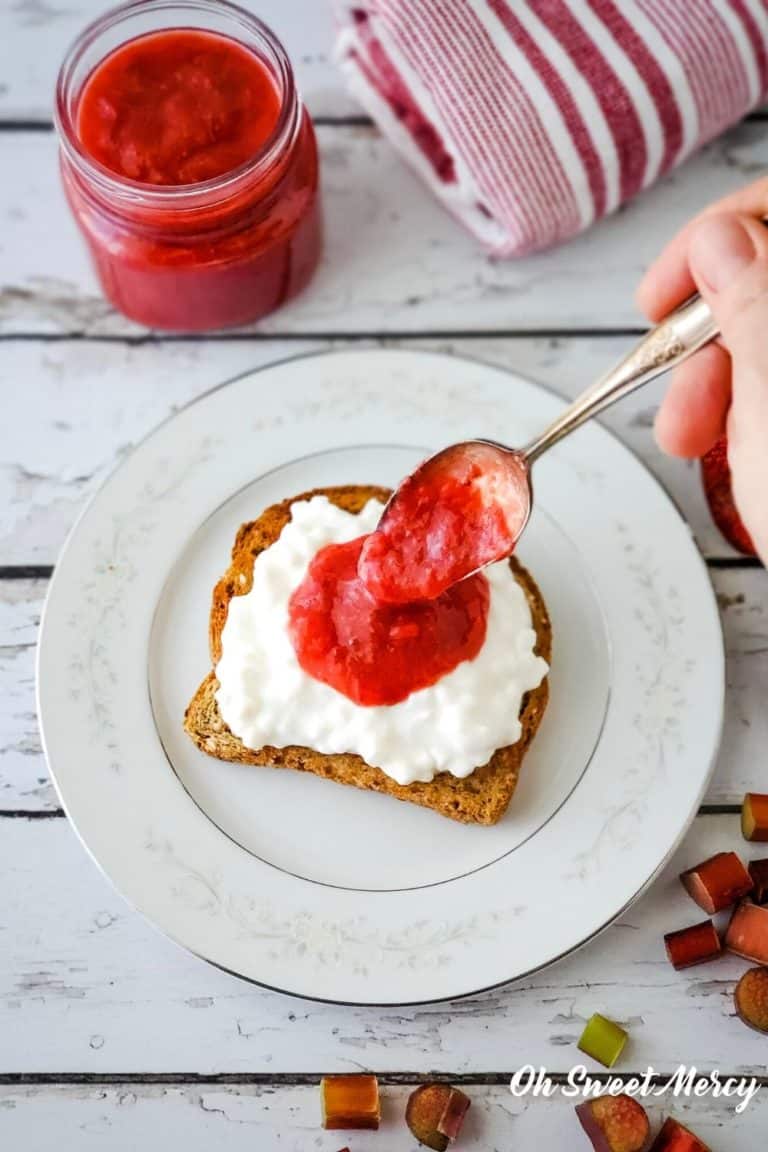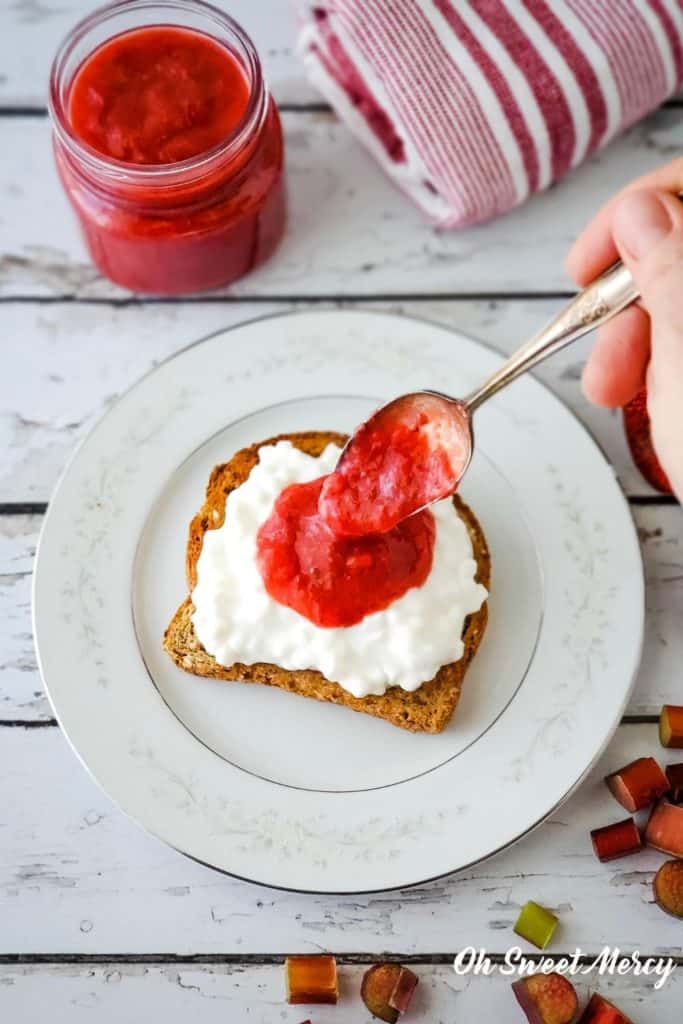 Stir it into Creamy Quinoa instead of berries (or in addition to them if you love berries).
Stir into applesauce and make a variation of my Caramel Apple Yogurt Parfait. Just swap vanilla for the caramel extract in the yogurt.
Got some peanut powder? Make some low fat peanut butter, spread on your favorite THM E friendly bread, schmear with some of this strawberry rhubarb sauce or jam, and enjoy a good old fashioned PB&J, THM style.
How Many Carbs Does Sugar Free Strawberry Rhubarb Sauce Contain?
The best part of this yummy, summery sauce? It contains very few carbs!
The nutrition information in the recipe card below is for a one tablespoon serving.
Each tablespoon has less than 1 gram of net carbs (0.7).
Per 1/4 cup serving, the net carb count is 2.5 grams.
On the Trim Healthy Mama plan, we can have up to one cup of fresh or frozen strawberries. Rhubarb is considered a FP (Fuel Pull) and has very few carbs at all.
Not surprising, since it's so tart, right?
1 cup of rhubarb has 6 grams carbs, 3 grams fiber (for 3 grams of net carbs) and only 1.5 grams sugars. Check out the Rhubarb Compendium for all kinds of rhubarb info.
So, to sum up – strawberry rhubarb sauce is a great way to add flavor and nutrition to nearly all your THM meals without adding a bunch of extra fuel.
How will you use this easy Sugar Free Strawberry Rhubarb Sauce?
PIN IT!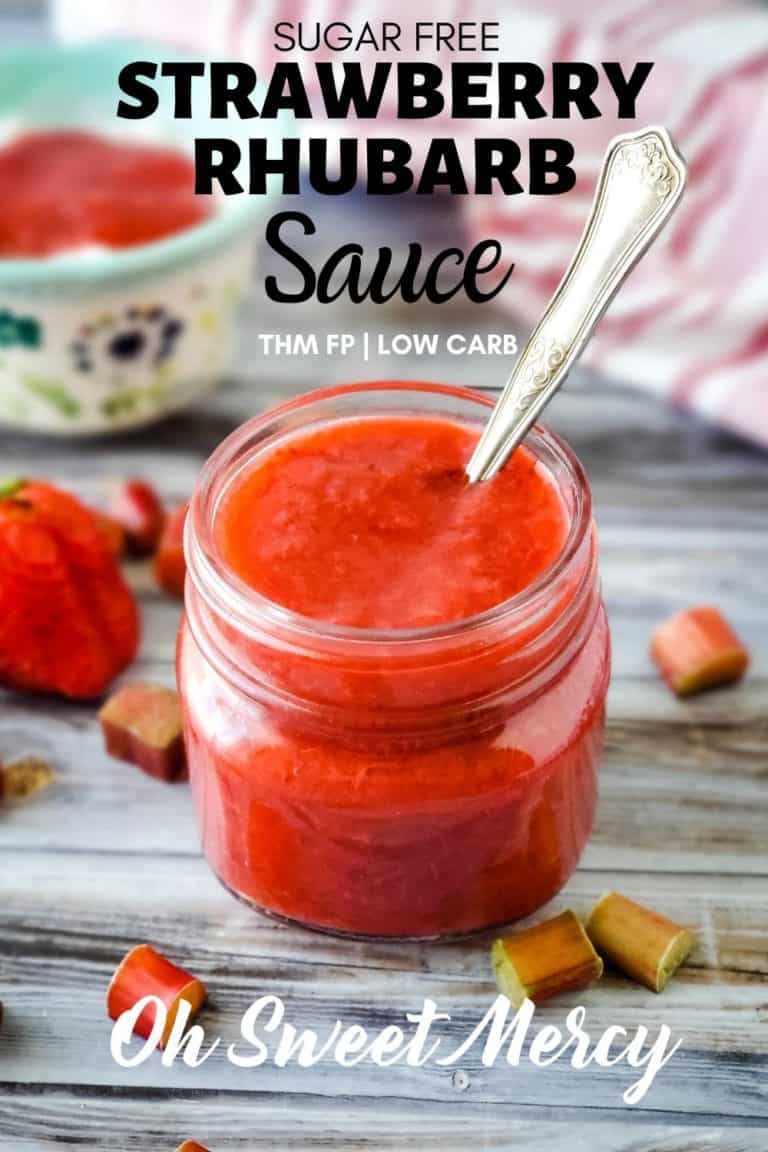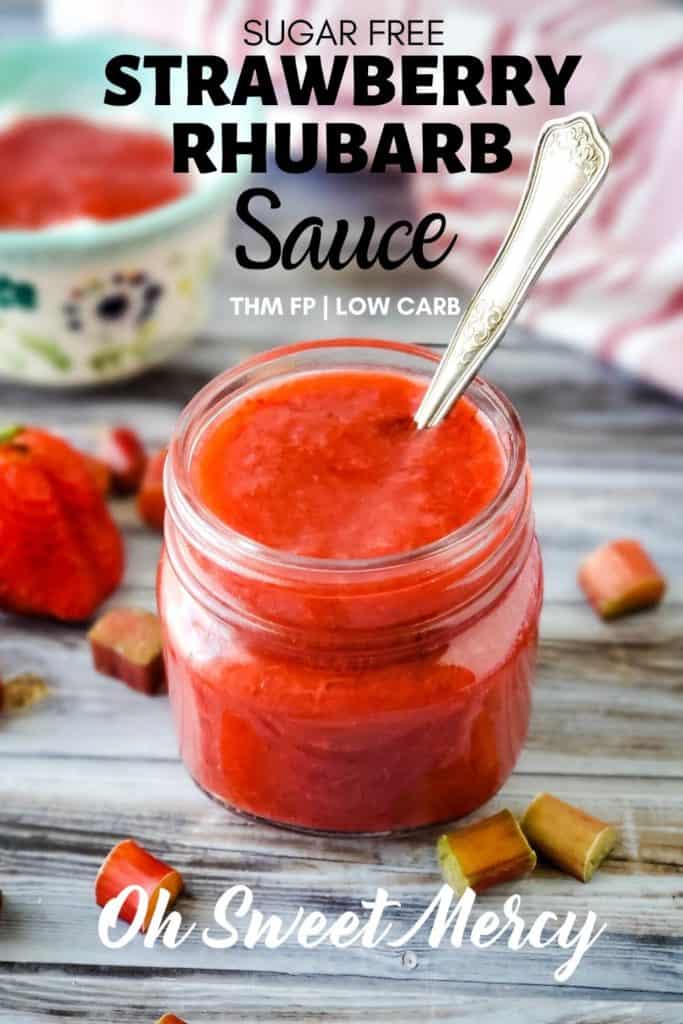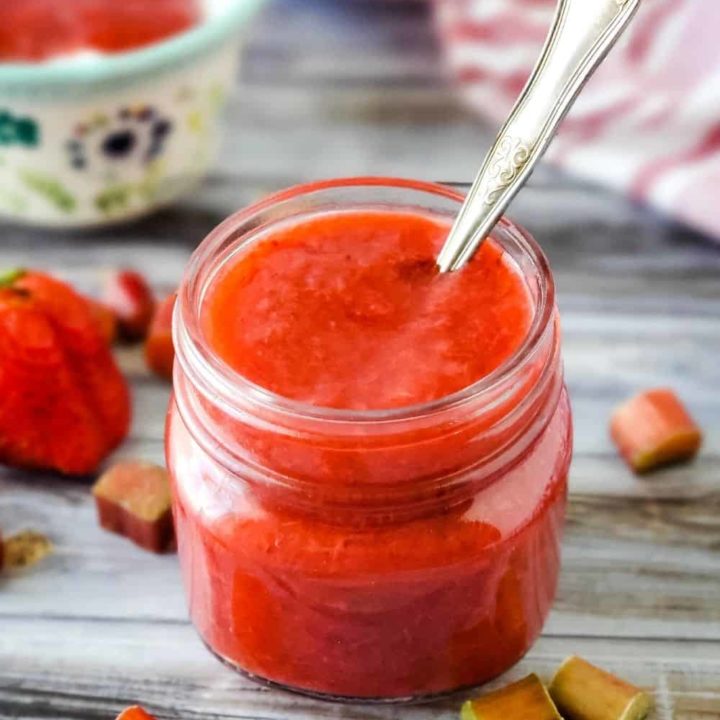 Sugar Free Strawberry Rhubarb Sauce (or Jam) | THM FP, Low Carb, Fat Free
Yield: 48 tablespoons (3 cups)
Prep Time: 10 minutes
Cook Time: 20 minutes
Total Time: 30 minutes
Sweet, juicy, summer strawberries and tart, tangy rhubarb come together in an easy, sugar free sauce that's perfect for ice cream, yogurt, and more. Very low carbs and fat free - a tasty THM Fuel Pull sauce for all your THM meals and snacks this summer.
Ingredients
3 cups sliced strawberries (fresh or frozen)
2 cups diced rhubarb (fresh or frozen)
1/2 cup water, or less - see notes
Instructions
In a pot, add strawberries, rhubarb, and water.
Bring to a boil then reduce to simmer.
Cook until strawberries and rhubarb are very soft and mashable.
Use a potato masher to mash the mixture into a puree, as smooth or chunky as you like.
Or, use a stick blender to carefully puree.
Remove from heat and sweeten to taste.
Enjoy warm or cool completely for adding to ice cream or other cold foods.
Notes
If using fresh berries and rhubarb, for a mor jam-like consistency, use up to 1/4 cup water.
If using frozen berries and/or rhubarb, omit the water or just add a tablespoon or 2 at most.
The sauce will thicken slightly in the fridge. You can also cook it down to a very thick consistency if you like.
Recommended Products
As an Amazon Associate and member of other affiliate programs, I earn from qualifying purchases.
Nutrition Information:
Yield: 48
Serving Size: 1 tablespoon
Amount Per Serving:
Calories: 4.2
Total Fat: 0g
Saturated Fat: 0g
Trans Fat: 0g
Unsaturated Fat: 0g
Cholesterol: 0mg
Sodium: 0.3mg
Carbohydrates: 1g
Net Carbohydrates: 0.7g
Fiber: 0.3g
Sugar: 1.6g
Protein: 0.1g
Nutrition information is approximate and based on the best knowledge available at the time of recipe publication. Your results may vary due to differences in ingredients. You can make your own calculations if this recipe does not include nutrition info by using an online calculator such as https://recipes.sparkpeople.com/recipe-calculator.asp