Need a quick and easy snack, or dish to take to a potluck?
This guacamole recipe is so easy to make! Seriously, it's like three steps…easy peasy! One of my daughter's friends taught her how to make it and we call it Lily's Salsa. I love it for two reasons – one, it made my daughter love avocados, which are full of healthy goodness, and two…it's crazy easy. Oh, and so delicious!
Ok sorry, that was three reasons. Oops…
Step 1: Remove the flesh from the avocado.
I was outside when my sweet daughter made guacamole, so I didn't get pictures of her making this easy guacamole recipe. If you need to know how to pit and skin an avocado, watch this quick video from The Latin Kitchen.

Put the avocado flesh into a mixing bowl.
2. Measure remaining ingredients
This guacamole recipe uses healthy ingredients you probably already have in your kitchen. Hopefully, you make your own salsa because it's soooo much better! If not, here's a couple recipes from two of my fellow THM bloggers:
Criddle Family Salsa – Mrs. Criddle's Kitchen
Fresh Salsa – Nana's Little Kitchen
If you don't make your own or don't have time, use whatever salsa you have on hand or want to purchase. We usually make our own, but this time used an organic salsa from Aldi that is really good.
You'll only add a few other commonly found ingredients to this easy guacamole recipe and then…
3. Mash it together
Take a fork or a potato masher, if you're doing a large batch, and mash it all together until all the ingredients are well incorporated.
This will make enough to fill a 16 ounce sour cream container, which I believe is two cups. Double or triple to make enough for a very large family or potluck! You can also add a bit of lime juice or citric acid to keep it from turning brown.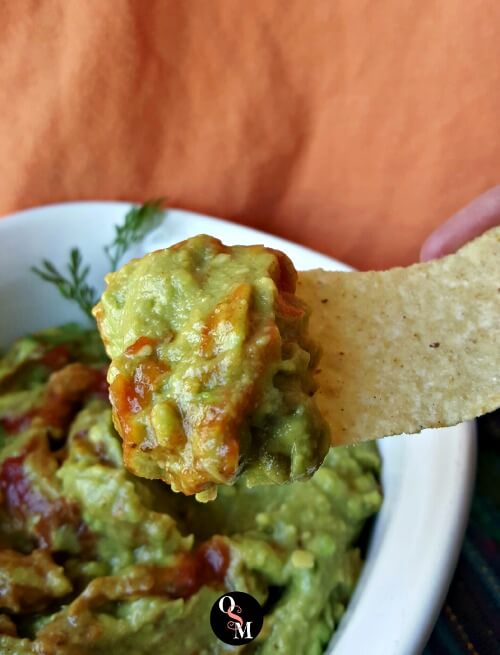 Trim Healthy Mamas, here's how to fit this easy guacamole recipe into your healthy eating plan.
Avocados are ALWAYS an S, so you'll want to have this yummy dip with on-plan LOW CARB dippers, such as non-starchy veggies, cheese "crackers" (I have an easy recipe here), tortilla chips made from Joseph's Lavash breads or other low carb wraps (keep to a 6g net carb serving). Or, add to S style tacos or taco salad, stuff a low carb wrap with taco meat,
Or, add to S style tacos or taco salad, stuff a low carb wrap with taco meat, cauli rice and guacamole, or top a piece of grilled meat with it. So delish!
Really, you only need ONE reason to make this…it's fabulously delicious and easy.
Oops, there I go again, that's two reasons.
Just make it. Trust me, you won't be disappointed!
Let's make some guacamole!
You'll Love This Easy, 3 Step Guacamole Recipe
This easy, delicious guacamole recipe comes together in a snap and makes a great snack or topping for tacos, burritos and grilled meats. Double, triple or more for large families or to take to potlucks.
Author:
Dawn | Oh Sweet Mercy
Ingredients
3 ripe avocados
1½ Tbs salsa, or more if desired
1 tsp garlic powder
½ tsp onion powder
1 tsp mineral salt, like pink Himalayan, or to taste
A couple shakes of pepper
Squeeze of lemon or lime juice OR sprinkle of citric acid, to prevent browning (optional)
Instructions
Seed and skin the avocados and place flesh in a mixing bowl
Add remaining ingredients
Mash with a fork or potato masher until well incorporated
Notes
Trim Healthy Mamas, remember that avocados are ALWAYS an S. Full of healthy fats, they are deeply nourishing and a great addition to your healthy eating plan. Enjoy with low carb options, keeping your net carb total to 10 g or less (6g or less if using low carb wraps as these are considered "frankenfoods").
Like this recipe? Your friends will too! Please share and pin to your favorite Pinterest boards. I love to hear from my readers, too…leave a comment below!