---
If you have issues with dairy, you know it can be hard to find rich, creamy desserts. Dairy just lends such a lovely creamy texture and it's not easy to replicate without…well, the dairy. This rich, creamy, coconut milk custard is made with full fat coconut milk, pastured eggs, vanilla bean, and lightly sweetened with stevia. Paired with a sweet, tangy, fruity rhubarb sauce it will have you saying "oh sweet mercy, that is good!" Trim Healthy Mamas also know that too much dairy can stall progress, so this is a great way to indulge in creamy custard without the dairy.
---
Plan ahead, this custard is a labor of love!
I wish I could tell you this coconut milk custard recipe is as quick and easy as my dairy free Mango Lime Instant Pudding. This is a cooked custard, and it requires constant attention for about half an hour.
If you don't have a double boiler, you can use a bowl set on top of a sauce pan in which you have an inch or so of boiling water. You want to gently cook the custard, whisking almost constantly, to keep it smooth. I don't have a double boiler, so I used a glass mixing bowl on top of a sauce pan and it worked just fine.
I know, it sounds complicated and like a whole lot of work but I promise you it's worth every bit of time and effort! You can scroll through your news feed while you whisk, right?
Mister doesn't like coconut, and Sister only recently decided she kind of likes it. They both requested that I make coconut milk custard with rhubarb sauce for their birthdays.
I'm going to have to hide it when I make it because I really don't want to share!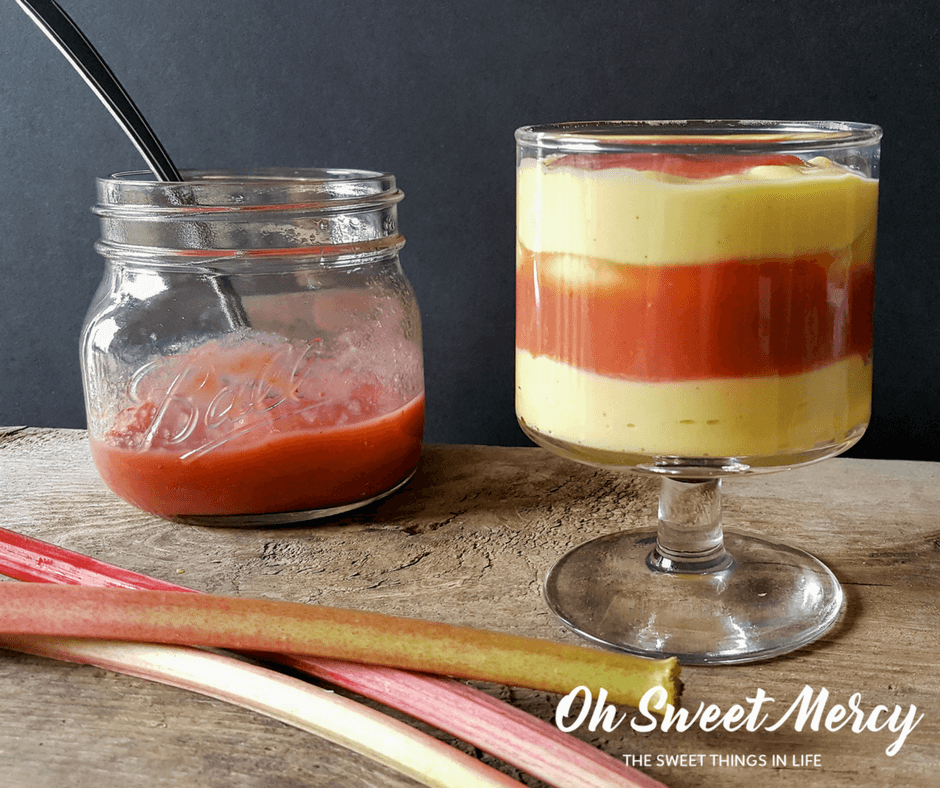 A creamy coconut milk custard worthy of reverence.
The custard on its own is simply delicious, but my mind was dreaming of a sweet, tart, fruity sauce to pair with it. My dear, sweet grandma had just given me some rhubarb, and if anything is tart it's rhubarb!
The first smooth and dreamy bite of this vanilla coconut milk custard with a swirl of tart, sweet rhubarb sauce had me closing my eyes and whispering oh sweet mercy.
It just somehow seemed irreverent to shout in that moment when velvety smooth coconut and vanilla met the sweet, tart, tangy flavor of fruity deliciousness.
Ok, maybe I'm getting carried away here with the description but seriously…it's really that good!
Rhubarb keeps the carb count low and packs a nutritous punch.
The rhubarb stalks (called petioles) I got from my sweet grandma's house were more green than red so I added a few strawberries to this sauce. The more red the stalk, the more Vitamin A they contain.
the stalks also contain small amounts of polyphenolic flavonoid compounds like ß-carotene, zeaxanthin, and lutein. These compounds convert into vitamin-A inside the human body and deliver same protective effects of vitamin-A. Vitamin-A is a powerful natural antioxidant which is required by the body for maintaining the integrity of skin and mucosa. It is also an essential vitamin for healthy eyesight. Research studies suggest that natural foods rich in vitamin-A may help protect from lung and oral cavity cancers. [source]
Rhubarb also contains a decent amount of Vitamin K, which is an important companion to Vitamin D. If you live in many parts of the US, you're probably deficient in both. A 100 gram amount of rhubarb contains almost 25% of the RDA of Vitamin K. There's also been research showing it may reduce progression of insulin resistance.
Strawberries and rhubarb are perfect flavor companions too! Plus, using more rhubarb than strawberries helps to keep the carb count lower. If you don't like rhubarb, feel free to use all strawberries. Just keep in mind the sauce will have more carbs per serving.
Here's the skinny on this decadent dessert, Trim Healthy Mamas:
Since this is made with full fat coconut milk and egg yolks, this is a Heavy S dessert. You'll want to save this treat for occasionally, and always after a lower fat meal (but never after an E meal, which is higher in carbs). A Fuel Pull meal is perfect (low in fat and carbs), but a Light S with lots of non starchy veggies would also be a great choice.
Don't you just love the freedom we have to choose to have a rich, delicious dessert once in a while and still be well within our healthy eating guidelines? You can learn more about this "Food Freedom" and the Trim Healthy Mama lifestyle in the new, revised plan book available from my affiliate partner here.
You'll get about 4 small servings out of this recipe so savor each bite!
You know, on second thought it's probably a good thing that my kids love this so much and I have to share. I really could just eat the whole darn thing. Sure, we have Food Freedom, but with freedom comes responsibility!
Indulge responsibly, mamas!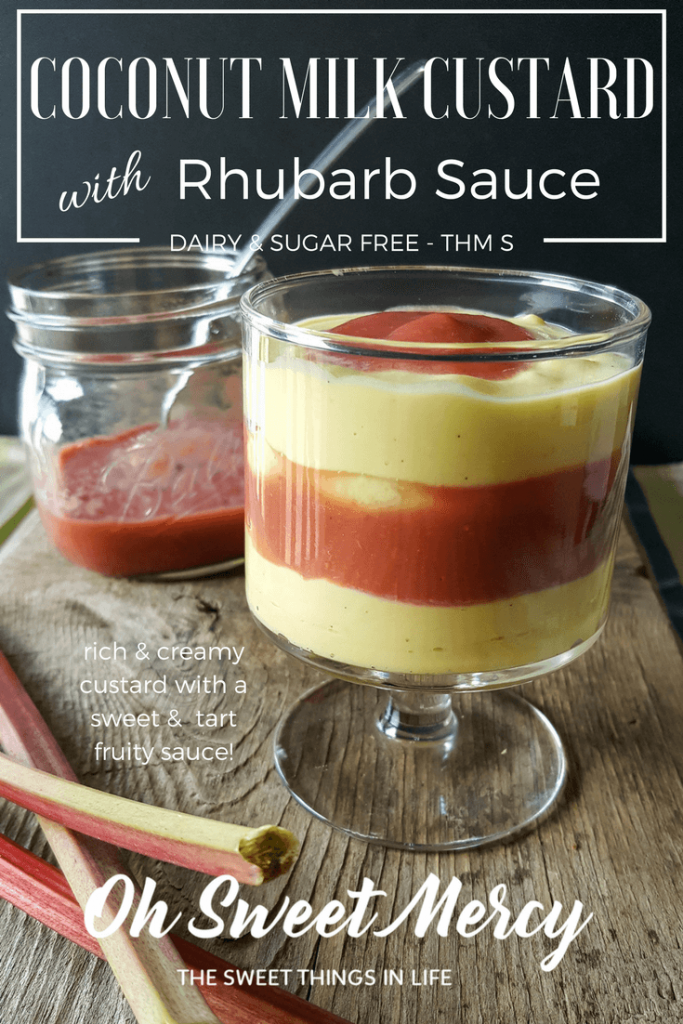 Get your whisk ready and let's make Coconut Milk Custard with Tangy Rhubarb Sauce!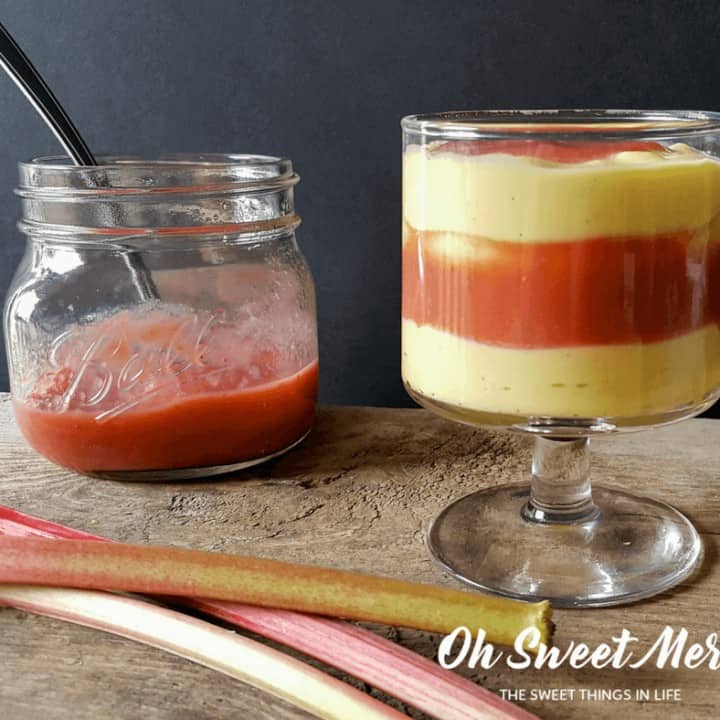 Creamy Coconut Milk Custard with Rhubarb Sauce
Rich, creamy, vanilla goodness made with coconut milk, pastured eggs, and sweetened with stevia pairs with a sweet, tart rhubarb sauce. Low carb, sugar and dairy free, THM S (heavy).
Ingredients
Coconut Milk Custard
1 can (13.5 oz) organic, full fat coconut milk
6 egg yolks
2 generous pinches of mineral salt
Tangy Rhubarb Sauce
1 cup diced rhubarb (I used thin stalks)
4 medium strawberries
1/2 c water
2 teaspoons pure vanilla extract
Instructions
First, make the Tangy Rhubarb Sauce:
Puree rhubarb, strawberries and water until smooth
Pour puree into a sauce pan and add remaining ingredients
Cook over medium heat until thickened (about 10 minutes)
OR you can cook for about 5 minutes and thicken with a bit of glucomannan powder (aka Gluccie)
Cool completely
Make the Coconut Milk Custard:
In the top of a double boiler (or a bowl placed over a sauce pan containing about an inch of boiling water), add the coconut milk, stevia, mineral salt, and vanilla bean (slice open and scrape out the inside into the coconut milk first)
Gently heat the coconut milk until steaming
In a small mixing bowl, whisk the egg yolks
When coconut milk is heated, temper the egg yolks by adding a small amount of heated coconut milk at a time to the egg yolks, whisking gently, until almost all of the coconut milk is whisked into the egg yolks
Remove the large pieces of vanilla bean before pouring the tempered egg yolks back into the double boiler
Whisk continually until custard thickens, about 25 to 30 minutes (it will seem like it won't ever get thick, but it will so be patient!)
It's important to keep whisking as continually as possible to keep the egg from forming chunks
When the custard is thick enough to coat the back of a spoon, remove the custard from the pan and either strain through a fine strainer for completely smooth custard and refrigerate for several hours or just refrigerate for several hours
Notes
Serving size is about 1/4 cup with 2 tablespoons of rhubarb sauce

The Tangy Rhubarb Sauce has only 5 calories, 0.1g fat, and 0.7g net carbs, making it a perfect Fuel Pull.
Recommended Products
As an Amazon Associate and member of other affiliate programs, I earn from qualifying purchases.
Nutrition Information:
Amount Per Serving:
Calories: 252.5
Total Fat: 23.3g
Saturated Fat: 18.9g
Unsaturated Fat: 4g
Cholesterol: 276mg
Sodium: 27.7mg
Carbohydrates: 3.53.1g
Fiber: .4g
Sugar: 1.9g
Protein: 5.7g
Pin this recipe to your favorite Pinterest boards!