Most creamy coleslaw recipes require mayo, but what if you don't want to use mayo?
Allergies and the fat content are two big reasons why you're looking for a creamy no mayo coleslaw recipe. I'll just go ahead and throw out one of mine – I'm out of mayo and forgot to put it on the grocery list. Or forgot to buy it even though it was on the list.
It happens.
This Creamy No Mayo Coleslaw recipe came about the other day when I needed a side dish for the smoked venison loin hubby was making. I wanted to keep the slaw in the lower fat range, but how to do that without mayo? Because I was out of mayo.
It's also great with BBQ chicken, by the way. My THM E lunch as I put the finishing touches on this post: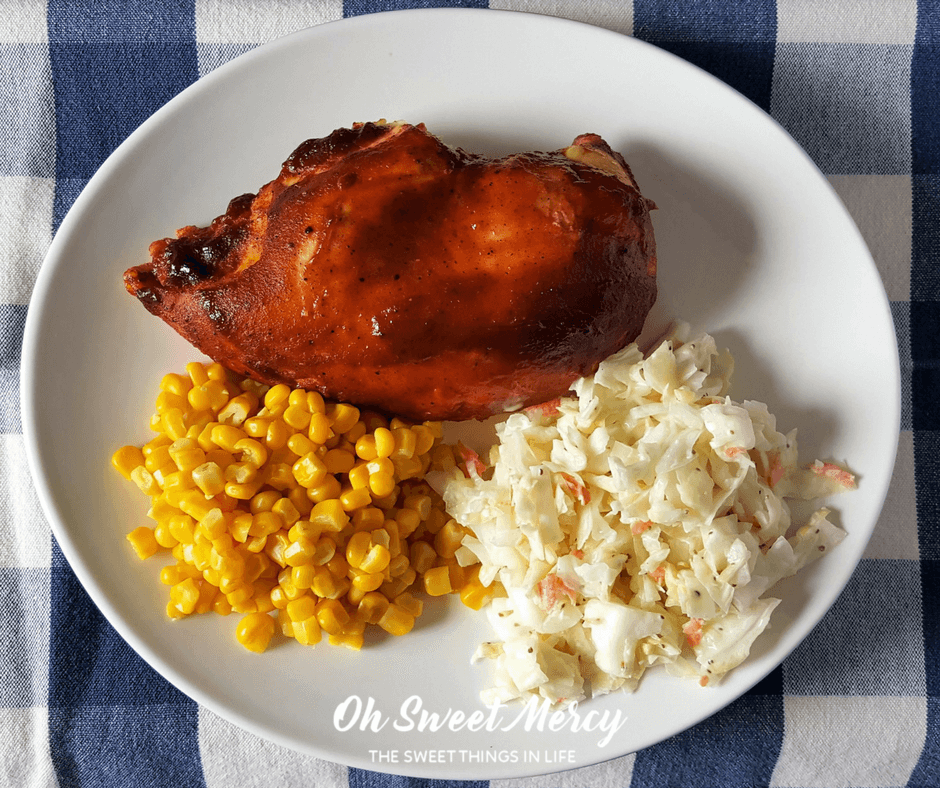 Enter one creamy, no fat ingredient that's good for your gut.
Fat free Greek yogurt to the rescue! You could certainly use full fat Greek yogurt, but you'll want to keep that version to a THM S setting (higher healthy fats, low in healthy carbs). Any time you need a low fat, creamy, no mayo coleslaw use the fat free Greek yogurt.
This is also a great way to get those healthy probiotics into your body. Be sure to choose a yogurt with "live and active cultures" on the label. Even better, choose one with the actual cultures listed if you can find it.
Just a few other ingredients, some that contain some fat, and voila! Creamy slaw without the mayo!
This creamy no mayo coleslaw is perfect for summer bbq's.
Picnics, potlucks and days when it's just too darn hot to cook are also perfect occasions for this tasty, healthy slaw.
When I was a kid, I loved to eat "hilbilly hotdogs." As I remember them, they were hot dogs with chili and coleslaw. I skip the bread now, but am not afraid to cover a beef hot dog with leftover sloppy joe meat and a cool, creamy slaw. Low carb adaptations of favorite foods are awesome, right?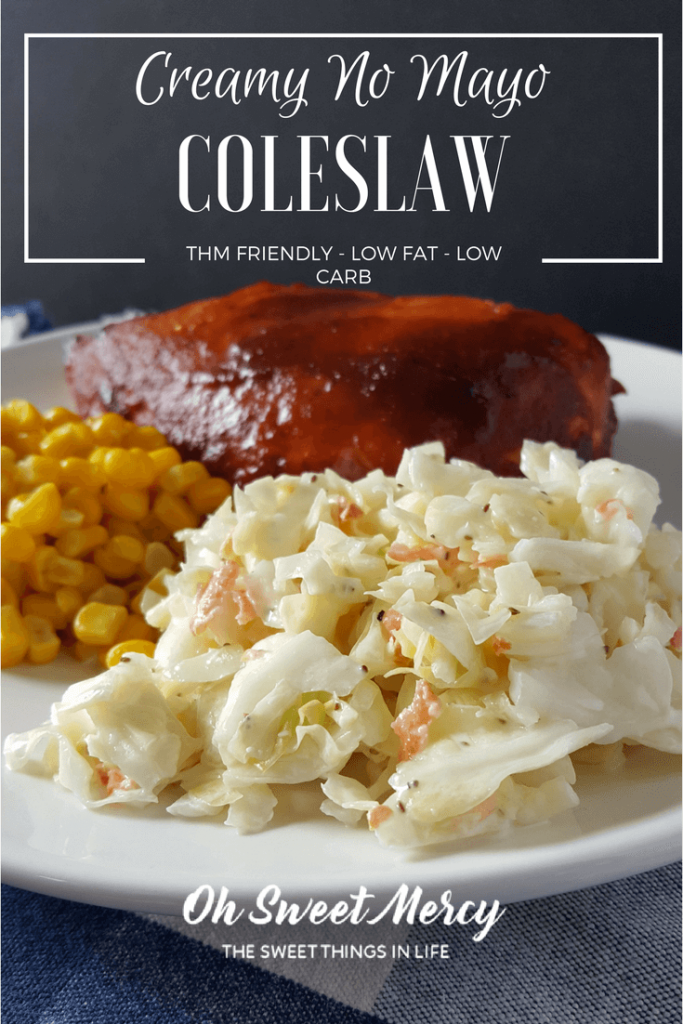 It's also Mother In Law approved.
I am super blessed to have a mother in law that does not fit the "profile" of all those mother in law jokes. She invited us over for lunch the other day and I took this along for her to try. She is also a THM and has lost all the weight she wanted and has kept it off. A total THM success story and I'm so proud of her!
She gave it a thumbs up so I decided to share this no mayo coleslaw recipe with you.
Want to know more about this THM stuff? Here's 5 Reasons Why THM Might Be For You.
Trim Healthy Mamas, here's how to fit this Creamy No Mayo Coleslaw into your meal plan.
Each serving has 1.4 g fat and 3.4 g carbs, making this a neutral Fuel Pull recipe.
Serve along lean proteins and fresh non-starchy veggies for an entirely Fuel Pull meal.
It's also perfect for THM E meals. For an E, just include along with lean meat and your starches. Keep in mind the 1.4 grams of fat in this recipe when deciding on other fats to include in your E meal.
You can certainly eat this with an S, just be mindful of the carbs in the rest of your meal!
Let's go make some Creamy No Mayo Coleslaw!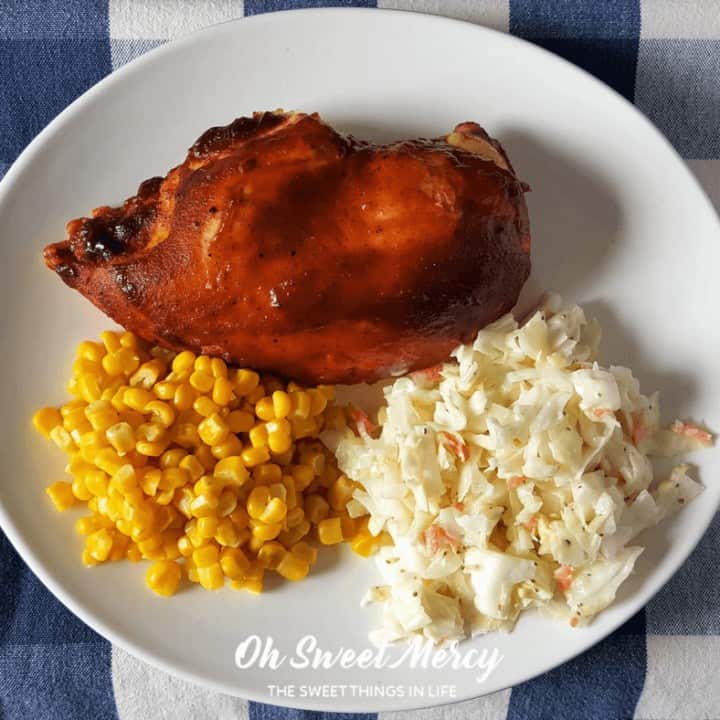 Creamy No Mayo Coleslaw |THM FP, low fat, low carb
Yield: 8 servings
Active Time: 15 minutes
Total Time: 15 minutes
This cool, creamy coleslaw is made without mayo. Perfect for picnics, BBQ's and potlucks or those days when it's just too hot to cook. Low in fat, it's also a healthy addition to your THM meal of any fuel style.
Ingredients
Slaw mix
8 cups shredded cabbage
2 tablespoons finely diced onion
1/2 cup finely shredded carrots [br] OR use prebagged slaw mix and add onion
Dressing
1/2 cup 0% Greek yogurt
2 tablespoons sour cream
1 teaspoon MCT oil (optional)
1 tablespoon raw ACV
1 tablespoon THM Gentle Sweet, or preferred sweetener to taste
1 teaspoon dijon mustard
1/2 teaspoon THM Mineral Salt
1 teaspoon nutritional yeast
1/2 teaspoon celery seed
Instructions
In a bowl large enough to mix the slaw, combine the cabbage, onion, and carrot
In a separate bowl, mix the remaining ingredients
Pour over cabbage mixture and stir well to combine
Serve immediately or refrigerate for later
Recommended Products
As an Amazon Associate and member of other affiliate programs, I earn from qualifying purchases.
Nutrition Information:
Yield: 8
Serving Size: 1 cup
Amount Per Serving:
Calories: 44
Total Fat: 1.4g
Saturated Fat: 1g
Trans Fat: 0g
Unsaturated Fat: .3g
Cholesterol: 1.3mg
Sodium: 59.2mg
Carbohydrates: 5.8g
Net Carbohydrates: 4g
Fiber: 1.8g
Sugar: 3.7g
Protein: 2.8g
Nutrition information is approximate and based on the best knowledge available at the time of recipe publication. Your results may vary due to differences in ingredients. You can make your own calculations if this recipe does not include nutrition info by using an online calculator such as https://recipes.sparkpeople.com/recipe-calculator.asp