---
Rich, decadent, chocolatey ice cream goodness is not only for the dairy crowd! This Dairy Free Chocolate Ice Cream with Peanut Butter Fudge Swirl is so creamy and good you'll never know there's no actual cream in it. Made with full-fat coconut milk it's perfect for an indulgent THM S treat. Keto peeps you'll love it too!
---
This was the winner of my What Should I Publish Next Poll on the Oh Sweet Mercy Facebook Page. The runner up, a delicious, velvety-rich Tomato Florentine Soup, will be published soon!
In January I scored a great deal on an electric ice cream maker. You guys, I'd been searching high and low for a good deal on one for 2 years. Because I'm cheap thrifty.
We have an old-fashioned hand crank one my dear aunt and uncle gave me a few years ago. While I love it (and the nostalgic memories attached) we don't always have ice and salt on hand.
This presents a problem when you're all like "hey, I want some ice cream right now." I'm a pretty spur-of-the-moment kind of person, so this is an actual thing in our house.
So now I have the magical powers needed to create THM friendly ice cream in like 30 minutes. That's practically instantaneous! But I also need some ice-cream making knowledge.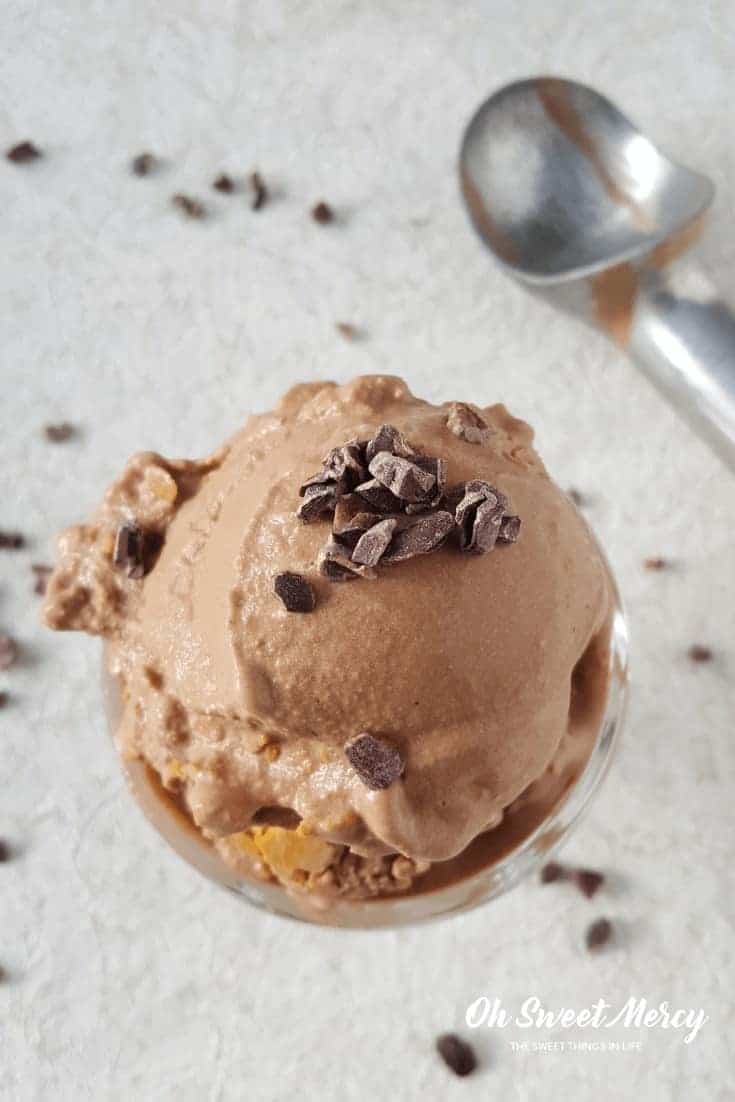 Thankfully, I Have An Ice Cream Mentor!
If you've been around THM for long then you probably know who that is. Briana Thomas 😉
If you don't know who Briana Thomas is, let me sum up in a few words: THM Ice Cream Queen. Actually, she's way more than that! She's certainly famous for her ice cream recipes among the Trim Healthy Mama crowd, though.
I got to meet her last summer and hear her and the Laudate (pronounced law-da-tay) Mennonite Ensemble perform. It was a beautiful, peaceful performance, just what I needed after a rough day of catering! Here's a video of one of their performances.
Briana is just as sweet and down to earth as can be. And, we are like ice cream soul sisters, really. We both really, really love ice cream! Ok maybe the ice cream soul sisters thing is a stretch but we both love it!
She's also taller than I expected, but then most everyone is compared to me 😉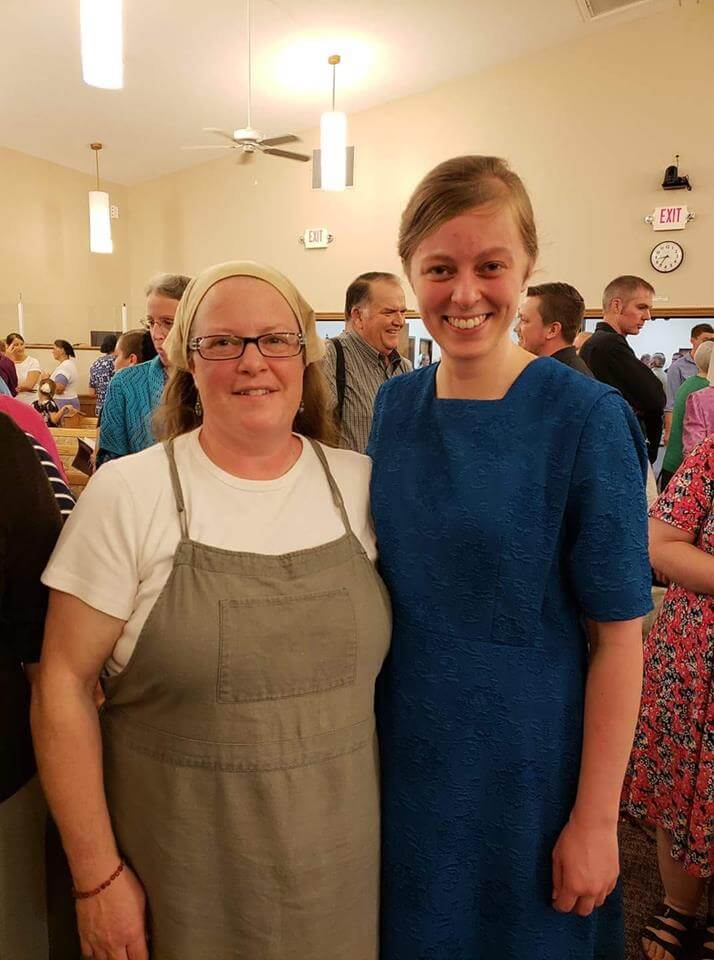 Now, I know I'll never unseat her as THM Ice Cream Queen (nor do I have the desire to do so)! Still, as an avid lover of frozen, creamy, sweet, deliciousness of course I had to try my hand at making up an ice cream recipe.
The Making Of An Ice Cream Recipe.
The only obstacle keeping me from developing my own ice cream recipes is finally gone! I'm totally loving this Cuisinart ICE-21. Mine's a flashy red one with an extra freezer bowl.
If you get one of these machines, do yourself as solid and buy the extra freezer bowl. You're welcome.
Guiding me as I set off into the unknown frontier of ice cream recipe development were two things:
Experience with the many Briana Thomas ice cream recipes we tried
About half an hour later I emerged with rich, chocolatey, peanut butter fudgy goodness. We all oooh'd and aaaaahh'd over every bite.
You may think that is poetic license there. Or hyperbole. But seriously, the only thing you could hear was the sound of us loving every. single. bite.
Of course, I had to make it again to make sure it was just as easy and delicious as I thought. Yep. Absolutely.
Trim Healthy Mamas, Here's How to Enjoy This Dairy Free Chocolate Ice Cream with Peanut Butter Fudge Swirl.
Since this recipe is made with all full-fat coconut milk it's definitely an S. You want to enjoy this in a low carb setting. Ideally, you should have either a Light S or Fuel Pull meal if you're having it for dessert.
If you're a real hardcore dark chocolate lover, sprinkle some raw, fermented cacao nibs on top. Just a few go a long way. Raw cacao is a great source of magnesium, too.
While you may want to eat this all the time, it's really best kept for an indulgent treat now and then. Make it for a special occasion! Or now and then just because you're rocking the THM thing and deserve to celebrate. You're worth it!
Let's Make Some Ice Cream!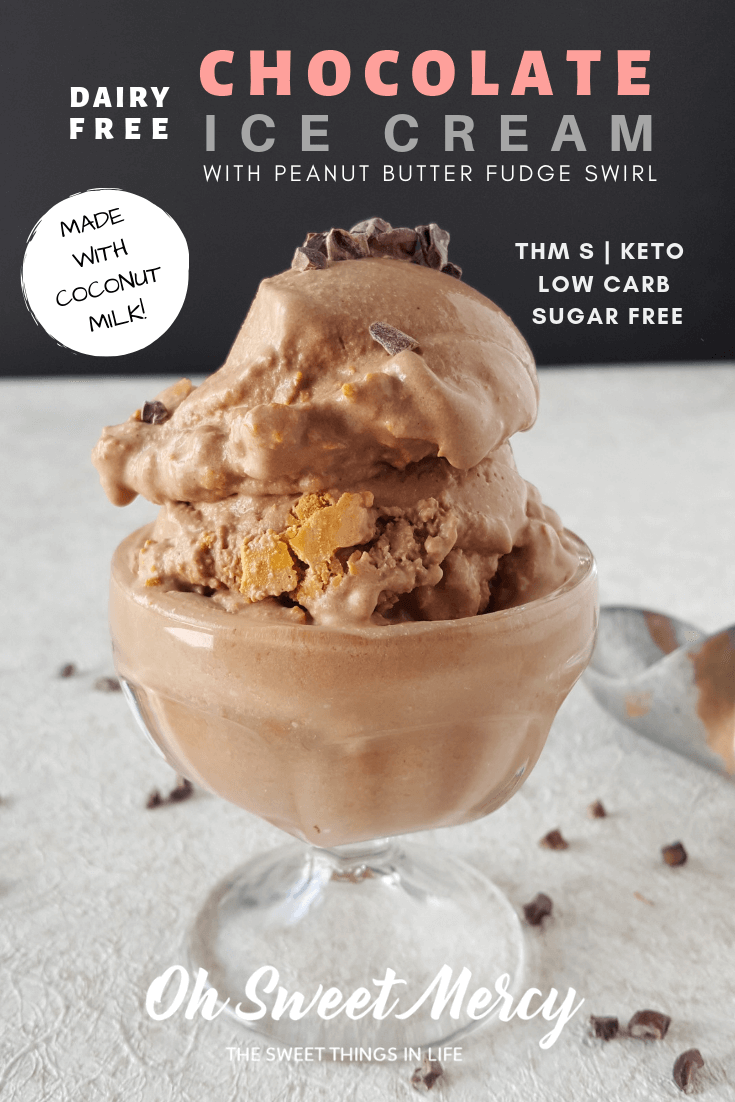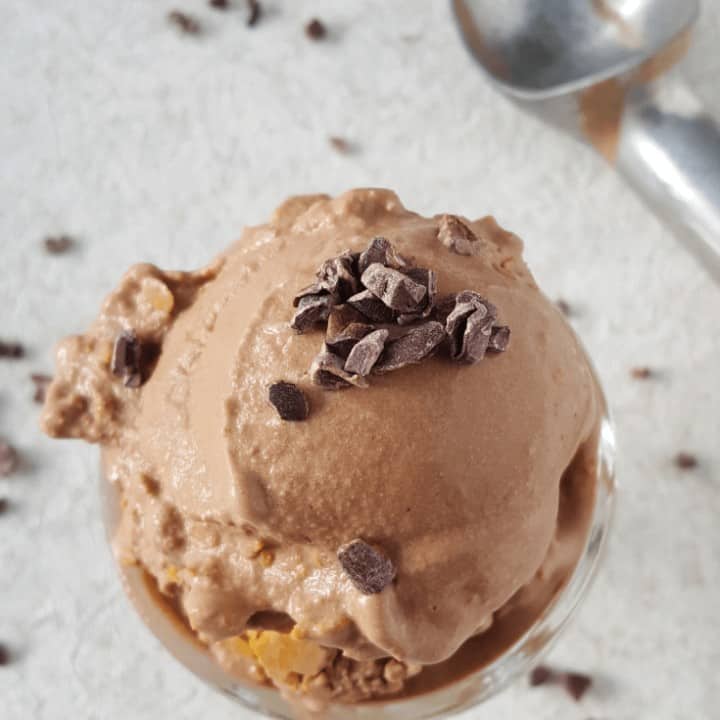 Dairy Free Chocolate Ice Cream + Peanut Butter Fudge Swirl | THM S, Low Carb, Keto
Yield: about 1.5 quarts
Prep Time: 5 minutes
Freeze Time*: 20 minutes
Additional Time: 30 minutes
Total Time: 55 minutes
Rich, creamy, and decadent this Low Carb Dairy Free Chocolate Ice Cream with Peanut Butter Fudge Swirl is a satisfying THM S/low carb/keto treat. Made with full fat coconut milk for extra delicious richness. Shout out to Briana Thomas and Sugar Free Mom for the inspiration.
Ingredients
Chocolate Ice Cream Base
2 (13.5 oz) cans full fat coconut milk
1/4 cup (heaping) cocoa powder
2 teaspoons pure vanilla extract
Peanut Butter Fudge Swirl
1 1/2 tablespoons buttery coconut oil (plain coconut oil or butter is also fine)
2 tablespoons peanut powder (OR 2 tablespoons natural, unsweetened peanut butter)
1/2 teaspoon pure vanilla extract
1/8 teaspoon high mineral salt
1/16 teaspoon THM Pure Stevia Extract (2 "doonks) or other on plan sweetener to taste
2 teaspoons unsweetened almond milk or other on plan, nondairy milk
Instructions
Make the Ice Cream
Add all ingredients for the ice cream base to the jar of your blender and blend well, about one minute.
Taste for sweetness and add more if desired, blending well.
Following your ice cream maker's instructions, add the mixture and run the machine for 20-25 minutes or until frozen.
Make the Peanut Butter Fudge Swirl
In a small sauce pan, melt the buttery coconut oil over medium low heat until just melted.
Add peanut powder, salt, vanilla, and sweetener and whisk until smoothly combined.
Add almond milk and whisk, it will thicken nearly immediately. If using peanut butter, it will not thicken as much. This is fine, it will firm up when mixed with the ice cream.
Set aside.
Put it Together
When the ice cream is as done as you'd like, remove it from the machine and into a freezer safe container.
Pour the peanut butter fudge onto the top of the ice cream, then use a knife to swirl it into the ice cream.
Eat immediately or put in the freezer to firm up more if you like.
Notes
I've made this with Pyure and it works fine.
If you don't have pure stevia extract (the fine, white, very concentrated powder) I would try adding a tablespoon of a granulated stevia product like Gentle Sweet or Pyure and taste. Add more a little at a time until you reach the sweetness level you desire.
For more peanut butter fudginess feel free to double the fudge swirl recipe.
You can use 1 or 2 tablespoons of vodka in place of the glycerin if desired. It will probably freeze pretty hard so be sure to get it out of the freezer ahead of time to soften.
Recommended Products
As an Amazon Associate and member of other affiliate programs, I earn from qualifying purchases.