---
Rich, nourishing, and creamy but totally dairy free, this Tomato Florentine Soup is perfect for cold winter days. Inspired by Serene's Trimmy Bisques, this soup saved lunch for us!
---
This was the runner-up recipe in my poll on the Oh Sweet Mercy Facebook Page. We got snow last night so it's a perfect day to post this warming, nourishing recipe. The winning recipe? This rich, decadent, Dairy Free Chocolate Ice Cream + Peanut Butter Fudge Swirl.
Have you heard of the Trimmy Bisque? This marvelous concoction is the brainchild of Serene, of Trim Healthy Mama fame. She's the purist of the two sisters and this bisque is chock full of nourishing, purist-y things.
I'd wanted to try it since Trim Healthy Table came out (where you can learn all about the wonders of the Trimmy Bisque) but it seemed that I never had quite all the ingredients on hand at the same time.
We've been slammed with cold, winter weather recently which always means soup for lunch several times a week. Hubby doesn't like soup so it's not a dinner thing around here.
His loss, truly. Because a Trimmy Bisque is a glorious thing, even when you have to make up your own because your offspring can't agree on which Trimmy Bisque to make.
And you still don't have quite all of the ingredients…
Behold This Nourishing Tomato Florentine Soup (Serene Style)!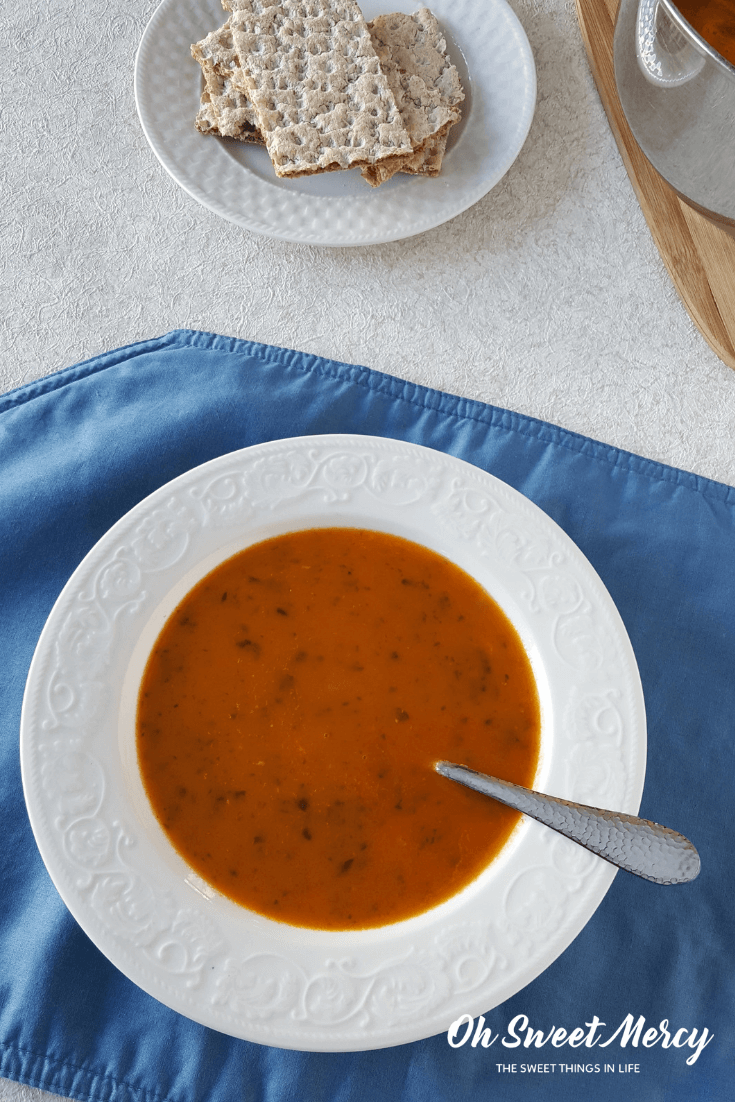 While I wish I could take the credit for the absolute genius of the Trimmy Bisque, all that glory goes to Serene.
This dreamy, silky smooth soup tastes like it's rich with heavy cream. Only there's not a speck of dairy in it anywhere! If you have dairy allergies or need to cut back on your dairy intake, this soup is just the thing.
I combined my Garlic and Rosemary Tomato Soup with Serene's clever method. A simple change of seasonings totally transformed my other favorite soup into this Nourishing Tomato Florentine Soup. Don't you just love a versatile recipe?
This soup is also easily made on the stove top in under half an hour. While I haven't yet made it in the Instant Pot, I'm sure you can do so if you like.
Bone Broth Or Store Bought?
Initially, I made this soup with rich, homemade bone broth. Thanks to my Instant Pot my homemade bone broth turns out fantastically every time! Always rich, flavorful, and full of nutrients, it's my preferred choice.
One of the beautiful things about Serene's method is it adds more nourishment! So if you're not a bone broth maker and rely on store-bought, it will boost that broth and increase its nourishing power.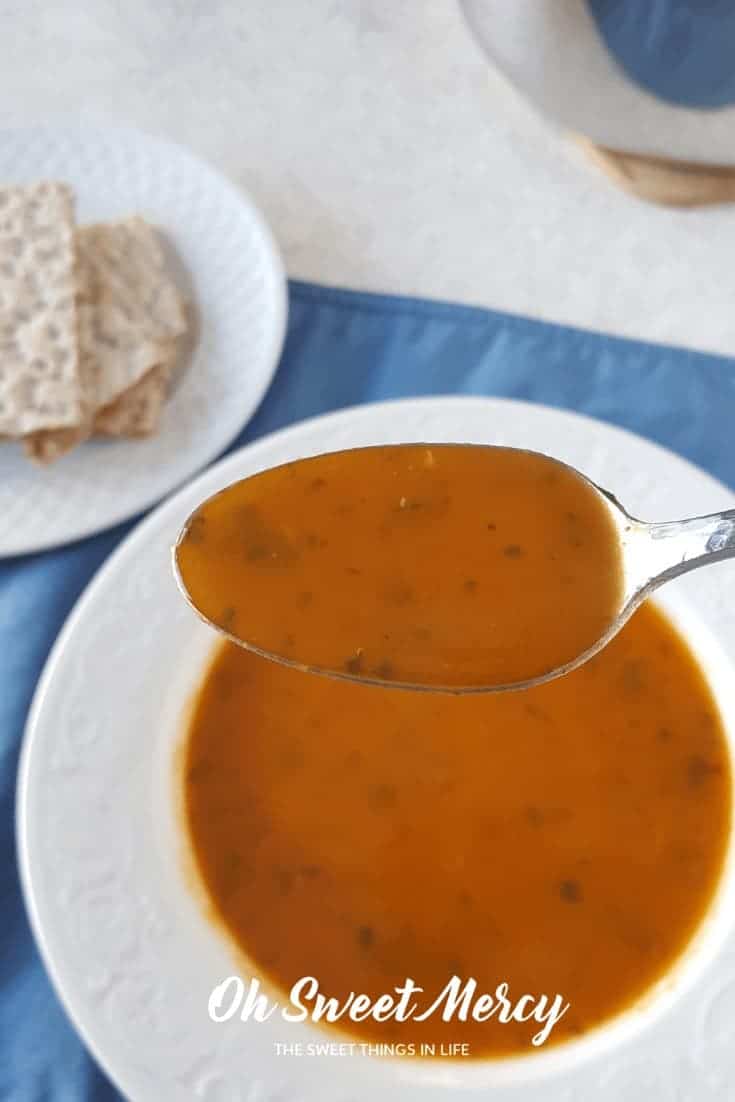 In fact, I went out to the store that very same afternoon to get some store bought broth to try. Since not everyone makes their own bone broth I wanted to make sure it didn't need any tweaks with store bought broth.
While it's delicious either way I much prefer using my own bone broth if I have it.
Just as in the Trimmy Bisque recipes, the Simply Sunflower Lecithin is optional. However, I do highly recommend it. I put that in quite a lot of things because it's a terrific way to get a creamy result without adding dairy.
Additionally, using mostly broth and just a small amount of tomato sauce means fewer carbs over all! Tomatoes are one veggie that are a bit higher in carbs. It's good to be reasonable about our servings and this method is a tasty way to do it.
THM's Here's How My Nourishing Tomato Florentine Soup Fits Into Your Meal Plan.
This dreamy soup is a solid S. It's full of healthy, nourishing fats – especially if you use your own bone broth. Enjoy a big, steaming bowlful with…
Plenty of nonstarchies! A big, leafy green salad topped with a chopped hard cooked egg and your favorite on-plan salad dressing. Give my Raspberry Basil Vinaigrette (S) a try. For a Fuel Pull option, my Creamy Cajun Ranch dressing.
A sandwich made with an on-plan, low carb bread option. We love grilled cheese sandwiches made with my Coconut Flour Flatbread. Or try one of my sandwich fillings, such as Sriracha Chicken Salad (can be made Fuel Pull style, too), Creamy Ranch Egg Salad, or even just simple cooked chicken breast or deli meat.
Maybe a salad or sandwich seems like too much? Just choose a protein (hard cooked eggs, cooked chicken breast, etc.) and some simple nonstarchy veggies to munch on. Finish with a serving of fresh berries or my Cucumber Strawberry Smoothie.
My daughter, who also does THM, and my son, both enjoyed a Crossover! Grilled cheese sandwiches made with homemade sprouted wheat bread and sliced cucumbers with their soup. I had a big old salad with my Balsamic Mustard Vinaigrette Dressing.
It made this cold, blustery, winter day so much better! Happy tummies = happy home, right?
Will You Give This Nourishing Tomato Florentine Soup A Try?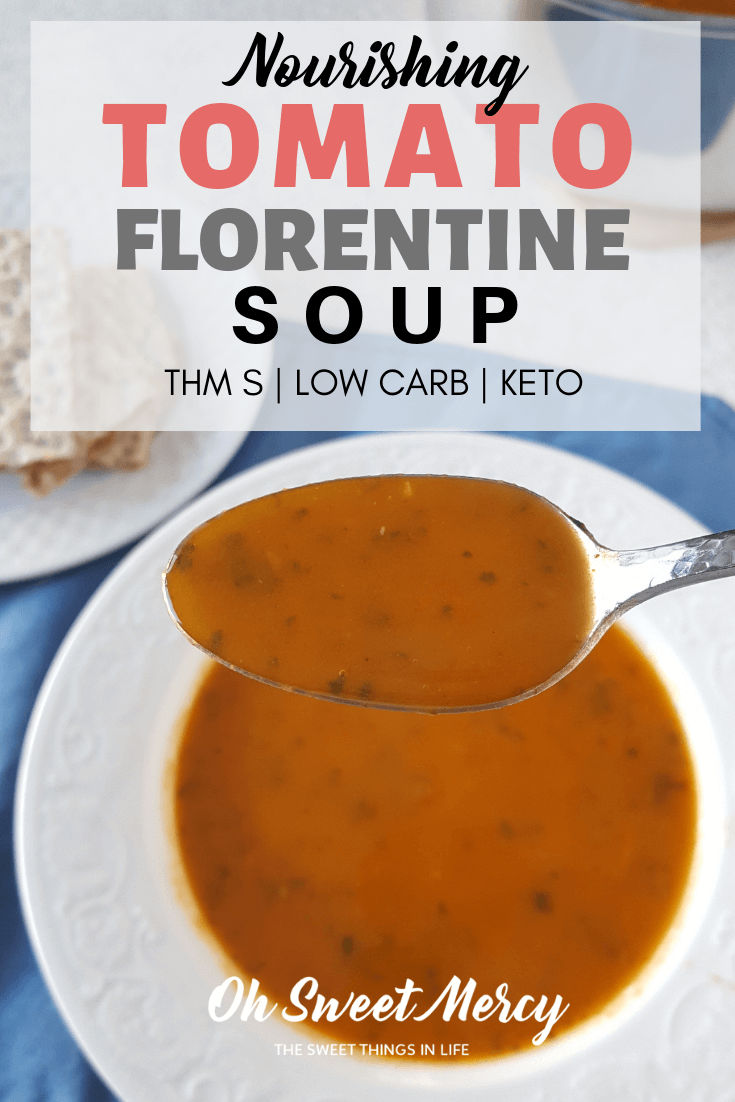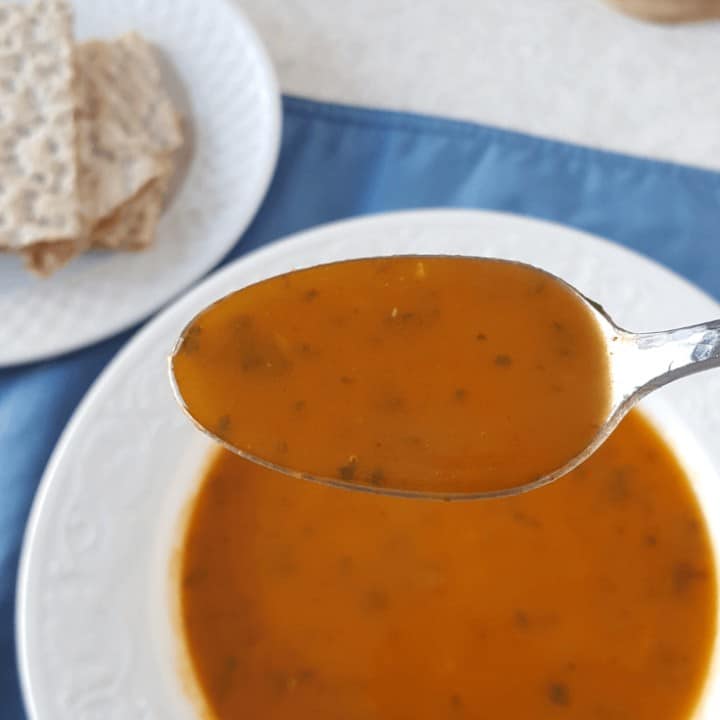 Creamy Tomato Florentine Soup | THM S, Low Carb, Dairy Free
Rich and creamy without dairy, this Tomato Florentine Soup uses the clever Trimmy Bisque method found in the Trim Healthy Table cookbook. This soup is silky and satisfying and perfect for THM S, low carb, and keto meals.
Ingredients
1/2 large onion, diced
3 to 5 cloves fresh garlic, minced
1 quart chicken broth
8 oz tomato sauce
2 tablespoons coconut oil, butter, or ghee
1/8 teaspoon turmeric
1/8 teaspoon ground black pepper (or more to taste)
1 teaspoon balsamic vinegar
1 cup fresh spinach leaves, tightly packed (or more as desired)
Instructions
In a sauce pan, melt the 2 teaspoons of red palm oil (or other healthy fat)
Add diced onion and saute until they begin to soften, about 5 minutes or so.
Add minced garlic and saute for a minute longer, stirring constantly to prevent burning.
Add broth and tomato sauce and heat until steaming, but not boiling.
Meanwhile, to your blender jar add the 2 tablespoons of coconut oil (or other healthy fat), gelatin, lecithin, turmeric, and black pepper.
When broth mixture is steaming, measure out 1 cup (try to get as many onion pieces as possible) and add to the blender jar.
Carefully blend until smooth then pour back into the sauce pan.
Add balsamic vinegar and mineral salt to taste.
Add fresh spinach and using an immersion blender, carefully pulse several times until the spinach is as broken down as you like.
Alternatively, leave the spinach leaves whole if desired.
Notes
Trim Healthy Mamas
Enjoy this S style soup with low carb options
Healthy fat options that work well are red palm oil, butter, ghee, coconut oil (virgin OR refined).
Simply Sunflower Lecithin is optional but helps make this soup velvety and creamy.
Sodium in the calculated nutrition information will vary depending on whether you use homemade or store bought broth and tomato sauce. The sodium amount listed is based on database information.
Recommended Products
As an Amazon Associate and member of other affiliate programs, I earn from qualifying purchases.
Nutrition Information:
Yield: 4
Serving Size: 1
Amount Per Serving:
Calories: 217
Total Fat: 18g
Saturated Fat: 11g
Trans Fat: 0g
Unsaturated Fat: 5g
Cholesterol: 27mg
Sodium: 1549mg
Carbohydrates: 10g
Fiber: 3g
Sugar: 4g
Protein: 8g
Nutrition information is approximate and based on the best knowledge available at the time of recipe publication. Your results may vary due to differences in ingredients.