---
Lightly sweet, this Refreshing Cucumber Strawberry Smoothie makes an easy snack or light after dinner treat. Trim Healthy Mamas, it's a Fuel Pull that's very low in both fats and carbs so it fits anywhere into your THM meal plans.
---
What do you do when you want to make a smoothie recipe but you don't have all the ingredients? Simple, you just make up your own version.
Necessity is the mother of invention, you know.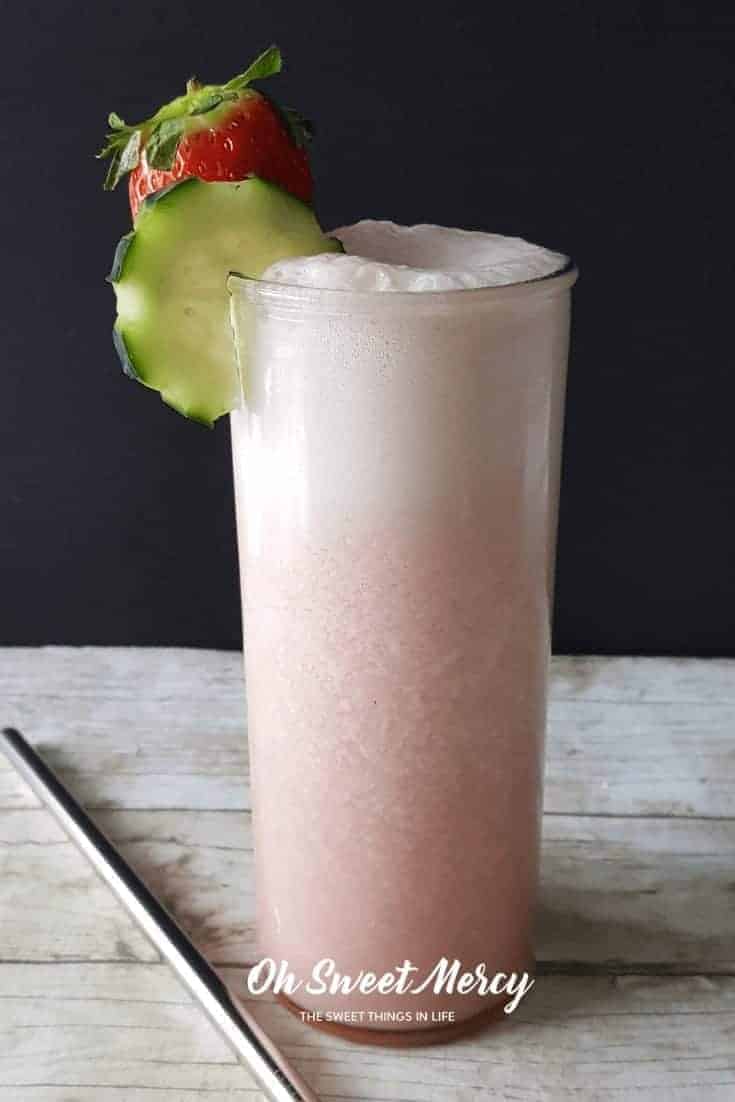 I set out to make the Bloat Be Gone Smoothie in the Trim Healthy Table Cookbook. That's on page 489, go check it out!
Previously, I quickly scanned the recipe before shopping. Then, tragically, I relied on my memory to pick up all the ingredients.
You probably know what happened. My memory totally let me down!
So, I decided to make something similar with what I had on hand. The result? A light, slightly creamy, refreshing smoothie that makes a perfect quick snack or light after dinner drink.
This easy, healthy, strawberry smoothie is light yet satisfying. It's great for those times when you just don't want something really heavy.
Even though I came up with this in January I know it's just the thing for hot, summer days too.
Cucumbers And Strawberries May Help Control Blood Sugar Levels!
Both cucumbers and strawberries contain healthy antioxidants and anti-inflammatory nutrients. They may also help keep blood glucose levels under control.
Cucumbers are referred to as an "anti-diabetic" food! It's speculated that the rich supply of antioxidant nutrients helps improve certain metabolic problems in Type 2 diabetics.
Strawberries can also help control blood sugar levels. They contain folate and a folate deficiency is associated with Type 2 diabetes.
Cucumbers are rich in antioxidant and anti-inflammatory phytonutrients. These help reduce oxidative stress on your cells.
Strawberries are high in Vitamin C as well as over 20 antioxidant and anti-inflammatory polyphenols. Vitamin C is very helpful in combating stress as well as EMF radiation.
Cucumbers contain a flavinoid called fisetin, which appears to reduce the enzyme production of sugar in the liver. Animal studies show possible blood sugar level improvement.
Calorie counting is something from which we are gloriously freed on the Trim Healthy Mama plan! However, we still need to make wise and reasonable caloric choices.
Cucumbers have only 16 calories per cup, and are mostly water and fiber! This makes them a fabulously hydrating and digestion-friendly food.
Strawberries contain a bit more carbs than cucumbers. In spite of this they're still considered low glycemic. Berries are definitely a THM friendly fruit we can enjoy very liberally (see plan book for complete details)!
Trim Healthy Mamas, you don't need to worry about the carb count for this! We don't count the carbs in non-starchies or berries. Isn't that wonderful?
Nothing makes a diet more torturous than doing math. Or stressing over every little gram of this or that.
Obviously, this refreshing cucumber strawberry smoothie is a great way to harness the healthy powers of both cukes and strawberries!
Trim Healthy Mamas, Here's How To Fit This Healthy, Slimming Smoothie Into Your Meal Plan.
Since this tasty recipe is very low in both fats and carbs, it goes with any THM Fuel Type. Here's a few ideas.
Enjoy on a hot day as a quick, cooling, and hydrating afternoon snack. Have a string cheese stick (still in FP mode) for more protein. A handful of nuts or a boiled egg would make it an S snack.
Want something sweet after an S or E meal? While it's not a strawberry milkshake, it's also not going to push you over the edge of reasonable on your meal. Remember the wise words of Danny – "Just because you can doesn't mean you should."
Don't like eating first thing in the morning? This smoothie is a great compromise. Not overly heavy but still has a bit of fuel to stoke your metabolic furnace for the day.
Sometimes I feel aggravated when I don't have what I need to make a recipe. Then I remember that it just might be a blessing in disguise. It forces ingenuity 😉
If you like healthy berry smoothies you'll love my Blueberry Lemon Smoothie (with a Secret).
Are You Ready To Make This Cucumber Strawberry Smoothie?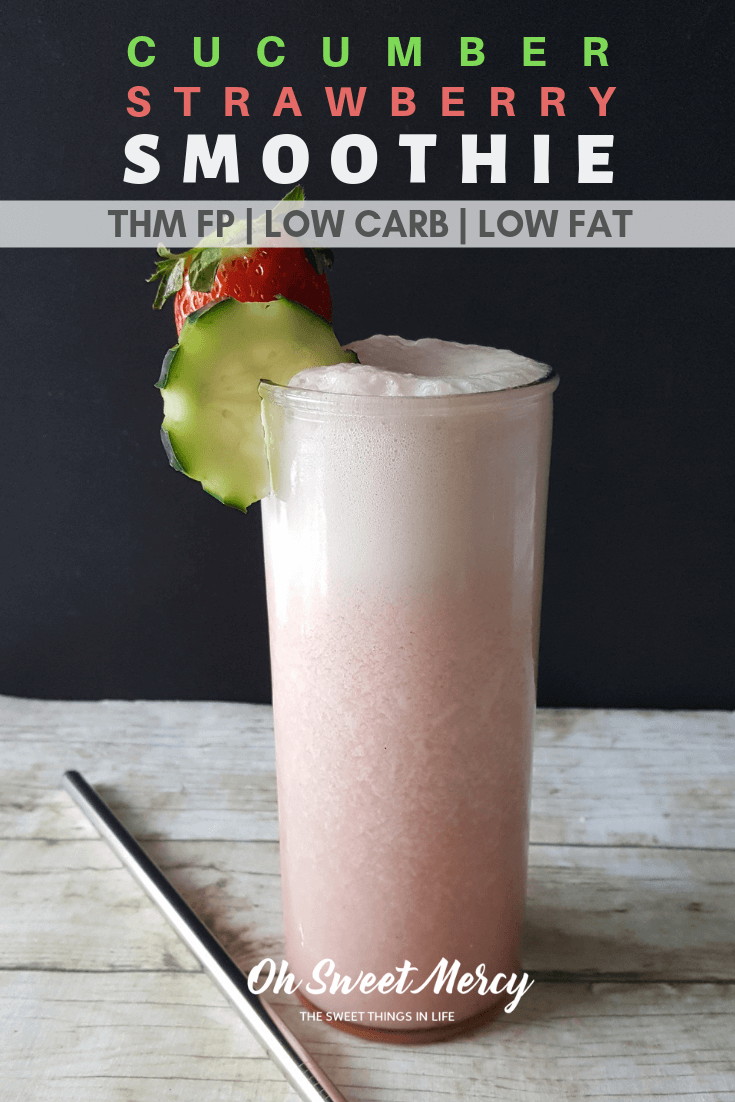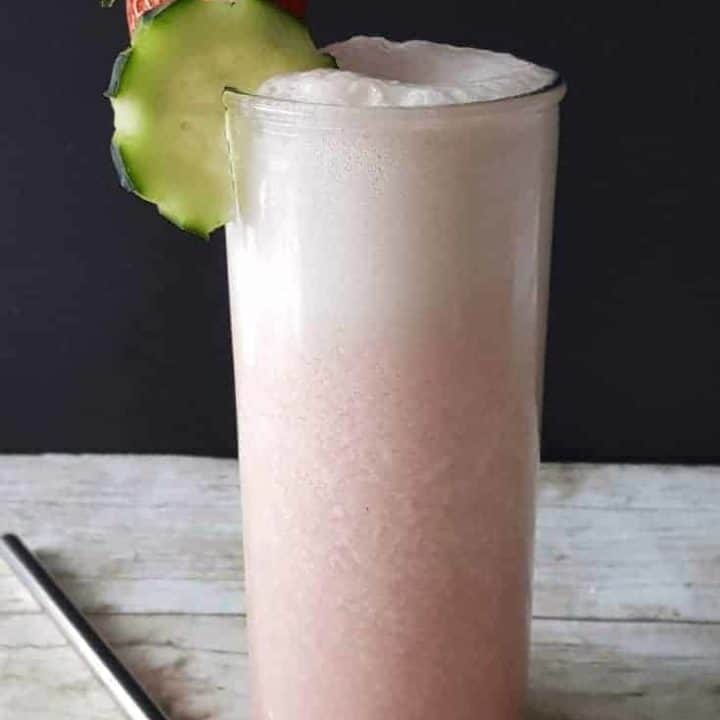 Refreshing Cucumber Strawberry Smoothie | THM FP, Low Fat, Low Carb
Yield: 1 serving
Prep Time: 10 minutes
Total Time: 10 minutes
Light and refreshing, this easy smoothie makes a quick snack or light after dinner drink. Trim Healthy Mamas, this is a low fat and low carb Fuel Pull.
Ingredients
1/2 medium cucumber, peeled and chopped
3 fresh or frozen strawberries, 3 large berries or so
1 teaspoon THM Just Gelatin
1 tablespoon cool water
1 tablespoon hot water
1/2 cup water
1/2 cup unsweetened almond milk
6 ice cubes (I use tray cubes) Omit ice if using frozen berries
Instructions
Prep cucumbers and strawberries first
In a small bowl, bloom the gelatin in 1 tablespoon cool water.
Stir in 1 tablespoon hot water to dissolve.
Add the cucumbers, strawberries, and remaining ingredients to the jar of your blender.
Add dissolved gelatin and blend until smooth.
Taste for sweetness and adjust if desired.
Notes
Trim Healthy Mamas
Sweeten to taste with your preferred on-plan sweetener. I use 3 or 4 "doonks" of Pure Stevia Extract.
This recipe is low in both fat and carbs, making it a Fuel Pull.
You can certainly add a scoop of plan-friendly collagen or whey protein powder if you like, but this is meant to just be a light snack or beverage. The whey might overpower the light flavor of cucumber and strawberry.
Nutrition information was difficult to calculate on this due to the small amount of whey protein powder being measured in teaspoons and the label information being in grams. But it should be fairly close.
Total fat = 2.9 grams, Net Carbs = 6.1
Recommended Products
As an Amazon Associate and member of other affiliate programs, I earn from qualifying purchases.
Nutrition Information:
Yield: 1
Amount Per Serving:
Calories: 78.6
Total Fat: 2.9g
Saturated Fat: 0.3g
Trans Fat: 0g
Unsaturated Fat: 2.4g
Cholesterol: 0mg
Sodium: 304.4mg
Carbohydrates: 9.9g
Fiber: 3.8g
Sugar: 3.3g
Protein: 4.1g