Sunday I whipped up a recipe I called Coconut Berry Cloud.
Yesterday after supper I made something I'm calling Decadent Coconut Berry Bliss. It would probably be considered a "Heavy S" because of the full fat coconut milk, so don't eat this after a big S meal of Cheeseburger Pie (pg 326 in the original THM book), salad with Easy Balsamic Vinaigrette and some Garlic Biscuits in a Mug.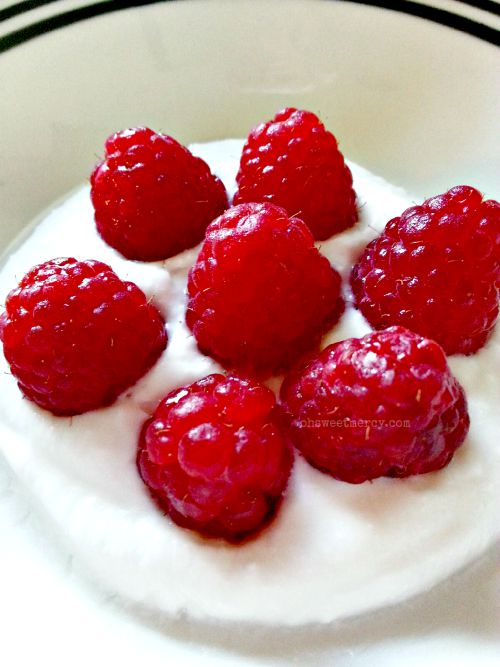 Instead, save this decadent treat for an occasional snack before bed (wait three hours after an E meal, please!) or after a lighter S meal such as a baked chicken breast with Cauliflower Mashed Potatoes (pg 361) and steamed green beans or my Grain Free Quinoa Salmon Patties with big green, leafy salad full of veggies – with a light splash of dressing or just lemon juice or raw apple cider vinegar to keep it a lighter S.
It's also a perfect dessert after a Fuel Pull meal, which is low in fat and carbs.
Use your favorite berries in this creamy treat.
I used raspberries and I'd highly recommend fresh rather than frozen. But, use what you have! I made some for Mister and we were out of berries, so I just topped with some 100% dark chocolate shavings…which would also make the raspberry version of this Decadent Coconut Berry Bliss even more decadent!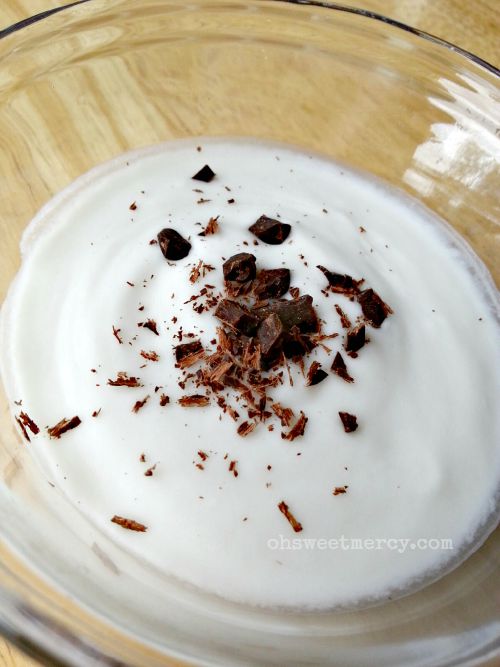 As delicious as this Decadent Coconut Berry Bliss may be you won't want to eat it every day. Well, you will…but you probably shouldn't 😉
Be Sure to Pin This Decadent Coconut Berry Bliss Recipe to Your Favorite Pinterest Boards!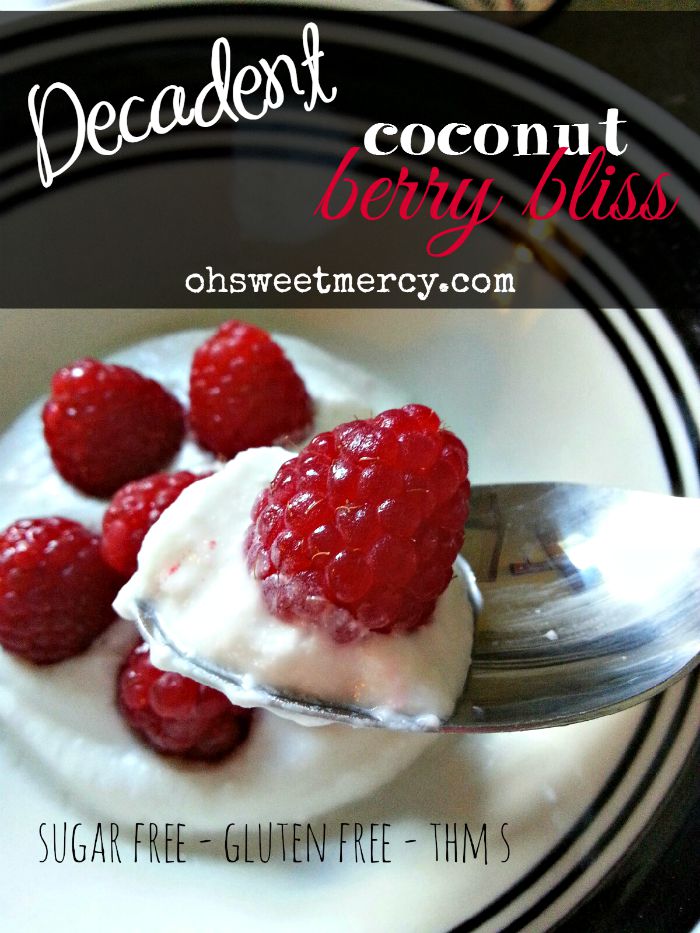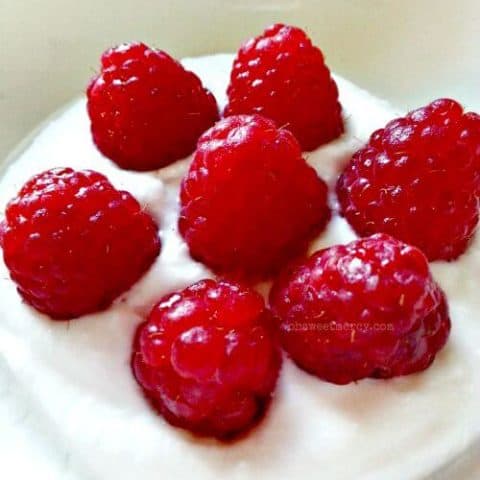 Decadent Coconut Berry Bliss
Yield: 1
Prep Time: 6 minutes
Total Time: 6 minutes
A creamy, decadent coconut and berry treat. Get the goodness of coconut oil found naturally in coconut milk plus the antioxidants in berries for a healthy, sugar free treat.
Ingredients
1/3 c canned, full fat coconut milk
splash of pure vanilla extract
Stevia, to taste...I used 2 packets
a scant 1/4 c fresh berries (1/4 c raspberries has 9g carbs...you want to keep it to 8g carbs to stay within S guidelines.
If topping with optional garnish ideas such as shredded coconut or dark chocolate, keep carb amounts in mind to keep this dish at 10g carbs or less for an S dessert.
Instructions
If the can of coconut milk is unopened, shake well. Or, if already open stir well.
In a small bowl, combine 1/3 c coconut milk, stevia and vanilla.
Top with berries.
Notes
Remember, THMs don't count calories! Still, this should be an occasional special treat. Net carbs ~10g, protein 2g.
Some canned coconut milks are thicker than others, you'll want a brand that is thicker for this.
Recommended Products
As an Amazon Associate and member of other affiliate programs, I earn from qualifying purchases.
Nutrition Information:
Amount Per Serving:
Calories: 0
Cholesterol: 0mg
Sodium: 0mg
Carbohydrates: 0g
Fiber: 0g
Sugar: 0g
Protein: 0g