---
This easy, tangy Balsamic Mustard Vinaigrette is the perfect solution to store-bought dressings. Save yourself some money and avoid unhealthy ingredients by making your own! Trim Healthy Mamas, it's delicious over a big, leafy, green salad or as a marinade.
---
A great vinaigrette is based on quality olive oil and vinegar. But…
Have you read the ingredients on a bottle of store-bought vinaigrette dressing lately?
Holy cow…since when do you need over 20 ingredients for something as simple as a vinaigrette? Yikes! Especially if some of those ingredients are artificial colorings and preservatives.
No thank you.
I'll make it myself, thank you very much.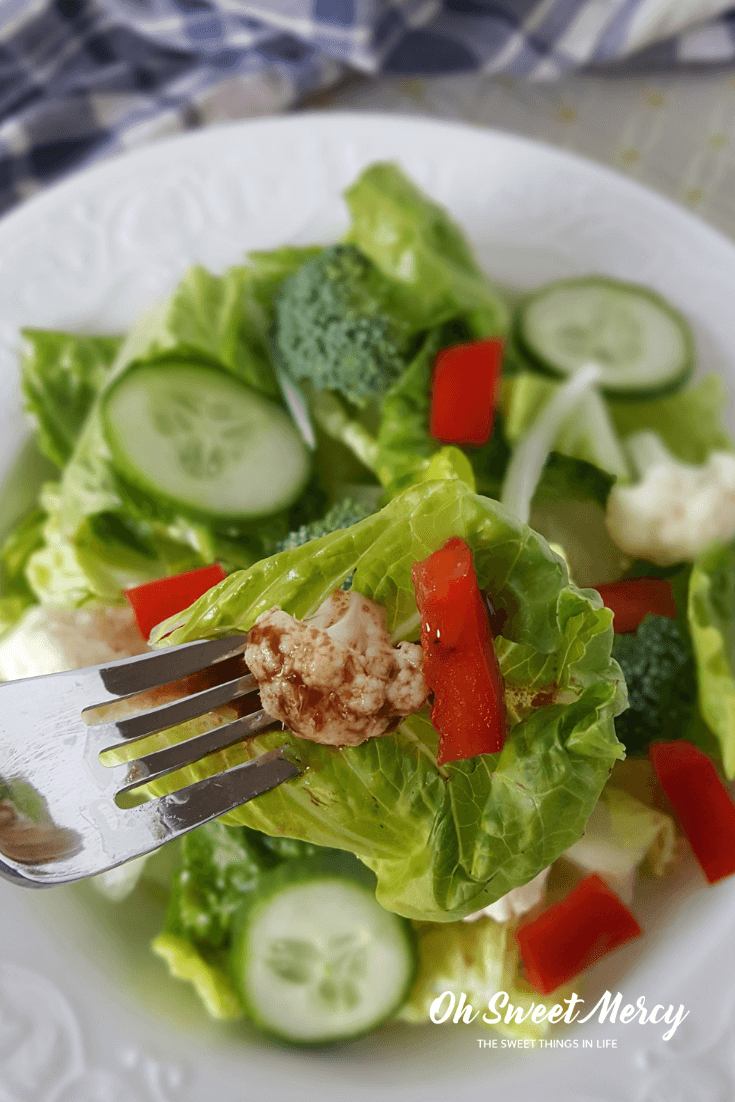 If you're a Trim Healthy Mama plan follower you know the importance of eating plenty of fresh, non-starchy veggies. When I first started following the Trim Healthy Mama plan, I often avoided salads.
That's because the salad dressing issue really made things complicated (or at least that's what I thought). Now, I often just simply drizzle balsamic vinegar and EVOO on my salads.
However, sometimes I want something with a bit more depth of flavor! When I do I whip up a super simple Easy Balsamic Mustard Vinaigrette.
Why Mustard? It sort of acts as an emulsifier!
While the oil and vinegar will eventually separate out, the mustard holds the vinaigrette together longer. It gives you enough time to eat your salad, at least! Mustard also gives it a terrific tangy zing that I just love.
For this easy homemade vinaigrette recipe I choose dijon mustard. You can use whatever mustard you prefer, even hot mustard for a spicy kick!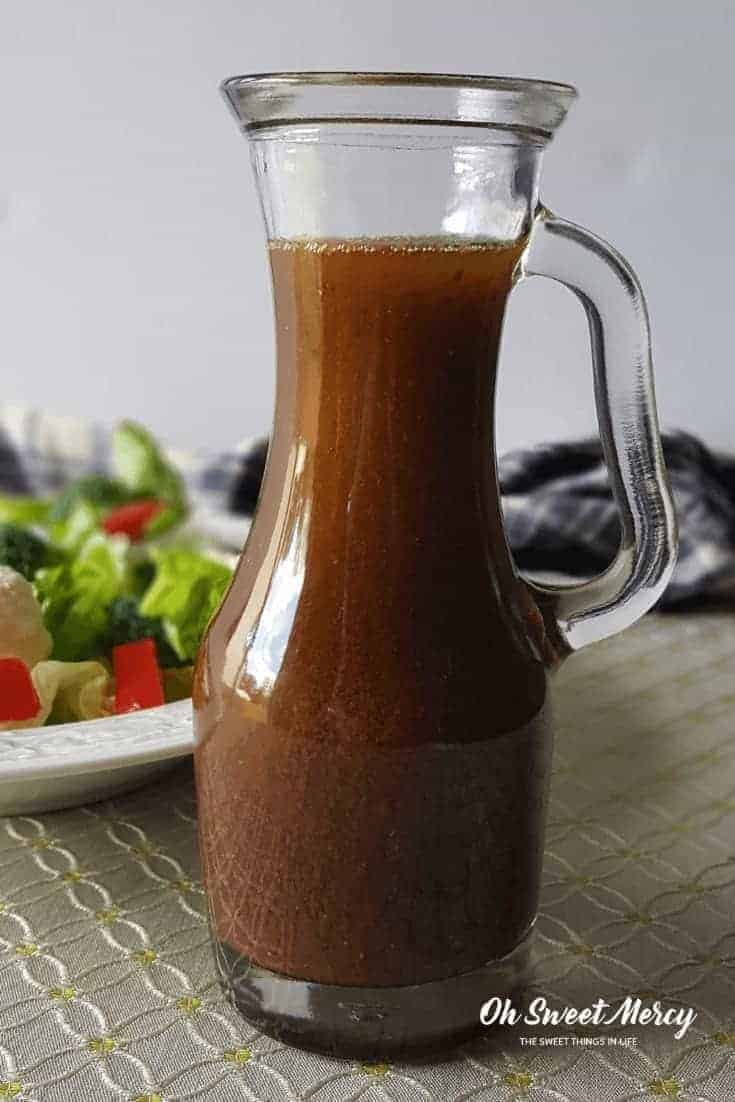 How To Make A Perfect Vinaigrette.
There's a golden ratio you want to hit when making a vinaigrette. The ratio of oil to vinegar you need is 3:1, meaning three parts oil to one part vinegar.
Depending on the type of vinegar used, you may want more or less, but that 3:1 ratio is the "sweet zone" for making a perfect vinaigrette.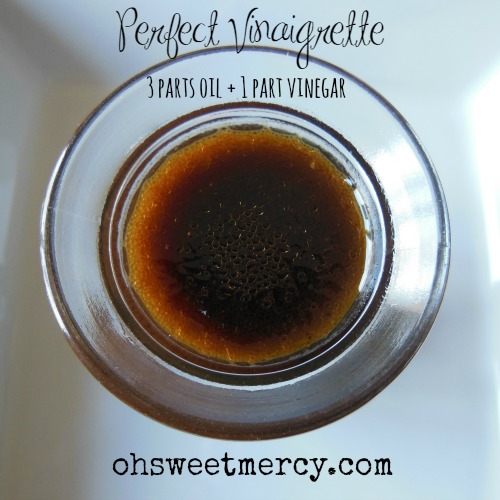 Using A Homemade Vinaigrette For More Than Salads.
While this balsamic mustard version is delicious on salads, it also does double-duty as a meat marinade. It's especially delicious for chicken, breasts or thighs. But that's not all!
What about these ideas…
Beef chunks for kabobs or stew
Beef roasts
Steaks
Salmon filets
Tuna steaks
Burgers
Veggies
Cheeses
There's so much you can do with a simple, flavorful homemade vinaigrette! The best part — no unwanted and possibly harmful ingredients!
No matter how you choose to use this Easy Balsamic Mustard Vinaigrette, it's sure to please.
How Will You Use This Easy Homemade Vinaigrette Recipe?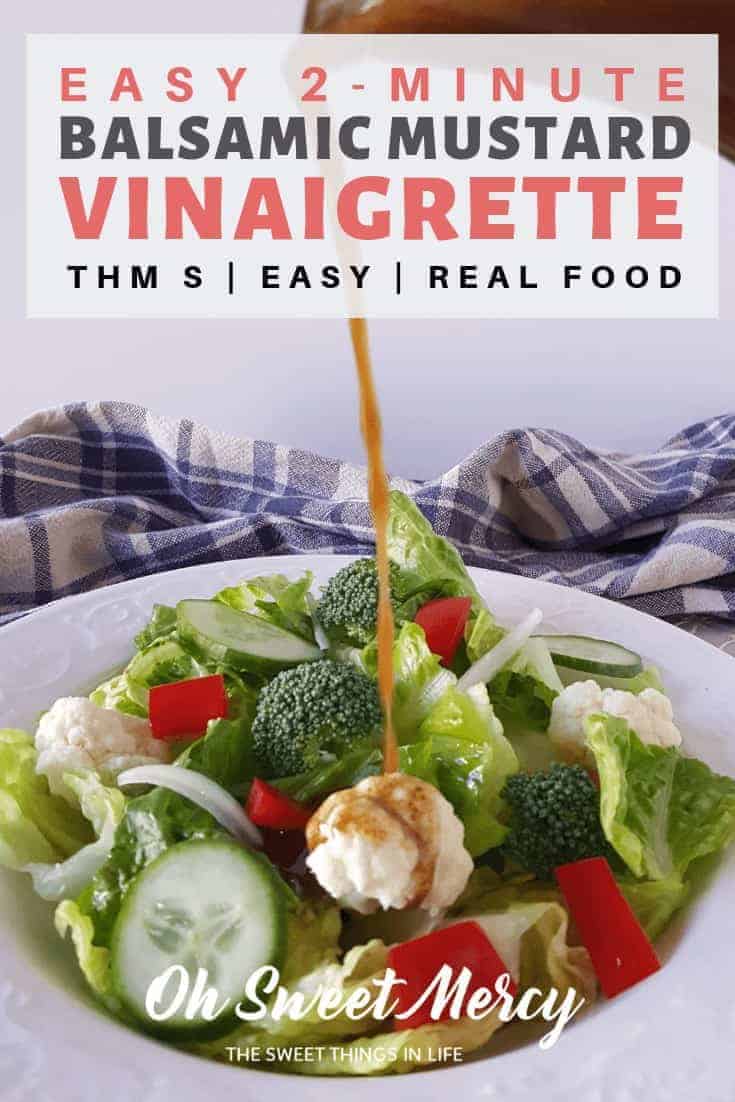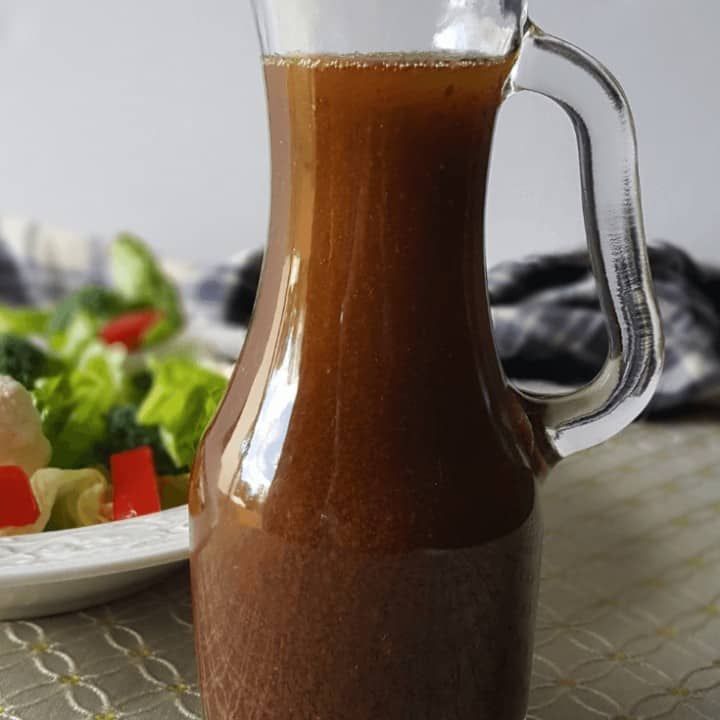 Easy 2-Minute Balsamic Mustard Vinaigrette Dressing | THM S, Keto, Low Carb
Yield: 1 cup
Prep Time: 1 minute
Cook Time: 1 minute
Total Time: 2 minutes
This super Easy 3 Minute Balsamic Mustard Vinaigrette contains no preservatives, dyes, sugar, or other unhealthy ingredients. Just 4 (or 5) simple ingredients and you'll whisk together a delicious, healthy homemade salad dressing. It also doubles as a marinade!
Ingredients
3/4 c Extra virgin olive oil
1/4 c Balsamic vinegar (or ACV such as Bragg's raw apple cider vinegar, or any vinegar of choice)
1 Tbs dijon mustard (or mustard of choice)
Sea salt and black pepper to taste
Pinch of stevia (optional)
Instructions
In a bowl, whisk together the mustard and vinegar.
Slowly whisk in the oil to make an emulsion.
Alternately, add all the ingredients to a salad dressing shaker bottle and shake well.
Shake or whisk well before using.
Store in a beautiful cruet like this one, if you have one!
Notes
Use this easy dressing to marinate meats, cheese, and veggies for added depth of flavor!
Nutritional Information
Information given for a guideline only. Amounts shown may vary according to the ingredients that you use.
Recommended Products
As an Amazon Associate and member of other affiliate programs, I earn from qualifying purchases.
Nutrition Information:
Yield: 8
Serving Size: 2 tablespoons
Amount Per Serving:
Calories: 185.9
Total Fat: 20.3g
Sodium: 47.5mg
Carbohydrates: 1g
Sugar: 1g