Like this post and don't want to miss more like it? Be sure to sign up for my newsletter at the end!
Have you read the ingredients on a bottle of salad dressing lately?
Holy cow…since when do you need over 20 ingredients for something as simple as a vinaigrette?  Yikes! Especially if some of those ingredients are artificial colorings and preservatives.
No thank you.
I'll make it myself, thank you very much.
I try to eat a lot of salads since that's a great way to eat fresh veggies, and even fruits. When I first started following the Trim Healthy Mama plan, I avoided them because the salad dressing issue really made things complicated…or at least that's what I thought.
Anymore, I often just simply drizzle balsamic vinegar and EVOO on my salads. But sometimes I want something with a bit more depth of flavor, so I'll whip up a super simple Easy Balsamic Mustard Vinaigrette.
Why mustard? It sort of acts like an emulsifier.
The oil and vinegar will separate out after a while, but the mustard will hold the vinagrette together long enough to eat your salad, at least. It also gives it a terrific tangy zing that I just love.
There's a golden ratio you want to hit when making a vinaigrette. The ratio of oil to vinegar you want to aim for is 3:1, meaning three parts oil to one part vinegar. Depending on the type of vinegar used, you may want more or less, but that 3:1 ratio is the "sweet zone" for making  a perfect vinaigrette.
Pin this so you don't forget this handy vinaigrette tip!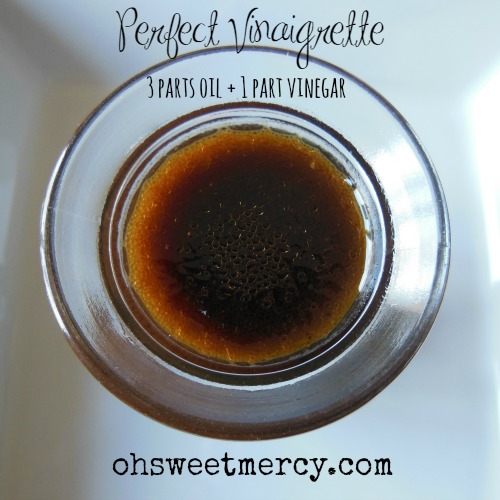 Easy Balsamic Mustard Vinaigrette (THM-S)
ingredients
3/4 c Extra virgin olive oil
1/4 c Balsamic vinegar (or ACV such as Bragg's raw apple cider vinegar, or any vinegar of choice)
1 Tbs dijon or honey mustard
Sea salt and black pepper to taste
(Optional) pinch of stevia
method
In a bowl, whisk together the mustard and vinegar. Slowly whisk in the oil to make an emulsion. Or, if you're lazy in a hurry like me most of the time, just whisk it all together at once. Shake or whisk well before using. Store in a beautiful cruet like this one, if you have one!
Makes approximately one cup of vinaigrette.
Pin this Vinaigrette Recipe to Your Favorite Recipe Board!