When I head to the kitchen, I don't always know what will happen.
Yesterday, this delicious Vanilla Cake in a Mug recipe happened. I love it when something delicious…and easy…happens! It was so tasty I had it for my S breakfast this morning.
In case you're wondering, an "S" breakfast is one with lots of good, healthy fats and very few carbs. I've been a very happy and successful Trim Healthy Mama follower for over a year now, and I eat yummy treats like this just about whenever I want!
Read more in my reviews: Trim Healthy Mama Review, 90 Days of Trim Healthy Mama – A Progress Update, and My Trim Healthy Mama "Trimmaversary" – One Year Later. Or if you're ready to join the thousands of THMs out there who have lost weight and gained good health, order the plan book and cookbook from my affiliate partner.
I love coconut flour because it lends a "real" consistency to gluten and grain free baked goods.
Plus, it's super healthy for you! One thing I have noticed, however, is that using a significant amount of coconut flour in a mug cake recipe seems to increase the "baking" time. Since all microwaves vary, you may need to experiment a bit to see how long yours will take. My microwave takes about twice as long.
Top your vanilla cake in a mug with your favorite Trim Healthy Mama plan-approved "frosting," Greek yogurt and fresh berries, some THM Skinny Chocolate, or try this delicious fresh, creamy lime glaze.
If you like coconut and mug cakes, you will want to try my Dark Chocolate Coconut Cake in a Mug – a recipe that's included in the first Trim Healthy Mama cookbook published in 2015! You can order your copy here, or the new simplified Trim Healthy Mama Plan book, through my affiliate partner.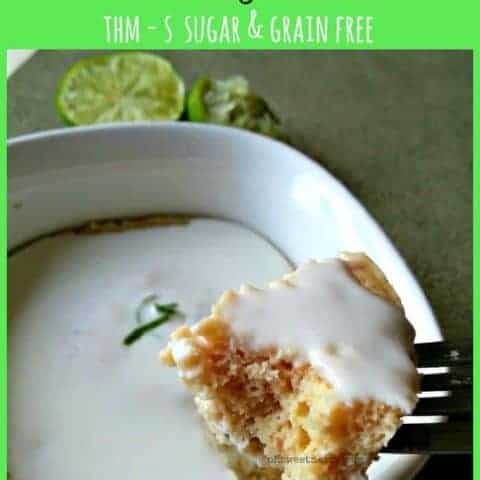 Vanilla Cake in a Mug with Creamy Lime Glaze
Yield: 1 serving
Prep Time: 2 minutes
Total Time: 2 minutes
This bright, fresh, low carb single serving cake is a perfect treat for Trim Healthy Mamas, gluten free, or low carbers.
Ingredients
For the Cake
1 egg
2 Tbs coconut flour
1 Tbs golden flax
1 Tbs 0% Greek yogurt, or sour cream.
1 tsp virgin coconut oil
1 tsp xylitol (optional)
2 packets stevia OR your favorite sweetener to desired sweetness
2-4 Tbs almond milk, for consistency
1/2 tsp baking powder
Pinch of sea salt
Splash of vanilla (1/4 to 1/2 tsp)[br]
For the Glaze
1 Tbs sour cream
1 tsp fresh lime juice
1 tsp xylitol
1 packet stevia
OR use your favorite sweetener to desired sweetness
Instructions
MAKE THE CAKE
If baking in the oven, preheat to 350 degrees.
In a microwave or oven safe mug or bowl, whisk egg and sour cream together.
Add coconut flour, flax, coconut oil, sweetener, baking powder, salt and vanilla and mix well.
Add almond milk, one tablespoon at a time, until you reach a muffin batter consistency.
Microwave for 2 minutes or until done in the center.
OR bake for 20 minutes or until baked through.
Top with desired topping, such as...
MAKE THE CREAMY LIME GLAZE
Combine sour cream, fresh lime juice and sweetener(s).
Mix well and pour on top of cooled, or warm, cake.
Recommended Products
As an Amazon Associate and member of other affiliate programs, I earn from qualifying purchases.
Nutrition Information:
Amount Per Serving:
Calories: 0
Cholesterol: 0mg
Sodium: 0mg
Carbohydrates: 0g
Fiber: 0g
Sugar: 0g
Protein: 0g
Be Sure to Pin this Vanilla Cake in a Mug Recipe to Your Favorite Pinterest Boards!