---
Butter is one of the most delectable things in the world. What can possibly make buttah bettah? Making compound butter! Adding herbs to butter infuses it with flavorful goodness, making everything you put it on amazing. And if you're following the Trim Healthy Mama lifestyle, that 1 teaspoon of butter on your E or FP foods means more flavor and more satisfaction.
---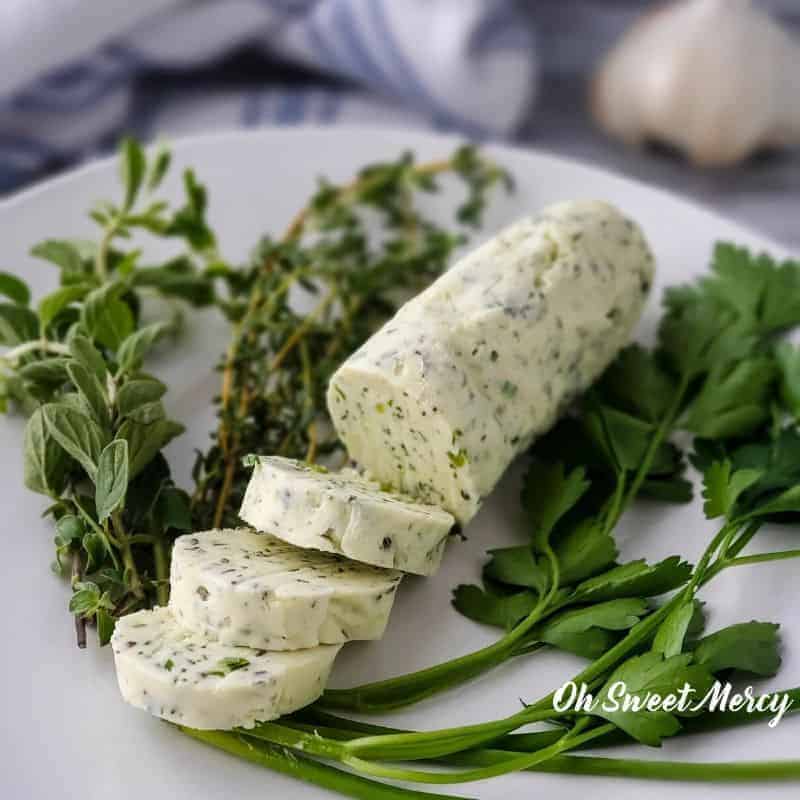 While ideally you're eating grass fed butter, choosing butter over margarine is still better!
Grass fed butter is rich in CLA (a beneficial fatty acid), helps fight inflammation, and is actually good for your heart.
You can find it in many stores these days, even Aldi carries Kerrygold. Even though it's not organic, it's still a step up from regular butter. And definitely better than margarine.
I'll take butter made from just cream and salt over something mixed up in a lab somewhere pretending to be butter any day!
Butter Is Good For You! Put It On All The Things!
Yes, on the Trim Healthy Mama plan we can have butter on ALL the things. While some foods are best kept to one fuel type or another, butter is loved by them all. Even Deep S meals (or should I say especially…)!
The key is in HOW you eat the butter.
Low Carb? Be Liberal (But Reasonable)!
In our low carb meals (you'll see them marked THM S) just put some butter on. Don't worry so much about measuring. You can if you like, of course.
I did mention being reasonable. This means don't eat an entire stick of butter for supper. It also means choosing S meals that are lighter in fats now and then.
It never means don't eat butter though 😉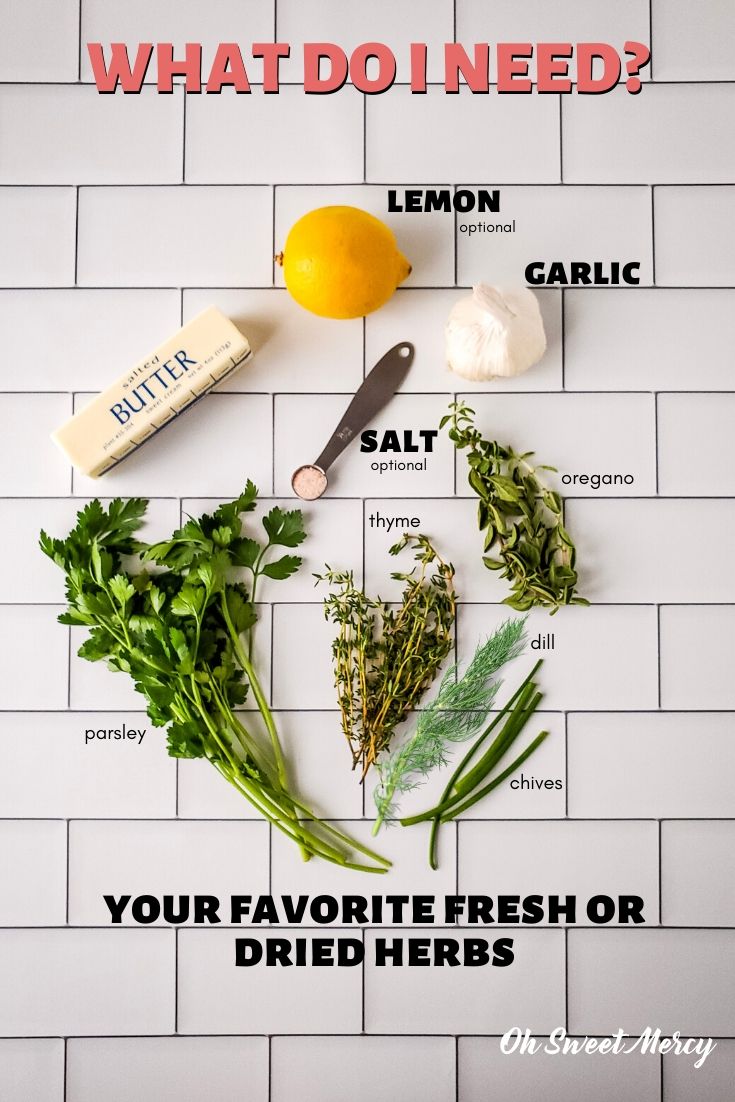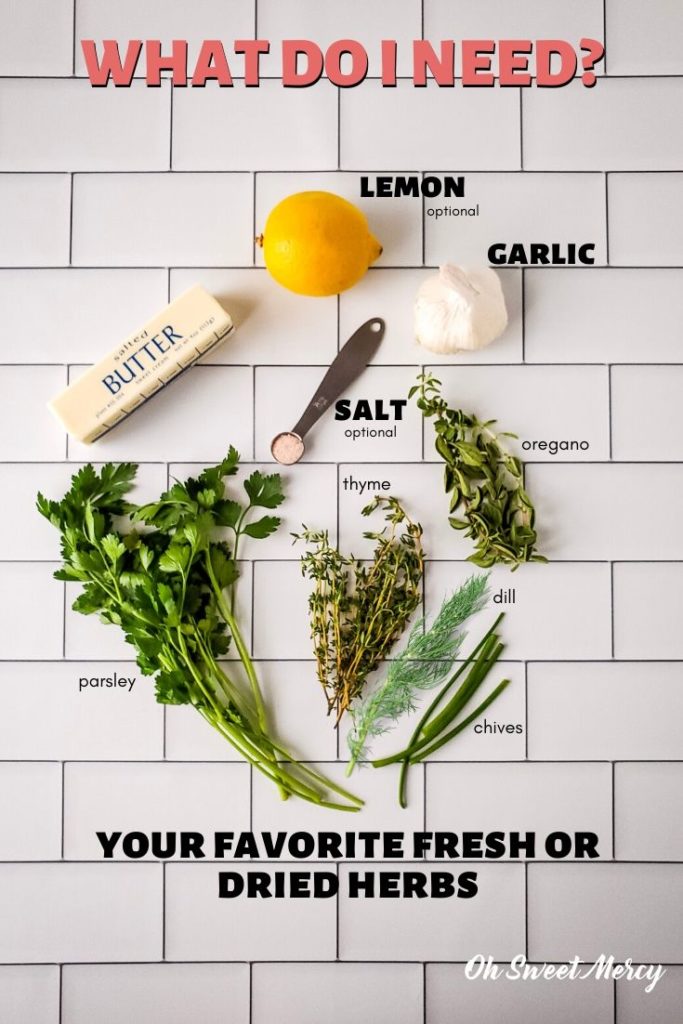 Low Fat? Compound Butter Is Even Better!
In our low fat style THM meals (THM E or THM FP), we limit our added fats to 1 teaspoon. That's not very much at all.
So, infusing butter with all kinds of flavors makes that little bit of fat so much more satisfying.
For example, the other day I had an E lunch. It was very simple: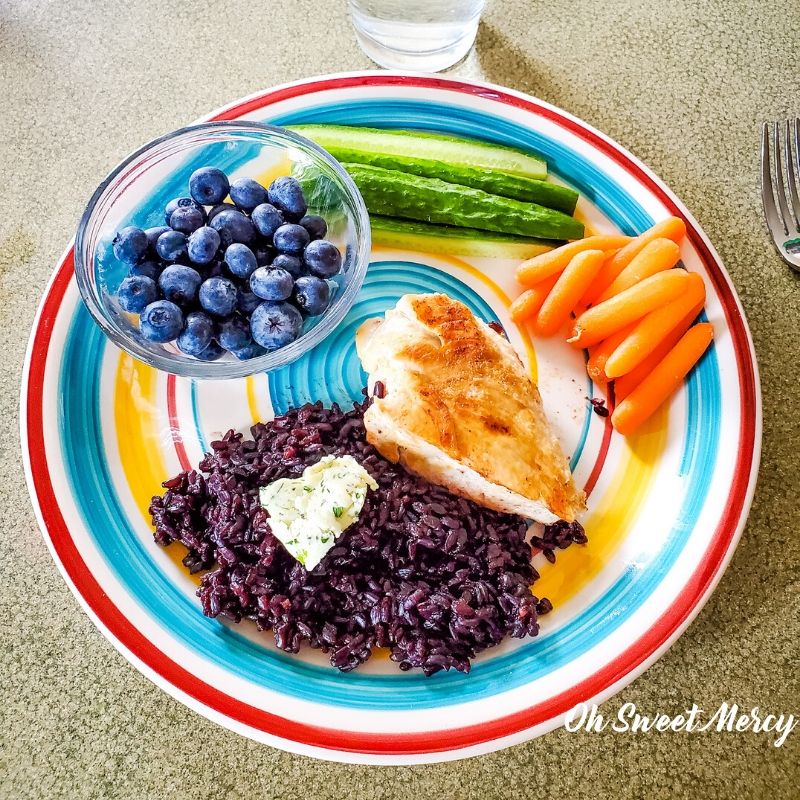 I put my little teaspoon of herbed butter on my rice. Then I mixed it in very well so all the rice had at least a little bit of butter on it.
It was the best black rice ever! Fat gives a luxurious mouthfeel to foods, and when that element is reduced it can seem unsatisfying.
But when you've got an explosion of flavor going on you don't miss the fat so much! My simple lunch was super satisfying. Even 2.5 hours later I was not feeling famished at all.
How To Make Easy Compound Butter (or Herbed Butter).
You just need butter and some herbs. Then mix it all together. How easy is that?
But for clarity's sake, here's a few more details…
How To Make Compound Butter With Fresh Herbs.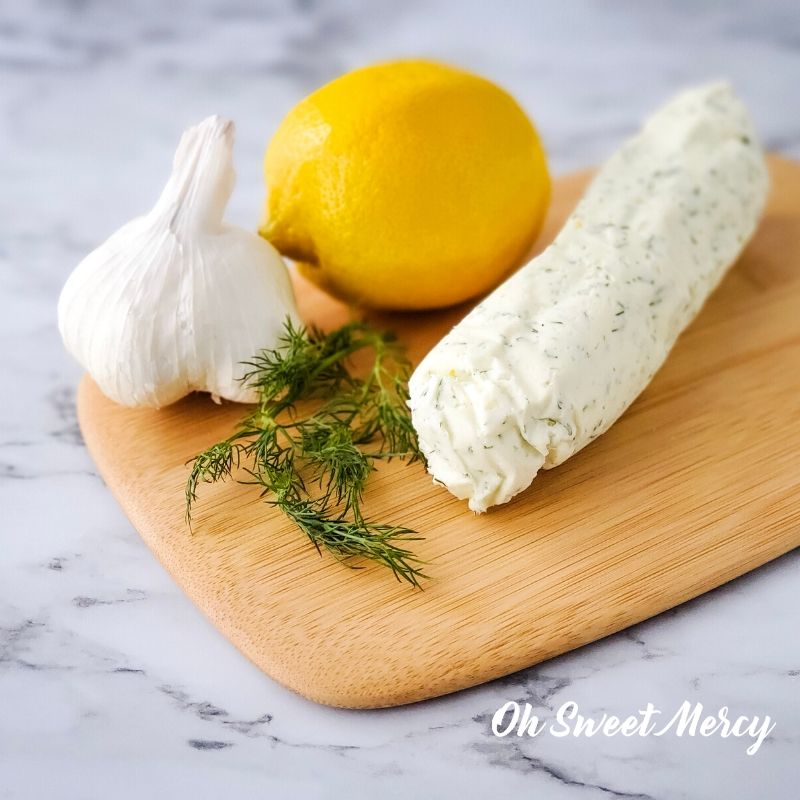 Fresh herbs are always the best. The flavor seems more alive and vibrant! Here's what you need to know about making herbed butter with fresh herbs:
If necessary, wash your fresh herbs with cool water. Shake off as much as possible, then let the herbs dry for a while. Before making the compound butter, pat the herbs well with a towel to make sure as much moisture as possible is removed.
For herbs with thick stems, remove the leaves. This is easily done by grasping the end of the stem (with the underside of the leaves facing you) and pulling through your pinched fingers. Or, use an herb leaf stripper.
If you have herb scissors, those are great! If not, use a sharp knife or even pizza cutter. I often use my pizza cutter (or pizza wheel) when I have a big pile of herbs to chop. Simply run the pizza cutter back and forth over the herbs until they're they size you want.
For large leaf herbs, such as basil, start with a chiffonade. Stack several leaves on top of each other then roll into a little bundle. Using a sharp knife, cut the bundle into little strips, then continue chopping into small pieces or use a pizza cutter.
Once your herbs, and garlic if you're using that, are all chopped, mix into softened butter. Using a hand mixer is quick and easy. But you can also use a spoon instead.
Use it right away if you like, but for best flavor give it a few hours or overnight. That way all the herby goodness gets infused into the butter.
How To Make Compound Butter With Dried Herbs.
Making herbed butter with dried herbs is super easy (though I prefer fresh herbs for best flavor).
No need to wash or cut anything, just measure and mix!
Keep in mind that if the recipe calls for fresh herbs you'll need to substitute dried at a 1:3 ratio. This means for 1 tablespoon of fresh herbs you'll only need 1 teaspoon of dried herbs. They're more concentrated so less is more.
TIP: I like to roll my compound butter into logs then slice as I need it. Plop your herbed butter onto a sheet of wax or parchment paper, fold some of the paper over the butter then shape into a log and roll.
How To Store Compound Butter.
Store your herbed butter in an airtight container in the refrigerator. You can also freeze for longer storage.
Freezing in 1 teaspoon sized portions makes measuring for your THM E and FP meals a breeze, too.
In addition to making logs with your flavored butter, try using a butter mold or silicone candy molds.
How To Use This Magical Butter In Your THM Meals.
NOTE: When making your own flavor variations, keep in mind that onion, tomato, berries, cheese, nuts, or seeds are not Deep S friendly.
Use your delicious herbed butter anywhere you'd use butter. It's especially good on a piece of meat, such as grilled steak, chicken breast, or fish.
That herby, buttery-ness melts all over the meat and makes every bite richly flavorful.
Spread it on your favorite low carb breads. Or, use a little on your THM E breads.
Cook eggs in it.
Melt over your favorite non-starchy veggies
Add to rice or quinoa (be mindful of amounts with starchy foods)
Maybe just eat it. I mean, if you like to just eat butter. Not that I know anything about that or anything….
Here's 2 Compound Butter Recipes To Try.
As you can see, herbed butter is amazing. It's also so easy to make! I've created 2 flavor variations for you to try. One is a delicious all-purpose herbed butter that's great for anything.
The other is a lemon, garlic, and dill version that's perfect for fish. It's also delicious anywhere, actually.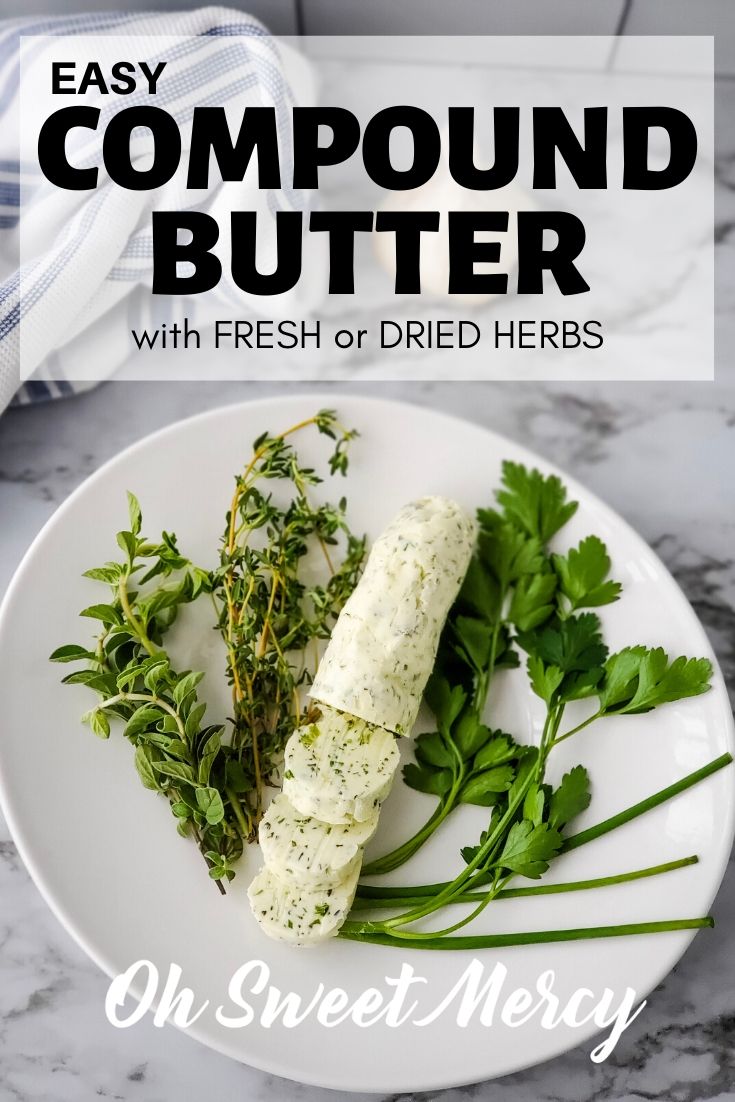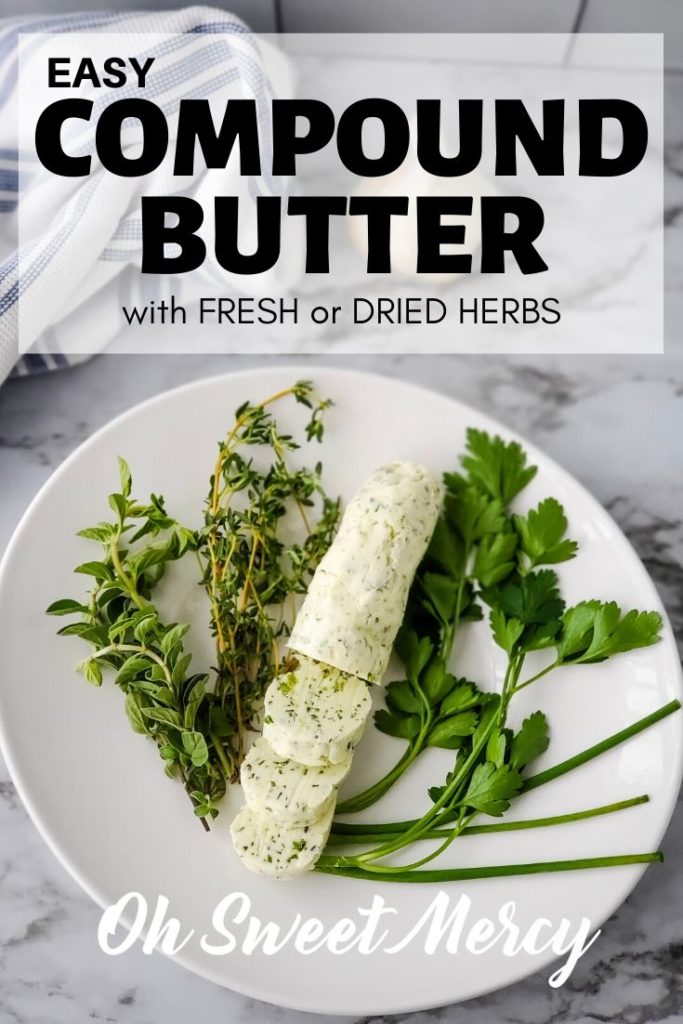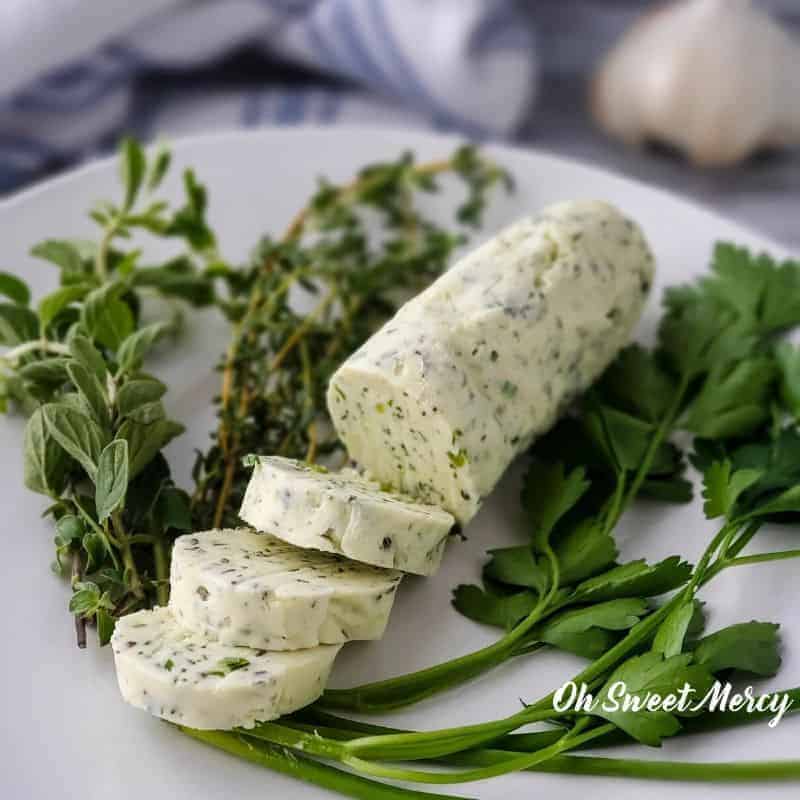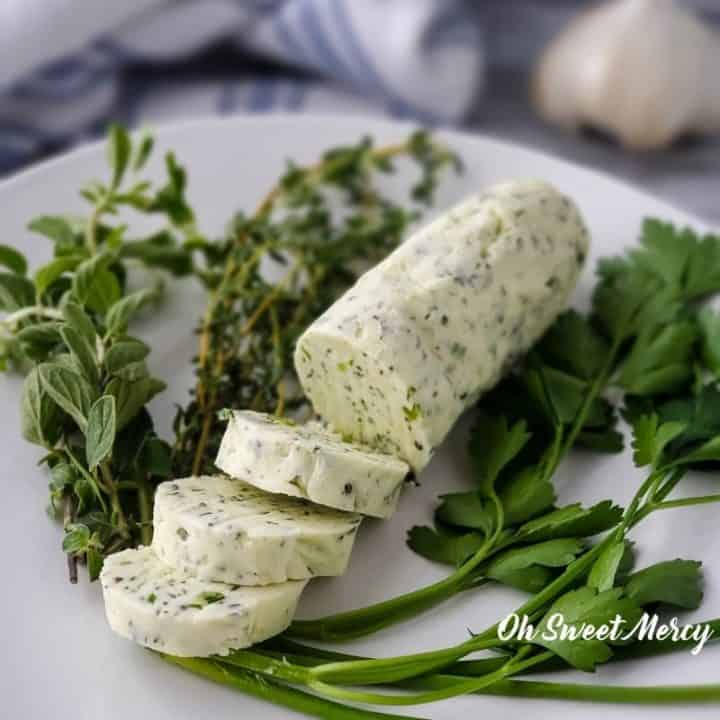 Easy Compound Butter (or Herbed Butter)
Yield: 1/2 cup
Prep Time: 15 minutes
Total Time: 15 minutes
Use fresh or dried herbs to transform plain butter into a savory, mouthwatering sensation. Wonderful on meats, veggies, breads and more. Perfect for all THM style meals.
Ingredients
1 stick butter, softened (1/2 cup)
1/4 teaspoon salt (optional)
1 to 2 cloves garlic, pressed or minced, or to taste
Savory Garlic And Herb Version
2 teaspoon fresh chives, snipped
1 teaspoon fresh oregano, chopped fine
1 teaspoon fresh thyme, chopped fine
1 teaspoon fresh parsley, chopped fine
Lemon, Garlic, and Dill Version
3 tablespoons fresh dill, chopped fine
1 tablespoon fresh lemon juice (or bottled)
1/4 teaspoon lemon zest, finely chopped
Instructions
In a bowl, beat or stir garlic, herbs, and salt together until well mixed.
Form into a log by placing butter mixture on a sheet of waxed or parchment paper, then rolling and shaping into a log shape.
Alternatively, use butter molds or even silicone candy molds.
Or place into an airtight container.
Store in the refrigerator or freeze.
Notes
If using fresh herbs be sure they are as dry as possible before using.
If using dry herbs:
- For the savory garlic and herb version, use a combination of your favorite herbs that equals 1 tablespoon.
- For the Lemon, Garlic, and Dill, use 1 teaspoon dried dill.
Substitute fresh garlic with 1/4 teaspoon garlic powder per clove or to taste.
For THM Deep S uses - do not add onion, tomato, berries, cheese, nuts, or seeds!
Recommended Products
As an Amazon Associate and member of other affiliate programs, I earn from qualifying purchases.