---
Don't get sideswiped by snack attacks! Pack your own THM friendly snack boxes for quick to grab munchies at home or on the go. Plus, a DIY snack box saves money and ensures your snacks are always on-plan. Keep reading for easy snack box ideas you can put together yourself.
---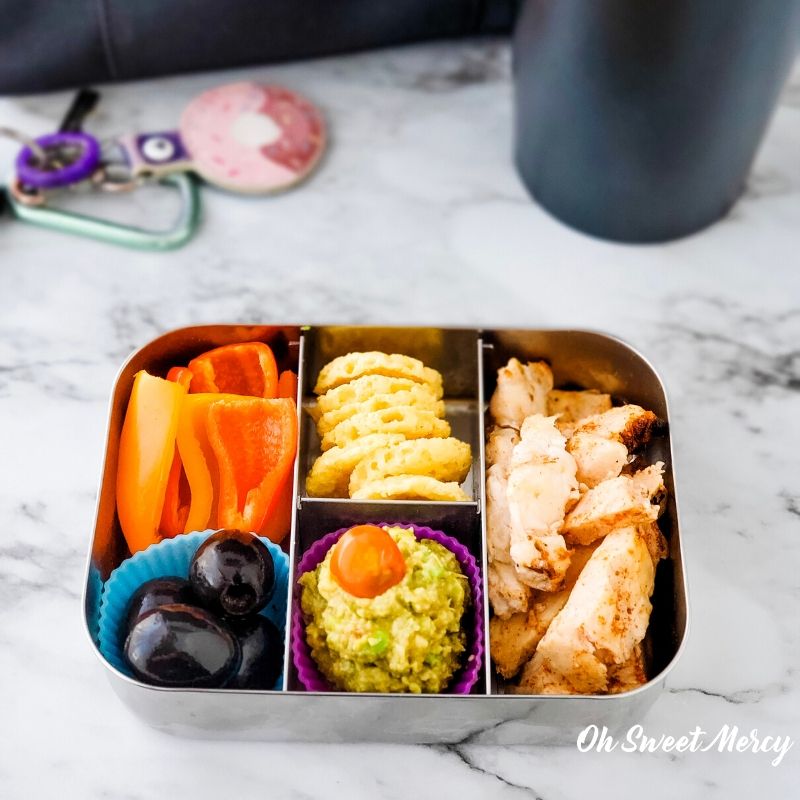 Has this ever happened to you? The day you meticulously planned ends up more of a dumpster fire. And you just want a snack right now.
Or, you're out running errands. What should have taken less than an hour has dragged on into 2 and it's way past meal time. You need a THM snack right now or you're going off the rails.
Because you're ramping up to hangry in a hurry….
If only you had a snack box to grab full of healthy, nourishing, on-plan munchies!
How To Make A DIY Snack Box (And Not Get Hangry)
Making your own portable snack boxes just takes a little forethought and prep time.
It's very easy, and taking the time to prep your favorite THM snack foods before the week begins helps you stay prepared for any snack attack.
TIP: snack boxes are also great for kids or grandkids who are old enough to get their own snacks. They might even have fun packing their snack boxes with you. Mark with their name and they'll know which one to grab when they want a snack. And you can rest easy knowing they're getting a healthy, nourishing one.
The Best Containers For DIY Snack Boxes.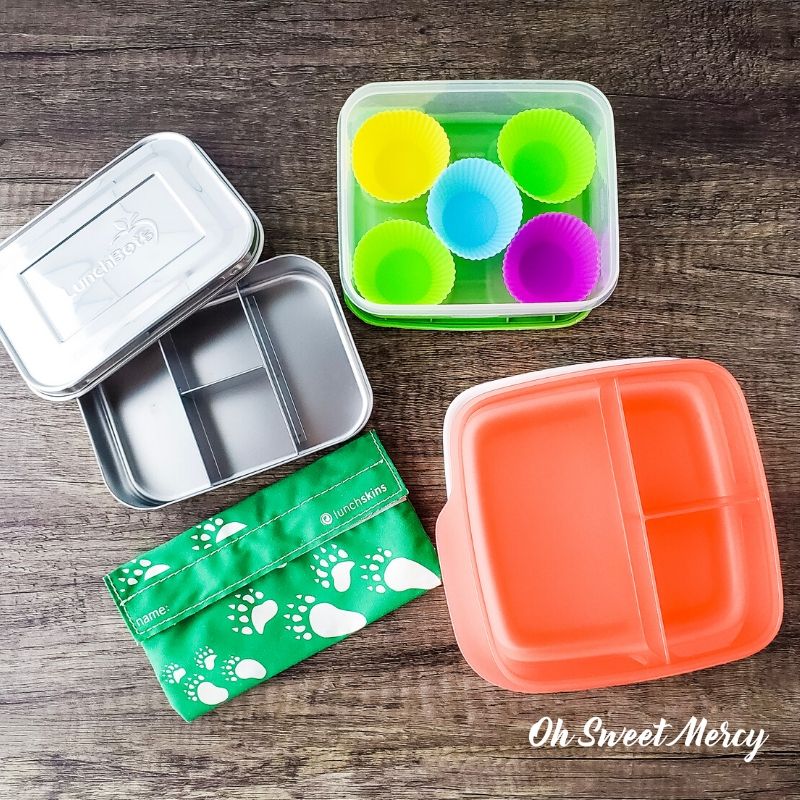 First, you'll need some kind of container to hold all your THM nibbles. I love Bento boxes! This one from Lunchbots (the stainless steel box pictured above) is perfect for packing THM snacks and portion control.
They also come in different layouts and sizes so choose the one that suits your snacking style and needs best. Plus, you can get leak proof condiment containers for runny things like dips that fit right in your Bento box! Just be sure to check that the containers will fit the layout style you have (or want to purchase).
No Bento box? Plastic food containers also work well. Make a faux Bento box with silicone muffin pan liners! The even come in square and rectangle shapes, making it super easy to pack into a square or rectangle food container.
I also use my mini silicone muffin liners with my Bento box because the compartments are not leak proof. That means pickle juice can escape and mingle with other foods and that's really not what I want, you know?
Finally, just packing your snacks in zippy bags (be kind to our planet and your budget with reusable snack bags) and keeping them in the fridge to grab and go is another easy option.
PIN IT!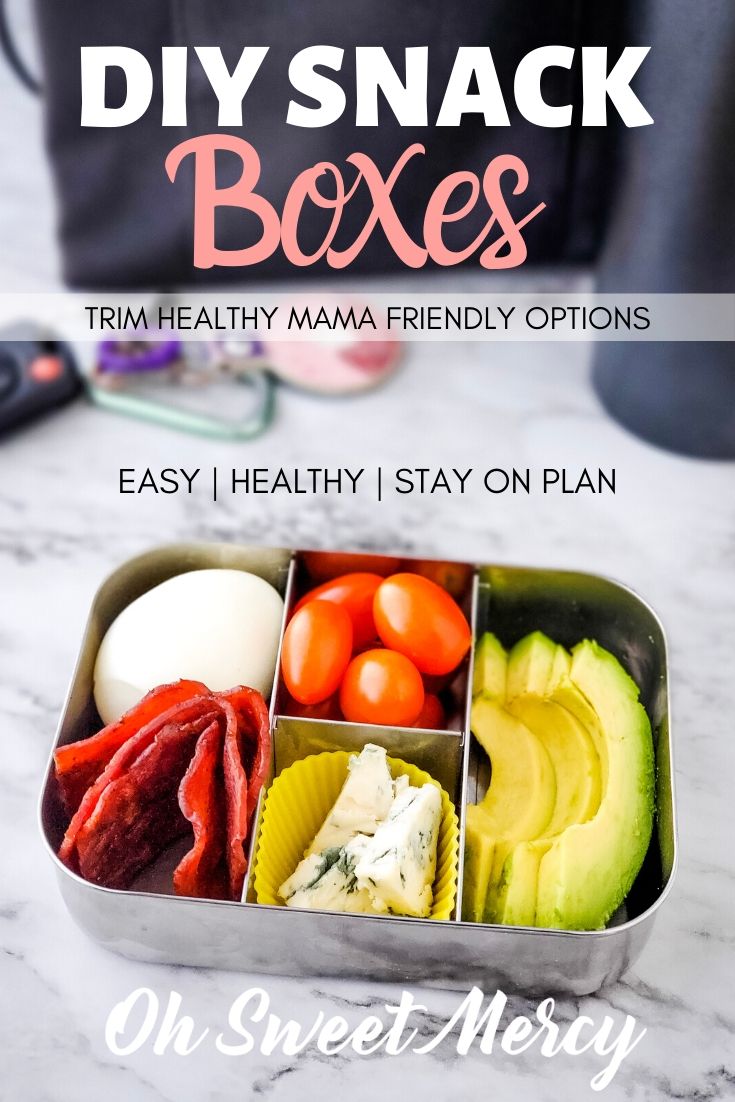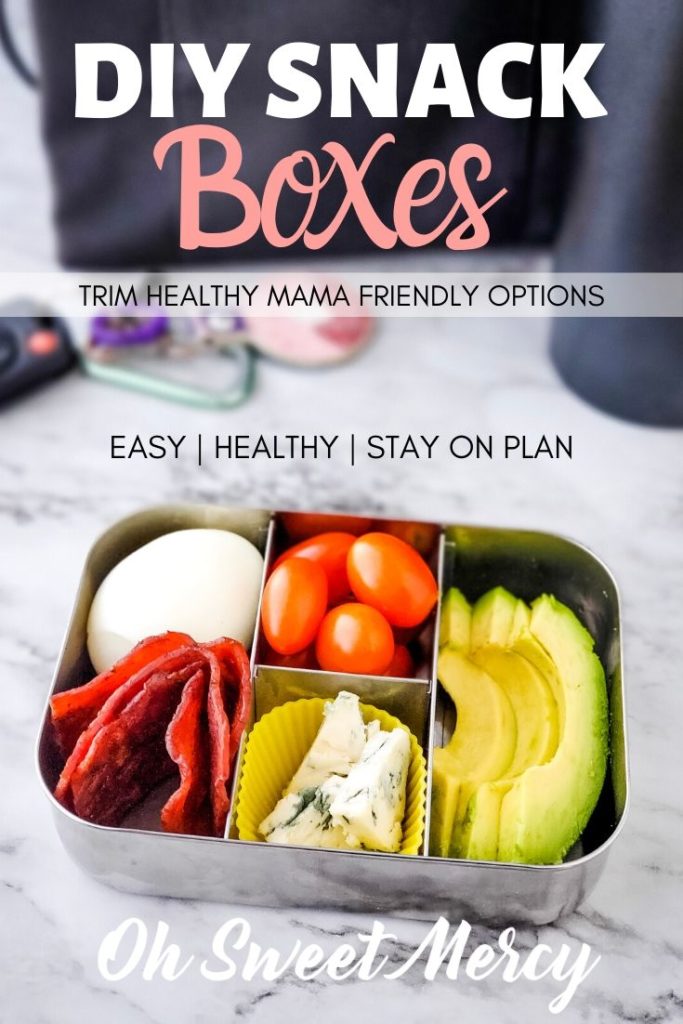 The Best THM Snacks For Your DIY Snack Box
Your favorite on-plan foods are the best choices for your snack box! Don't pack celery just because it's good for you if you hate it.
You'll be less likely to actually eat it if you don't enjoy it. Kind of defeats the purpose, right?
Super Easy Snack Options (Little To No Prep)
Foods that are small or can be cut into small pieces are best for super quick prep.
Fresh berries (FP)
Veggies (FP or E)
Nuts and seeds (S)
Mandarin orange segments (E)
Apples and other E fruits
Cheese sticks or cubes (S or FP depending on the cheese)
Store bought cheese crisps (S)
Deli meats (FP)
Meat snack sticks (S)
Canned chicken or tuna (or pouches) (FP if packed in water)
Olives (S)
Pickles (FP)
Sprouted pretzels (E)
Coconut flakes (S)
Cacao nibs (S)
Sugar free chocolate chips (S)
85% dark chocolate or other on-plan chocolate (S)
Have A Little More Time To Prep?
These ideas are pretty easy to make but take a little more time than cutting fresh veggies and fruits or opening a bag of sprouted pretzels. If you already have boiled eggs on hand then the egg recipes are quick and easy.
Like To Bake And Prep Ahead For The Week?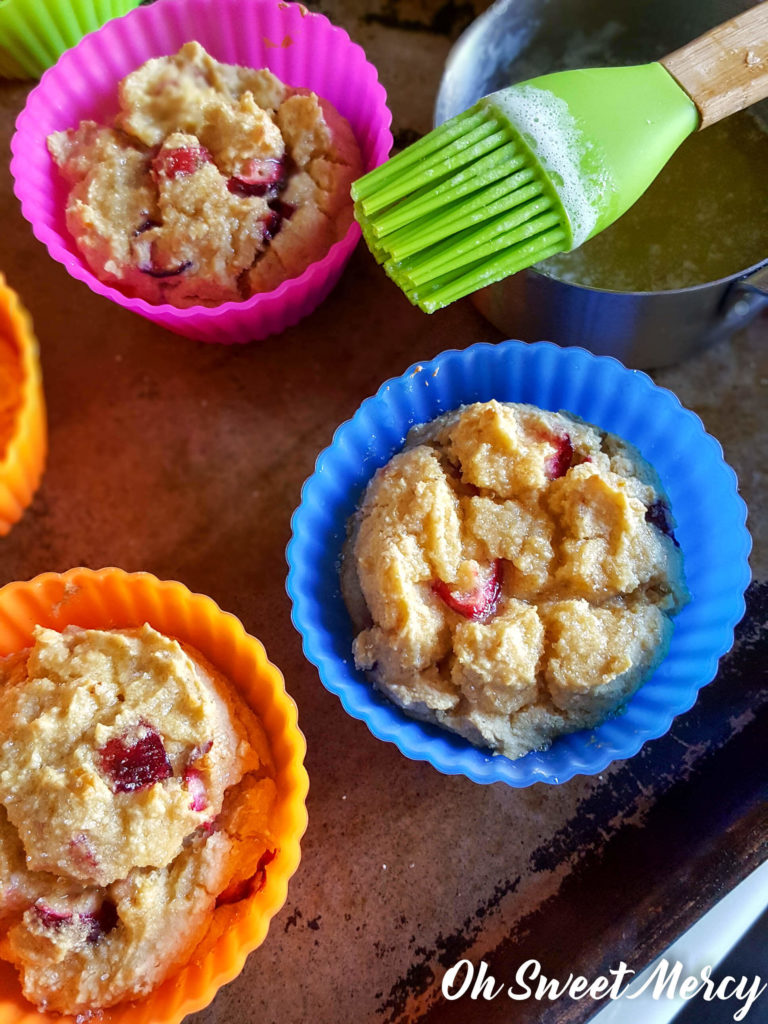 If you already plan and prep ahead for the week, plan on making small baked goods or candy treats to pop in your THM snacks box. Egg puffs are also great for snack boxes and a great source of protein.
Muffin or Cake in a Mug recipes can be made in mini muffin pan liners for perfectly snack sized portions.
Time To Make Your THM Snack Box! Here's 8 Ideas To Get You Started.
I've given you lots of ideas above, here's some quick and easy "recipes" you can try. THM snacks are delicious, nutritious, and really very easy to make.
Tuck a snack box in your purse, gym bag, or backpack when you head out to run errands. You'll always be prepared for any contingency that arises during your day and stay on plan easily!
Be sure to use an insulated carrier and include an ice pack if you're going to be gone for a while to keep your foods at a safe temperature.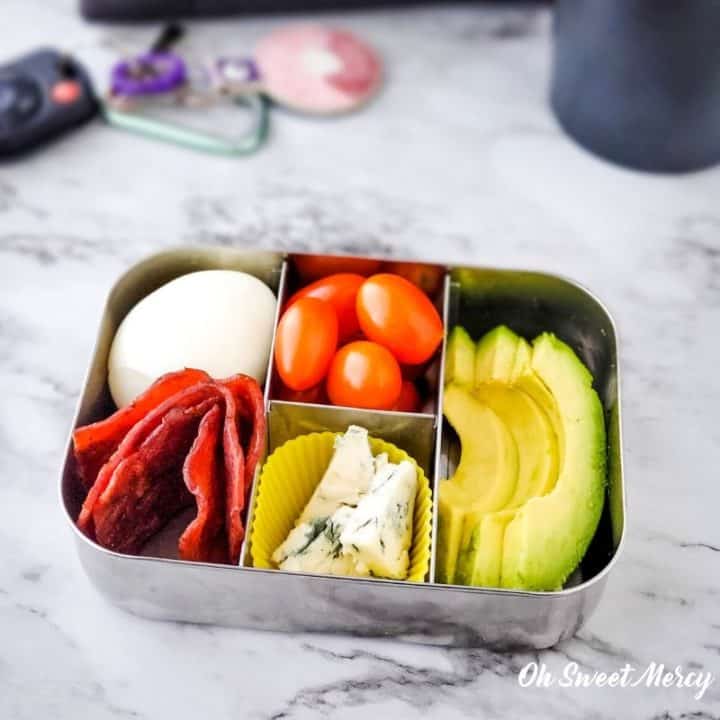 How To Make Snack Boxes For Trim Healthy Mama
Yield: Packable Healthy Snacks On The Go
Prep Time: 15 minutes
Total Time: 15 minutes
Difficulty: Easy
Estimated Cost: Varies
Stay on plan when you're on the go by packing healthy, THM friendly snacks in a Bento box. No Bento box? You can use leftover containers or zippy bags instead.
Materials
Container for Packing Snacks
Easy to pack snacks
Options for Snack Containers
Bento Box
Leftover container
Reusable snack bags
Silicone muffin pan liners
Leak proof containers for dips, etc.
Your Favorite THM Snack Foods
Berries (S, E, and FP)
Other Fruits (E, XO, SH)
Fresh Veggies (S, E, FP)
Cooked meats (S, FP)
Hard cooked eggs (S or FP)
Nuts and seeds (S)
Cheese (S or FP)
Treats you make yourself (S, E, FP)
Dips, sauces, nut butters, etc. (S, E, FP)
Tools
Sharp knife
Cutting board
Strainer, for rinsing produce
Instructions
Shop For And Prepare Snack Foods: Think about what you'd like to snack on this week, what fuel types you want to have, and make a list. Check the list below for ideas or put together your own combinations. If you need to make or bake something be sure to check that you have all the ingredients you need. Rinse and cut produce, cut cheese, meats, etc.
Choose A Container: Choose a container to pack your snacks - Bento box, leftover container, divided food storage container, etc. TIPS: use mini silicone muffin pan liners for juicy or messy foods like olives, pickles, guacamole, etc. Use small condiment containers with lids for sauces and dips.
Pack It: Pack your snacks in your container and refrigerate until you need them.
The following are suggestions for making your own THM friendly snack boxes. Customize to your tastes and dietary needs as needed.
Mexi Snack Pack (S)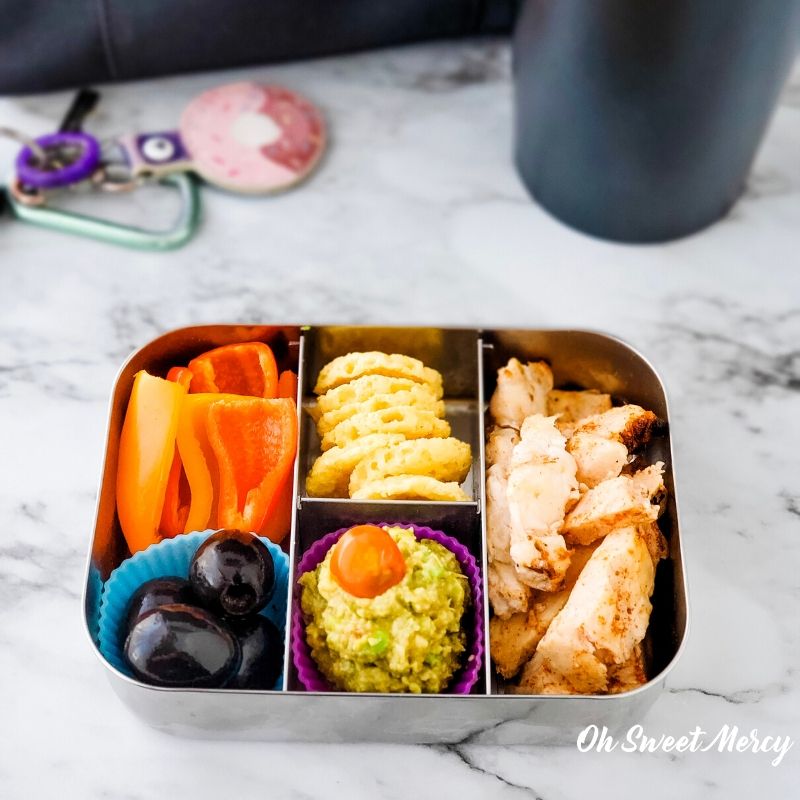 Cooked taco-seasoned chicken, guacamole, mini pepper halves, cheese crisps, and black olives.
Breakfast On The Go (S)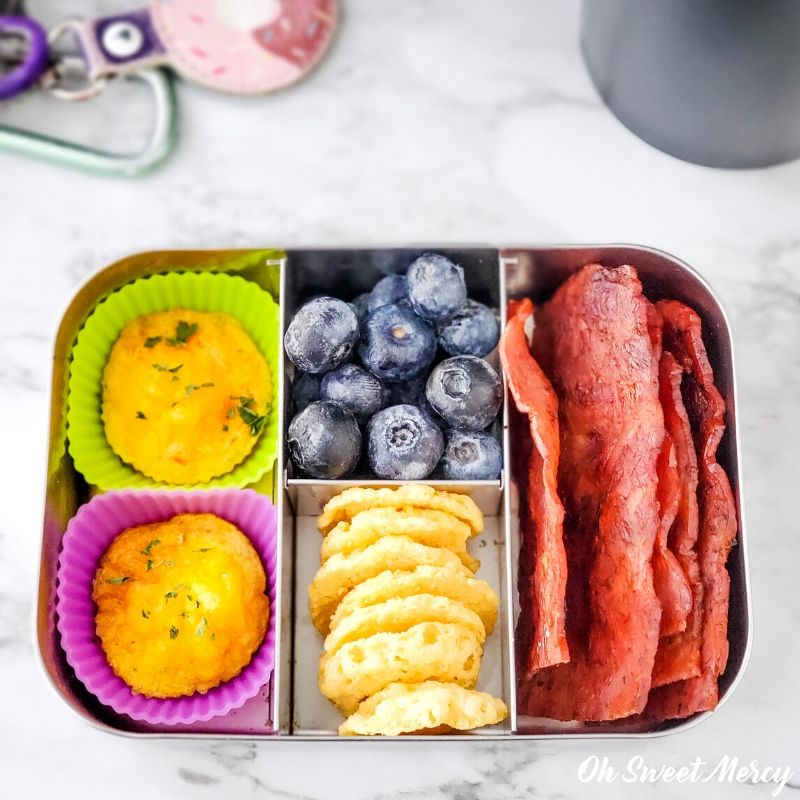 (S) My Spring Chive Cheesy Egg Puffs, fresh berries, cooked turkey bacon, cheese crisps.
High Protein Snack Box (S)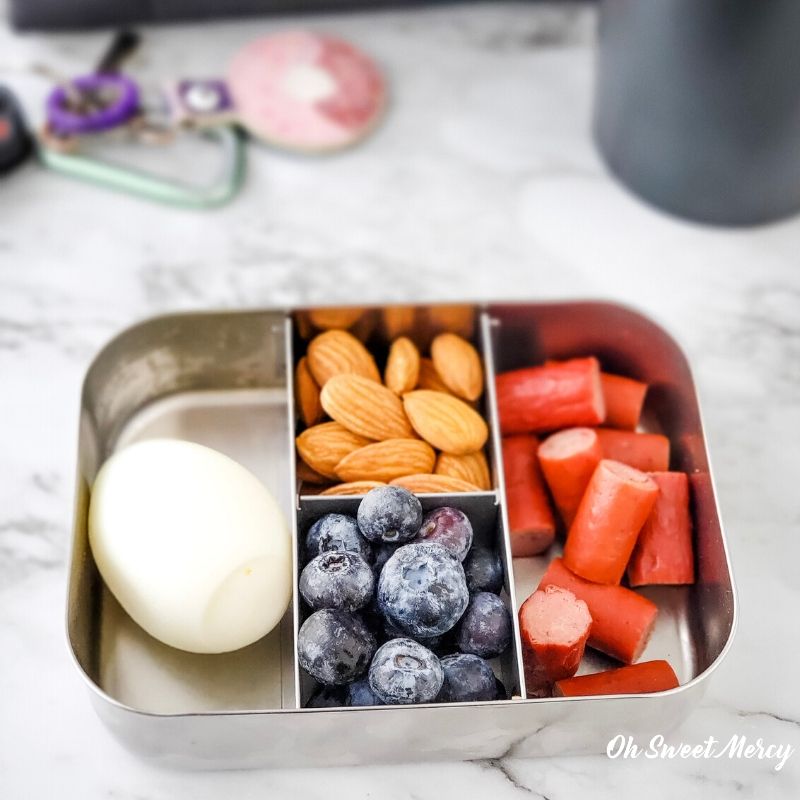 Hard cooked egg, nuts, turkey snack bites (or other cooked meat), fresh berries.
Vegan Protein & Fats (S)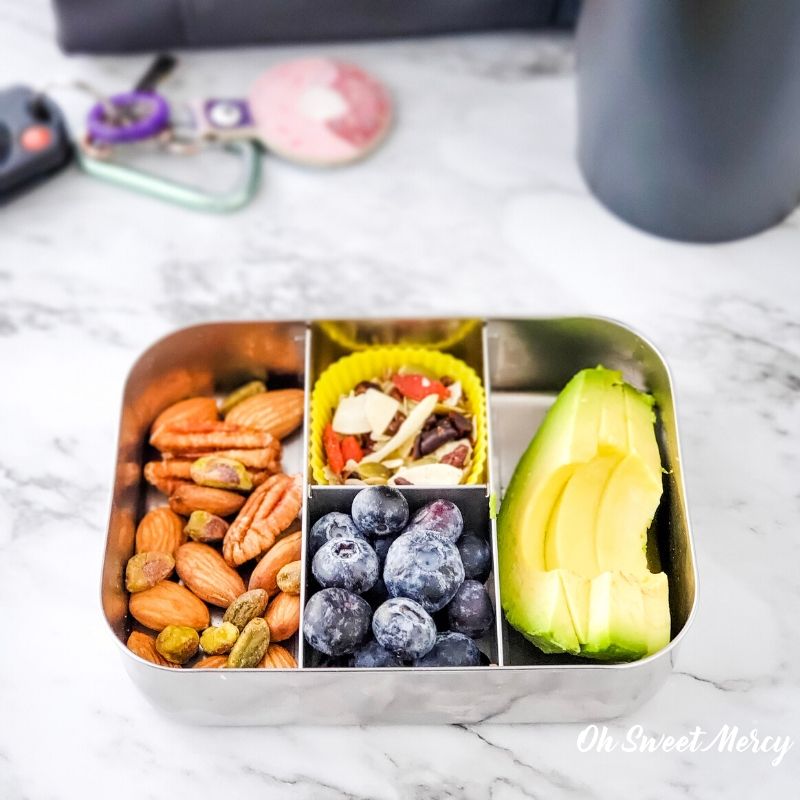 Mix of your favorite nuts, unsweetened trail mix, avocado slices, fresh berries.
Cobb Style Snack Box (S)
Hard cooked egg, turkey bacon, cherry tomatoes, avocado slices, blue cheese (or cheddar).
Light and Lovely Snack Box (FP)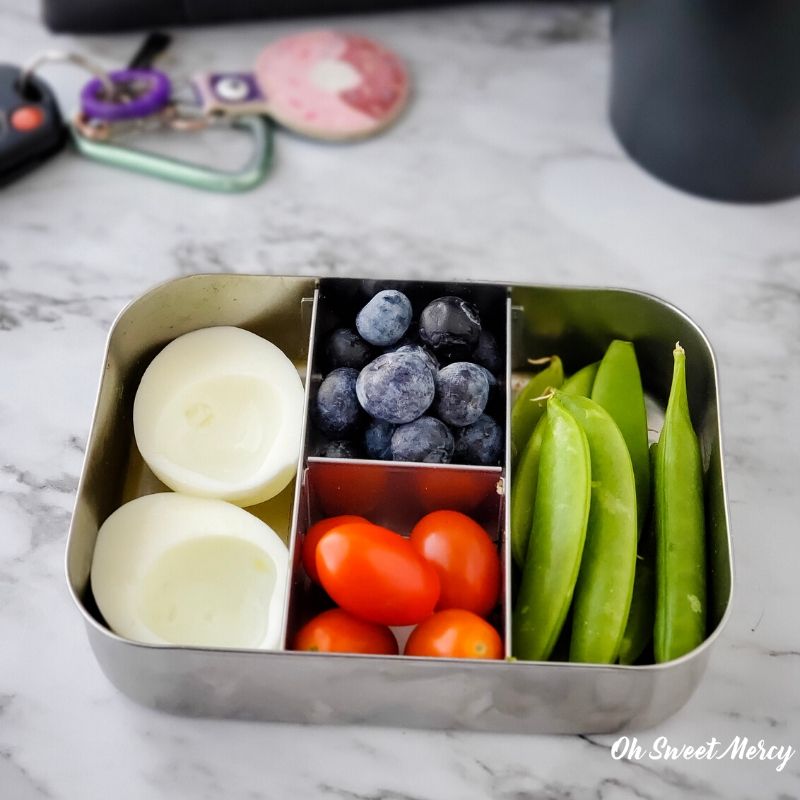 Hard cooked egg whites, fresh berries, sugar snap peas, cherry tomatoes (or any non-starchy veggies you prefer).
Optional: include a FP dip like my Creamy Cajun Ranch Dip or Easy Ranch Dressing.
Energizing Snack Box (E)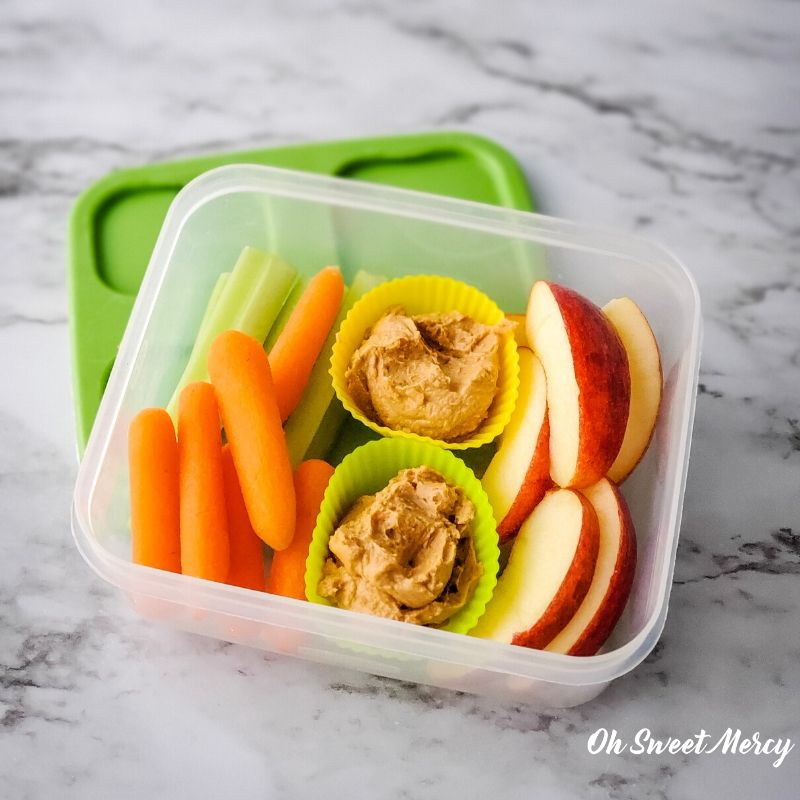 Apple slices, Peanut Junkie Butter (low fat peanut butter made with pressed peanut flour), pg 481 in the Trim Healthy Cookbook, baby carrots, celery sticks.
Deli Style Snack Box (S, E, FP)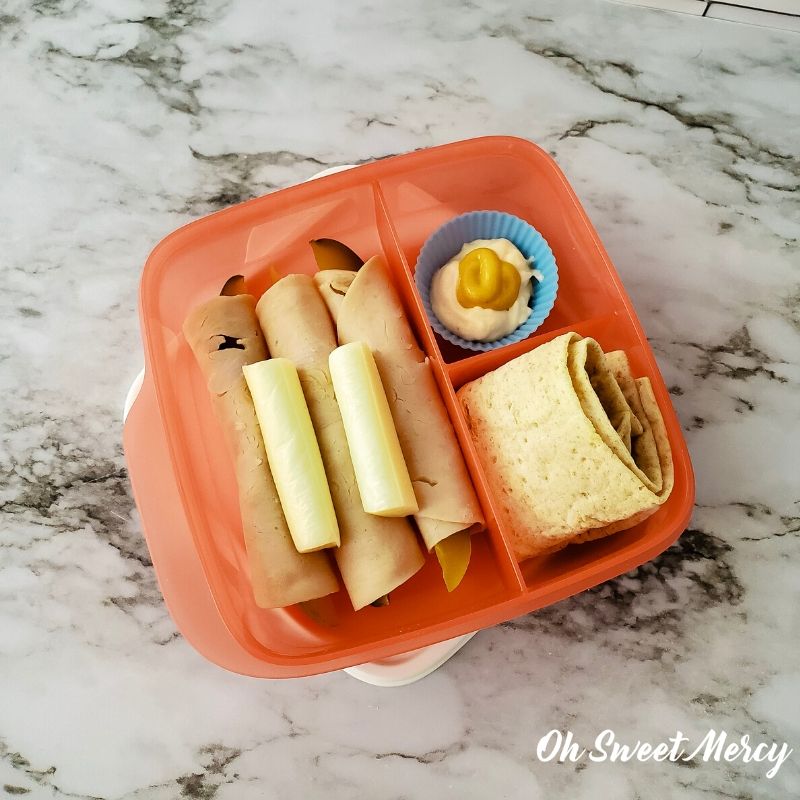 (S) your favorite deli meats and cheeses, pickles, low carb lavash or wonder wraps, mayo and mustard.
(E) lean deli turkey or chicken, string cheese stick, pickles, my Low Fat Mayo, mustard, sprouted pretzles.
(FP) lean deli turkey or chicken, string cheese stick, low carb lavash or Wonder Wrap, pickles, my Low Fat Mayo and mustard.
Notes
Total Time Notes:
Google wants me to put a number there. The time it takes to make snack boxes will vary by...
How many you are making - one snack box can take 5 minutes or less...more will take longer
What you're putting in the snack box. Do you have to wash and cut a lot of things? Bake something?
Actually assembling a snack box takes just a few minutes but I went with 15 as an average.