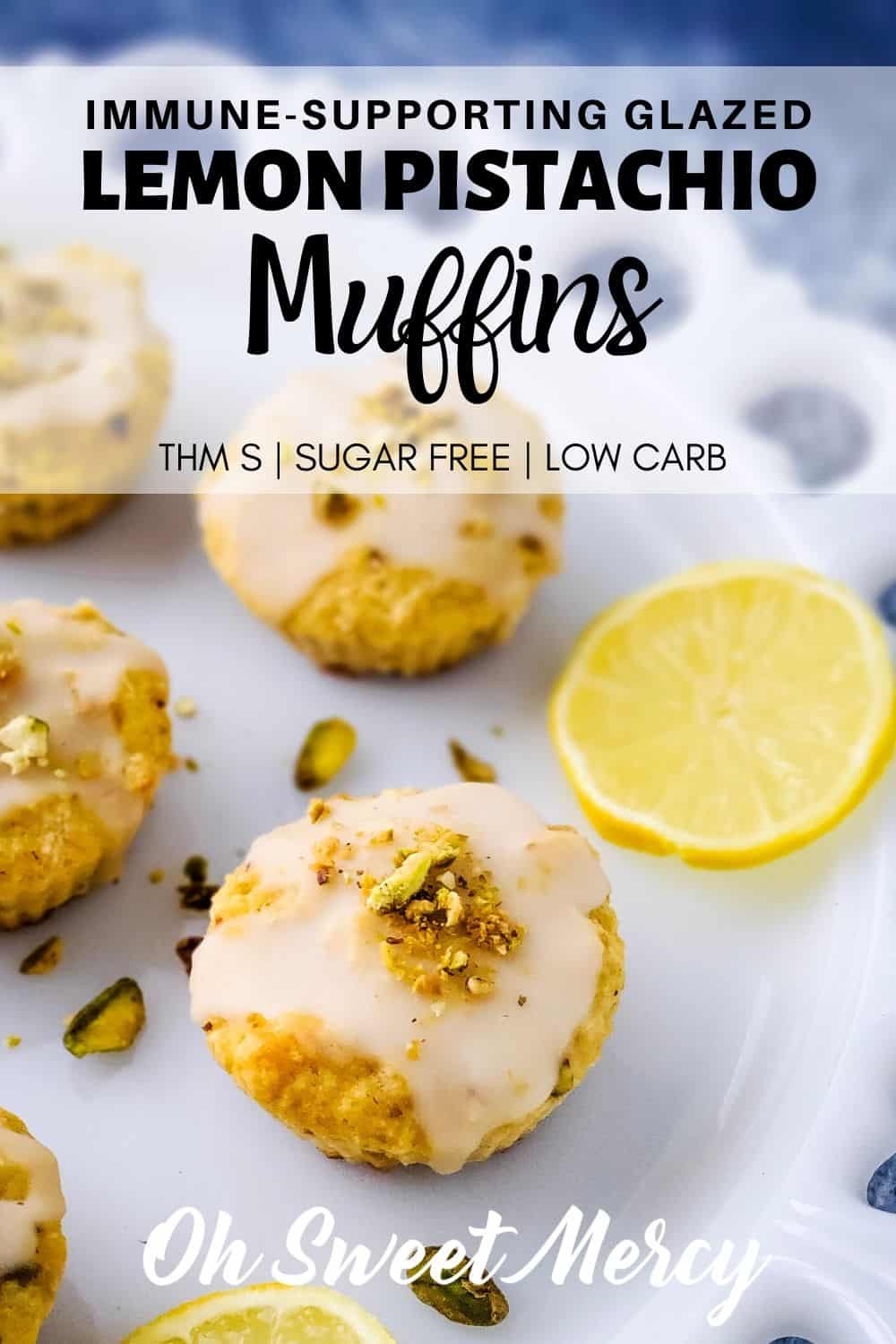 ---
Bright and refreshing, these low carb Glazed Lemon Pistachio Muffins bring a ray of sunshine into your day. They also help support your immune system with healthy ingredients. Trim Healthy Mamas, make them with Baking Blend or with almond flour and flax. They're an easy and delicious S treat.
---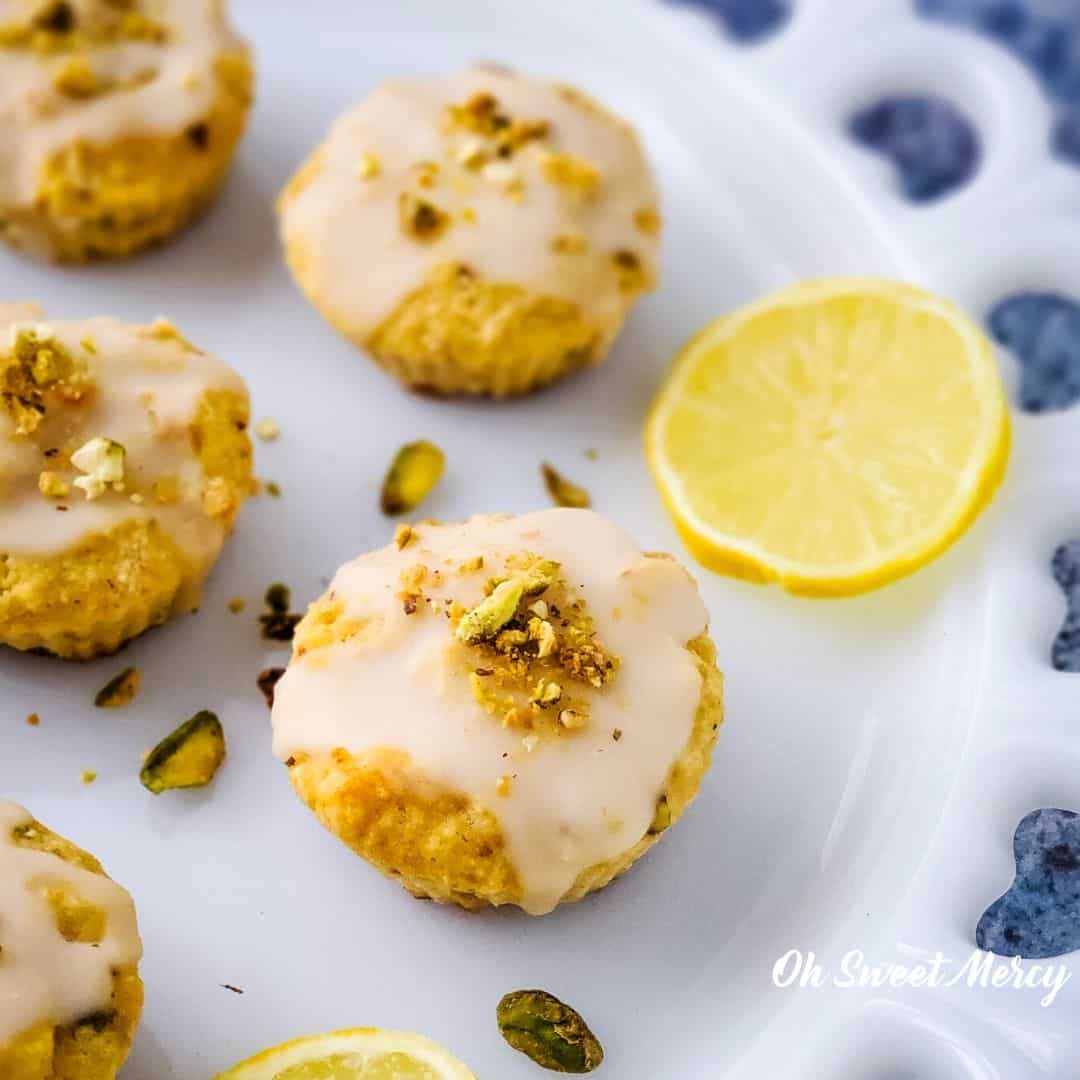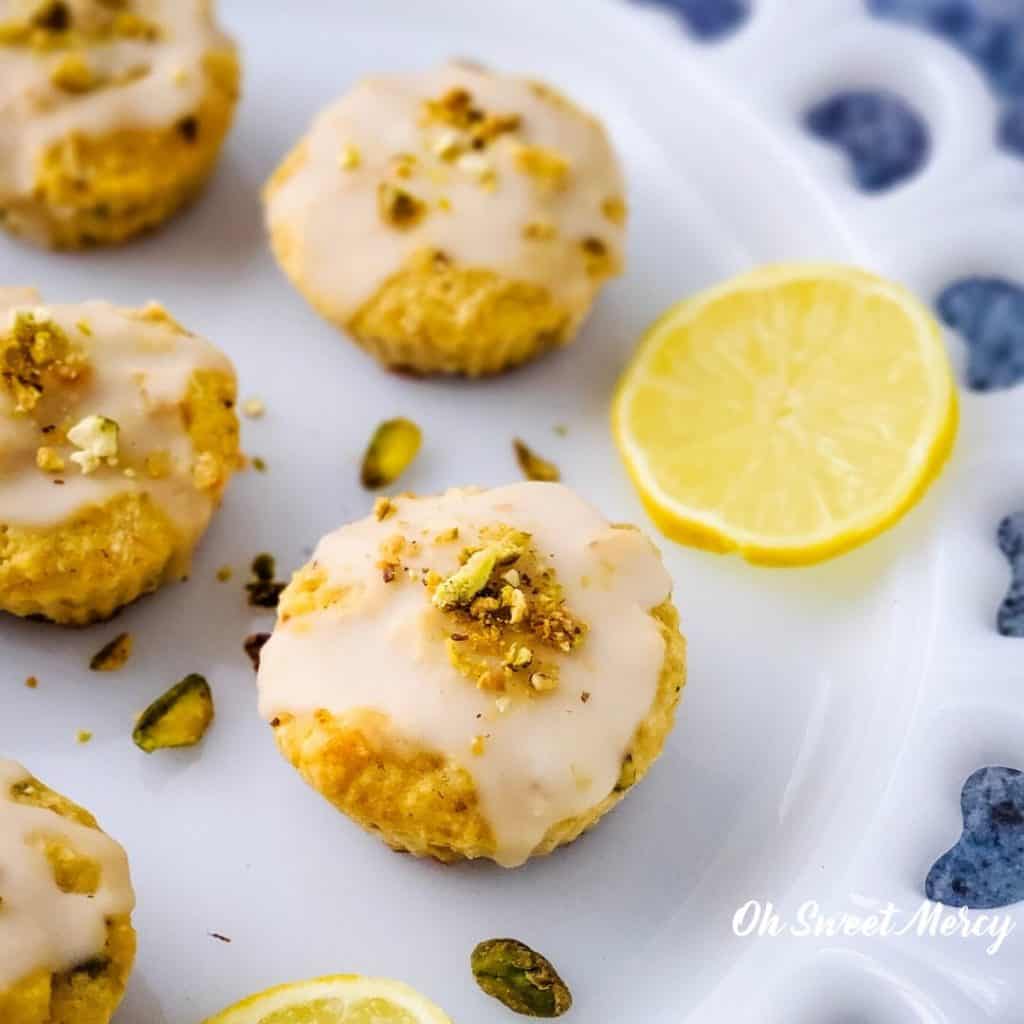 It's officially Spring. But someone forgot to tell the weather, at least in my area! As I write this, it's snowing again. I know we'll get to bright, warm, and sunny days before we know it, though.
But, until then we have to find (or make) our own sunshine, right? And right now we also need to keep our immune systems in good shape.
I've got a tasty way to do that, too: lemon muffins with crunchy pistachios!
These Tasty Glazed Lemon Pistachio Muffins Help Support Your Immune System.
Lemons are rich in vitamin C, as is baobab powder. Baobab is also rich in fiber and minerals as well.
If you don't have baobab powder, you can leave it out. But if you do have some, be sure to add it! I also use baobab powder in my Cranberry Orange Baobab Muffins.
You can use fresh lemon juice (and I highly recommend it). OR bottled lemon juice works just as well.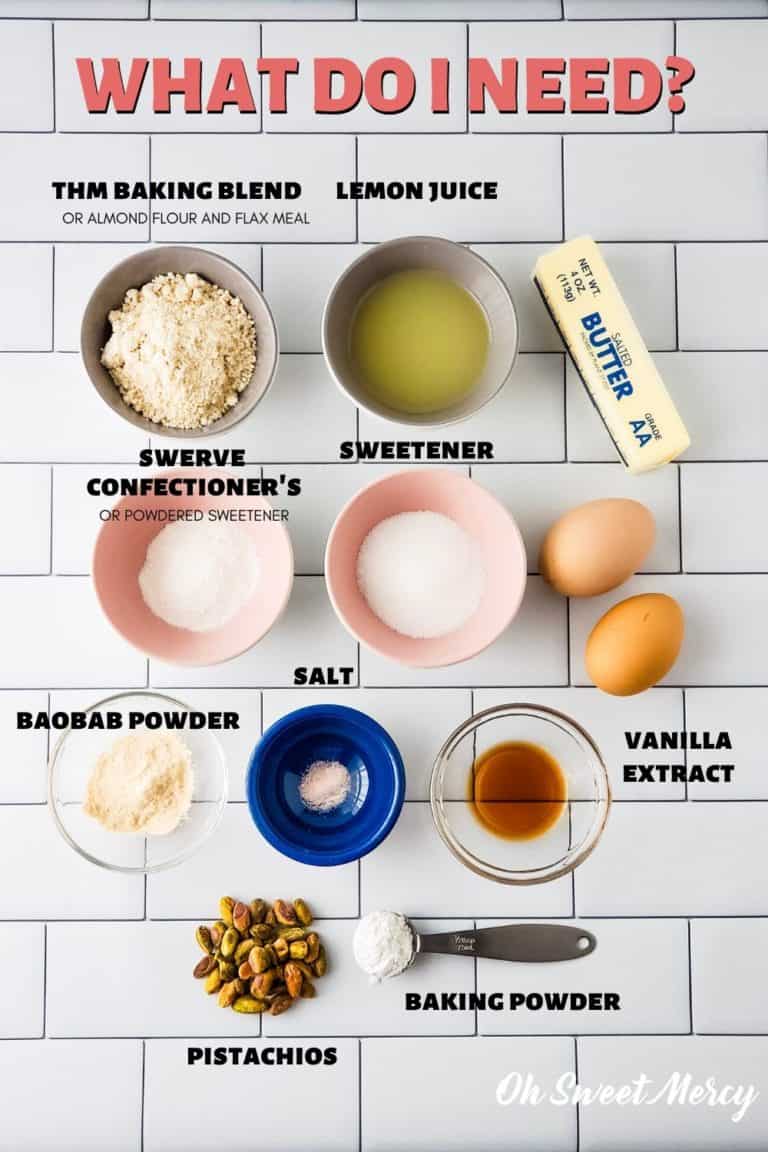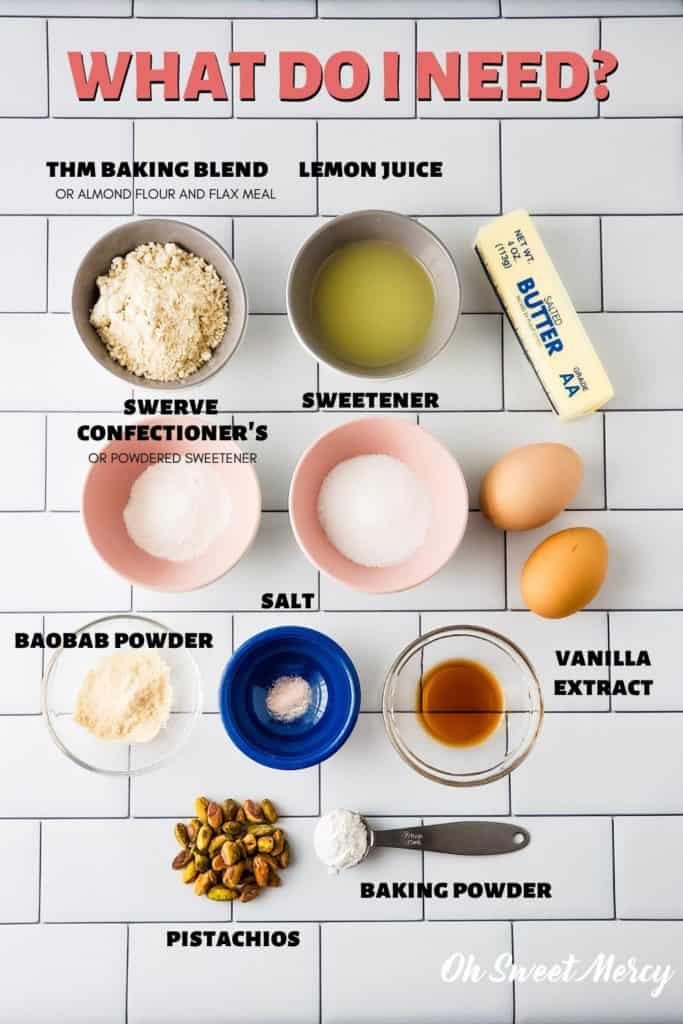 Sugar Can Weaken The Immune System.
What we put in our bodies either supports or hinders how each system works. Sugar may weaken your body's defense system, we don't want that!
In addition, refined, highly processed sugars are highly inflammatory to the body. Fighting and infection on top of inflammation is very taxing to our body!
These muffins have neither of those things. They are made with a blend of stevia and erythritol instead of sugar. I happen to have Pyure Organic Stevia on hand right now so that's what I used.
Feel free to use your favorite on-plan sweetener such as THM Gentle Sweet or Super Sweet Blend.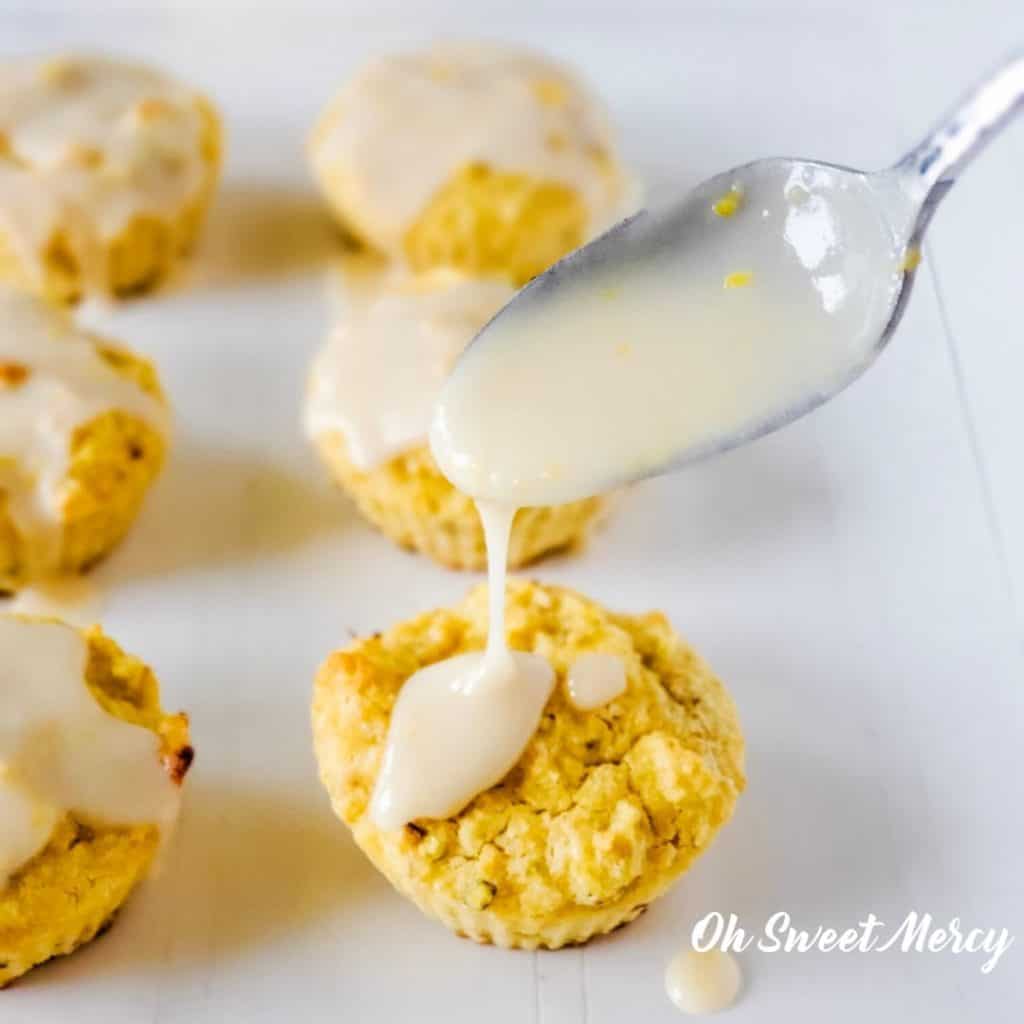 Refined Carbs Don't Help Your Immune System, Either.
Regular white flour is not on plan for THM. It's also something that does not support your immune system. So, no refined carbs in this lemon muffin recipe, either!
I've made these 2 different ways. One, with THM Baking Blend. This results in a less calorie and fat-dense muffin.
It should work fine with a homemade Baking Blend – just be sure to pay attention to any notes regarding any homemade Baking Blend recipe as to how it compares with THM Baking Blend. You may need to use less or more to get the same results.
The second way I make these delicious glazed lemon pistachio muffins? With a mix of almond flour and ground flax.
Golden flax meal will produce a lighter colored muffin but regular brown flax works just as well.
TIP: Dairy can be inflammatory for some folks. Make this recipe dairy free by simply substituting coconut oil or another healthy, non-dairy fat for the butter.
Want more sweet treat recipes? Check out my Desserts and Sweets category page.
How To Include These Low Carb Glazed Lemon Pistachio Muffins Into Your THM Meal Plan.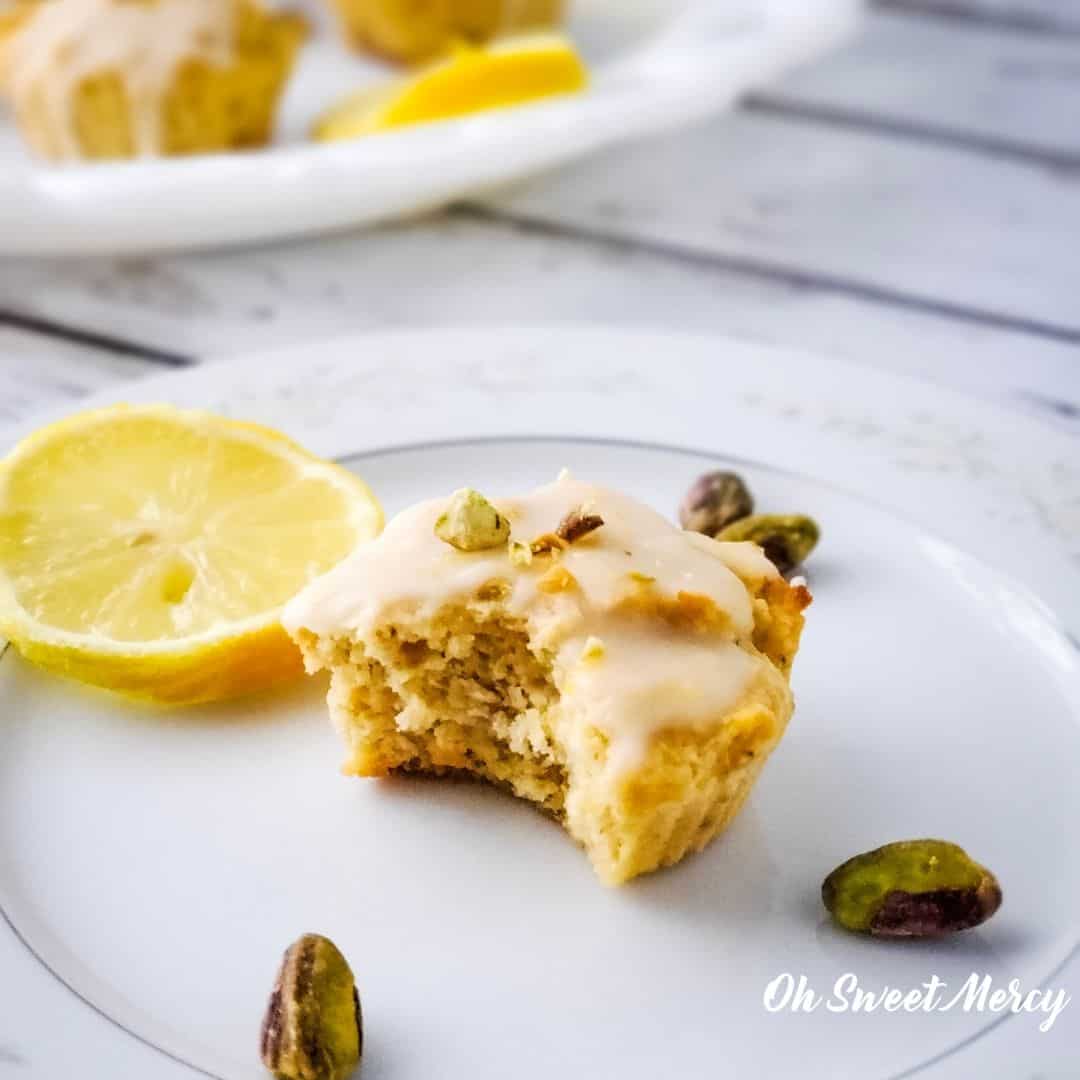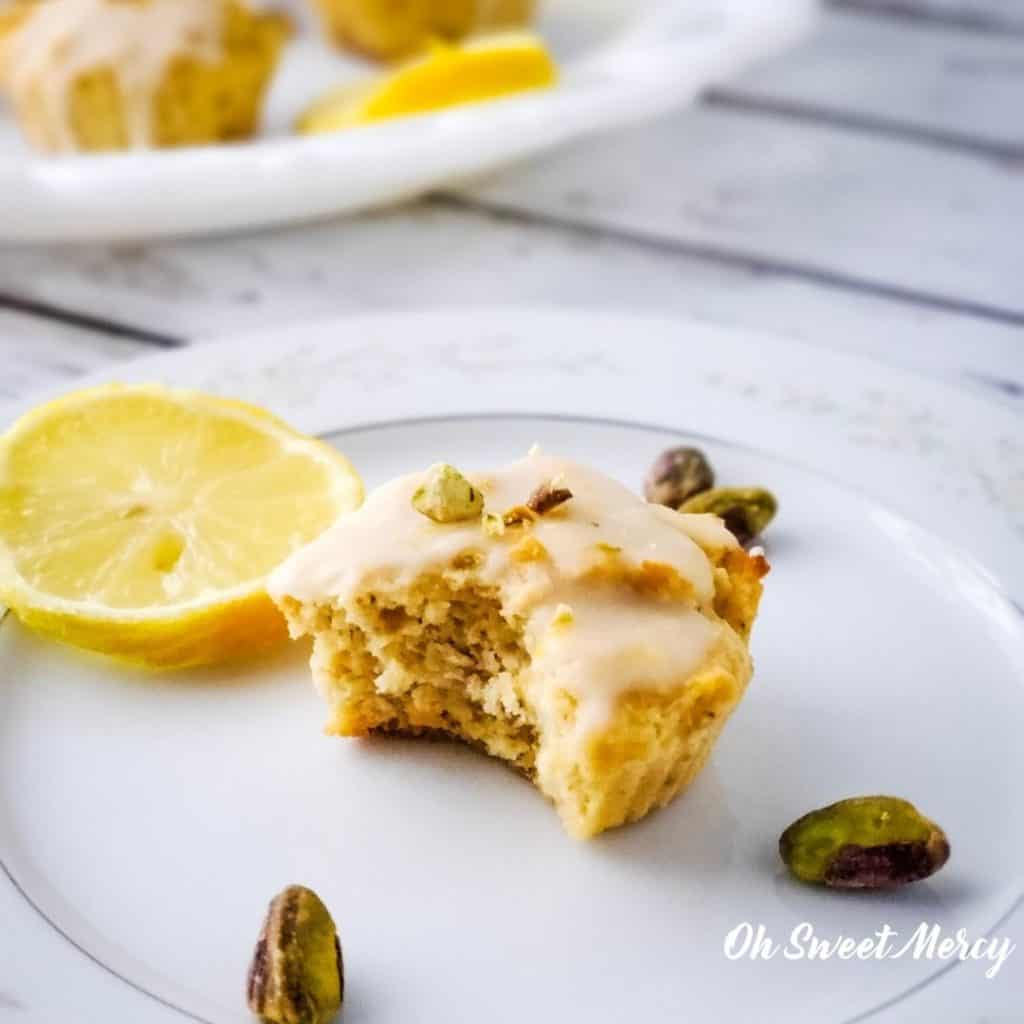 These muffins are a THM S treat. Using Baking Blend makes them a bit lighter in fat and calories, but they're still an S due to the whole eggs and butter.
To compare, the Baking Blend version has 79 calories, 5.9 grams of fat, and 1.9 grams of net carbs per muffin.
The almond flour version has 116 calories, 9.8 grams of fat, and 2.5 grams of net carbs.
While we don't fuss over calories on THM, it's always wise to enjoy lighter treats as well as those that are heavier in calories and fat.
Enjoy a couple muffins with a mug of collagen tea for an afternoon snack. Or, as a dessert after a lighter S or FP meal. The FP meal then becomes an S, though so keep that in mind.
Make ahead a big batch and refrigerate or freeze so you have them on hand when the crave for a delicious lemon muffin strikes!
What does all this S, E, and FP stuff mean? On the THM plan, we keep our fats and carbs mostly separated. S stands for satisfying, and these are our low carb meals where we liberally enjoy healthy fat. E stands for Energizing, those are low fat, healthy carb meals. FP stands for Fuel Pull, which are both low carb AND low fat.
Pin It!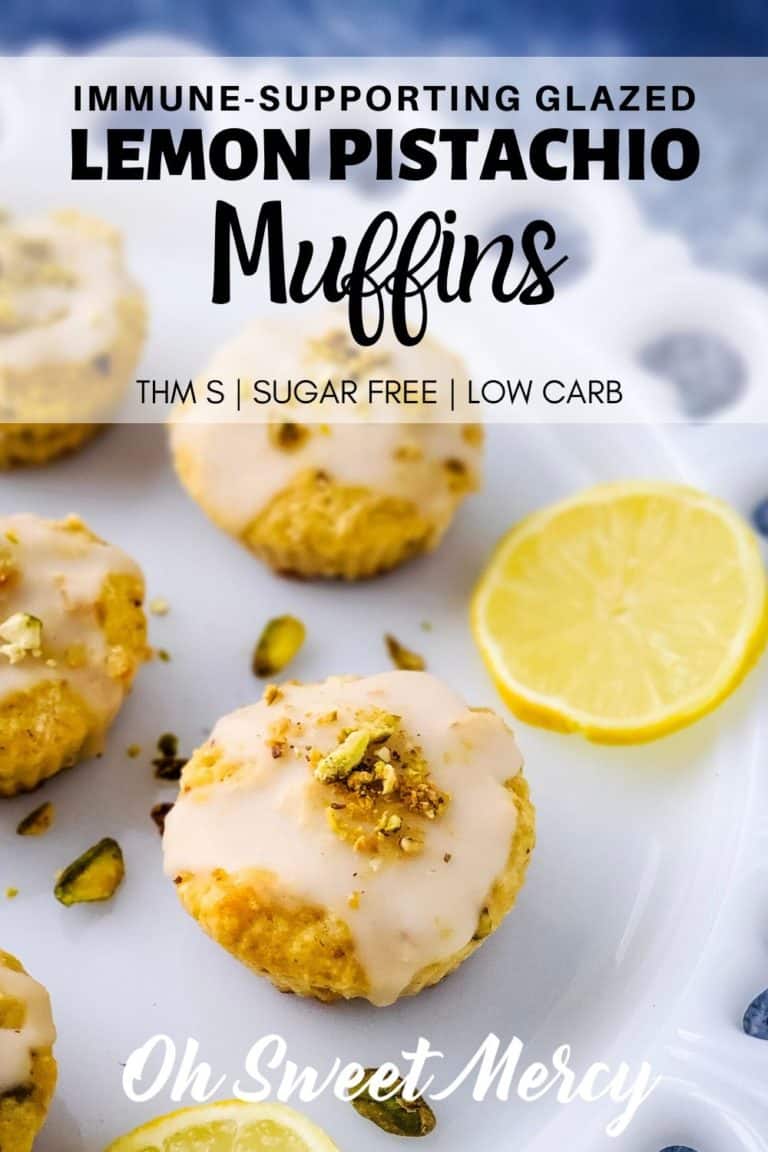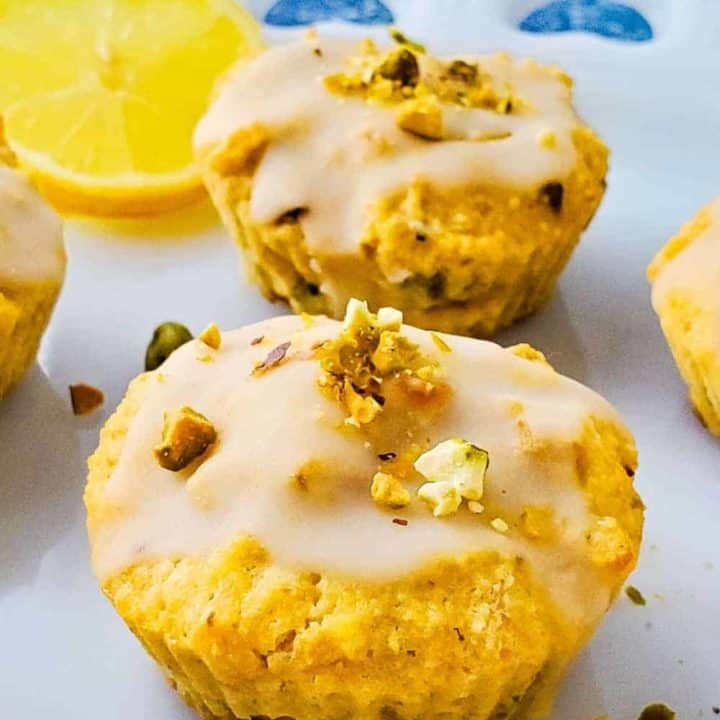 Glazed Lemon Pistachio Muffins | THM S, Low Carb
Yield: 12 muffins
Prep Time: 15 minutes
Bake Time: 30 minutes
Cooling Time: 15 minutes
Total Time: 1 hour
Bright fresh lemon muffins with crunchy pistachios are a low carb, sugar free THM S treat. Make with Baking Blend or a mix of almond flour and flax meal.
Ingredients
Baking Blend Version
1/4 cup plus 1 tablespoon Pyure Organic Stevia (or equivalent amount of another granulated sweetener)
2 tablespoons pistachios, chopped
1 1/2 teaspoons baking powder
1/2 cup lemon juice (fresh or bottled)
2 eggs, whisked
3 tablespoons butter, melted (or coconut oil for dairy free)
2 to 4 tablespoons water, as needed for consistency (not necessary for almond flour and flax version)
1 teaspoon pure vanilla extract
Lemon Glaze
1/2 cup Swerve confectioner's (or powdered erythritol)
3 tablespoons lemon juice
1 teaspoon finely minced lemon zest
1/2 teaspoon pure vanilla extract
Pinch of high mineral salt
Instructions
Preheat oven to 350 degrees.
Combine Baking Blend (or almond flour and flax), sweetener, pistachios, baobab powder, baking powder, and salt in a mixing bowl.
Mix in whisked eggs, lemon juice, and melted butter and stir until all the dry ingredients are incorporated.
If needed, add water a tablespoon at a time until you get a muffin batter consistency.
Divide batter evenly among silicone muffin liners (or paper liners), about half full.
Bake for 30 to 35 minutes or until a toothpick inserted in the center of a muffin comes out clean. It may take a little longer with the almond flour version.
Let the muffins cool on a rack at least 15 minutes or until completey cooled before glazing.
Mix together the glaze ingredients then glaze each muffin as desired.
Notes
Make your own powdered erythritol by powdering in a blender. Or, use Gentle Sweet or your favorite sweetener blend. You may need more or less depending on how sweet it is compared to Swerve, which I used to make this recipe.
NUTRITION NOTES:
Nutrition information below calculated using THM Baking Blend.
Recommended Products
As an Amazon Associate and member of other affiliate programs, I earn from qualifying purchases.
Nutrition Information:
Yield: 12
Serving Size: 1 muffin
Amount Per Serving:
Calories: 79
Total Fat: 5.9g
Saturated Fat: 2.2g
Trans Fat: 0g
Unsaturated Fat: 2g
Cholesterol: 38.8mg
Sodium: 119.9mg
Carbohydrates: 7g
Net Carbohydrates: 1.9g
Fiber: 5.1g
Sugar: 1.4g
Protein: 4g
Nutrition information is approximate and based on the best knowledge available at the time of recipe publication. Your results may vary due to differences in ingredients. You can make your own calculations if this recipe does not include nutrition info by using an online calculator such as https://recipes.sparkpeople.com/recipe-calculator.asp