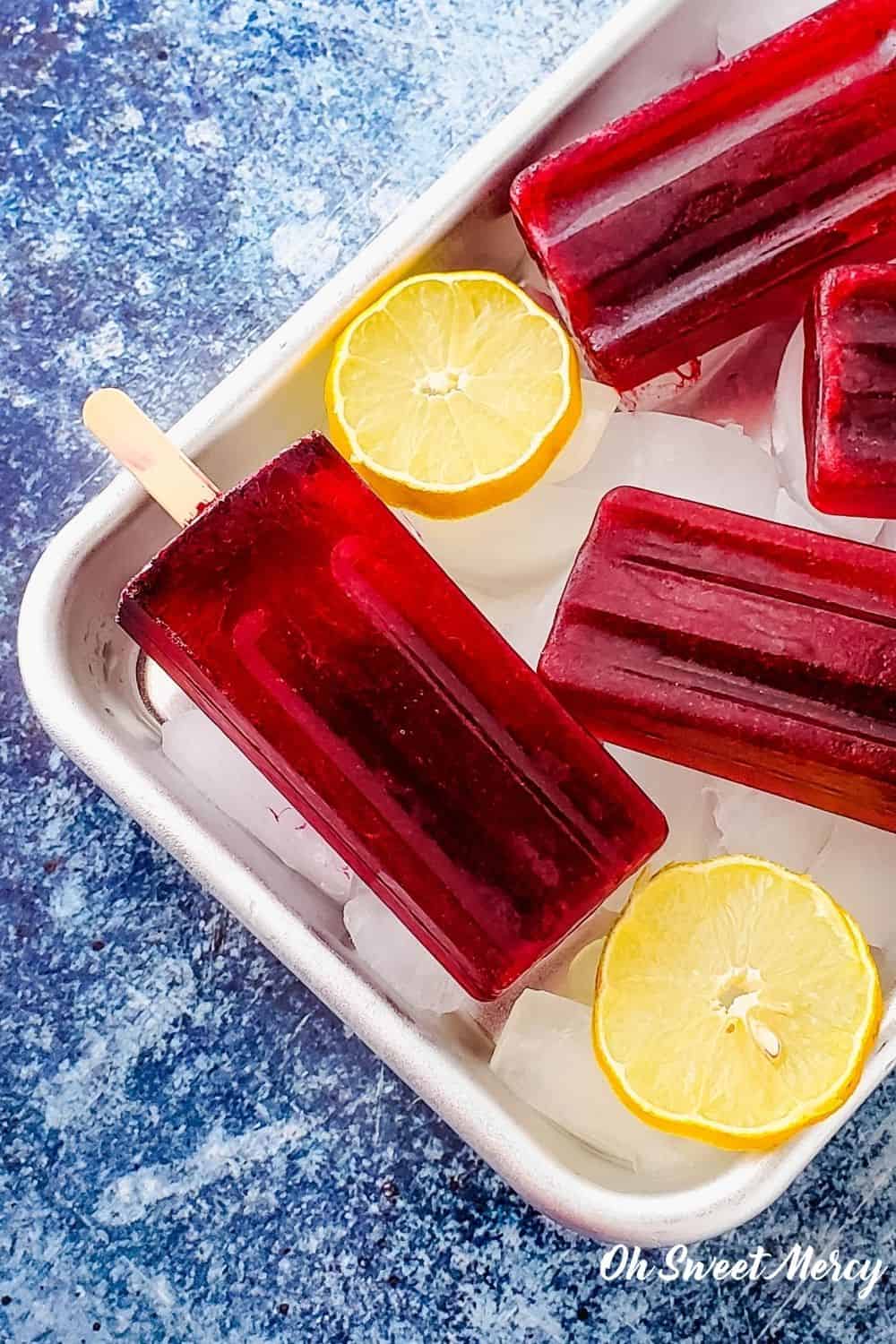 ---
These easy Lemon Hibiscus Popsicles are just the thing for a hot, summer day. Hibiscus has an impressive amount of vitamin C making it a wonderful way to support your immune system all year long. Pregnant? Save these for after delivery, hibiscus isn't safe for pregnancy.
---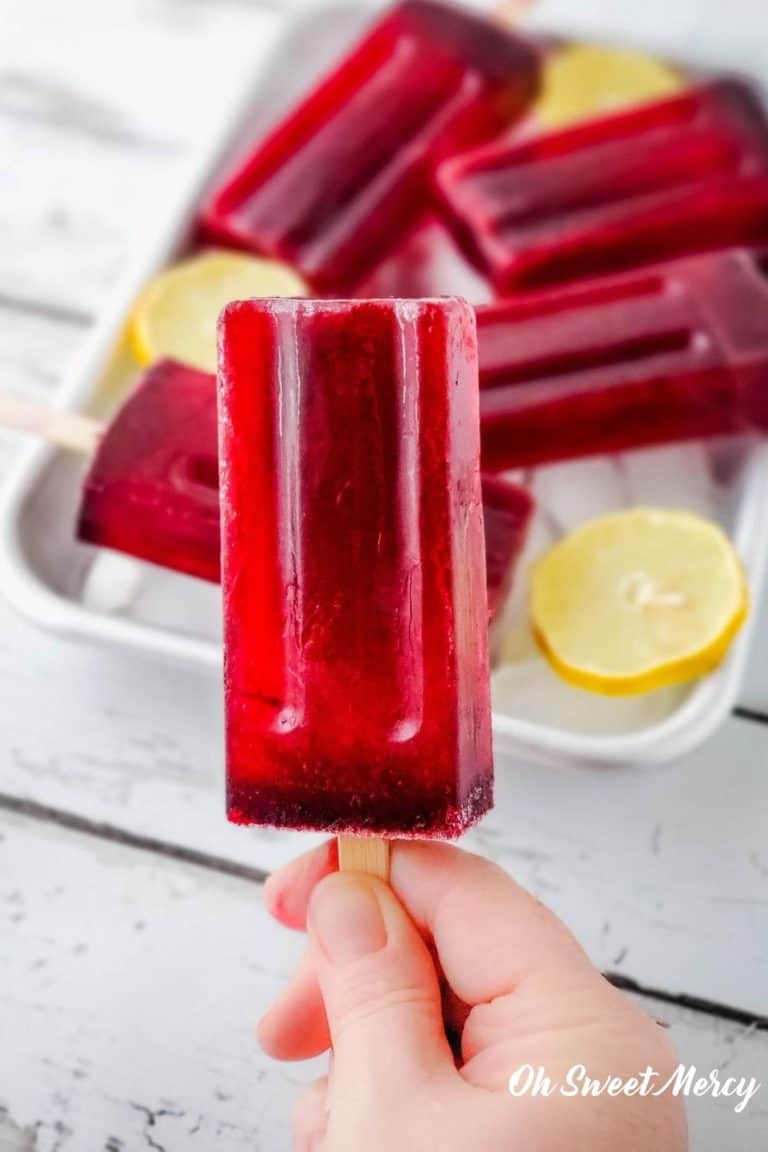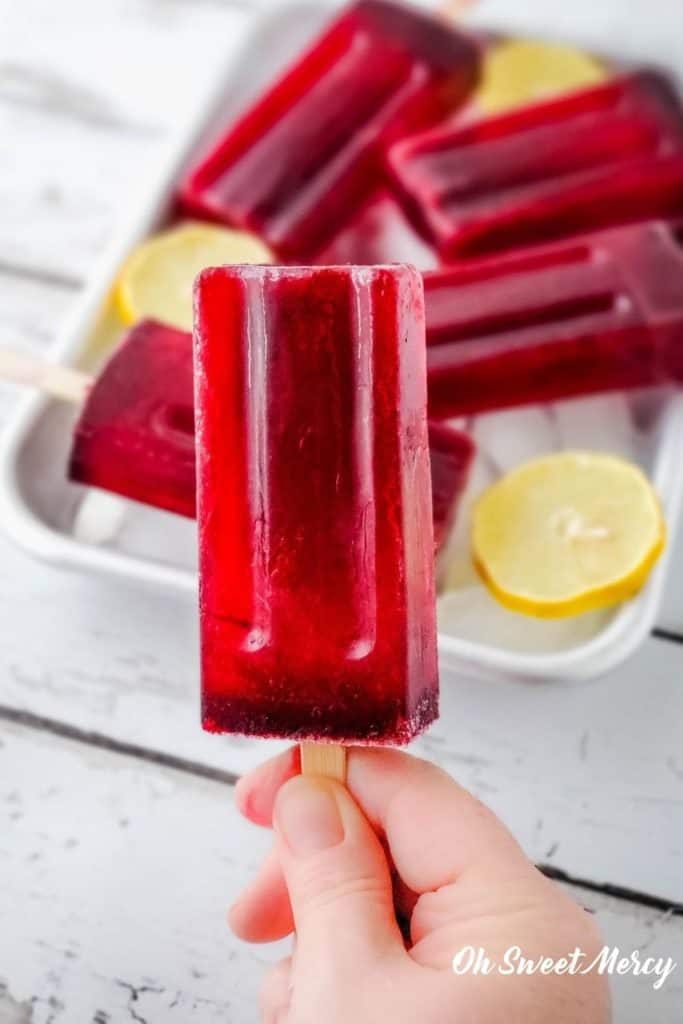 Last week we enjoyed perfect summer weather! We had windows open all day and night, low humidity, sunshine…it couldn't get much better for northern Indiana.
As usual, perfect summer weather doesn't last long in these parts. The heat and humidity is starting to climb again, so that means cold treats are a must!
Ice cream is wonderful of course, as are my new Fresh Peach Popsicles, but it's also good to really lighten things up in your THM eating.
What do I mean by "really lighten things up"? Simply…add more THM FP (Fuel Pull) foods to your meal plans.
A Fuel Pull is very low in fat and carbs, not providing a significant amount of fuel for your body to burn. This forces your body to turn to your fuel stores.
These can often be found around your waist, on your thighs, and other parts around your body, right?
We don't want to rely on Fuel Pull meals and snacks all the time of course. But sprinkling them in here and there through out your week is a smart and effective way to follow the THM plan.
So, these easy lemon hibiscus pops are a perfect FP – they have no fuel at all! They'll help keep you cool and hydrated without adding unnecessary fats, carbs, or calories.
Healthy Benefits of Hibiscus: this gorgeous tea has been shown to help lower blood pressure, support healthy cholesterol and triglyceride levels, boosts mood, and more!

Source
How To Make Lemon Hibiscus Popsicles.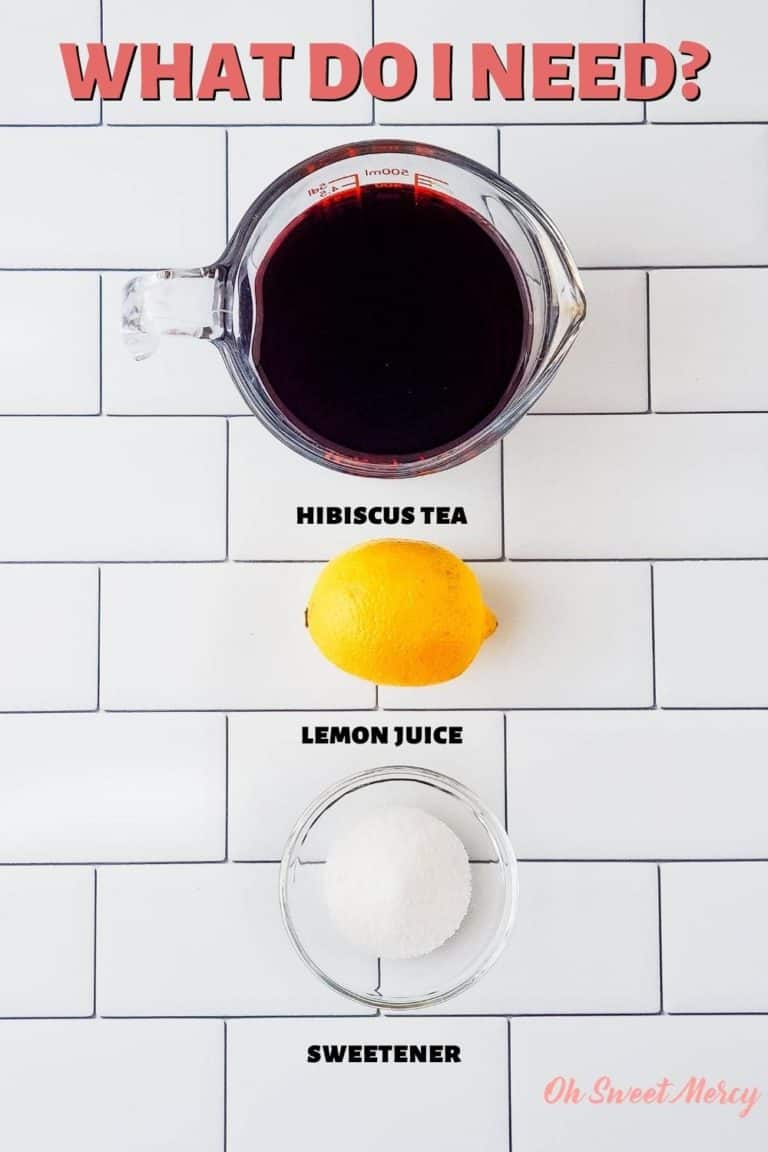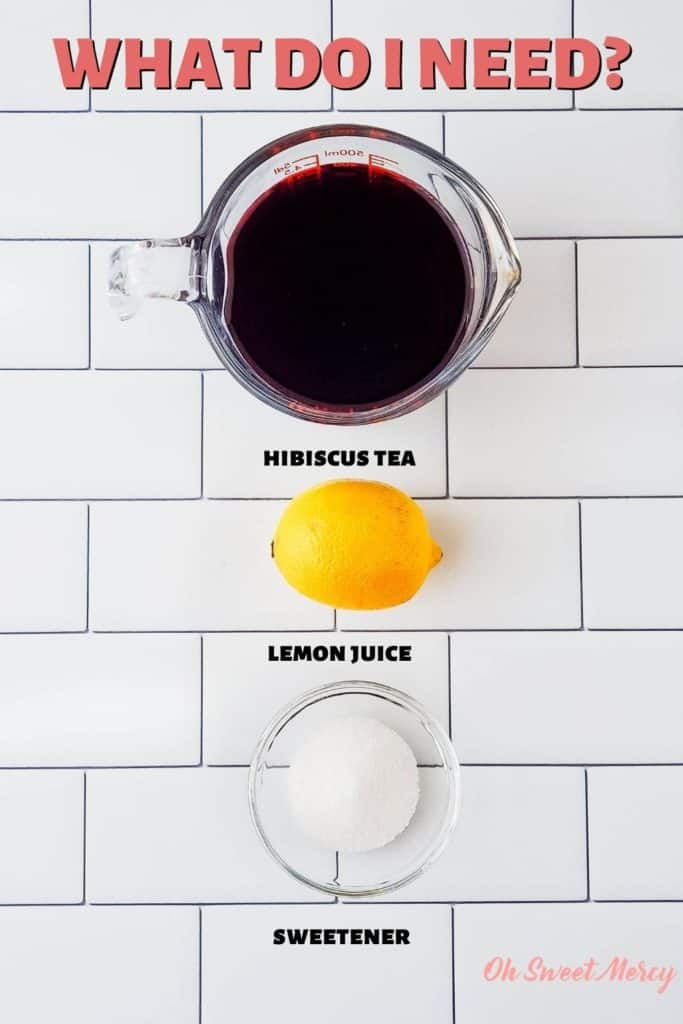 Ideally, you'll have some of my Cold Brew Hibiscus Tea on hand. In that case, you just add fresh lemon juice and a bit more sweetener. Then, fill your popsicle molds and freeze.
Voila! Easy peasy lemon hibiscus popsicles!
Don't have cold brew hibiscus tea on hand (or don't want to wait to make it)? No problem! Just brew some hibiscus tea with hot water. Add lemon juice and sweetener to taste, fill your pop molds, and freeze.
How To Make Hot Brewed Hibiscus Tea: Use 1 tablespoon hibiscus petals per cup of hot water. Steep for 5 minutes then strain.
Either way, the hardest part is waiting for the pops to freeze. As with all popsicles, right?
How Much Should I Make To Fill My Popsicle Molds?
I love, love, love my stainless steel popsicle molds!
They hold about 2 cups of liquid. If you have different popsicle molds, it's important to know the total volume of the molds so you know how much popsicle mixture to make.
For 6 popsicle molds, fill one of the molds with water making sure to leave about 2 cm of space for expansion while freezing.
Pour into a large measuring cup or bowl with measurement markings.
Repeat as many times as you have molds. So, for 6 pop molds, do this 6 times.
The total amount of water is the total amount of mixture you'll need.
This works for anything you're using as a popsicle mold, such as disposable paper cups, empty single-serve yogurt containers, etc.
How To Fit These Sugar Free Hibiscus Pops Into Your THM Meal Plan.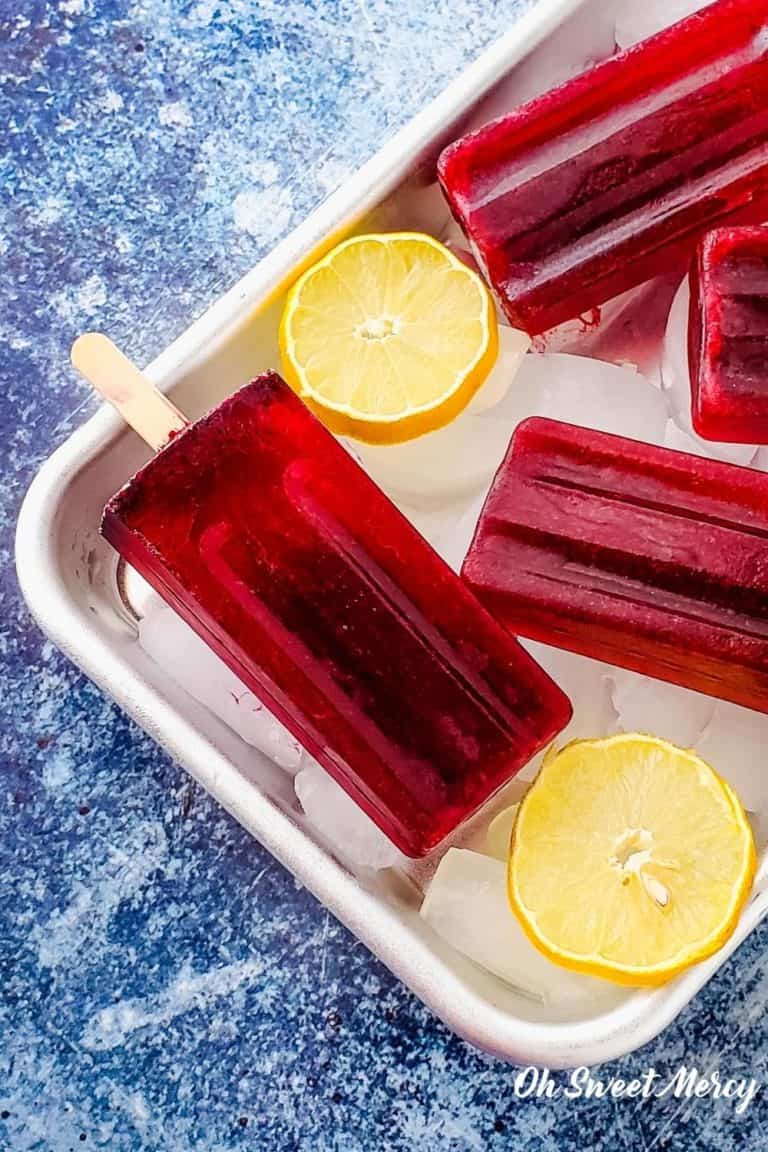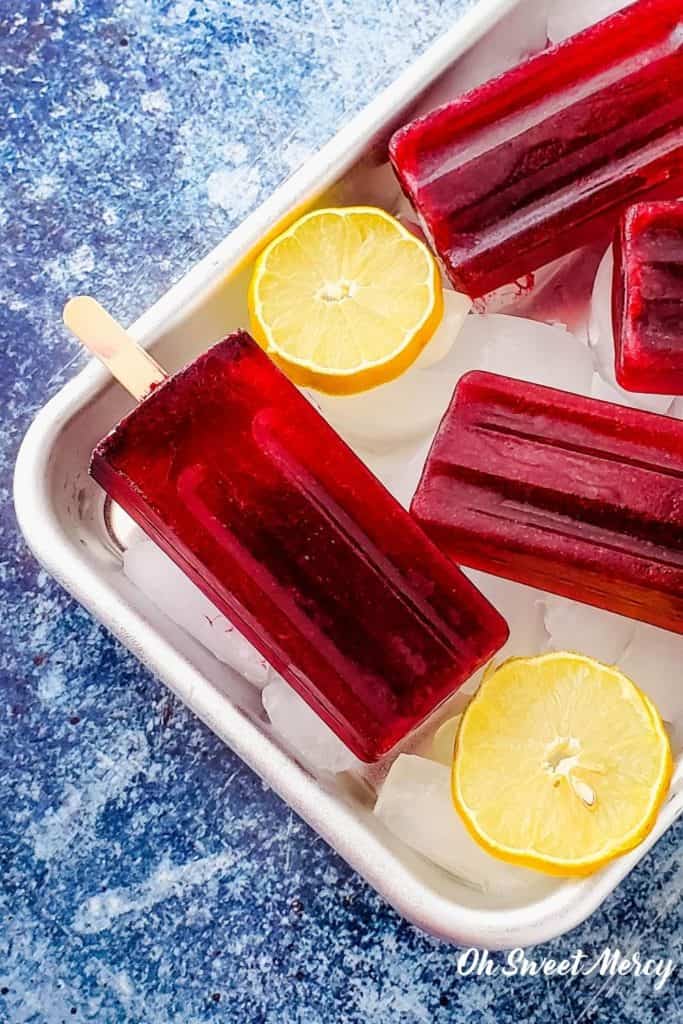 Since these pops have no fat, no carbs, and no calories, you can have one any time you want. After meals of any Fuel Type, between meals, etc.
Have one or 3 or (more)! It's basically a frozen sipper on a stick. How fun is that?
So get some of these made and in the freezer. Then, enjoy on your porch, under a shade tree, or in the comfort of your AC.
Just keep in mind, if giving these to little ones, that hibiscus is very red and very stain-y. Don't dress them in white and hand them one of these!
Actually, if you're like me, you shouldn't wear white yourself while enjoying one of these beautiful, jewel-red colored popsicles.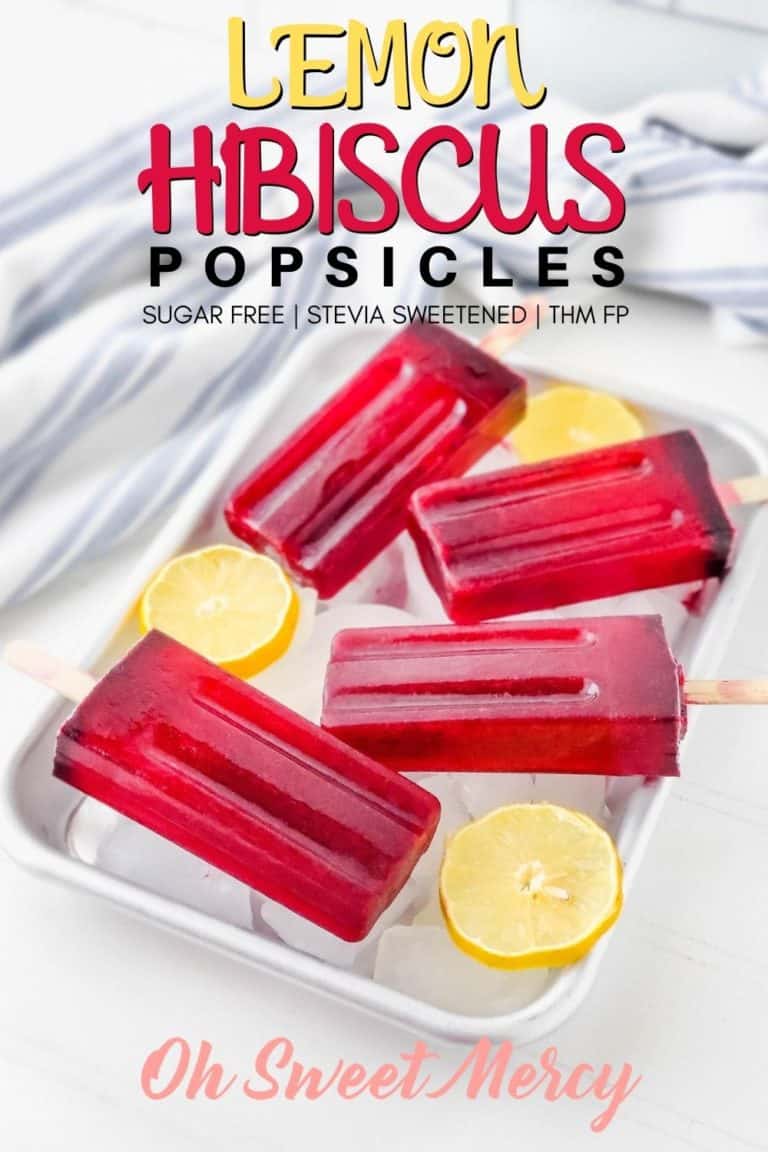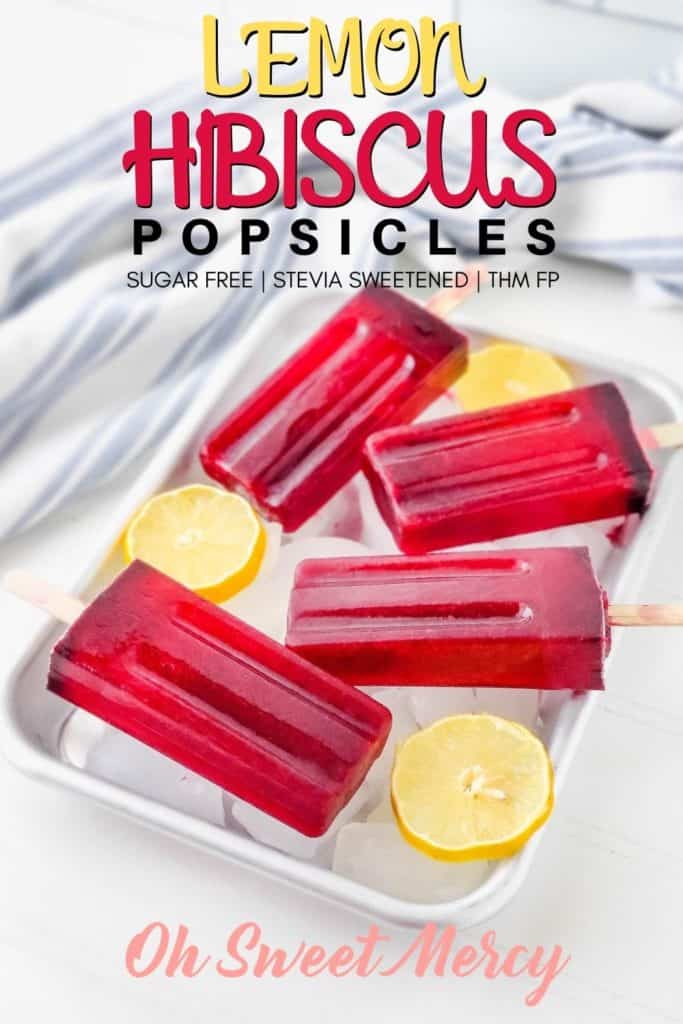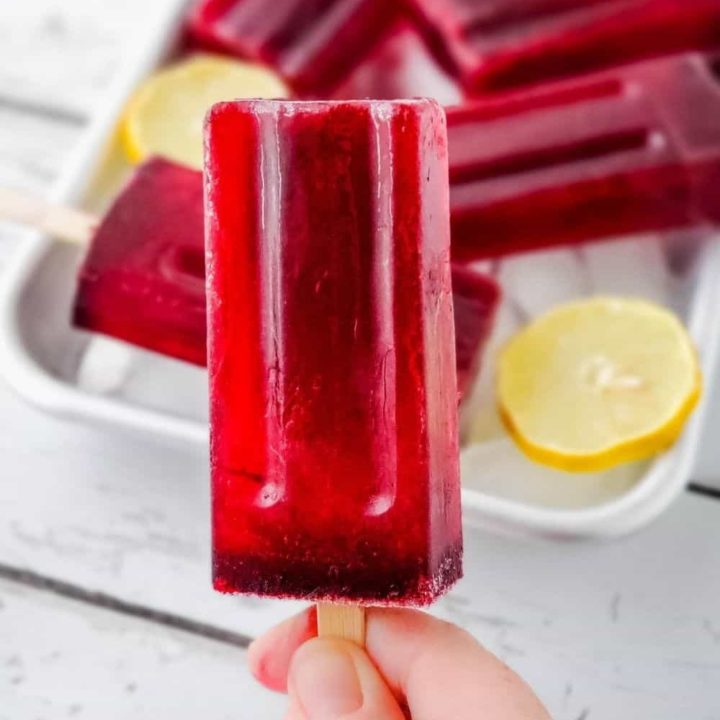 Lemon Hibiscus Popsicles | Sugar Free, THM FP
Yield: 6 popsicles
Prep Time: 5 minutes
Freeze Time: 5 hours
Total Time: 5 hours 5 minutes
Refreshing and hydrating, these Lemon Hibiscus Popsicles are sugar free and a THM FP. They're basically a sipper on a stick. NOTE: hibiscus is not safe for pregnancy.
Ingredients
2 to 3 tablespoons lemon juice, or juice from 1 lemon
Sweetener to taste (see notes)
Instructions
Combine prepared tea, lemon juice, and sweetener and mix well.
Pour mixture into popsicle molds, add sticks and secure lids.
Freeze for 5 hours or overnight.
Notes
Making Hot Brewed Hibiscus Tea.
You'll need about 2 tablespoons of hibiscus petals and just a bit over 1 3/4 cups hot water to account for the petals absorbing water. Pour hot water over the petals and allow to steep for 5 minutes then strain.
Sweetener Notes
I used 1/2 teaspoon of THM Pure Stevia Extract. This equates to about 1 cup or so of THM Gentle Sweet or 6 tablespoons THM Super Sweet.
Hibiscus and lemon are both tangy and tart. Add sweetener to your own tastes.
Recommended Products
As an Amazon Associate and member of other affiliate programs, I earn from qualifying purchases.
Nutrition Information:
Yield: 6
Serving Size: 1 popsicle
Amount Per Serving:
Calories: 0
Total Fat: 0g
Saturated Fat: 0g
Trans Fat: 0g
Unsaturated Fat: 0g
Cholesterol: 0mg
Sodium: 0mg
Carbohydrates: 0g
Net Carbohydrates: 0g
Fiber: 0g
Sugar: 0g
Protein: 0g