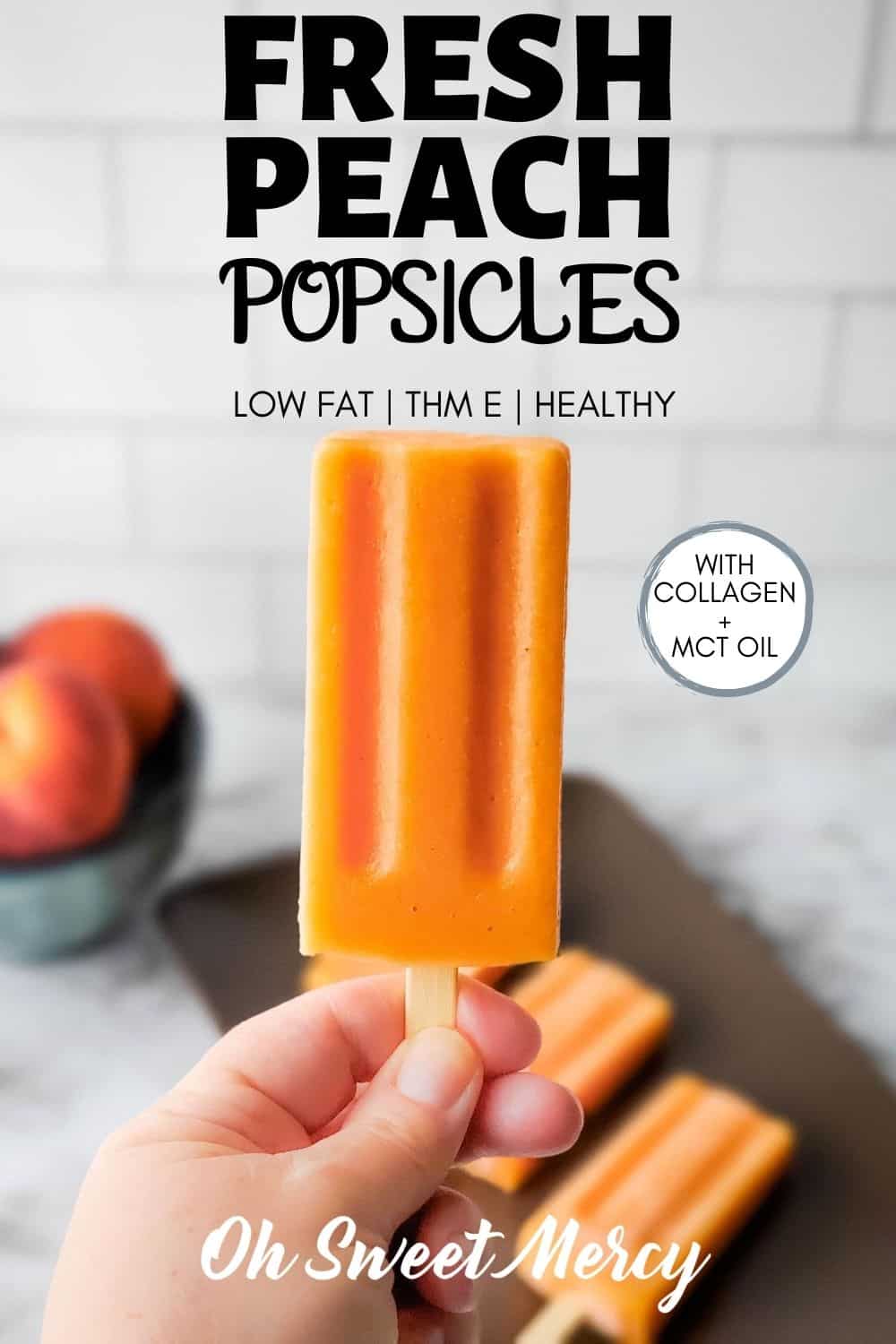 ---
Fresh, sweet, summer peaches…is there anything better? Maybe fresh peach popsicles on a sweltering day! I've enhanced these tasty frozen fruit bars with collagen and a bit of MCT oil for a perfectly peachy THM summer day treat.
---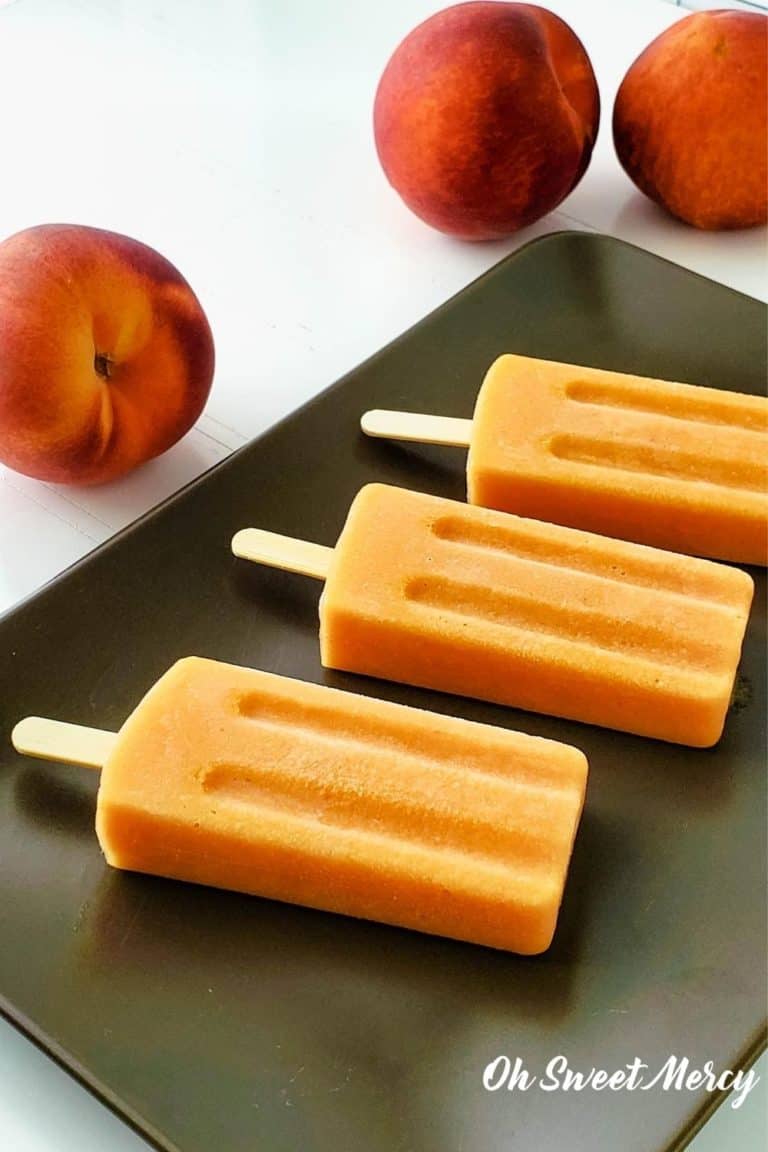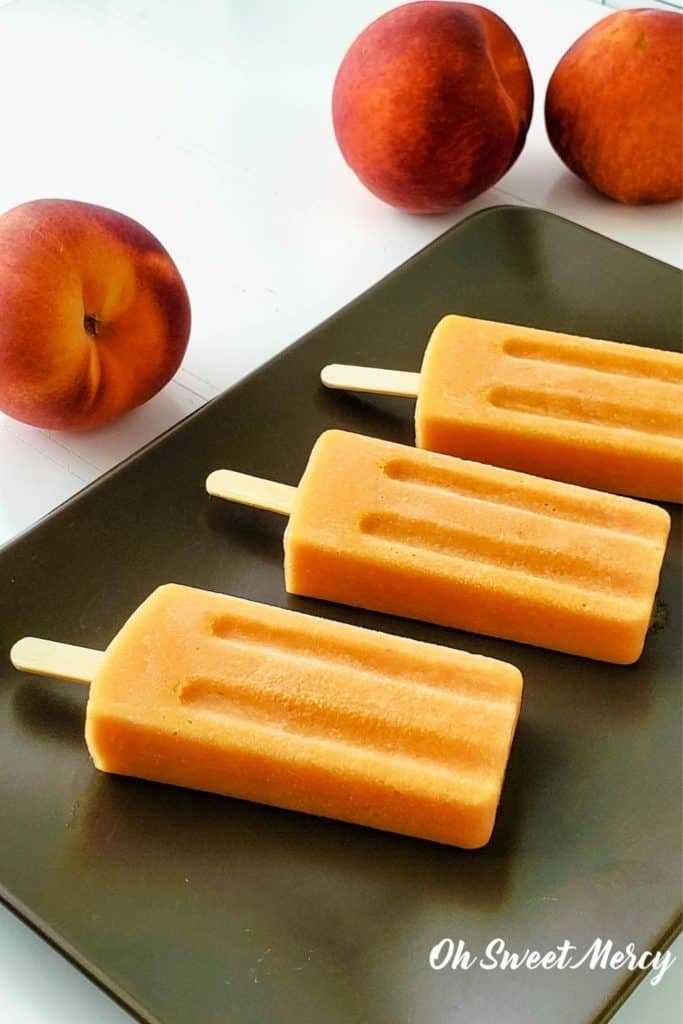 When I was very young I remember family gatherings at my grandparents' farm. Grandpa had an orchard and grew the best peaches. They were so juicy he called them "elbow peaches" because when you bit into them, juice ran down your elbow.
I miss Grandpa and his elbow peaches (and the homemade peach ice cream we kids helped make with the hand-crank ice cream maker) but that taste of fresh peaches will always define summer for me.
I've not yet tried to create a THM friendly peach ice cream (it's on my list though) so let's start with peach pops. They're super easy and so delicious!
Use Fresh, Locally Grown Peaches If You Can!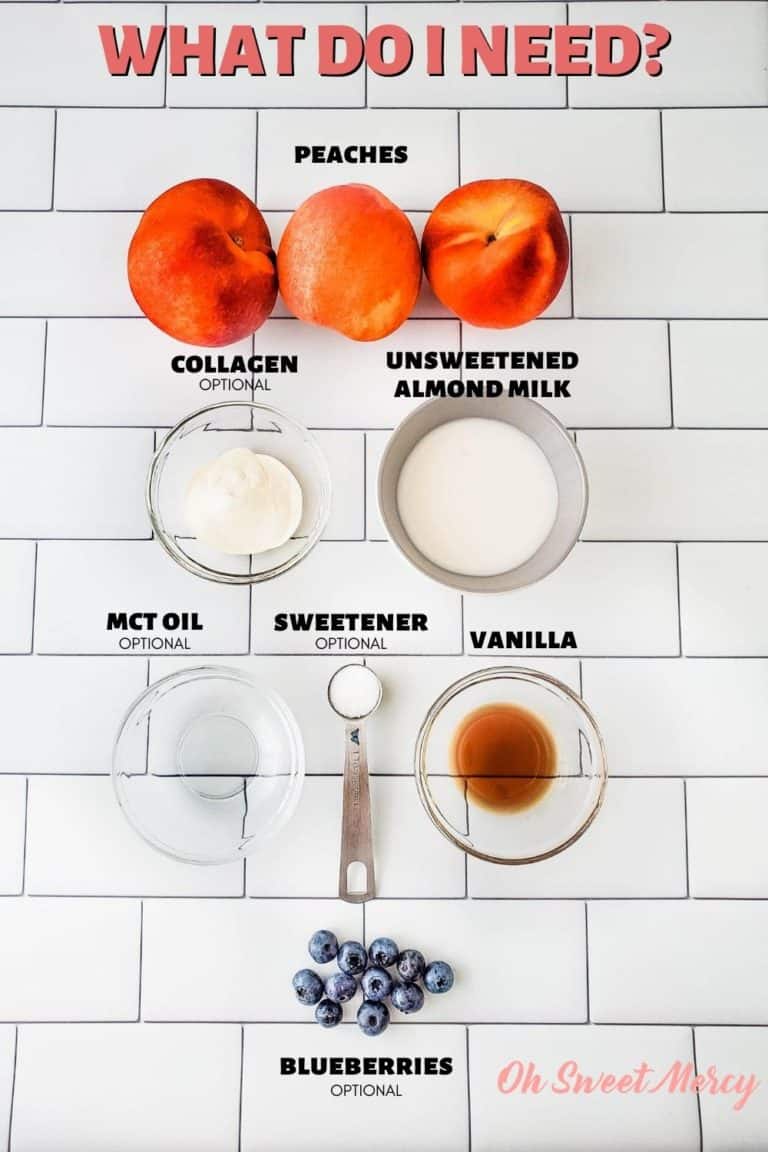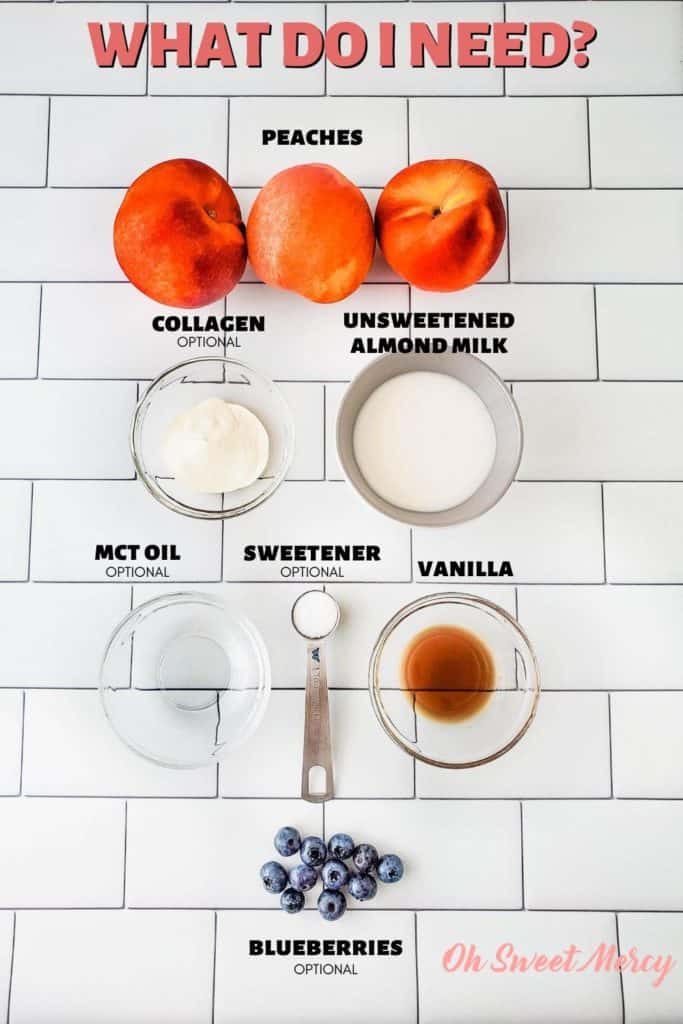 In-season produce, locally grown, tastes the best. It also has more nutrients since it wasn't picked early and ripened on the way to your store.
Local peaches tend to be sweeter, too. You probably won't even need to add any sweetener to this easy peach popsicle recipe.
However, if all you can get is store-bought (or even frozen) peaches no worries! You'll probably need to add a bit of sweetener to them but they'll still be delicious.
Want more sweet treat recipes? Check out my Desserts and Sweets category page.
Boost The Nutrition With Collagen + MCT Oil.
The first time I made these fresh peach popsicles I just used peaches, a bit of almond milk, a touch of stevia, and a splash of vanilla. I also threw in some fresh blueberries.
Mister could not get enough of them! In fact, Sister only got one because he scarfed them down.
The next time I tested them I thought, "why not add some collagen and MCT oil?" A little protein and fat with a THM E fuel source helps keep our blood sugar stable.
Of course, you don't have to add the collagen or MCT oil if you don't want to, they're still delicious.
But, adding these metabolism-supporting ingredients just makes your fresh peach pops healthier.
Can I Use Whey Protein Powder (Or Other Protein Powders) Instead?
Sure, feel free to use whey instead of collagen if you prefer. My aim was to keep this recipe entirely dairy free.
If you'd like to use a plant-based protein powder that should also work. I've not tried any so I don't know how the flavor of the protein powder might affect the overall flavor of the popsicles, though.
How To Make Fresh Peach Popsicles.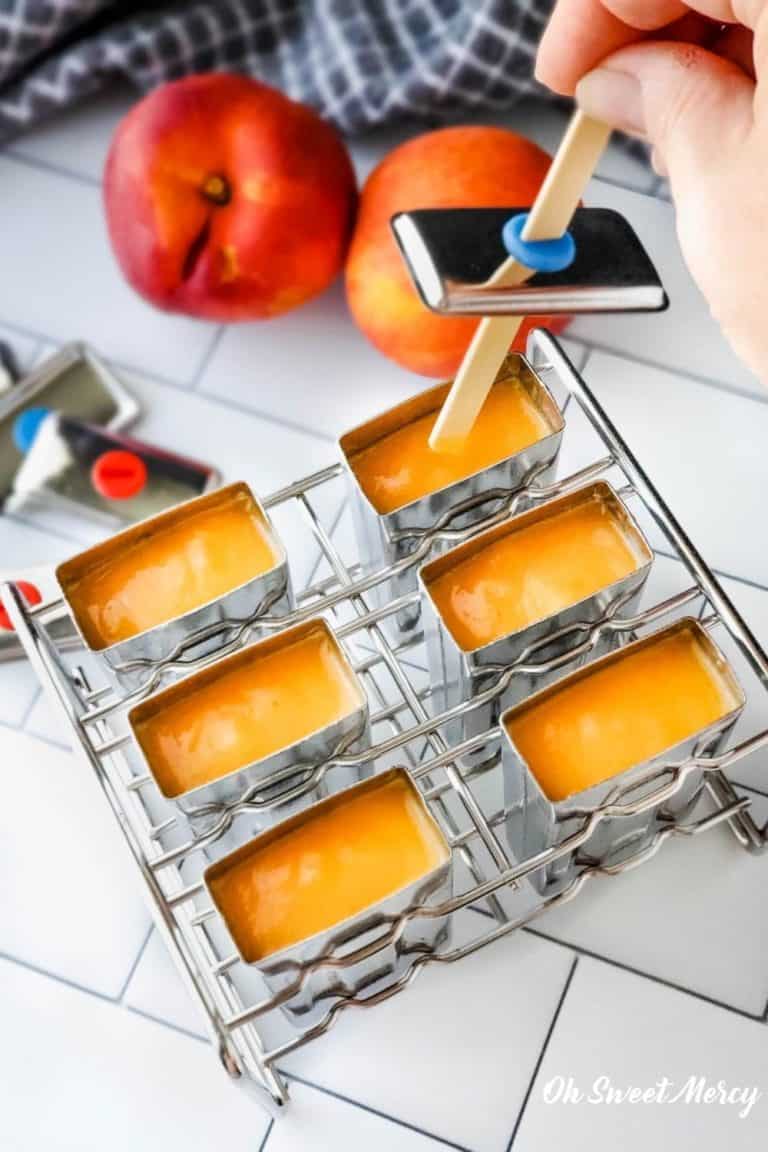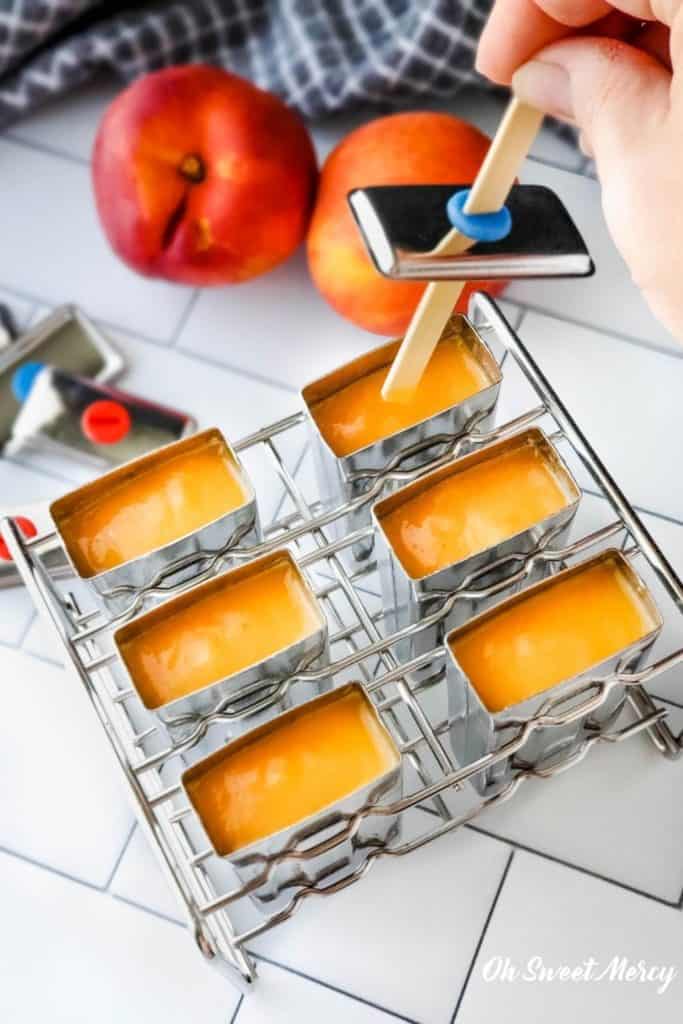 It's really as easy as 1-2-3!
Puree all the ingredients (except blueberries, if you want to add those).
Fill your pop molds and assemble (I love these stainless steel molds).
Freeze for 6 hours or overnight.
Literally the hardest part is waiting for them to freeze enough to get them out of the molds (and not just pull out the stick).
Most of the time, at least in my freezer, 4 or 5 hours works well. However, I found with the peach puree it seemed to take longer to freeze — even without the collagen or MCT oil.
QUICK TIP: if adding blueberries to your fresh peach pops, start by adding a bit of the peach puree, then a few blueberries, then continue layering until your molds are filled.

Remember to leave about 2 cm of room as the pops expand while freezing. You may have extra peach puree if you add blueberries. Just eat it because it's delicious 😉
If you have a lot of peaches to use, check out this Tennessee Peach Pudding or Peach Mango Compote. Or, maybe you'd like a Refreshing Peach Mango Kefir Smoothie?
How To Fit This Taste of Summer Into Your THM Meal Plan.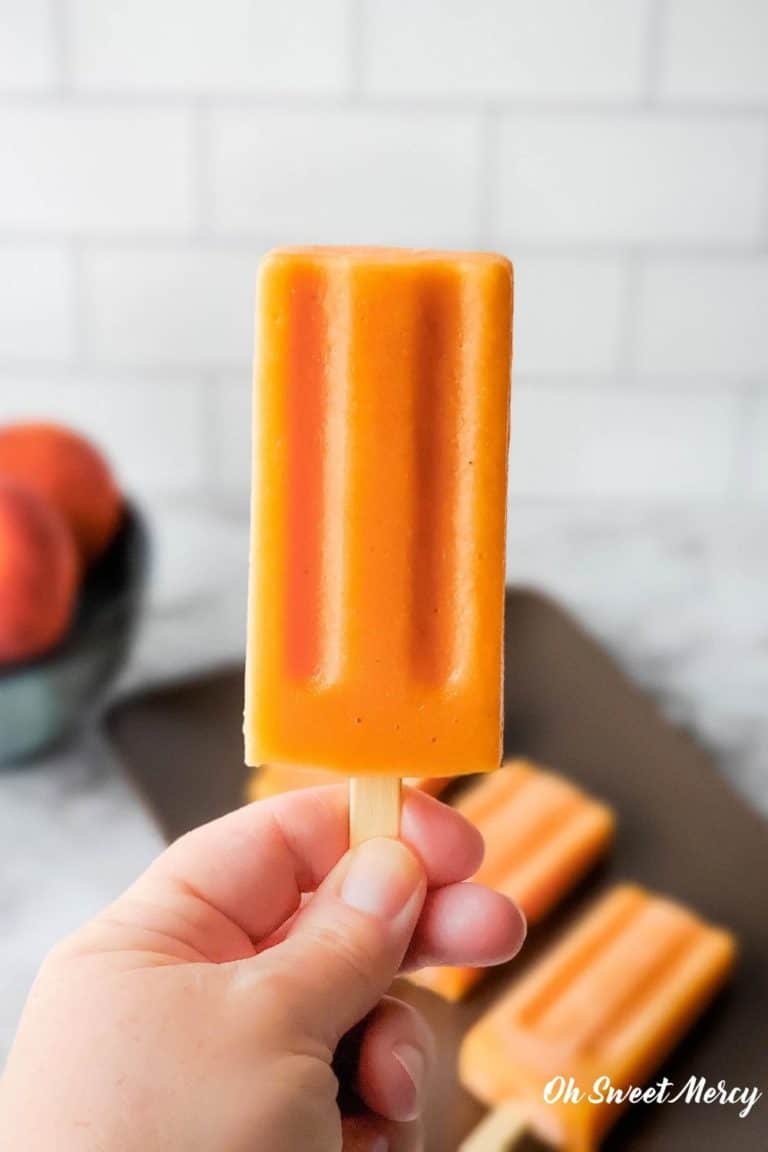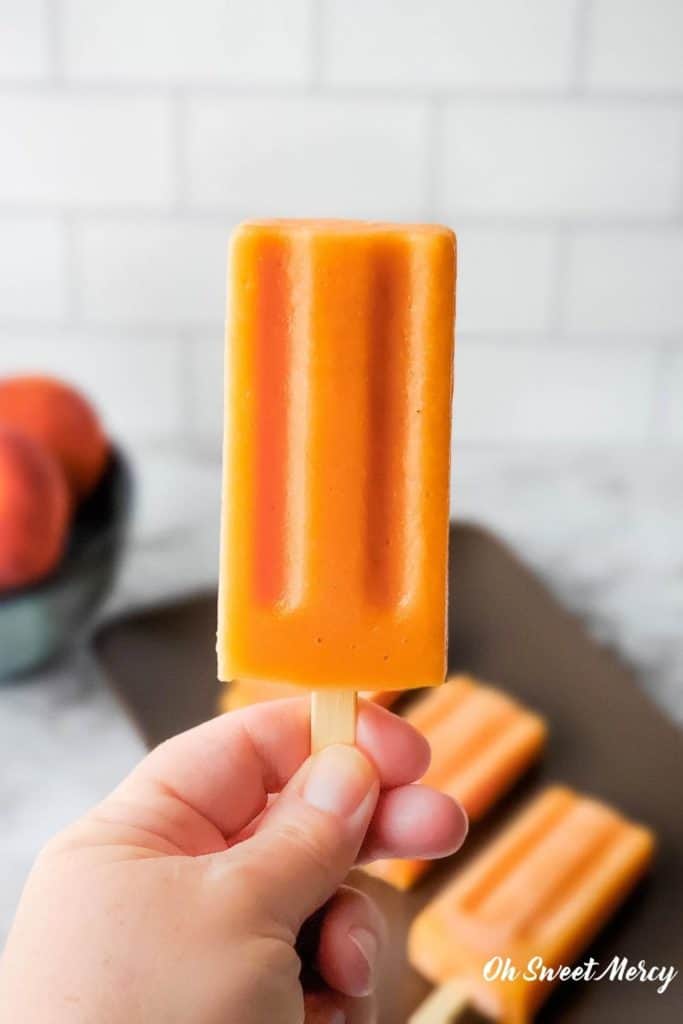 You'll notice in the nutrition information that by the numbers, my fresh peach popsicles appear to be a THM FP. Not so! Peaches are always an E fuel source.
So, enjoy these fresh peach pops for dessert after a THM E meal or as a refreshing afternoon snack on a hot day.
If you make them with the MCT oil, keep that in mind when including in part of a THM E meal so you stay within the fat guidelines for an E.
Leave out the MCT oil for a fat-free option.
Here's a meal option to consider:
Fresh cucumber slices (FP)
Fresh tomato slices (FP)
Cold Brew Hibiscus Tea (FP)
1 (or 2) fresh peach pops for dessert (E)
I don't know about you but this sounds like a very satisfying, summery, and slimming meal!
You've got very lean protein, 2 healthy carb sources, plenty of non-starchy veggies, and very low fat. THM for the win!
Just be prepared to have these peach pops disappear very quickly! You might want to make extra, just in case.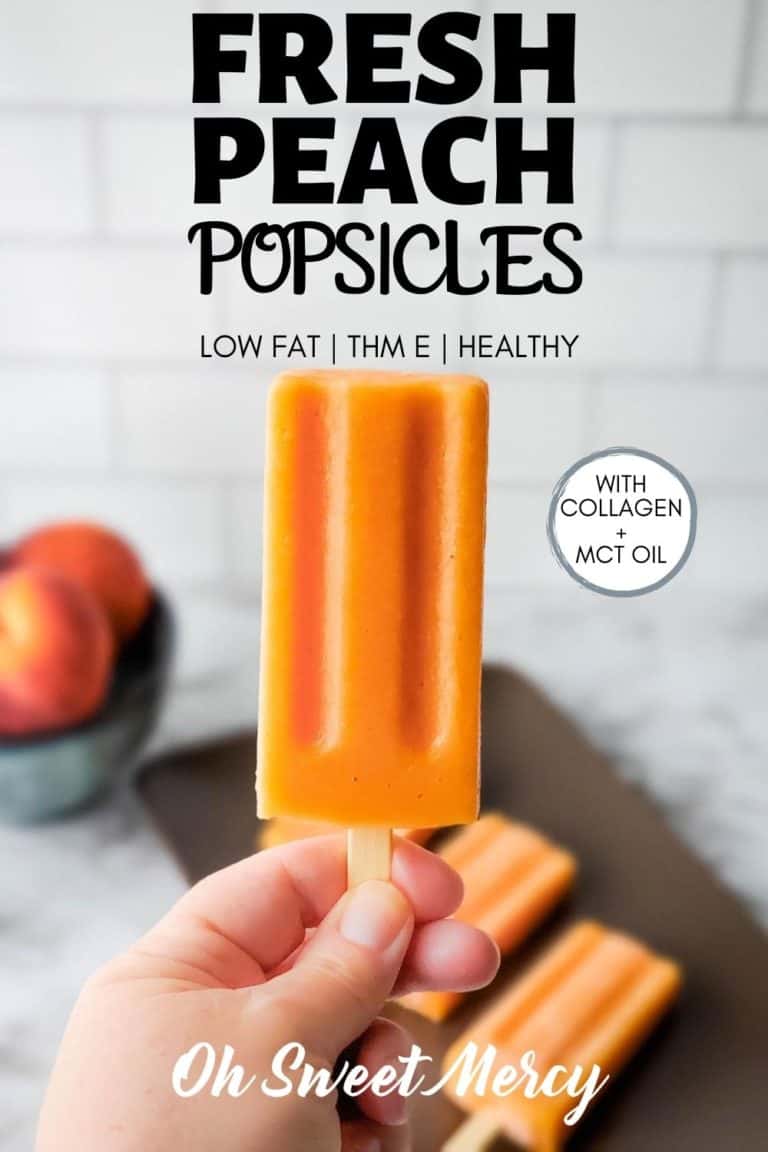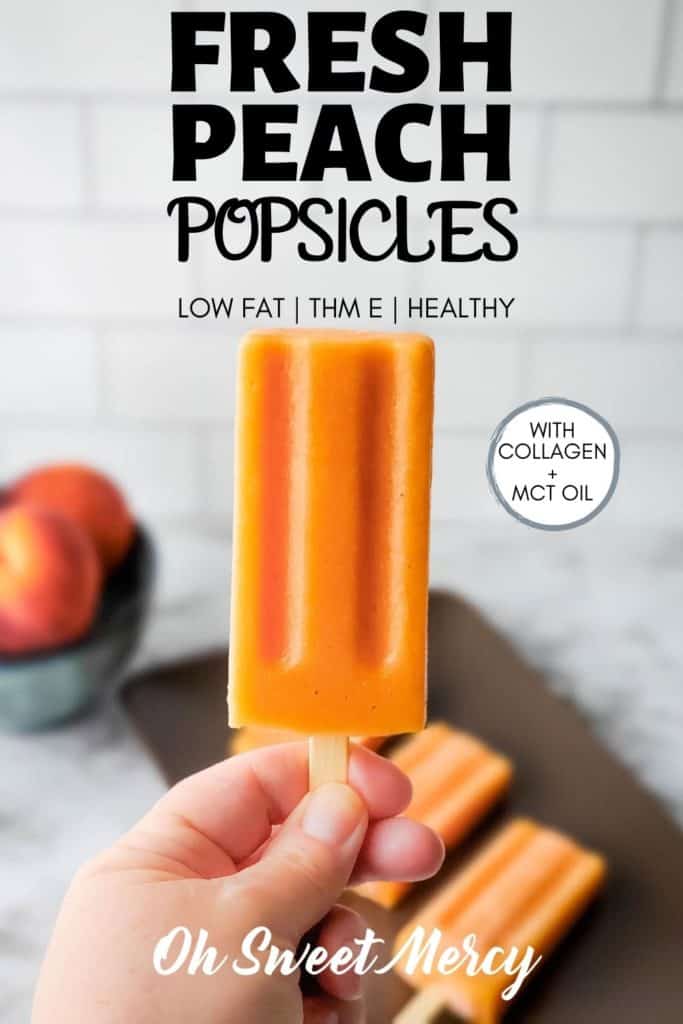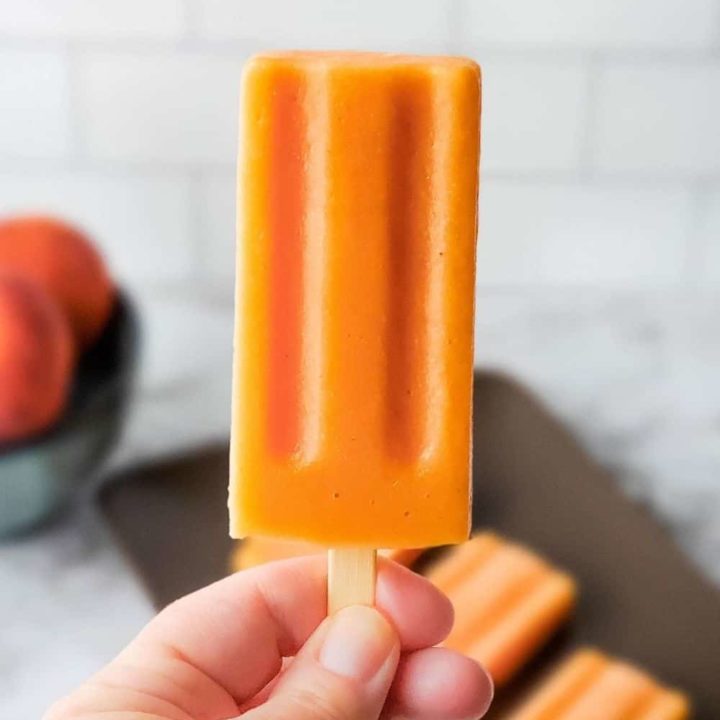 Fresh Peach Popsicles | Low Fat, THM E, Dairy Free
Yield: 6 popsicles
Prep Time: 10 minutes
Freeze Time: 6 hours
Total Time: 6 hours 10 minutes
Fresh, sweet, juicy peaches easily transform into the perfect frozen summer treat on a stick. I've also added collagen and a bit of MCT oil for added nutrition (but that's totally optional). Trim Healthy Mamas, they're also a perfectly delicious THM E snack or dessert.
Ingredients
3 fresh peaches, peeled and cut into chunks (or around 4 cups)
1/4 cup almond milk
1 tablespoon Integral Collagen (optional)
OPTIONAL: 1/4 cup fresh blueberries (see notes)
Instructions
Place peeled and cut peaches, almond milk, vanilla, sweetener, MCT oil, and collagen (if using) into a blender jar and puree until smooth.
Pour into 6 popsicle molds, assemble, and freeze for 6 hours or overnight.
ADDING BLUEBERRIES
If adding blueberries, pour some of the peach puree into each pop mold, add a few blueberries, and repeat layering berries and puree until all molds are filled.
You may have extra puree left over if using blueberries, depending on the size of your peaches.
Notes
For the best peach pops, use fresh, locally-grown peaches.
But, other fresh peaches or even frozen can be used. If using frozen peaches, let them thaw a bit before pureeing.
Adding sweetener is optional, especially if your peaches are very sweet. Using store-bought or frozen peaches you'll probably want to add the sweetener as they're typically not as sweet as freshly-picked peaches.
Recommended Products
As an Amazon Associate and member of other affiliate programs, I earn from qualifying purchases.
Nutrition Information:
Yield: 6 popsicles
Serving Size: 1 popsicle
Amount Per Serving:
Calories: 54.5
Total Fat: 1.9g
Saturated Fat: 1.4g
Unsaturated Fat: 0.3g
Sodium: 8.5mg
Carbohydrates: 9.2g
Net Carbohydrates: 7.5g
Fiber: 1.7g
Sugar: 6.9g
Protein: 1.5g