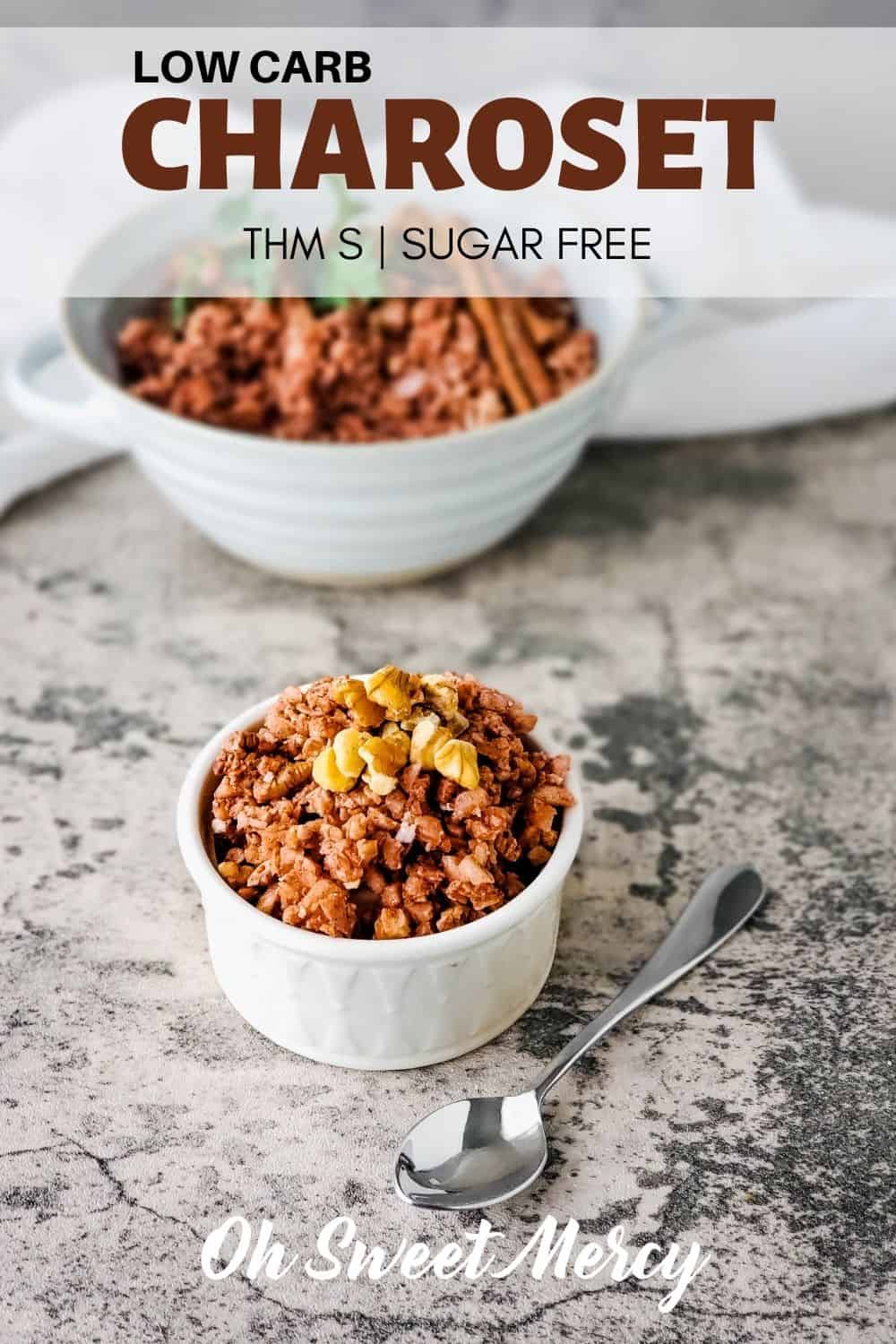 Jumping to the recipe? Please come back and read when you have the time, I include helpful info in my posts like how to fit my recipes into your THM meal plan! Get notified of new posts by signing up for my newsletter at the end of the page. Thanks for stopping by!
---
Need to keep your sugar intake low this Passover? My low carb charoset recipe is just what you need! The secret is a low carb veggie marinated to taste like apples. You won't believe what it is! And no, it's not cauliflower. Trim Healthy Mamas, you'll love this addition to your Passover meal this year!
---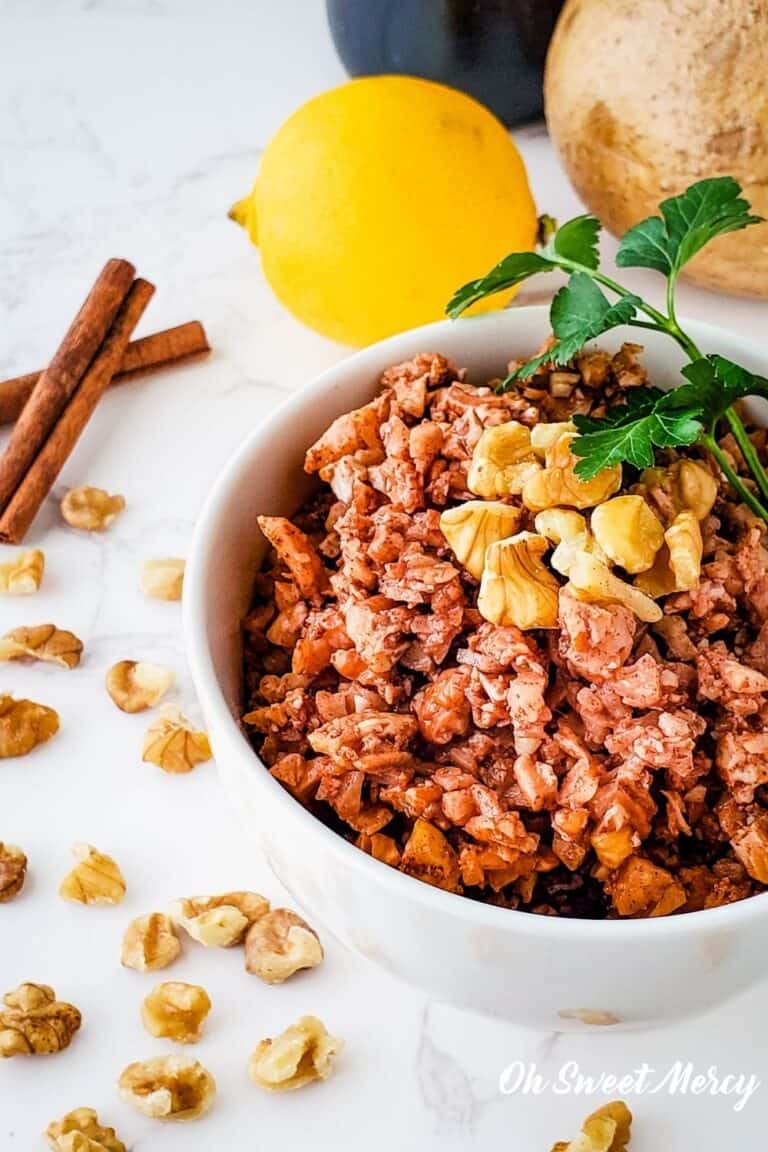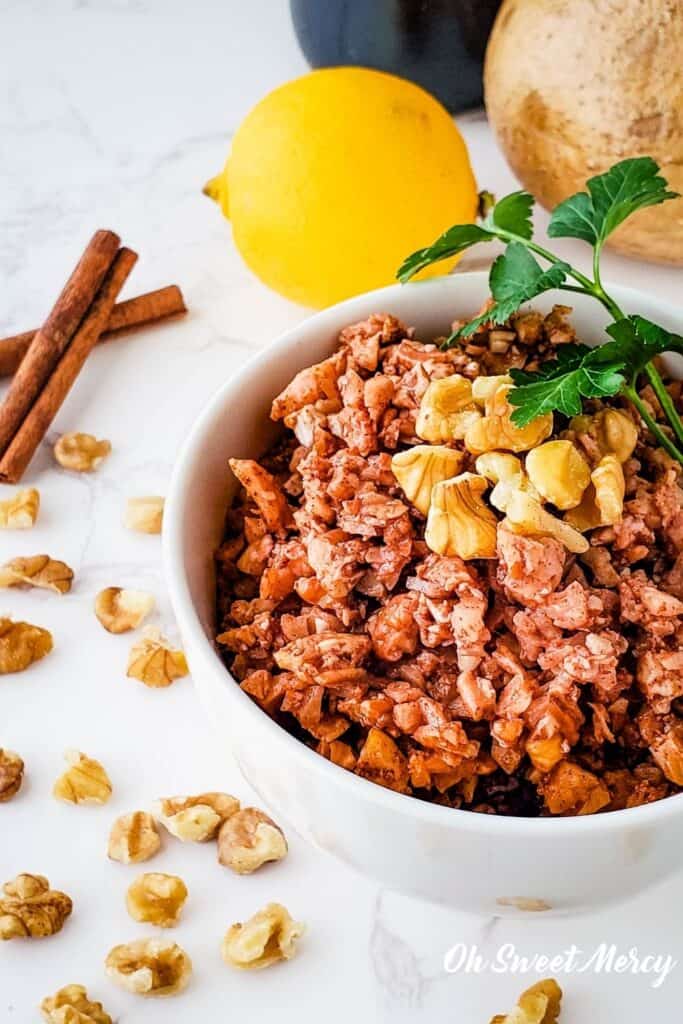 There are countless ways to make charoset, that very welcome sweet, crunchy treat on the Passover Seder plate.
I've always had it made Ashkenazi style, which is simply apples, walnuts, cinnamon, sweet wine, and honey (or sugar). It's always been processed fairly finely in a food processor, which is what you'll want to do for this recipe.
You see, you'll be using jicama instead of apples! It's best, at least in my opinion, to chop the jicama up in little bits instead of chunks like you might cut apples.
NOTE: If you're like me and can't eat walnuts, pecans make a lovely substitution! Not traditional of course, but then neither is jicama.
Now, since Passover is just days away, let's get down to making this THM charoset!
What Do I Need For This Recipe?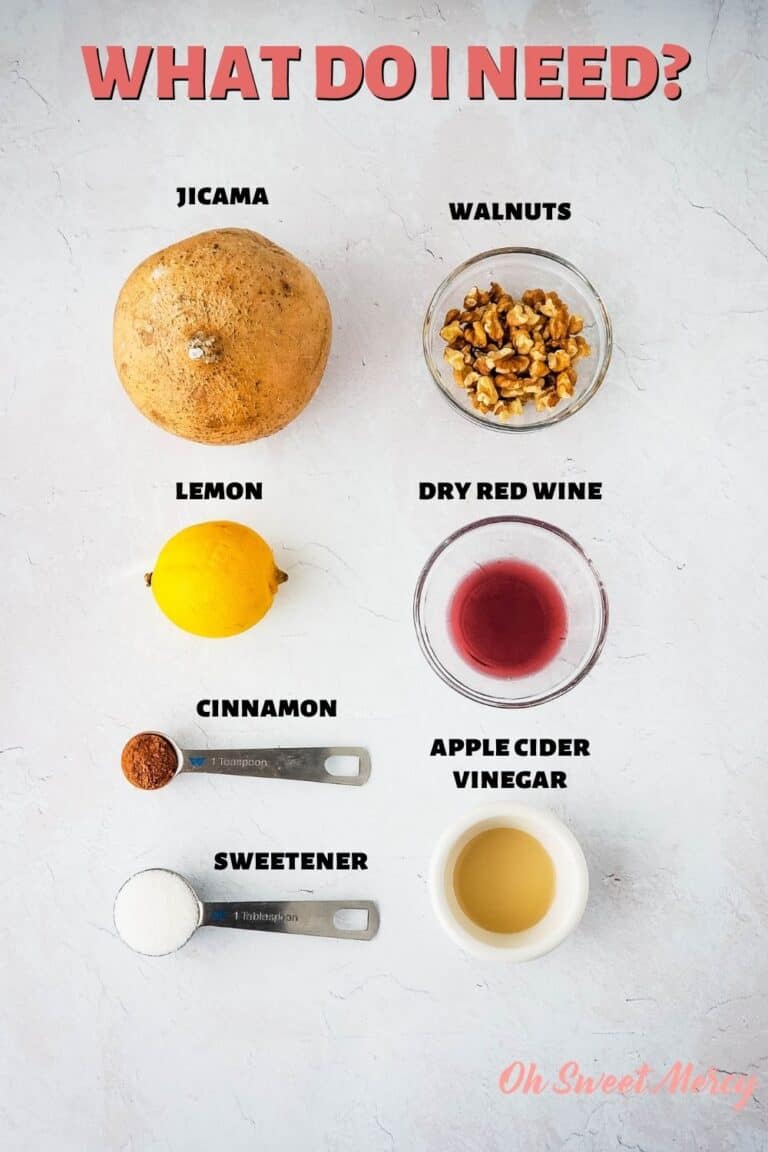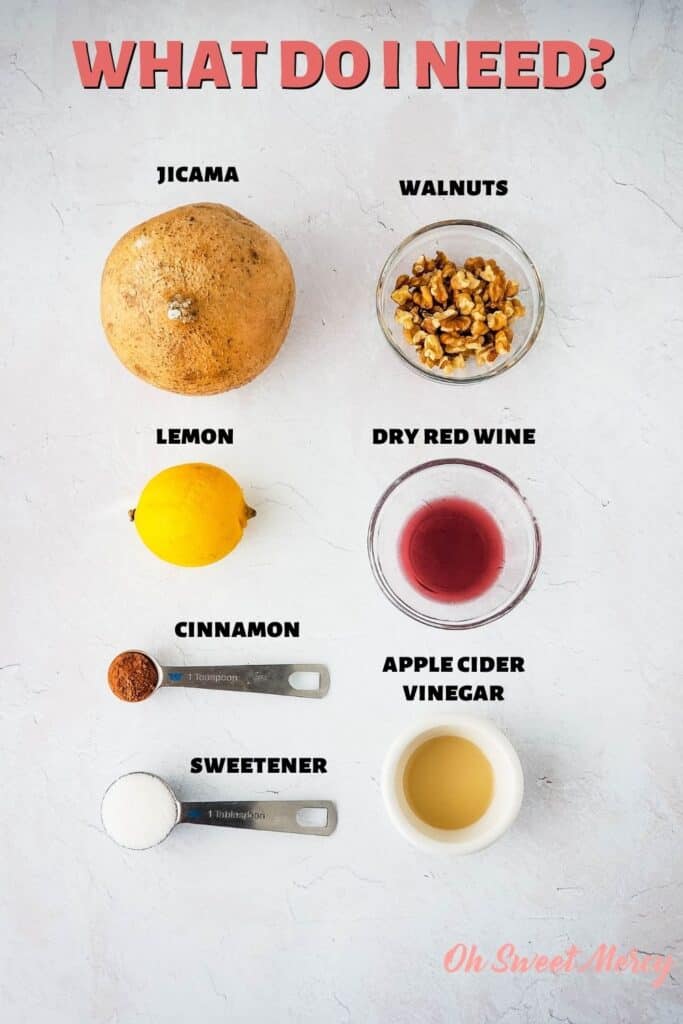 This is a simple recipe with just a few ingredients. Most grocery stores should carry jicama. It's kind of an ugly looking thing and the outside is usually waxed.
If you can't find jicama, you could try turnips BUT I can't guarantee that will work as well as jicama.
Jicama – a medium sized one or so
Lemon juice
ACV (apple cider vinegar)
Sweetener
Cinnamon
Dry red wine (Kosher for Passover if that matters to you)
Why dry red wine? It's on plan for THM and helps keep this dish low carb. We'll be adding sweetener to the recipe anyway so you'll never notice that it's a dry wine.
You can also omit the wine if you don't want alcohol. A tiny amount of grape juice is probably OK, but keep in mind that juice is just liquid sugar!
How To Make Low Carb Charoset.
NOTE: You'll want to plan a little bit of time for this recipe as you need at least 45 minutes of marinating time.

Also, you can get the jicama marinating well before hand. Say, the night before, or even forget about it in the fridge for 3 days… #askmehowiknow
First, peel and chop the jicama into small pieces. I usually cut it into about half inch cubes or so.
Next, mix together the lemon juice, ACV, and some of the sweetener. I put it in a plastic zipper sandwich bag bit any container with a tight fitting lid works.
If you're making it in 45 minutes or so, just leave it on the counter. Give it a shake and flip it over a few times as you think about it.
Otherwise, pop it into the fridge until you're ready to make the low carb charoset (again, giving it a shake and a flip a few times as you remember).
When you're ready to make the charoset, put the jicama (and the marinade) along with the walnuts into the bowl of your food processor. Pulse several times until the pieces are as small as you like.
If you don't have a food processor, just chop everything finely with a knife.
Pour into a mixing bowl and add the cinnamon, wine, and the rest of the sweetener. Give it a good mix until everything is well incorporated.
Eat right away or refrigerate until ready to eat. It should keep well for 4 to 5 days.
How To Fit This Low Carb Charoset Into Your THM Meal Plans.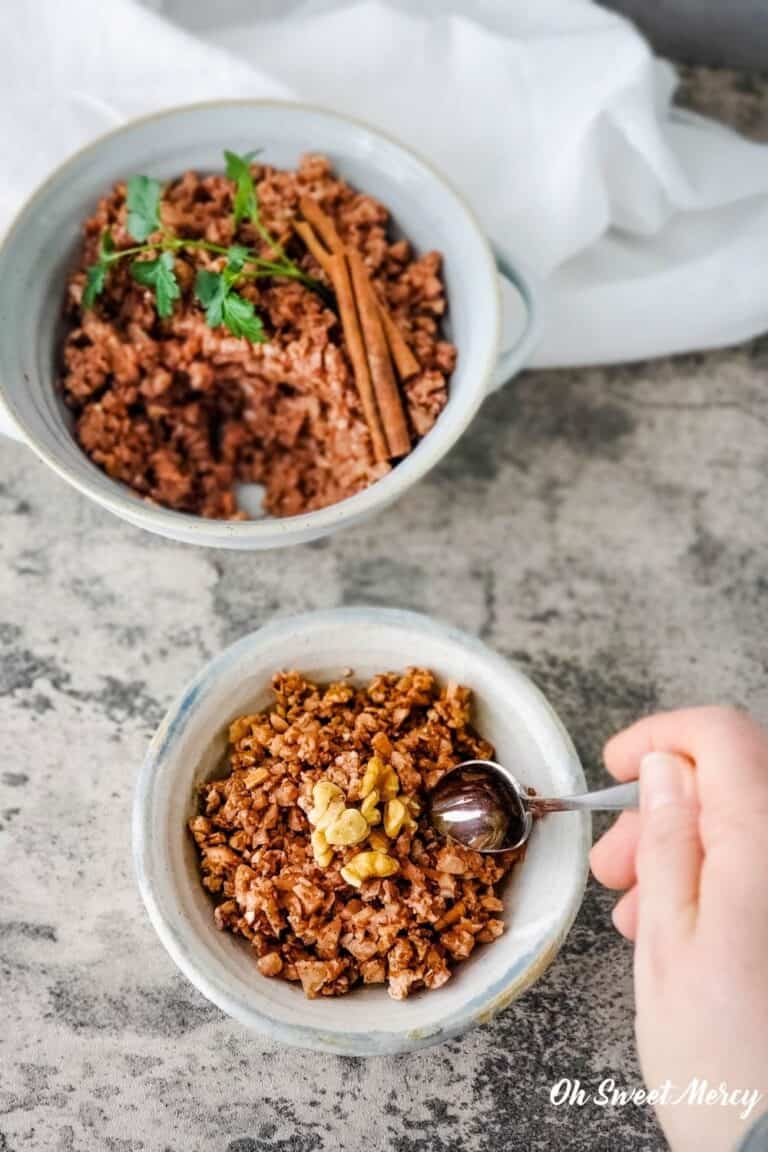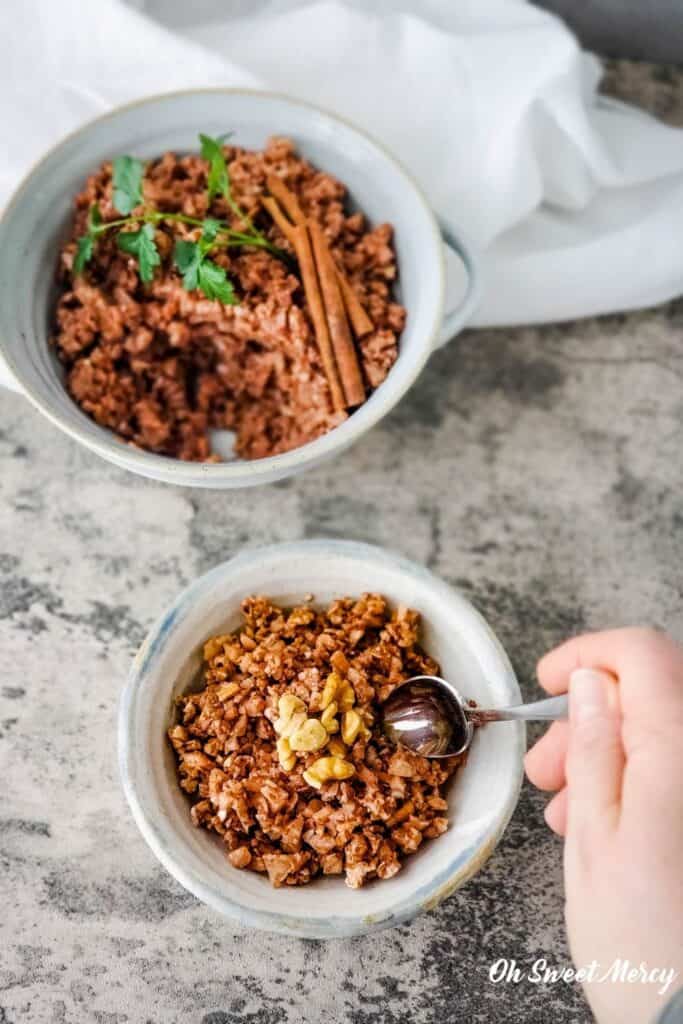 Since this is made with a significant amount of nuts, and a low carb veggie, it's a THM S recipe.
As part of your Passover meal, it's a great way to keep your carbs lower – especially if you're eating my Sprouted Wheat Matzah, which is an E. There's nothing wrong with a healthy Crossover during a Biblical Feast!
Typically, I don't stress too much what I eat for Passover or other Biblical Feast Days, but do try to be as on plan as possible. Sometimes, someone else is serving the Passover meal and I eat and enjoy what is served, keeping it reasonable.
What To Do With Leftover Charoset.
If you find you have leftovers, not to worry! Here's some ideas on how to eat it beyond the Passover meal:
I'm so excited to have finally created this sugar free version of a favorite Passover recipe! It was inspired by my THM-ified Aunt Kathy's Holiday Cranberry Salad, which I love at Thanksgiving every year.
It also gives you an option to be 100% on plan, assuming you have a low carb unleavened bread. Wonder Wraps, while not traditional at all, would work for that.
I hope this helps you enjoy your THM Passover this year! Or, at least help reduce some of the carbs and sugar. Chag sameach Pesach!
PIN IT!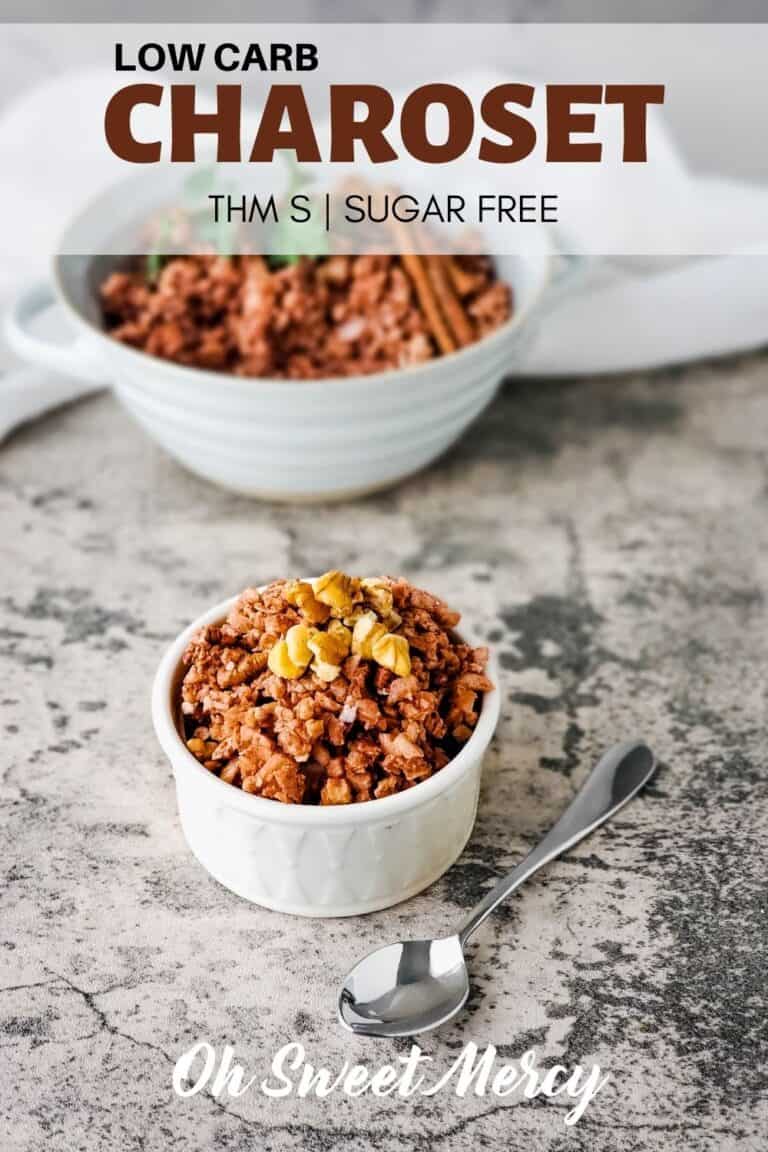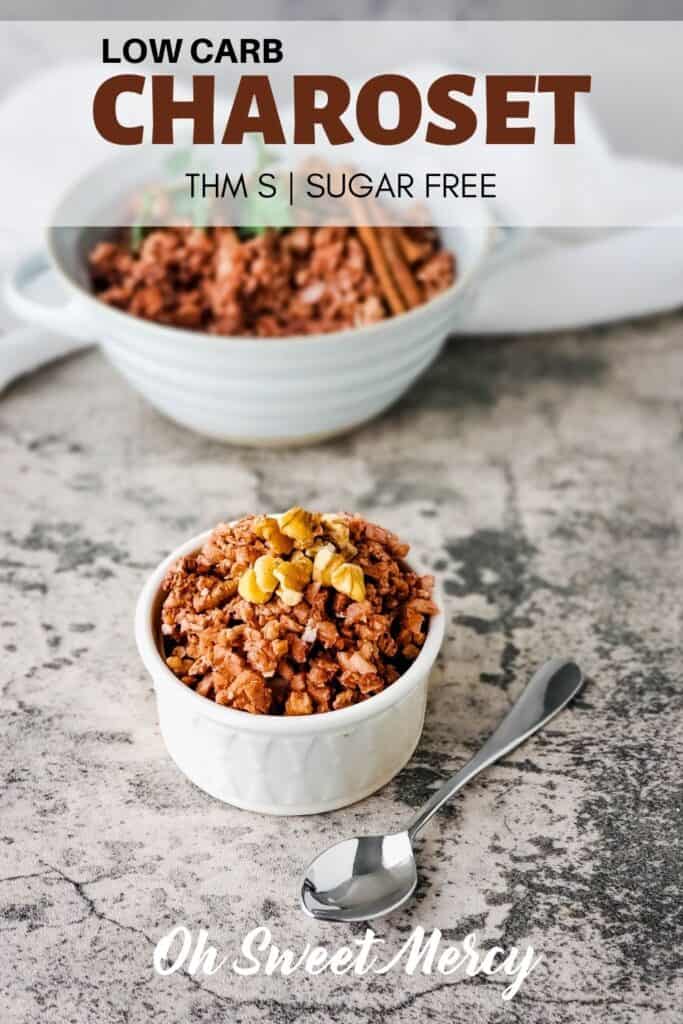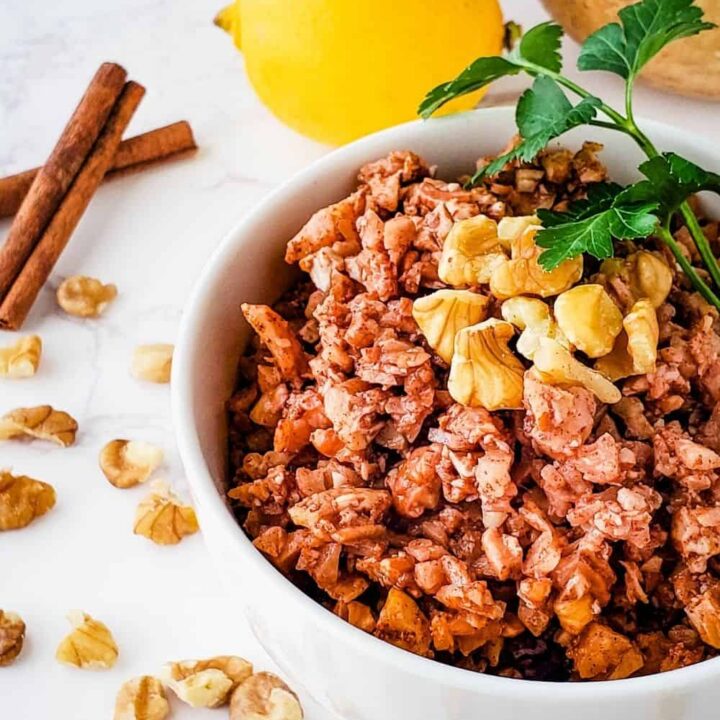 Low Carb Charoset Recipe | THM S, Sugar Free
Yield: 2 3/4 cups
Prep Time: 10 minutes
Marinate Time (minimum) : 45 minutes
Total Time: 55 minutes
The simple trick to low carb charoset is replacing the traditional apples with jicama! Marinating the jicama for at least 45 minutes (overnight is better, or even a few days) in a sweet tart marinade makes them taste like apples. After that, it's a quick 10 minutes (or less) to make! A delicious and THM friendly way to enjoy the traditional taste of this Passover classic without the carbs and sugar.
Ingredients
1 jicama, peeled and chopped into small chunks (around 11 ounces)
2 tablespoons lemon juice
1 cup walnuts (or pecas)
3 tablespoons dry red wine
1 tablespoon granulated sweetener, more or less to taste
Instructions
At least 45 minutes before making the charoset, combine the lemon juice, ACV, and sweetener and whisk or stir until sweetener is dissolved.
Place this mixture and chopped jicama in a zipper sandwich bag and seal, then shake several times to coat the jicama well with the juice.
Refrigerate, flipping the bag a few times if you remember, until ready to make the charoset.
When ready to make the charoset combine the jicama (and the marinade) and walnuts in the bowl of a food processor and pulse several times until mixture is chopped as small as you like.
Pour into a bowl and add cinnamon, sweetener, and wine and mix well to combine.
Eat immediately or refrigerate until ready to eat.
Should keep 4 to 5 days in the fridge.
Notes
This recipe is very forgiving, the size of your jicama doesn't have to be exactly 11 ounces, just a softball-sized one or so. You can always add more seasonings and sweetener if you need to.
Recommended Products
As an Amazon Associate and member of other affiliate programs, I earn from qualifying purchases.
Nutrition Information:
Yield: 11
Serving Size: 1/4 cup
Amount Per Serving:
Calories: 89.7
Total Fat: 7.8g
Saturated Fat: 0.7g
Trans Fat: 0g
Unsaturated Fat: 6.8g
Cholesterol: 0mg
Sodium: 1.2mg
Carbohydrates: 4.4g
Net Carbohydrates: 1.7g
Fiber: 2.7g
Sugar: 0.9g
Protein: 1.2g
Nutrition information is approximate and based on the best knowledge available at the time of recipe publication. Your results may vary due to differences in ingredients. You can make your own calculations if this recipe does not include nutrition info by using an online calculator such as https://recipes.sparkpeople.com/recipe-calculator.asp