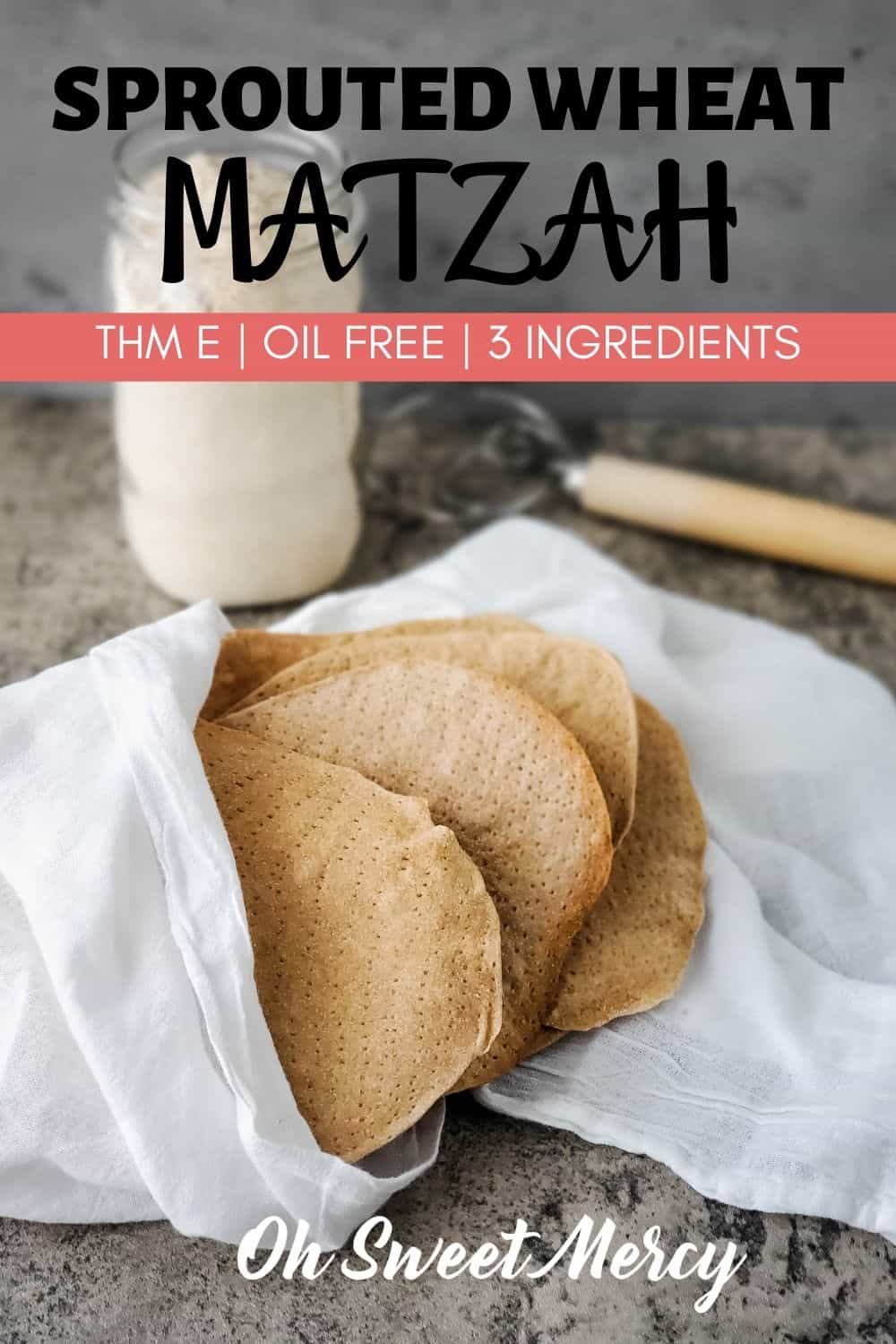 Jumping to the recipe? Please come back and read when you have the time, I include helpful info in my posts like how to fit my recipes into your THM meal plan! Get notified of new posts by signing up for my newsletter at the end of the page. Thanks for stopping by!
---
Regular matzah is not on-plan for THM but this sprouted wheat matzah recipe is easy to make and totally THM-friendly! Just 3 ingredients and no oil or added fat of any kind. They're a delicious part of your Trim Healthy Mama Passover meal!
---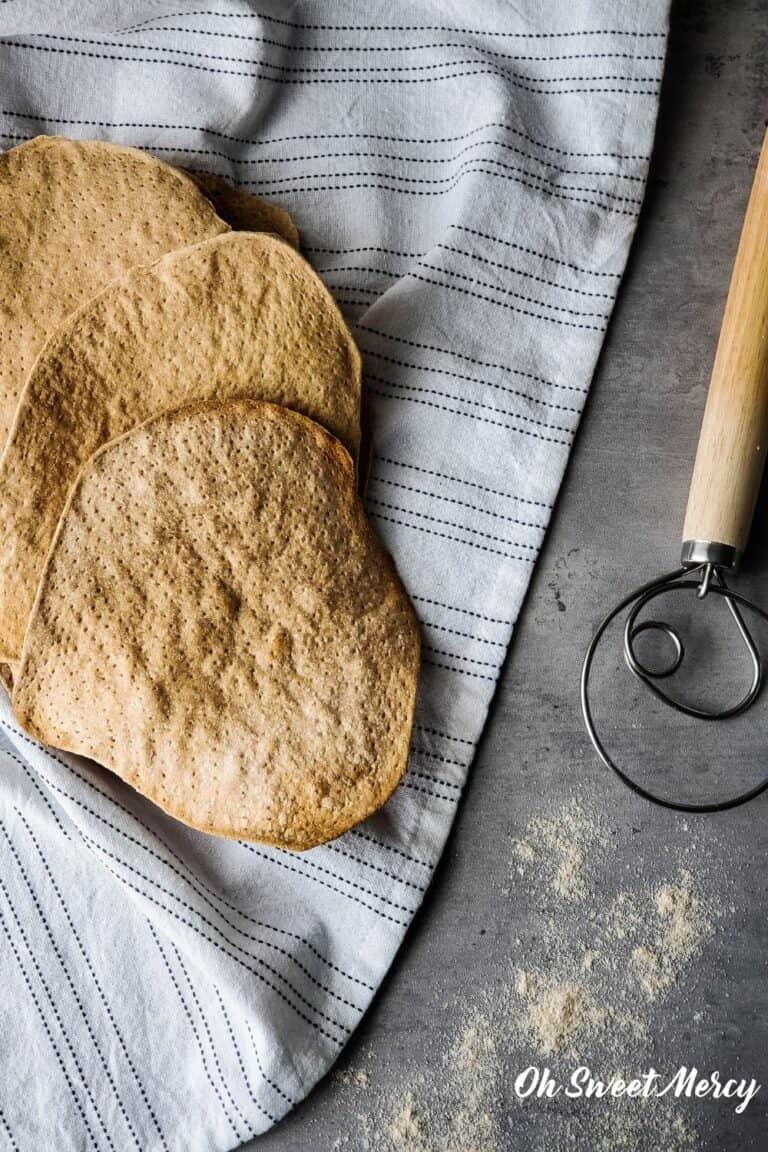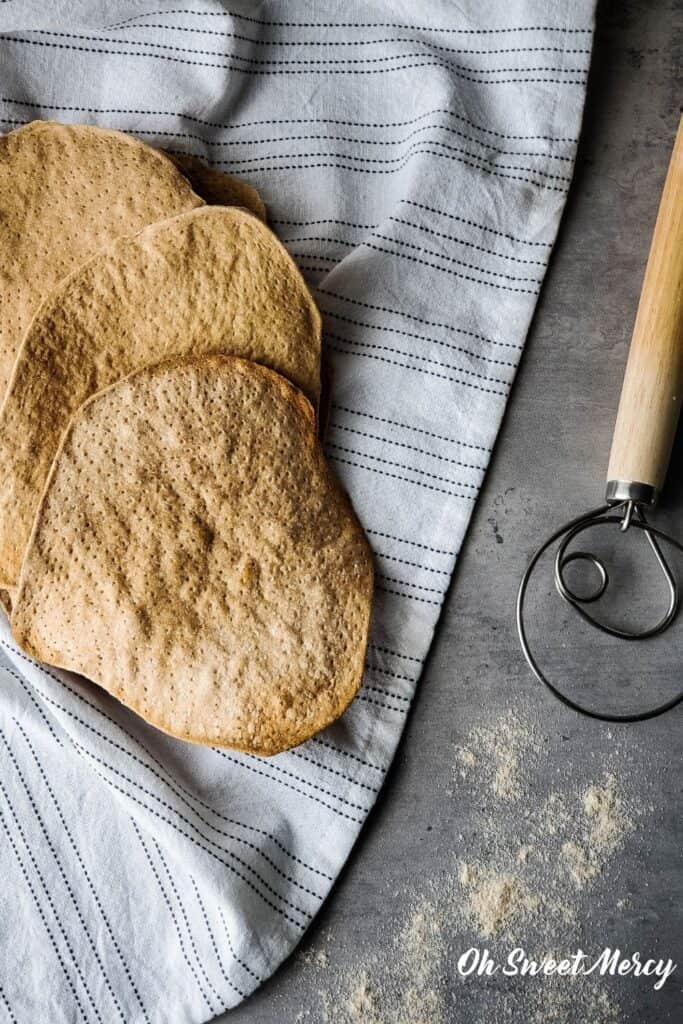 Holidays of any kind can be tricky when following the THM plan. Let's face it, many holiday favorites are absolutely off-plan, right?
But, one of the beautiful things about the Trim Healthy Mama Plan is the numerous recipes making many of our favorite recipes plan-friendly.
We keep the Biblical feasts, including Passover and the Feast of Unleavened Bread. Usually, I just eat some of the regular matzah at our Passover meal. It's a special occasion and I can hop right back on plan again in 3 hours.
However, I really have wanted to make a plan-friendly matzah for years. This recipe is so simple and easy and we love these homemade sprouted flour matzahs.
Why Isn't Regular Matzah On Plan For THM?
Store-bought matzah (or matzo, if you prefer) is not made with plan approved flours. To be on-plan, flour must be whole grain and either sprouted or soured/soaked.
Also, most recipes for homemade matzah use regular flours – either all purpose flour or whole wheat flour – that aren't sprouted, soaked, or soured.
In addition, since we need unleavened bread for this Biblical Feast Week, soaking whole grains or using sourdough is not permissible – it would be naturally leavened that way.
What Do I Need?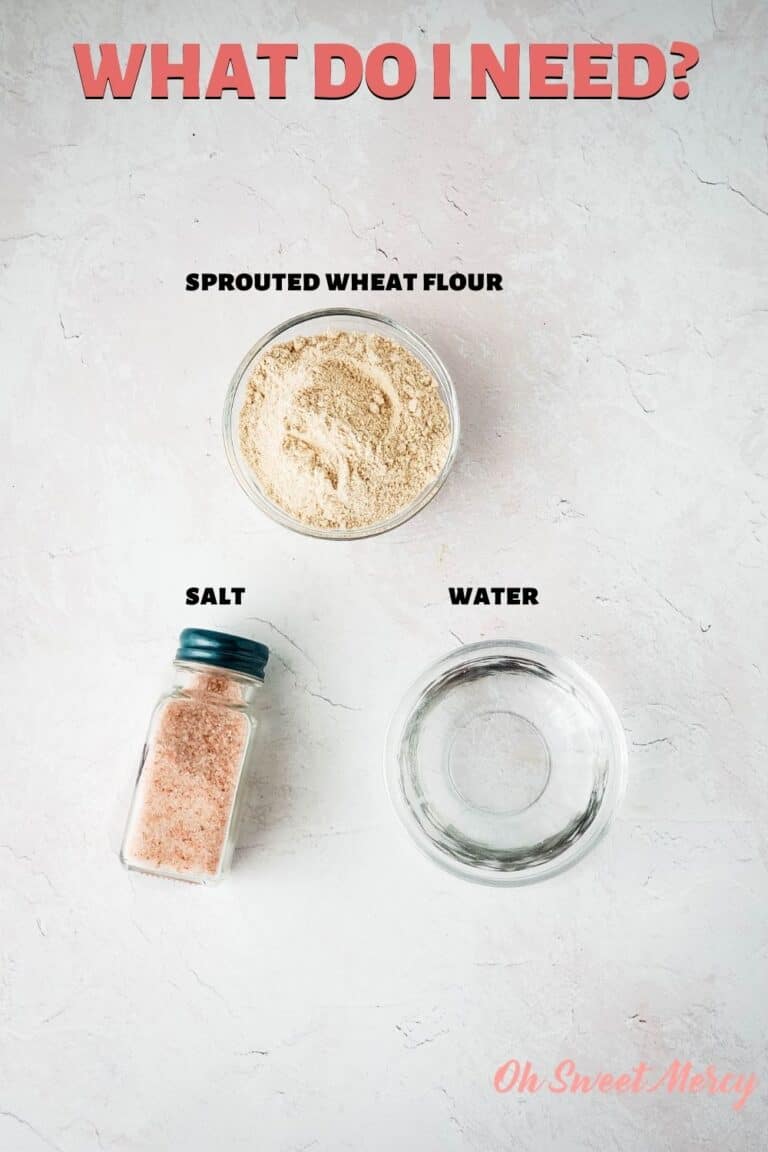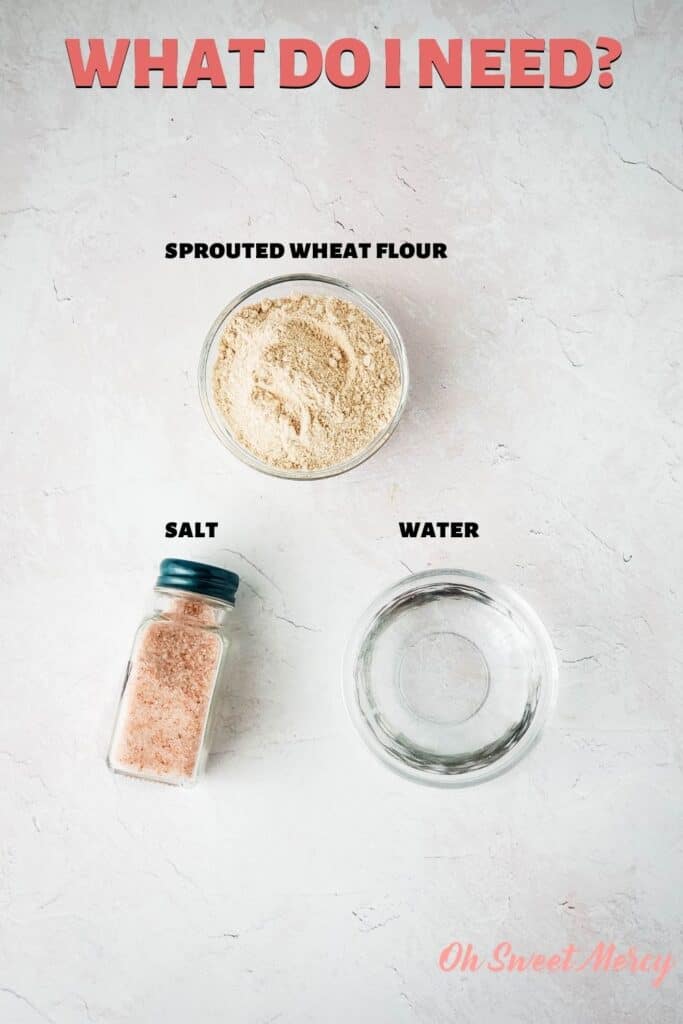 This recipe couldn't be any more simple! You just need 3 ingredients:
Sprouted wheat flour
Salt (I use pink Himalayan salt, you could use Kosher if you prefer)
Water
I used to be able to buy sprouted flour locally. However, it's been nearly a year now since it's been in the stores around me. I finally just ordered some from Vitacost. It's organic and surprisingly affordable!
Is Homemade Sprouted Wheat Matzah Just Like Store Bought?
You may be happy (or disappointed) but homemade matzah just isn't the same as store bought.
Confession: I actually like store bought matzah! It's a lot like a saltine cracker and when you put stuff on top of it, like hummus or charoset (check out my Low Carb Charoset For Passover recipe, too!) it's just a crunchy vehicle for those toppings.
These homemade matzahs are not crispy and crunchy like the store kind. They have a lovely chewiness with some crunch around the edges.
Bake them a little less for softer, tortilla-like matzah or longer for a more chewy, crunchy-edge result.
Are They Kosher For Passover?
If you follow Kashrut, you can certainly make them Kosher for Passover.
Use Kosher for Passover flour
Set your timer for 18 minutes and make the whole batch within that time!
We don't personally follow the rules of Kashrut so I didn't rush to make these. If you make 4 large matzahs you can bake all 4 at the same time.
Just work quickly to make the dough and get them rolled out and into the oven within the 18 minutes.
Another option is doing half the recipe at a time until you get as many matzahs as you need.
How Long Can You Keep Them?
I wouldn't recommend making enough matzah for the entire week of the Feast of Unleavened Bread. They are best made and eaten right away or at least in the same day.
This is typical of most homemade tortillas and other flatbread type recipes. Without the commercial dough conditioners and preservatives that store bought products have, they just don't stay fresh long.
It only takes about half an hour to make a batch though so they're quick to make each day if you like.
Making Homemade Sprouted Wheat Matzah.
First, preheat your oven and line baking sheets with parchment paper before you get started.
Next, gather your ingredients and get started!
In a mixing bowl, mix the flour and salt well. Then pour in most of 1/2 cup of water into the flour. Depending on your flour, the ambient humidity in your kitchen, and how the planets are aligned you may need more or less water.
Flour is kind of fickle sometimes! I didn't need a whole half cup of water when I made this…this time. Next time, I might.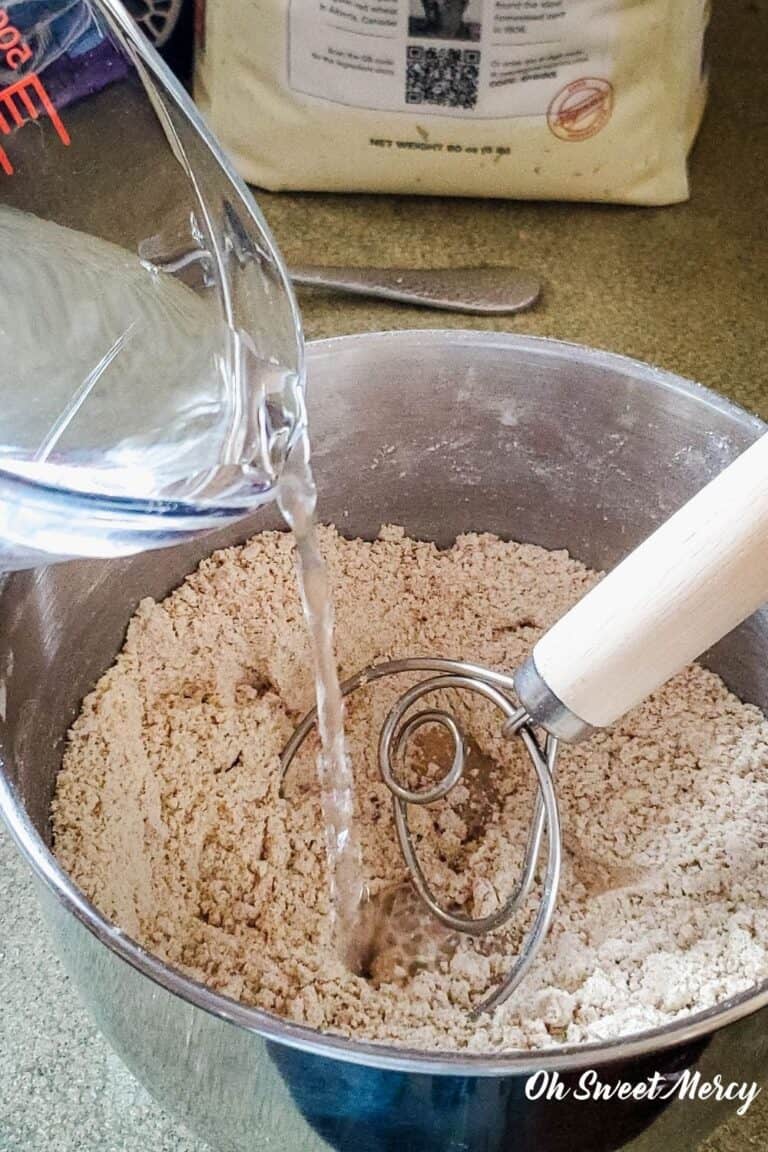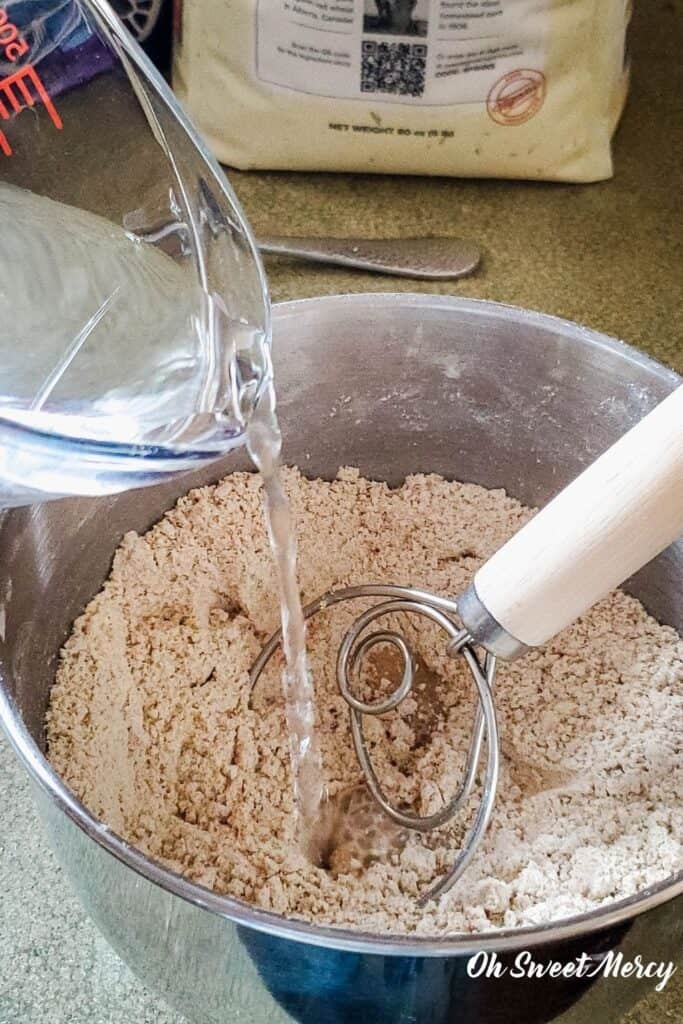 Mix the flour and water together, adding more water as needed to form a dough that sticks together and follows your dough whisk or spoon around the bowl.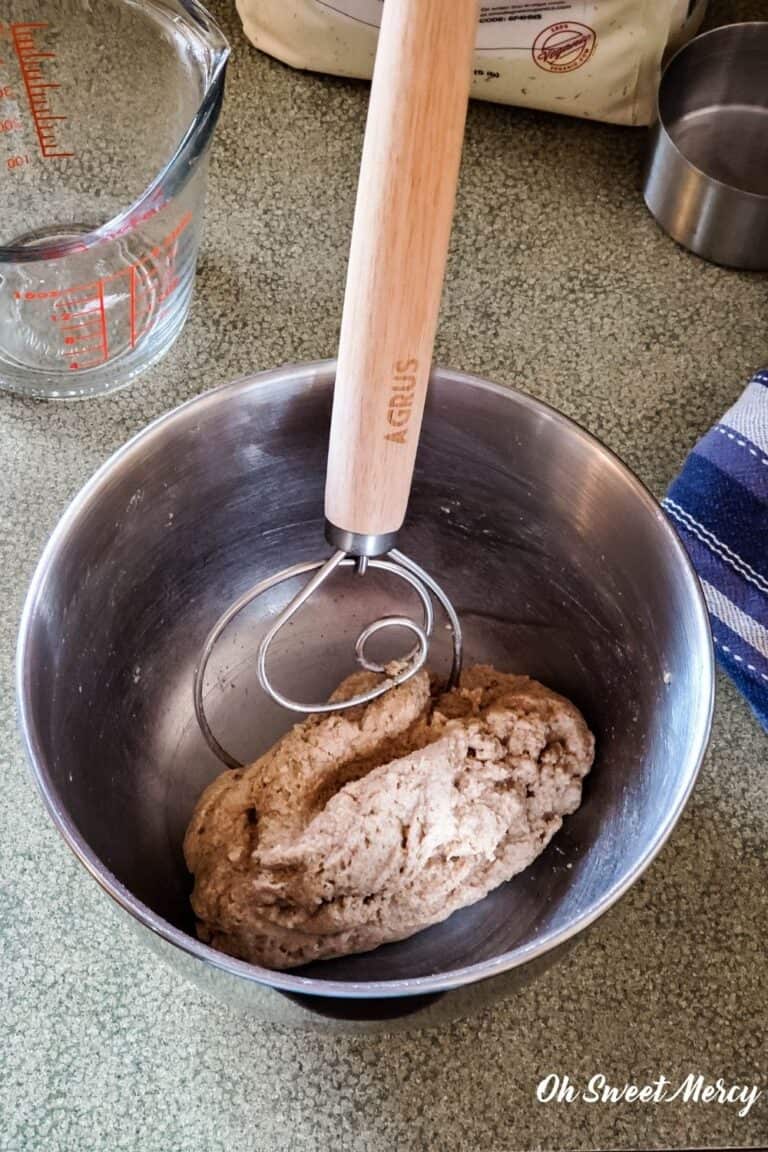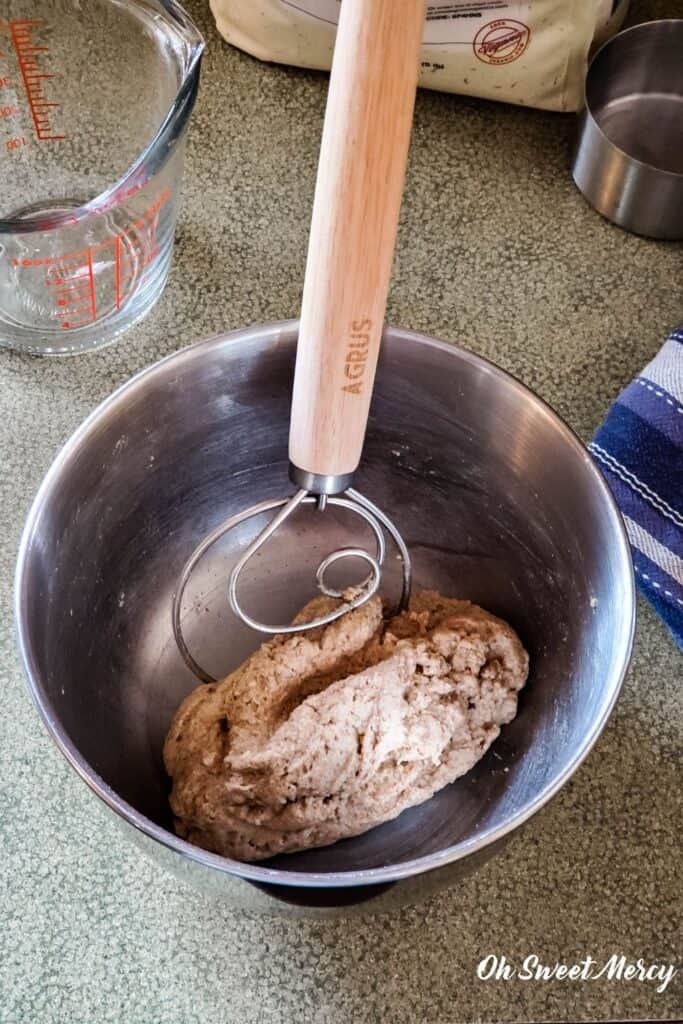 Knead the dough for 2 to 3 minutes, adding more flour if needed to keep the dough from being too sticky. You should have a smooth ball of dough when done.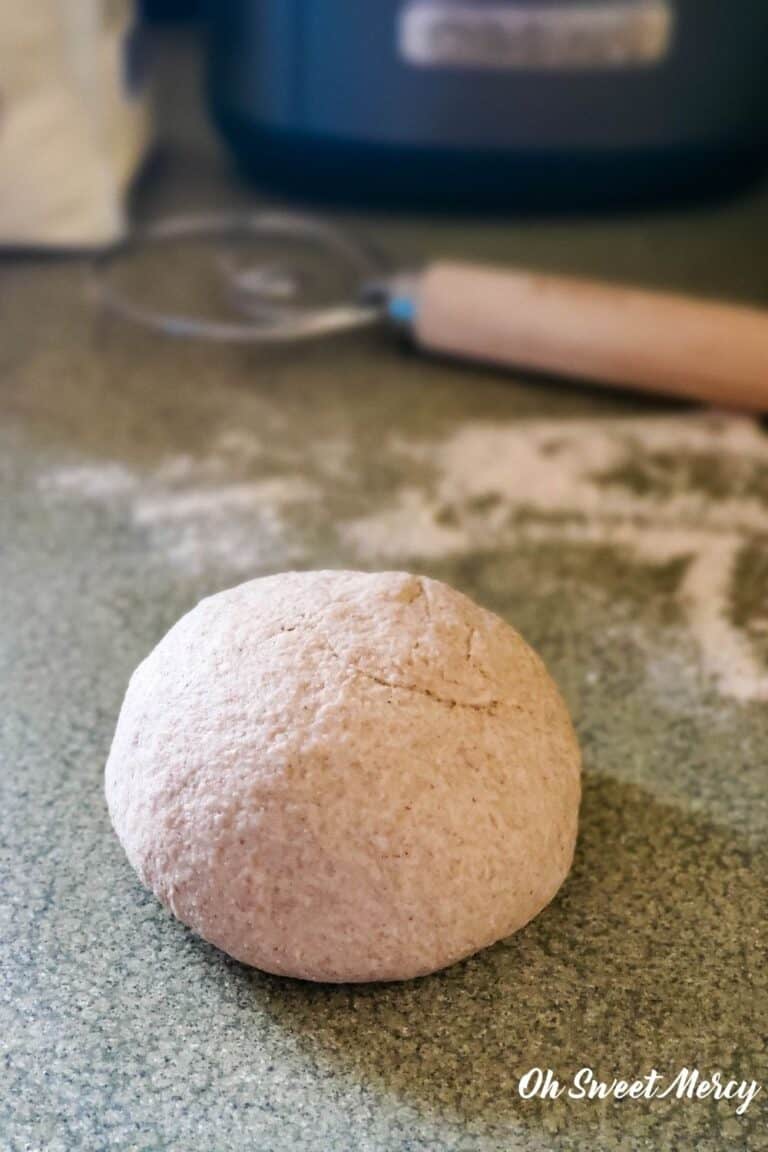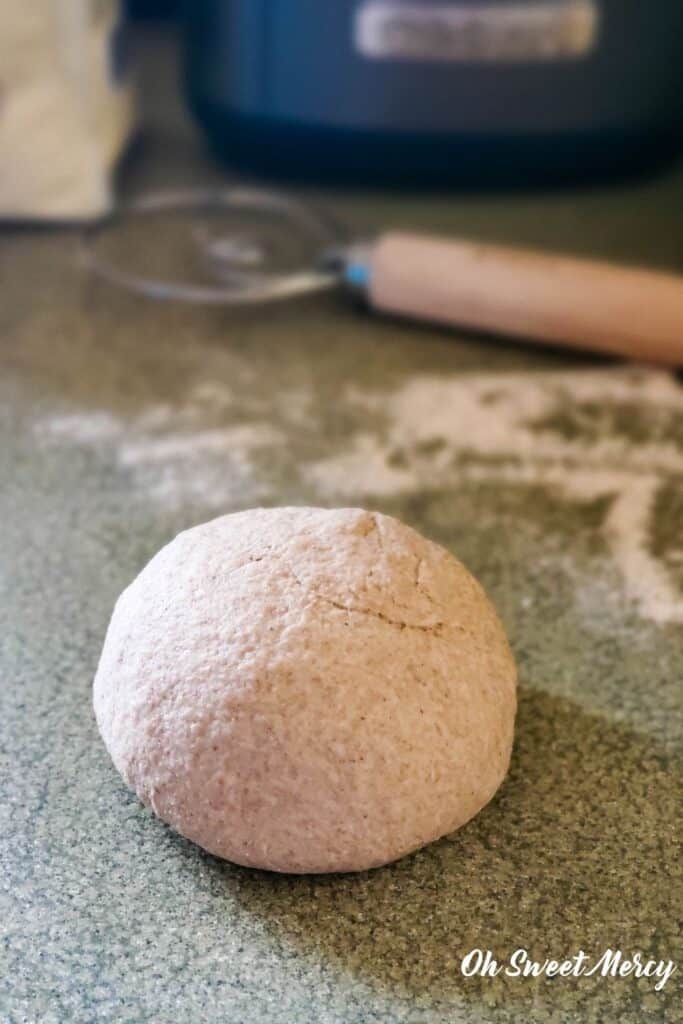 Next, roll the dough into a log. Cut the dough into as many pieces as you'd like then roll the pieces into balls.
Use your rolling pin to roll the dough out as thin as you can get it, or to your preference. Prick the dough with a fork all over then carefully transfer the dough to your prepared baking sheets.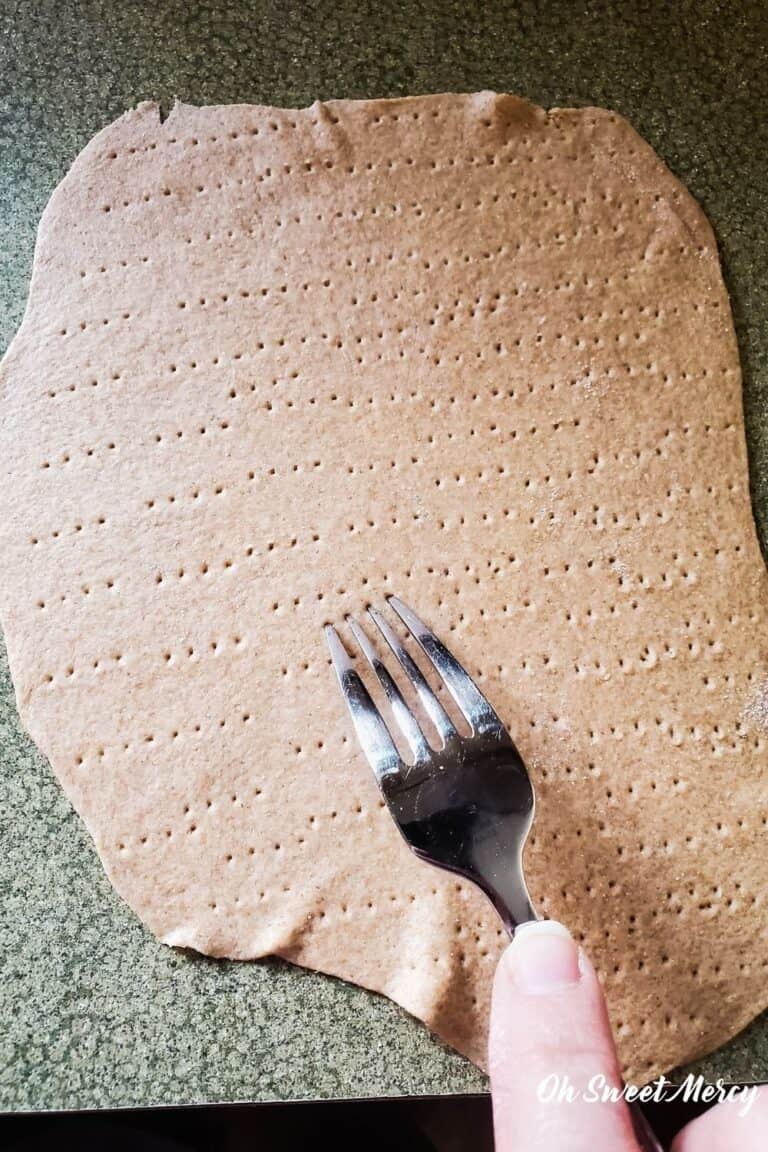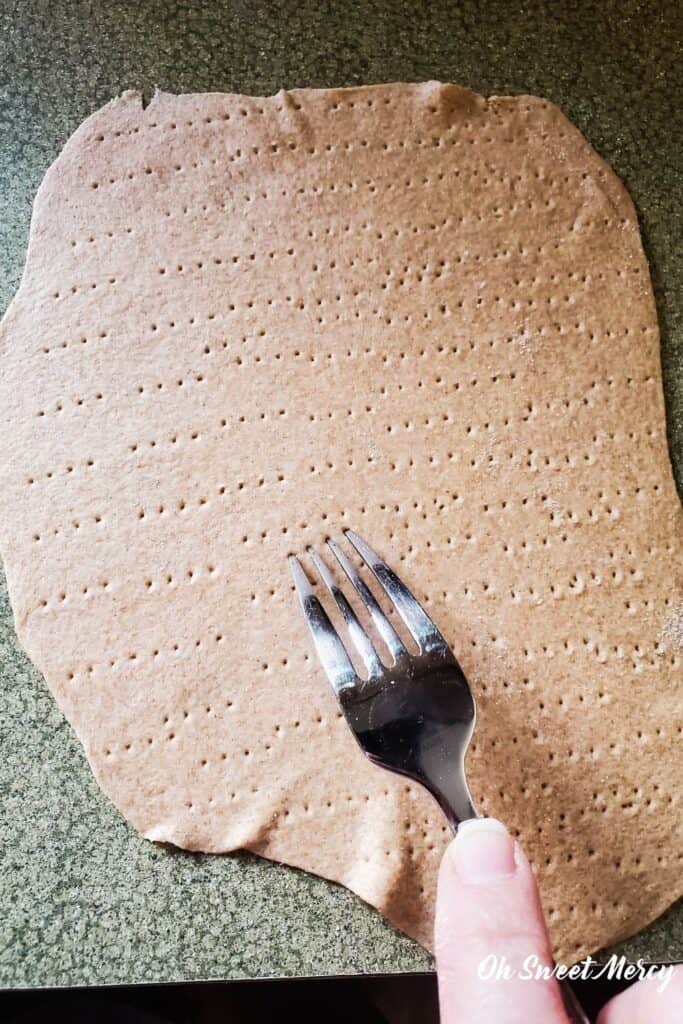 Bake the matzahs for 5 minutes, then flip and bake for 2 to 3 more minutes or until as done as you prefer. If your pieces are very small and thin bake for less time before flipping, like 3 minutes or so.
Finally, you can also cook your matzahs on a hot cast iron skillet or griddle. Doing both oven and stove top would ensure you get them all made in time if you're following the 18 minute rule.
How To Fit This Recipe Into Your THM Meal Plan.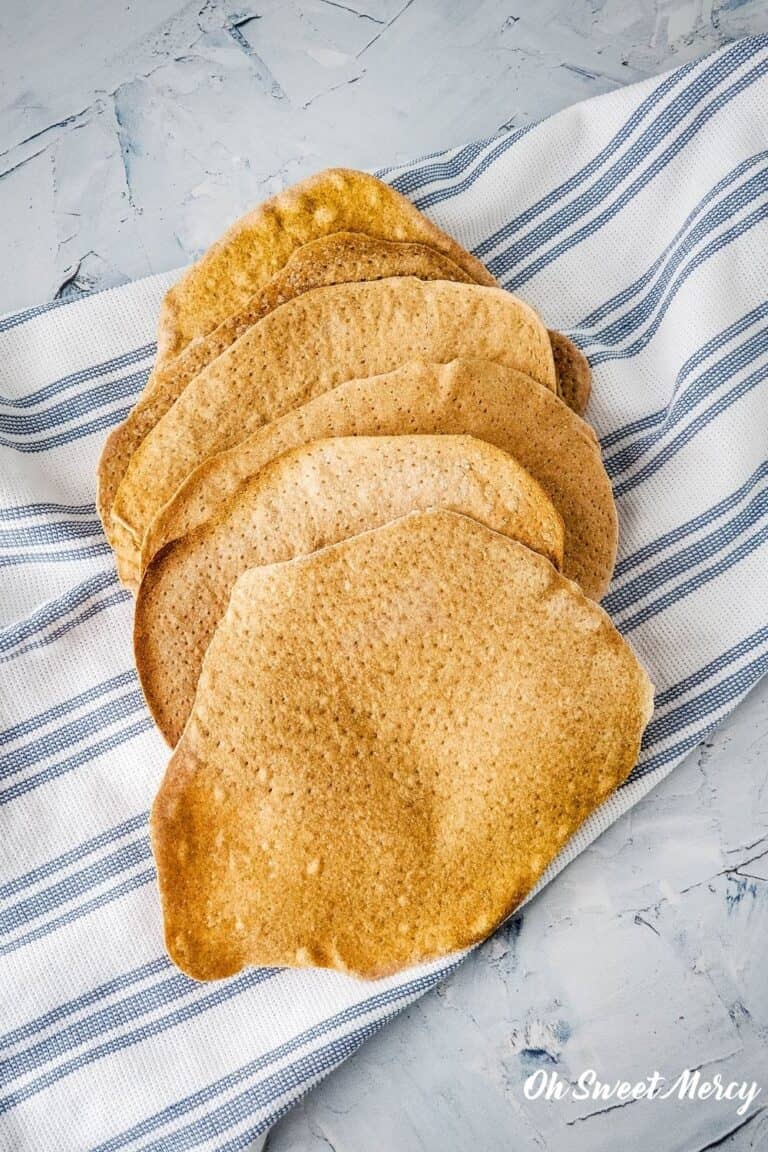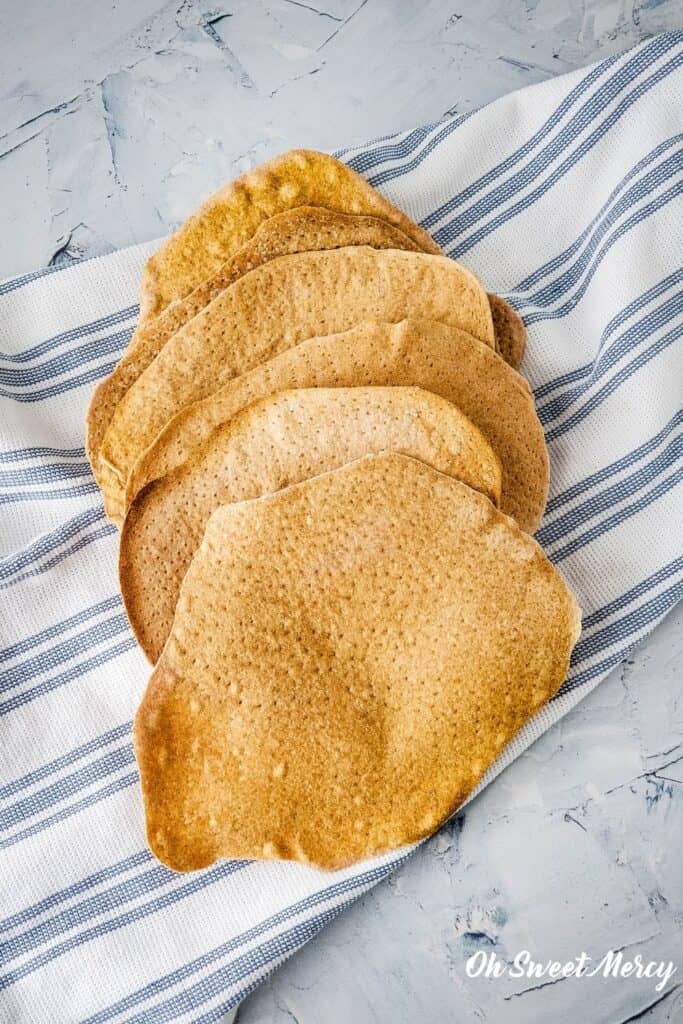 Since we're using sprouted wheat flour, this THM matzah recipe is generally best for THM E meals and snacks.
Depending on how large you make them, one matzah has close to 20 grams of net carbs. For a THM E meal, 2 large matzahs work as your carb fuel.
Having a small piece with an S meal turns your S meal into an S Helper (SH). Also, a large matzah with your S meal makes it a Crossover (XO).
Since you're most likely eating this with your Passover meal, don't stress it too much! Enjoy the meal, and especially enjoy that the matzah is on plan!
This year our Passover meal is:
Little grilled lamb chops
Sprouted wheat matzahs
Freshly ground horseradish
Fresh parsley
Hummus
This meal is a Crossover, as the hummus will be enjoyed liberally (probably with extra olive oil, if I'm totally honest) and lamb is an S meat.
But, I love that everything is 100% on plan!
Other Ways To Eat This Easy On Plan Unleaveaned Bread This Week.
While testing many batches of this, I ate them in different ways. One of my favorites is spreading the matzah with Kite Hill cream cheese (it's dairy free), topping with deli turkey breast, sliced tomatoes, sliced pickles, onions, and lettuce.
Super simple but so good! My son even asked for one, so of course I obliged.
Use these matzahs this week for:
Egg, tuna or chicken salad (use my Low Fat Mayo Recipe for lower fat egg salads):
Spread with reconstituted peanut flour and an on-plan jam.
Dip into soups.
Make a maztah pizza (E or XO style depending on toppings):
Lean meat for E, otherwise your favorite pizza meats
Peppers, onions, mushrooms, etc.
Low fat mozzarella (a couple tablespoons for E OR spread the matzah with a LLC wedge – Light Laughing Cow – before the pizza sauce).
As you can see, there's many ways to enjoy your homemade unleavened bread this week and stay on plan!
Chag sameach Pesach to you and yours!
PIN IT!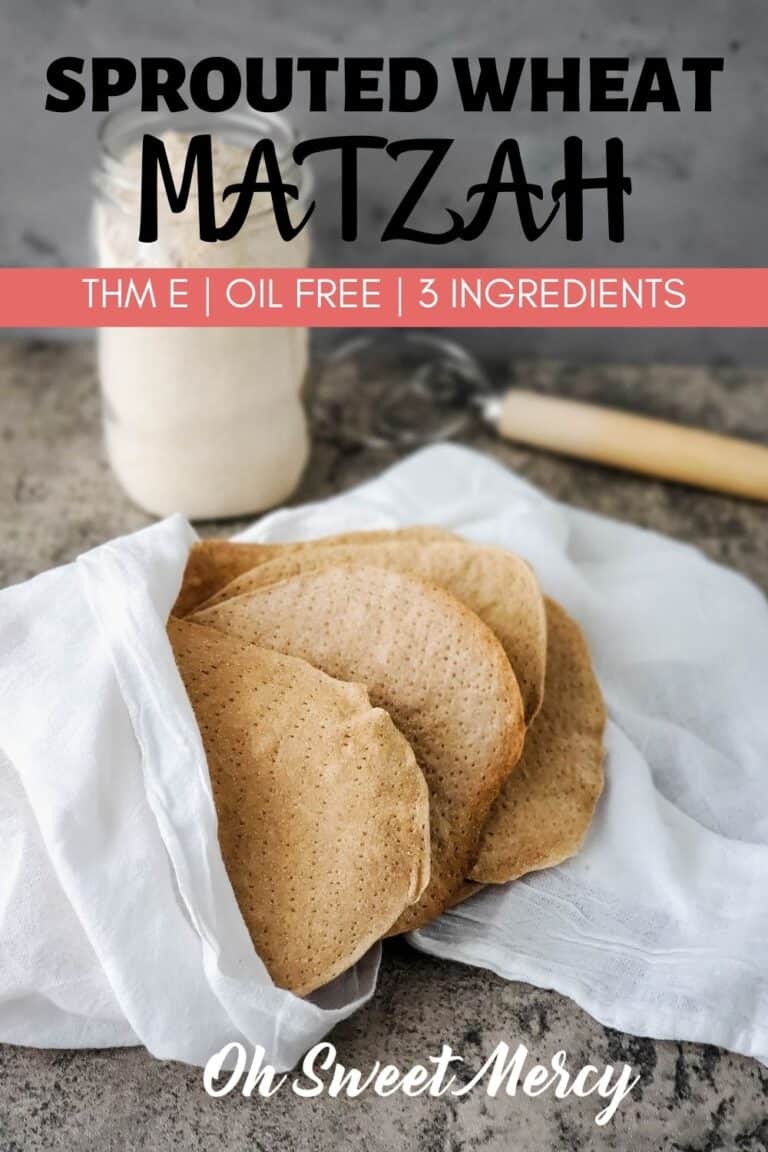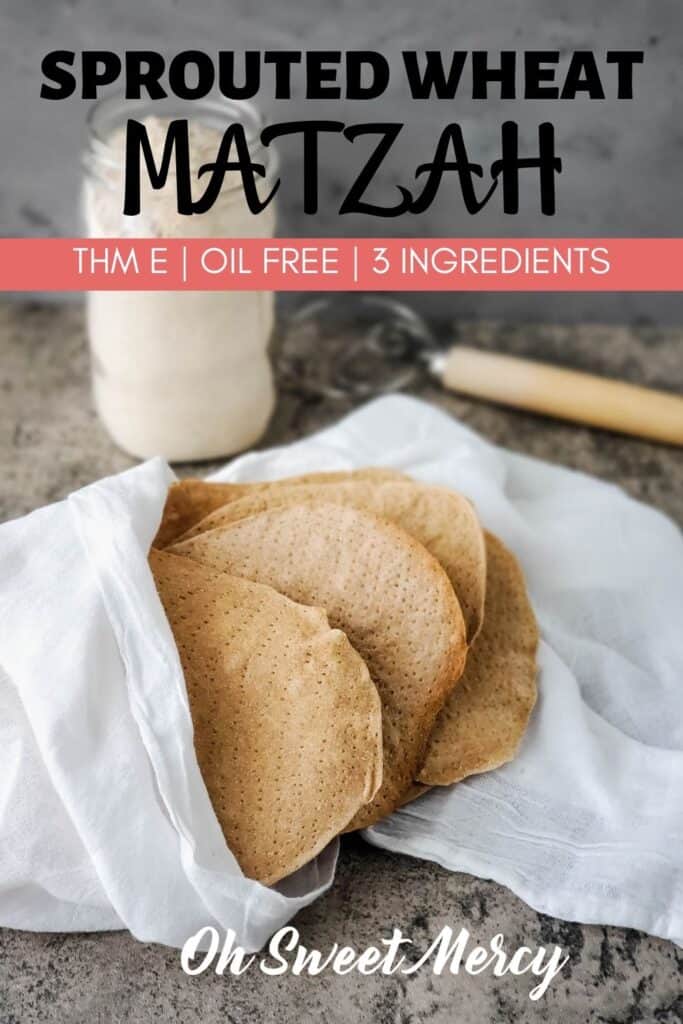 Sprouted Wheat Matzah Recipe | THM E, No Oil
Yield: 4 to 6 matzahs
Prep Time: 6 minutes
Cook Time: 12 minutes
Total Time: 18 minutes
Easy, oil-free matzah bread you can make yourself! Using sprouted wheat flour, this simple unleavened bread recipe is on-plan for THM.
This recipe makes 4 to 6 matzah, depending on how big you make them. Simply scale up for more.
Ingredients
1 cup sprouted wheat flour
1/2 teaspoon high mineral salt (or Kosher salt if you prefer - either are optional)
1/2 cups water (more or less as needed)
Instructions
Preheat oven to 450 degrees, if baking.
Prepare baking sheets by lining with parchment paper and set aside.
In a mixing bowl, combine flour and salt and whisk to combine well.
Pour in half the water and stir, adding more water as needed until a dough forms. It should clump together and follow your dough whisk or spoon around the bowl.
Sprinkle a little flour on the counter and knead dough for 2 to 3 minutes.
Roll dough into a log and cut into 4 or 6 pieces. Roll each piece into a small ball and let rest for a few minutes (if using a cast iron skillet or griddle, preheat it while dough is resting).
Roll out a dough ball as thin as you can, or as thin as you like.
Prick with a fork, then carefully remove and place on the parchment paper lined baking sheets.
Bake for 5 minutes, flip, then bake for another 2 to 3 minutes.
Remove and cool, or eat warm.
For skillet or griddle cooking: cook for 3 minutes, flip, then cook for another 2 to 3 minutes or until as cooked as you like.
Notes
These sprouted wheat matzah are more chewy than crunchy but with crunchier edges. This all depends on how thin you roll them and how long you bake them. Adjust baking time to suit your preferences. They're not going to be like store-bought matzah though!
THM NOTES:
Since there is no added fat, for THM purposes they're essentially "fat free." The nutrition notes show a small amount of fat but this is the fat inherent in the grain and is not counted toward your ADDED fat grams for a THM E meal.
NUTRITION NOTES:
For 4 large matzahs, each one will have 19.5 grams of net carbs. For 6 smaller matzahs, each one will have 13 grams of net carbs. A THM E meal allows up to 45 grams of net carbs. A Pulled-Back E meal has at least 20 grams but significantly less than 45 grams.
Recommended Products
As an Amazon Associate and member of other affiliate programs, I earn from qualifying purchases.
Nutrition Information:
Yield: 4
Serving Size: 1
Amount Per Serving:
Calories: 115
Total Fat: 1g
Saturated Fat: 0g
Trans Fat: 0g
Unsaturated Fat: 0g
Cholesterol: 0mg
Sodium: 35.9mg
Carbohydrates: 23g
Net Carbohydrates: 19.5g
Fiber: 3.5g
Sugar: 0g
Protein: 4.6g
Nutrition information is approximate and based on the best knowledge available at the time of recipe publication. Your results may vary due to differences in ingredients. You can make your own calculations if this recipe does not include nutrition info by using an online calculator such as https://recipes.sparkpeople.com/recipe-calculator.asp