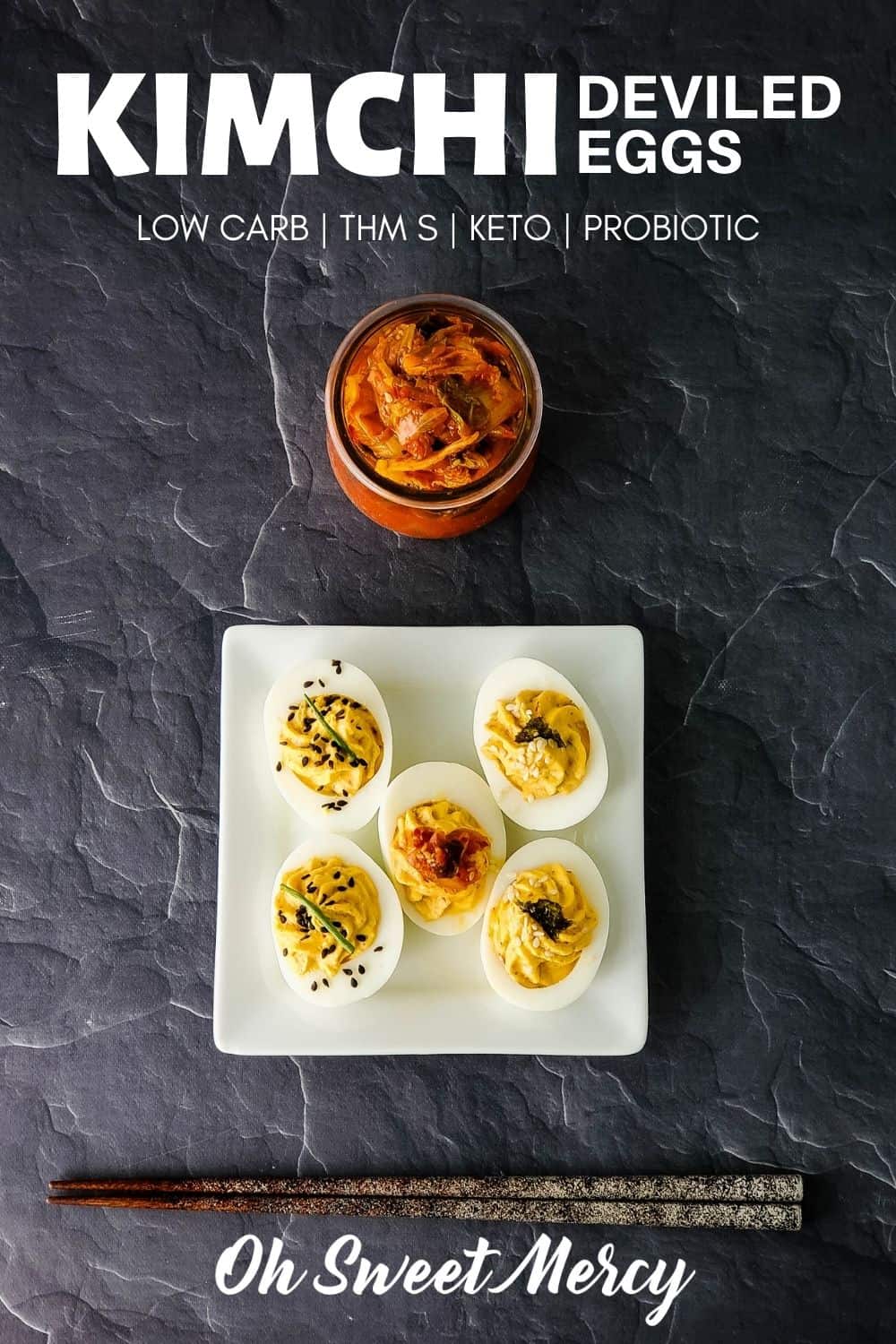 Jumping to the recipe? Please come back and read when you have the time, I include helpful info in my posts like how to fit my recipes into your THM meal plan! Get notified of new posts by signing up for my newsletter at the end of the page. Thanks for stopping by!
---
Spice up your regular old deviled eggs with this easy and delicious kimchi deviled eggs recipe. Make them spicy or mild, if you prefer, and watch them disappear! I bet they disappear even faster than regular deviled eggs, too. A perfect low carb, THM S appetizer or snack perfect for a crowd or just yourself. I've included instructions for a both a dozen eggs and just 3.
---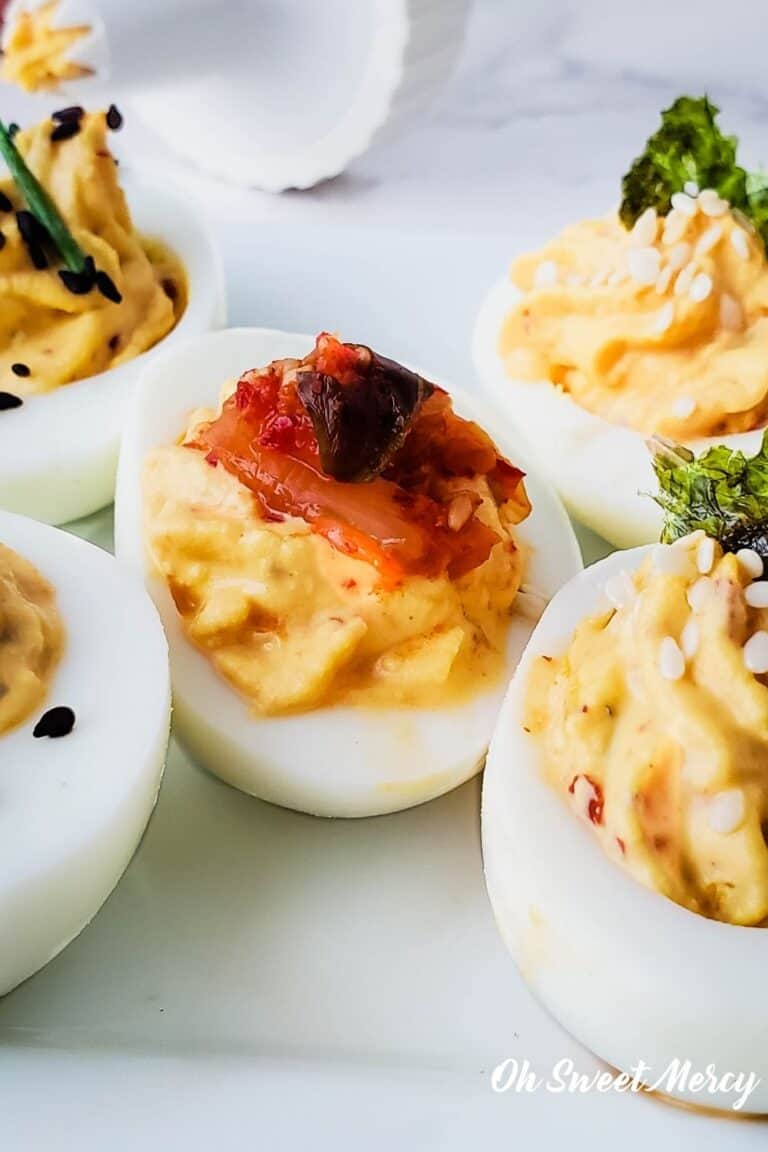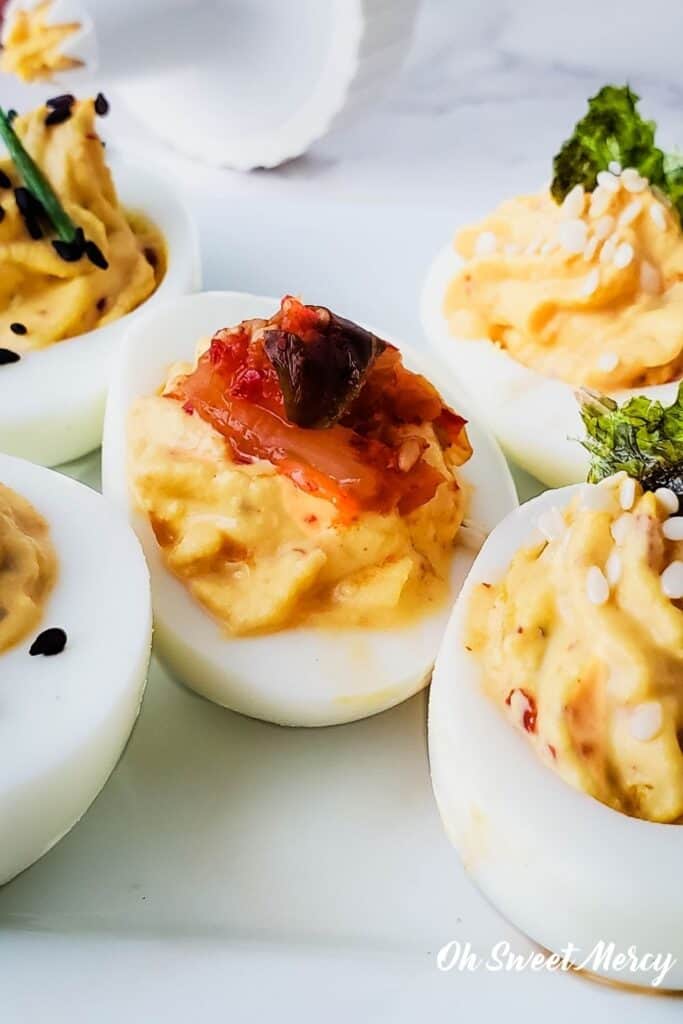 This time of year eggs are super cheap and plentiful. Have backyard hens? They're probably producing those gorgeous eggs in abundance again.
If you have eggs coming out your ears then you'll love this easy variation on deviled eggs. The spicy fermented cabbage that is kimchi packs a flavorful punch! Plus, it gives you gut-healthy probiotics.
And, whether you make your own kimchi or buy it these spicy li'l stuffed eggs are simply addictive! (You can make them not so spicy, too).
I just recently discovered how amazingly delicious kimchi is! And, I'm having fun trying all kinds of ways to use it. Kimchi and eggs go together surprisingly well, and this is one of my favorite breakfasts. Or snacks. Or whatever.
Just get in mah belly!
What Do I Need For This Recipe?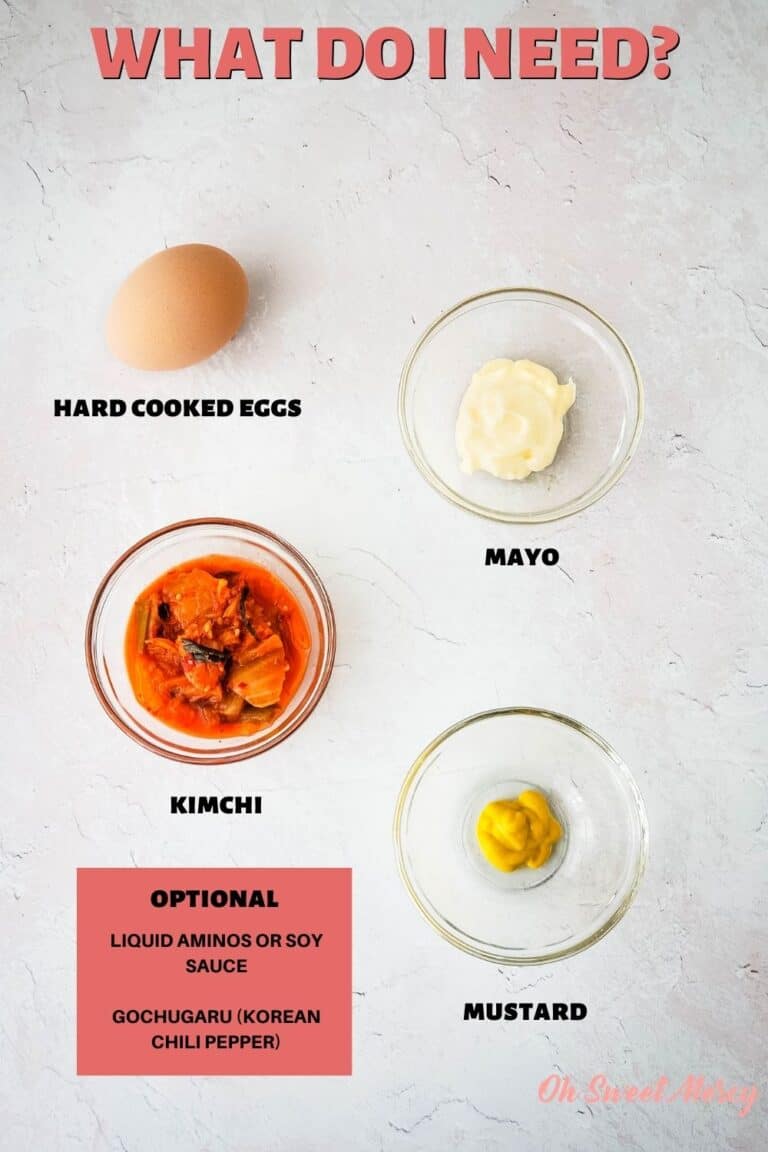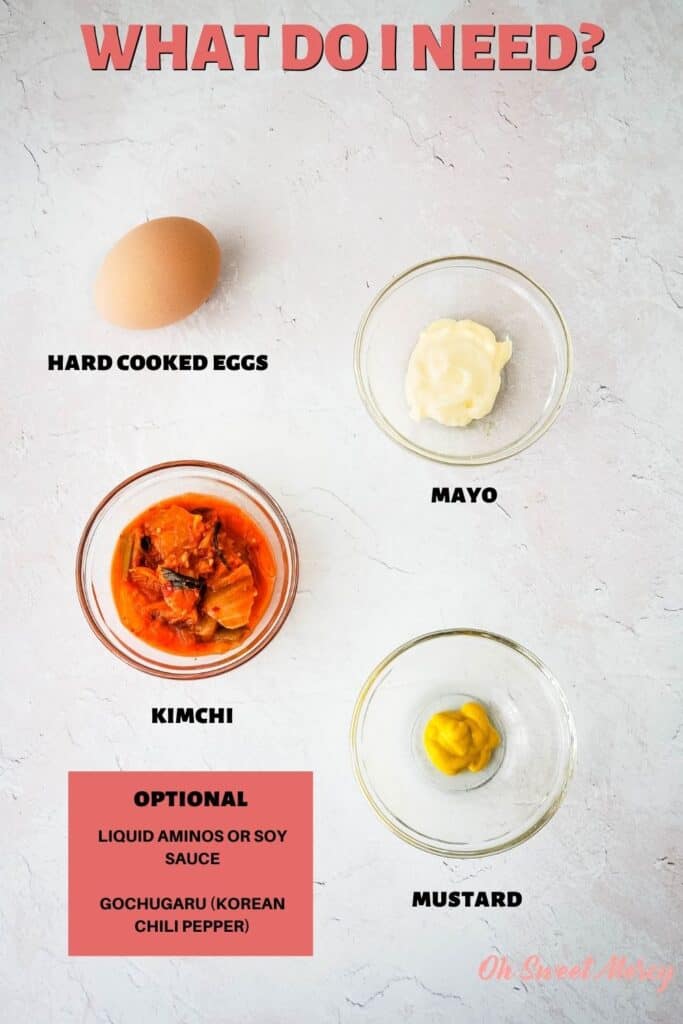 Just a few simple ingredients are all you need:
Hard boiled eggs
Kimchi (store bought is the easiest, but homemade is so good!)
Mayo
Mustard
Garnishes such as chopped green onion tops or chives, black sesame seeds (or toasted sesame seeds), additional kimchi
OPTIONAL (but recommended): liquid aminos (or soy sauce), and additional gochugaru (Korean chili powder) for more intense heat.
If you don't have gochugaru or can't get it easily, you can just use any chili powder you have on hand, it just won't taste quite the same.
That's it! Kimchi is so flavorful you don't need much else. And, you can whip these tasty little kimchi deviled eggs up in no time.
Many grocery stores carry premade fermented kimchi. Some show sugar, rice flour, and even seafood in the ingredients. Check the labels carefully for any ingredients that don't fit with your eating style.
Like spicy egg recipes? Give my Sriracha Deviled Eggs or Sriracha Egg Salad a try, too!
How To Make My Simple Kimchi Deviled Eggs.
First, make sure you have hard boiled eggs ready. After trying all the anecdotal tips on the interwebs for easy to peel eggs, I've found the Instant Pot (or other pressure cooker, like the Ninja Foodi) method works best for me.
Once the eggs are cooled and peeled (an ice bath makes this quicker), cut the eggs in half and scoop out the egg yolks. Set the egg whites aside while you put together the egg yolk mixture.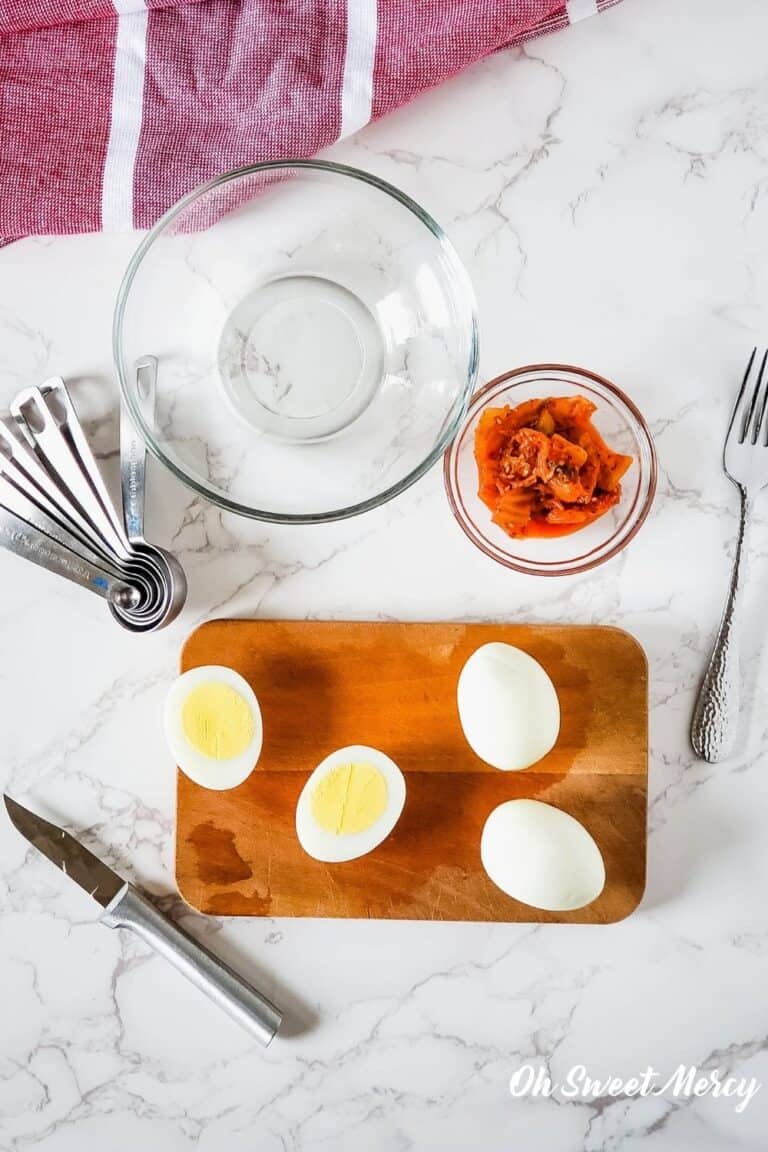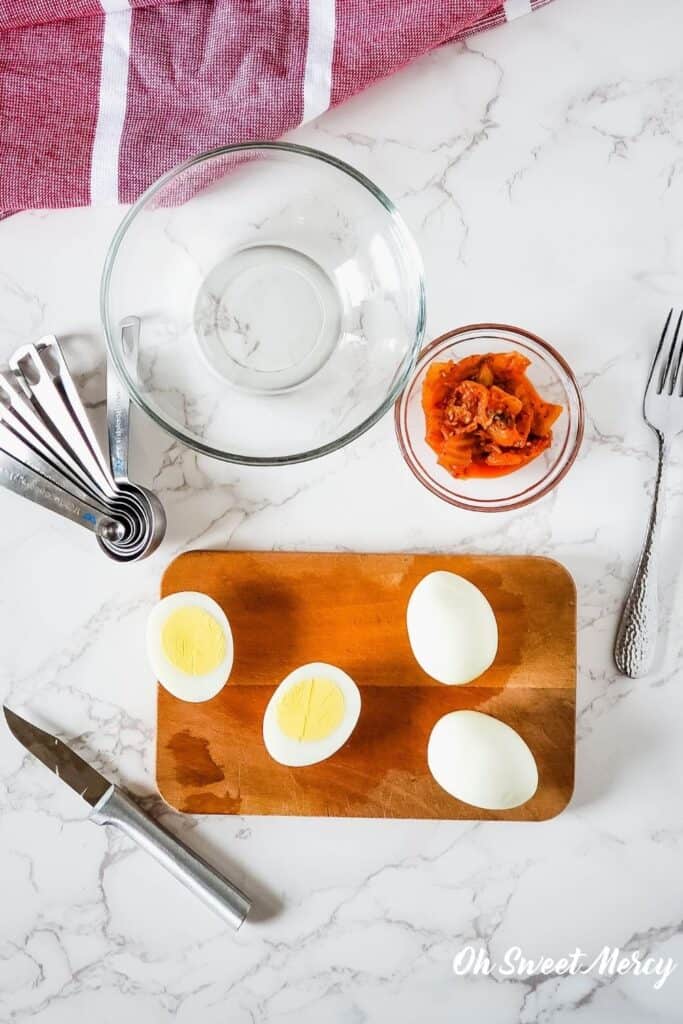 Drain the kimchi and chop it into as fine of pieces as you like.
Next, mash the egg yolks well and add chopped kimchi, mayo, and mustard. Mix this together until it's well combined.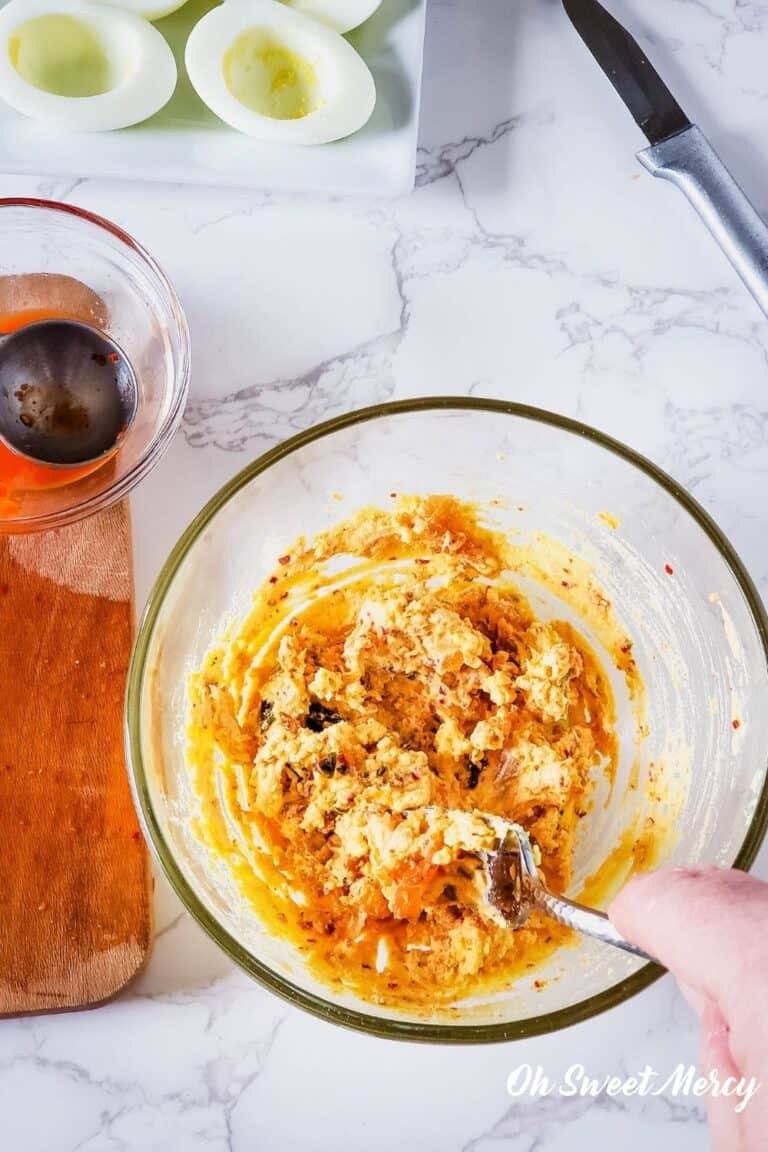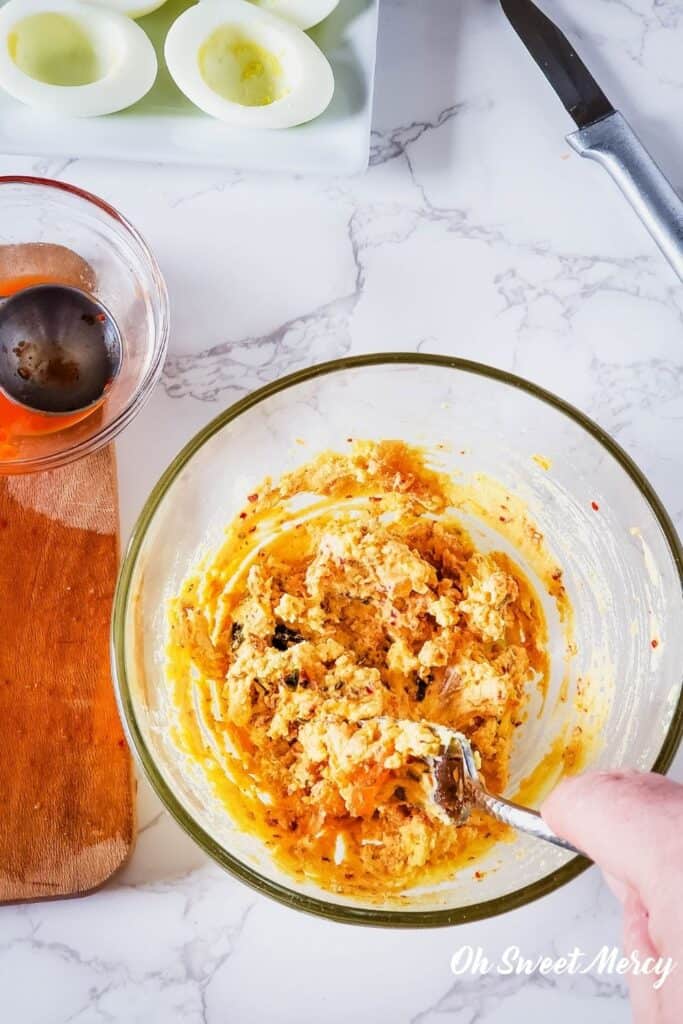 Taste and add additional kimchi or even gochugaru if you want a spicier deviled egg. You can also add a bit of the kimchi juice, or brine, if you like. Or, add a dash or two of liquid aminos or soy sauce.
Just be careful to not add too much or your yolk mixture will be too runny.
It's still tasty though, just not as pretty and quite messy to eat. #askmehowiknow…
While I usually just spoon the mixture into the egg white halves, feel free to use a piping bag with a fancy tip. Since there are bits of chopped kimchi in the egg yolk mixture, make sure the opening to your piping tip is large enough for the pieces to pass through.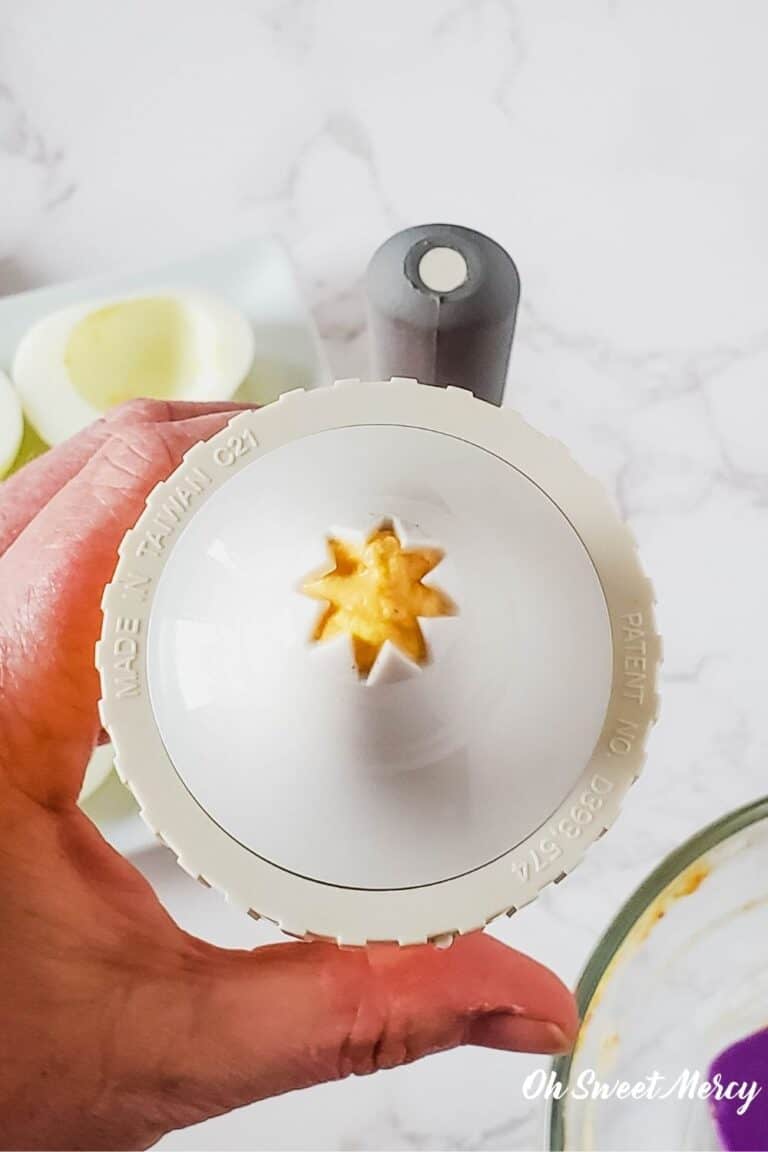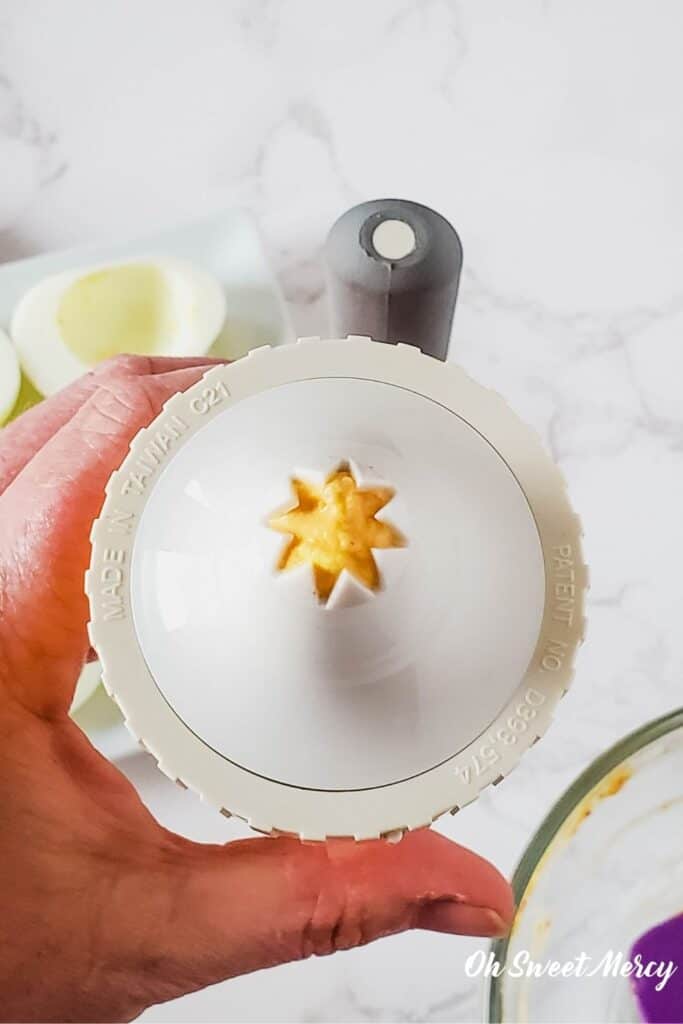 Finally, garnish your kimchi deviled eggs if you like. I usually just eat them as they are, but if serving to guests I'd make them look pretty. Try these ideas:
More kimchi pieces
Sliced green onion tops
Chopped chives
Sesame seeds – either black or toasted white
A sprinkle of gochugaru
Roasted seaweed pieces (or crush and sprinkle over the eggs)
How To Fit This Recipe Into Your THM Meal Plan (And Why You Should).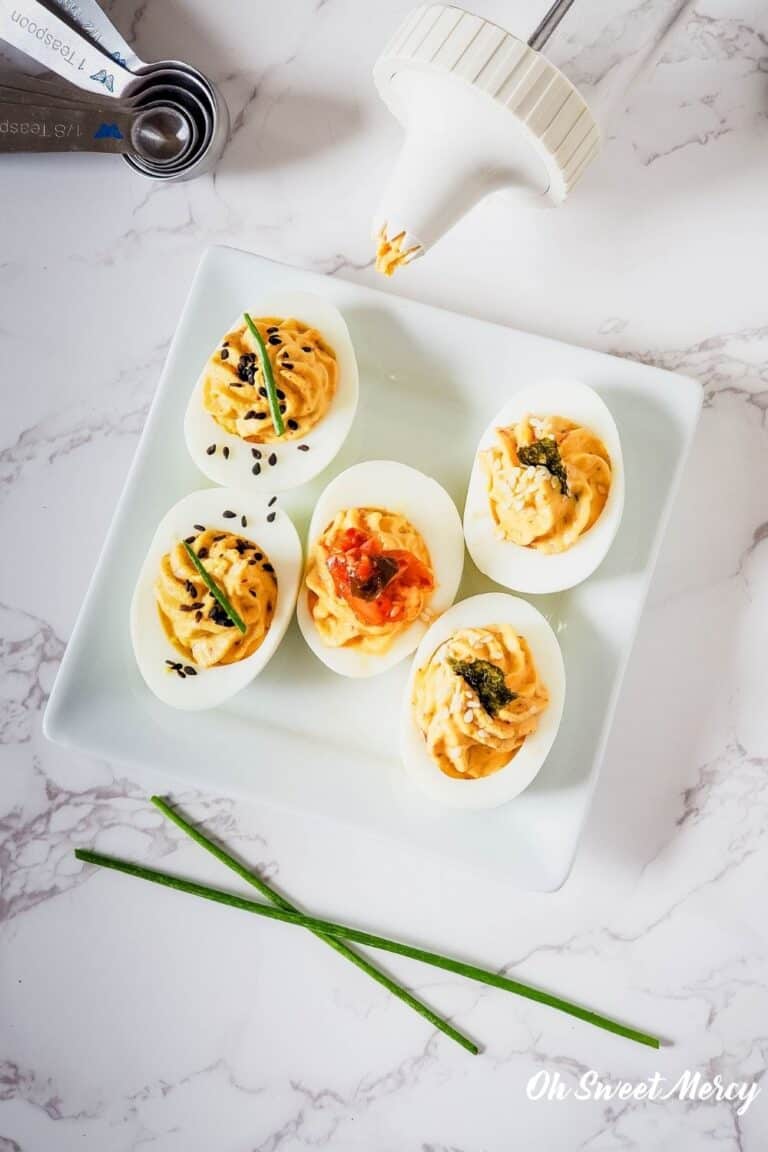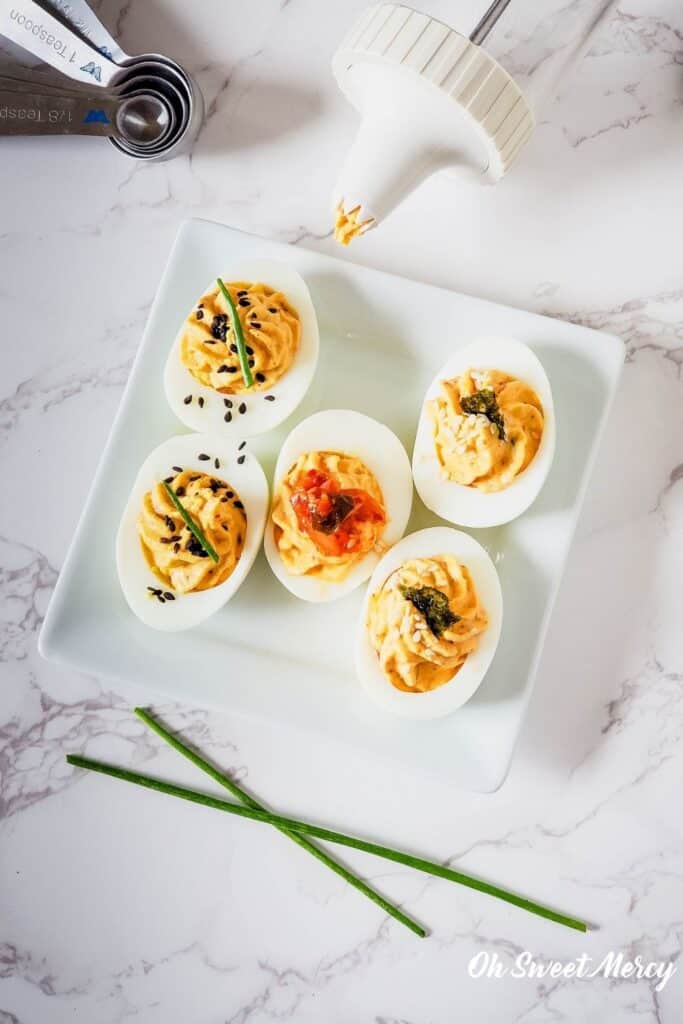 Since we're working with whole eggs and mayo here, these are a delicious, low carb, THM S.
They make wonderful appetizers, snacks, or even a meal. I love eating deviled eggs for breakfast! However recently I've discovered my limit on how many I should eat: 4 halves or 2 whole eggs. While 3 whole eggs' worth may make my tongue happy, later on I feel sluggish and gross.
Just make sure you're sticking to the carb limits for a THM S meal when eating these addictive little stuffed eggs. Of course, a Crossover or S Helper is still on plan, should you need that!
Here's an easy light breakfast or snack idea to try:
4 Kimchi Deviled Eggs
1 sliced mini cucumber
1/2 cup blueberries (or 1 cup other fresh berries)
You've got your protein in the eggs, fats in the yolks and mayo, non-starchies in the kimchi and cucumber, and carbs in your berries. Super easy and so delicious!
Why should you include this recipe in your THM meal planning? For 2 fabulous reasons:
Fermented foods are good for your gut! The probiotics in kimchi help keep your gut happy and healthy, which affects all other areas of your body (even your mood and mind).
Spicy foods may help boost your metabolism. There is a bit of disagreement over this (surprise, surprise) but some research suggests that eating spicy foods can help give your metabolism a kick. It's worth a try, at least! Your taste buds won't be disappointed, anyway.
If you love kimchi, I hope you find this recipe as delicious as I do! And, if you're curious about kimchi, I hope it encourages you to give it a try. You may fall in love with it (and I hope you do).
For your convenience, the recipe below has ingredients and instructions for either 24 halves (a dozen whole eggs) or a 1 or 2 serving recipe of 6 halves (3 whole eggs).
PIN IT!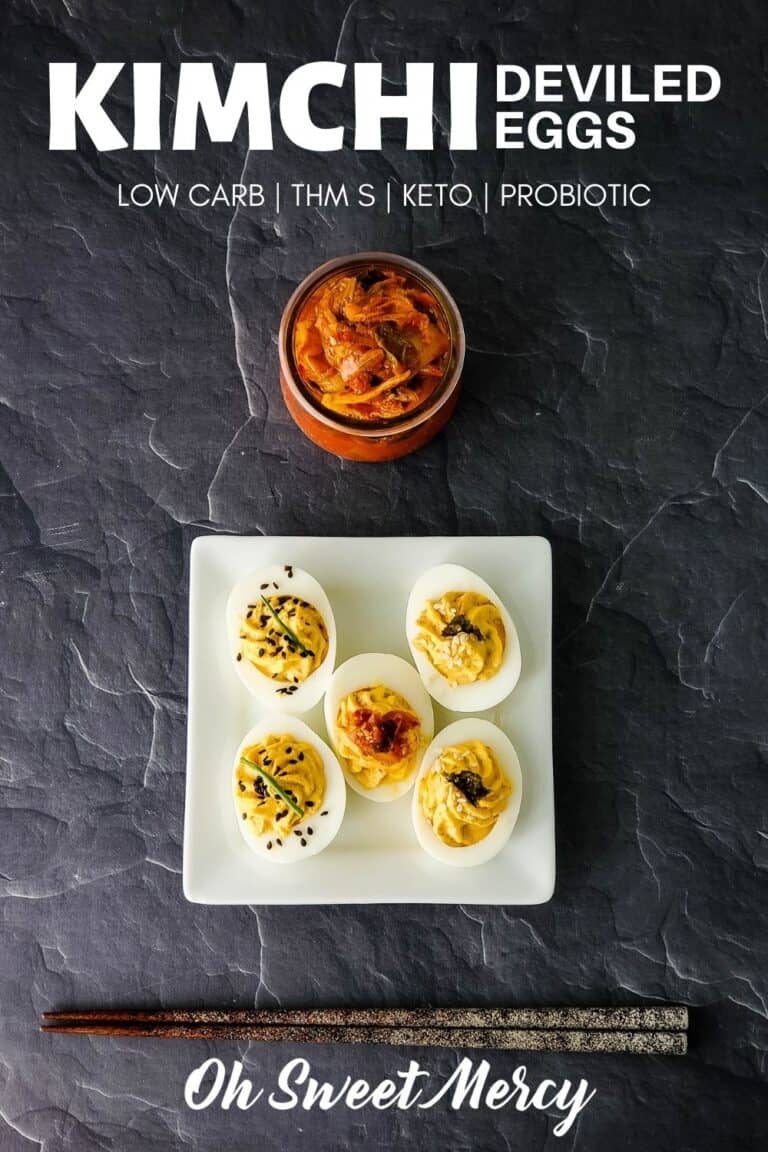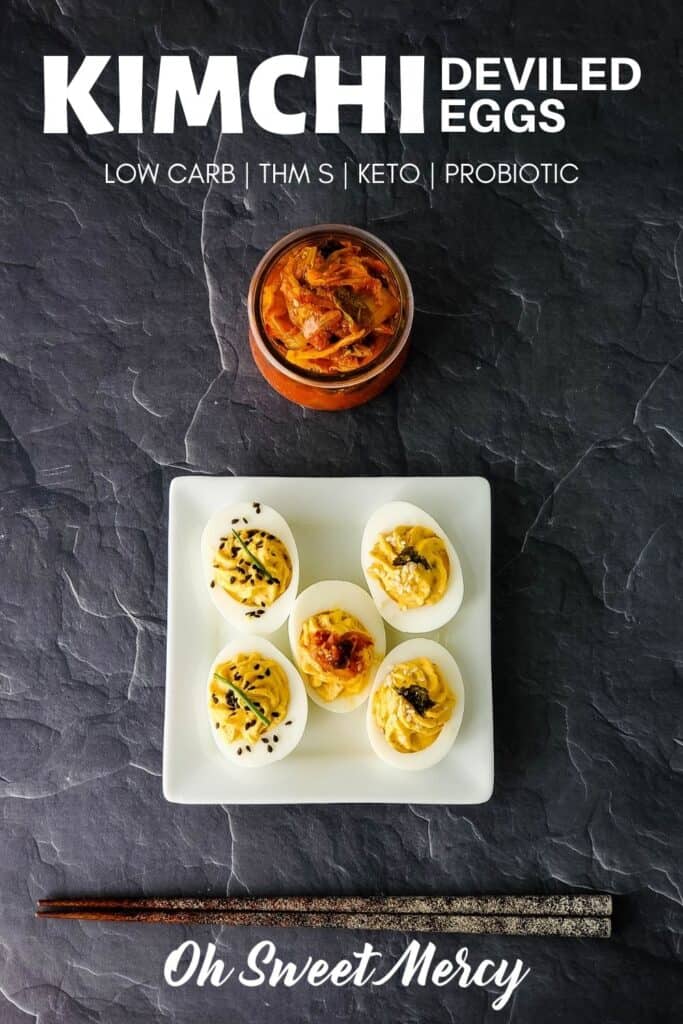 Kimchi Deviled Eggs | THM S, Low Carb
Yield: 24 deviled egg halves
Prep Time: 15 minutes
Total Time: 15 minutes
Spice up your boring regular deviled eggs by adding spicy kimchi! Easy and a delicious, low carb, THM S snack or side dish. Make for a crowd or a smaller amount for 1 or 2 servings - ingredients and instructions for both included.
Ingredients
12 hard cooked egg, peeled
1/2 cup kimchi, drained
1/4 cup mayonnaise
4 teaspoons mustard
1 teaspoon liquid aminos (or soy sauce) or to taste OPTIONAL
GARNISHES: additional kimchi, chopped chives, sliced green onions, black or regular sesame seeds, roasted seaweed - as desired.
1 or 2 servings (6 halves)
3 hard cooked eggs
2 tablespoons kimchi, drained
2 to 3 teaspoons mayo
1 teaspoon mustard
Dash of liquid aminos or soy sauce
3 doonks gochugaru, or to taste (a doonk is 1/32 teaspoon)
Instructions
Cut each egg in half lengthwise and remove yolks to a mixing bowl, set whites aside.
Chop kimchi as finely as you like, draining again if necessary.
Mash together the yolks, mayo, and mustard until well incorporated.
Stir in chopped kimchi, liquid aminos or soy sauce, and mix well.
Taste and adjust seasonings - add additional gochugaru if you like, or a bit of the kimchi juice (just not too much or your egg yolk mixture will be too runny).
When to your liking, spoon egg yolk mixture back into the egg white halves or use a piping bag and large decorator tip to pipe the mixture into the egg halves.
Garnish with kimchi or a variety of toppings: chives, sliced green onions, black or regular sesame seeds, roasted seaweed, etc.
Notes
If you don't have gochugaru, you can use any kind of hot chili pepper. The flavor will be a bit different, I highly recommend the gochugaru if you can get some it's so good!
NURITION NOTES
Nutrition information calculated below is per egg half.
Recommended Products
As an Amazon Associate and member of other affiliate programs, I earn from qualifying purchases.
Nutrition Information:
Yield: 12
Serving Size: 1 egg half
Amount Per Serving:
Calories: 57.1
Total Fat: 4.2g
Saturated Fat: 1.1g
Trans Fat: 0g
Unsaturated Fat: 1.4g
Cholesterol: 106.6mg
Sodium: 92mg
Carbohydrates: 0.4g
Net Carbohydrates: 0.2g
Fiber: 0.2g
Sugar: 0.3g
Protein: 3.2g
Nutrition information is approximate and based on the best knowledge available at the time of recipe publication. Your results may vary due to differences in ingredients. You can make your own calculations if this recipe does not include nutrition info by using an online calculator such as https://recipes.sparkpeople.com/recipe-calculator.asp