---
Rich, lightly-sweetened mascarpone and cream layered between fresh, red strawberries and juicy blueberries. This low carb Layered Berries and Cream Dessert is beautiful served in a clear bowl for patriotic celebrations. It's also great for using those sweet summer berries at their peak of freshness. Trim Healthy Mamas, this is a dessert anyone can enjoy! You'll never know it's sugar free.
---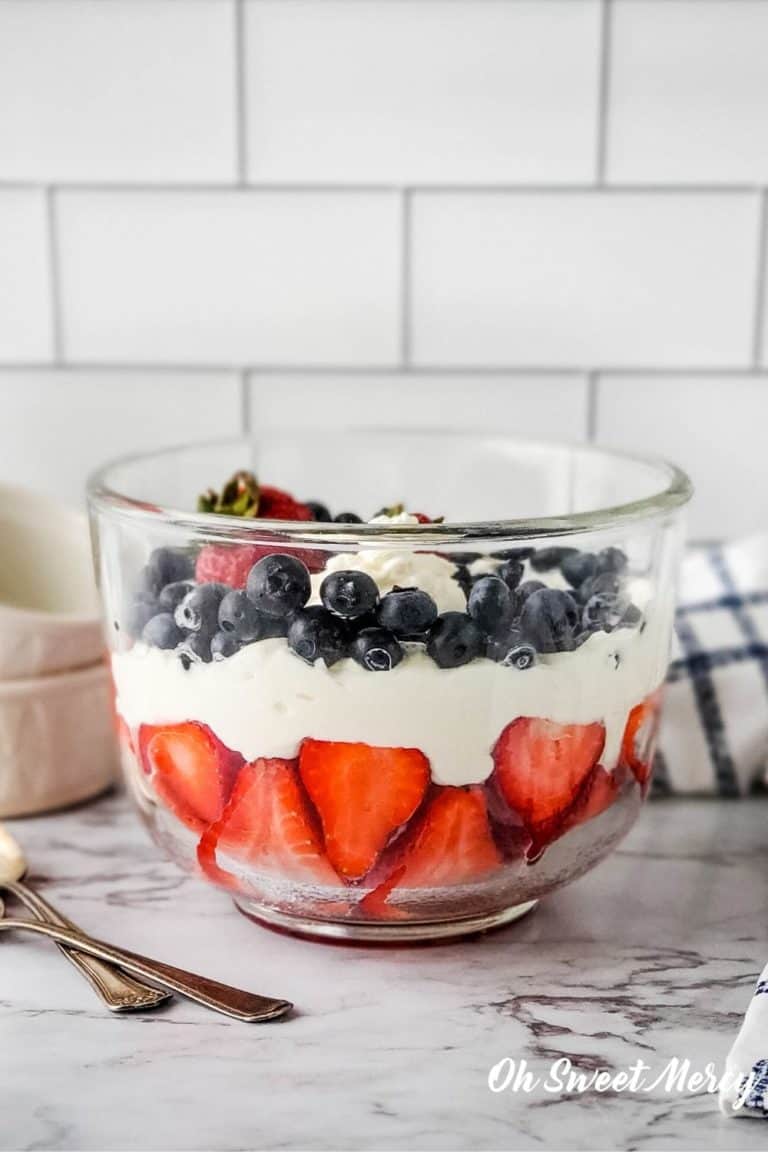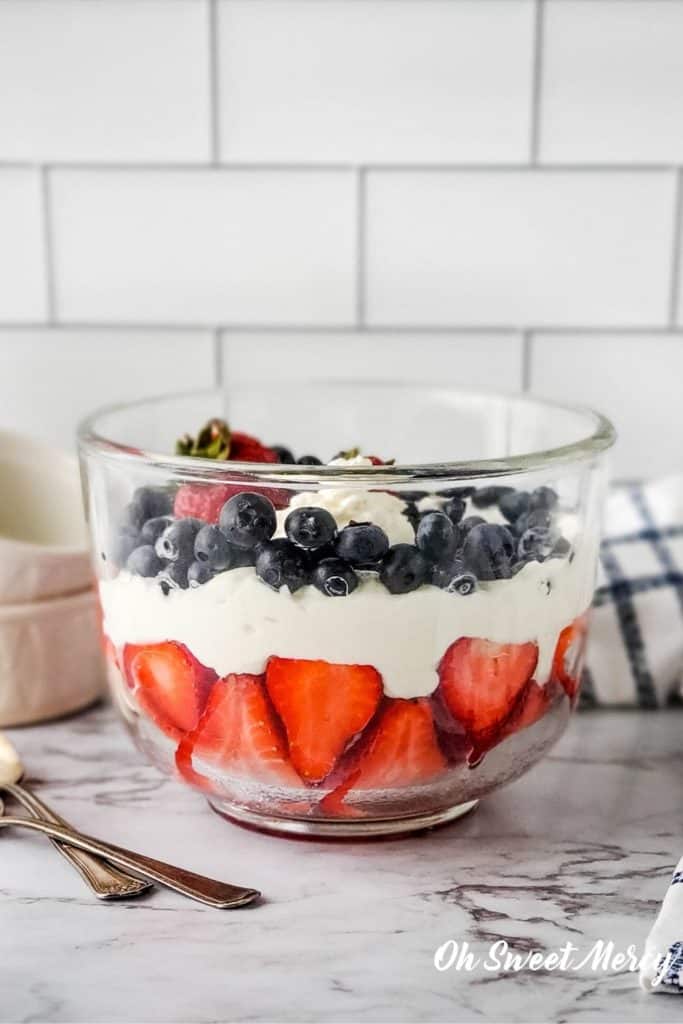 Summer means beautiful fresh produce available for many areas. If you're lucky enough to have a garden or orchard, you'll just pick them right out of your back yard.
You may have a farmers market or farm stand near by. Or, a generous family member or neighbor who shares their garden abundance.
If you do, then you know how wonderful fresh, local, in-season berries taste. But, even store-bought berries are delicious in this simple and easy to prepare layered berries and cream dessert.
Benefits Of Berries.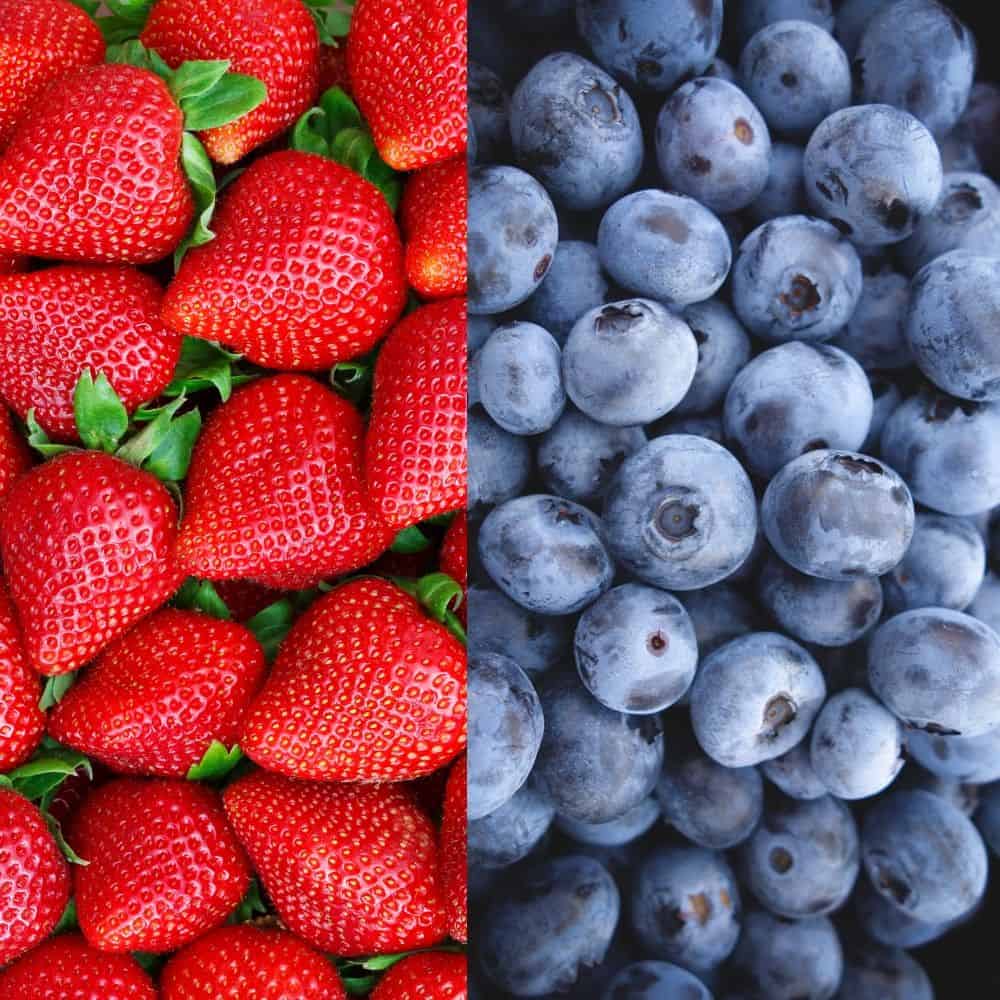 On the THM plan, berries are a FP (Fuel Pull) fruit. This means they suitable for nearly all THM fuel types.
For Deep S meals, berries are not suitable. But in all the other fuel types they are a perfect sweet, healthy treat to enjoy.
Super Strawberry Benefits.
These beautiful little berries not only taste amazing, but a lot of healthy goodness into each bite.
Packed with vitamins, fiber, and particularly high levels of antioxidants known as polyphenols, strawberries are a sodium-free, fat-free, cholesterol-free, low-calorie food. They are among the top 20 fruits in antioxidant capacity and are a good source of manganese and potassium. Just one serving — about eight strawberries — provides more vitamin C than an orange.

Source
Beautiful Blueberry Benefits.
I missed out on blueberries as a kid…I convinced myself I didn't like them. I'm so glad I've changed my mind!
Blueberries are well known for their healthy, superfood goodness.
Blueberries are believed to have one of the highest antioxidant levels of all common fruits and vegetables.

The main antioxidant compounds in blueberries belong to a family of polyphenols antioxidants called flavonoids.

One group of flavonoids in particular — anthocyanins — is thought to be responsible for much of these berries' beneficial health effects.

Blueberries have been shown to directly increase antioxidant levels in your body.

Source
Can I Use Other Berries?
If you don't like strawberries or blueberries (or have an allergy), feel free to use any berries you like.
Any kind of berries go delightfully well with my easy, lightly sweetened creamy filling.
No Cream Cheese In This Layered Berries And Cream Dessert (But Use It If You Like).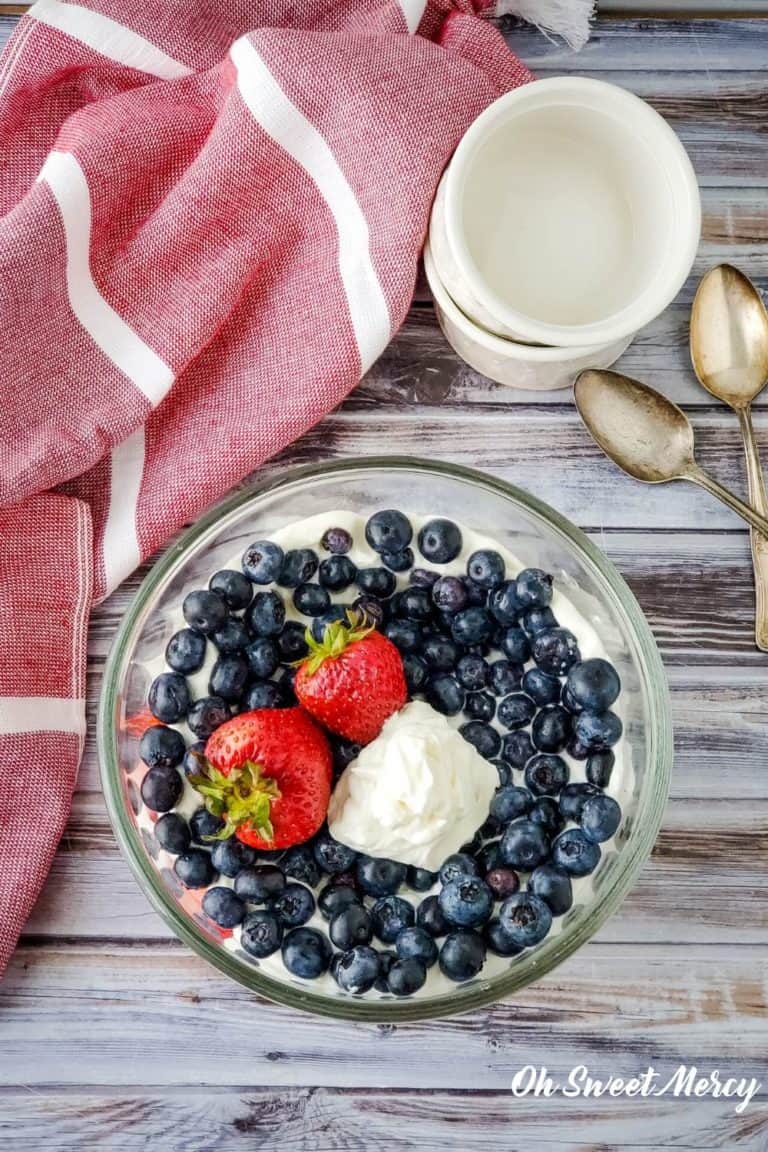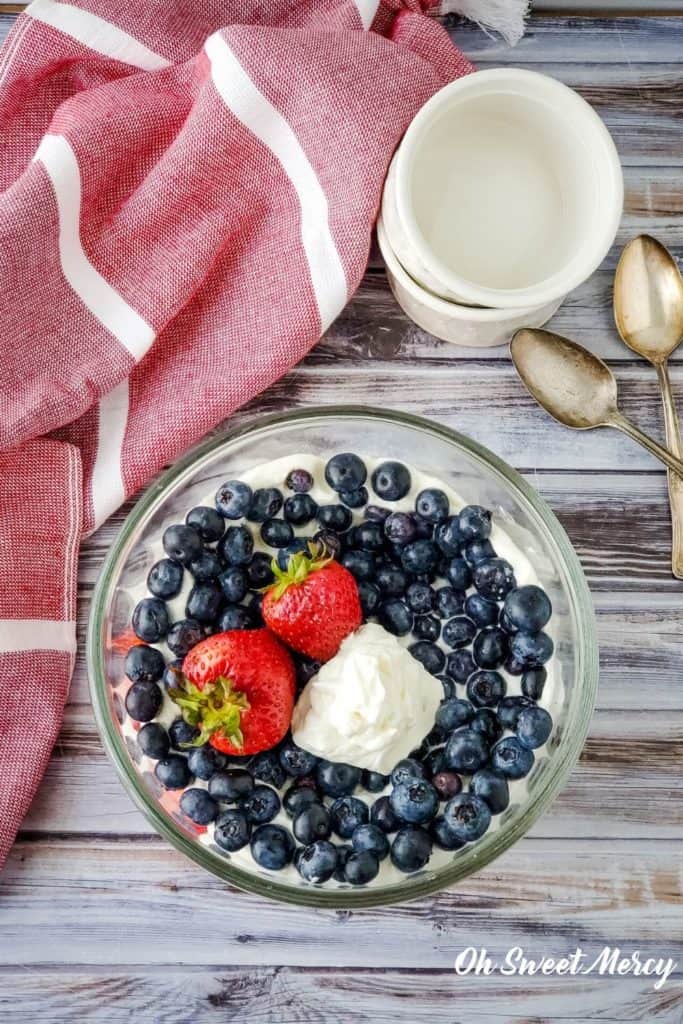 I'm a big fan of mascarpone cheese. The first thing I made with it is this beautiful Low Carb Strawberry Mascarpone Tart. Throw some blueberries on there and it's a beautiful patriotic berry dessert, too.
So, of course mascarpone is a beautiful choice for this creamy layered berry dessert.
Mascarpone doesn't have the tartness that cream cheese has, so if you're not a cream cheese fan you'll love this.
However, if you don't have or can't find mascarpone, cream cheese is a perfectly acceptable substitute.
NOTE: if you use cream cheese in place of mascarpone, you may find it needs more sweetening. Adjust to your taste preference.
This creamy filling is just lightly sweetened. If you prefer a sweeter layered berry dessert, add more sweetener as desired.
Just remember to add stevia-based sweeteners in small amounts, tasting after each addition. It's easy to over-do and too much stevia ends up tasting bitter.
Serving Tips For This Low Carb Layered Berries And Cream Dessert.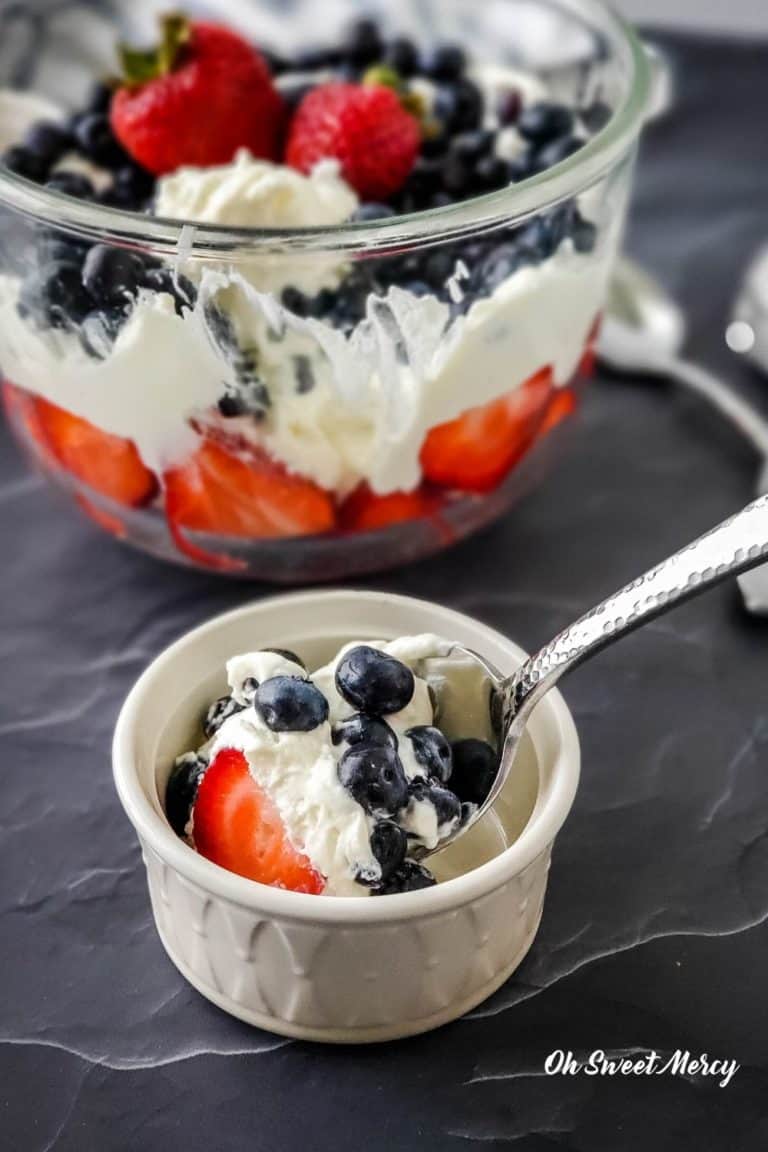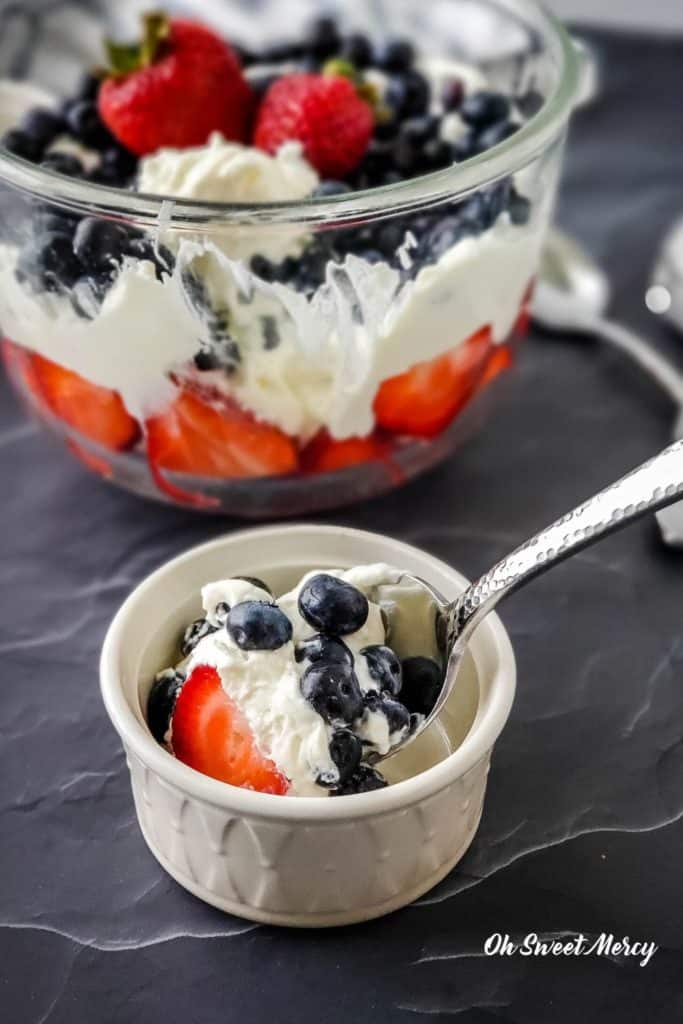 This dessert is best, in my opinion, freshly made. However, you certainly can make it ahead of time. It only lasts 1 or 2 days in the fridge at my house but I'd say it 3 days ahead is OK.
TIP: To avoid your dessert getting watery on the bottom if made ahead, be sure to dry the berries very well after washing.
If you do make it ahead of time, the creamy layer is best if you take it out of the fridge for about 20 to 30 minutes before serving.
How To Fit This Creamy Low Carb Berry Dessert Into Your THM Meal Plan.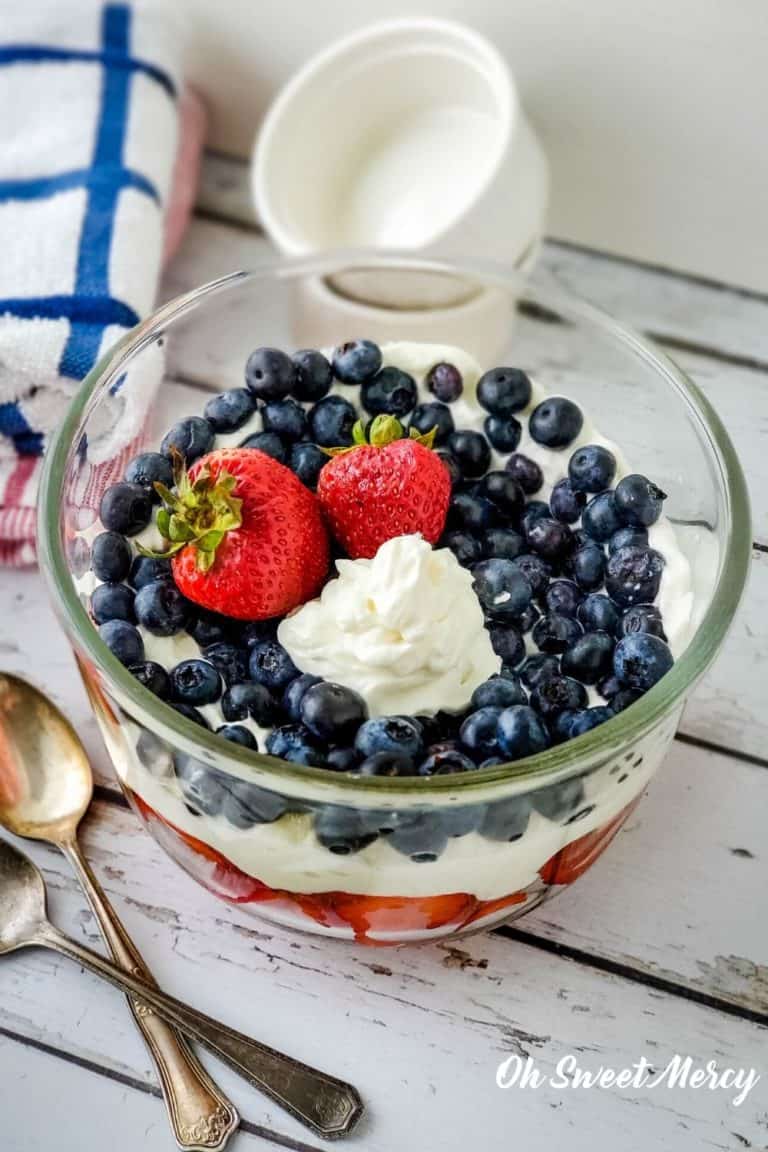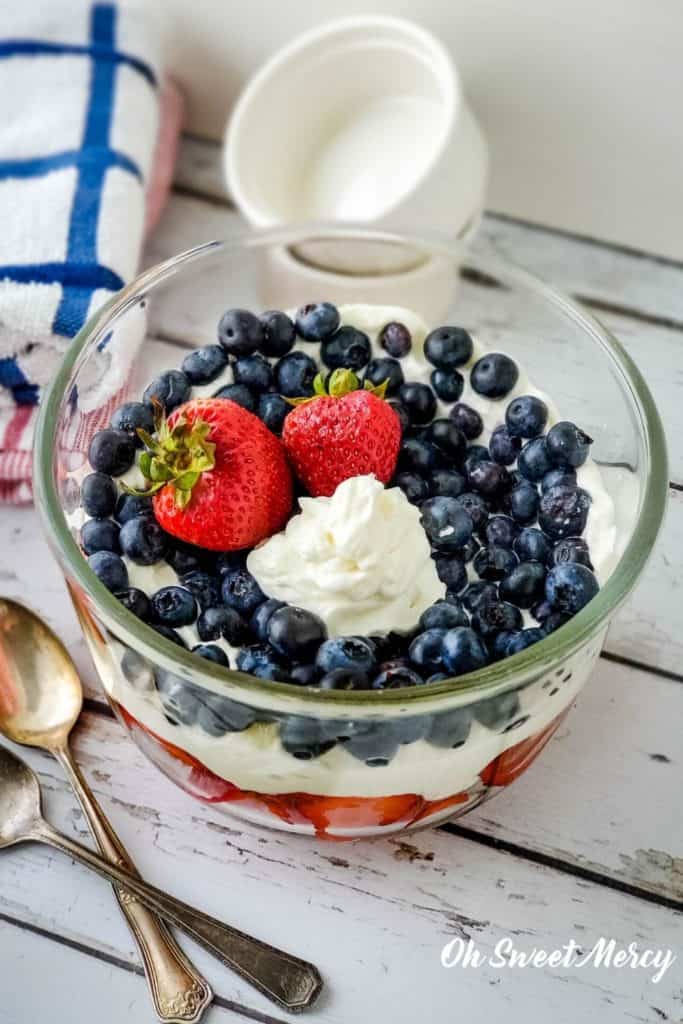 This delicious fresh berry dessert is a THM S recipe. In weight loss mode, enjoy this after a low carb meal.
TIP: Keep it balanced! Try a lighter S or FP meal more often before enjoying a dessert heavier on fats (especially dairy-based).
If you eat this after a THM E meal, your meal will then become a Crossover. Still on plan, and desirable for some people! If you're pregnant, nursing, a growing child without a weight issue, a hard-working adult male, or someone who has trouble keeping weight on, Crossovers are for you.
THM SUCCESS TIPS: In weight loss mode? A crossover now and then is usually not a problem. And if you're taking this dessert to a potluck or other gathering where off-plan treats might tempt you, go ahead and have the Crossover. It's still a healthier choice than indulging in off-plan foods.
Since we lightly sweeten this low carb layered berry dessert, you don't notice the sweetener taste at all.
I use my Mercy Sweet Sweetener Blend to sweeten this recipe, which is similar to Pyure Organic Sweetener. It's about twice as sweet as sugar, so a little goes a long way!
Hope you enjoy this fresh, delicious, summer berry dessert! Come back and let me know what you think.
Pin It!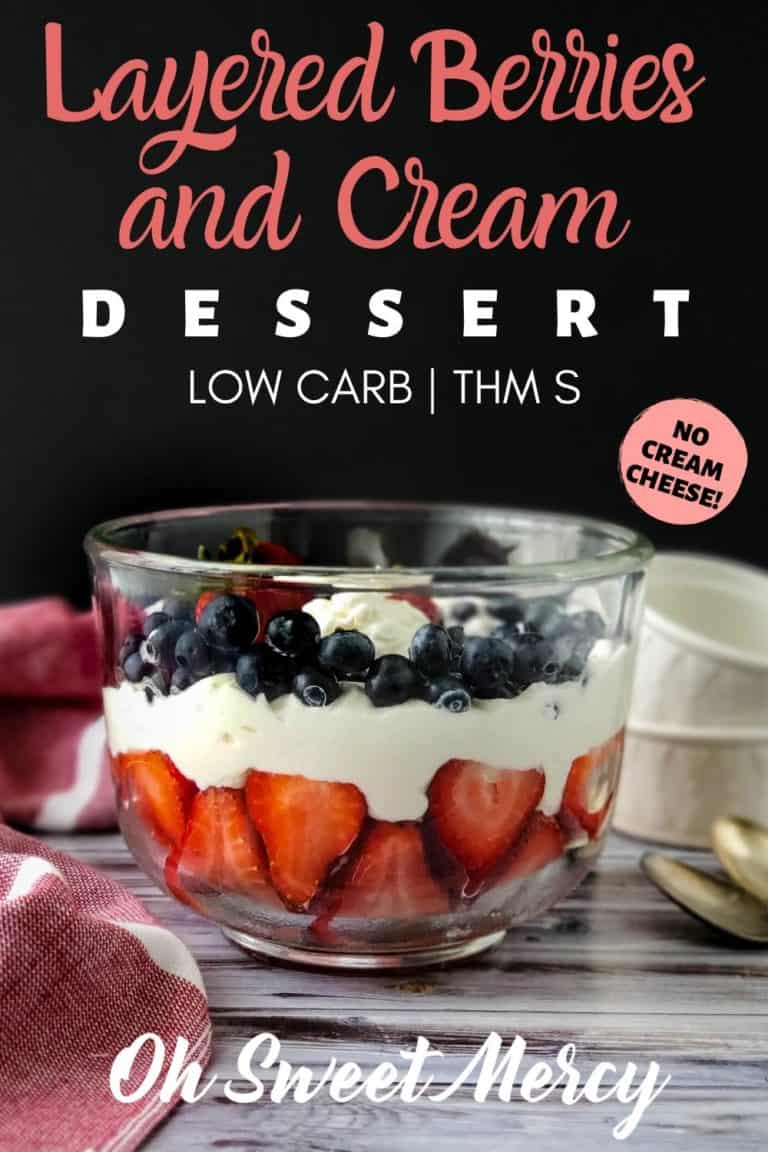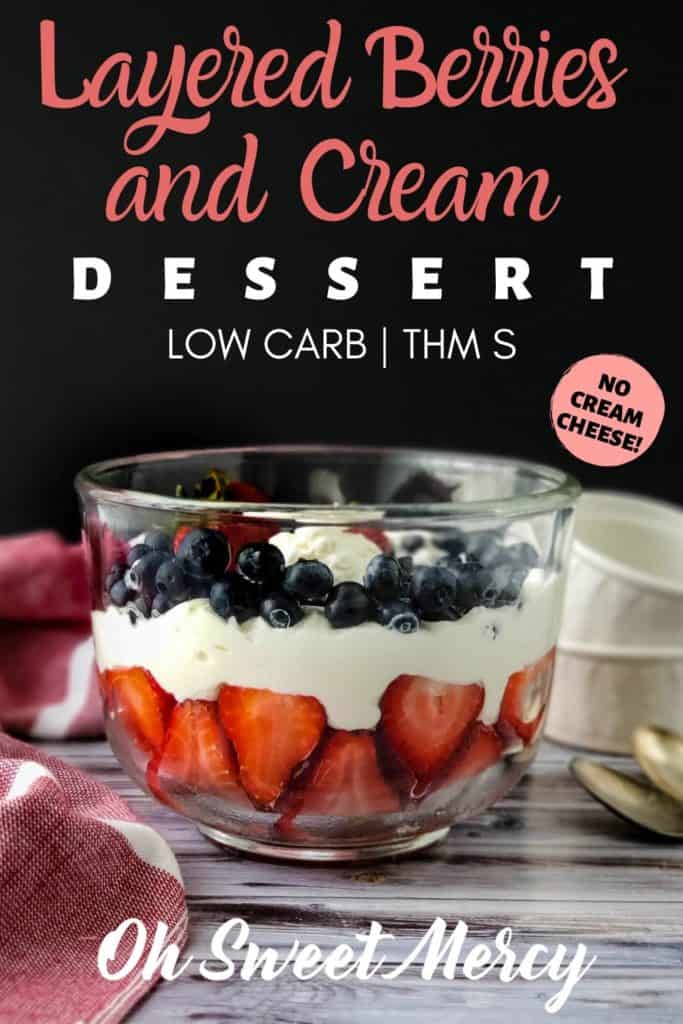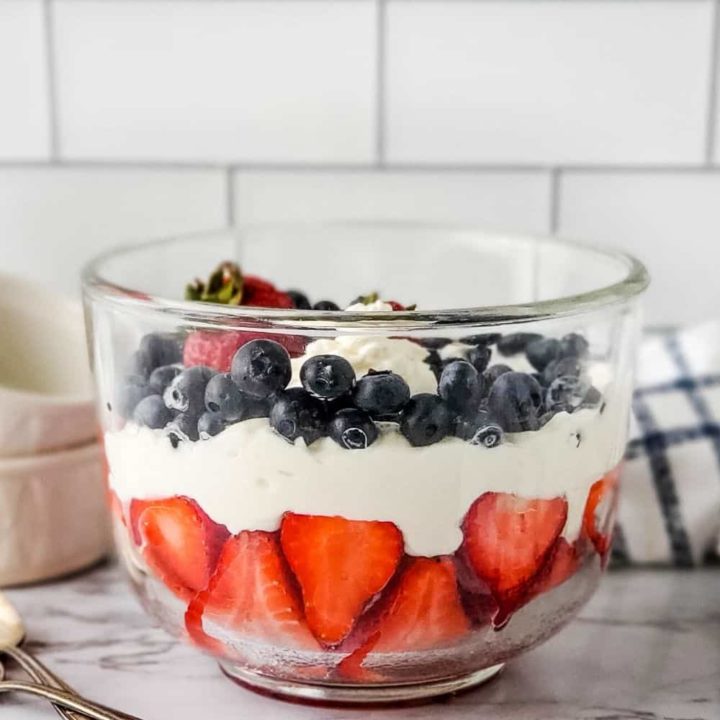 Low Carb Layered Berries and Cream Dessert | THM S, Sugar Free
Yield: 10 servings
Prep Time: 15 minutes
Total Time: 15 minutes
Rich, creamy, and lightly sweetened mascarpone filling is lightly sweetened and layered between fresh summer berries.
Ingredients
1 cup heavy whipping cream
4 ounces mascarpone cheese
1 tablespoon lemon juice
1 teaspoon pure vanilla extract
1 pint fresh blueberries
1 pound fresh strawberries, sliced (about 2 3/4 cups)
Instructions
In a mixing bowl, beat the heavy whipping cream until it forms soft peaks.
Add mascarpone cheese, sweetener, lemon juice, and vanilla extract and beat briefly to mix well.....
In a clear serving bowl, layer sliced strawberries on the bottom.
Spread creamy filling over strawberries, reserving some for garnish on top if desired.
Top with blueberries and reserved cream filling.
Serve immediately or refrigerate until ready to serve.
If refrigerating, remove and let stand for 30 minutes before serving if possible.
Notes
SUBSTITUTION NOTES
Cream cheese can be substituted for the mascarpone. If using cream cheese, you may need to add more sweetener. Taste and adjust as needed.
You can also lighten this up a bit by using only 1/2 cup heavy cream and 1 cup fat free Greek yogurt. You may want to omit the lemon juicie and add additional sweetener.
NUTRITION NOTES
Nutrition information is calculated without substitutions. If using Greek yogurt the nutrition information is:
Calories, 112.4; Total Fat, 7g; Saturated Fat, 3.7; Unsaturated Fat, 1.5g; Cholesterol, 25.3g; Sodium, 21.2; Total Carbs, 10g; Fiber, 2.1; Sugars, 7.3; Net Carbs, 7.9g; Protein, 3.1g.
Recommended Products
As an Amazon Associate and member of other affiliate programs, I earn from qualifying purchases.
Nutrition Information:
Yield: 10
Serving Size: 1/2 cup
Amount Per Serving:
Calories: 141.5
Total Fat: 11.4g
Saturated Fat: 6.5g
Trans Fat: 0g
Unsaturated Fat: 3g
Cholesterol: 40.6mg
Sodium: 14.2mg
Carbohydrates: 9.4g
Net Carbohydrates: 7.3g
Fiber: 2.1g
Sugar: 6.8g
Protein: 1g
Nutrition information is approximate and based on the best knowledge available at the time of recipe publication. Your results may vary due to differences in ingredients. You can make your own calculations if this recipe does not include nutrition info by using an online calculator such as https://recipes.sparkpeople.com/recipe-calculator.asp