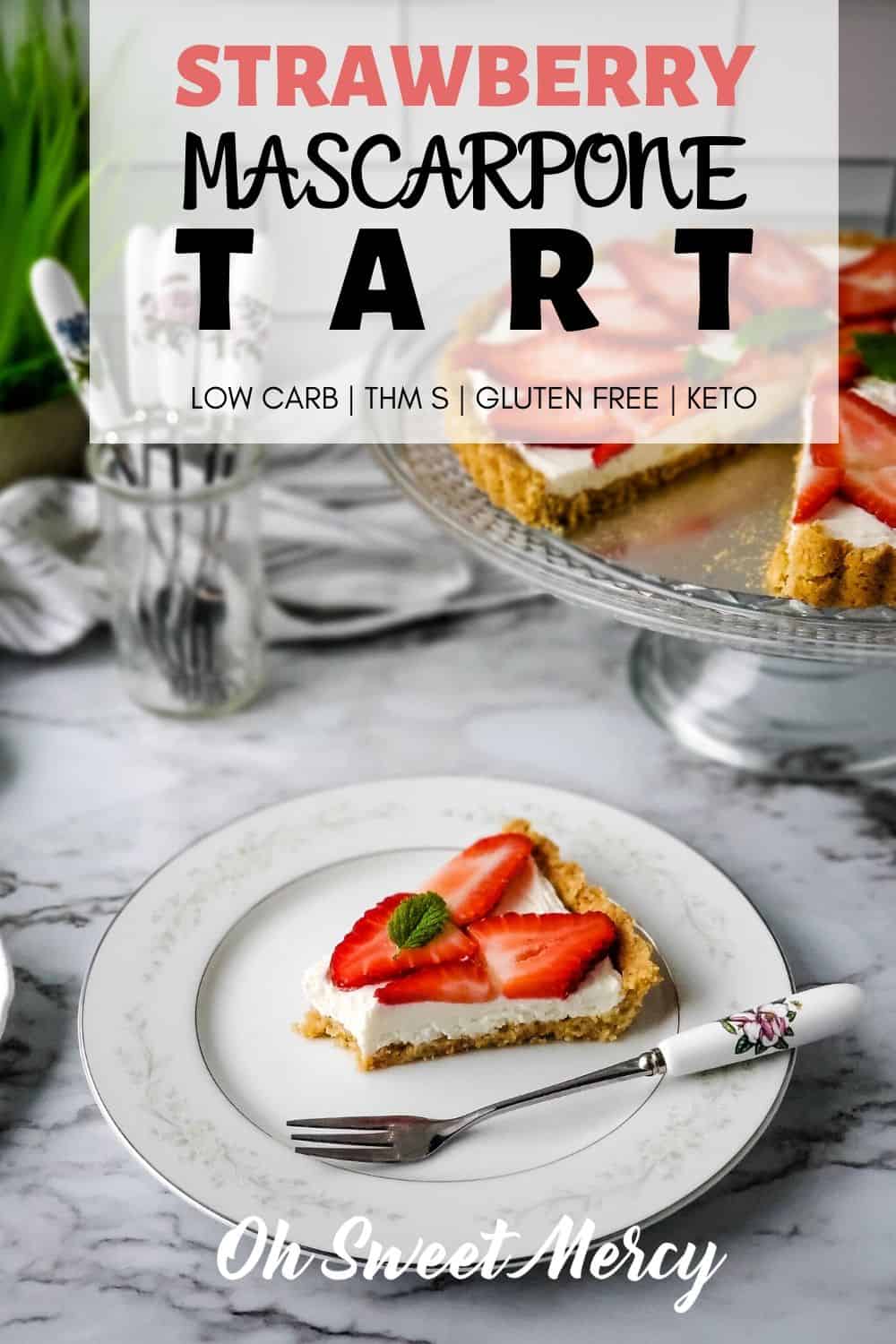 ---
Need an easy and beautiful low carb dessert? Try this easy Strawberry Mascarpone Tart! Sweet, creamy, no-bake mascarpone filling, nestled in a delicately cardamom-flavored almond flour crust, and topped with fresh berries. Perfect for Trim Healthy Mamas, low-carbers, and gluten-free eaters.
---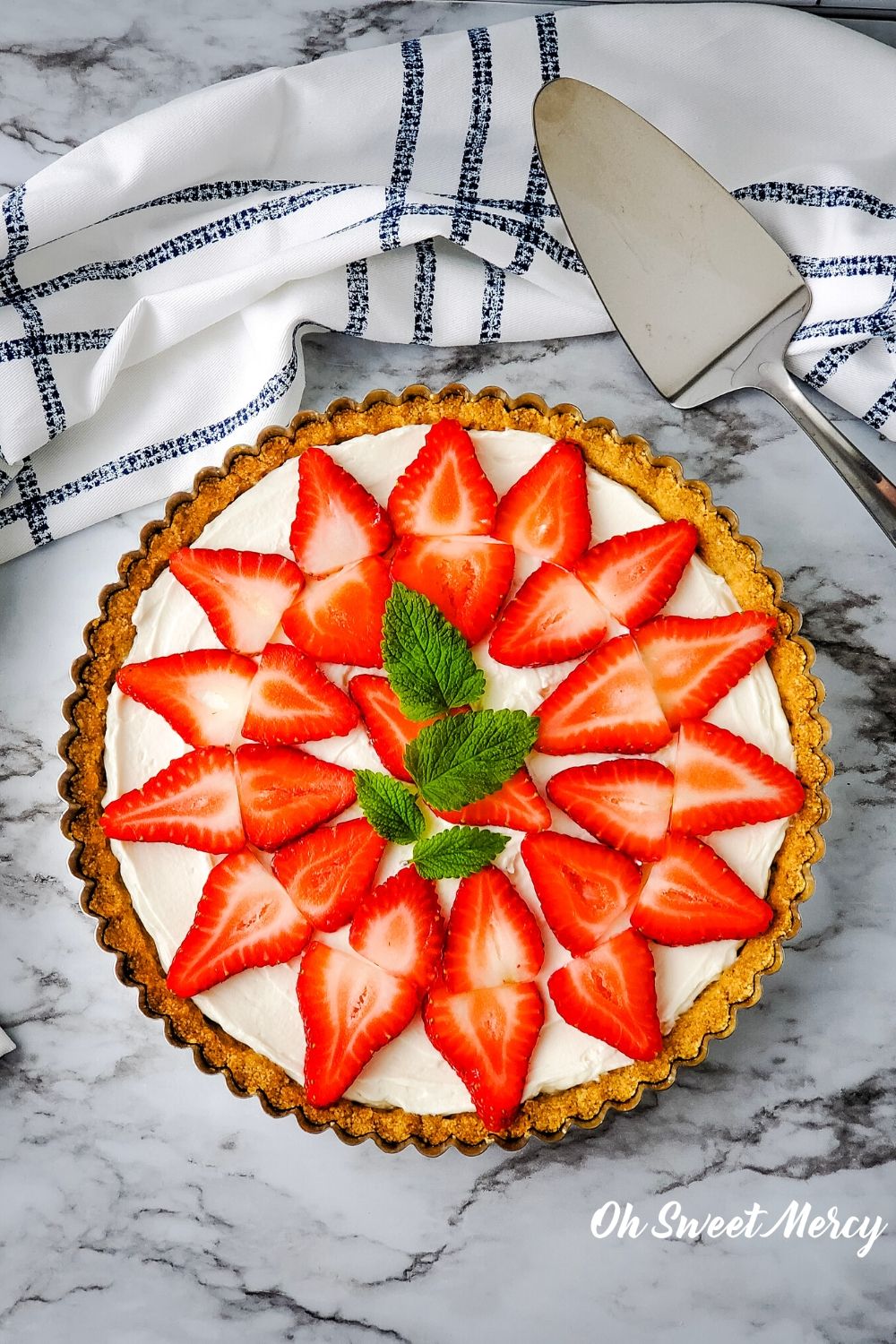 There's just nothing quite like fresh, juicy, sweet strawberries! They are absolutely best in-season and picked locally. If you have a U-Pick berry place near by, it's absolutely worth the effort to bring home these sweet, delicious berries.
But, no matter what kind of strawberries you procure, you definitely want to make a healthy, on-plan treat with them.
Or several.
Here's a few more strawberry recipes to try:
Chocolate Covered Strawberry Smoothie
Refreshing Cucumber Strawberry Smoothie
Easy Peanut Butter and Jelly Smoothie
Special Occasion Chocolate Chip Parfaits
Balsamic Berry Coconut Muffin In a Mug
Now, say hello to my very easy Strawberry Mascarpone Tart. The crust is baked, but otherwise it's a no-bake tart recipe.
What Is Mascarpone Cheese? What Does Mascarpone Taste Like?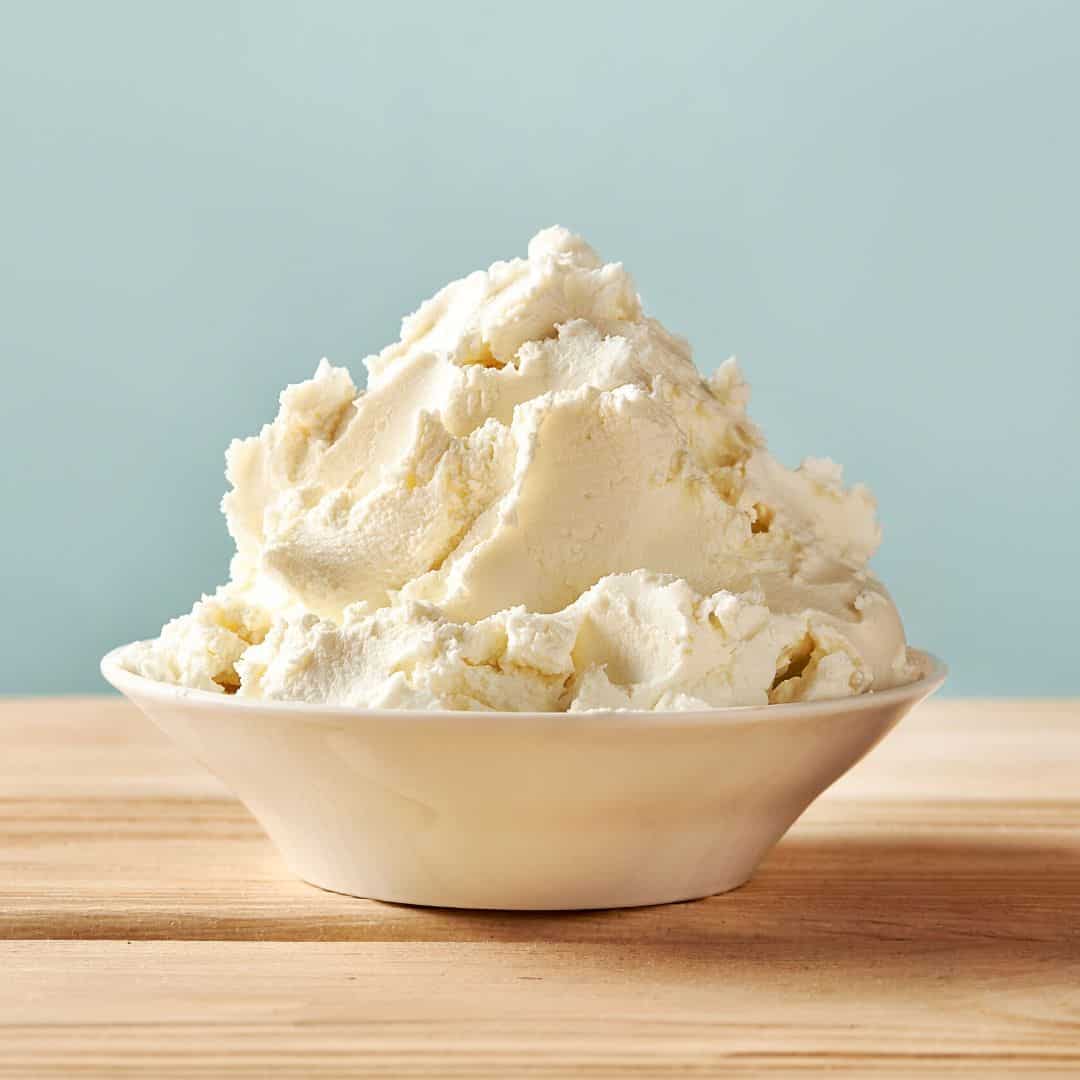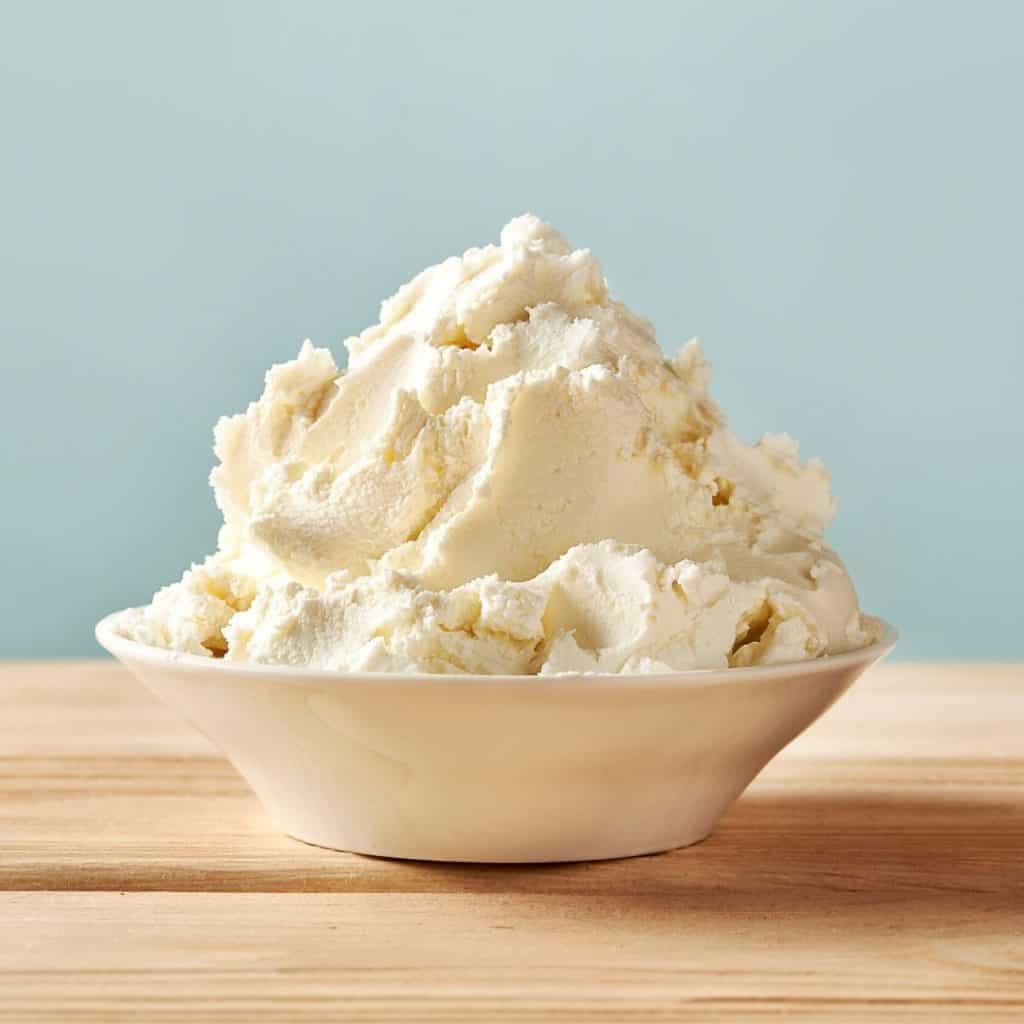 We watch a lot of cooking competition shows and it seems like the contestants are always using mascarpone cheese.
DID YOU KNOW THIS? You might be tempted to say marscapone but that "r" belongs in the 2nd syllable. It's a common mistake though!
Mascarpone is a rich, creamy, fresh cream cheese. However, it does not taste like typical cream cheese (say, from Philadelphia).
It's not tart, like regular cream cheese. Instead, it's more buttery and not quite as thick. It spreads easily straight from the fridge.
To me, mascarpone tastes a bit like fresh cream and a bit like butter. It's so rich and delicious!
While it's typically used in tiramisu, mascarpone works beautifully in both sweet and savory dishes.
If you don't like cream cheese then mascarpone is the perfect substitute. It's similar enough, without the tartness, and works just as well.
Even though Sister likes cream cheese, she said she particularly liked this mascarpone filling because it wasn't tart like cream cheese.
How To Make My Low Carb Strawberry Mascarpone Tart.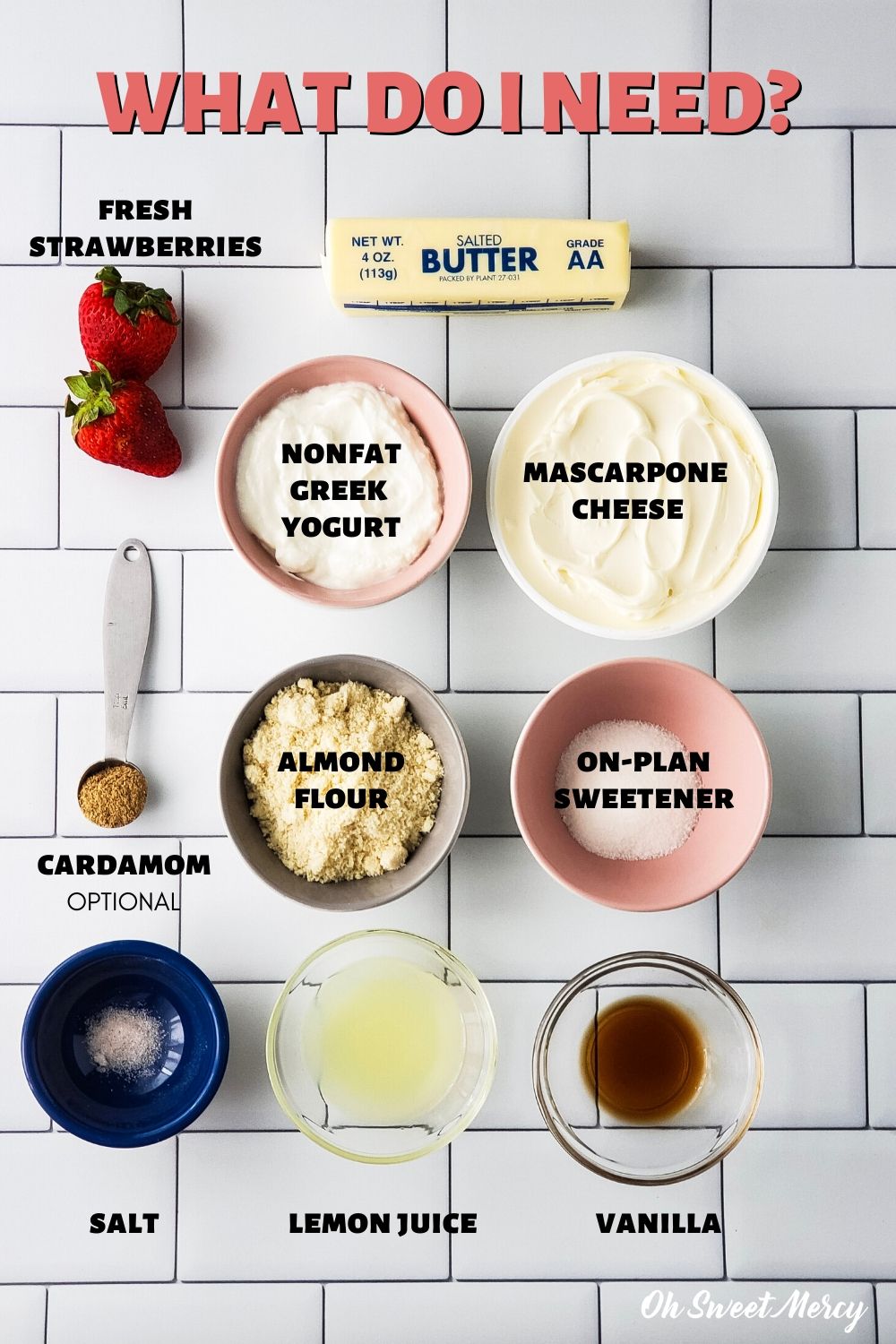 First, make your crust. I used a tart pan without a non-stick finish, similar to to this one from Williams Sonoma.
I had a hard time finding any on Amazon that don't have a non-stick coating, but if that's what you prefer using, this one has great reviews.
Use a food processor to combine the crust ingredients into a dough, then press evenly into the tart pan. I spread it around first with a silicone spatula then pressed with my fingers until it was just right.
Use your fingertips to level out the top edge of the crust, by gently patting down, after you get the dough pressed in evenly.
Bake for 16 to 18 minutes, or until lightly golden brown. Let it cool completely before filling.
TIP: use a mason jar or drinking glass to help remove the ring from your tart pan. Place the pan on top of the jar or glass then gently loosen the ring until it falls away.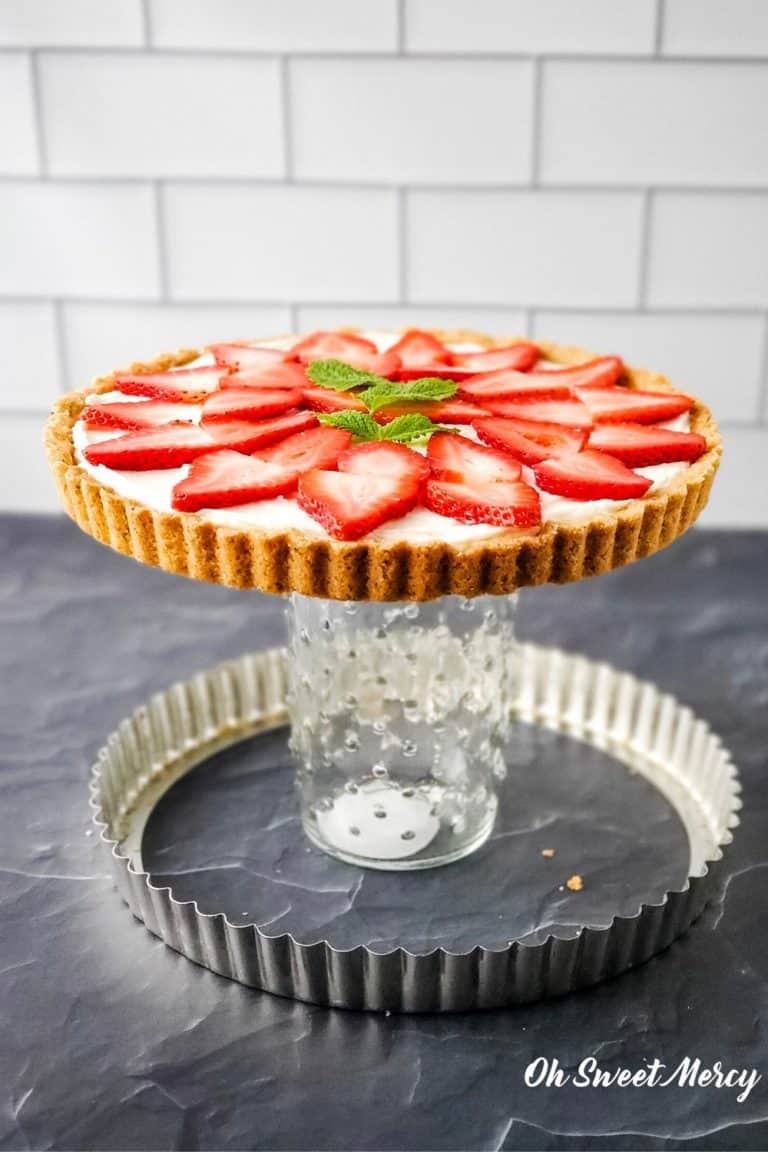 Next, make your filling and spread on the cooled crust. It takes all of about 5 minutes to whip this together!
Just beat together the mascarpone cheese, yogurt, sweetener, vanilla, lemon juice, and salt until well combined.
You could also just use a whisk if you don't feel like using a mixer. Or if you need to be quiet while making this delicious dessert.
Need some quick and quiet snack recipes? I have over 40 easy to prepare recipes, many that don't need any appliances at all, right here: 40+ Quick And Quiet THM Snacks.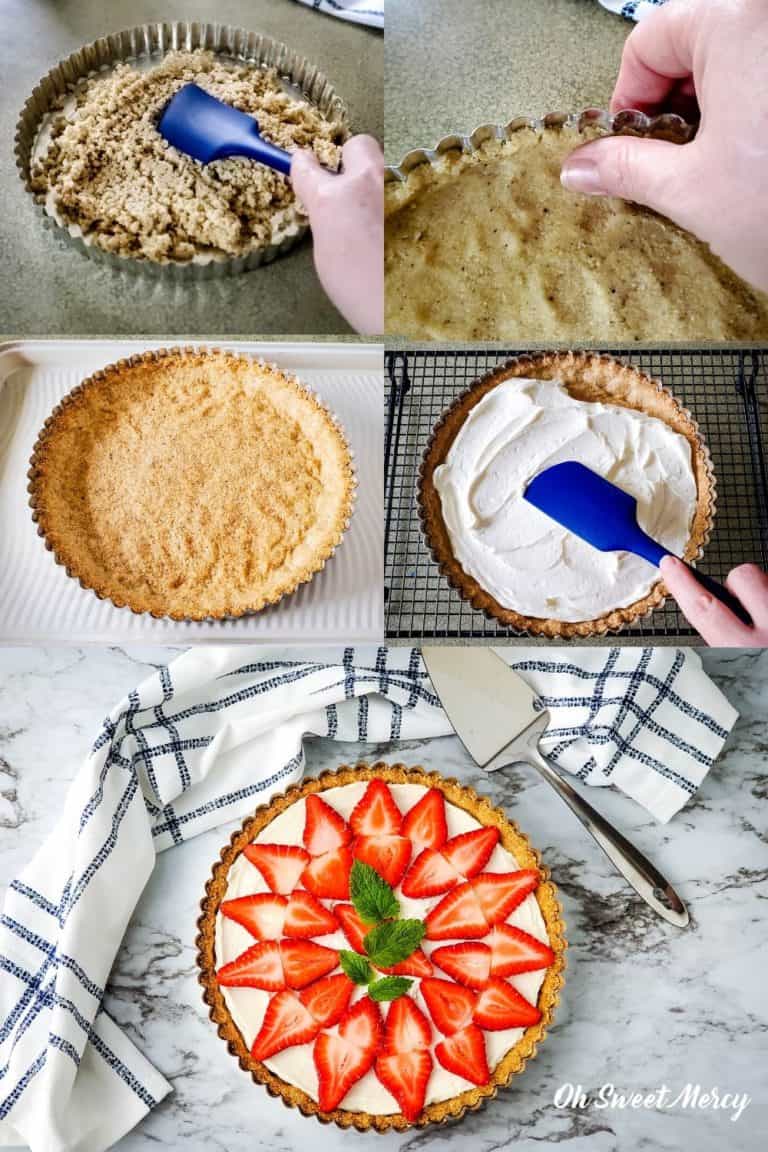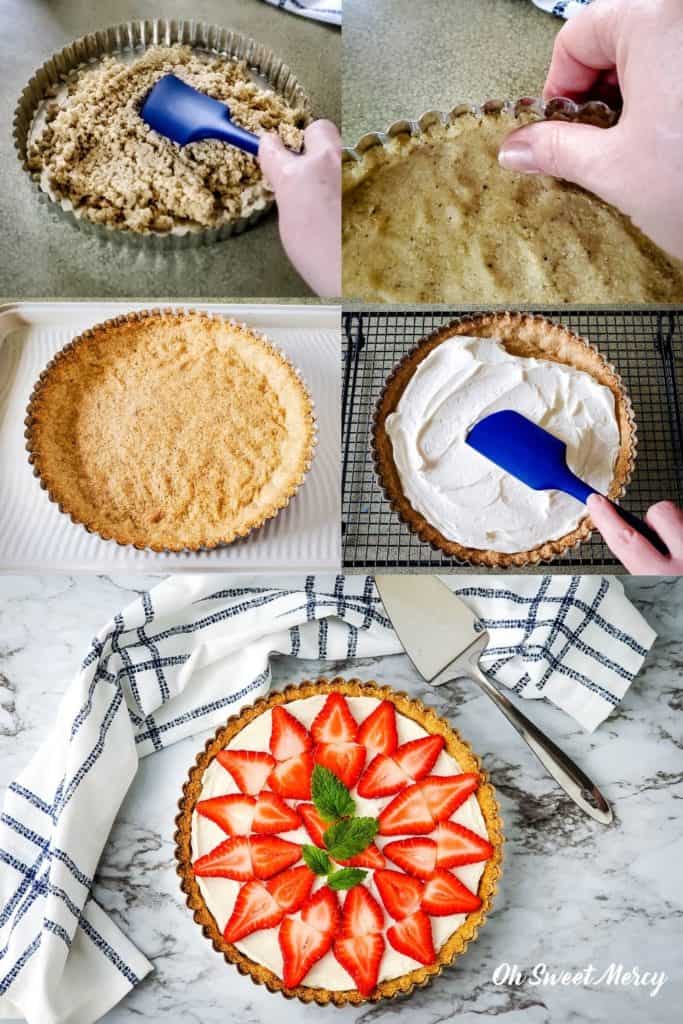 Finally, top with fresh, sliced strawberries. If you'd like to make this for an Independence Day celebration, pop some blueberries on for a patriotic look.
TIP: Any kind of fresh berries will work on this tart, really! Adding any other kinds of fruit, such as mandarin orange segments, bananas, or grapes, turns this low carb, THM S dessert into a S Helper or possibly a Crossover, depending on how much of the more carby, sugary fruit you add.
Let the strawberry mascarpone tart chill in the fridge for about half an hour, or until ready to serve.
How To Fit This Low Carb Strawberry Mascarpone Tart Into Your THM Meal Plan.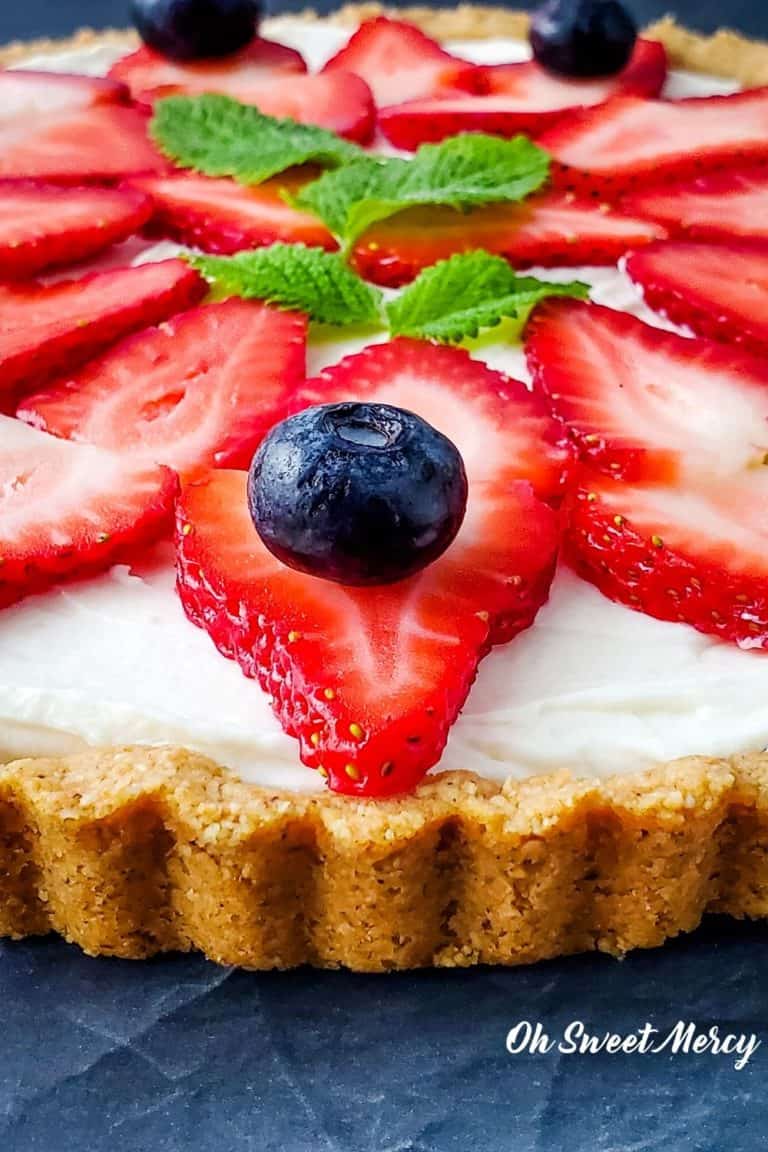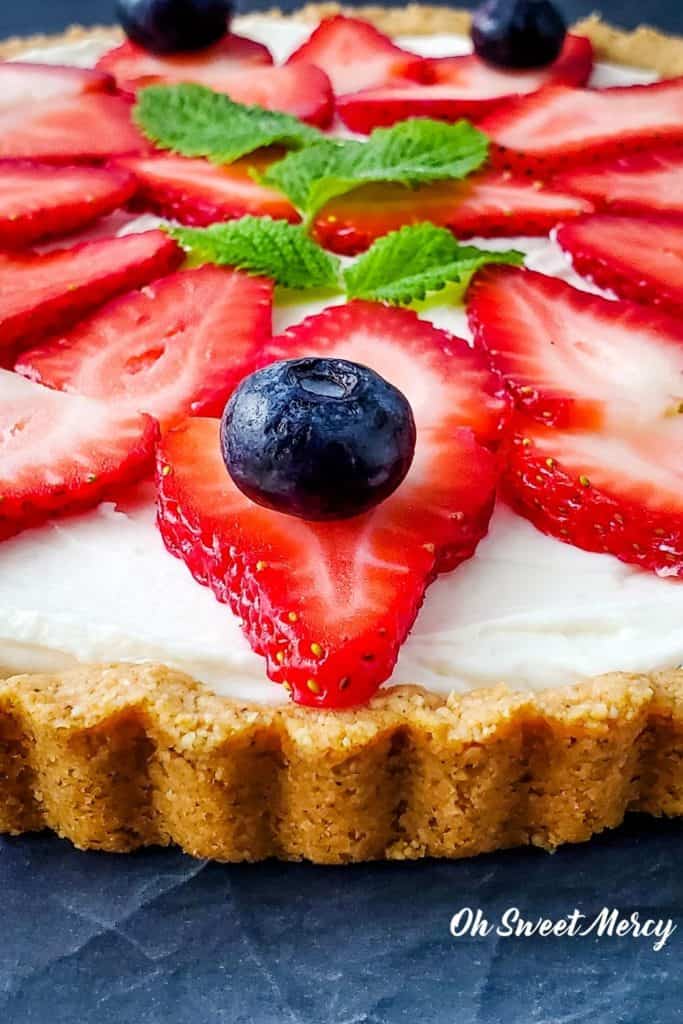 This is a delicious THM S dessert recipe. If you're in weight loss mode on the Trim Healthy Mama Plan, be sure to enjoy this with a low carb meal.
Ideally, have this after a lighter S meal or even after a Fuel Pull (FP) meal. This then makes your FP an S, but you're not going way crazy with the fats.
Balance is important!
Having this for dessert after an E meal makes your meal a Crossover (XO). Remember, XO meals are still on plan! It's good to have one now and then to shake up your metabolism.
Or, if you're pregnant or nursing, feeding active, growing children, or hard-working spouses who don't need to lose weight, Crossovers are just fine.
This refreshing and delicious Strawberry Mascarpone Tart is also perfect to take to picnics, BBQs, potlucks, carry-ins, and family gatherings.
You'll have an on-plan dessert choice and other people will love it too. Though that means no leftovers…which may or may not be a good thing, right?
Do you like mascarpone cheese better than cream cheese?
PIN IT!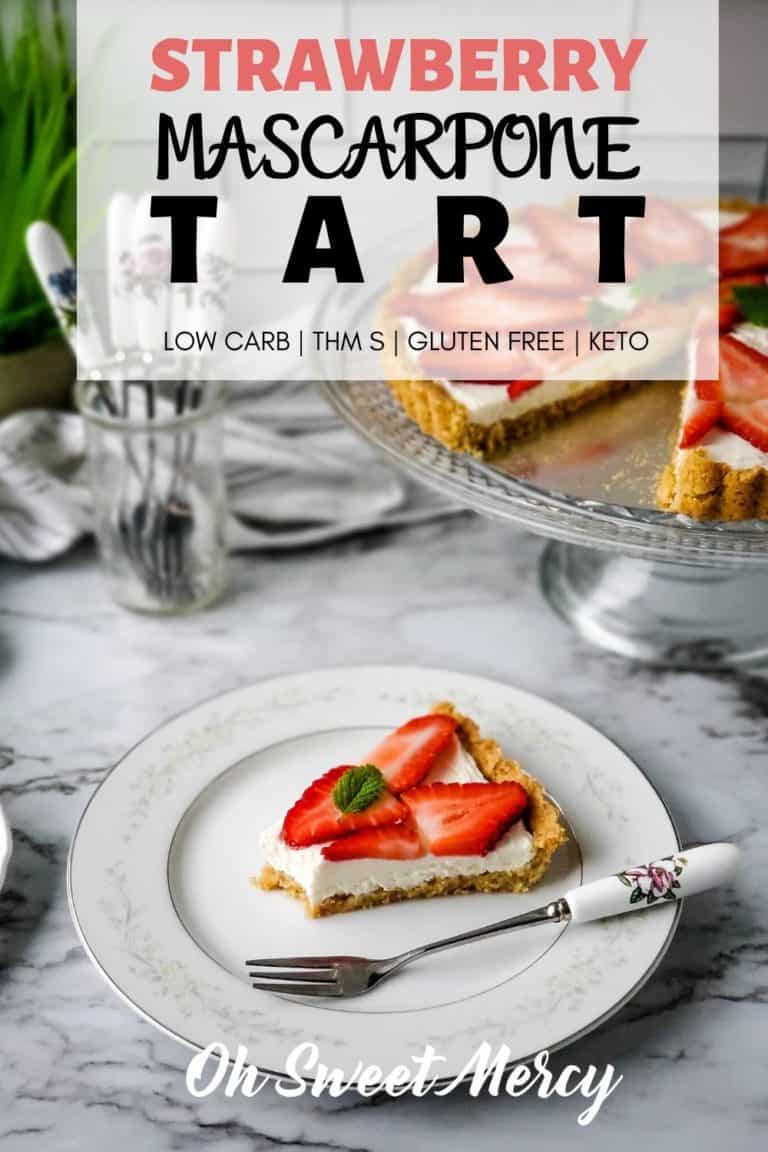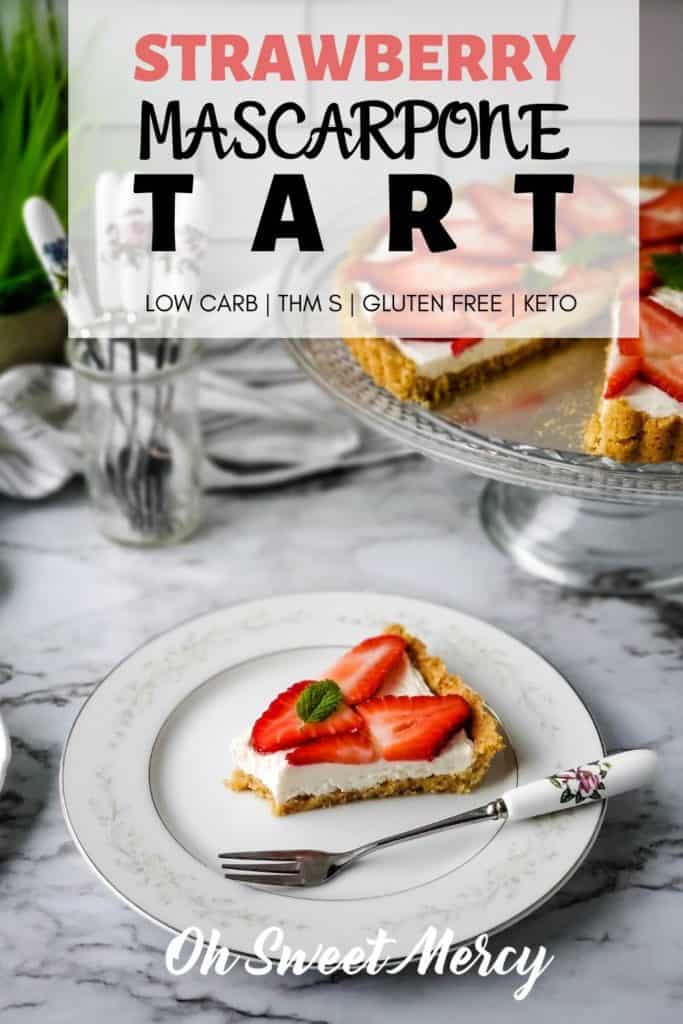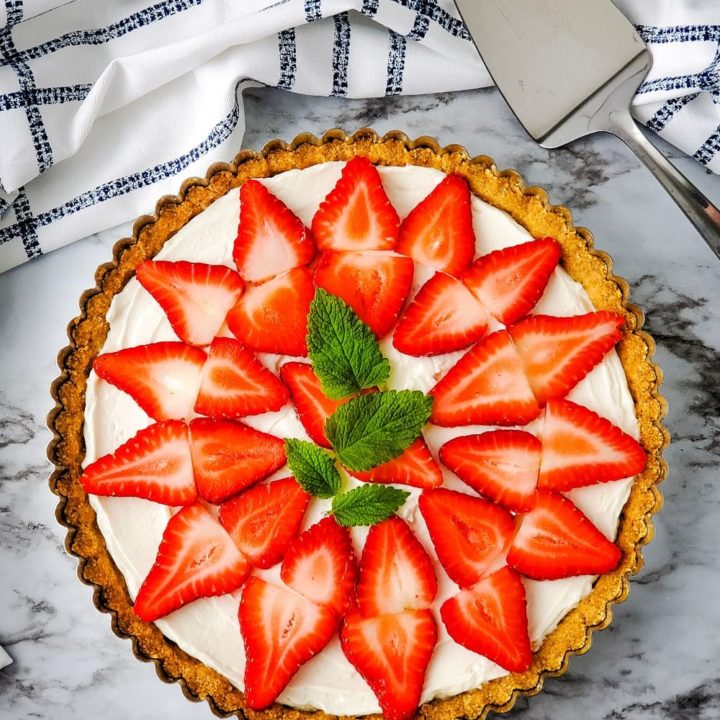 Strawberry Mascarpone Tart | Low Carb, THM S, Gluten Free
Yield: 8 servings
Prep Time: 20 minutes
Cook Time: 16 minutes
Chill Time: 30 minutes
Total Time: 1 hour 6 minutes
Rich, creamy, dreamy mascarpone filling, nestled atop a delicately cardamom-flavored almond flour crust, and topped with fresh, sliced strawberries, this easy Strawberry Mascarpone Tart is the perfect low carb dessert for those fresh, juicy strawberries. THM S, low carb, keto, and gluten free.
Ingredients
Cardamom Almond Flour Crust (or make plain)
4 tablespoons butter
1 teaspoon ground cardamom, optional
No-Bake Mascarpone Filling
8 ounces mascarpone cheese
1/2 cup non-fat Greek yogurt
2 tablespoons THM Super Sweet (or desired sweetener to taste)
2 teaspoons lemon juice
2 generous pinches of high mineral salt
Berry Topping
6 to 8 fresh strawberries, sliced (or as many as desired)
Or, any combination of berries or fruits, see notes
Fresh lemon balm or mint leaves, for garnish, as desired
Instructions
MAKE THE CRUST
Preheat oven to 350 degrees.
Lightly grease or spray (if desired) a 9.5" tart pan, preferably with a removable bottom, and set aside.
In the bowl of a food processor, add the almond flour, butter, sweetener, cardamom (if using), and salt.
Pulse until dough comes together.
Or, mix by hand if you don't have a food processor - just make sure your butter is nice and soft and it mixes together easily.
Press the dough mixture evenly into the prepared tart pan.
Bake in preheated oven for 16 to 18 minutes, or until crust is golden brown.
Remove from oven and cool completely on a cooling rack before filling.
MAKE THE FILLING
In a mixing bowl, beat together the mascarpone, yogurt, sweetener, vanilla, lemon juice, and salt until well combined.
PUT IT ALL TOGETHER
When the crust is completely cooled, gently spread the mascarpone filling evenly over the baked crust.
Top with fresh sliced strawberries and garnish as desired.
Chill for at least 30 minutes or until ready to serve.
Store covered in the refrigerator.
Notes
Any berries can be used and keep this recipe as a THM S.
Adding other fruits such as mandarin orange segments, grapes, or bananas, will make this at least an S Helper or possibly a Crossover.
Use a mason jar or drinking glass to help remove the ring of the tart pan. Place the pan on the jar or glass and gently push down on the ring until it comes off.