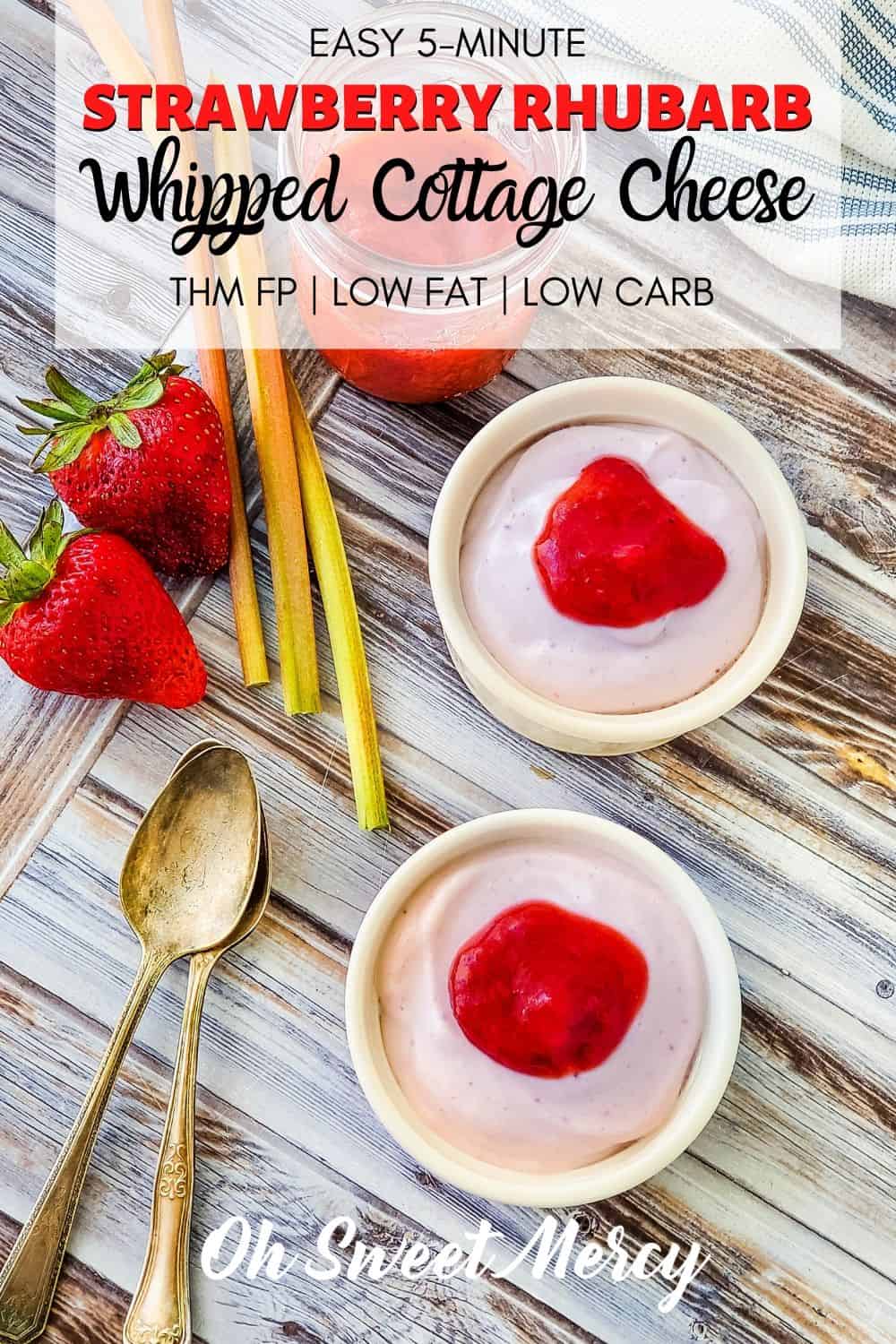 ---
If you've been following the Trim Healthy Mama plan for long you know a favorite Fuel Pull treat is Cottage Berry Whip. I've mixed my scrumptious Strawberry Rhubarb Sauce with cottage cheese for this super simple Strawberry Rhubarb Whipped Cottage Cheese! A delicious snack or dessert perfect for summer strawberries and rhubarb.
---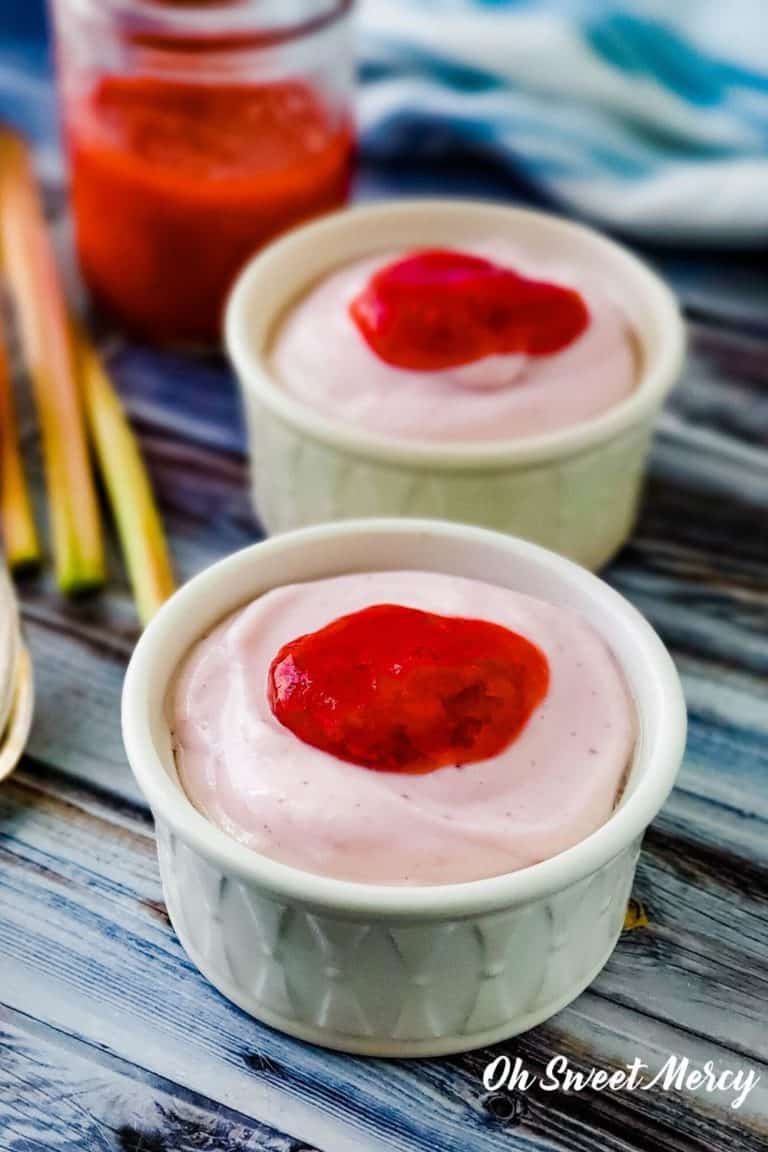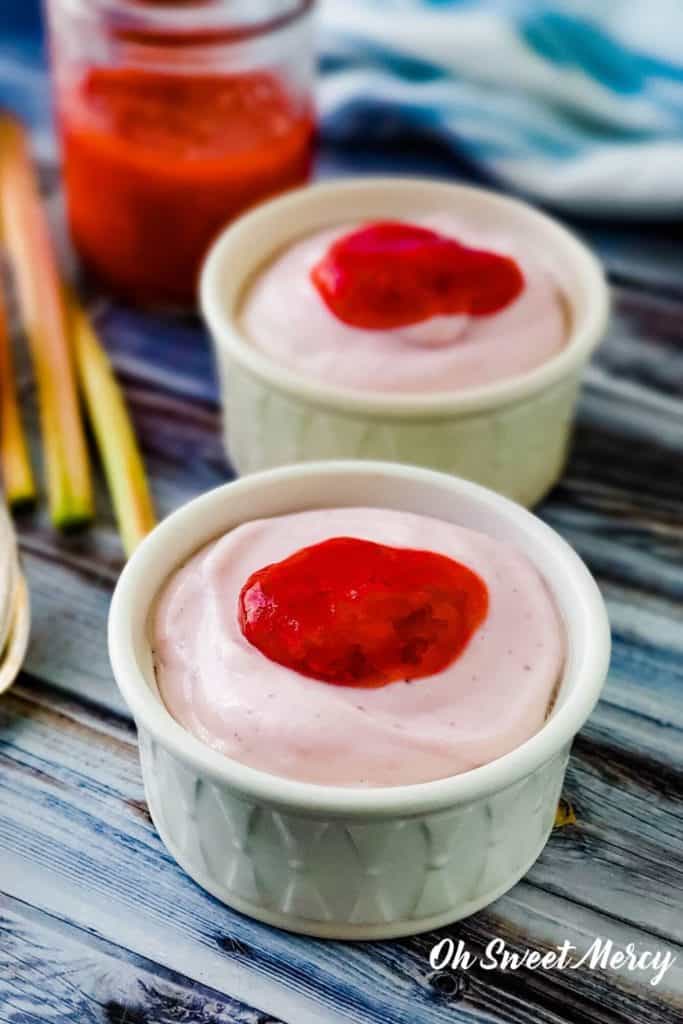 If you've been visiting Oh Sweet Mercy regularly, you've probably noticed an abundance of recipes with rhubarb and strawberries.
It's that time of year, what can I say? Rhubarb isn't around forever so I have to take advantage of it while it's here.
And, good strawberries aren't either. You can, of course, get strawberries all year long at the grocery store. But, there's just nothing like a freshly picked, locally-grown strawberry.
Sweet, juicy, and a bit of tanginess…I love them so much!
So, here's how to whip a bit of summer into your cottage berry whip…
How To Make Strawberry Rhubarb Whipped Cottage Cheese.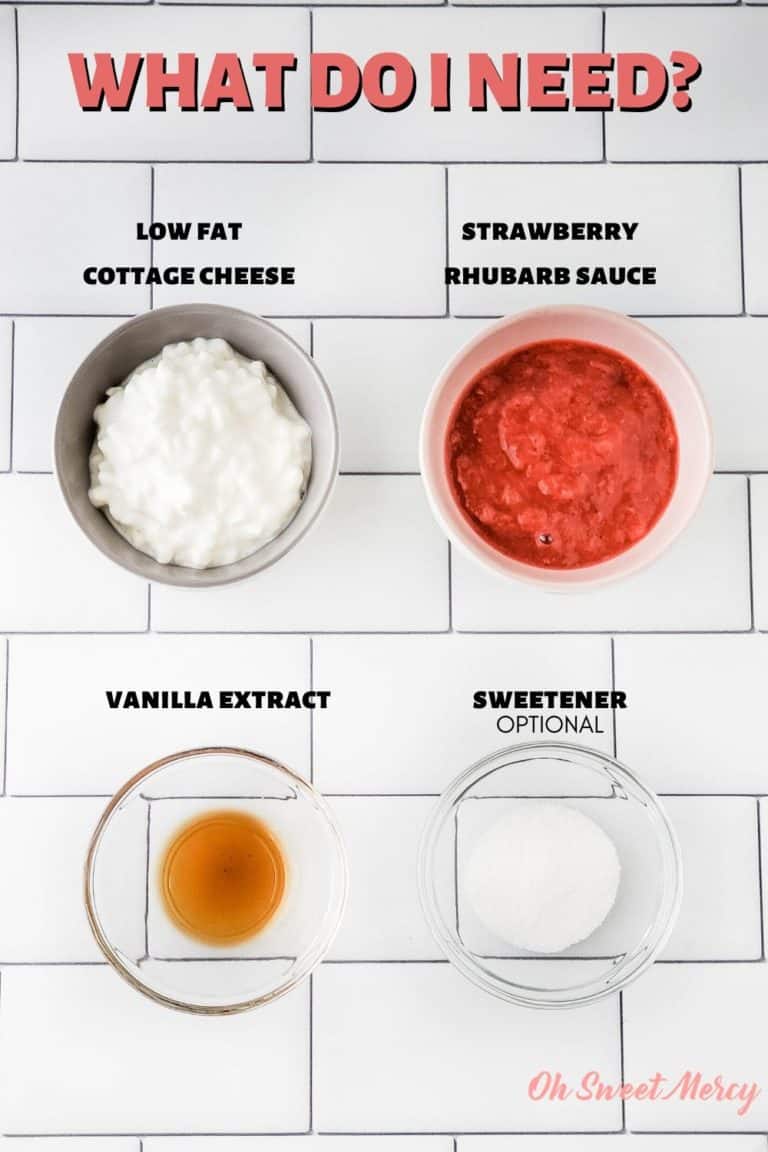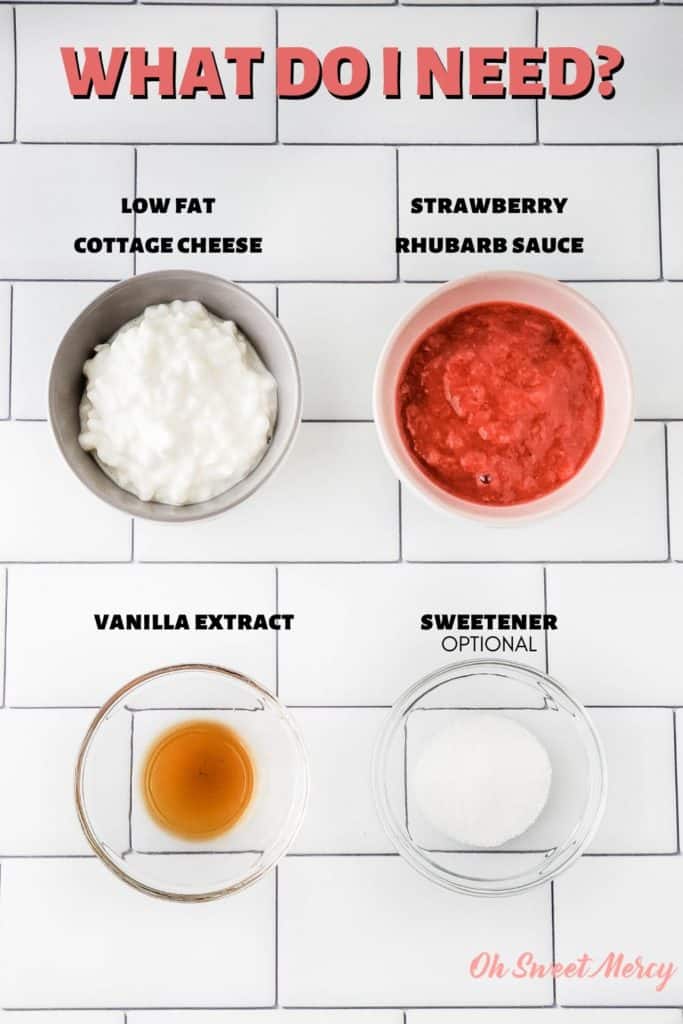 As long as you have my Strawberry Rhubarb Sauce on hand, this tasty low carb, low fat treat whips up in under 5 minutes!
If you're thinking of chopping up some rhubarb and adding that with strawberries, please don't do that!
Rhubarb is T.A.R.T. it needs a lot of help to taste good in a sweet treat like a berry whipped cottage cheese.
Raw rhubarb also has a harsh, tannic feeling when you eat it. The thought of pureeing raw rhubarb with cottage cheese sets my teeth on edge!
It only takes half an hour (or less) to make a batch of my sauce. Pop some in the freezer for several minutes to cool it down quickly and it'll be chilled for making this strawberry rhubarb whipped cottage cheese recipe.
Then, simply give it a whir in a food processor. Or, use a stick blender. I usually make mine in a wide mouth mason jar and use my stick blender.
But, for making a big batch to have on hand for a few days a food processor is perfect.
How To Include This Fuel Pull Strawberry Rhubarb Whipped Cottage Cheese In Your THM Meal Plan.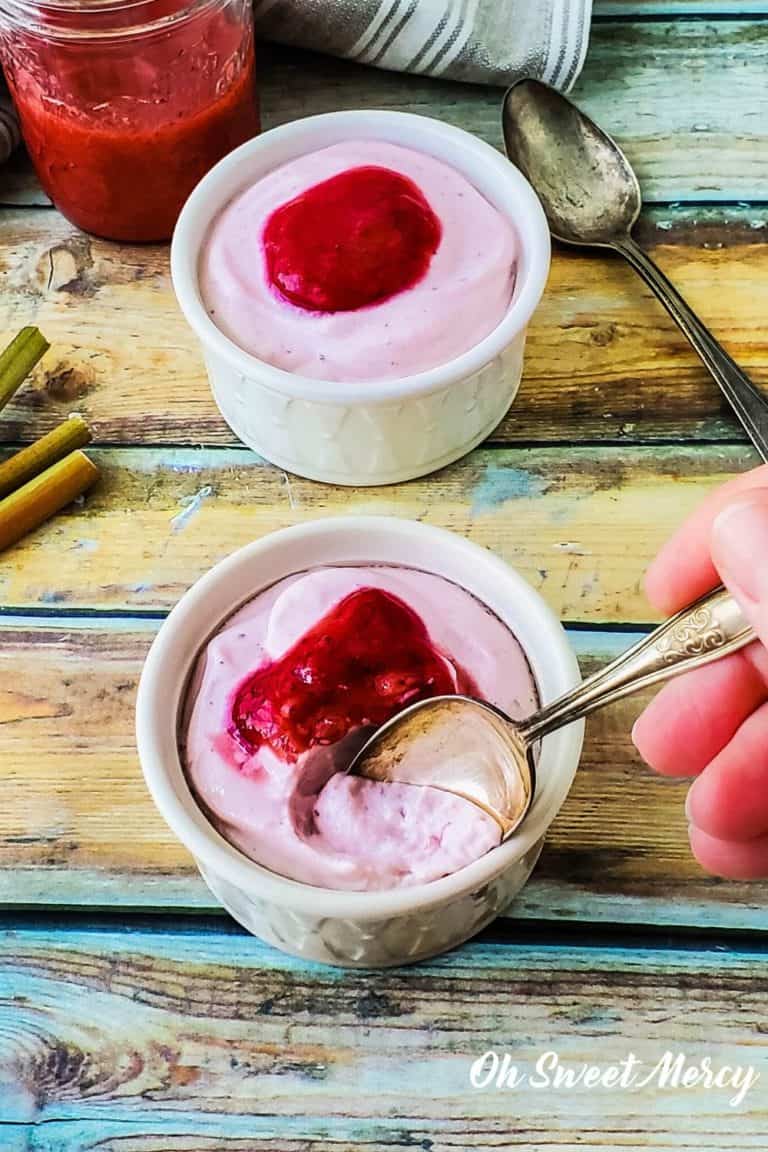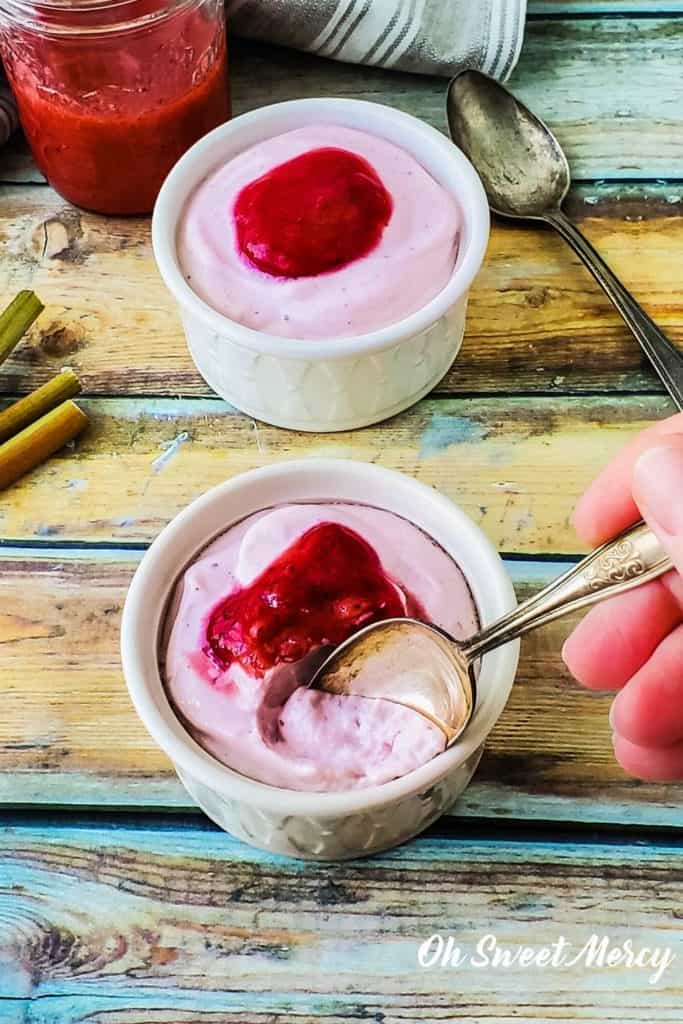 Since this recipe is a FP (Fuel Pull), it's low in both fat and carbs. Fuel Pulls generally can be eaten with any THM meal type.
This recipe is made with dairy, however, and is not Deep S friendly.
While I like mine made with just cottage cheese, Low Carb Strawberry Rhubarb Sauce, and a splash of vanilla, feel free to add more sweetener if you like.
Depending on how sweet you make your Strawberry Rhubarb Sauce you may find you also don't need any additional sweetener. Or, you may.
Finally, each tablespoon of the sauce has 0.7g of net carbs. If you're including this as part of a THM Fuel Pull meal, keep that in mind if you want additional sauce to keep your whole meal within FP guidelines.
Some THM Meal Inspiration For You…
Here's an example of a tasty THM Fuel Pull meal with this delicious whipped cottage cheese for dessert:
Large leafy green salad with bell pepper strips, broccoli, cauliflower, and a couple cherry tomatoes cut in quarters.
3 to 4 tablespoons Creamy Cajun Ranch Dressing.
A Refreshing Cucumber Strawberry Smoothie to drink (it's a very light smoothie).
1/2 cup Strawberry Rhubarb Whipped Cottage Cheese for dessert.
TIP: You could add an additional tablespoon or 2 of protein powder to the smoothie, but remember that in a Fuel Pull meal we need to keep our protein on the lower side so around 20 to 25 grams.
You can also enjoy this after an E meal for dessert:
Small portion of lean baked fish with lemon wedges
Steamed green beans
1/2 cup Strawberry Rhubarb Whipped Cottage Cheese
Fuel Pull desserts work for regular THM S meals, too. It would be delicious as part of your breakfast:
1 egg fried in healthy fat
Sauteed non-starchy veggies (zucchini, bell peppers, mushrooms, a few onions, fresh garlic).
1/2 cup Strawberry Rhubarb Whipped Cottage Cheese.
As you can see, this easy and delicious THM FP treat is very versatile! Make a big batch to have on hand for quick snacks and easy desserts.
Want more sweet treat recipes? Check out my Desserts and Sweets category page.
PIN IT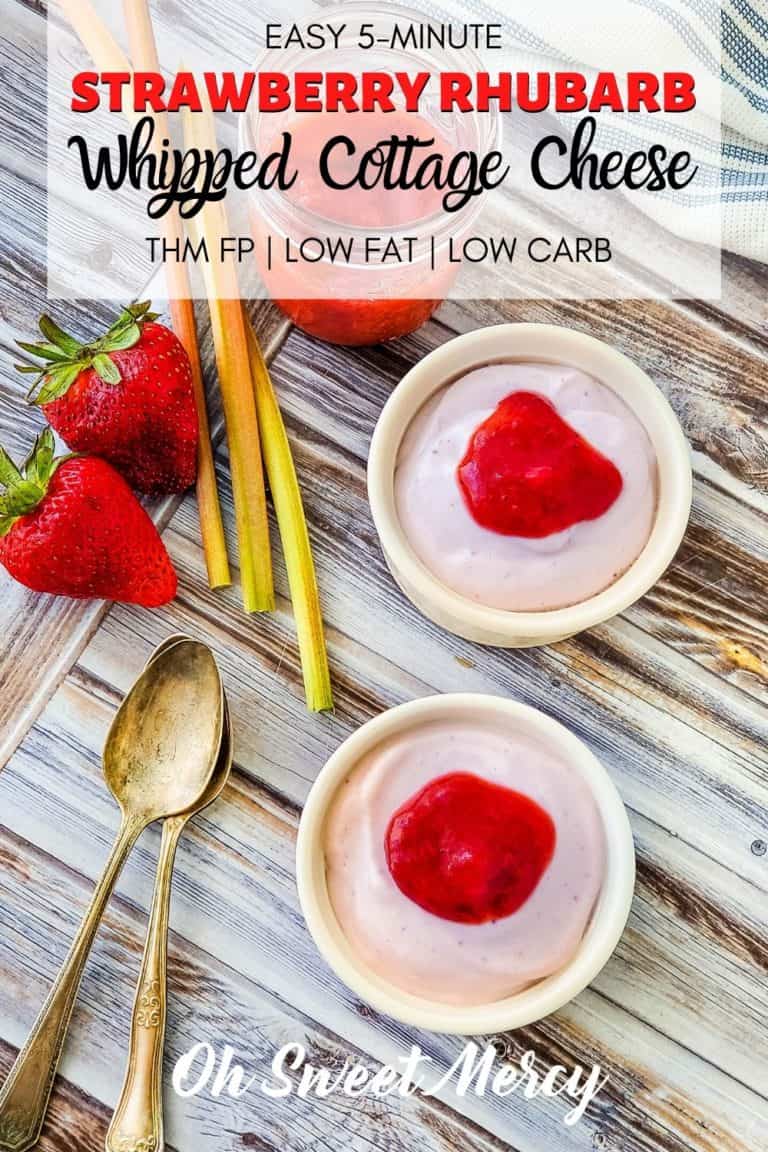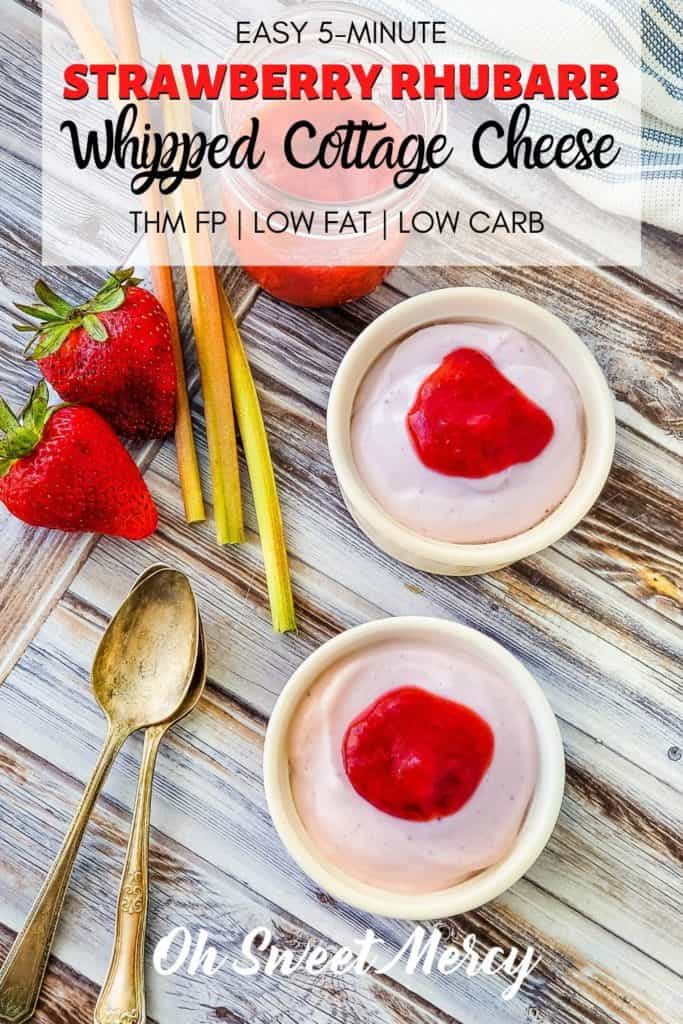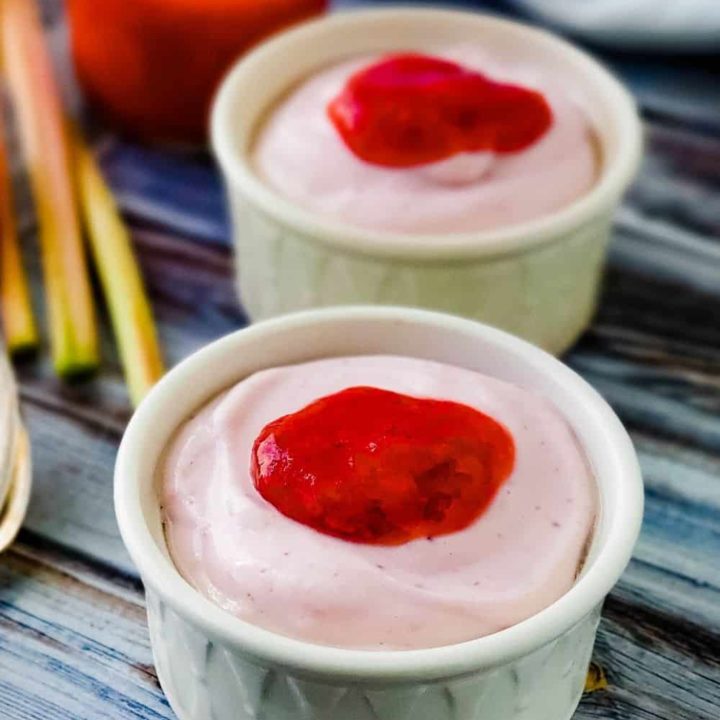 Strawberry Rhubarb Whipped Cottage Cheese | THM FP, Low Carb, Low Fat
Yield: 2 Servings
Prep Time: 5 minutes
Total Time: 5 minutes
Whip my Strawberry Rhubarb Sauce into low fat cottage cheese for a creamy, fruity delight! You won't even miss the fat! Trim Healthy Mamas, it's a perfect summer Fuel Pull snack or dessert. Make it in 5 minutes or less, too!
Ingredients
Instructions
Add all ingredients to a food processor (or mason jar if using a stick blender).
Puree until smooth and creamy.
Enjoy right away with additional sauce if desired or refrigerate for later.
Notes
Depending on how sweet you make your Strawberry Rhubarb Sauce you may or may not want to add additional sweetener to taste. I like it just like it is.
Each tablespoon of Strawberry Rhubarb Sauce has 0.7g of net carbs so keep that in mind when adding more on top if you're having this as part of a Fuel Pull meal.
Recommended Products
As an Amazon Associate and member of other affiliate programs, I earn from qualifying purchases.
Nutrition Information:
Yield: 2
Serving Size: 1/2 cup
Amount Per Serving:
Calories: 83
Total Fat: 1g
Saturated Fat: 1g
Trans Fat: 0g
Unsaturated Fat: 0g
Cholesterol: 5mg
Sodium: 459mg
Carbohydrates: 4.9g
Net Carbohydrates: 3.55g
Fiber: 0.65g
Sugar: 4.2g
Protein: 14g
Nutrition information is approximate and based on the best knowledge available at the time of recipe publication. Your results may vary due to differences in ingredients. You can make your own calculations if this recipe does not include nutrition info by using an online calculator such as https://recipes.sparkpeople.com/recipe-calculator.asp