There's something to be said for simple, can I get an amen?
Busy is the order of the day lately around my house, so a simple-to-prepare Trim Healthy Mama friendly meal makes my heart (and tummy) happy. Low carb tortillas are great for super simple meals. Just put some stuff in them, fold or roll them up and you're good to go…either straight down the hatch or into the skillet for a few minutes for a deliciously crispy "pocket."
The stuffing possibilities are endless. You can put a dent in cleaning out the fridge before grocery day and using up leftovers. Garden going nuts? Stuff that baby with fresh veggies and herbs that complement your protein source. You can make yours super spicy, or not. It's all about you, baby. For just one brief moment, anyway.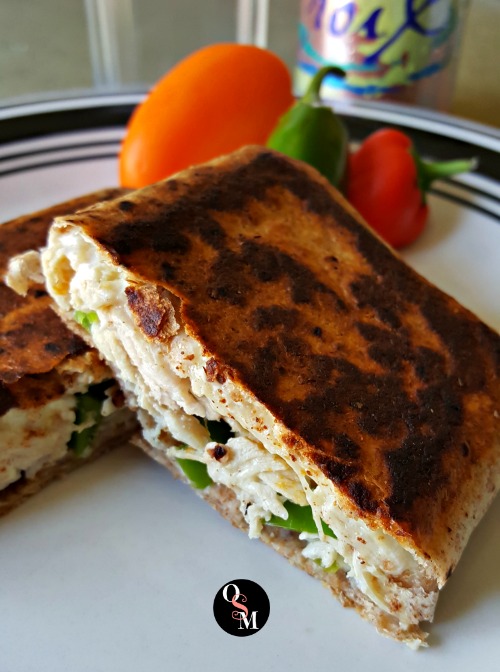 These Low Carb Meaty Popper Pockets are super easy and delish.
This is another one of those hardly-a-recipe recipes, but I carefully wrote down what I did so I could share this with you. Sometimes I forget, I just start throwing things together in a dump-cooking frenzy and totally don't think about how you are not right here with me. I'm trying to do better, really!
I love jalapeno poppers, but they are generally NOT low carb or THM friendly. Since we want to center our meals around a protein source, adding some meat to my "popper" filling made this a complete meal. You can use any kind of meat and cheese of course
You can use any kind of meat and cheese of course. I've made them with chicken and mozzarella, turkey and extra sharp cheddar, and have plans for ground beef and Monterrey Jack in the near future. I seeded my jalapeno peppers, but if you want a pocket that has some burn to it, leave those seeds and membranes (or some of them) intact.
If you wear contacts, do yourself a solid and wear gloves when handling fresh jalapenos.
Trust me on this. You do NOT want to take your lenses out later if you've been handling jalapenos without some PPE (Personal Protective Equipment). You would think washing your hands a zillion times AND doing the dishes hours before would wash all that spicy pepperness off your fingers.
Nope. Sure doesn't. And it buuuuurrrrrnnnnnsssss. So just wear the gloves.
If you end up with your hands burning, try this simple and unique tip.
If you do happen to not heed my advice on the gloves and your fingers or hands feel all burny, get some yellow mustard out of the fridge. Slather that stuff all over your hands. You'll find practically instant relief! Apparently, the vinegar and turmeric in mustard does a great job of cooling and relieving inflammation.
How do I know this? Because one time I cut up a ton of banana peppers without wearing gloves. Didn't think they were that hot so why bother with gloves? My hands were on F.I.R.E. by the end of it. I tried every trick I could find on the interwebs, and finally stumbled on the mustard tip.
Oh sweet mercy. Relief! I had to reapply the mustard several times, but the burn finally started to dissipate.
However, if you stick your jalapeno-y fingers in your eyes and they start burning, DO NOT put mustard in them. Just sayin'.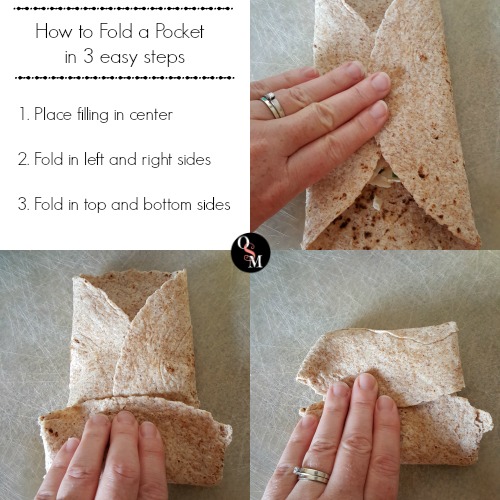 Trim Healthy Mamas, here's the rundown on these Low Carb Meaty Popper Pockets.
You'll want a low carb tortilla with six grams or less NET carbs (that's total carbs minus fiber). My sweet mother in law picks these Santa Fe Tortilla Company tortillas up at Sam's club for me. Only $5 for twenty, and they're even Kosher certified.
When you're using "frankenfoods" like low carb tortillas, your bread carb count needs to be SIX grams or less. The Santa Fe Tortilla Company wraps have five grams per wrap, plus eight grams of protein. And they taste great too!
You don't want to make these "frankenfoods" a staple of your weekly meal plan, but they're great for a quick meal now and then. Which is too bad because this Low Carb Meaty Popper Pocket is so tasty you'll want to make it a staple in your weekly meal plan!
You may also like these fillings that are great for low carb wraps: Sriracha Chicken Salad, Sriracha Egg Salad, Tuna and Capers, Turkey Ham Salad
Want to know more about Trim Healthy Mama? You can read my review here!
Let's make some!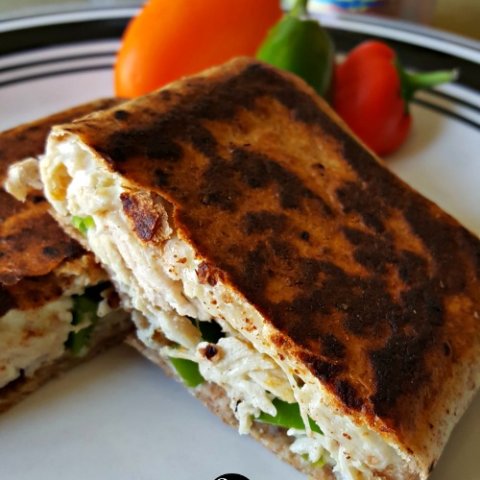 Low Carb Meaty Popper Pockets
Yield: 1 serving
Prep Time: 5 minutes
Cook Time: 6 minutes
Total Time: 11 minutes
These quick and easy Low Carb Meaty Popper Pockets combine the flavors of jalapeno poppers with meaty goodness, making a terrific THM S friendly meal.
Ingredients
1 low carb, on plan tortilla 6 grams net carbs or less
1/4 to 1/2 c cooked meat such as chopped, ground or shredded poultry, beef, etc.
1 Tbs light cream cheese
1 tsp mayo
1/2 tsp nutritional yeast (optional)
1 fresh jalapeno, seeded and chopped (more or less to taste, leave seeds intact if desired)
2 Tbs shredded cheese, such as extra sharp cheddar or monterrey jack
Sprinkle of garlic powder
Butter or cooking spray for cooking
Instructions
In a small bowl, mix together the cream cheese, mayo, nutritional yeast and seasonings until well combined
Spread mixture onto the middle area of your low carb wrap
Sprinkle cheese on top of cream cheese mixture
Add peppers and meat
Fold into a square pocket
Melt a bit of butter in a skillet (or use cooking spray) over medium heat, then place pocket with folded side down first and cook for about 3 minutes
Flip carefully and continue to cook for another 3 minutes or so until golden brown and filling is warmed through
Notes
THMs be sure your low carb tortilla has 6 grams of net carbs or less.
Recommended Products
As an Amazon Associate and member of other affiliate programs, I earn from qualifying purchases.
Nutrition Information:
Amount Per Serving:
Calories: 0
Cholesterol: 0mg
Sodium: 0mg
Carbohydrates: 0g
Fiber: 0g
Sugar: 0g
Protein: 0g
Like this recipe? So will your friends! Please share and pin to your favorite Pinterest boards!