---
Making a rich and delicious salted caramel frappe isn't just for professionals. Keep reading to learn how to make a low carb frappe every bit as good as your local coffee shop's. Trim Healthy Mamas and other sugar free peeps rejoice! This blender treat won't spike your blood sugar (or empty your wallet).
---
Did you know that I am a trained Barista? Indeed I am.
It's been years since I've worked at a certain famous coffee chain found in airports, supermarkets, and street corners across the globe, but I'm quite thankful for what I learned about coffee while I worked there.
Like how much I love dark, roasty coffee. And those yummy, icy caramel frappes which go by a certain trademarked name that rhymes with "cappuccino".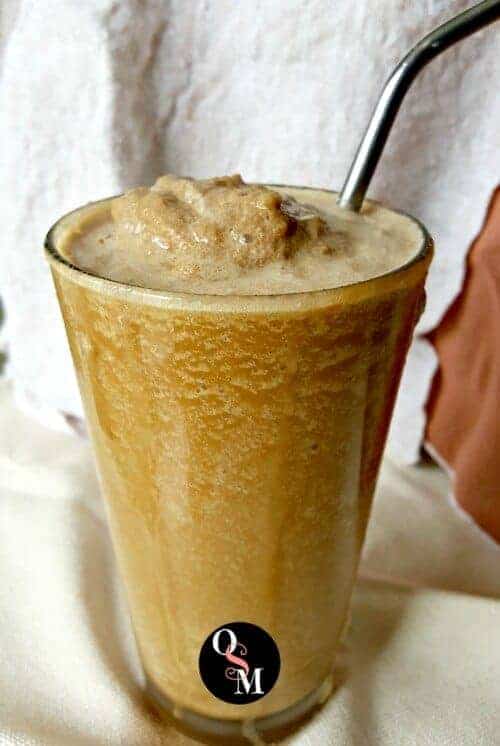 I would close at night, and when I'd empty the espresso beans out of the machine and back into their tins I would breathe deeply of that dark, roasty aroma. I was also pregnant, and could often be found in the back squeezing bags of coffee and huffing that coffee goodness.
My son, who was nestled in my womb at the time, loves coffee. From the time he was big enough to get around and stick his hand in my coffee cup and slurp off the cold remains of my morning java he's been after my coffee. Must have been all the bean huffing I was doing…
One of my favorite beverages at that coffee place was the Caramel Frappuccino.
Those things are mighty tasty. And mighty not good for the blood sugar! I haven't had one in years, but one morning I made a protein shake for after a run and it tasted so much like a Caramel Frappuccino I could not believe what I had just done.
I've been making this Salted Caramel Frappe for a week or so now, just to make sure it's perfect before I share the recipe with you.
Quality control is so very important, you know.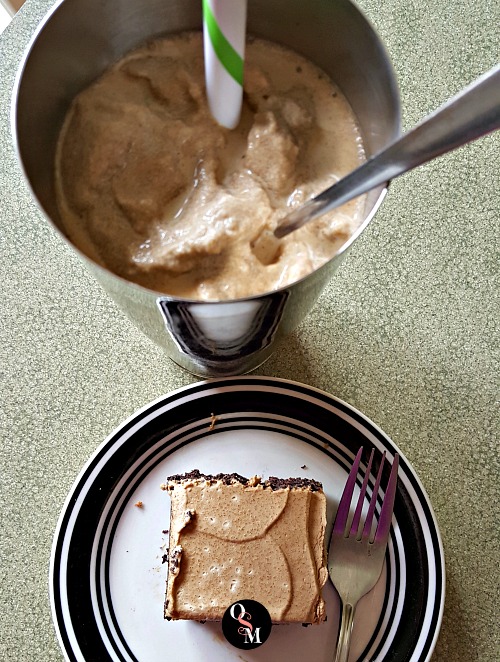 I celebrated finishing the Couch to 5K training program with cake and shake. That awesome Trimtastic Chocolate Zucchini Cake (with Salted Caramel Frosting) and this yummy caramel frappe!
---
Get the cake recipe in the new Trim Healthy Mama cookbook. Check out my "rescue" for this cake when you're short on THM Baking Blend. And for more salted caramel goodness, try my Decadent Salted Caramel Whip.
---
The secret to making these like the "real thing" is so simple, you won't believe it.
Most THM shakes and frozen drink recipes call for ice cubes. Well duh, right? You might think cold coffee and ice will make a "frappuccino" but I heartily disagree.
Oh, it will make a frozen coffee drink, and I'm sure it will taste good, but if you're wanting something that will keep you out of your local coffee chain drive through you need to take a different approach.
You'll have to plan ahead a bit. You might even have to wait a few hours but it's TOTALLY worth it.
Make yourself a little extra coffee for a few mornngs and you'll be able to stockpile this magical thing that will make your frozen coffee drinks as good as those expensive, sugar-laden concoctions that won't bust your budget or your healthy, THM eating plan.
Are you ready for it?
It's so simple. Really. You'll be like "why didn't I think of that?" Or maybe you already have…in that case, good for you! Great minds and all, right?
Coffee ice cubes, people. Coffee ice cubes.
Now, go fill up your ice cube trays with coffee and stick them in the freezer. Go ahead, I'll wait.
By the way, I really love these ice cube trays! I can remove ice cubes with one hand. They're amazing.
If you don't have Salted Caramel Flavoring, don't stress.
Just use caramel extract (Watkins brand can be found at Walmart or use my affiliate link there to order from Amazon) and a few pinches of salt. You may need to add more extract to suit your tastebuds. I happened to find Walnut Creek Salted Caramel Flavoring at a local discount store and I've been putting it in all the things. It's just so good!
Great news! Trim Healthy Mama now has a healthy Natural Burst Caramel Extract (plus several other flavors)!
The best part is, by keeping these frozen cubes of dark roasty glory on hand, you can make ANY flavor frappe you want! Just change the flavoring and poof…fabulously wonderful coffeehouse frappes.
One caveat…you do need a decent blender, such as a Vitamix or BlendTec. If you happen to have an Aldi nearby keep your eye out for their Ambiano Professional Blender. It's unbelievably similar to a Vitamix.
I've had mine for going on six months over 2 years now and I haven't killed it. It makes wonderful blended drinks, and only costs a fraction of the pricier blenders.
You'll also want one of these awesome Kitchen Aid blender spatulas to get all the salted caramel frappe goodness out of your blender!

Trim Healthy Mamas, here's how this delicious Salted Caramel Frappe fits in our healthy eating plan.
This is one of those delicious, satisfying S recipes. Adding collagen is purely optional, so if you don't have it or don't want to add it that's fine.
Enjoy this Salted Caramel Frappe after a Light S or Fuel Pull meal. If you're wanting it as a snack or your meal is short on protein, I'd add at least one scoop of collagen if you have it.
For those really busy moments when you need to eat something quickly, add 1 1/2 scoops of collagen and you'll have plenty of protein. If you add Gluccie as well, it will help you feel full and satisfied longer, too.
My favorite Trim Healthy Mama ingredients to use here are Integral Collagen, Gentle Sweet and Gluccie. Want to know more about Trim Healthy Mama? Read my review here.
If you like this recipe, be sure to try my Decadent Dark Chocolate Raspberry Mocha Frappe. Same technique. Different experience. All together lovely!
Got your coffee cubes ready? Let's make some Salted Caramel Frappe!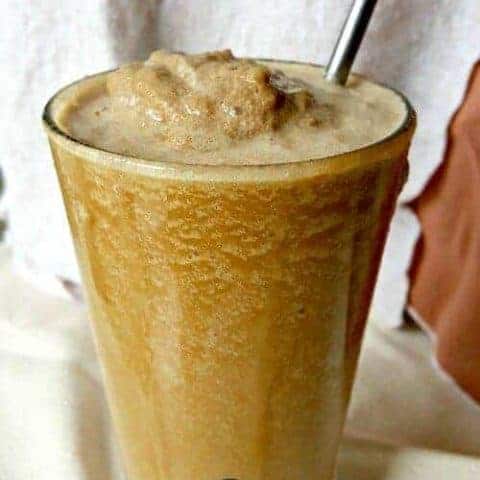 Salted Caramel Frappe - Make it Like a Coffeehouse Barista
The trick to making coffeehouse frappes at home is in the cubes. Freeze leftover coffee and stockpile coffee cubes for making this amazing sugar free Salted Caramel Frappe. It's just as good as that $6 drink you'd buy but without the sugar overload so you're saving money and being kind to your body.
Ingredients
1 cup unsweetened cashew milk
2 tablespoons heavy whipping cream
10-16 coffee ice cubes (more or less depending on size of your cubes)
Instructions
Add all ingredients to your blender jar
Pulse briefly to get it going, then blend on high until smooth
Use the tamper, if your blender has one, to guide the coffee cubes to the blender blades
If you don't have a high powered blender with a tamper, you may need to stop the blender and move the contents around a bit a few times until it is blended smoothly
Notes
Trim Healthy Mamas
This is a sugar free and low carb treat. If you leave out the collagen, it's a perfect dessert after a Light S or Fuel Pull style meal for the Trim Healthy Mama.
Add a scoop of collagen if your meal is short on protein, or add two if you're having one of those days and need a quick meal right away to be sure you're getting enough protein.
You can also use Salted Caramel Extract if you can find it. Leave out the mineral salt if you use this.
Recommended Products
As an Amazon Associate and member of other affiliate programs, I earn from qualifying purchases.

You know your friends will love this Salted Caramel Frappe recipe, why not share and Pin to your favorite Pinterest boards right now?