---
UPDATED RECIPE! now includes a low-fat version suitable for THM E or FP meals!
---
My love of spicy hotness began during one harrowing ride down an Arizona mountain.
We were torpedoing down some mountain on our way back from visiting the Grand Canyon. It was dark. There was sleet coming down. And there were times we were doing 120 miles per hour…with my hubby riding the brake.
It was insane.
I didn't look outside.
I didn't look at the speedometer.
I kept my eyes planted firmly on my phone, which was streaming a movie on Netflix.
About halfway down this Mountain of Certain Death, we stopped at a wings place to get something to eat. And I had a drink. Or two.
I also ordered something I never thought I'd ever order. Ever. It wasn't Sriracha Chicken Salad, but if it weren't for that crazy spicy wings dish, I'd never have discovered this awesome sauce called Sriracha.
What did I order? Boneless wings (can you say "chicken nuggets"?) with Mango HABANERO sauce. I don't even know why they sounded good, but I just had to have them.
They were so crazy hot I could only eat three, but I ate them. And I fell in love with spice at that moment. Now I find myself spicing up all the things on a pretty regular basis. Sriracha sauce is one of my go-to spicy companions.
Near death experiences can change a person. Truly.
One way I get my spice on is to Sriracha all the things.
Sriracha sauce is one of my favorite spicy sauces. I use it in all kinds of things, like Spicy Sour Cream Sauce for tacos, meats or anywhere I want a bit of creamy sassy sauce, Sriracha Egg Salad and its zesty cousin, Sriracha Deviled eggs. And one of my all time favorites, since I'm a big time burger buff – Jalapeno Burgers with Sriracha Burger Sauce.
It's easy to control the amount of spice…a little if you're just feeling a bit zippy, or lay it on thick if you really want to feel the burn.
Sriracha Sauce actually has a very interesting history. You can watch the Sriracha documentary
free on Amazon Prime.
Not a Prime member yet? Try Amazon Prime 30-Day Free Trial
This Sriracha Chicken Salad is flavorful and fast to prepare.
Got some leftover chicken? Great! Just add a few more ingredients and you've got yourself some sassy Sriracha Chicken Salad for lunch…or just because.
For a quick and easy low carb meal, try these ideas:
Roll it in a low-carb wrap with some peppery arugula, capers, and Easy Pickled Onions
Pile on top of a light rye Wasa cracker or any plan-approved cracker
Need something grain free? Substitute a large leaf of lettuce for the low carb wrap OR
My Coconut Flour Flatbread recipe would be great with this too
Confession: sometimes I don't even bother with a wrap or cracker, I just use a fork and eat that stuff right out of the bowl.
No leftover chicken? No problem!
Canned chicken works just as well. If you can your own chicken, that's even healthier. The recipe below is another one of those barely-a-recipe recipes. Normally, I just throw some stuff in a bowl and mix it up, tasting it and adjusting until it's as spicy, or not, as I'm feeling.
Sometimes I add spices like onion powder or even nooch (nutritional yeast) for an added boost of protein and B vitamins. It also gives a kind of cheesy flavor as well. Dill, paprika, pepper and ground savory are also delicious options. Get creative with your bad self, now!
Trim Healthy Mamas, here's how you can include this Sriracha Chicken Salad in your healthy eating plan.
This is a solid S recipe (keep reading for E and FP version!), especially if you use the Body Burn Mayo on page 470 of the new THM Cookbook. Enjoy with low carb wraps or Joseph's lavash bread. Remember, these are considered a "frankenfood" and the net carb count needs to be 6 grams or less. It's also not something you should eat every day, just occasionally.
Something you CAN eat every day though are the Wonder Wraps, (found on page 204 in the THM Cookbook). They are easy to make and easily seasoned to your liking. Very versatile, these Fuel Pull wraps can be used in any setting, which is perfect for this S style chicken salad.
Freeing up the carbs from the wrap means you can add some other on-plan carb to your meal such as 1/2 cup of fresh, juicy blueberries or any S style dessert.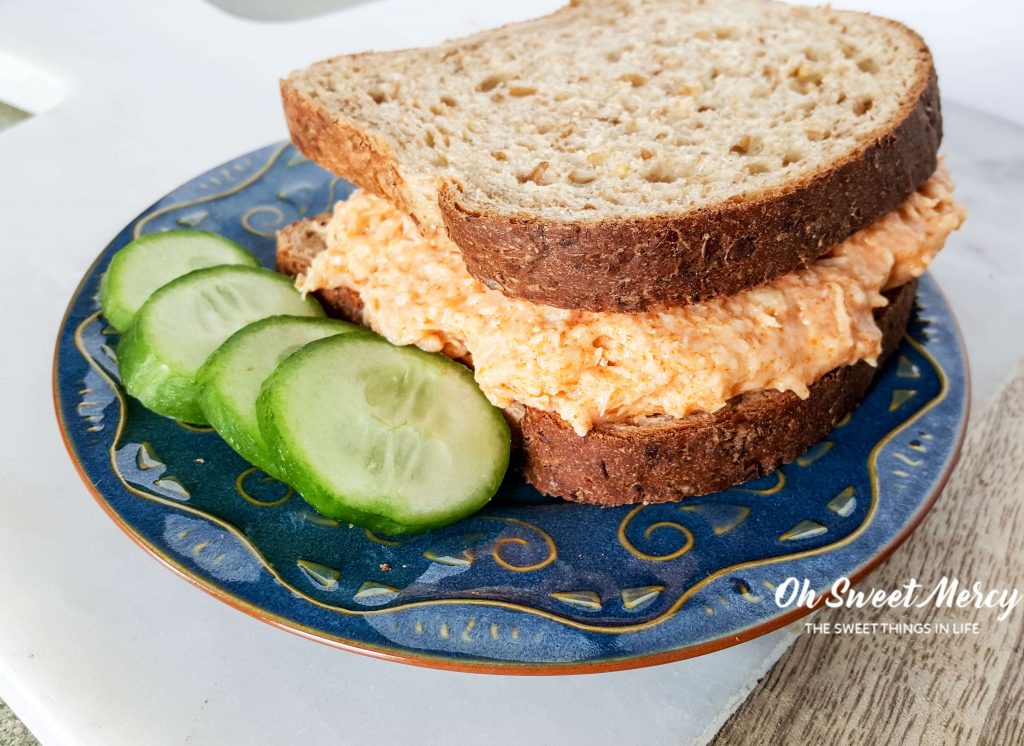 ***UPDATE*** NOW MAKE IT LOW FAT!
I'm trying to get more E and FP meals into my weeks and it just made me sad to think I can only have Sriracha Chicken Salad in an S setting. So I fixed that! Making a few substitutions, the result is a nicely spicy, low fat (or fat free) chicken salad that's perfect for those E and FP meals.
Not gonna lie, I love the S version best. But this is still very delicious on an on-plan sprouted bread for an E or a big pile of dark, leafy greens for FP.
Let's make some spicy Sriracha Chicken Salad!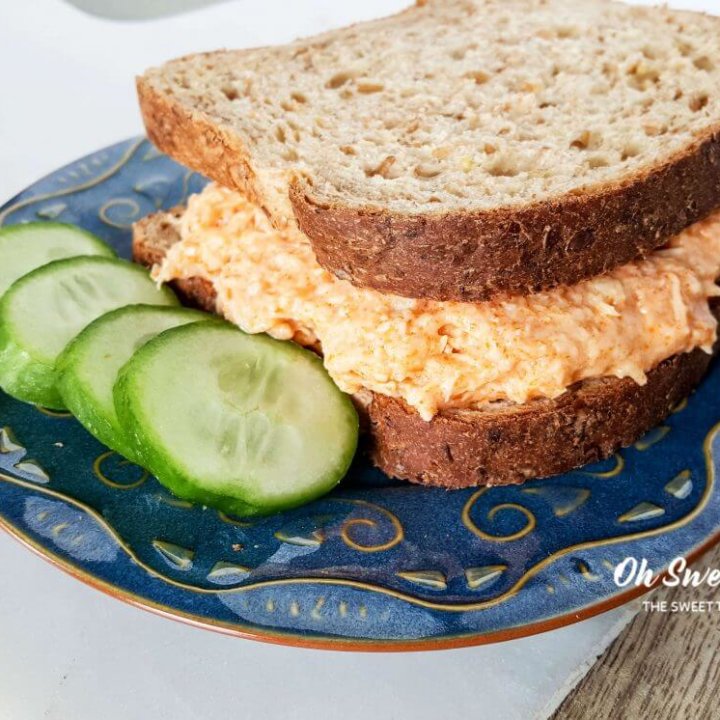 Sriracha Chicken Salad
Yield: 1 to 2
Prep Time: 5 minutes
Total Time: 5 minutes
Chicken salad got you bored? Spice things up a bit with this flavorful Sriracha Chicken Salad! Trim Healthy Mamas, this is a delicious S so enjoy with low carb options and plenty of fresh veggies for a complete meal. **NOW includes low/no fat version for THM E or FP!**
Ingredients
THM S version:
1/2 c cooked, shredded chicken
1 Tbs mayonnaise
1 tsp sriracha sauce, more or less to taste
Pinch or two of Mineral Salt or Sea Salt
THM E or FP version:
4 oz canned chicken, or cooked and shredded
3 Tbs 0% Greek Yogurt
2 tsp sriracha sauce, more or less to taste
2 tsp nutritional yeast (optional)
Instructions
In a small bowl, mix all ingredients well.
Adjust seasonings as desired.
Notes
Make a big batch easily, just increase the ingredients accordingly.

Trim Healthy Mamas, enjoy with your favorite on plan low carb wraps, breads or crackers or on top of a big pile of dark, leafy greens with a side of non starchy veggies for a quick and delicious S meal.

For E and FP meals, make the low fat version (or no fat by leaving out the MCT oil), then choose on plan breads or veggies to round out your meal.

For FP meals, keep your serving size to 3 or 4 ounces.
Recommended Products
As an Amazon Associate and member of other affiliate programs, I earn from qualifying purchases.
Like this recipe? Pin it to your favorite Pinterest boards!