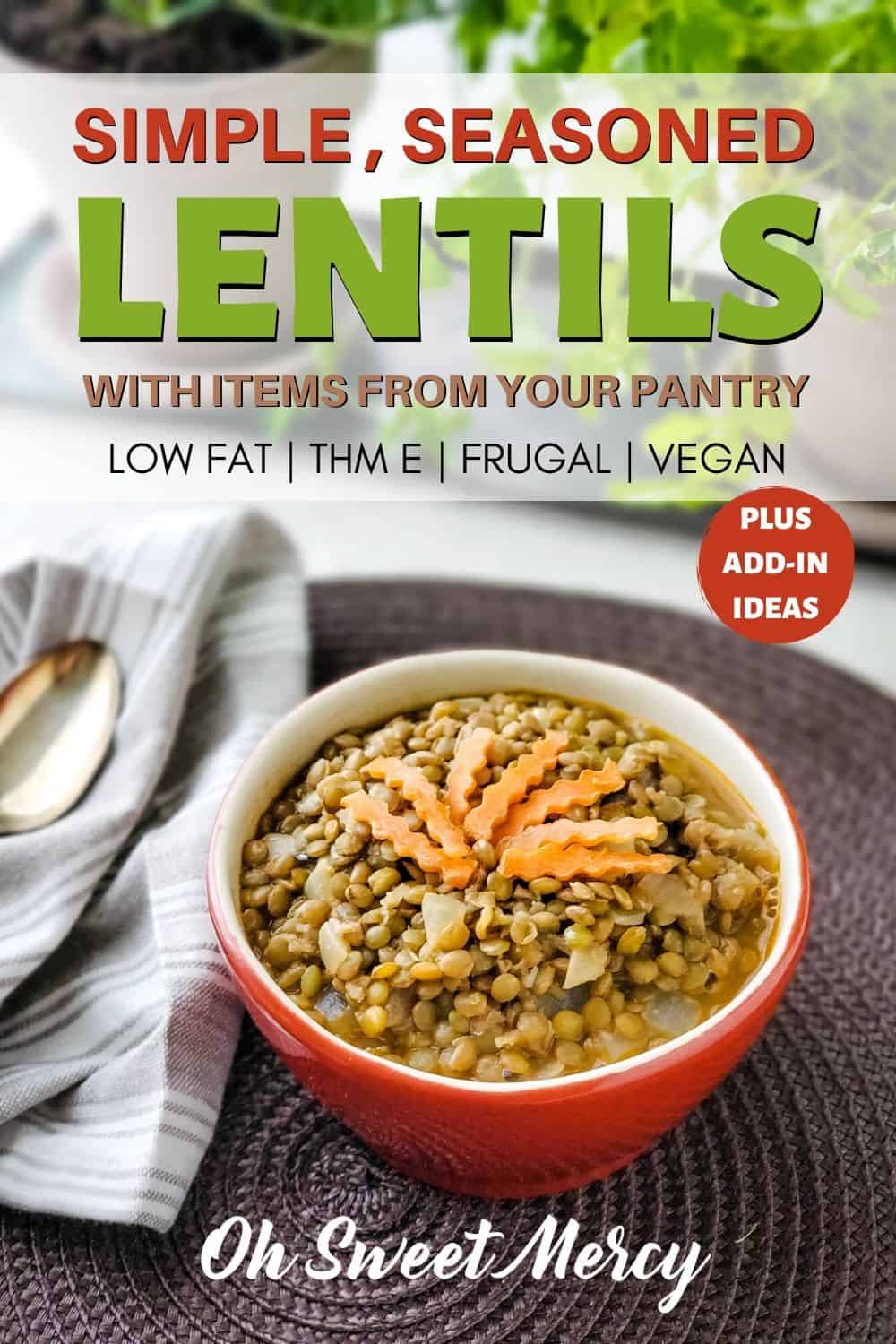 ---
Have a bag of lentils in your pantry and don't know what to do with them? Make my simple seasoned lentils! Enjoy them as is or add meats and veggies, too. But even just simply prepared they are nutritious and delicious. A great low fat, THM E choice, too!
---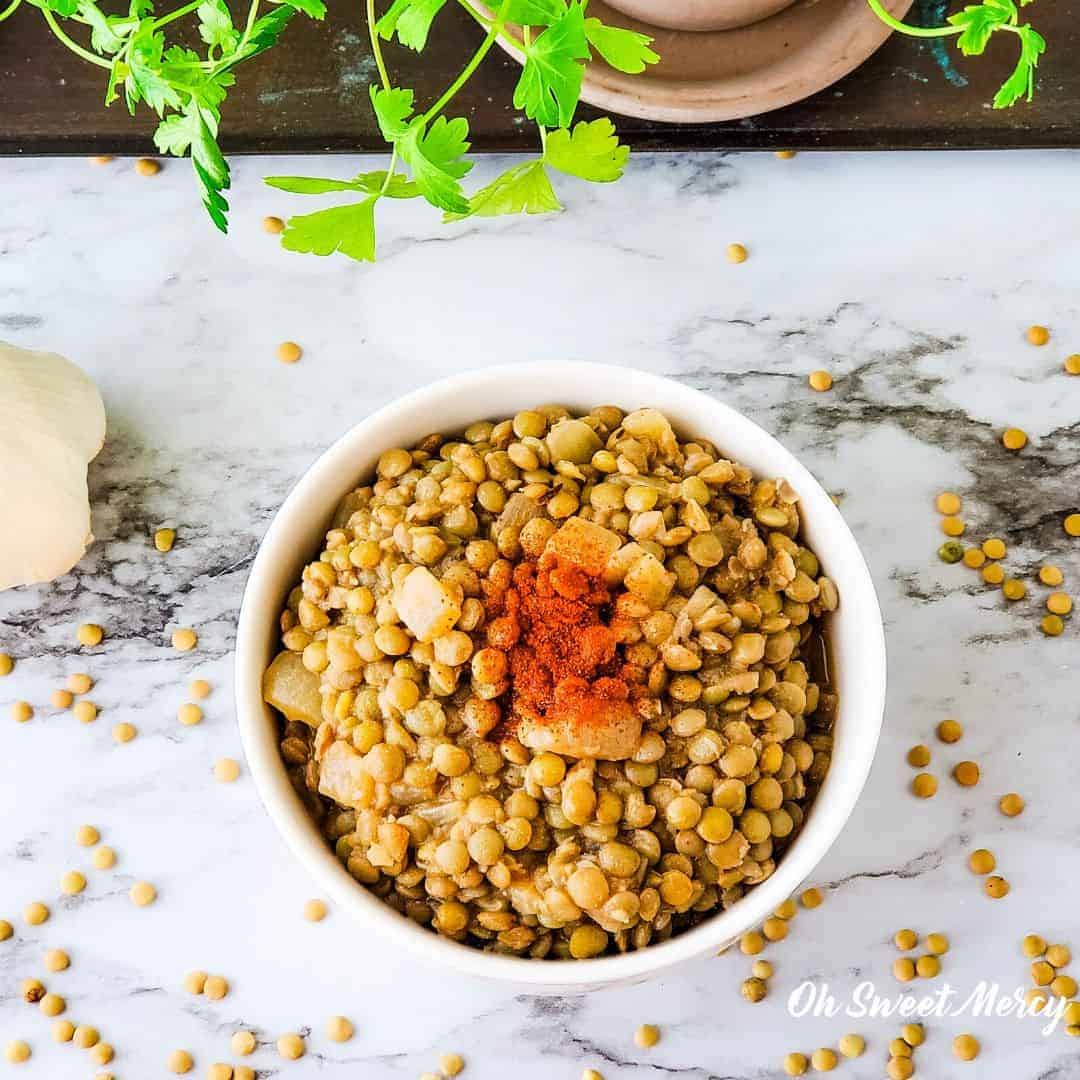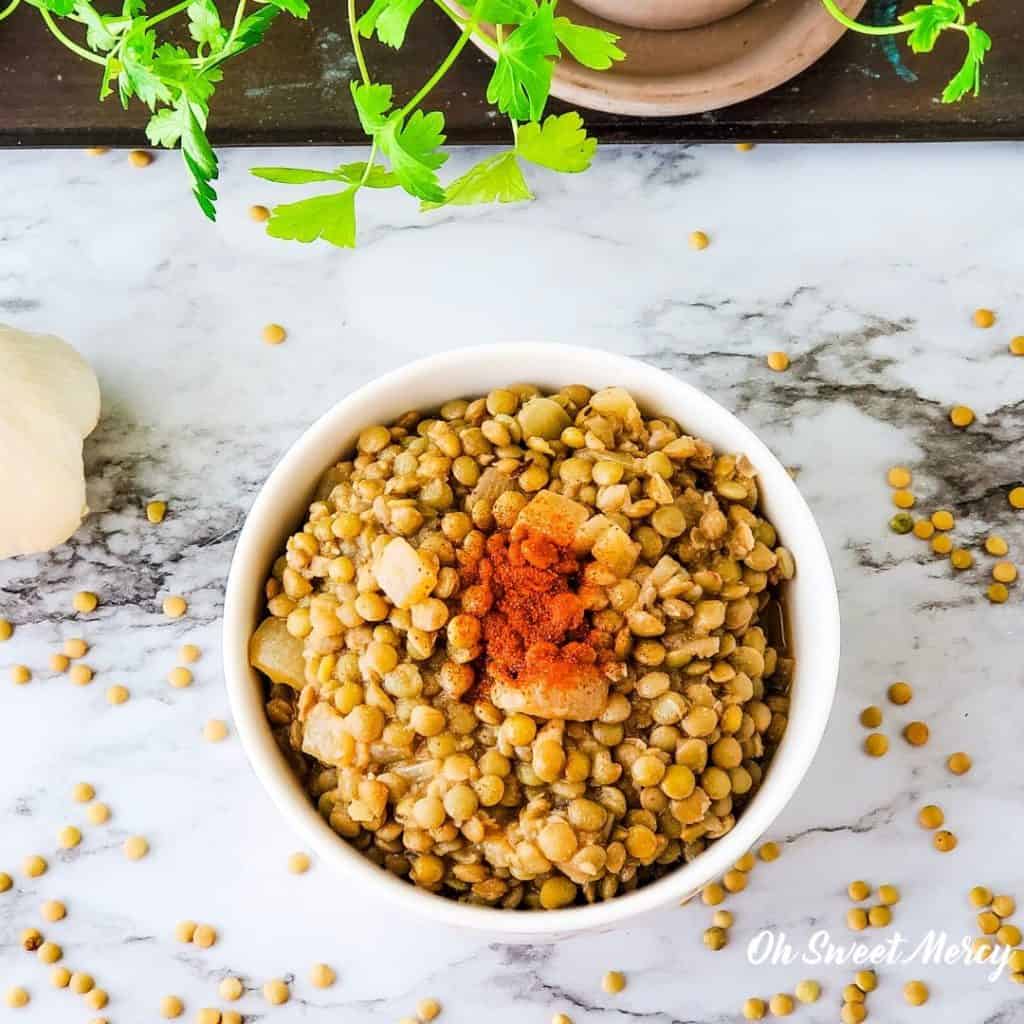 For many years, I kind of turned my nose up at lentils. My family is not crazy about dried beans and legumes in general, anyway. I'm not really sure why I didn't really want to try them, I love cooked, dried beans myself.
But, one day I saw the Get Methylating Soup recipe on the Trim Healthy Mama Facebook Page (or watch the video on YouTube if you aren't on Facebook).
Decided to give it a try and wow, it was delish! Very simple, easy, and frugal too. Right up my alley.
Did You Know? lentils are a great natural source of folate! This form of folate is one that those with the MTHFR gene mutation can utilize. Lentils also support your body's methylation system (which helps you detox).
Since then, I've found that I do indeed love lentils (and so does my family). I even created a blended lentil soup recipe for Traditional Cooking School that wowed at least one lentil-hater in our home fellowship. It's also THM friendly so check it out!
Pantry Cooking With Lentils.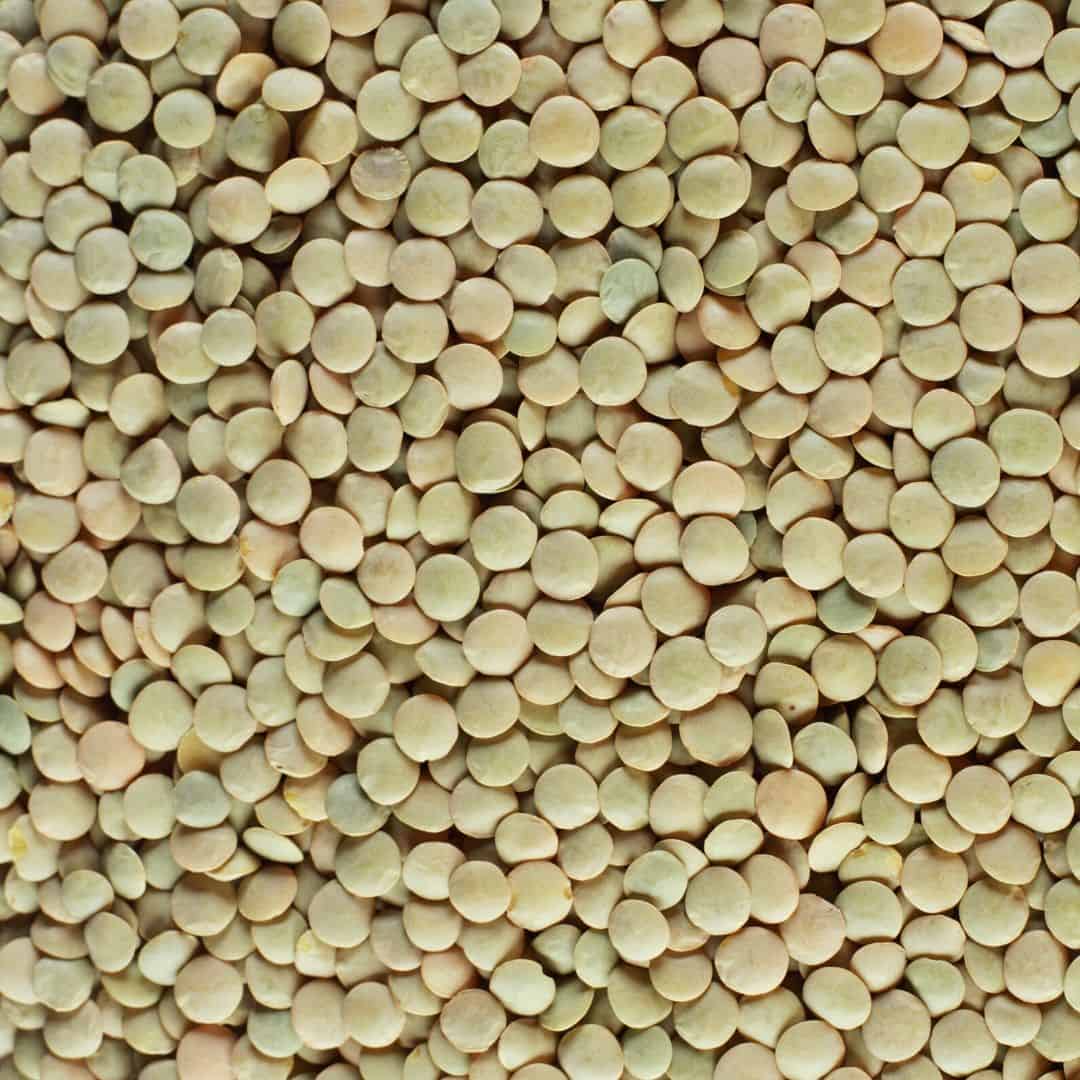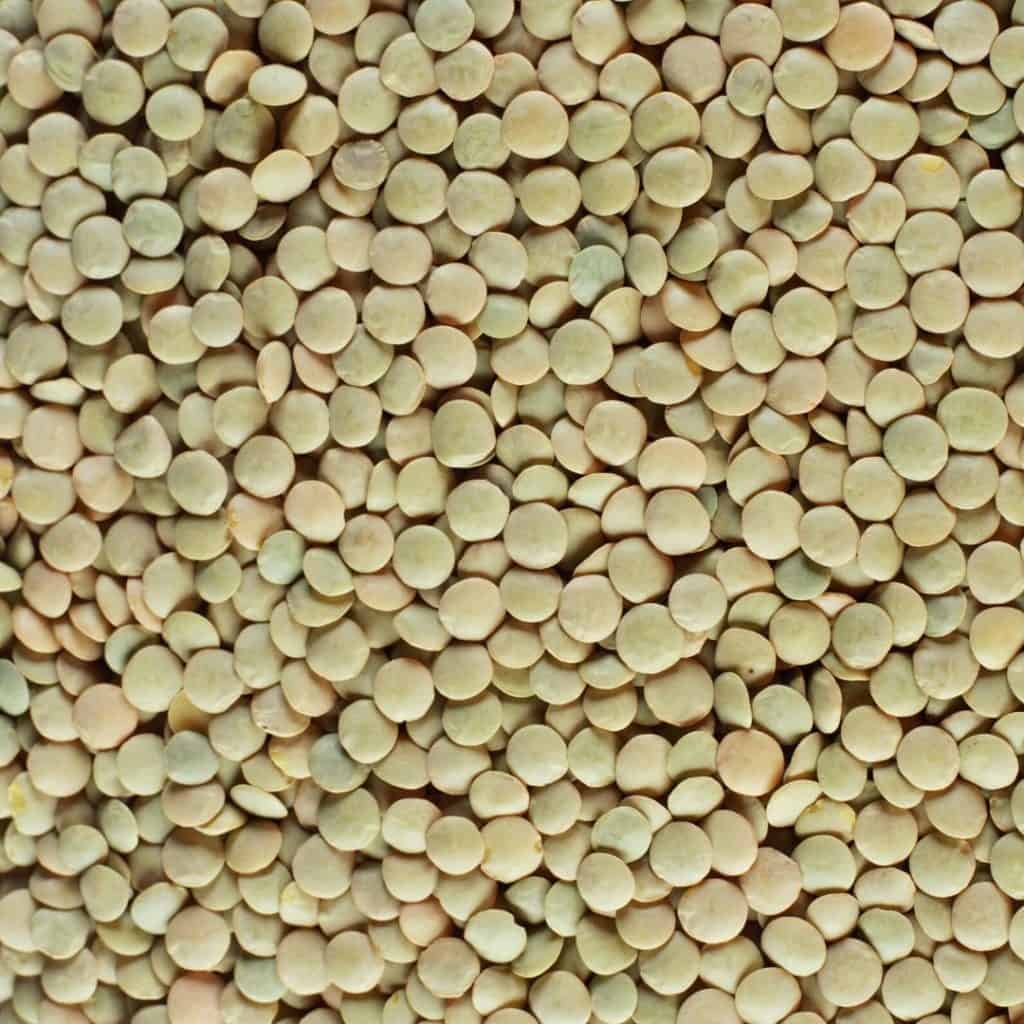 As I write this post, we are currently in the midst of quite the health crisis. We are all supposed to shelter in place, practice social distancing, and only go out for essentials when absolutely necessary.
Thankfully, my emergency pantry is THM-friendly. I have lentils just waiting to be used. So, I got them soaking in the morning to use for supper later.
Do you have an emergency food supply? Is it THM-friendly? If you need help putting one together my What To Stock For A THM Friendly Emergency Pantry post will help you! Plus get a free printable checklist!
Do You Have To Soak Lentils?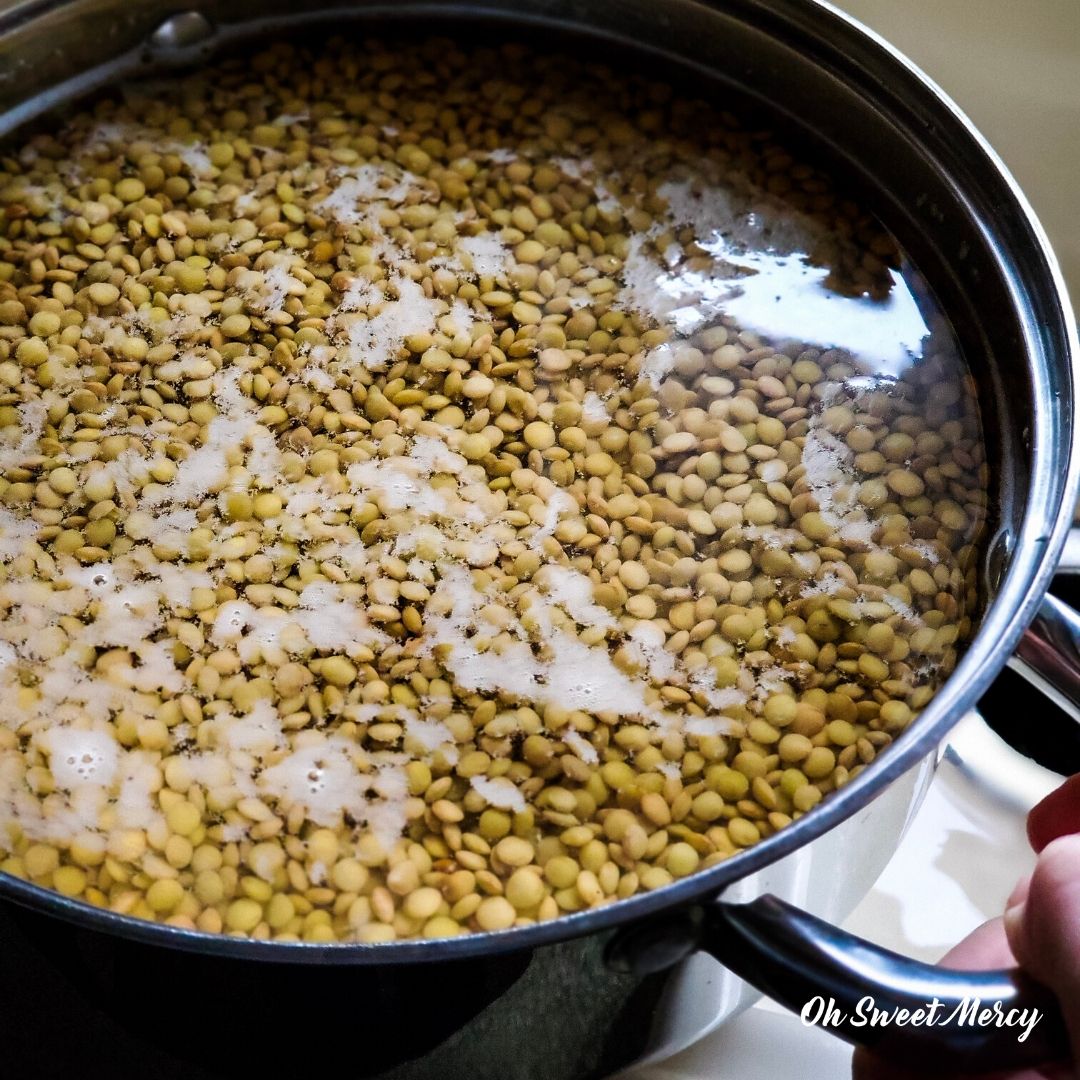 Do you absolutely HAVE to soak dry lentils? Technically, no. Unlike most dried beans they cook very quickly without soaking. BUT you really should consider soaking them!
Why? Because just like beans (and grains, nuts, and seeds) they contain phytic acid. Phytic acid is considered an anti-nutrient – it prevents your body from absorbing and utilizing the actual nutrients in the food.
Soaking foods that contain phytic acid neutralizes it, making the food more digestible and the nutrients more easily used by the body.
Want to know more about reducing phytic acid in foods? Follow these links for the hows and whys: Soaking Dry Beans – Soaking Grains – Soaking Nuts and Seeds.
Go One Step Further And Sprout Lentils!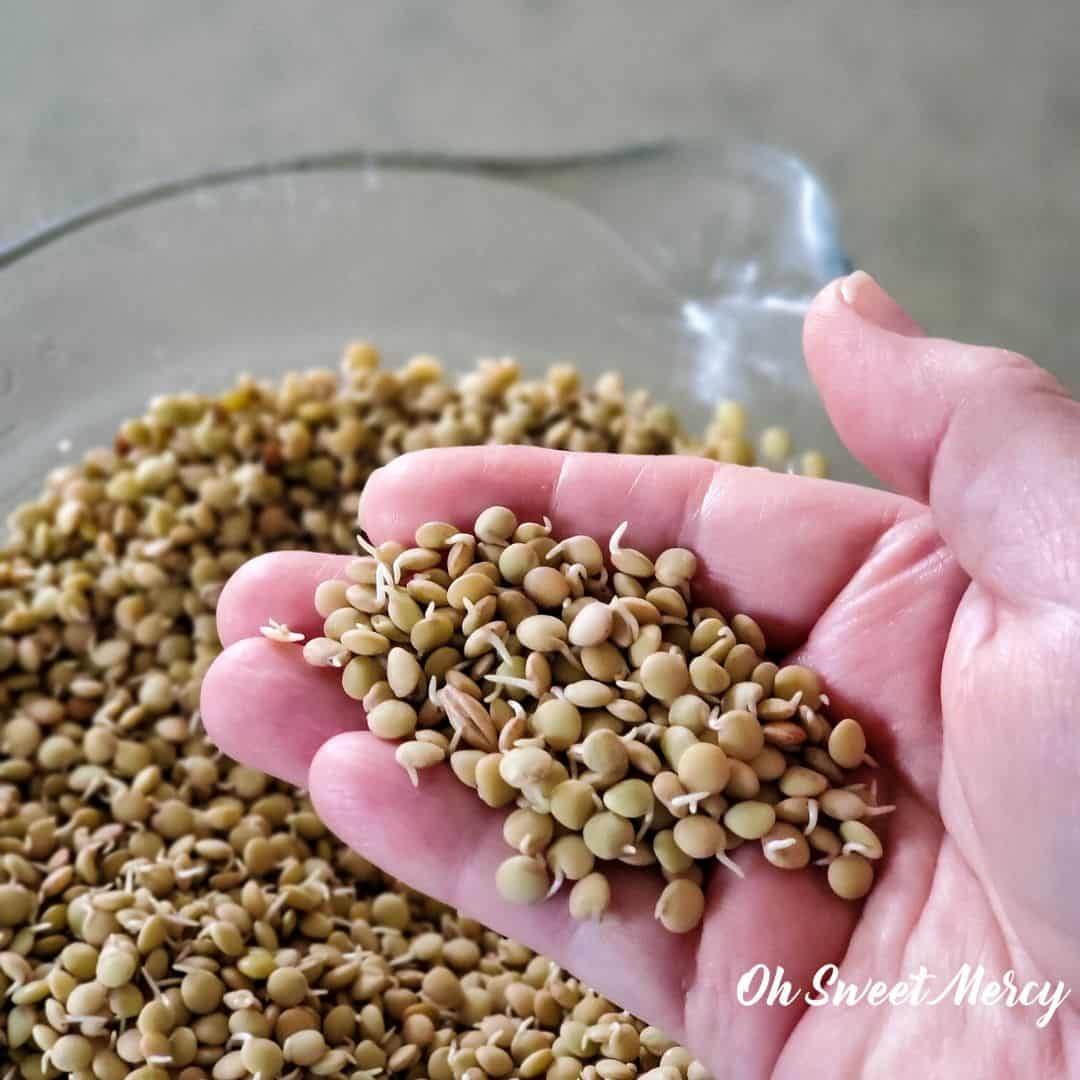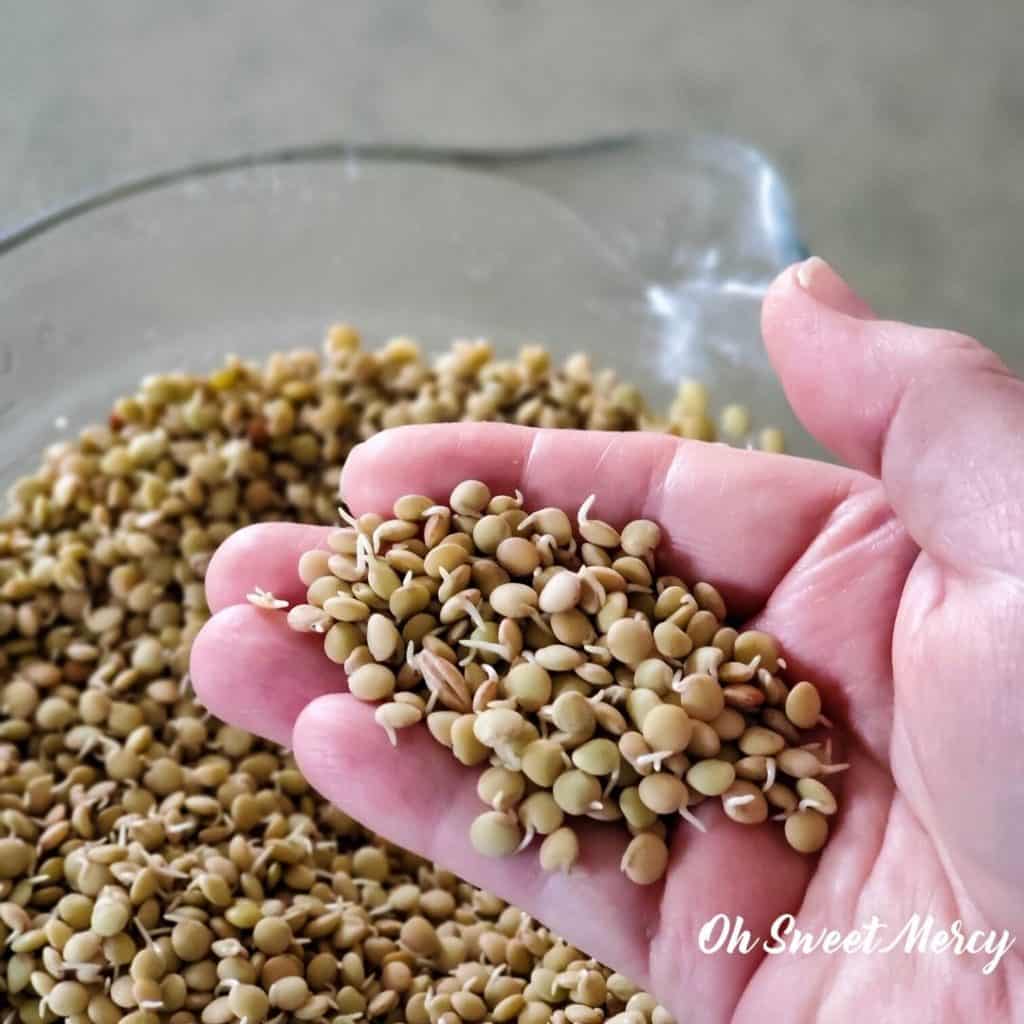 Sprouting involves soaking so you automatically get the benefit of reduced phytic acid when you sprout lentils. But wait, there's more!
Sprouting also increases nutrients, including vitamin C. That's especially important right now for sure.
Sprouting lentils also breaks down some of the natural sugars they contain. These sugars are responsible for the tooting after-effects of bean and legume consumption.
In short, you should experience less gas after eating sprouted lentils.
I accidentally got sprouted lentils, but I wasn't upset about that! While I didn't follow sprouting instructions exactly, my soaked lentils still sprouted little tails.
After soaking them, I cooked just what I needed and put the rest in the fridge until I could cook the rest. Four days later I pulled them out of the fridge to see little tails on them.
Of course, if you follow the correct sprouting instructions you'll have sprouted lentils much sooner. Leave short tails for cooking if you like, or let them go longer and use raw in salads, wraps, and sandwiches.
How To Cook Lentils.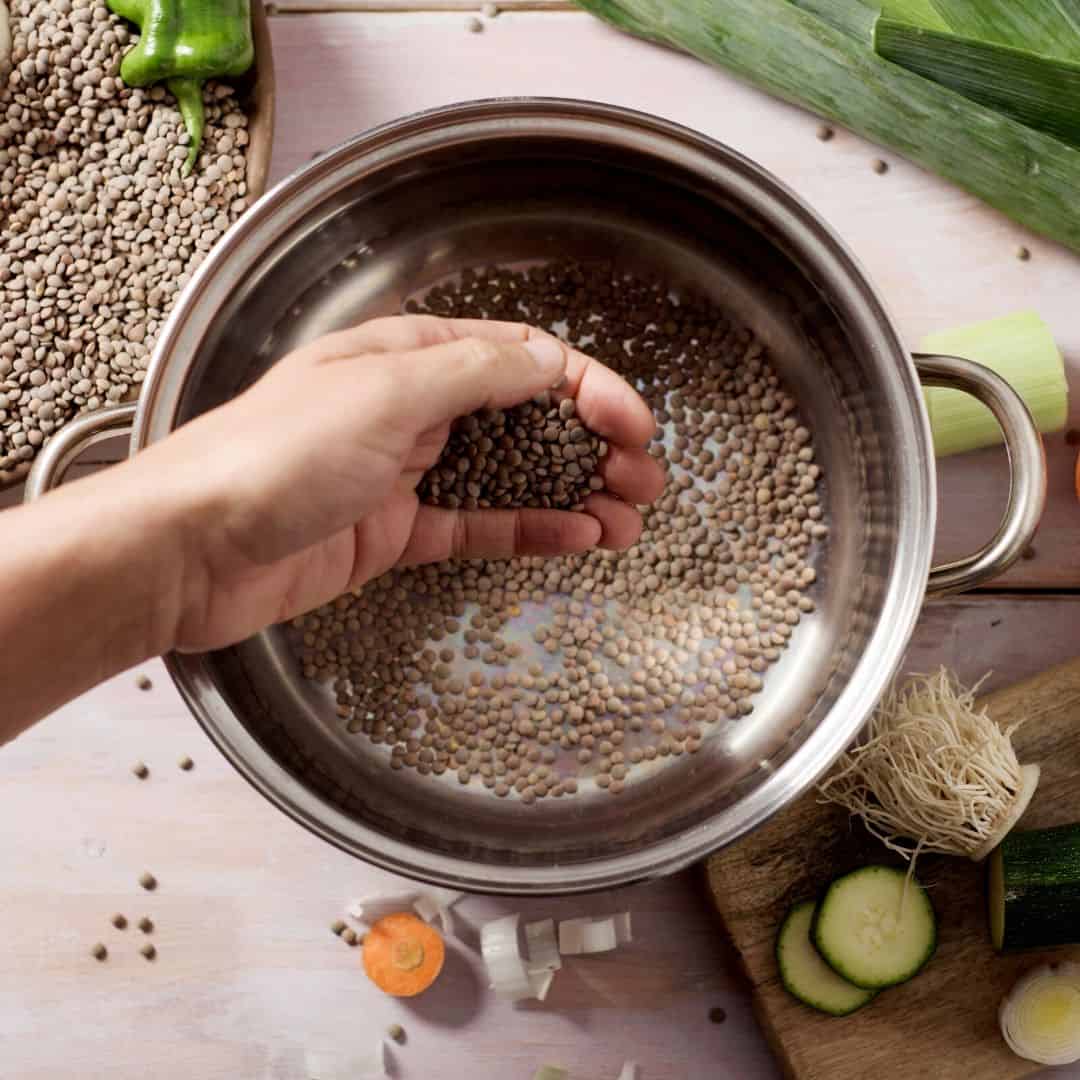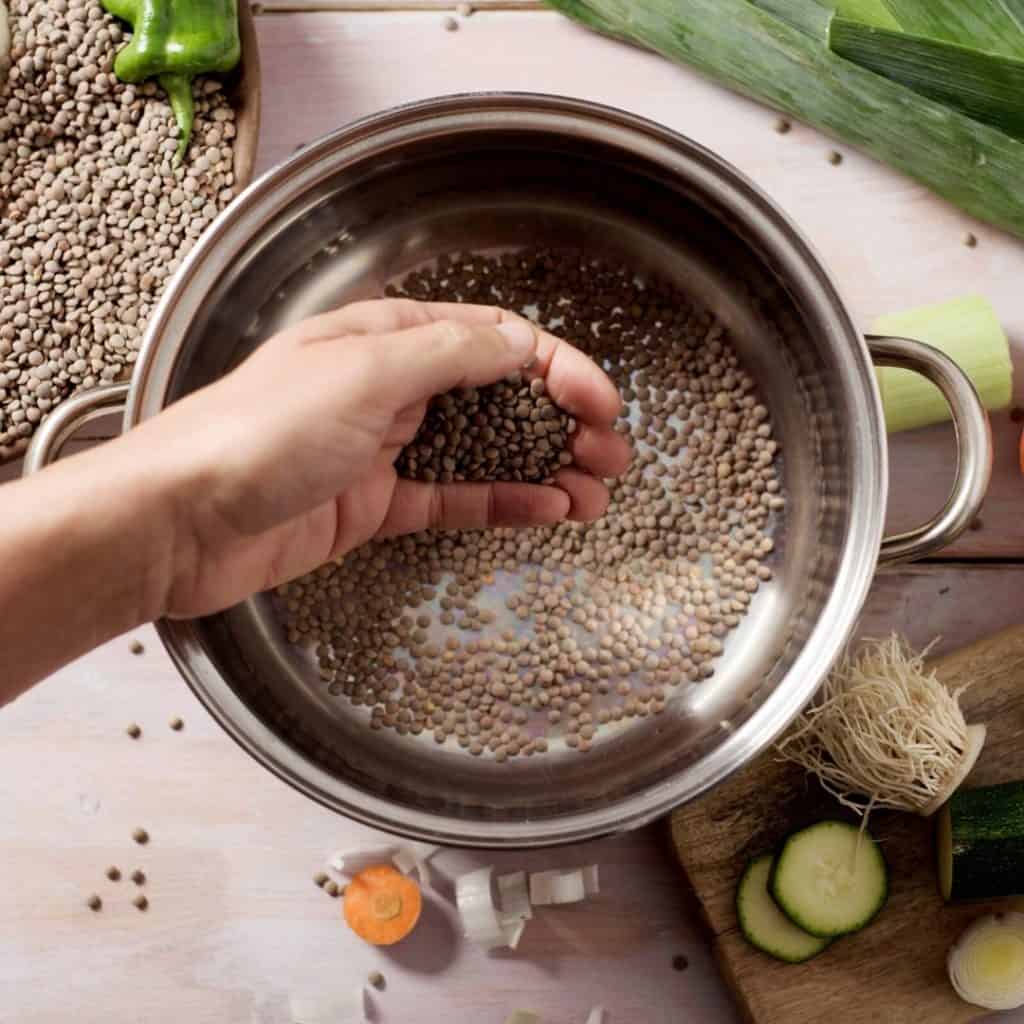 Soaking lentils cuts down on the cooking time, another benefit! But even without soaking, they are quick and easy to prepare.
First, sort and rinse the lentils. You may find "agricultural debris" in your lentils such as small stones or bits of sticks. This is completely normal, though not something you want to eat, of course.
Then, add your lentils to a pot with water (or broth) and bring to a boil. I love to use an enameled French oven (an oval Dutch oven) that I bought at Aldi. If you have some Le Creuset cookware, that's perfect!
Reduce the heat, cover, and simmer. You'll want to skim the foam off periodically that forms as it cooks, too.
Simmer the lentils until they are as tender as you like. Cooking soaked lentils only takes about 6 minutes! Unsoaked lentils take about 15 to 20 minutes and need an additional cup of water per cup of dry lentils.
How To Season Lentils.
Lentils work well with many different types of seasonings. I've added just 3 seasonings in this easy lentil recipe: my Healthy Homemade Chili Powder, nutritional yeast, and salt. That's it!
Make your own seasonings, salad dressings, and condiments! It's easy! I have several recipes for you in my Seasonings and Condiments category.
You certainly can add more or less of what I have below. My family doesn't like spicy as much as I do so it's mild.
How To Substitute Onion And Garlic Powder For Fresh Onion And Garlic.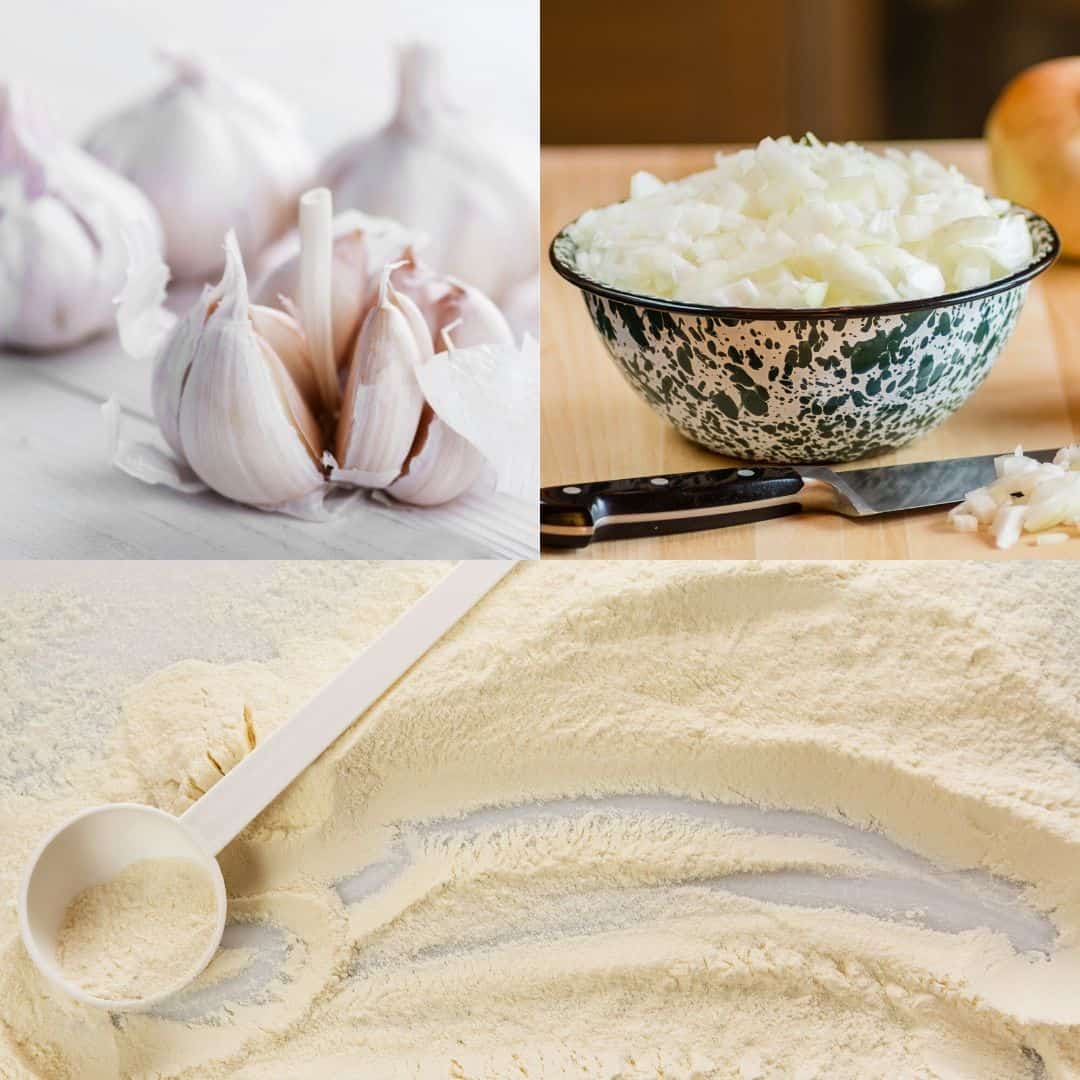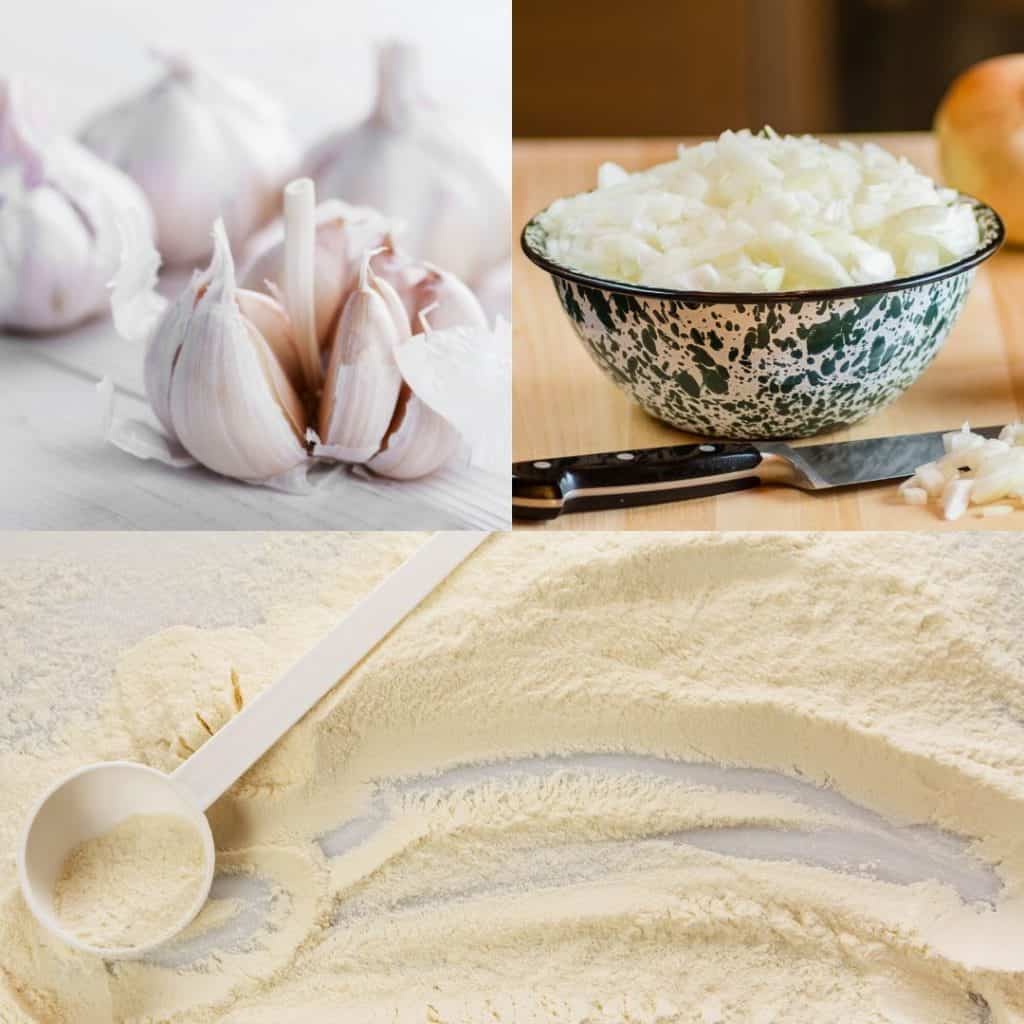 I use fresh onion and garlic for this easy lentil recipe. If you find you don't have fresh onions or garlic and can't easily get some, fear not!
Just use onion powder (or dried minced onion) and garlic powder instead. Here's some good guidelines for substituting dried for fresh:
1 whole onion = 2 tablespoons onion powder
1/2 onion = 1 tablespoon onion powder
1 whole onion = 6 tablespoons dried minced onion (onion flakes)
1/2 onion = 3 tablespoons dried minced onion
1 clove garlic = 1/4 to 1/2 teaspoon garlic powder
1 clove garlic = 1/2 teaspoon minced (fresh or dry)
Keep in mind that everyone's tastes differ. When it comes to garlic, start with the small amount of garlic powder and add more if you feel it needs it.
We love garlic here and honestly, I rarely measure it (unless I'm developing a recipe for the blog). Just sprinkle it in, stir, and taste until it tastes like I want.
Do I Have To Use Nutritional Yeast?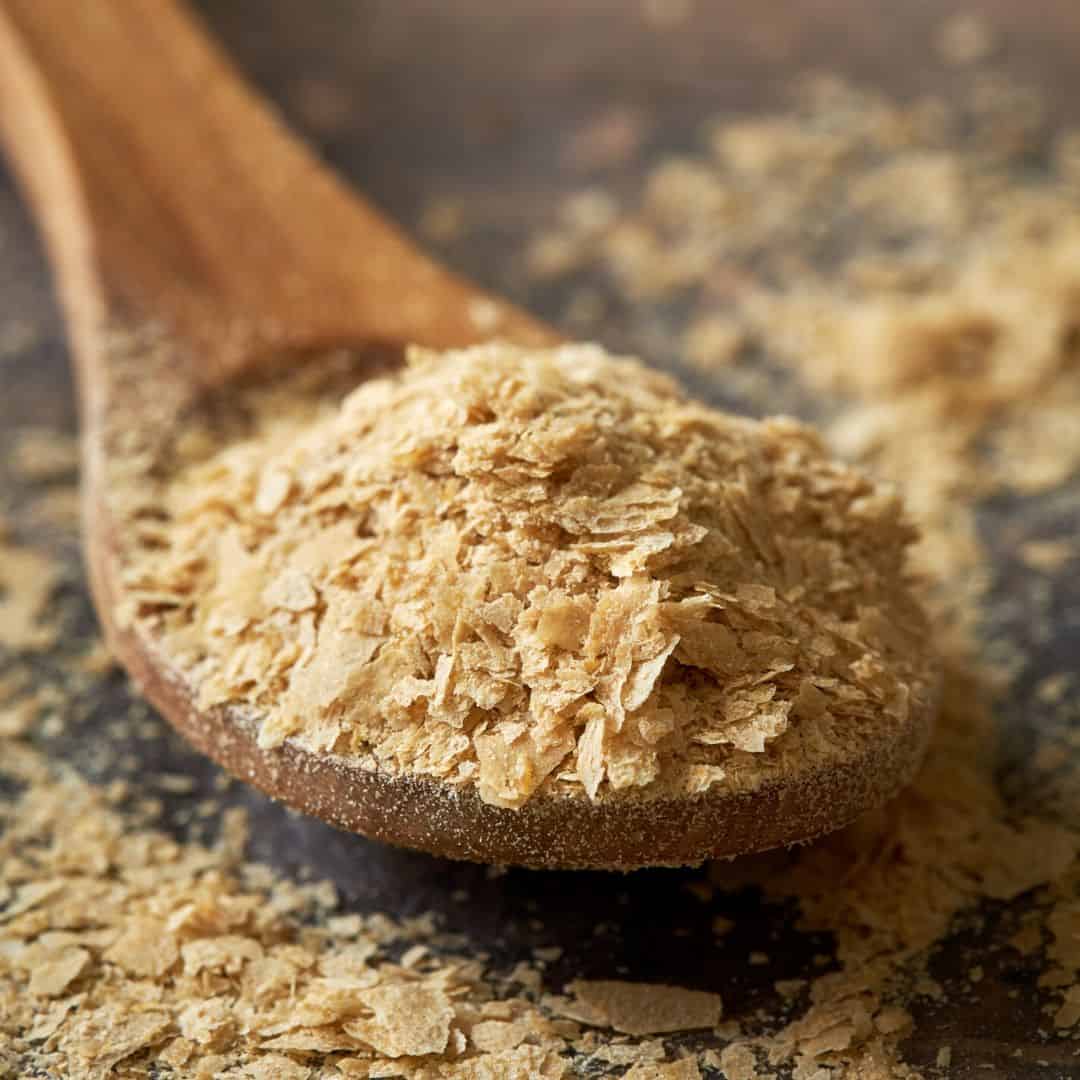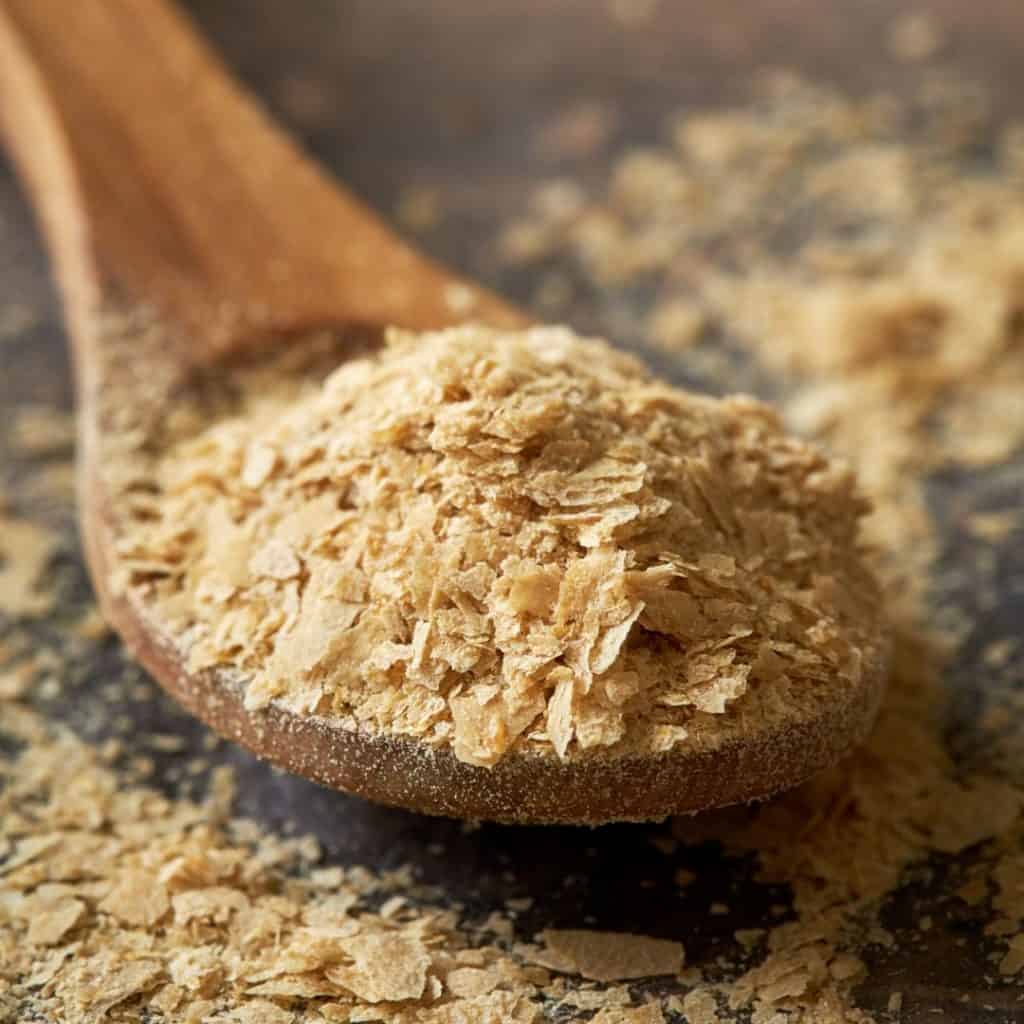 I use nutritional yeast fairly often in my cooking. It adds umami flavor to foods, and umami is a satisfying flavor. It also adds protein and vitamins (especially B vitamins).
It's best to use a non-fortified nutritional yeast, such as the THM brand. If your nutritional yeast is bright yellow, it's been fortified with synthetic vitamins. If you have the MTHFR gene mutation, synthetic B vitamins are not what you want!
If you don't have nutritional yeast (or "nooch"), don't like it, or don't feel comfortable using it, no worries!
In that case, I recommend you cook the lentils in broth (meat or veggie) for more flavor. You may also want to adjust the seasoning to your tastes.
Add-Ins For Simple Seasoned Lentils.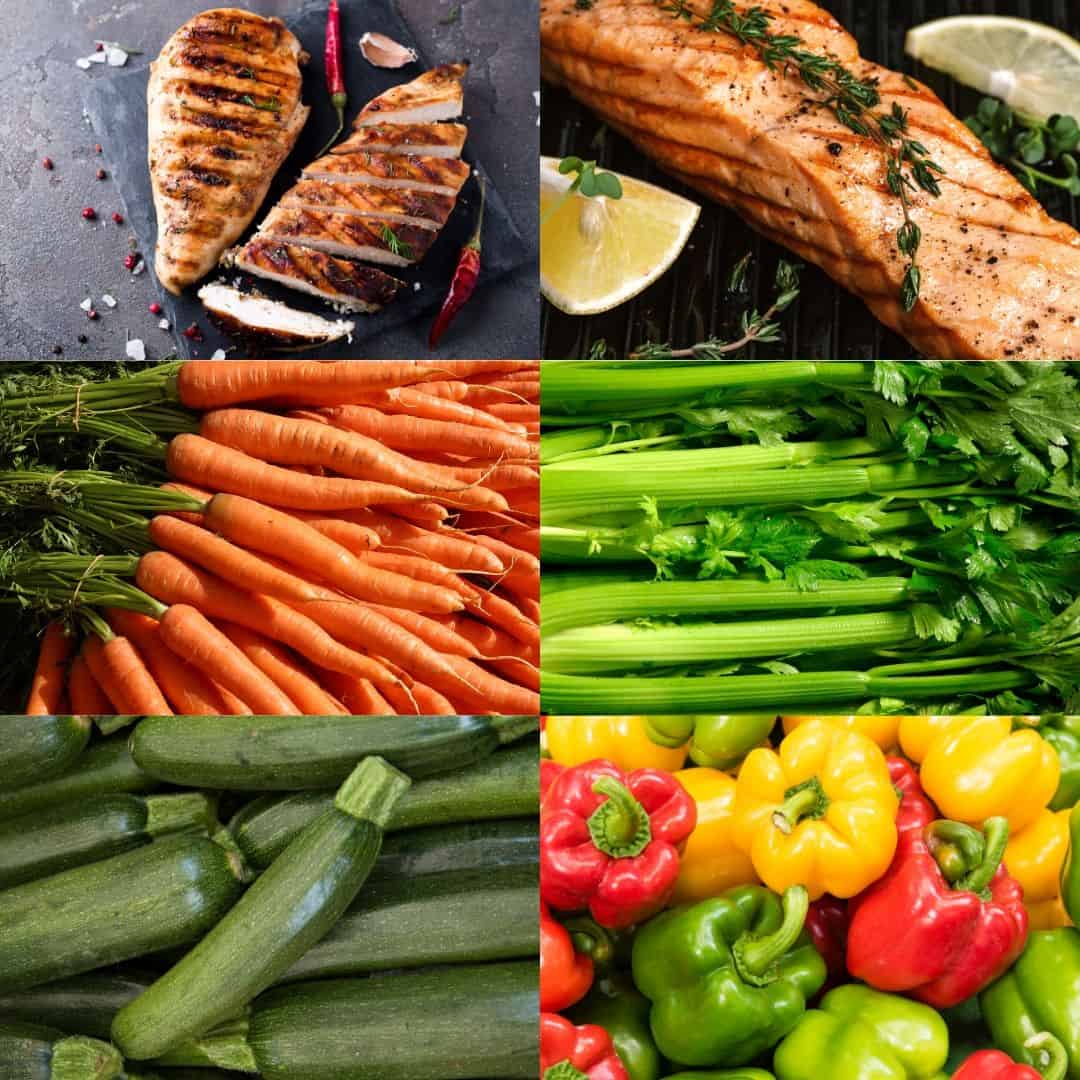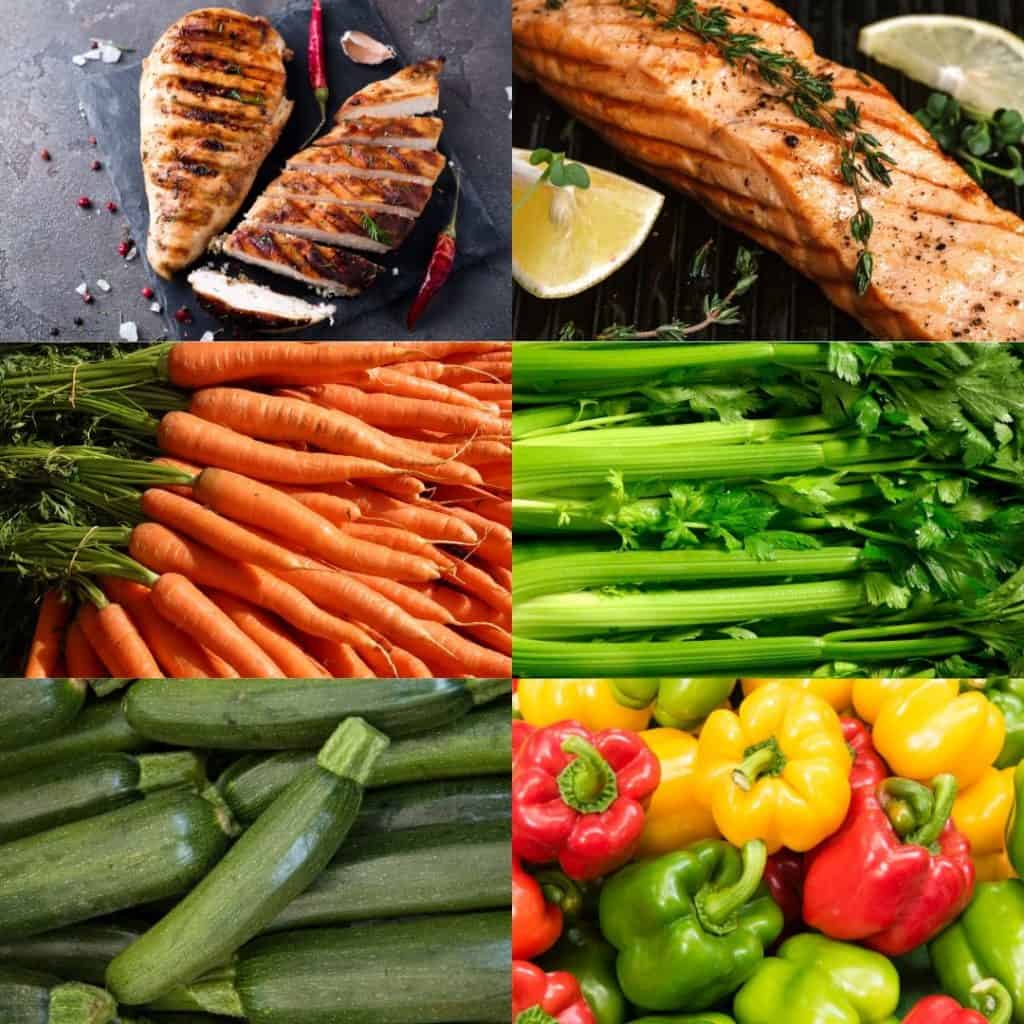 The night I made lentils for supper, I decided adding some meat might make them more appetizing for my husband.
So, I added a can of drained chicken breast. I also used beef broth to cook them. Plus the simple seasonings below resulted in a dish that got a "that's pretty good."
That might not sound like much of a compliment, but from him that's like getting a Michelin star! He's not as into food as I am, it's just something that he has to do every day.
I do not understand that at all.
These simple seasoned lentils are really a blank canvas. They're also a great way to use up leftover bits of this and that…
Veggies that have seen better days such as carrots, celery, etc.
Dark, leafy greens
Leftover meats (just be sure to use ultra-lean meat for a THM E meal)
Canned meats such as chicken breast, salmon, or tuna
Add (or serve over) cooked rice or quinoa
Cauliflower rice
Riced broccoli
Peppers
How To Fit My Simple Seasoned Lentils Into Your THM Meal Plan.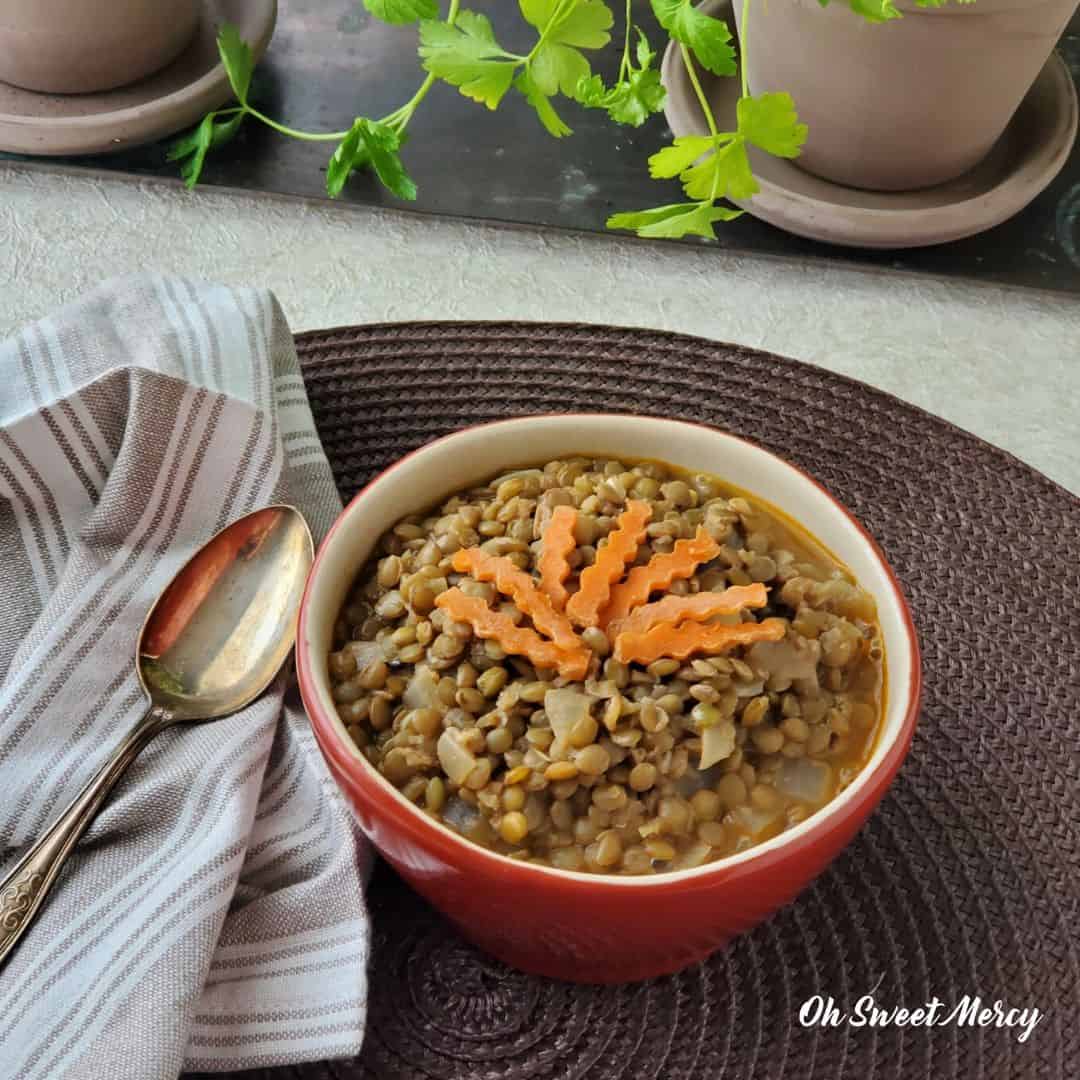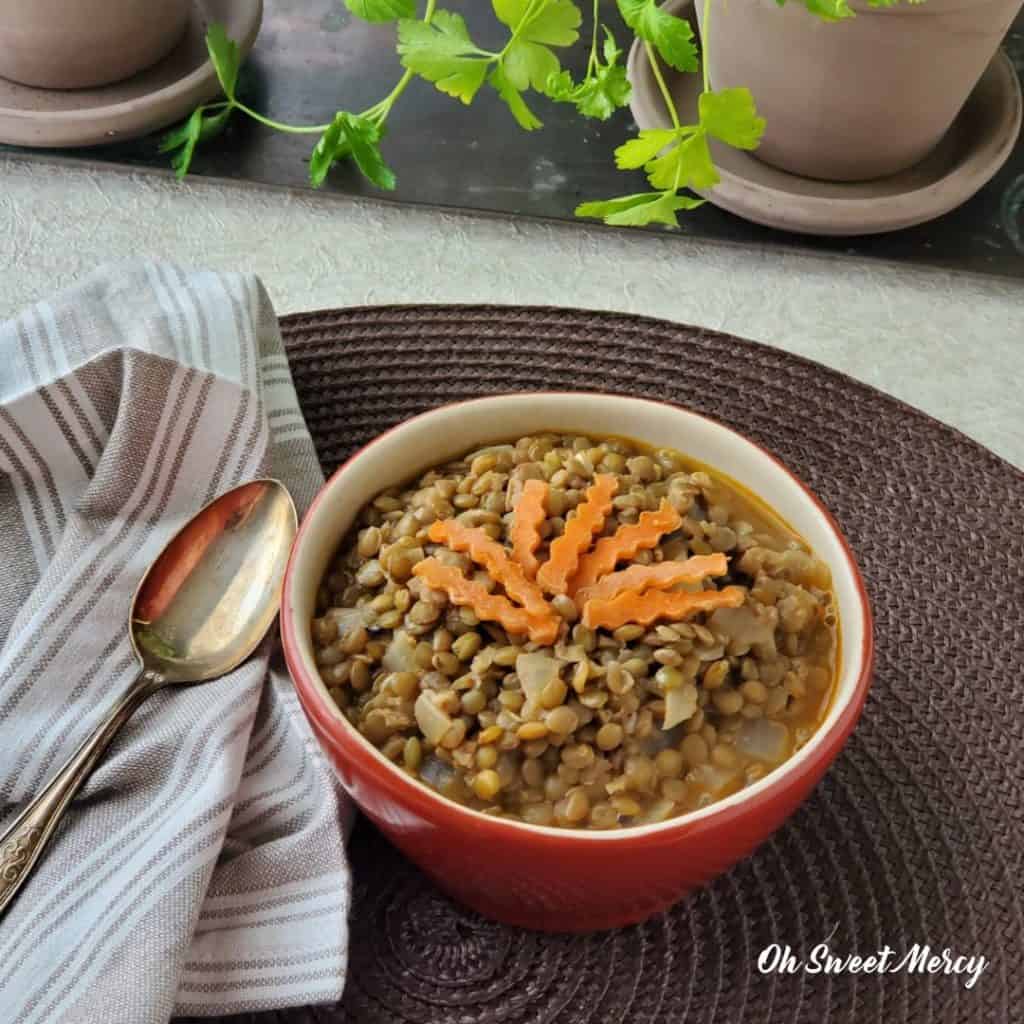 Since lentils are a THM E fuel source, enjoy them with minimal added fat. There is some fat in the cooking process but if you like, you can omit that and just add the onions and garlic in with the lentils and broth.
If you're not eating any meat in your meal, consider including cooked rice, or some kind of grain, to make a complete protein.
Finally, be sure to include plenty of non-starchy veggies if you can. Fresh, frozen, or canned work. They help fill you up and keep you satisfied.
Isn't it great to know you can easily and frugally prepare healthy food that tastes great — right from your pantry? Lentils are super satisfying too, perfect for simple, healthy THM E meals.
More easy recipes with items right from your pantry:
Many of my recipes can be made using canned and frozen ingredients or simple seasonings and stuff from the fridge. Here's some to try!
PIN IT!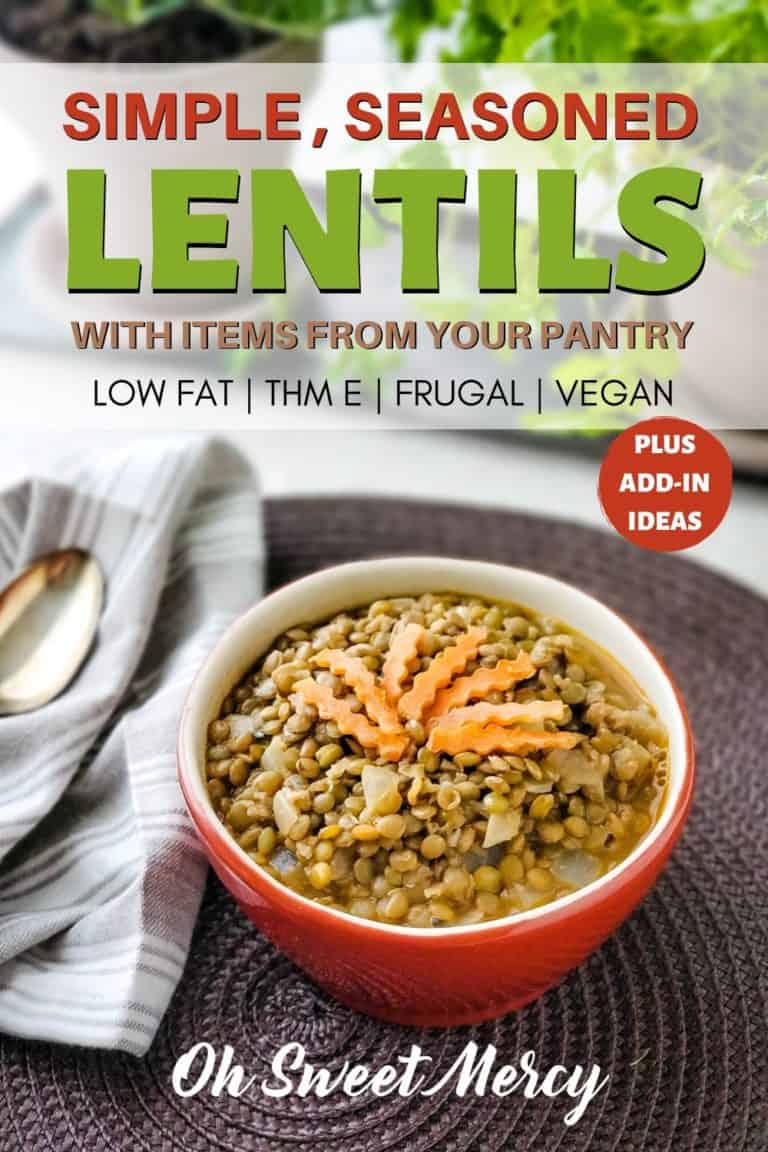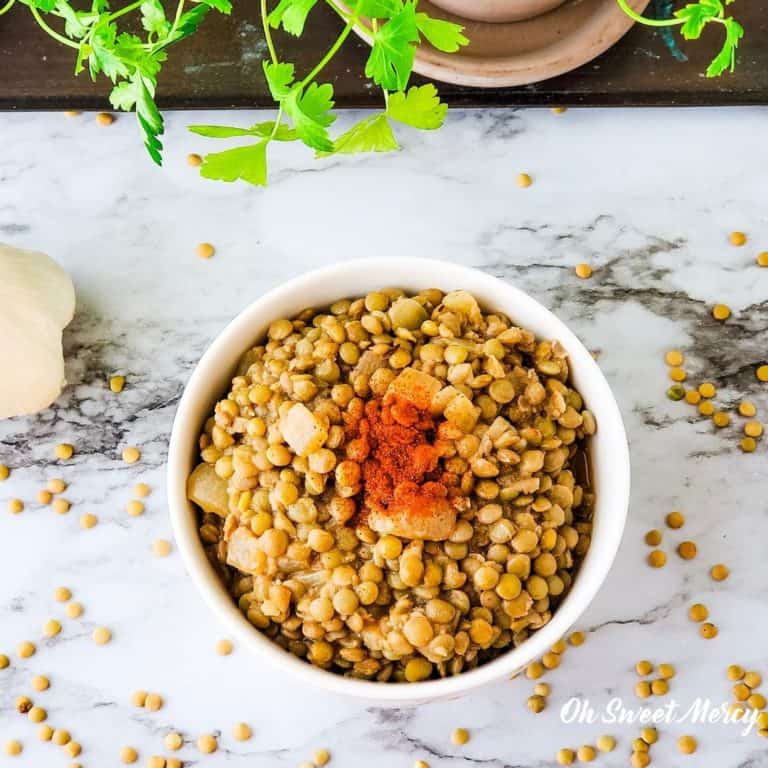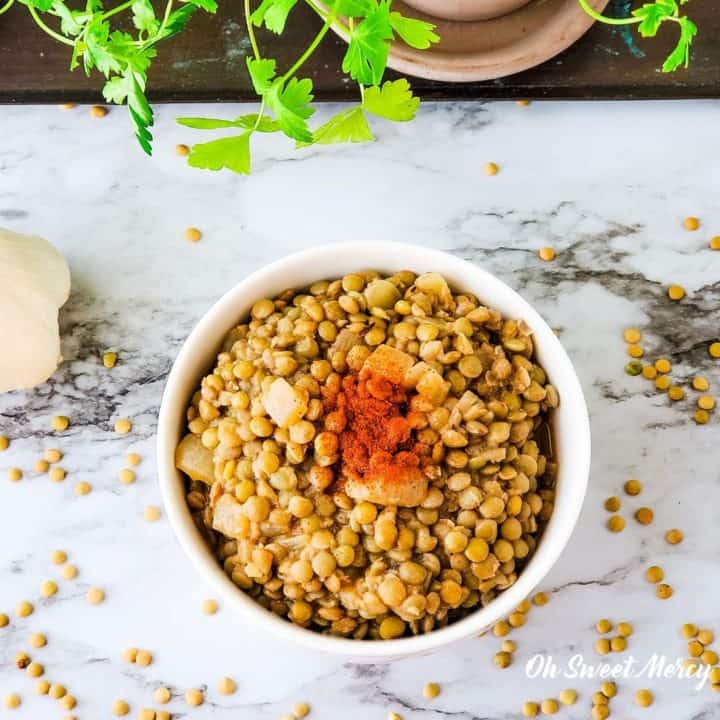 Simple Seasoned Lentils | Low Fat, THM E
Yield: 4 servings
Prep Time: 8 minutes
Cook Time: 20 minutes
Soaking Time (OPTIONAL but recommended) : 7 hours
Total Time: 7 hours 28 minutes
Simple, healthy, and tasty - right from your pantry! Lentils are nutritious and satisfying and a perfect THM E fuel source. They're high in fiber and protein, and when combined with a grain such as cooked rice, make a complete protein. Perfect for frugal pantry cooking!
Ingredients
2 teaspoons butter (optional)
1/2 onion, diced
3 cloves garlic, minced or pressed
2 cups soaked lentils (see notes on using unsoaked lentils)
2 cups water, or fat free broth
Instructions
In a large sauce pan or enameled Dutch oven over medium high heat, melt butter, if using, and saute chopped onions for 5 minutes. If omitting the cooking fat, skip to step 3.
Add minced garlic and saute 2 more minutes.
Add water (or broth), lentils, nutritional yeast (if using) and chili powder to the garlic and onions (if skipping steps 1 and 2 just add garlic and onions with the broth and lentils).
Bring to a boil then reduce heat, cover, and simmer for 6 minutes or until lentils are as tender as you like.
Add salt and taste, adjust seasonings as desired.
Notes
USING UNSOAKED LENTILS:
If you prefer to use unsoaked lentils, use 6 cups of water or broth. You'll need to cook them for around 15 to 20 minutes.
ADD-INS:
If you'd like to add veggies or meats to this simple dish, add them when adding the broth and lentils.
If the veggies you'd like to add take a long time to cook, though, cook them a bit first before adding the rest of the ingredients (such as when sauteing the onions and garlic).
Add pre-cooked meats with the broth and lentils. THMs remember to use ultra lean meats to keep it an E meal, or enjoy a Crossover or S Helper with S type meats and a bit more added fat.
NUTRITION NOTES:
Nutrition information below is for the lentils prepared as written. Add-ins and alterations will affect the nutritional information.
Recommended Products
As an Amazon Associate and member of other affiliate programs, I earn from qualifying purchases.
Nutrition Information:
Yield: 4
Serving Size: 1 cup
Amount Per Serving:
Calories: 158
Total Fat: 4g
Saturated Fat: 2g
Trans Fat: 0g
Unsaturated Fat: 1g
Cholesterol: 8mg
Sodium: 564mg
Carbohydrates: 23g
Fiber: 9g
Sugar: 2g
Protein: 10g
Nutrition information is approximate and based on the best knowledge available at the time of recipe publication. Your results may vary due to differences in ingredients. You can make your own calculations if this recipe does not include nutrition info by using an online calculator such as https://recipes.sparkpeople.com/recipe-calculator.asp