---
If you don't like ACV (apple cider vinegar) did you know there's another healthy alternative? Pomegranate vinegar, with the mother, offers many healthy benefits and a sweeter, less acidic flavor. It's perfect for THM sippers like my Pomegranate Lemonade Good Girl Moonshine!
---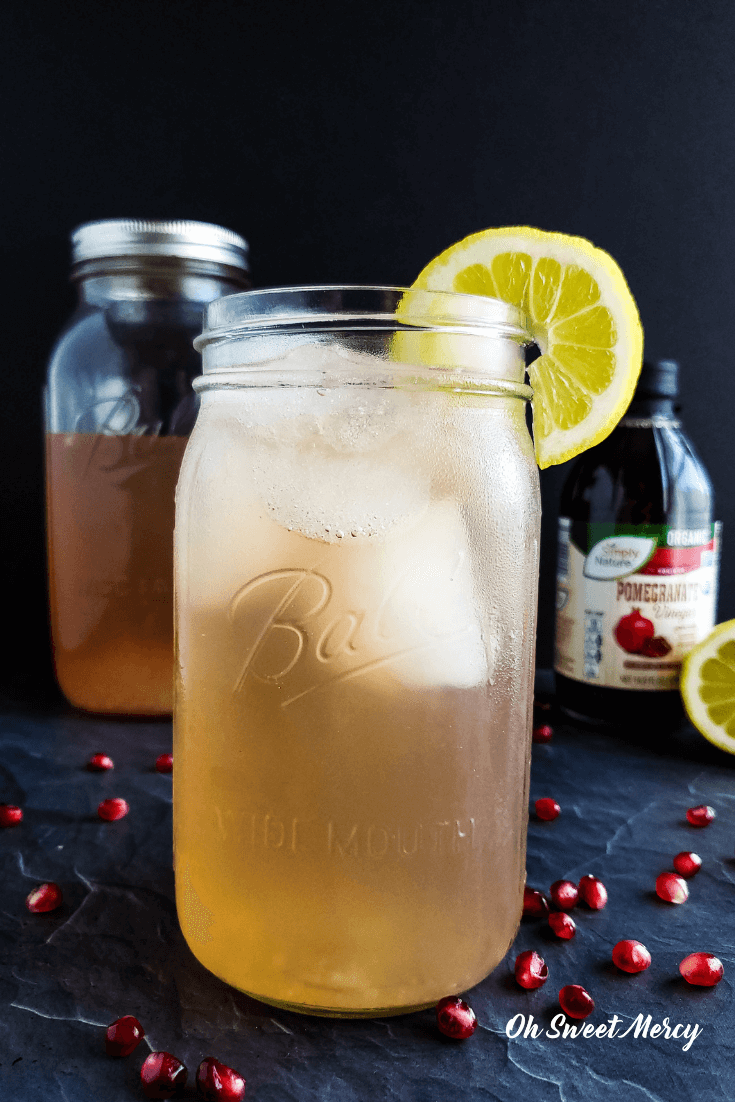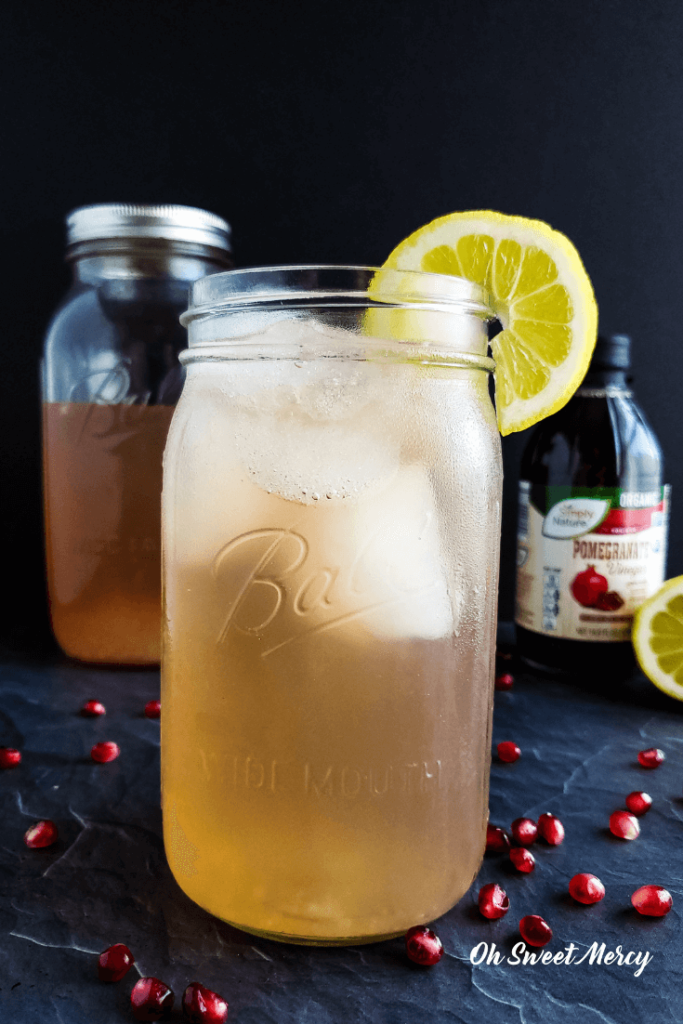 When I first started THM, nearly 5 years ago, I loved GGMS (Good Girl Moonshine). My favorite version is this Zingy Raspberry GGMS I created a few years ago.
In the last year or two, however, I just don't want to drink it. I have no idea why.
ACV is amazing! I use it in salad dressings all the time. A dash or two in a savory dish adds that missing acidic note that balances the dish. It's been quite puzzling, really, why I don't want to drink GGMS anymore.
So when I stumbled across organic pomegranate vinegar – unfiltered and with the "mother" – at my local Aldi store, I had to give it a try. Initially, I had salad dressings in mind, but decided to brave a GGMS.
This post is not sponsored or affiliated with Aldi in any way. I'm just a happy and loyal Aldi shopper!
Combining fresh lemon juice (with the pulp, for me!), raw pomegranate vinegar, pure stevia extract, and a pinch of pink Himalayan salt resulted in a spectacularly delicious sipper. I've been drinking it daily ever since!
What's The Difference Between ACV And Pomegranate Vinegar?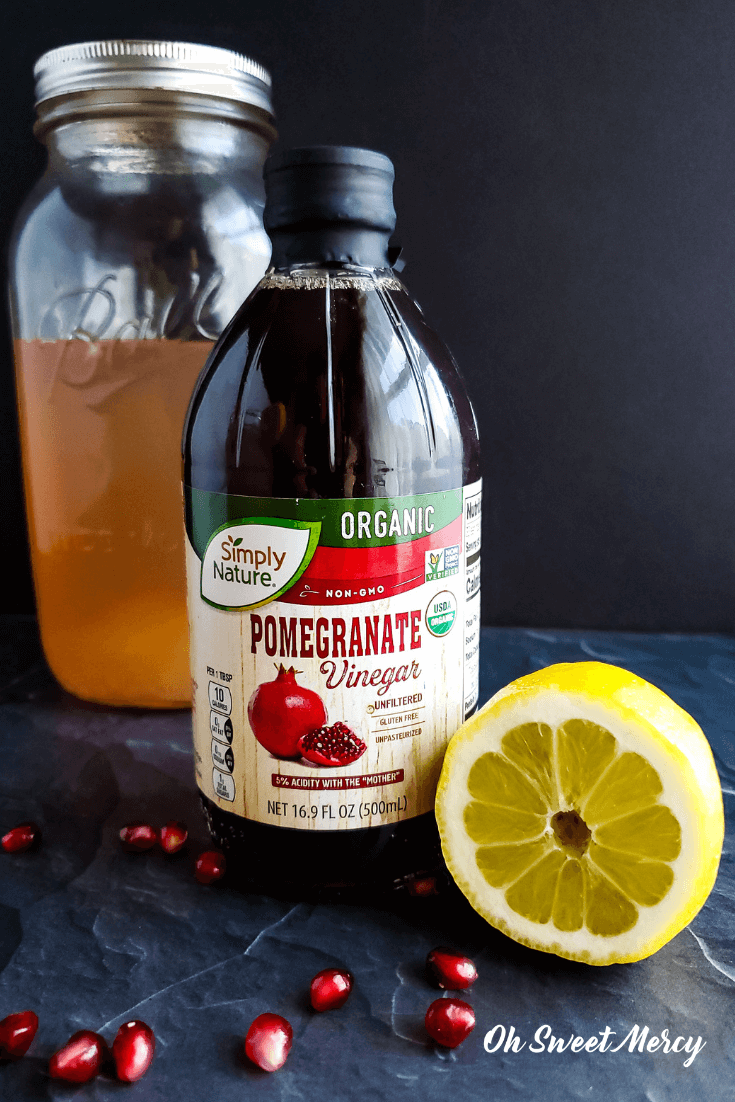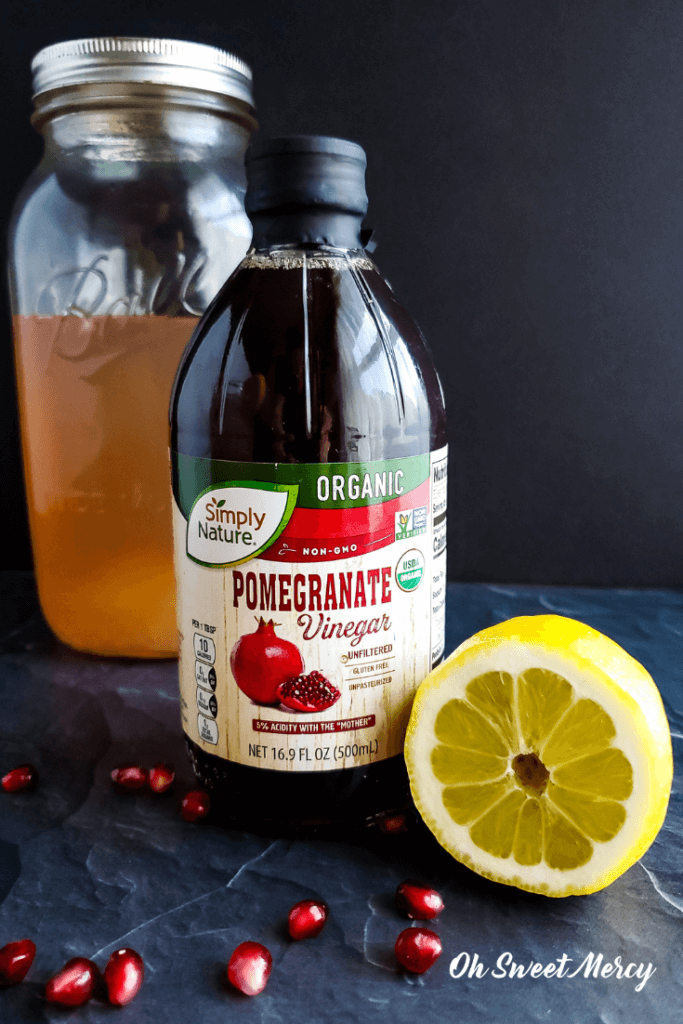 Apple cider vinegar is made with apple cider while pomegranate vinegar is made with the ruby-red arils of the pomegranate.
Some pomegranate vinegars are simply pomegranate infused vinegar. While this is surely tasty, it is not the same as the raw, unfiltered vinegar with the mother.
Trader Joe's has a pomegranate vinegar, for example, that is made with pomegranate juice and white wine vinegar. It also contains cane sugar, something we avoid on Trim Healthy Mama.
They also have a raw, unfiltered pomegranate vinegar with the mother so be sure to read labels carefully!
The raw, unfiltered vinegar with the mother, whether pomegranate or ACV, is what you want for a GGMS sipper.
Using raw pomegranate vinegar in my Pomegranate Lemonade Good Girl Moonshine will give you the healthy benefits of a raw, unfiltered vinegar.
What Are The Benefits of Raw, Unfiltered ACV or Pomegranate Vinegar?
Both raw ACV and pomegranate vinegar offer healthy benefits, such as:
blood-sugar lowering/balancing properties of acetic acid
fat burning/weight loss
may help lower cholesterol and triglyceride levels
may help lower blood pressure
Pomegranates contain many antioxidant flavanoids, which give the arils that rich ruby-red color. These antioxidants are excellent for our overall health and wellness.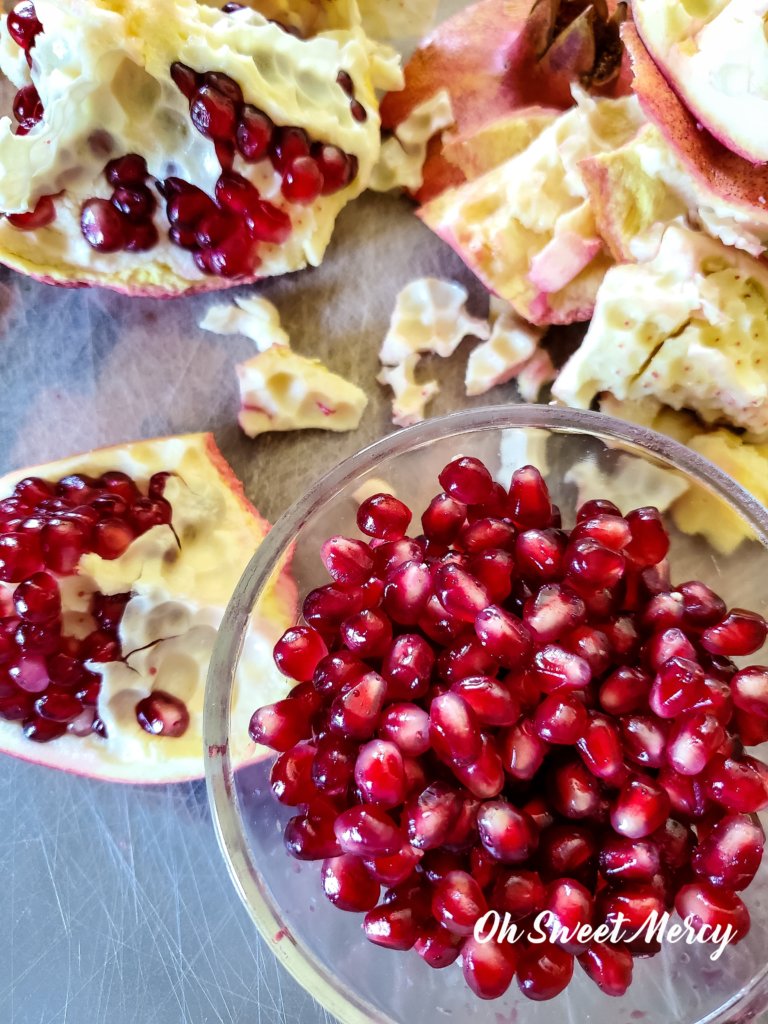 What Does Pomegranate Vinegar Taste Like?
I've found that the flavor of raw pomegranate vinegar is less harsh and acidic. It's similar to raw apple cider vinegar, but has a subtle sweetness that ACV lacks.
This past weekend I took a homemade vinaigrette salad dressing to our home fellowship. Simply made with olive oil, pomegranate vinegar, fresh garlic, and herbs it was a big hit! I'll post the recipe soon 😉
Where Can I Buy Raw Pomegranate Vinegar?
So far, I've only found it at Aldi in my area. It's one of their "special buys" so I've bought several bottles.
You may be able to find it at health food stores or places like Whole Foods. I did find this one on Amazon, too, that you can order for home delivery.
Do I Have To Use Pomegranate Vinegar In This Lemonade Good Girl Moonshine Sipper?
Well, if you want to make Pomegranate Lemonade Good Girl Moonshine, then yes. However, you can also make a tasty lemonade GGMS sipper using raw ACV.
I've made this same recipe with raw ACV in the past when making a lemonade GGMS. It's especially refreshing on a hot summer day.
Why Can't I just Use Pomegranate Juice?
Juices are not encouraged on THM for one simple reason – they're like drinking sugar. Yes, it's natural sugar, but the fact that the fiber is removed means it's going to impact your blood sugar and cause it to spike.
We don't want that! We want to keep our blood sugar levels stable.
In addition, pomegranates are an E fruit, and adding an E fuel to a THM sipper would make it no longer a sipper 😉
Do I Have To Use Fresh Lemon Juice?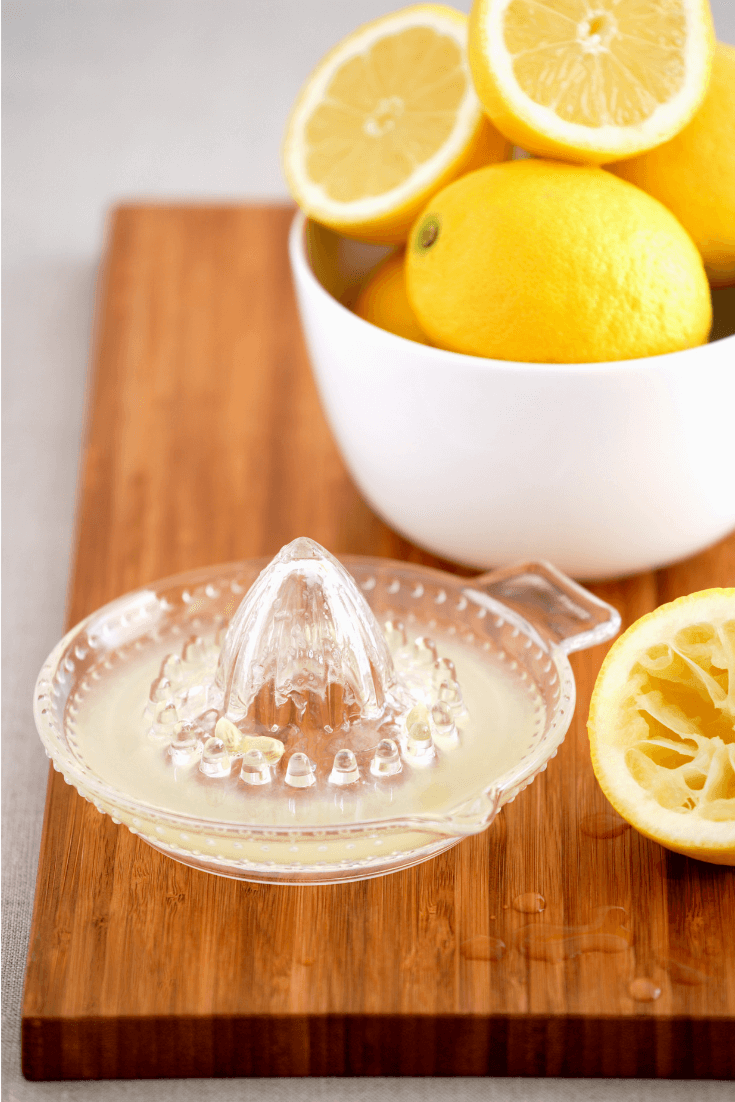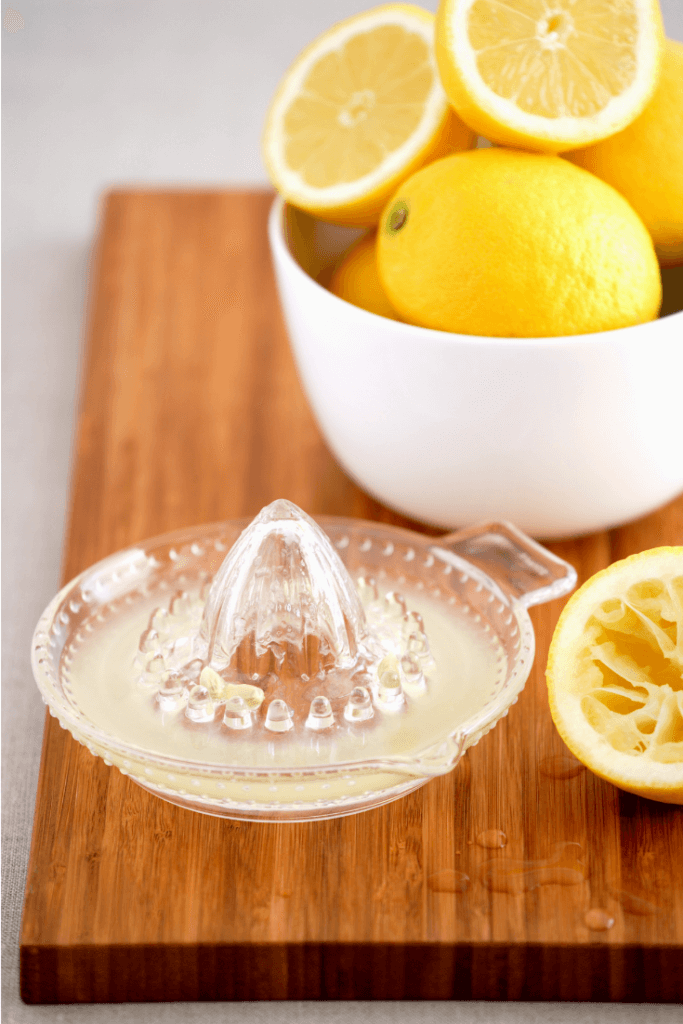 I'm a firm believer that fresh is always best, especially when it comes to produce. Fresh lemon juice, in my opinion, just tastes the best.
Fresh lemon juice also has enzymes that bottled lemon juice does not have. This is because the juice is usually pasteurized and pasteurization causes those beneficial enzymes to become inactive.
Bottled juices usually contain preservatives, too.
However, if you can only use bottled lemon juice for whatever reason it will work fine in this recipe.
How To Make Pomegranate Lemonade Good Girl Moonshine.
It's super easy! I've included, in the printable recipe card below, instructions for both single serving and half a gallon.
I like to mix up half a gallon in a 2 quart mason jar and store it in the fridge to sip on throughout the day.
Juice your lemons then pick out the seeds (or strain if you don't like the pulp). Add the juice and remaining ingredients to the jar then fill with water. Give it a good stir and you're good to go.
Pour over ice in a mason jar or your favorite sipper container. My current favorite is this Beast 30 ounce insulated cup.
I also purchased a handle and highly recommend that you use a handle on your large insulated cups if you use them all the time.
A Caution On Using Large, Insulated Cups.
If you use a large insulated cup, like a Yeti, and start experiencing pain in your arm the cup may be the culprit.
The reason for that is, apparently, overextending your grip to pick up the cup can cause tendonitis!
I started using a large, Yeti-like insulated cup a couple of years ago. Some time later, I began having pain in my arm. It was hard to pick my cup, or anything else, up sometimes.
I never made the connection with the pain in my arm to picking up my cup multiple times a day. However, a coworker said their dad and lady from their church ended up with tendonitis from using these large cups.
I quit using it immediately and ordered one with a handle. In just a few days of not using a large cup the pain in my arm began to go away. It took a few months but I am now completely pain free.
Now, I sip my Pomegranate Lemonade Good Girl Moonshine (and Baobab Water) in my insulated cup, with a handle. I don't know if just people with small hands, like myself, are prone to this or not but wanted to share that with you just in case.
However you sip your sippers, I hope you'll give this version a try. It's been so refreshing on our hot, humid days we've been having lately!
Will You Try This Pomegranate Lemonade Good Girl Moonshine?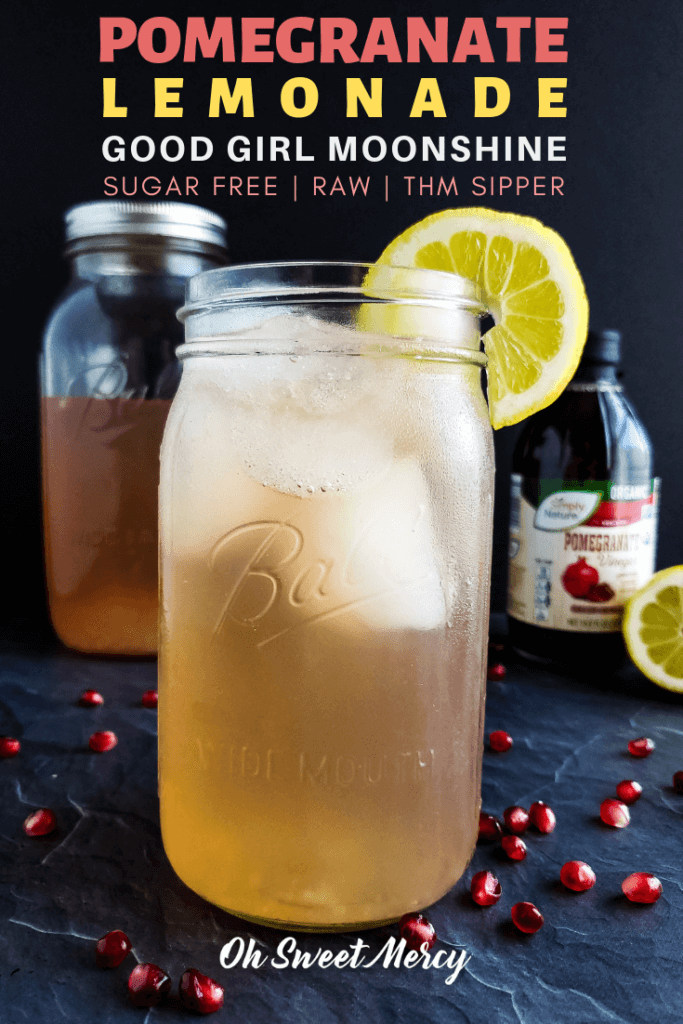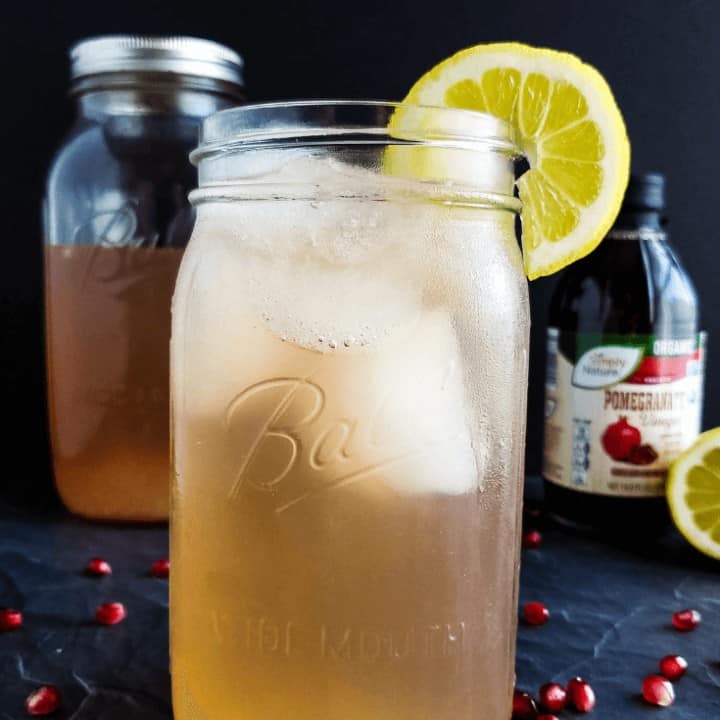 Pomegranate Lemonade Good Girl Moonshine | THM Sipper, Sugar Free
Yield: 1 serving or half a gallon
Prep Time: 5 minutes
Total Time: 5 minutes
A delightful alternative to raw ACV, pomegranate vinegar - with the mother - is sweeter and less acidic. Paired with tart, fresh lemon juice, stevia, and a pinch of pink salt you've got a fabulously refreshing and healthy sipper.
Ingredients
Single Serving
Juice of 1 lemon, or 2 to 4 tablespoons bottled lemon juice
1 to 2 tablespoons raw, unfiltered pomegranate vinegar
3 to 4 "doonks" THM Pure Stevia Extract or desired sweetener to taste
2 "doonks" or pinches pink Himalayan salt (optional)
Water and ice
Half Gallon (2 Quarts)
Juice of 3 to 4 lemons, or 1/2 cup bottled lemon juice
2 to 4 tablespoons raw pomegranate vinegar
1/4 teaspoon THM Pure Stevia Extract, or desired sweetener to taste
1/8 teaspoon pink Himalayan salt (optional)
Water and ice
Instructions
In a mason jar or pitcher, combine lemon juice, pomegranate vinegar, stevia, and salt. Mix well.
Fill the rest of the way with water, add ice as desired.
Notes
If you can't find raw pomegranate vinegar, raw ACV works just fine in this recipe.
Recommended Products
As an Amazon Associate and member of other affiliate programs, I earn from qualifying purchases.
Nutrition Information:
Serving Size: 1 quart
Amount Per Serving:
Calories: 22
Total Fat: 0g
Saturated Fat: 0g
Trans Fat: 0g
Unsaturated Fat: 0g
Cholesterol: 0mg
Sodium: 0mg
Carbohydrates: 1g
Fiber: 0g
Sugar: 1g
Protein: 0g