---
These easy no bake peanut butter cookies take 10 minutes (or less) to make! Low carb, sugar free, and THM friendly, you can satisfy that craving for peanut butter cookies without breaking a sweat. Make them with or without THM Baking Blend, too.
---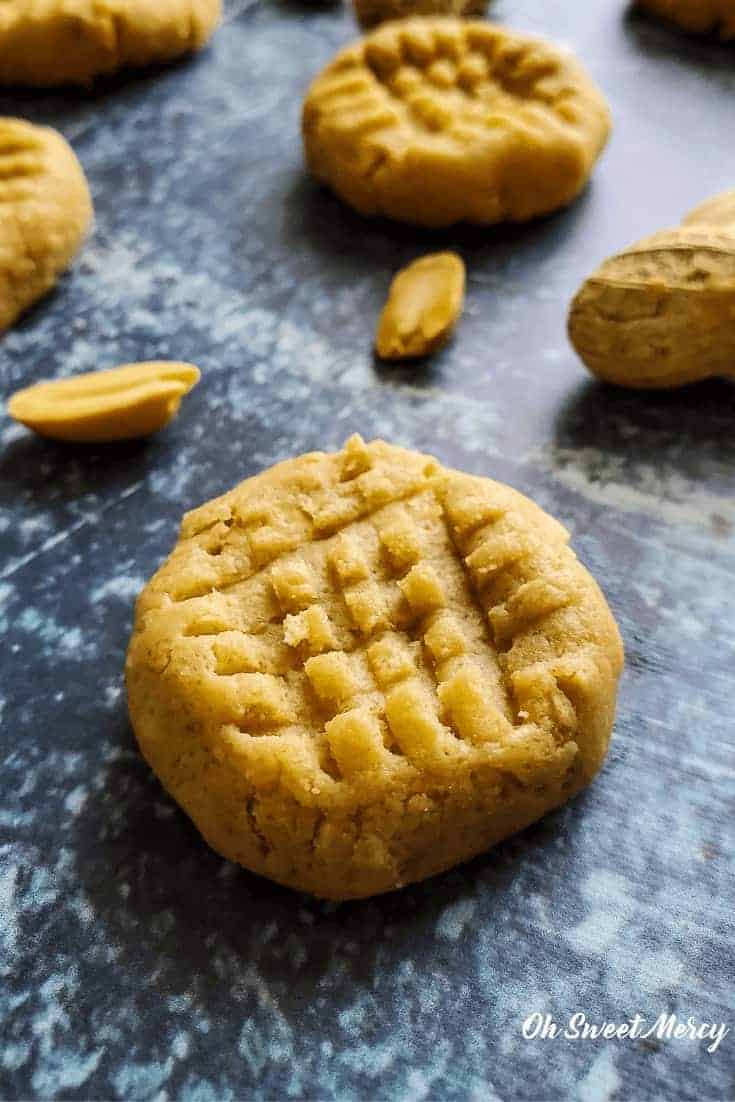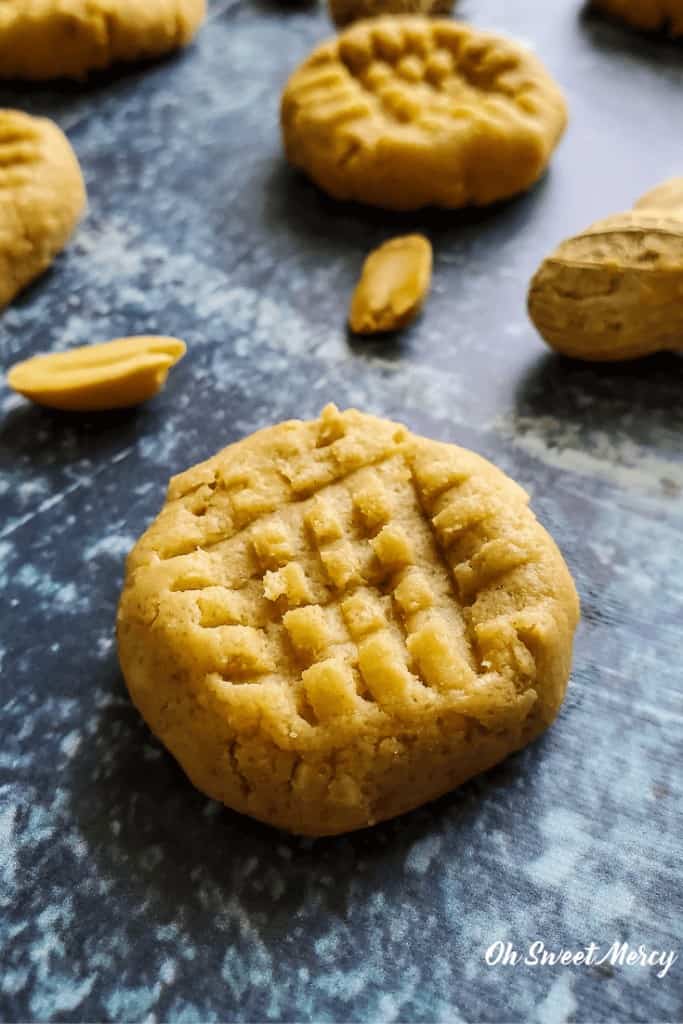 Who wants to turn their oven on in July? Anyone? Not me, I can tell you that! That presents a problem when you're craving cookies though, doesn't it?
No worries, I've got a solution for you! Actually, I have a few solutions.
Make cookie dough and skip the baking. Try my Chocolate Chip Cookie Dough Bites and Salted Caramel Cookie Dough Bites.
Make these Easy No Bake Peanut Butter Cookies. You can also just leave this as dough instead of forming cookies for an even quicker treat.
No Bake Cookies Without Oatmeal!
When you hear no bake cookies you probably think of the chocolate and oatmeal variety. While those are tasty (and can be made THM) you won't find any oatmeal in these.
I do use THM Oat Fiber, however, but no actual oatmeal. Oat fiber gives these easy no bake cookies a smooth, firm texture. Great if you're not a fan of oatmeal and perfect for a low carb THM treat.
Are They Keto Peanut Butter Cookies?
That depends. While I'm not a keto expert, I'm pretty sure very strict keto would not allow the oat fiber or Baking Blend. If you're a "dirty keto" dieter then it should be fine.
As written, each cookie (if you make 24 in a batch) has 5 grams of fat and about half a gram of carbs. I've included other variations which will change the nutrition info slightly but they should still be in keto range.
Want another dessert? These keto mixed berry crumble pots look good!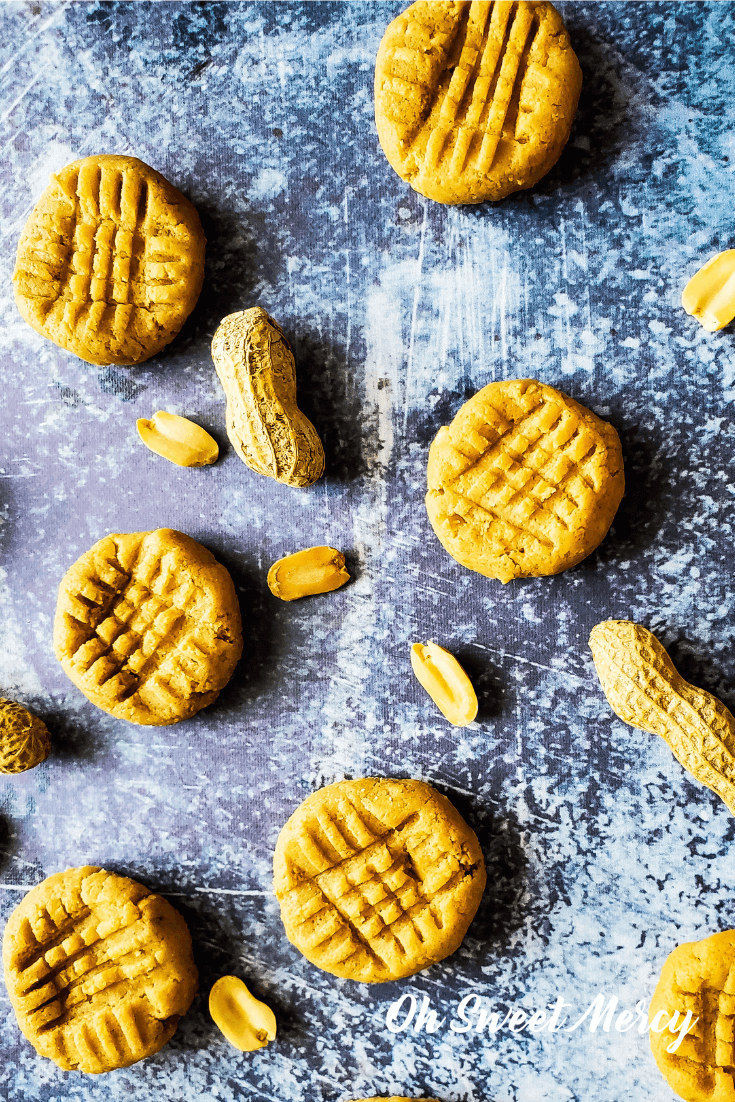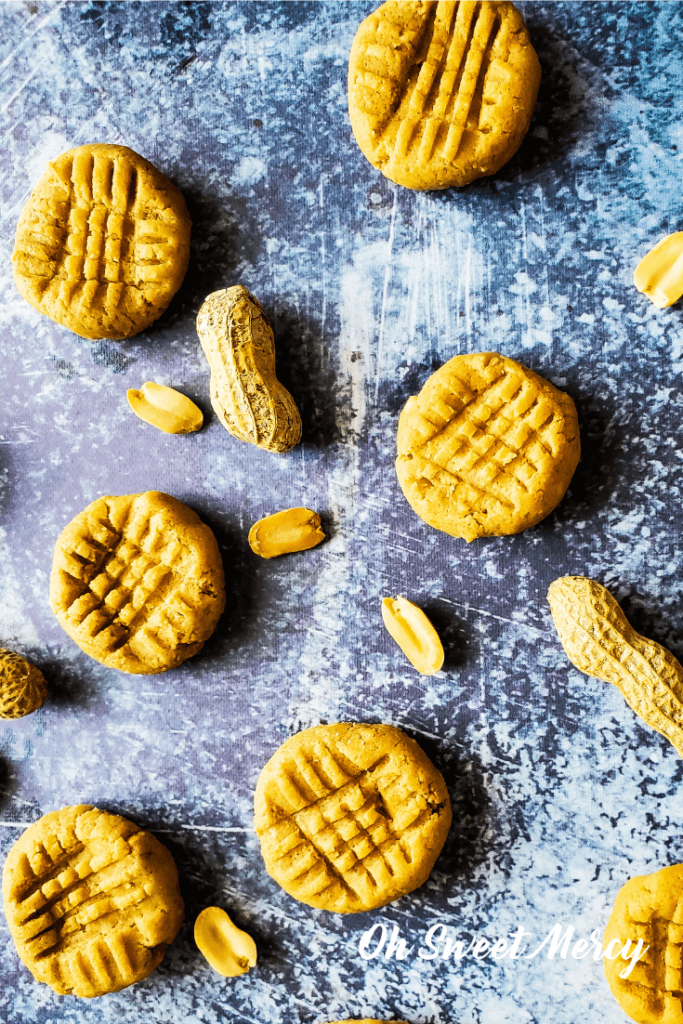 Do I Have To Use Baking Blend?
No, you don't! However, I do like using THM Baking Blend because it lightens up what would otherwise be a pretty calorie-dense treat. No, we don't worry about calories on THM but we're also reasonable about them.
You should be able to easily substitute a homemade Baking Blend. Depending on the ingredients you may need to adjust liquid or dry ingredients to get the right consistency.
In the recipe notes below I give variations with Baking Blend, with just almond flour, with regular no-sugar peanut butter, and with peanut powder. That way you choose what works for you.
The almond flour variation(s) tend to be softer, so firming them up in the fridge or freezer is a good idea. Especially if it's tropical in your kitchen!
Do I Have To Use Oat Fiber?
I do include THM Oat Fiber in all variations. It helps give a firmer texture and who doesn't need a bit of extra fiber in their diet?
If you don't have it you can try leaving it out. However, you'll likely need to increase the amount of Baking Blend or almond flour to get a firmer consistency.
THM Oat Fiber, by the way, is hands-down the best oat fiber I've ever had. I won't use anything else.
How To Make Easy No Bake Peanut Butter Cookies.
I don't even drag out the appliances to make this. Even with butter straight from the fridge it doesn't take long to whip this together with just a fork.
But, feel free to use a hand mixer or food processor if you like. If you're making a double batch then that would make it easier.
Whatever method you choose, the process is the same:
Cream…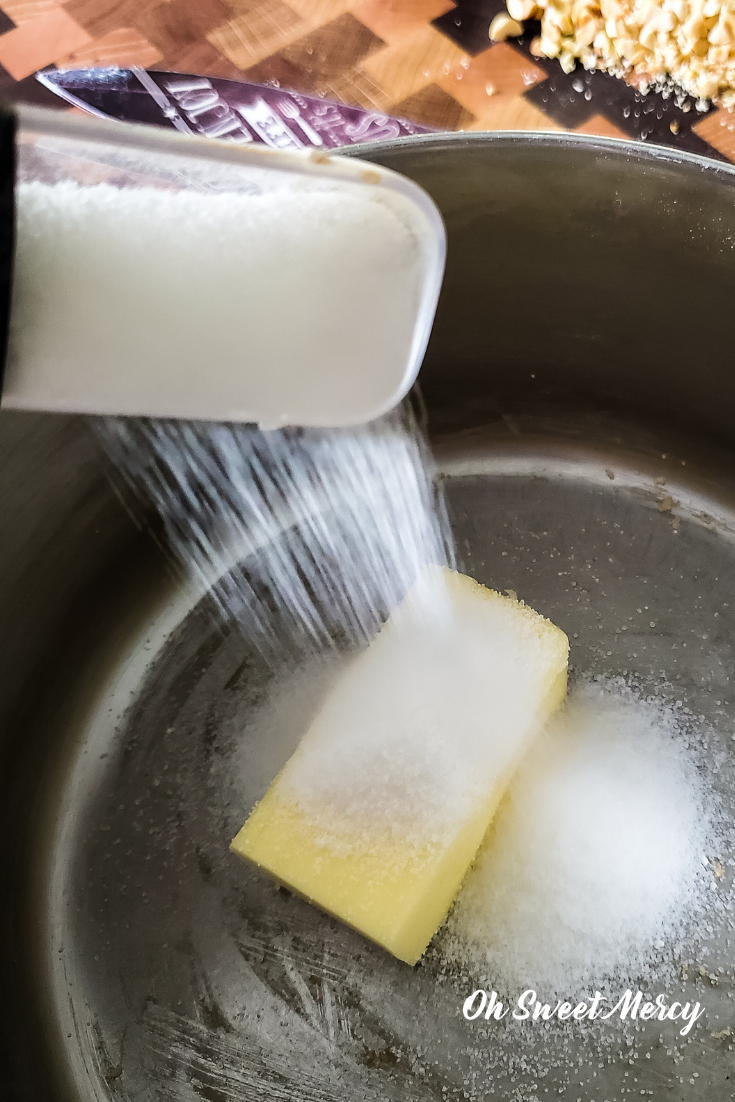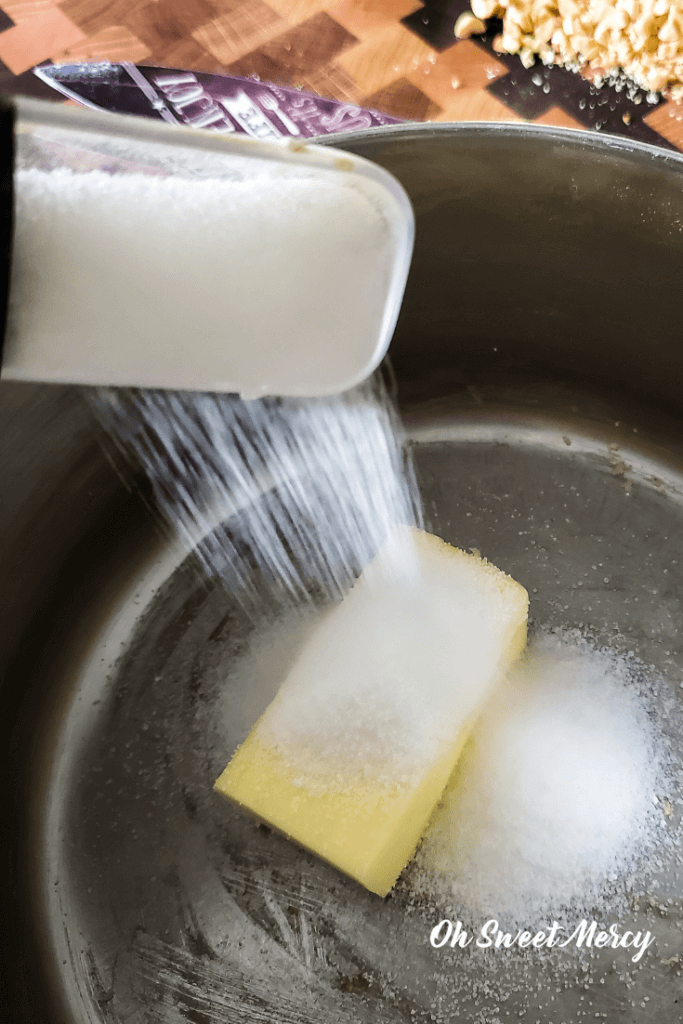 Just like with regular cookies, you start by creaming together the butter, sweetener (I like xylitol-free THM Gentle Sweet), and vanilla.
If you're using a fork, just mash it all together until it's smooth and creamy.
Mix In Dry Ingredients…
You can mix the dry ingredients together first if you like. I just dump them all in there and give it a good stir.
With a food processor you'll pulse until it starts to come together like a dough.
Check for sweetness and adjust as needed. With stevia based sweeteners it's always best to err on the side of caution and use less. It's easier to add more, too much often ends up leaving a bitter taste.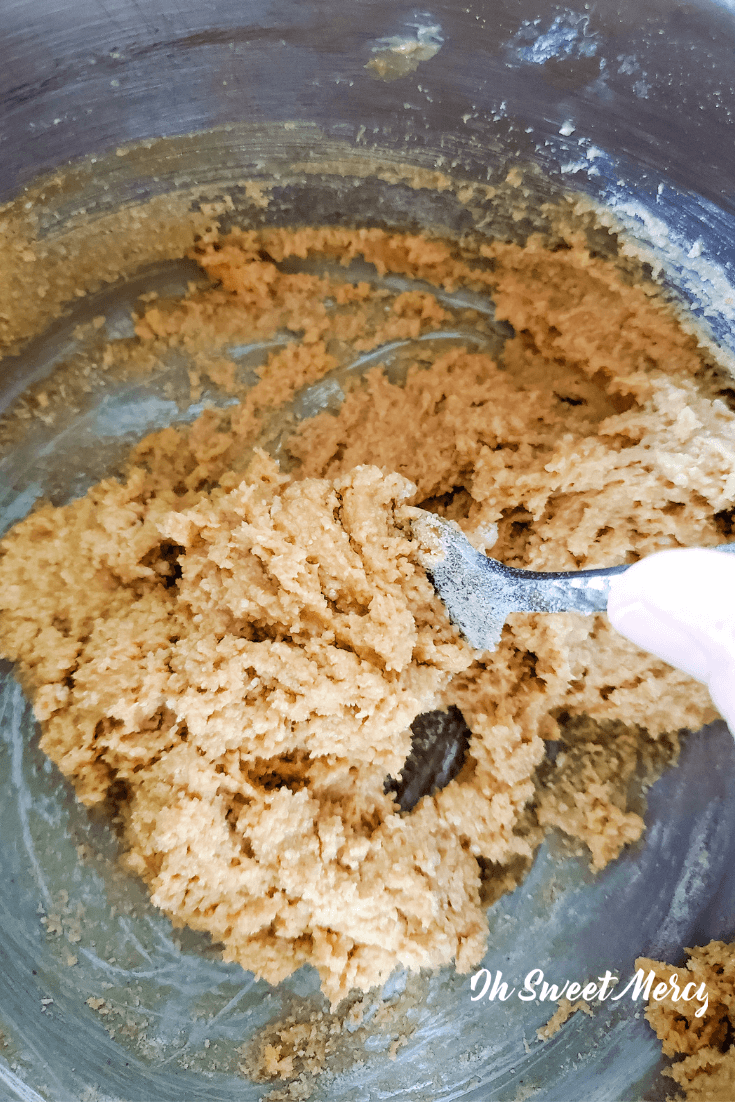 Add Liquid If Necessary…
Depending on what ingredients you choose the dough may be a little dry. If that's the case just add a bit of almond milk, or even water, until it's the consistency you prefer.
Add Chopped Peanuts (If You Want)…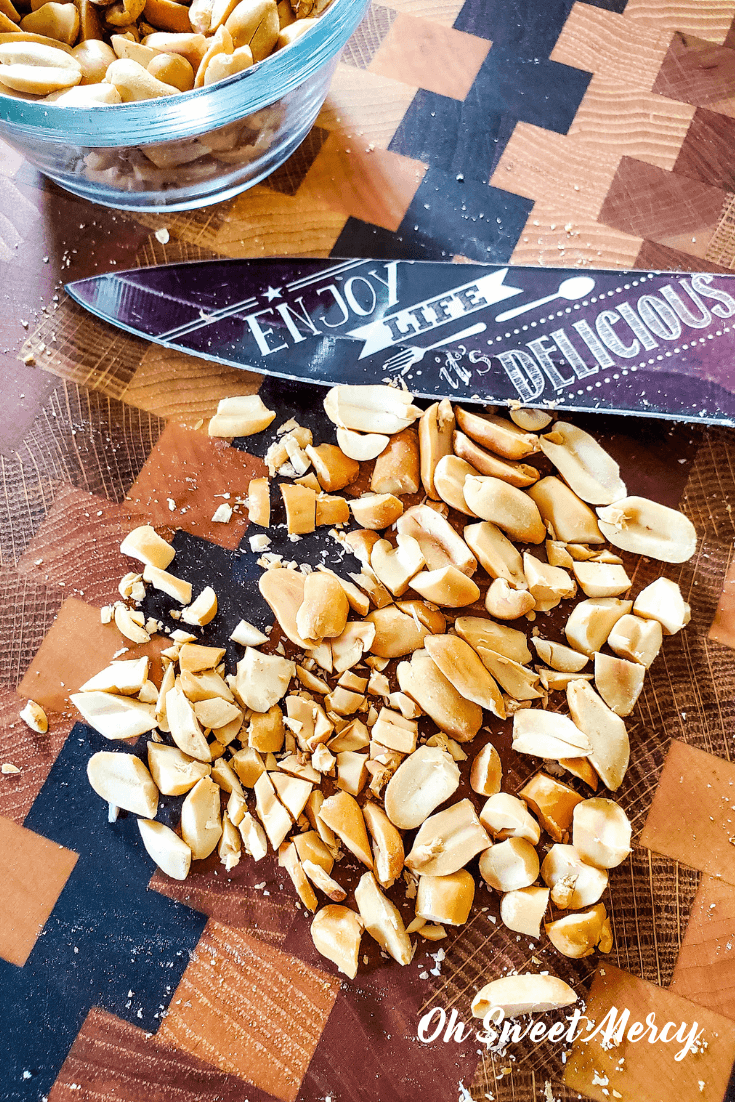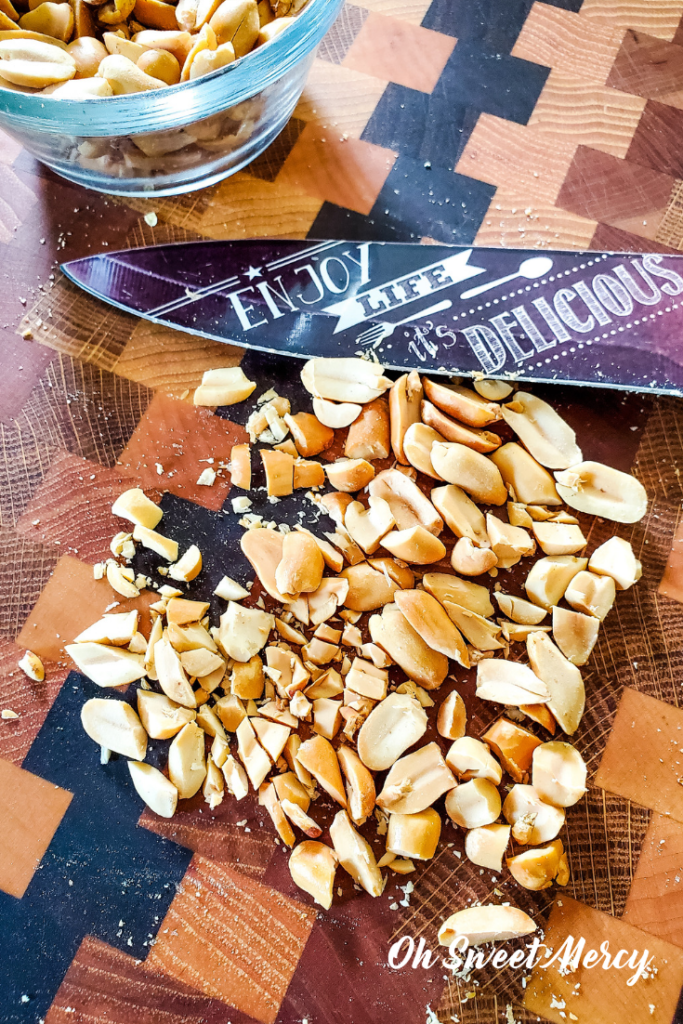 They're totally optional, of course. However, adding chopped peanuts to your peanut butter cookies gives a nice crunchy aspect.
Form Into Cookies (Or Dive Into The Dough)…
Scoop out about a nice rounded teaspoon of dough, roll into a ball and flatten gently with a fork. Press one way then cross the other way for that classic peanut butter cookie look.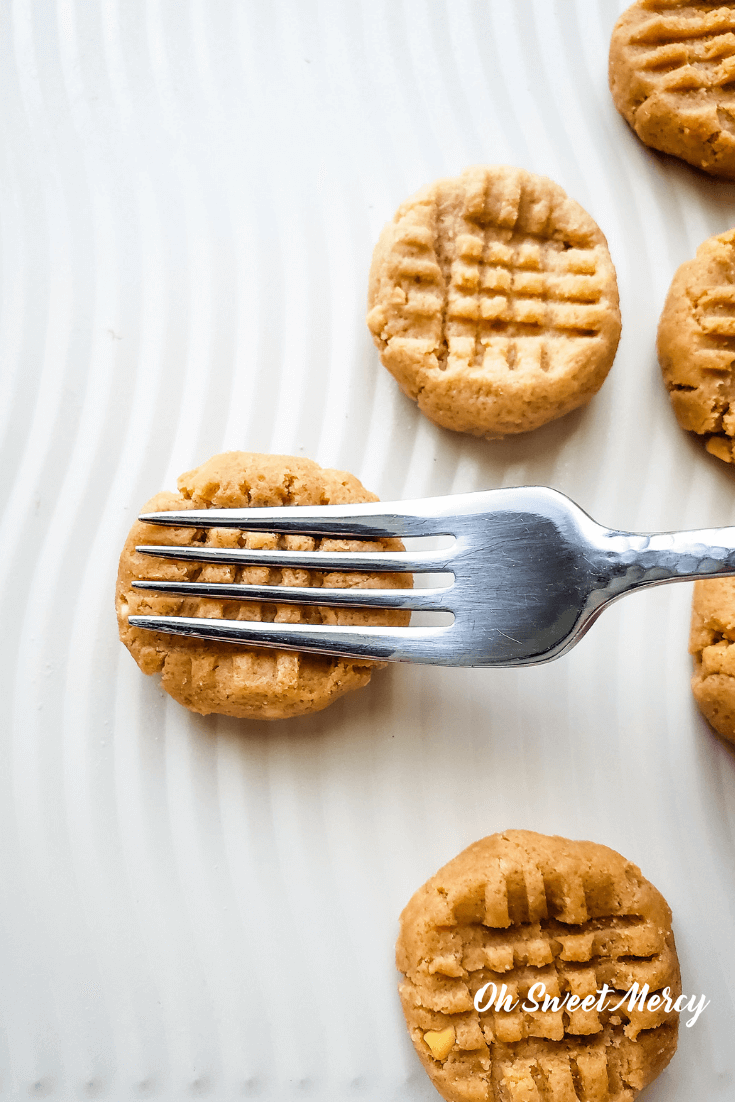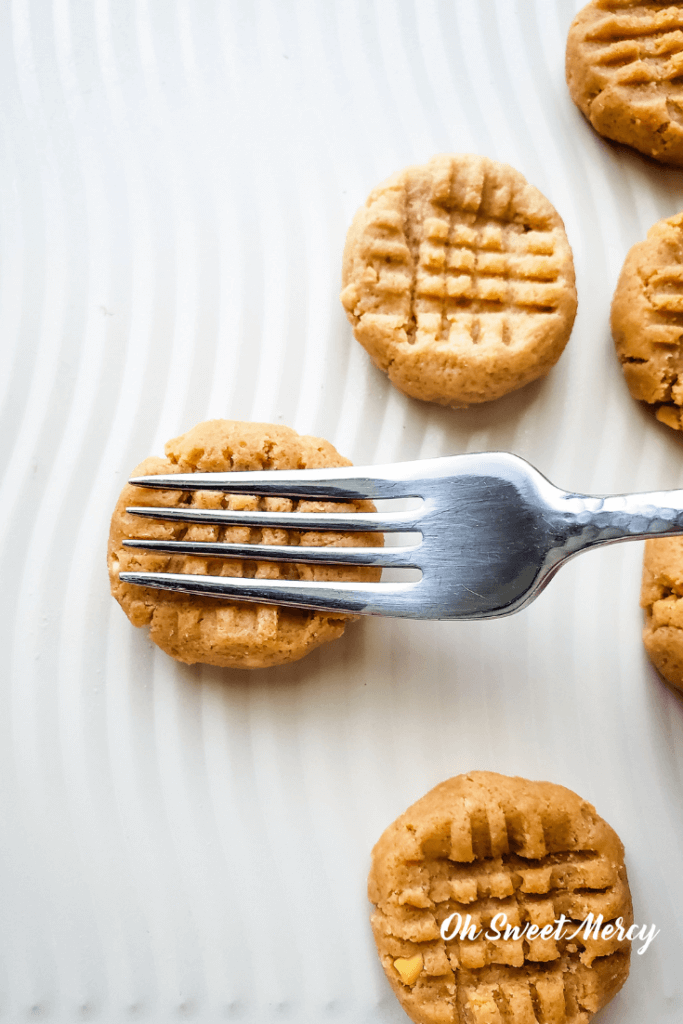 Depending on the size you make, you'll get 24 to 36 healthy no bake cookies!
If you don't want to take the time to make little bite sized peanut butter cookies then just enjoy the dough.
How To Store No Bake Peanut Butter Cookies.
Keep them in the fridge or freezer, especially if you use almond flour. They thaw very quickly and are usually easily edible straight from the freezer.
I find keeping them in the deep freezer makes them last longer. That's because it's not as convenient to get to as the fridge. They're so delicious you'll want to eat them all the time!
Will You Make These Easy No Bake Peanut Butter Cookies?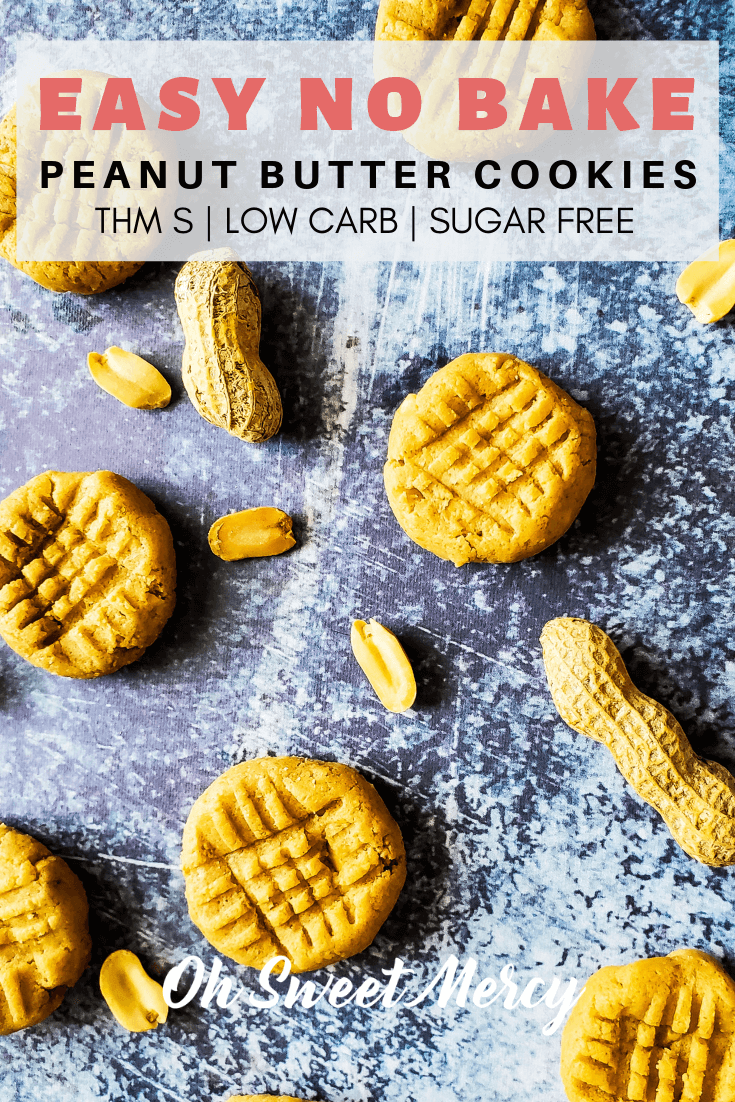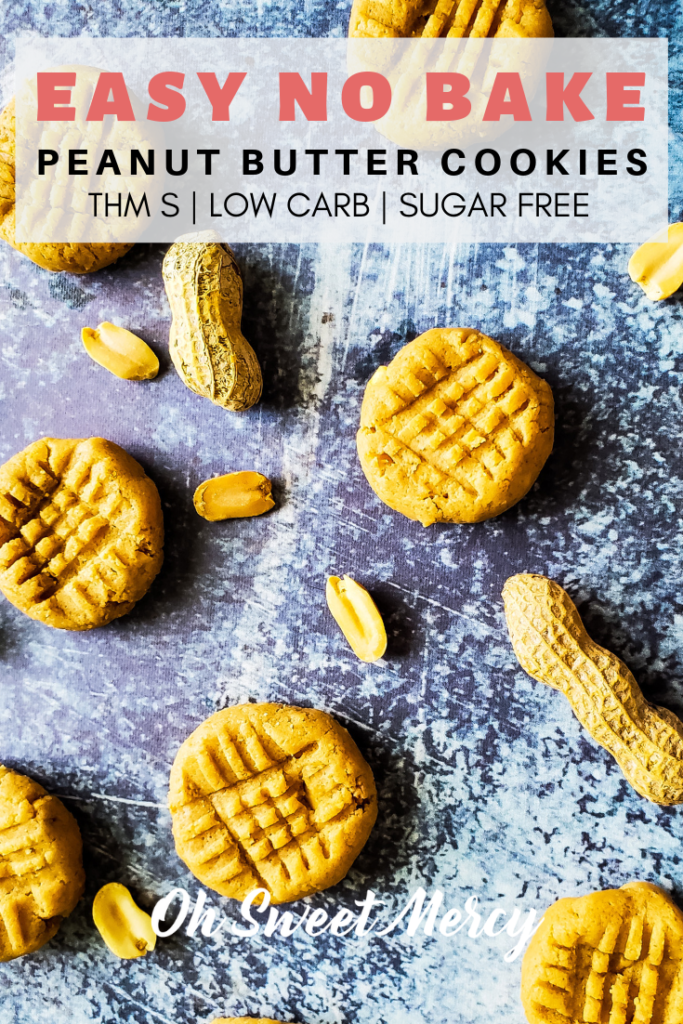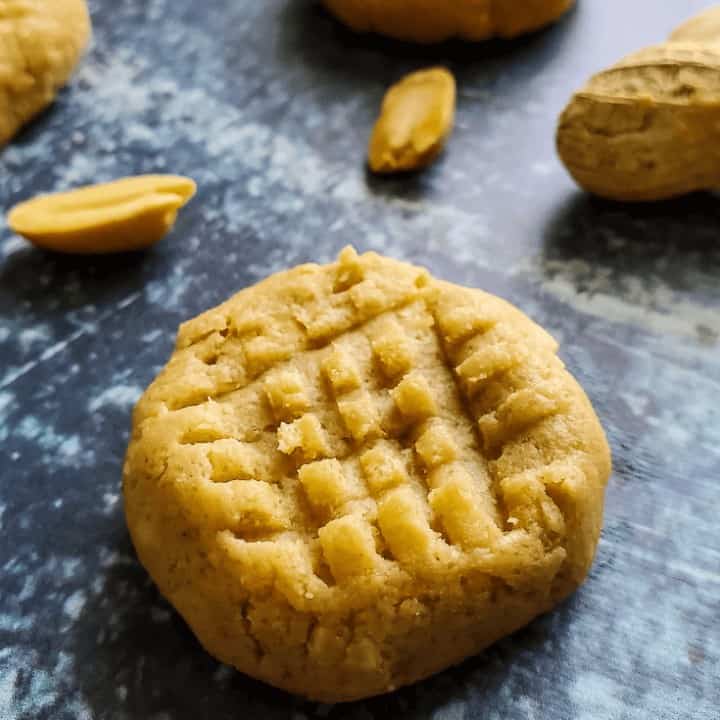 Easy No Bake Peanut Butter Cookies | THM S, Low Carb, Sugar Free
Yield: 24 to 36 cookies
Prep Time: 10 minutes
Total Time: 10 minutes
Quick and easy, no oven needed peanut butter cookies! Low carb, sugar free, and perfect for snacks, lunches, and any time you're craving peanut butter cookies. Directions included for using Baking Blend and peanut flour.
Ingredients
1 stick butter, softened (or 1/2 cup coconut oil - refined, virgin, or buttery - for dairy free)
1 teaspoon pure vanilla extract
1/2 teaspoon salt
2 tablespoons almond milk, or as needed for consistency
1/4 cup chopped peanuts (optional)
Instructions
Cream together butter, sweetener, vanilla, and salt using a fork, hand mixer, or food processor.
Add Baking Blend, Oat Fiber, Peanut Powder and mix well.
Add almond milk, if desired, to reach desired consistency.
Fold in chopped peanuts.
Form into balls then press with a fork to make a crisscross pattern or just enjoy as dough.
Refrigerate or freeze to store.
Notes
Baking Blend + Peanut Butter
Substitute 2 tablespoons natural, no sugar added peanut butter for the peanut powder. If needed, add almond milk for consistency.
Almond Flour + Peanut Powder
Substitute 1 1/2 cups fine almond flour for the baking blend. Add almond milk as needed for consistency.
Almond Flour + Peanut Butter
Substitute 1 1/2 cups fine almond flour for the baking blend. Substitute 2 tablespoons natural, no sugar peanut butter for the peanut powder. Add almond milk as needed for consistency.
For all variations...
Due to the differences in products you may find it necessary to add more (or less) Baking Blend or almond flour and/or almond milk.
Nutrition Information Notes:
Nutrition information is calculated for the recipe as written for 24 cookies. Different variations, and yields, will have different nutrition amounts.
Recommended Products
As an Amazon Associate and member of other affiliate programs, I earn from qualifying purchases.
Nutrition Information:
Yield: 24
Serving Size: 1
Amount Per Serving:
Calories: 52
Total Fat: 5g
Saturated Fat: 2.5g
Trans Fat: 0g
Unsaturated Fat: 1.6g
Cholesterol: 10mg
Sodium: 39.9mg
Carbohydrates: 15.4g
Fiber: 15g
Sugar: .4g
Protein: 1.4g
Nutrition information is approximate and based on the best knowledge available at the time of recipe publication. Your results may vary due to differences in ingredients.