---
This yummy Creamy Cajun Ranch Dressing combines cool and creamy Greek yogurt with spicy Cajun seasoning for a flavorful kick to anything that needs ranch. Make it a thick dip too, and it also works great as a low fat (or fat free) sandwich spread. Every Trim Healthy Mama needs this in her fridge.
---
Low fat dressings can be disappointing (but they don't have to be)!
Store bought varieties are often loaded with sugar and unwanted ingredients. Making your own is the answer! Whipping up this easy, low fat (or fat free), probiotic rich Creamy Cajun Ranch dressing will give a cool kick to salads and more.
This tasty dressing is part of another recipe I'll be posting in a few days my Loaded Sweet Potato Fries. Those bad boys are practically fat free, but you'll never miss the fat thanks to this kicked-up ranch dressing. I don't really care for sweet potatoes all that much, but that low-fat THM E friendly dish is absolutely amazing!
You can use this dressing anywhere you'd use regular ranch dressing. If you like things really spicy, add more Cajun seasoning. I find the amount of Cajun seasoning in this recipe to be enough to give it a nice amount of warmth without burning off your taste buds.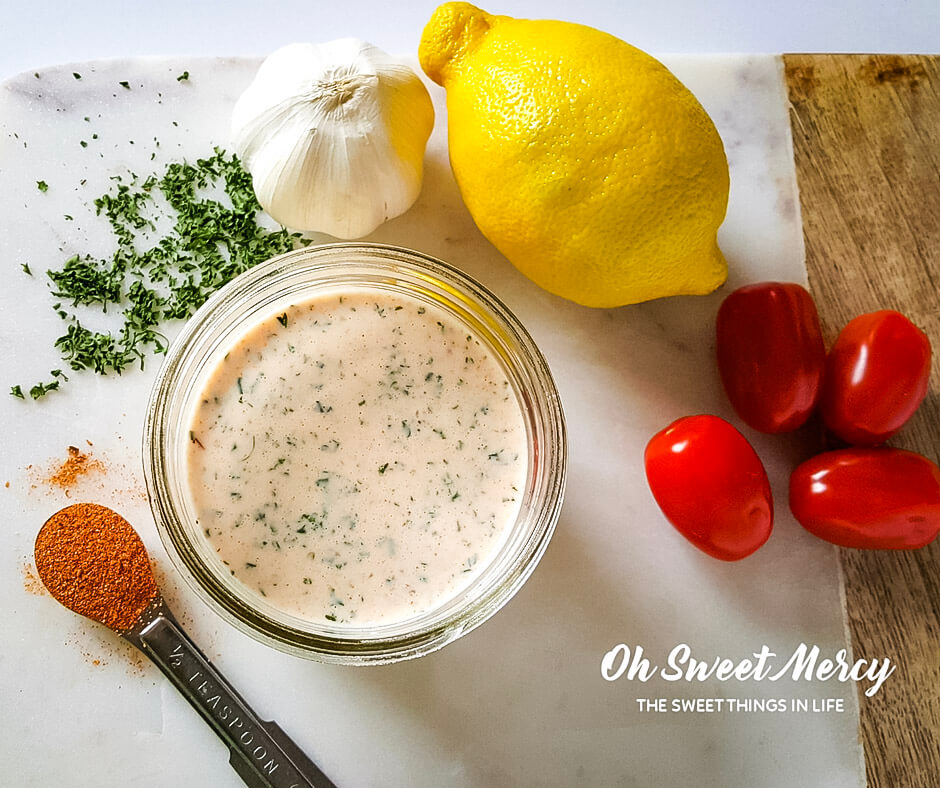 MCT oil and glucomannan powder are two optional ingredients.
When I threw together this dressing, a little bit of fat in it was fine since my main dish only had a small amount of fat. You can certainly leave it out if you want a fat free version, or don't have MCT oil.
MCT stands for Medium Chain Triglycerides and they are reported to be helpful for your metabolism, thyroid function, and energy levels. Because your body will burn through MCTs faster than regular fats, they're perfect for E or FP style meals (and of course, S or Deep S too) on the Trim Healthy Mama plan.
The glucomannan powder acts as an emulsifier and also sort of gives it a consistency closer to bottled dressings. It also adds a little fiber, which can help you feel full longer, manage blood sugar levels, and keep your appetite in check. I like to add a little here and there just about every day.
Leaving it out won't affect the flavor at all. You'll just want to give the dressing a little shake or stir before serving as the parsley tends to want to rise to the top.
Trim Healthy Mamas, here's the skinny on this Creamy Cajun Ranch Dressing:
There's approximately eight 2-tablespoon servings in a batch. If you make this recipe as written with 2 teaspoons of MCT oil, each serving would have only 1.1 grams of fat.
That means this dressing is a great choice for any fuel style!
A word on spices and seasonings…
If you read my post about Sister's Simple Savory Egg Salad, then you know I'm wild about a company called Wilderness Family Naturals. Their spices are high quality and very flavorful.
Want more flavor? Add more seasonings until it suits your taste buds. High-quality seasonings often require less to achieve the taste you want.
So grab yourself a pint sized mason jar, a whisk, and these ingredients and make some dressing (or dip)!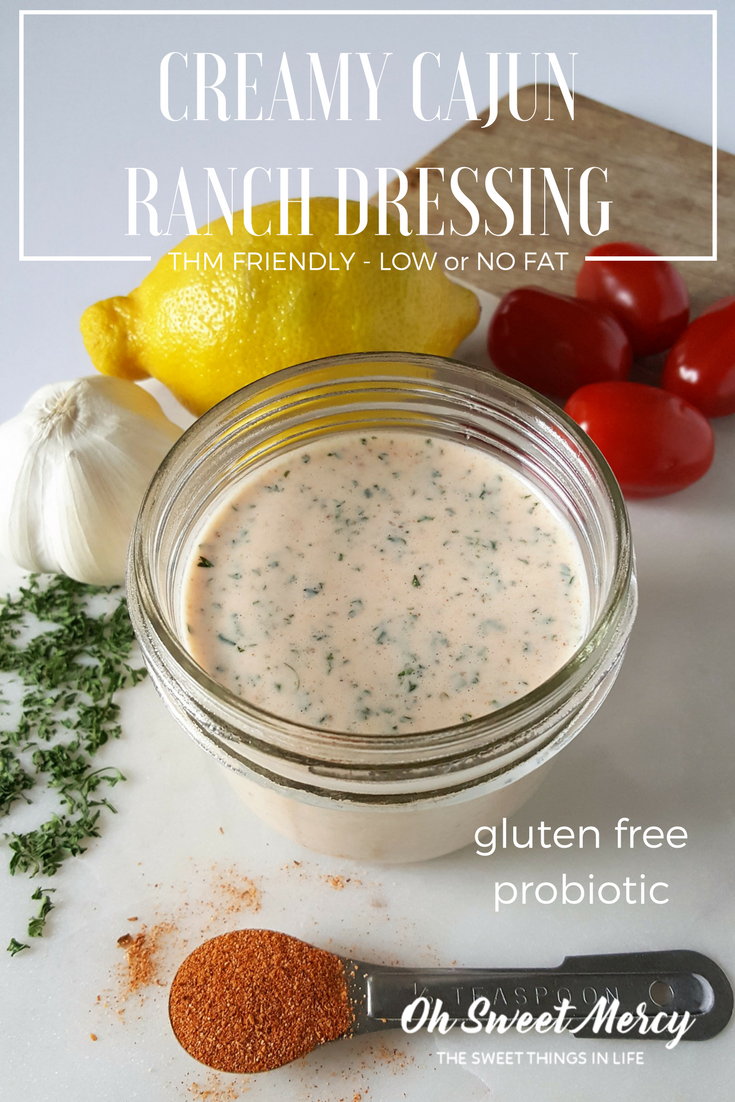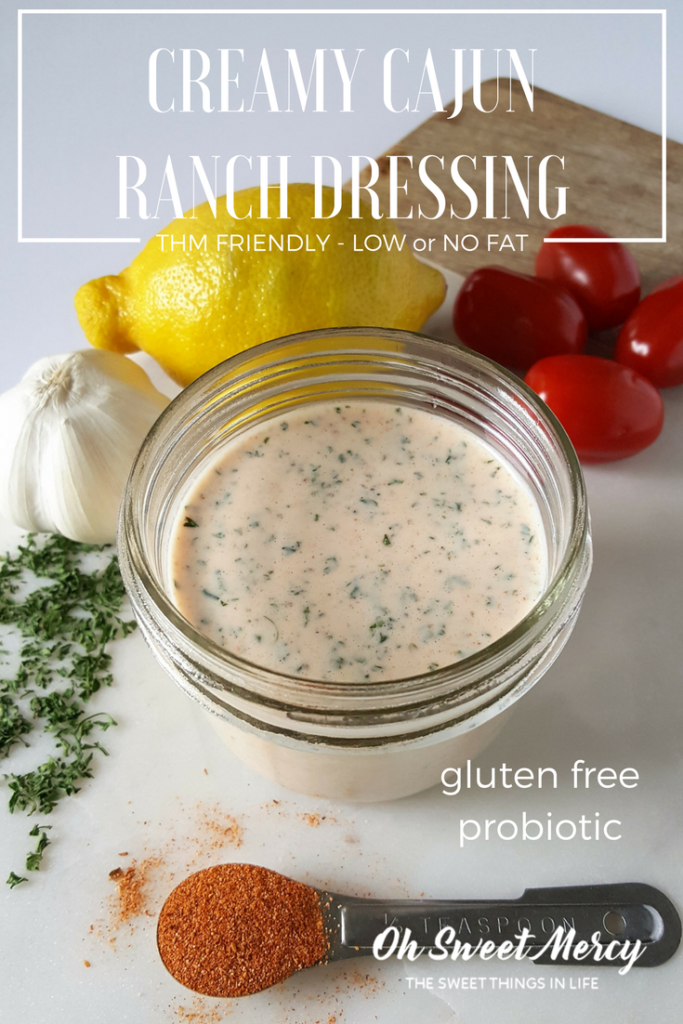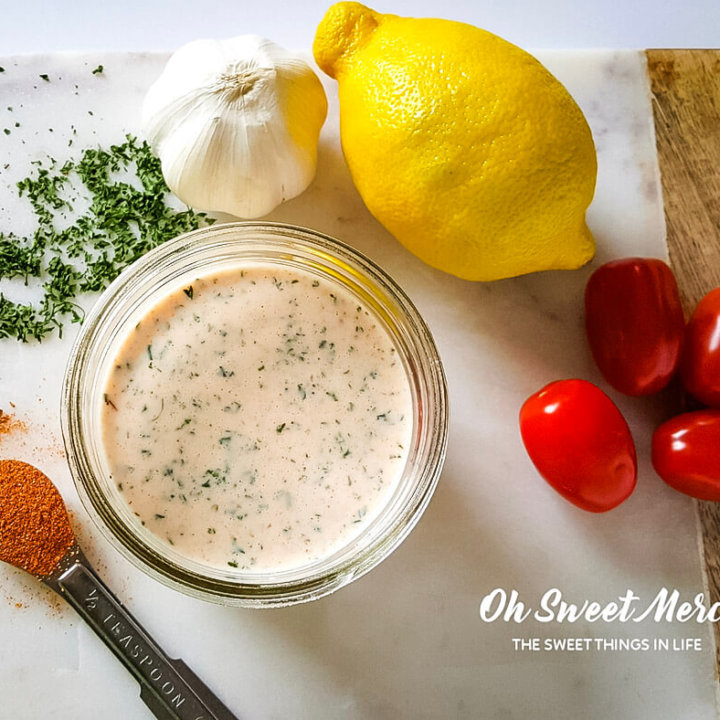 Creamy Cajun Ranch Dressing (Low Fat & Probiotic)
This creamy Cajun Ranch Dressing gives a cool kick to your salads or anywhere you want some flavorful ranch dressing. Low in fat and made with probiotic-rich yogurt, it's a perfect accompaniment to any THM dish.
Ingredients
1 cup 0% Greek yogurt (with live and active cultures for probiotic benefits)
4 tablespoons plain, unsweetened almond milk
2 teaspoons fresh lemon juice (bottled is ok, too)
1 to 2 teaspoons MCT oil (optional)
2 teaspoons finely grated parmesan cheese
Instructions
In a small mason jar, whisk together all the ingredients
You can serve right away, but it tastes best if you put it in the fridge for an hour or so before serving
Notes
MCT oil and glucomannan powder are completely optional if don't have them or don't care to use those ingredients. I like the "gluccie" because it gives a creamier texture, more like bottled dressings.
Leave out the MCT oil for a fat free version. When I made this dressing the rest of my THM E style meal only had a few grams of fat so a little bit of fat in the dressing was OK.