---
Whether you're celebrating the holidays, new year, or just want a refreshing drink give my Sugar Free Sparkling Cranberry Mocktail a try. Feeling a little more spirited? Add a shot of vodka (it has zero carbs!) for a cocktail instead.
---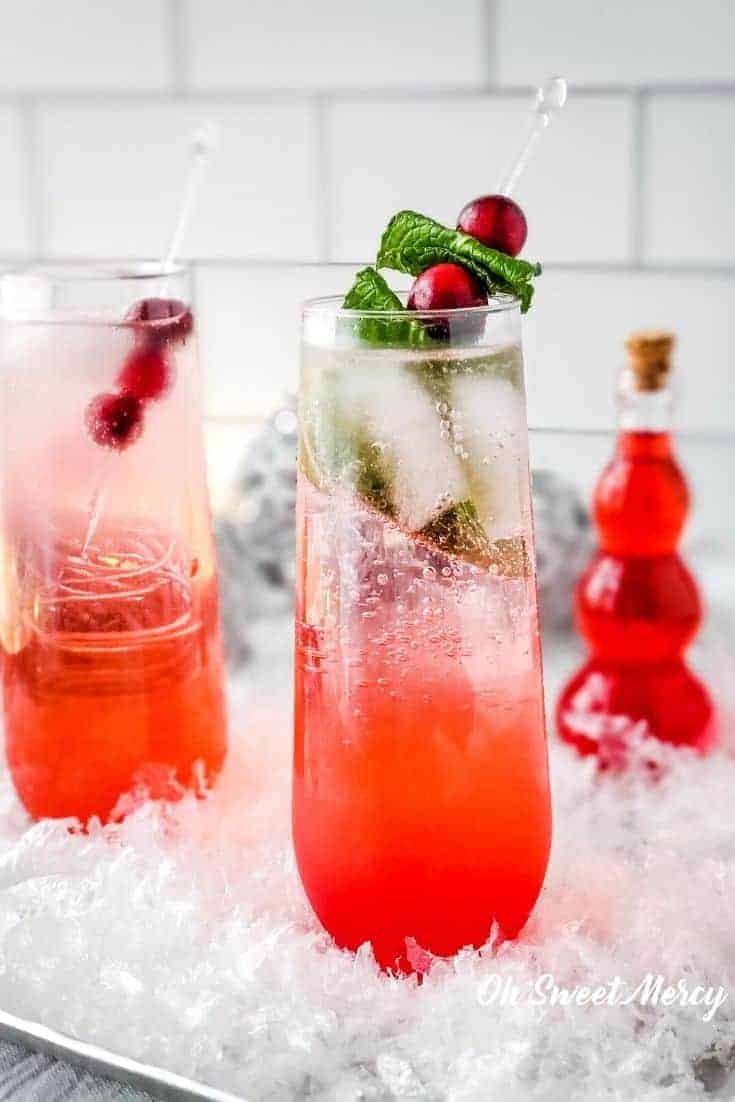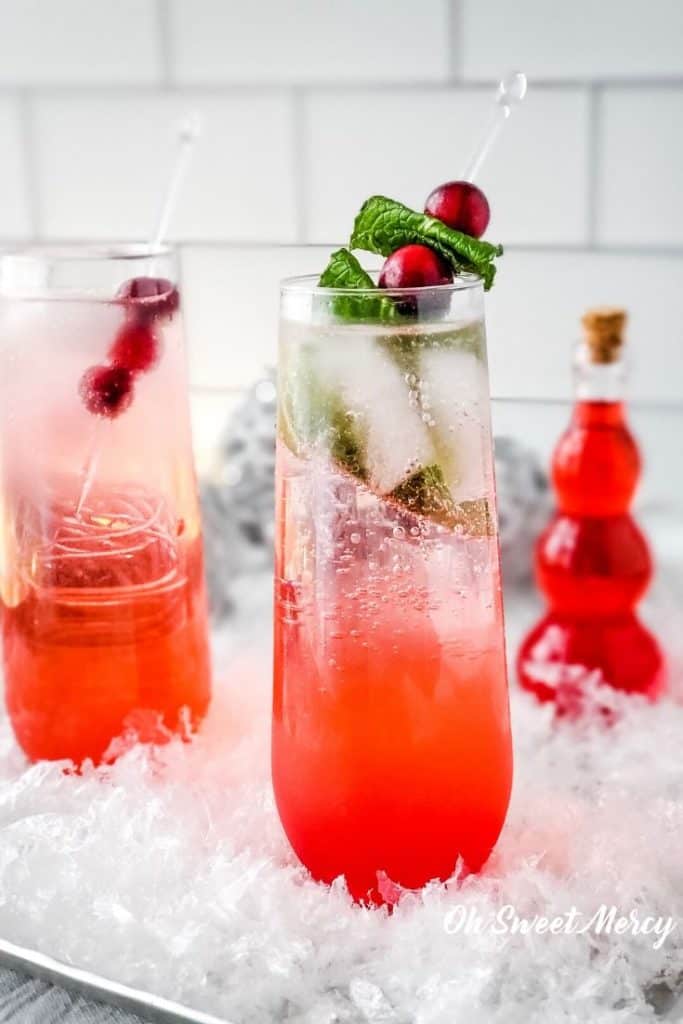 Did you have Shirley Temples as a kid? I remember feeling so grown up with my sprite and grenadine! And while those maraschino cherries now make me shudder, they were a favorite back then.
This sugar free sparkling cranberry mocktail is also a kid-friendly beverage! It's a great way to include the younger set at your New Year's Eve celebration.
You can easily make it an adult-only drink with a shot or two of vodka, though. Everybody wins 😉
Vodka has zero carbs so it makes a perfect low carb spirit to add to your drinks.
If counting calories is your thing, just know that the higher the proof of the vodka the more calories it contains.
How To Make A Sugar Free Cranberry Mocktail (Or Cocktail).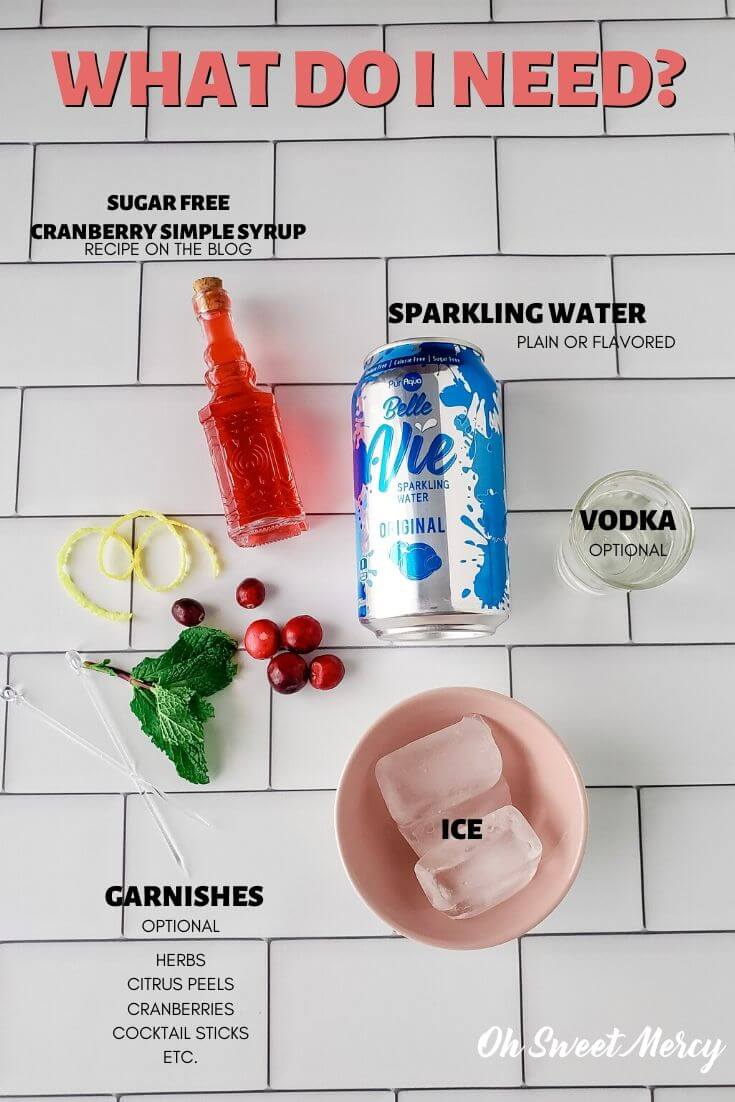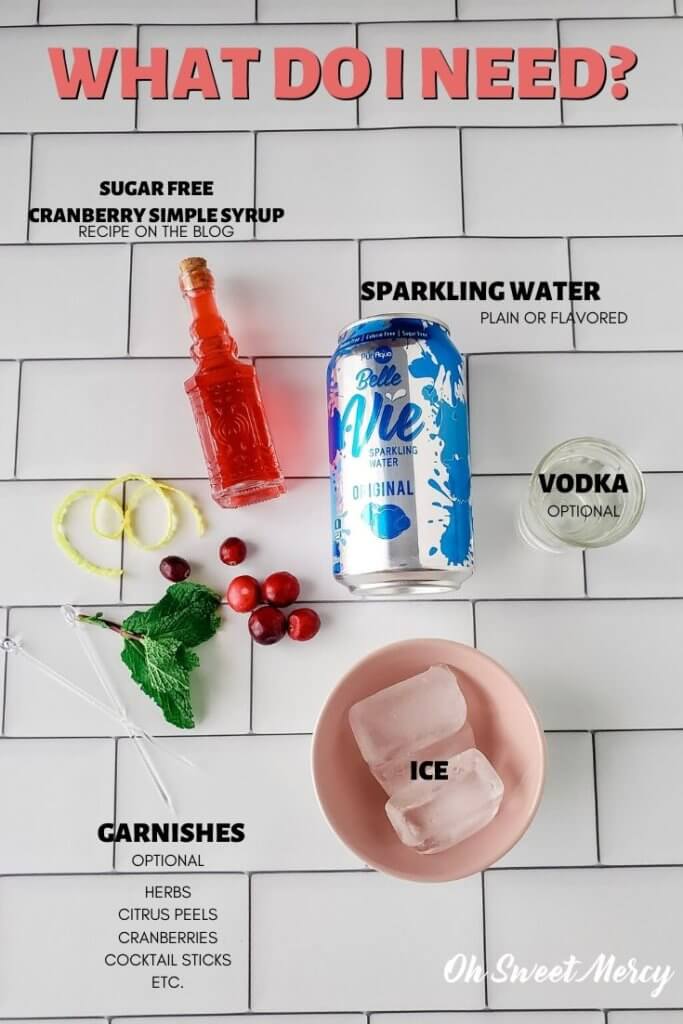 You'll need just a few things to put together a fun and healthy fizzy beverage.
My Sugar Free Cranberry Simple Syrup
Ideally, make this the night before. Get my Cranberry Simple Syrup recipe here.
This syrup takes about half an hour tops to make, then needs to chill a bit before you can use it to make drinks.
If you're in a hurry, portion out the cranberry syrup into glasses and pop in the fridge so it cools more quickly.
Sparkling Water (Or Fizzy Beverage Of Choice).
For a simple beverage, choose plain sparkling water.
But, flavored sparkling waters are also a great choice! Try lemon, lime, or orange.
If you're a Trim Healthy Mama choose unsweetened sparkling waters. Or, varieties sweetened with an on-plan sweetener also work.
Optional Ingredients.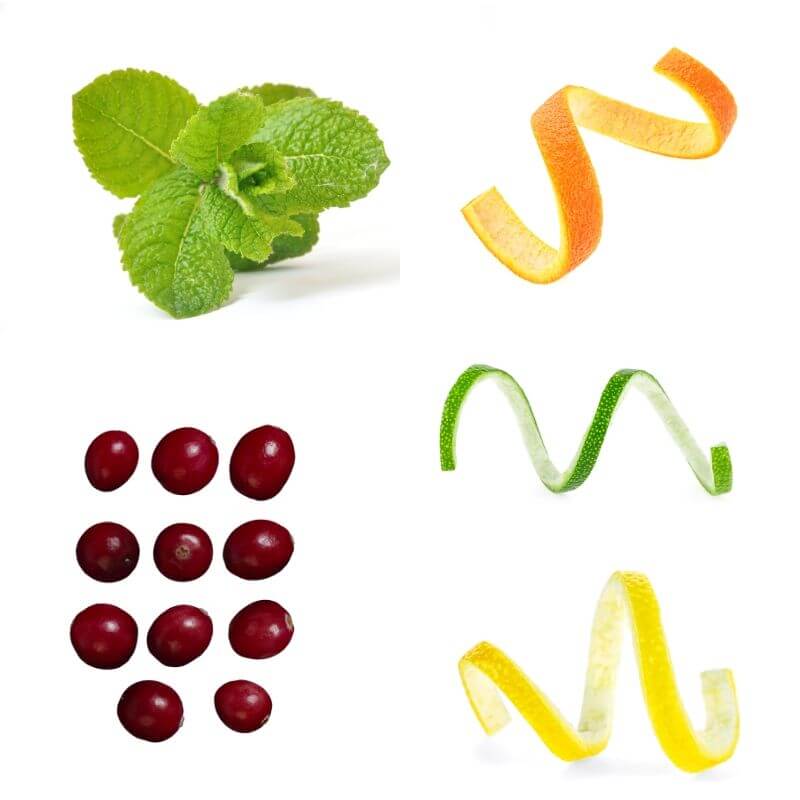 To fancy it up a bit, add herbs or citrus peels, if desired. You'll want to muddle them first, though, to release their flavor.
TIP: Muddling simply means smashing herbs or fruits against the glass with a muddler. You can purchase a muddling set or if you have a mortar and pestle, simply (carefully) use the pestle to press against the ingredients.
For example, muddle a bit of orange peel for a cranberry orange drink. Fresh mint is marvelous with cranberry, too!
Or, use fresh cranberries on a cocktail stick for garnish.
Trim Healthy Mamas, keep in mind that adding fruits to your beverages increases their carb counts. Keep that in mind while crafting your drinks.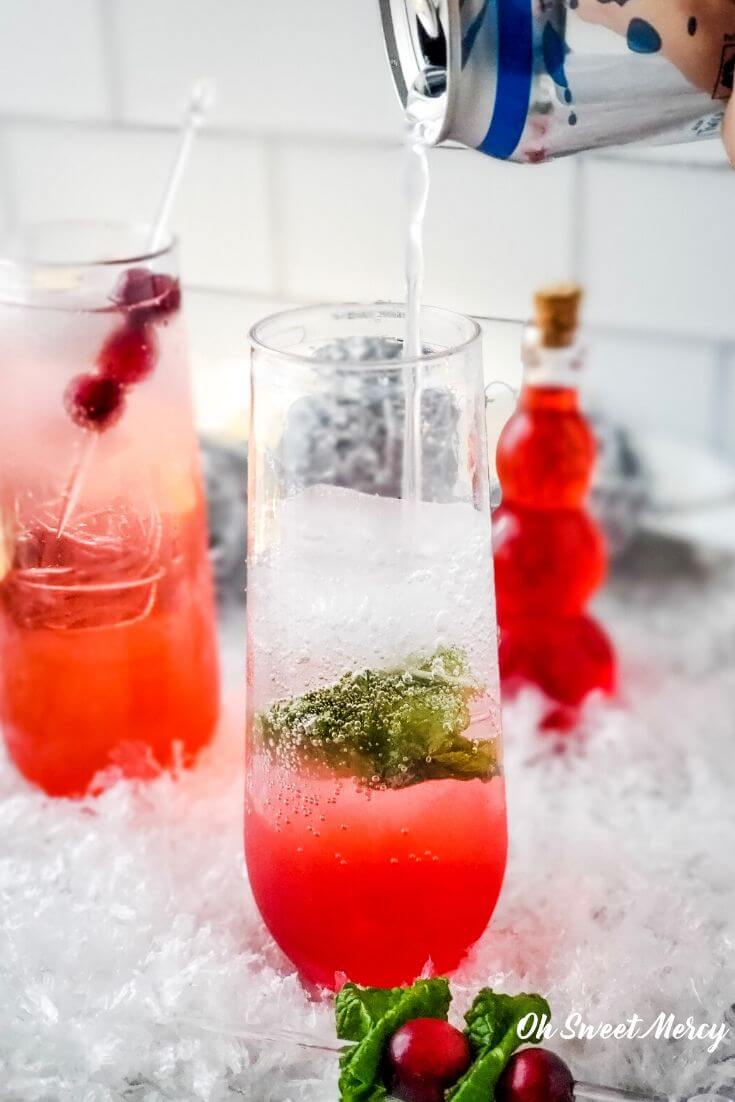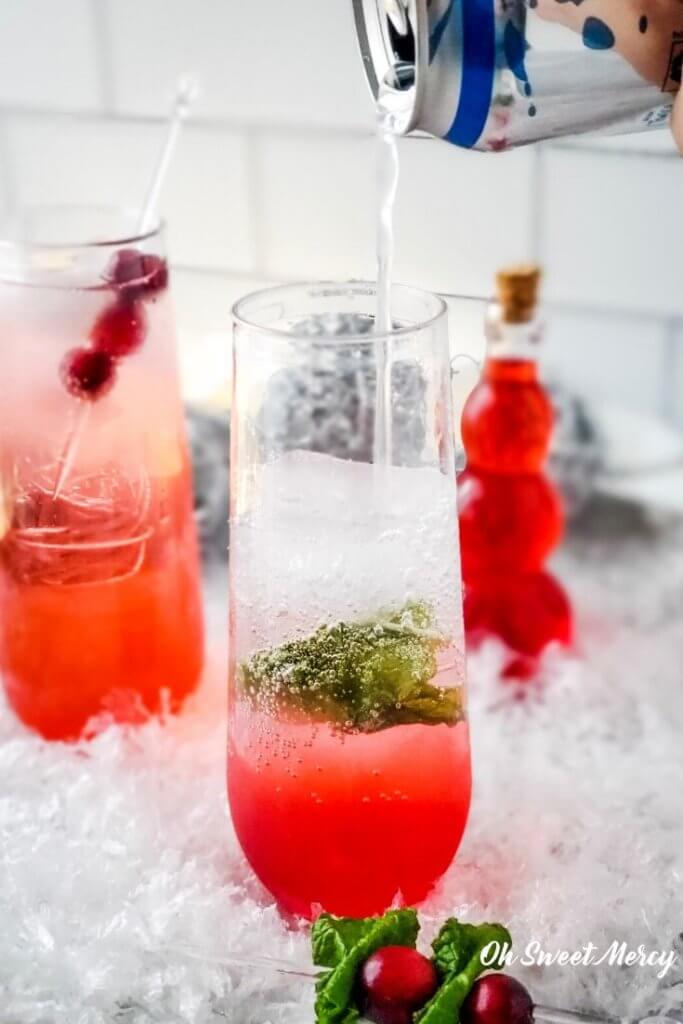 Additional Sweetening Tips For Your Cranberry Mocktail.
This mocktail (or cocktail) is not overly sweet. Add more sweetener if you like a sweeter beverage.
Using a liquid stevia or other on-plan sweetener works best for sweetening after adding the sparkling water. If you use a granulated sweeter, such as a stevia and erythritol blend, it's harder to get it to dissolve quickly.
This means more stirring which also means you'll start losing the fizz in your drink.
THM Pure Stevia Extract dissolves fairly well without too much fuss. Use a whisk to gently stir it in. Another perk…it doesn't take much so a little goes a long way!
Cranberries Are Great All Year Long!
Stock up over the fall and winter holidays when cranberries are in season. Freeze for later and you'll have cranberry goodness any time you want it!
Cranberries are a rich source of vitamin C, which is essential for strong immune systems. Did you know that your body also requires it for collagen production?
Collagen helps keep our skin plump and smooth and looking younger. Cranberries are a great way to get that extra vitamin C we need for good health and beautiful skin!
How Will You Make Your Sugar Free Cranberry Mocktail? Or Are You A Cocktail Person?
PIN THE IMAGE BELOW TO YOUR FAVORITE PINTEREST BOARDS: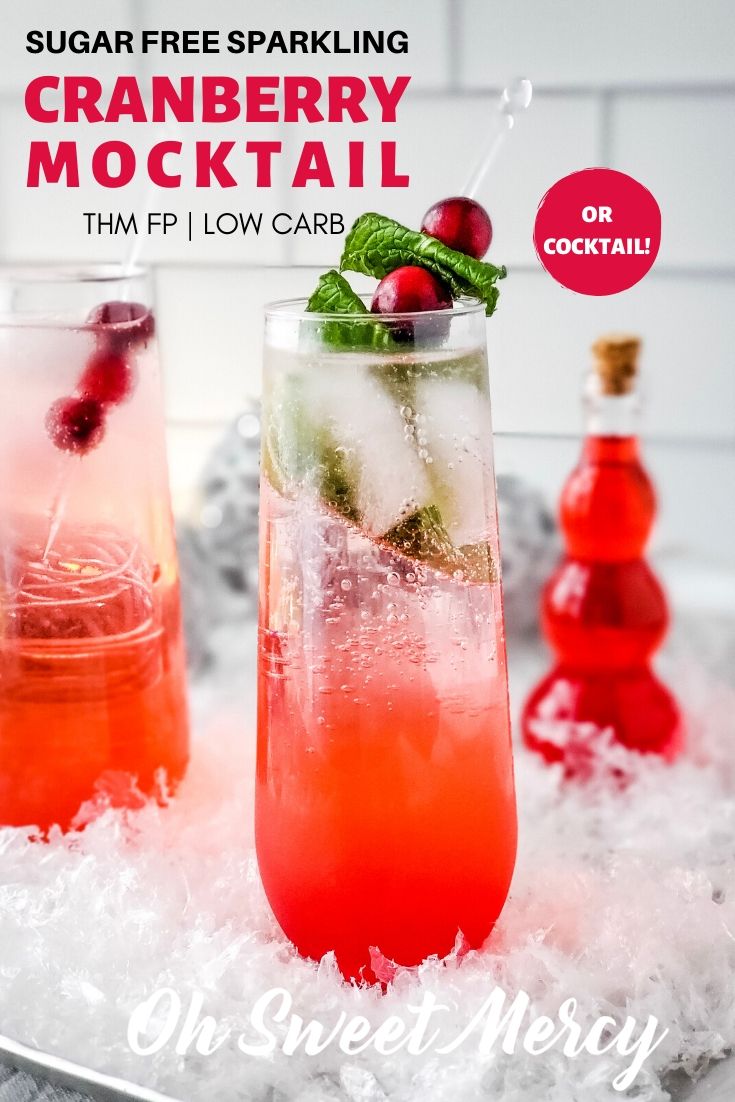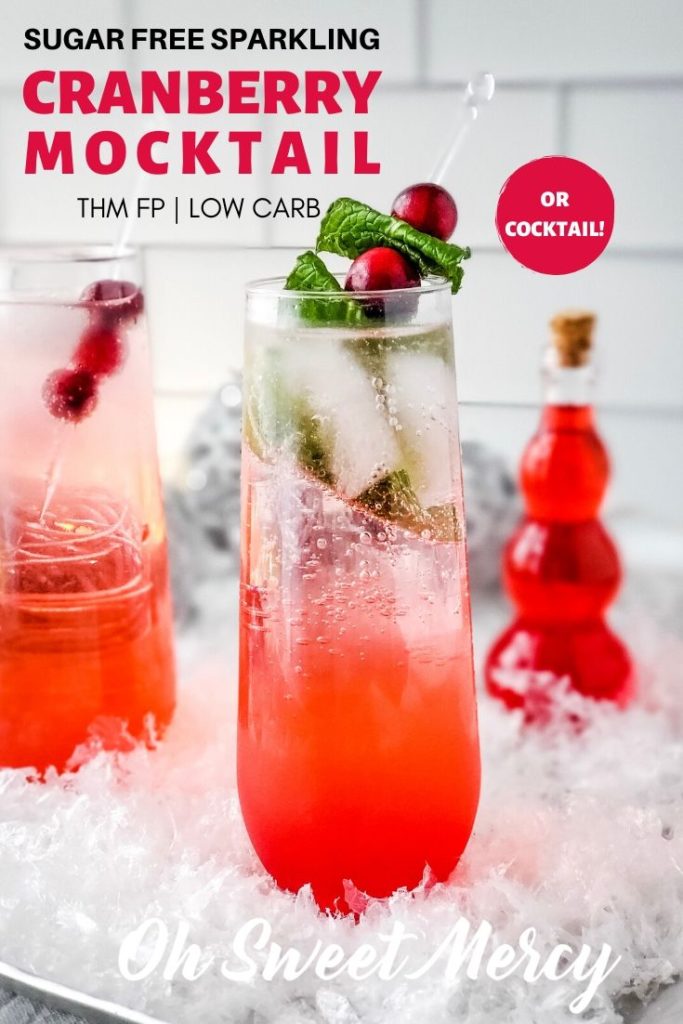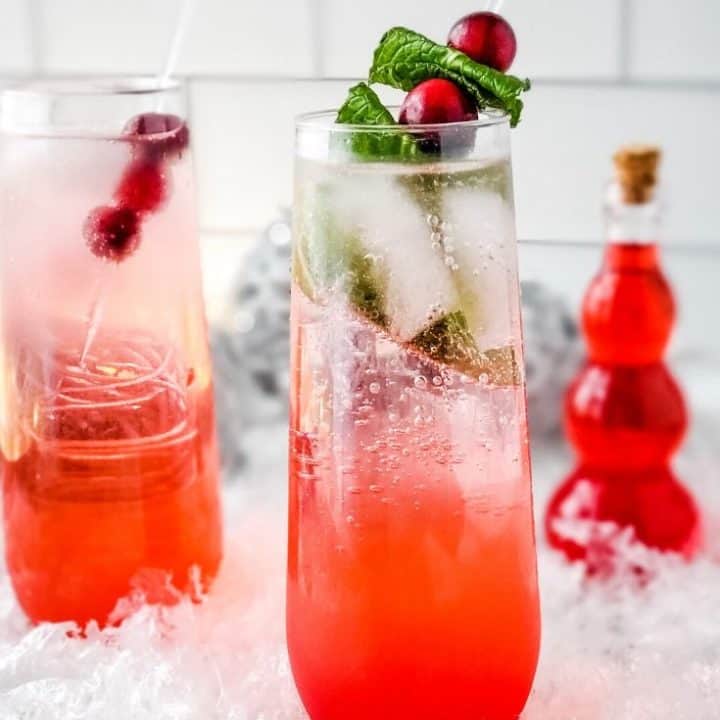 Sugar Free Cranberry Mocktail (or Cocktail) | Low Carb
Yield: 1 serving
Prep Time: 5 minutes
Total Time: 5 minutes
Make my Sugar Free Sparkling Cranberry Mocktail for the kiddos and make it a cocktail for yourself!
Ingredients
12 ounces of sparkling water, plain or flavored
Optional herbs, citrus peel, or fruits for muddling if desired
Vodka, as desired (1 to 2 ounces)
Additional sweetener as desired (see notes)
Instructions
If using herbs, citrus peels, or fruits for muddling, place in a glass and lightly muddle (smash) against the glass.
Add Sugar Free Cranberry Syrup.
Add vodka, if using
Add a few ice cubes
Slowly pour sparkling water into glass.
Stir and enjoy!
Notes
Additional Sweetening
If you like a sweeter drink, add an on-plan sweetener. A liquid stevia is ideal for this as there's no need to stir a lot to dissolve.
Pure stevia extract can be used as well, use a whisk to gently stir it into the beverage.
I don't recommend a granulated sweetener unless that's all you have. You'll need to do a lot of stirring to get it to dissolve. This also disturbs the carbonation and makes it go flat.
NUTRITION NOTES:
I've not include nutrition information as it varies depending on how you make your mocktail (or cocktail). As a general guideline, each tablespoon of Sugar Free Cranberry Simple Syrup has 2 g net carbs and 3 calories.
THMs don't stress those carbs too much, remember we can have up to a cup of cranberries in an S setting. As long as you're not drinking gallons of these mocktails you should be fine.
Recommended Products
As an Amazon Associate and member of other affiliate programs, I earn from qualifying purchases.