---
Simple syrups are a great way to flavor drinks! This Sugar Free Cranberry Simple Syrup adds not only a delicate cranberry flavor but also vitamin C. Trim Healthy Mamas, add it to your sparkling waters and your GGMS!
---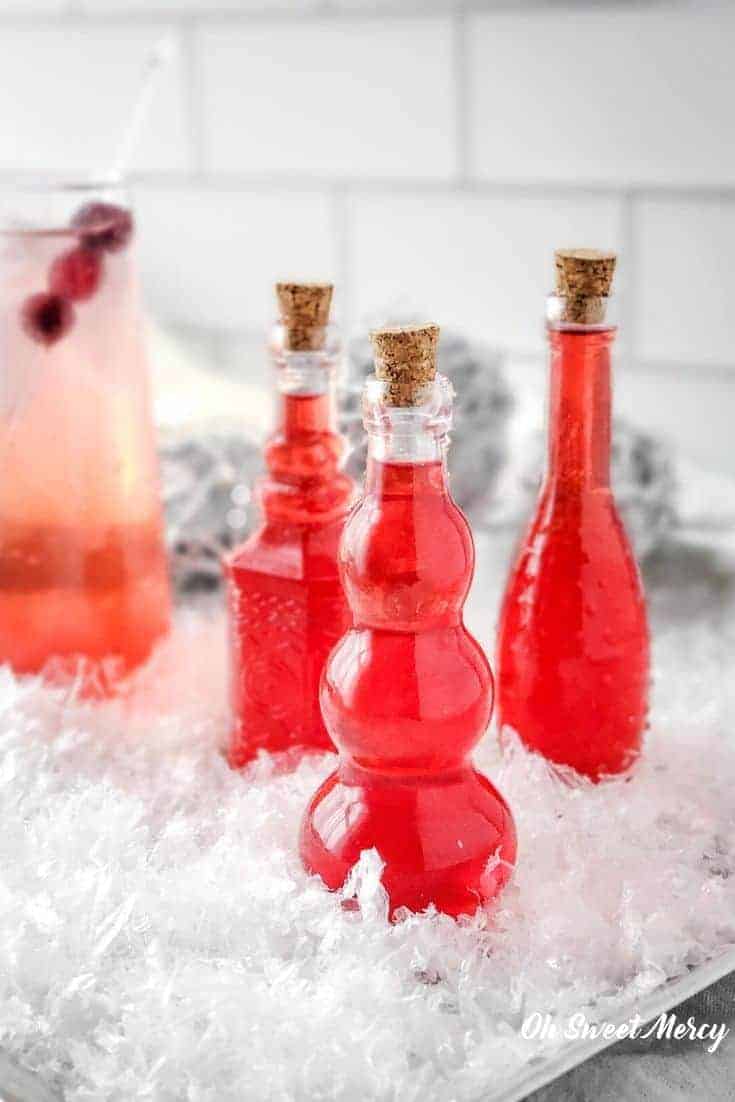 What Is Simple Syrup?
Simple syrup is typically made with equal parts sugar and water, then boiled until it's reduced by about half.
These syrups can be flavored in numerous ways, such as with herbs and fruits, too.
Then, use it to sweeten beverages, of course. But try using it to sweeten baked goods or drizzle over the top of them.
Making Sugar Free Simple Syrup Is A Little Tricky (In My Experience). But I'll Teach You What Worked For Me!
Obviously when making sugar free simple syrup you're not using sugar. And sugar substitutes often do not behave the same as sugar.
I thought this would be pretty simple. In general, it was but I ran into 2 problems while testing this recipe:
Jellied Cranberry Sauce Instead of Syrup
The first time I made this sugar free cranberry simple syrup, it turned out great! That is, until it sat in the fridge overnight. The next morning, I had jellied cranberry sauce.
Not exactly what I was going for! Cranberries contain a lot of pectin, so it makes sense that too much in the syrup would cause gelling or thickening.
Crystallization.
The other problem I had was the erythritol in my stevia sweetener blend crystalized.
In my research I read that the point at which crystallization occurs is when the erythritol is more than 50% of the liquid. This was not the case in my recipe.
So what happened? I had added more sweetener after the syrup had cooled significantly and it didn't dissolve all the way. So I popped it back on the stove to heat it and get the erythritol to dissolve.
I may have gotten distracted and let it boil.
So, my conclusion is that boiling the syrup too long, and with erythritol in it, results in crunchy, jellied, cranberry sauce instead of sugar free simple syrup.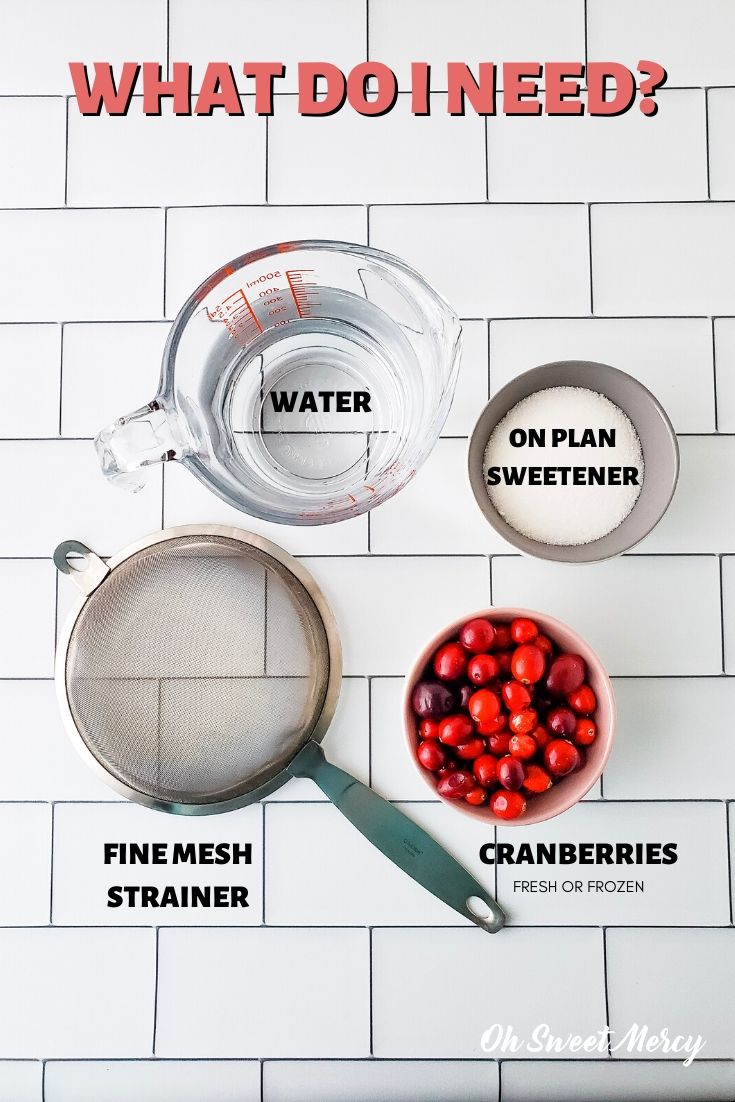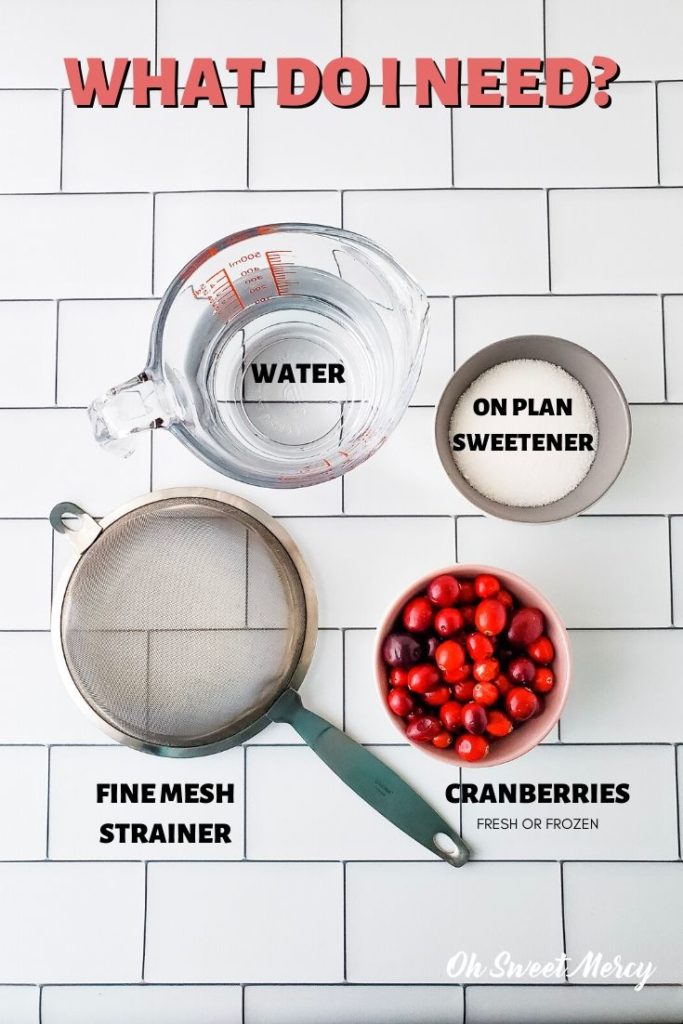 How To Make Sugar Free Cranberry Simple Syrup Successfully.
Here's a few tips for successfully making Cranberry Sugar Free Simple Syrup:
First, don't do what I did above!
You don't want to throw away expensive sweeteners anyway so don't sweeten your simple syrup until you've strained it. That way your sweetener is not caught in the cranberry pulp instead of in your syrup.
When straining your cooked cranberries, use a fine mesh strainer but don't press too hard. It's fine for a bit of the pulp to come through (and better for more flavor) but too much can make the syrup thicken too much.
If sweetening with a granulated sweetener, stir it in when the syrup is hot. Alternatively, powder the sweetener first to help it dissolve better OR use a liquid sweetener.
What About Xylitol Or Pure Stevia Extract For Sugar Free Simple Syrup?
I have not tested this with xylitol. We have dogs in our home and since it is poisonous to dogs using xylitol is a risk I'm not willing to take.
If you try making sugar free simple syrup with xylitol, I'd love to hear how it turns out for you. Come back and leave a comment!
As for pure stevia extract, I've also not tried that yet. It's been a super busy time of year! I believe it would work just fine.
I use the THM Pure Stevia Extract and the recommended substitution for 1 cup of sugar is a rounded 1/4 teaspoon. Since it's easier to add more than remove too much, I'd start with a level 1/4 teaspoon and taste myself. Then add more if needed.
Cranberries are pretty tart so you'll likely need more. I just like to err on the side of caution when it comes to using pure stevia extract! Too much results in bitterness.
THM Sweetener Conversion Chart.
There's a handy sweetener conversion chart on the THM website. Download and print for reference when you're not sure how much sweetener to use!
THM Sweetener Conversion Chart
Ways To Use Cranberry Sugar Free Simple Syrup In Your THM Menu Planning.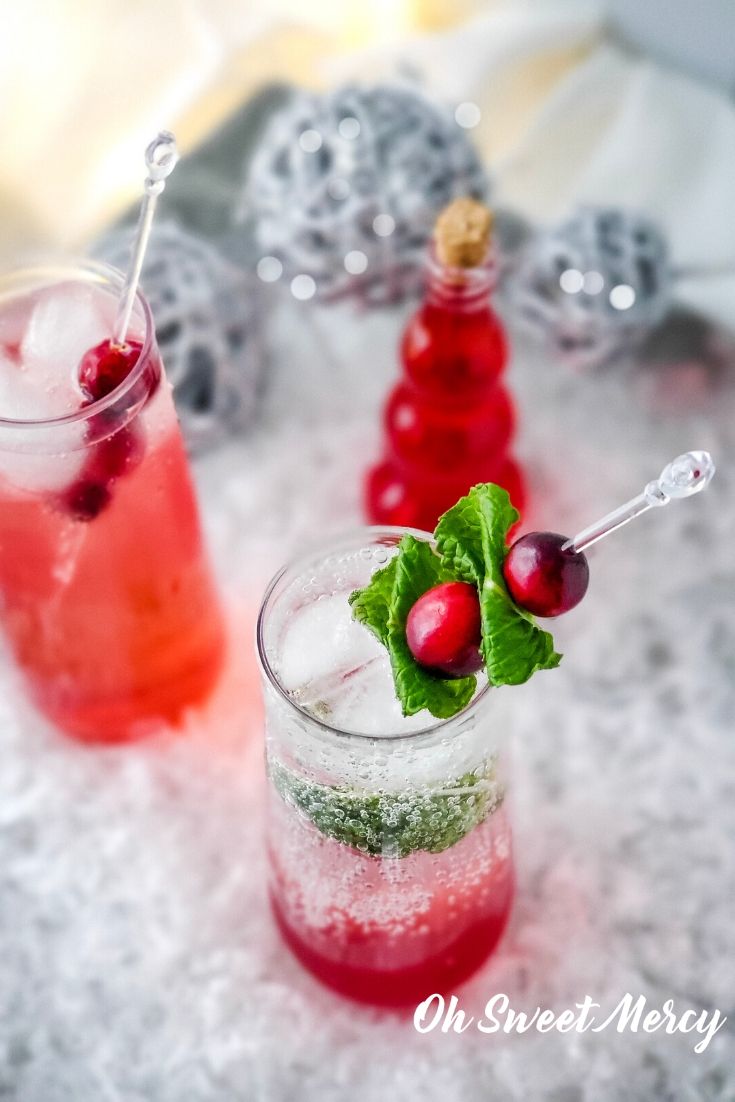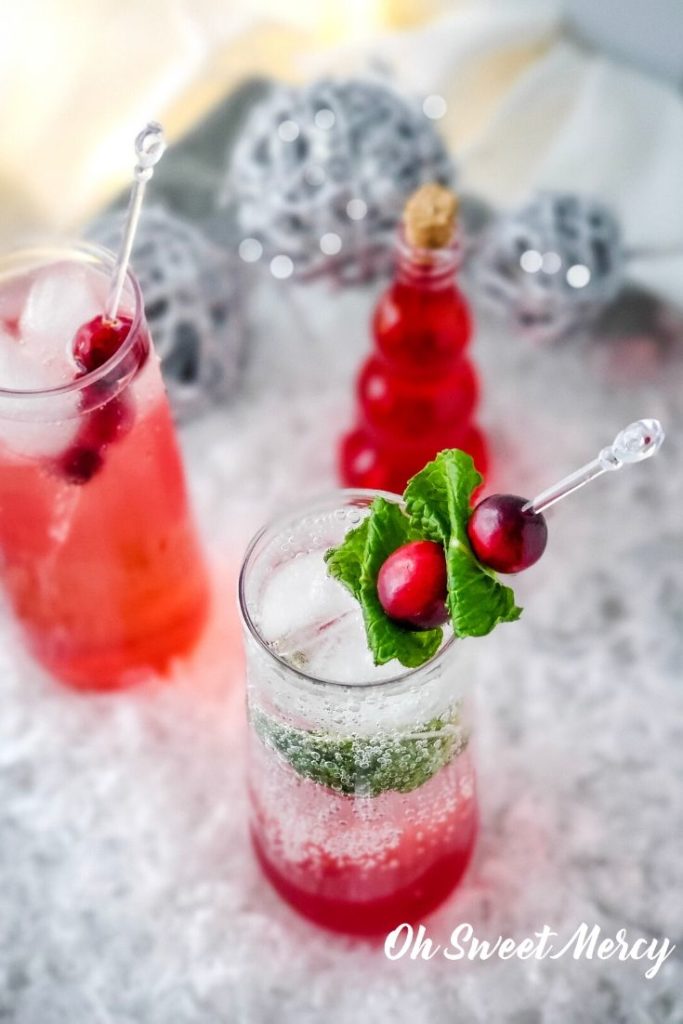 As I mentioned above, use this cranberry simple syrup by adding to your sparkling water. I've tried it with plain and lemon flavored varieties. Get creative and try other flavors as well! I'm thinking lime is a fabulous choice too.
Add some to your GGMS (Good Girl Moonshine) or other THM Sippers. My Super Simple Baobab Water is a great place to try this.
Also, give my Sugar Free Cranberry Mocktails a try! You can also make them cocktails, if you prefer.
NOTE: As prepared below, this syrup is not overly sweet. You can either add more sweetener to the syrup yourself or add a bit more sweetener to your drinks as needed.
Finally, don't keep cranberries just for the holidays. They're a fabulous source of vitamin C! Stock up over the holidays and put some in your freezer to use all year long.
More Cranberry Recipes To Try.
Spiced Cranberry Sauce or Drizzle (it's pourable!) – THM FP
Cranberry Orange Baobab Muffins – THM S
Cranberry Orange Scones (from Wholesome Yum + Easy Keto Cookbook review!) – THM S
Aunt Kathy's Holiday Cranberry Salad – THM S
Turkey Stuffin' Muffins – THM E
No Mayo Turkey Salad – THM S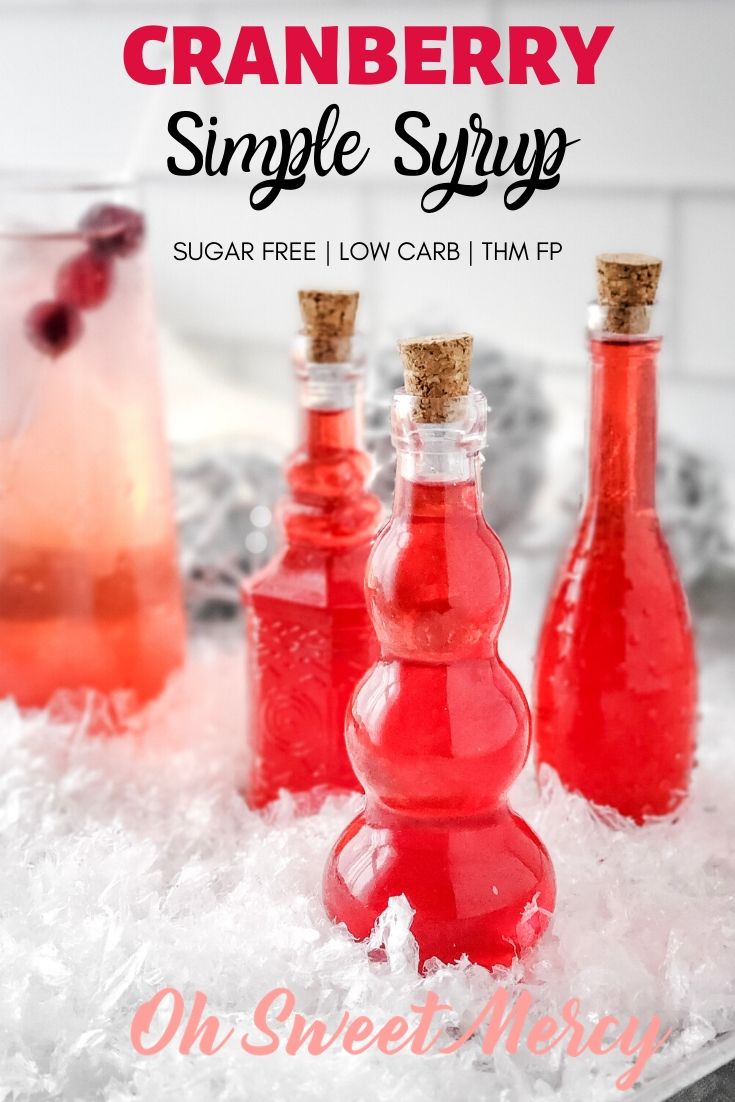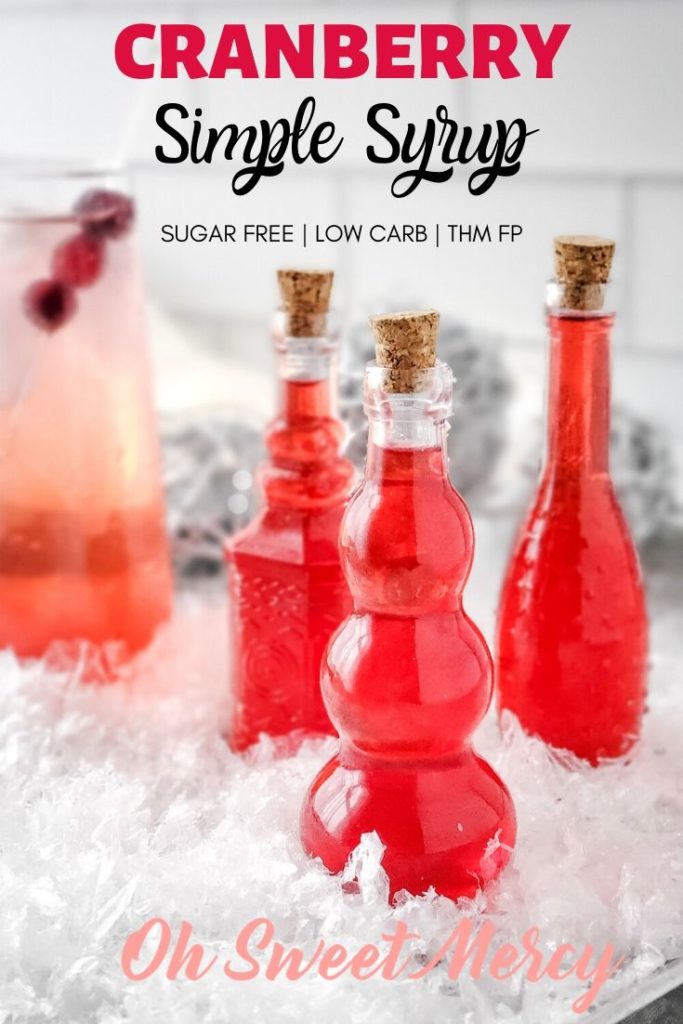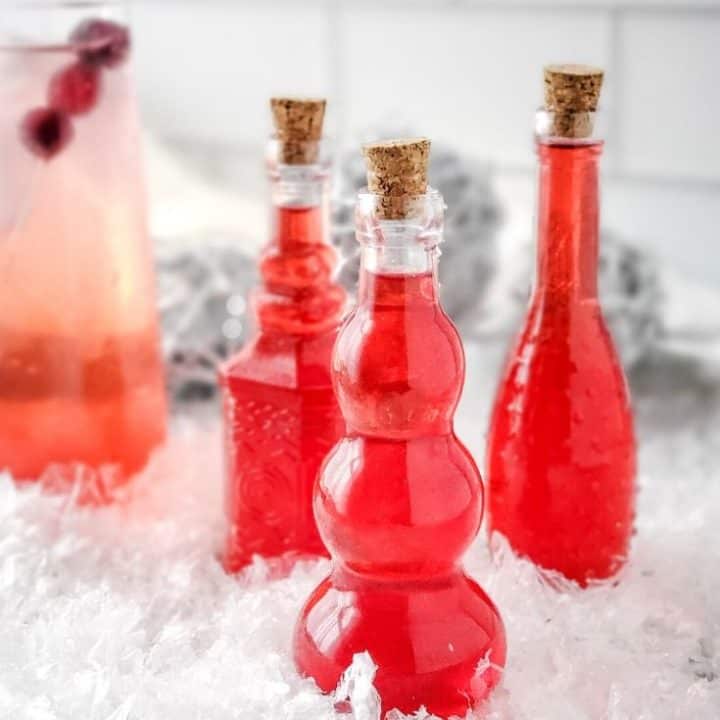 Sugar Free Cranberry Simple Syrup | THM FP, Low Carb
Yield: 2 cups
Cook Time: 5 minutes
Additional Time: 10 minutes
Total Time: 15 minutes
A sugar free cranberry simple syrup for all your mocktail, cocktail, or other beverage needs. Try it drizzled over baked goods, too!
Ingredients
2 cups water
2 cups fresh or frozen cranberries
1/4 cup Pyure stevia blend (or preferred sweetener to taste -  see notes)
Pinch of high mineral salt (optional)
Instructions
Bring the water and cranberries to a boil and simmer for 5 minutes.
Strain through a fine mesh strainer, gently pressing through the strainer. Be sure to not allow too much pulp to pass through.
Add sweetener and pinch of salt (if using) while liquid is still hot to make sure it dissolves completely.
Allow to cool completely then use to make cocktails or other beverages.
Store in an airtight container in the refrigerator.
Notes
Classic simple syrup made with sugar uses a ratio of 1:1. You'll need much less with most sugar free sweeteners. Use an amount equal to 1 cup of your preferred sweetener or to taste.
When making beverages, use 2 to 4 tablespoons or to taste.
NUTRITION NOTES:
The carbs calculated for this recipe are a guideline. As I can not be sure exactly how many carbs are in cooked and strained cranberries it is a rough estimate.
In general, THMs don't need to stress too much over the carb count. As long as you're not drinking a a cup of sugar free cranberry simple syrup you're not going to go over on your carbs 😉
Recommended Products
As an Amazon Associate and member of other affiliate programs, I earn from qualifying purchases.
Nutrition Information:
Yield: 32
Serving Size: 1 tablespoon
Amount Per Serving:
Calories: 3
Total Fat: 0g
Saturated Fat: 0g
Trans Fat: 0g
Unsaturated Fat: 0g
Cholesterol: 0mg
Sodium: 5mg
Carbohydrates: 3g
Net Carbohydrates: 2g
Fiber: 0g
Sugar: 0g
Sugar Alcohols: 1.5g
Protein: 0g
Nutrition information is approximate and based on the best knowledge available at the time of recipe publication. Your results may vary due to differences in ingredients. You can make your own calculations if this recipe does not include nutrition info by using an online calculator such as https://recipes.sparkpeople.com/recipe-calculator.asp