Like this post and don't want to miss more like it? Be sure to sign up for my newsletter at the end!
Hot weather leaves you wanting something cold to eat with minimal effort, right?
You sure don't want to be slaving over a hot stove when satan's armpit is hovering over your area. Easy, cold salads are hot summer weather necessities! If you get tired of egg salads, tuna salads, chicken salads, or ham salads there's probably a couple of reasons why.
You haven't tried my Sriracha Egg Salad, Tuna and Capers, Sriracha Chicken Salad or Turkey Ham Salad yet
You need to add something new to the rotation
Since the last thing you want to do right now is cook, this Easy Southwestern Chicken and Brown Rice Salad is the perfect something new.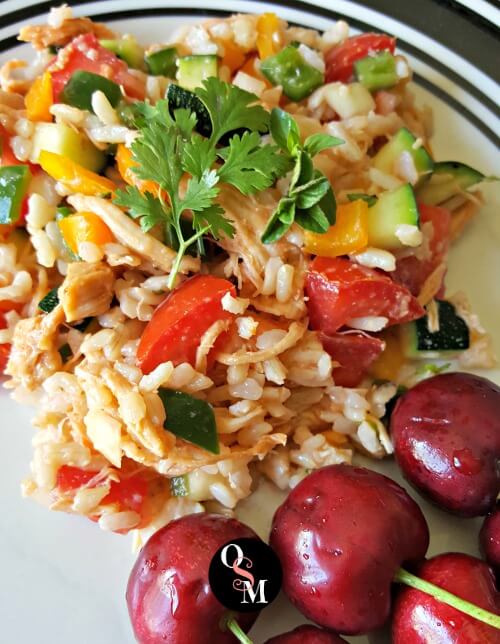 If you're one of those really organized, planning types, you just might have cooked brown rice (the THM Purist will have soaked brown rice on hand) and chicken taco meat stashed in your freezer. Because you make big batches and measure out single servings and make your life so much easier.
If not, you'll need to make those first. Which will heat up your kitchen, unless you have an Instant Pot. With one of those babies you can make brown rice in minutes, and chicken taco meat in no time at all.
I've got an Instant Pot arriving TODAY and I can't wait to use it! I'll definitely be making chicken taco meat in it, and will post the recipe – it's a family favorite. My very petite daughter who never eats much at one time can put away SIX chicken tacos.
But for now, if you've got cooked shredded chicken, add some taco seasoning and salsa to it. Or, cook your chicken breasts in a slow cooker with taco seasoning (I make my own to avoid MSG and other unhealthy additives) and some salsa and shred it. Easy!
I'm not one of those organize-y plan-aheady people, but I did happen to have some leftover cooked brown rice and cooked chicken taco meat in the fridge. And after rooting around in the fridge a bit I found some other friends to invite to my impromptu southwestern brown rice salad party. Like zucchini!
Zucchini is such an awesome veggie.
It has practically no flavor, so it can be coaxed into being whatever you want it to be. I wanted it to be a little southwestern-y so a quick marinade in a cilantro/garlic/lemon juice bath did the trick. The next time I make this, I'll marinate the zucchini overnight, or at least start it in the morning so it can absorb all that yummy goodness. I'll also use lime juice, which is what I wanted to use but alas, I was out of limes.
While the zucchini is taking on its alter ego, it's a simple matter of chopping a few veggies and herbs and mixing everything together. Then you add the marinated zucchini and chicken to the brown rice salad and mix it up. It's delicious straight out of the bowl and even better the next day after all those flavors "marry" in the fridge while you sleep.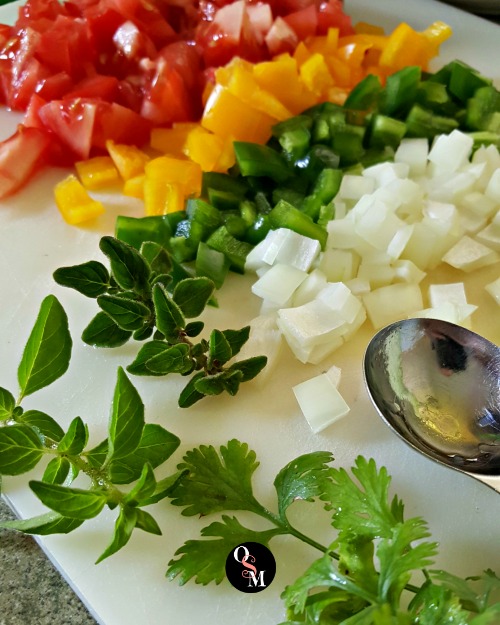 Sometimes I wonder what goes on in there when I'm not looking. I guess I'll have to get one of those Smart Refrigerators that takes a picture of what's in your fridge and sends it to you while you're grocery shopping…and plays music! Can't you just see jalapenos and tomatoes salsa dancing in there?
Did you see what I did there? Yeah, I know…groan. Sorry. Couldn't resist!
Zucchini is a great low-in-everything filler, but that's not all.
Zucchini actually has a surprising amount of vitamin C. It also has manganese, potassium, vitamin B6 and vitamin K. All of these nutrients are beneficial for good health. Thanks to its high water content and low carbohydrate content, it's an excellent "filler" and substitute for noodles and even potatoes, such as in my Zucchini Fritters recipe.
Zucchini is very easy to grow, and tends to be quite prolific. There's even a National Sneak Some Zucchini Onto Your Neighbor's Porch Day, celebrated annually on August 8 every year by gardeners overwhelmed by zillions of zucchini threatening to take over the world. If you want to sneak some zucchini onto my deck on August 8, or any day really, please do! I planted some but they did not sprout, so I do not have tons of "chocolate cake plants" growing.
If you're a Trim Healthy Mama, you know exactly what I mean. If not, let's just say it's a secret ingredient in one of the best sugar and gluten free cakes I have ever had. Ever. I even figured out a way to rescue the recipe when I was short on an ingredient, thanks to a sweet THM blogging buddy of mine! You can read how in my Chocolate Zucchini Cake Rescue post.
If you grow your own, and don't use nasty chemicals, that is the best. Or buy organic if you can:
…the University of Illinois Extension warns that you should always prepare zucchini with the peel intact, since the peel is the most nutrient-dense portion of the vegetable. Healthy Eating
Trim Healthy Mamas, you'll love this tasty E recipe!
For many THMs, "E" style meals are the most difficult. This is because they contain a higher amount of healthy carbs, but very little fat. And most of us used to love our carbs deep fried or smothered in cheese sauce, right? I know I did! Well, I still do. Not gonna lie. But I know that if I eat them that way, I'll gain weight and feel awful. I'm not perfect, now and then I'll have some french fries or something…and usually regret it!
This low-fat brown rice salad is still satisfying because it is so flavorful. I started out eating just a small amount, but had a second helping because it was just so good!
Since it contains a lean protein source, it can be a complete meal. Or, have a small serving and pair this yummy brown rice salad with a Fuel Pull protein shake such as my Creamy Vanilla Chai Protein Shake (just be sure to make it Fuel Pull style).
You could also add some cooked black beans if you have some. Just be sure to keep your starchy net carbs at no more than 45 grams for the entire meal. One cup has about 18 grams of net carbs, so adding half a cup of cooked black beans will add about another 11 grams of carbs to your one cup serving of this Easy Southwestern Chicken and Brown Rice Salad.
Since I tend to stick to the lower end of the 20-45 grams carb range for an E meal, this is perfect for me. If you need higher amounts, add more beans or have one and a half servings (or two, if you're not too concerned about being one gram over on fat). Or enjoy some fruit with your meal!
Let's make some Southwestern Chicken and Brown Rice Salad!